Looking for the best breakfast and brunch in Pasadena, California? From the best old fashion pancakes to mimosas, we got you covered.
We take our breakfast and brunches seriously in Pasadena – all of Los Angeles does –especially on the weekends.
Locals and out-of-towners flock to our best breakfasts and brunch in Pasadena locations.
Cafes, coffee shops, and restaurants serve some classics like delicious pancakes, eggs, and bacon. Whiles others kick it up a notch with breakfast arepas, avocado toast, French omelletes, chilaquiles, and eggs Benedict.
Are you hungry yet?
Some of Pasadena's best places for breakfast and brunch have been around for decades. At the same time, others are more recent by winning our hearts with high-quality food, great drinks, and great ambiance.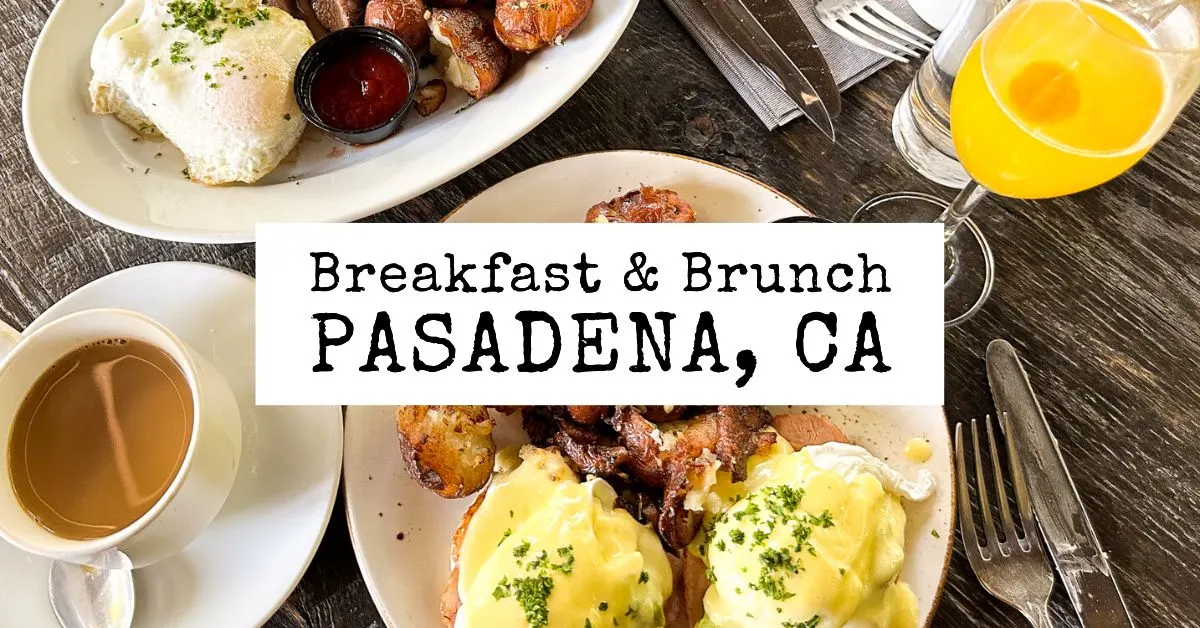 In this article, we dive into all the best places to have breakfast and brunch in Pasadena. As Pasadena locals, we make it our duty to eat our way through this foodie city and share the highlights so you can plan your tasty itinerary.
Are you looking for that one breakfast spot in Pasadena you can count on every day that always serves you a delicious breakfast? Russell's in Old Pasadena is that place.
Ready to be adventurous? Try a breakfast arepa or cachapas at Amara Café. You won't be disappointed.
Twohey's Restaurant in South Pasadena serves the best old fashion pancakes.
Try an egg sandwich from Dot's Cafe. You'll become obsessed as we have.
Breakfast and Brunch in Pasadena, CA
1. Russell's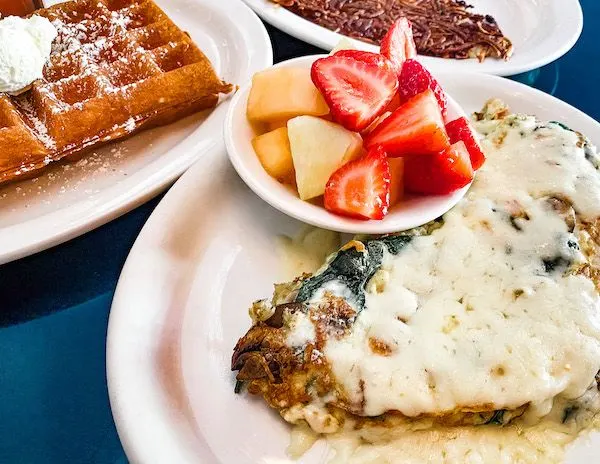 Russell's in Old Pasadena has been voted the best breakfast in Pasadena in the past by the community. This classy diner continues to be one of the best spots to grab breakfast and brunch in Pasadena.
This is evident by the short wait you encounter in the mornings through brunch, regardless of the day of the week. They recently expanded their classy diner with more seating, which helps to serve more diners.
They have a full breakfast menu with star items like the Croque Madame, a variation of omelets and egg dishes, pancakes, and Belgium waffles.
We typically order their veggie and gouda omelet, which always comes out fluffy, light, and full of veggies. And we swap the toast option for a side of pancake or waffle for a small extra charge – not something other restaurants do.
Open 7 days a week from 7 am to 2 pm.
Russell's | 30 N Fair Oaks Ave, Pasadena | Google Map It
2. Amara Café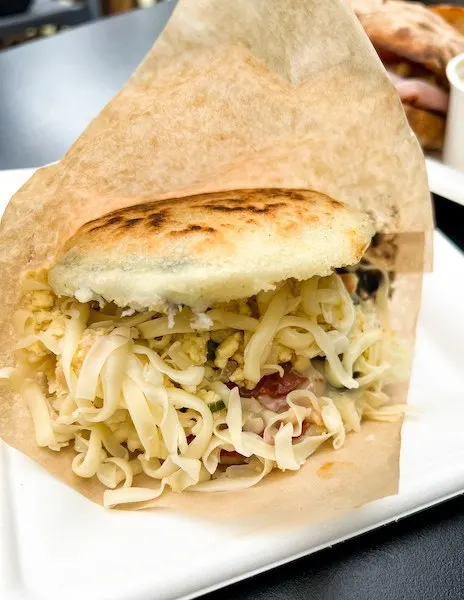 Amara Cafe is a spot for a fantastic South American breakfast and brunch in Old Pasadena without the frills of sit-down service.
This little cafe serves a delicious Venezuelan breakfast that will satisfy you more than satisfied.
Their popular breakfast Pa'l Pana arepa hits the spot, and it's love after the first bite. Full of flavor, high-quality ingredients, and prepared with love. You can taste it in every bite.
The Galipan Cachapa plate is a winner and a great breakfast choice that gives you a taste of a typical Venezuelan breakfast. A corn pancake with queso fresco with a side of pico scrambled eggs, black beans, and a choice of meat.
This is one of those places you'll enjoy the food and leave feeling satisfied for the rest of the day.
Don't forget to order one of their lattes, cortados, and hot chocolate. If you have room, the authentic spanish churros are also a must-have.
Order upfront at the register and a number on your receipt will be handed to you. Wait for a table to become available – there is a quick turn of tables here as people eat, enjoy, and leave. They'll come out with your fresh food, calling your number.
Open Tues-Fri 7:30 am to 3 pm, Sat-Sun 7:30 am to 4 pm.
Closed on Mondays.
Amara | 55 S Raymond Ave, Pasadena | Google Map It
3. Dots Cafe
Dot's Cafe does not only have fantastic coffee that comes in the prettiest cups (I love their branding!) and a fabulous dessert bar, their breakfast (and lunch) menu is legit.
Most recently, I was surprised by breakfast from Dot's Cafe in the morning. Dot's Cafe knows how to scramble some eggs properly. We ate every last bite from their scrambled toast to their breakfast sandwich. The eggs are fluffy, luscious, and rich. And the bread from the toast is made in-house.
We still have to return to try their pancakes and other breakfast items, but we know they won't disappoint. Have you had their baked goods? Then you know! There is nothing they can't do here.
There is seating at Dot's, where you can take your food, sit and enjoy it. While it is a lovely cafe, it is not a sit-down restaurant where a waiter comes to take your order. But that shouldn't matter as the breakfast here is truly delicious.
Breakfast is Mon-Fri 8 am to 12 pm, Sat-Sun 8 am to 2 pm
Dot's Cafe | 3819 E Colorado Blvd, Pasadena | Google Map It
4. Perle Restaurant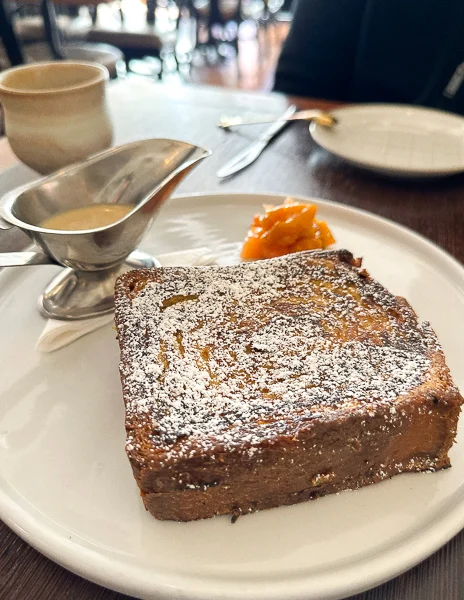 While keeping tabs on the socials for our local favorite spots, we saw that Perle is now serving brunch in Pasadena. We immediately made reservations.
After a delicious breakfast at Perle, we are thrilled to add this Michelin guide restaurant to this list. Warning, you'll want one of everything once you sit down.
The food at Perle is French inspired. Perle is where you have that special brunch in Pasadena serving classical French fare.
You can start with a freshly baked baguette with jams, croissants, and macarons or treat yourself to a classic caviar service.
While the mains included soft scrambled eggs with truffles, steak and eggs, and eggs benedicts, we ordered a couple of classic dishes, the Omelette Jambon et Fromage and Croque Madame.
We started with the Pain Perdu, a brioche French toast that was not the typical French Toast you'll find anywhere else.
The omelette is a classic French omelette, smooth and silk, soft and buttery on the inside, the ham and gruyère bringing it to another level. You won't find an omelette prepared this way anywhere else in Pasadena.
The Croque Madame did not disappoint one bit. The Gratinéed Gruyère cheese sandwich with French ham, béchamel, and that over-easy egg on top was absolute perfection. It's rich, savory and it's the spot.
As always, the staff here at Perle are on top of their game. They were extremely attentive and ensured we never saw the bottom of an empty coffee cup. But note you only get one free refill with that cup of coffee you order.
Brunch is only on Saturday and Sunday from 10 am to 1:30 pm.
We recommend making reservations.
Perle | 43 Union St, Pasadena | Google Map It
5. Agnes Restaurant and Cheesery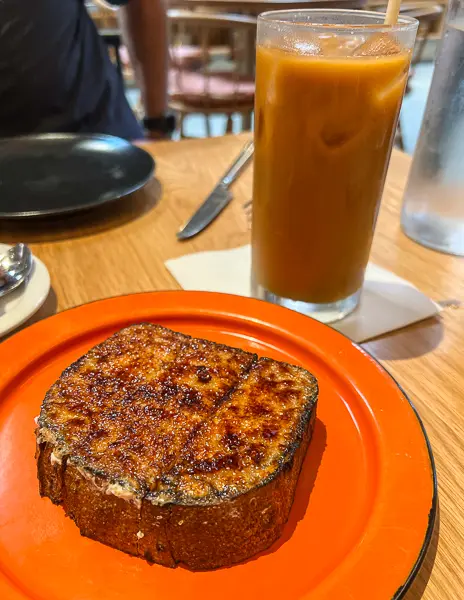 Agnes Restaurant and Cheesery is a fabulous dining spot in Old Pasadena that we love for dinner and brunch. And if you're looking for a unique breakfast prepared with lots of love and five-star ingredients, Agnes is it.
We wanted one of everything off the menu, but obviously, it's impossible with just the two of us without being wasteful. Believe us; you want to eat every bite of your order.
We ordered the Crème Brûlée Toast to split, unlike anything we expected or had before. It is a layer of flavor, sweet and savory, with goat cheese and burnt honey with hits of orange on a slice of homemade bread.
The Cheddarwurst is a homemade bratwurst stuffed with cheddar cheese. The cheese was oozing out of the bratwursts. Packed with flavor and a tad of spiciness, it was one of the best sausages we've ever had for breakfast.
The Braised Bacon Benny was the star of the show. It combines flavors and textures from the creaminess of the egg and hollandaise, the maple-glazed pork belly's sweetness, and the cheddar biscuit's flakiness.
It was fantastic! It's rich and filling, though. You may want to split the dish and perhaps order something sweet to go with it, like their sticky toffy pancakes.
Since Agnes announced their brunch service, we knew it would be special. We can't wait to try other items from their brunch menu.
Brunch is only from Thursday to Sunday, 10 am to 2 pm.
We recommend making reservations for Sat & Sun.
Agnes | 40 W Green St, Pasadena | Google Map It
6. Twoheys Restaurant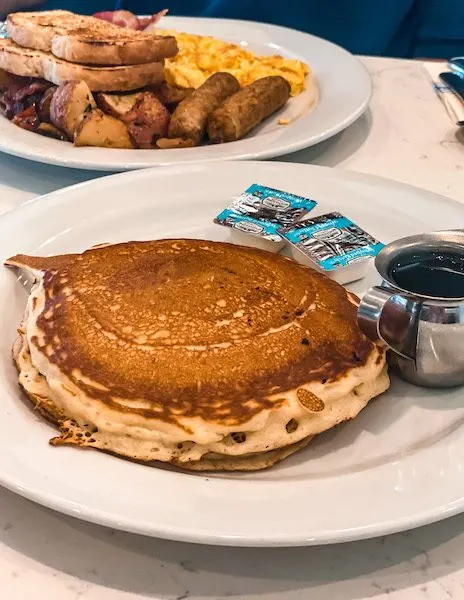 If you're looking for the best pancakes for breakfast in Pasadena, you'll find them at Twhoheys.
Twoheys serves the best Old Fashion Pancakes. They almost taste like you're eating cake for breakfast. They also serve buttermilk pancakes, which have a more tangy flavor. We recommend ordering the old fashion pancakes; you'll see what I mean, they taste like cake.
The Biscuits and Gravy, Brioche French Toast, and Chicken and Waffles are favorites, too. If you're looking for a dessert breakfast, the ice cream and waffle combo will satisfy that craving.
Are you looking for something lighter? Try their delicious and pretty Avocado Toast on sourdough toast.
Twoheys is an excellent place for a family-friendly breakfast or brunch.
A full bar is available as well.
Closed on Tuesdays
Open Monday, Wednesday thru Sunday from 9 am to 8 pm
Breakfast is served all-day
Twoheys Restaurant | 424 Fair Oaks Ave, South Pasadena | Google Map It
Wonderful Cafes and Coffee Shops in Pasadena
With the abundance of cafes and coffee shops in Pasadena, we have quite a few that are wonderful all serving their own roast, baked goods, and ambiance. Check out these amazing cafes and coffee shops in Pasadena. Get your caffeine buzz on.
7. The Raymond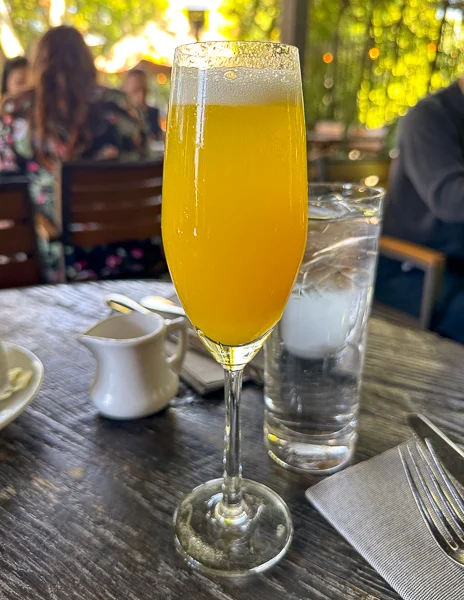 The Raymond in South Pasadena is a historic cottage serving fantastic weekend brunch that locals love.
Our favorite thing is to sit outside one of their lovely outdoor patios with a mimosa and a cup of coffee and share one of their freshly baked pastries before our main breakfast dishes came out.
We recently enjoyed brunch at The Raymond and discovered they have some of the best breakfast potatoes in the area. Small potatoes that were fluffy on the inside and crispy on the outside.
We are getting ahead of ourselves. We ordered a mimosa and a coffee. While the mimosas are not unlimited, it is one of the best we've had; the house curacao they add makes it stand out from your typical mimosa.
The cinnamon roll we shared was perfection; it was like a croissant and roll in one. All buttery and perfectly sweetened. We devoured it.
The Eggs Benedict, their most popular breakfast dish, is served with an avocado spread, giving that benedict another layer of buttery goodness. And my favorite part was that the English muffin was toasty and not soggy.
Steak and eggs were also ordered, delicious, and cooked to order.
Both dishes came with those fantastic potatoes.
Reservations recommended.
Weekend brunch is on Saturday & Sunday from 9 am to 2 pm.
Limited self-park. Busy days and nights, there is valet parking for $8.
The Raymond | 1250 S Fair Oaks Ave, Pasadena | Google Map It
8. Magnolia House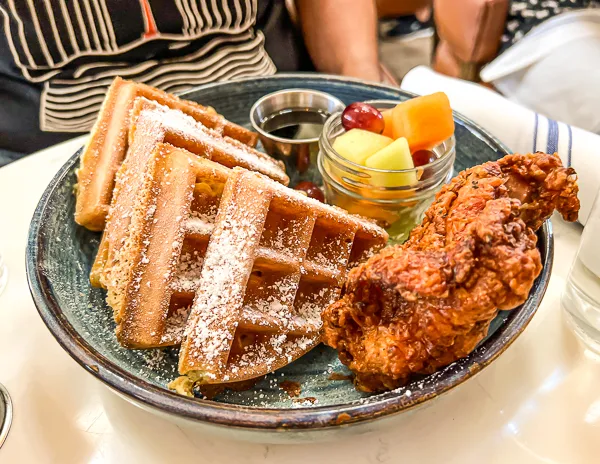 Weekend brunch in Pasadena at Magnolia House is among the best spots for top-notch craft cocktails and fabulous eats. It's also great for brunch dates with your other half or a meet-up with your best friends.
The transformed Craftsman home, now a cozy bar, serves delicious eats. The outdoor space out front is great for groups. The indoor space is perfect for an intimate brunch setting.
You'll have difficulty choosing what to eat, from avocado toast and breakfast sandwiches to chicken and waffles.
We love their chicken and waffles. The Belgium waffles are light and airy and yet still crispy on the outside. They serve authentic maple syrup, and you can taste the difference at the first bite.
It's hard to find eggs Benedict done right, but Magnolia prepares theirs with a twist, adding chorizo instead of ham. Their side potatoes are perfectly salted and crispy.
Brunch is only on Sat & Sun from 9 am to 2:30 pm
Magnolia House | 492 S Lake Ave, Pasadena | Google Map It
– Don't Miss: Fantastic Pasadena Restaurants on Lake Ave –
9. Gus's BBQ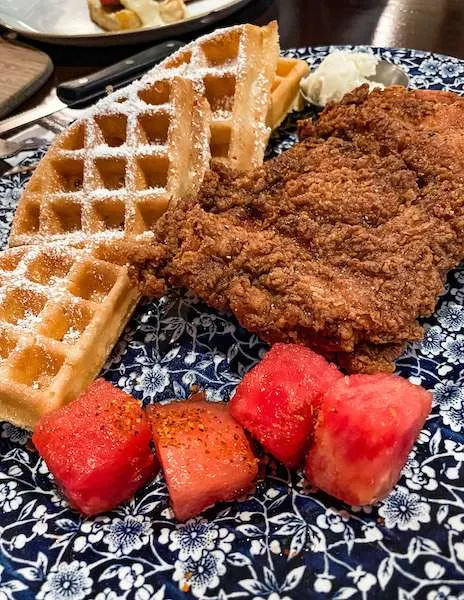 You'll want to head to Gus's BBQ for a Southern-style breakfast in Pasadena. You won't regret it.
Before looking at the menu, start with their Cinnamon Bun Skillet.
Then if you've never had the Chicken and Waffles (only available on Saturday and Sunday), seriously consider ordering this fantastic breakfast combination. Possibly the best fried chicken in town with delicious airy waffles is a must.
Another favorite is their Southern Style Eggs Benedict. Can't handle the spice but love eggs benedict? Order the Classic Eggs Benedict and have them swap the English muffins for their homemade biscuits.
Breakfast or brunch could be pretty decadent and filling depending on your order. Expect to have a happy belly until dinner.
Breakfast is on Sat & Sun from 8:30 am to 2 pm
Reservations on the weekends are recommended.
Gus's BBQ | 808 Fair Oaks Ave, South Pasadena | Google Map It
10. Mercado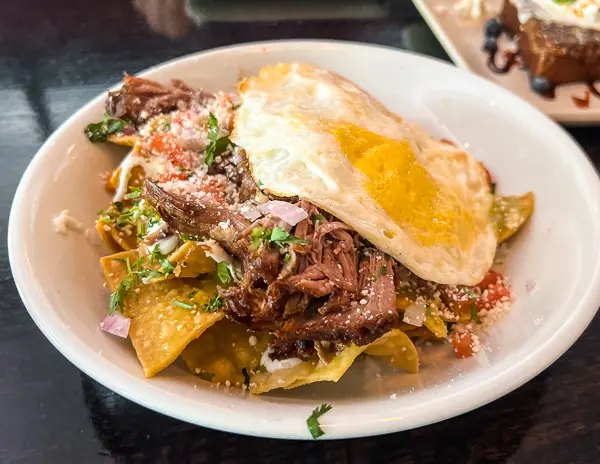 In Pasadena Commons on Lake Ave is Mercado. A modern restaurant serving delicious brunch margaritas and a few Mexican breakfast plates on the weekends should be on everyone's list.
We finally made it here on a Saturday brunch, and oh boy, it did not disappoint. It surprised us.
There are not many "breakfast" type options on the menu, but if you get anything with carnitas (and a margarita), you'll be sure to leave there happy.
We did a sweet and savory combination by sharing the Canela French Toast and the Chilaquiles Verdes con Huevos y Carnitas. Both are tasty and satisfying. The Chilaquiles were our favorite of the two, and we highly recommend them. Just don't make the same mistake we did; order the eggs Sunnyside up, not over medium.
We ordered their special margarita of the day, a raspberry grapefruit margarita. As well as their non-alcoholic Aguas Frescas made of pineapple. Both were refreshing and exactly what we needed on a hot afternoon.
Brunch is on Saturday & Sundays from 11 am to 3 pm
Mercado | 140 S Lake Ave, Pasadena | Google Map It
11. Foothill Restaurant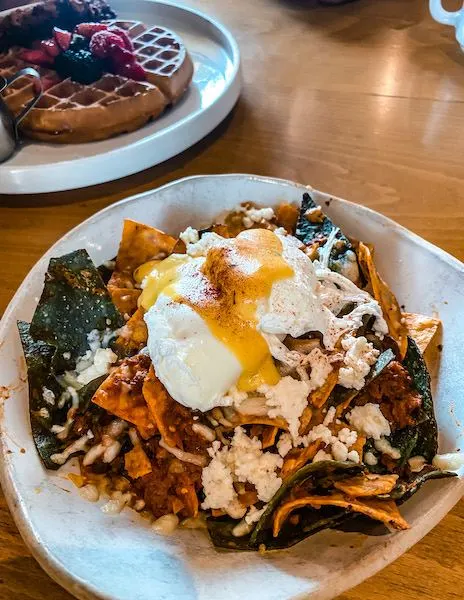 Foothill restaurant has Boozy Brunch in Pasadena on the weekends. Sometimes live music is included. Sit in their lovely outdoor space and enjoy mimosas served by the carafe or a bloody mary cocktail.
They do not have an extensive breakfast and brunch menu, but all the better to make quick and delicious choices.
For anyone that loves spice, order the Chilaquiles with a poached egg – make sure they don't overcook the egg. The Buttermilk Pancakes are great for sharing. You can never go wrong with the classic Standard Breakfast.
I usually skip the mimosas and order the Chaos is My Friend cocktail.
Brunch is only available Sat & Sun from 9:30 am to 3 pm
Reservations are recommended for earlier breakfast times
Foothill Restaurant | 2835 E Foothill Blvd, Pasadena (Google Map It)
One of the best parts of Pasadena is all the delicious spots to eat. Check out some of our favorite places to eat, from restaurants to takeout.
12. Millie's Cafe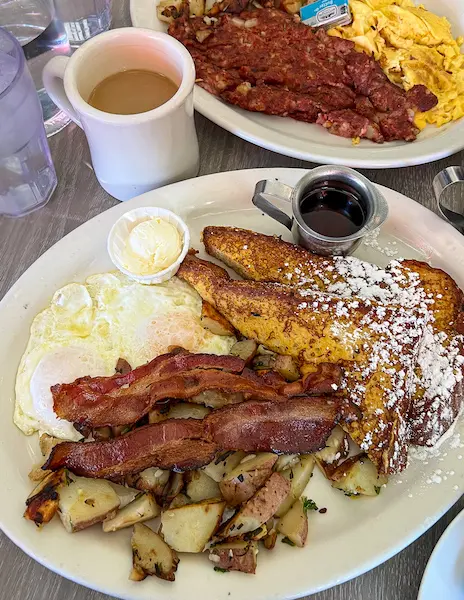 Millie's Cafe is located on Washington Blvd, on the opposite corner of Lavender and Honey. Pasadena is their second location, their first being in Silver Lake.
When you see a crowd gathered in front of a restaurant all the time, you have to wonder if they are giving the food away or if the food served is that good.
We're here to tell you that breakfast at Millie's Cafe is delicious. We can see why it's such a popular and beloved spot in Pasadena. It's a family-friendly affair at Millie's. The menu is filled with many delicious choices for everyone to choose from. The service is attentive. The space is modern and clean.
We watched beautiful plates of chicken and waffles, french toast, oatmeal, breakfast burrito, and avocado toast served.
I opted for "the Usual" (that's what it's called) of eggs, bacon, potatoes, and french toast. Hubby had their Heavenly Hash (corn beef hash) with eggs, potatoes, and a biscuit. We thoroughly enjoyed our breakfast and would return to try other items off their menu.
I did not expect much from the latte I ordered, but boy did it pack a punch, and it did not disappoint.
Tip: Millie's Cafe has a waitlist on Yelp, and you can see how long the wait is. You will want to add yourself to the waitlist at the right time to get there before the required check-in time. This will save you time from waiting for a table for a long time.
Open 7 days a week, 8 am to 3 pm
Breakfast is served from open to closing
Millie's Cafe | 1399 E Washington Blvd, Pasadena | Google Map It
13. Pie 'n Burger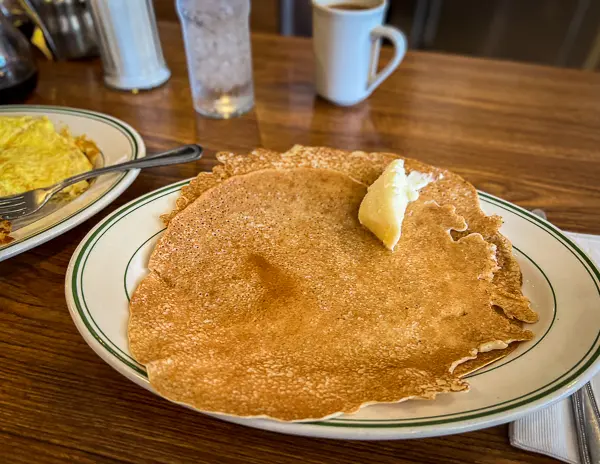 Pie n' Burger is a local favorite luncheonette style spot, serving classing delicious burgers in Pasadena and delicious slices of pies. It's one of our favorite places to eat for lunch or dinner. But did you know they have a breakfast menu?
The breakfast menu is simple and traditional but satisfying. You'll find a few omelet choices: classic egg plates with sausage and bacon, french toast, and their signature hot cakes (pancakes).
Order their thin hot cakes from their breakfast menu, which you can't get anywhere else. Slather on extra butter, roll it up, or fold it like a crepe. It will hit the spot.
The cheese omelet with bacon reminded me of when my mom used to make me an omelet. The eggs were fluffy, and the bacon was crispy, but the American cheese took me back to my childhood. It was enjoyable. We loved it.
And while you're there, you might as well take home a slice of pie for later.
This is a no-frills hometown spot where locals like to eat a no-fuss breakfast. This is not it if you're looking for a trendy spot with mimosas. But the traditional breakfast is worth coming here for.
Pie 'n Burger | 913 E California Blvd, Pasadena | Google Map It
14. Republik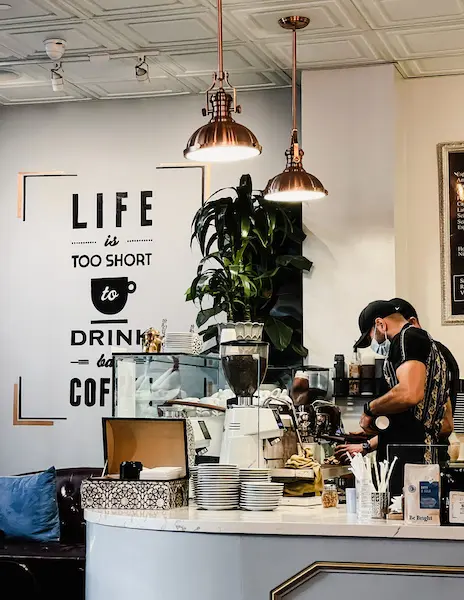 Republik is a fantastic coffee lounge in Pasadena that serves incredible signature coffee drinks and brunch. While you can get coffee, breakfast, and lunch daily and dinner on weeknights, a special brunch menu is reserved for weekends.
The ambiance is trendy, warm, and inviting.
Food is prepared with high-quality ingredients; you can taste it with every bite.
You'll find delicious toasts, organic yogurt bowls with beautiful and yummy toppings, and breakfast favorites like their brioche French Toast. We love their avocado toast options.
Here you'll order at the counter and then find a table.
The brunch menu is available on weekends from 7 am to 4 pm
Weekday breakfast/lunch on weekdays from 7 am to 4 pm
Republik Coffee | 854 E Green St, Pasadena | Google Map It
15. Urth Caffé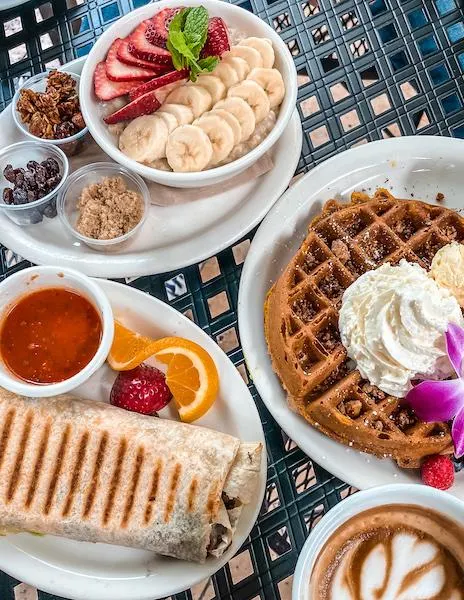 This list isn't complete without Urth Caffé. It is one of the busiest spots for breakfast and brunch in Pasadena. Amazing coffee and desserts aren't the only things they serve.
This European Style cafe serves a huge menu of breakfast favorites like Belgium waffles, oatmeal, yogurt parfaits, acai bowls, and avocado toasts.
We were recently there for breakfast. Hubby ordered their famous bowl of oatmeal that he loves. I tried their huevos rancheros burrito. We shared their pumpkin waffle (available for the fall season) that was out of this world.
As mentioned in my cafes and coffee shops post, their coffee drinks are the perfect companion to anything you decide to get from their menu.
This is the perfect breakfast spot to meet up with friends or for a weekday meeting with a colleague.
Plant-based, gluten-free, and vegan items are available on their menu.
Breakfast is served until 1 pm on weekdays, 2 pm on weekends
Urth Caffé Pasadena | 594 E Colorado Blvd, Pasadena | Google Map It
Additional restaurants for breakfast and brunch in Pasadena to check out:
Superb Pasadena Restaurants You Need to Try
Pasadena, California, is known to have one of the best food scenes in Los Angeles. New cafes, eateries, and restaurants in Pasadena are opening monthly. We've gathered a list of superb Pasadena restaurants you should have on your radar when exploring Los Angeles.
With all these fantastic places for breakfast in Pasadena, it is always a hard choice deciding where to go for breakfast or brunch. Our tip is to consider what you're craving and see who prepares it best.
Where do you like to go for breakfast and brunch in Pasadena? We will add to this list as we discover new places for breakfast in Pasadena. Bookmark this post to return to it later.
Share the tips & love on Pinterest: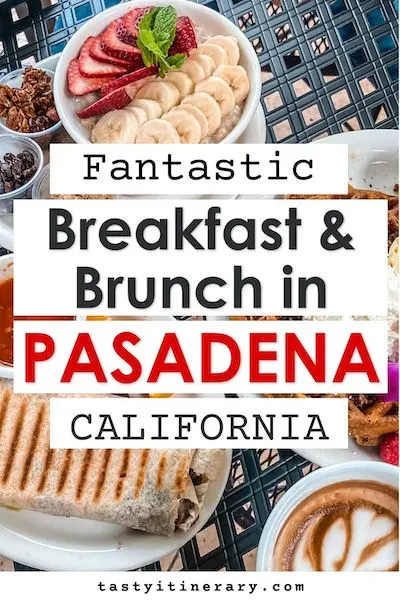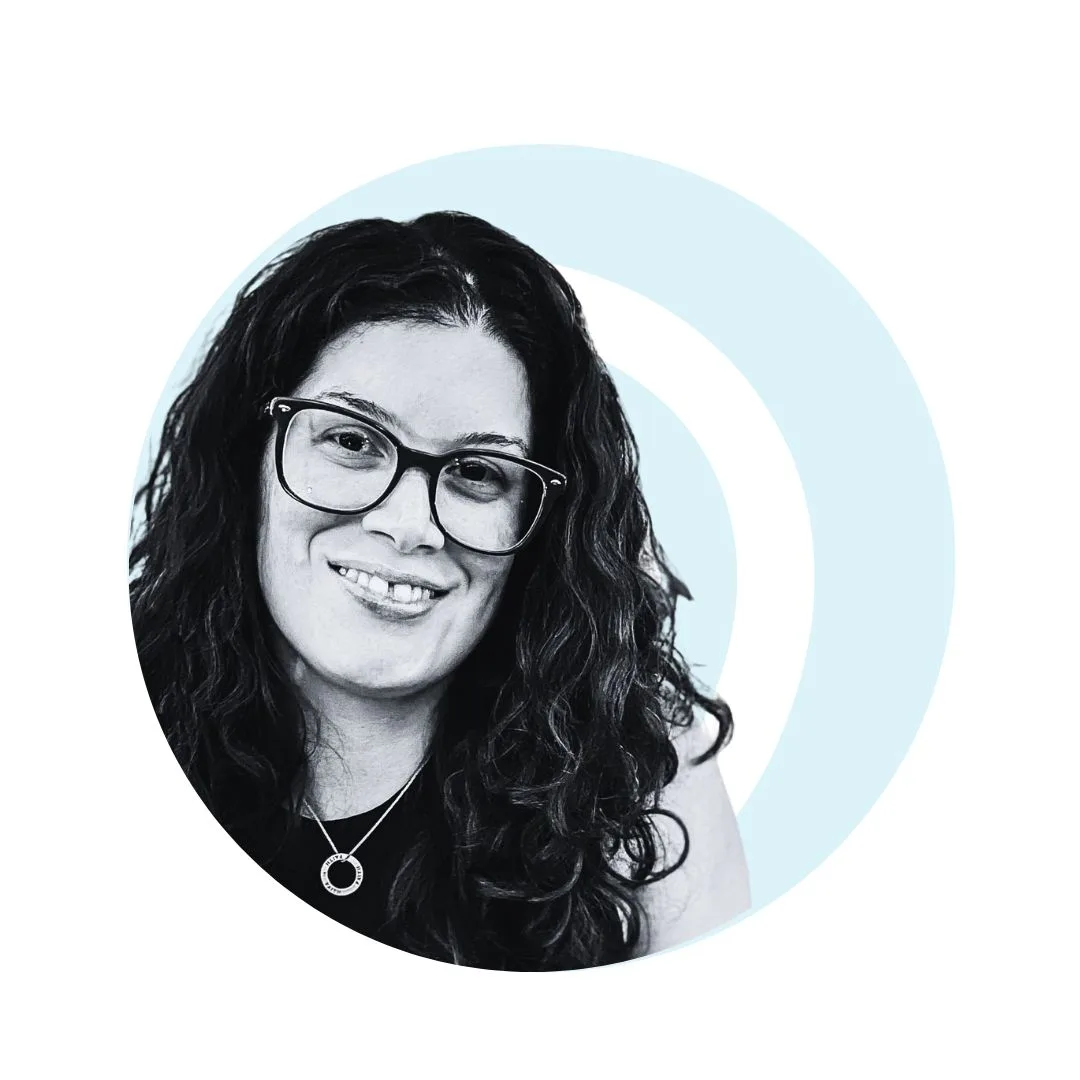 Meet Kathy Ava – a food, travel, and cruise writer based in Los Angeles/Pasadena. With over 20 years of experience planning trips and logistics at her full-time job and for herself, she's become a pro at crafting unforgettable travel itineraries. She's always looking for delicious, fun cruise itineraries and travel destinations and is slightly obsessed with Italy. Her passion and curiosity for travel started in childhood on her yearly and sometimes bi-yearly trips to PR. She firmly believes that life is short and we must make the most of it – so let's explore the world and make some incredible memories.