Love to start your day with breakfast or brunch? Looking for the best breakfast and brunch in Pasadena, California? From the best old fashion pancakes to mimosas, we got you covered.
There is nothing like ending the workweek and heading first thing Saturday morning, sometimes after sleeping in, for breakfast and brunch. In Pasadena -and Los Angeles in general- we take our brunches seriously.
Mimosas and crafted cocktails included. And coffee. We can't forget the coffee.
Sunday brunch is always such a nice treat. It's a great time to gather with family, friends, or your partner that you've barely seen during the week due to a crazy schedule. I'm raising my hand here.
Or those mornings with quick breakfast meetings with colleagues that involve lots of caffeine and avocado toast.
For me, brunch is my favorite meal of the day. What's not to love about a breakfast-lunch combination that defines brunch? It technically lands -not that we are following rules here- at the perfect time of the late morning. You don't know if you should still get breakfast or just have lunch. Why not a little of both?
Disclosure: This post may contain affiliate links. If you decide to make a purchase from one of those links, we may get a commission at no extra cost to you. We appreciate your support.
It's the best mix of classic sweet and savory breakfast items with wonderful indulgent lunch dishes. This is why Chicken and Waffles is the perfect brunch order – you'll want to go to Gus's BBQ for this.
When you find the best pancakes for breakfast in Pasadena, you feel like you hit gold. Why is it so hard to find good old fashion pancakes? You'll find them at Twohey's Restaurant.
There is that one breakfast spot in Pasadena you can count on every day to never fail to serve you a delicious breakfast… Russell's is that place.
Ready to be adventurous? Try a breakfast arepa at Amara Café, you won't be disappointed.
Looking for a delicious variety of breakfast and brunch items, Millie's Cafe has something for everyone.
I'm obsessed with the egg sandwiches from Dot's Cafe.
What do you normally order for breakfast or brunch?
Some of the best places for breakfast and brunch in Pasadena have been around for decades. While others are more recent, but winning our hearts with high-quality food, great drinks, and great ambiance.
I'm a Pasadena local that spends her time off exploring and eating her way through this great city. These are the spots I consider fantastic spots for breakfast and brunch in Pasadena.
Would love to know, where do you have breakfast?
Breakfast and Brunch in Pasadena, CA
1. Russell's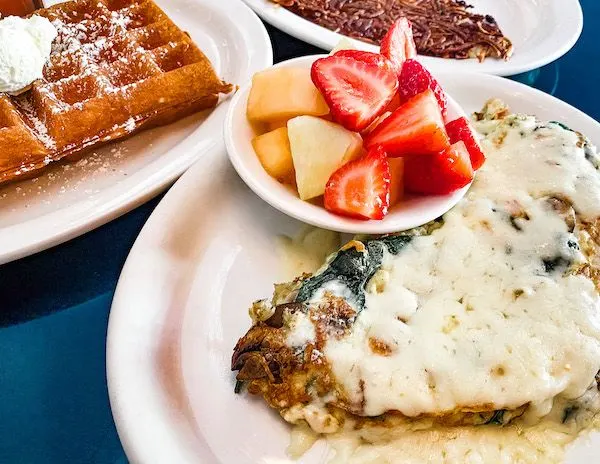 Russell's in Old Pasadena has been voted the best breakfast in Pasadena in the past by the community. It continues to be one of the best spots to grab breakfast and brunch in Pasadena.
This is evident by the short wait you almost always will encounter in the mornings through brunch. They recently expanded their classy diner with more seating, which helps to serve more diners.
They have a full breakfast menu with star items like the Croque Madame. Which I highly recommend you top with a sunny-side-up egg.
Their Belgium Waffle is exactly what to expect. Light and airy with a slight crisp.
The omelets are one of my faves as there are so many variations. They are plentiful and satisfying. You can pay a little extra to swap out toast for a side pancake or Belgium waffle.
Open every day from 7 am to 3 pm
Russell's | 30 N Fair Oaks Ave, Pasadena (Google Map It)
2. Amara Café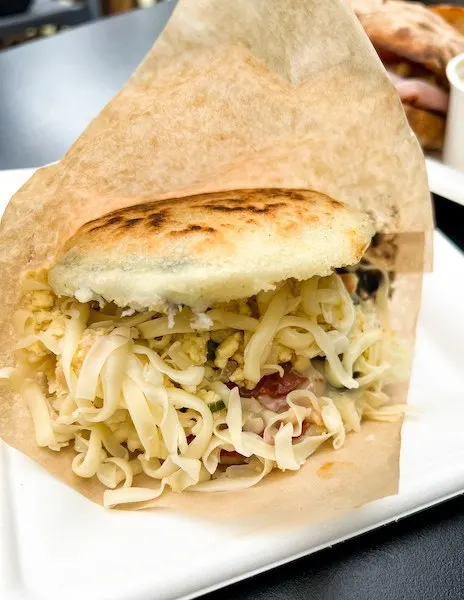 Amara Cafe is a spot you go to for a fantastic South American breakfast and brunch in Old Pasadena without the frills of sit-down service. This little cafe serves a delicious Venezuelan breakfast that will leave you more than satisfied.
Their popular breakfast Pa'l Pana arepa hits the spot and its love after the first bite. Full of flavor, high-quality ingredients, and prepared with love. You can taste it in every bite. Even the Cubano sandwich hubby ordered had my tastebuds singing. Looking forward to trying the Cachapa plate and other South American dishes.
This is one of those places you'll enjoy the food and leave feeling fulfilled the rest of the day.
Of course, the coffee and churros are absolutely a must-have, too.
Order upfront at the register and a number on your receipt will be handed to you. Wait for a table to become available – there is a quick turn of tables here as people eat, enjoy, and leave. They'll come out with your food hot and fresh calling your number.
Open Tues-Wed 7:45 am to 3 pm, Thurs-Sun 7:45 am to 4 pm
Closed on Monday
Amara | 55 S Raymond Ave, Pasadena (Google Map It)
3. Twoheys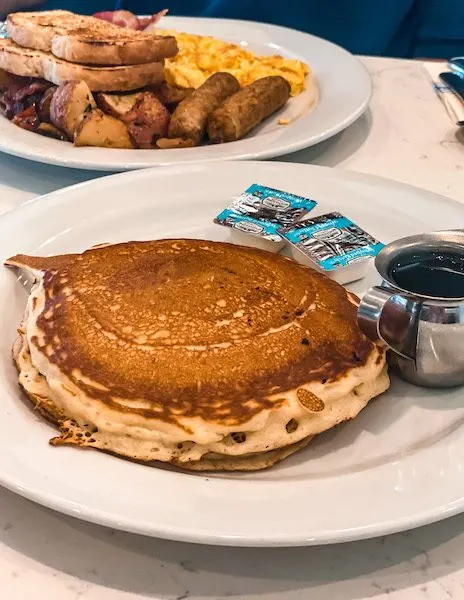 If you're looking for the best pancakes for breakfast in Pasadena, you'll find them at Twhoheys.
Twoheys serves the best Old Fashion Pancakes. They almost taste like you're having cake for breakfast. They also do serve buttermilk pancakes, which have a more tangy flavor to them. I recommend ordering the old fashion pancakes and you'll see what I mean.
The Biscuits and Gravy, Brioche French Toast, and Chicken and Waffles are also all winners. If you're looking for a dessert breakfast, the ice cream and waffle combo is a pretty good one, too.
Looking for something lighter? Try their delicious and pretty Avocado Toast on sourdough toast.
This is a great place for a family-friendly breakfast or brunch.
A full bar is available as well.
Closed on Tuesdays
Open Monday, Wednesday thru Sunday from 9 am to 8 pm
Breakfast is served all-day
Twoheys Restaurant | 424 Fair Oaks Ave, South Pasadena (Google Map It)
With the abundance of cafes and coffee shops in Pasadena, we have quite a few that are wonderful all serving their own roast, baked goods, and ambiance. Check out these amazing cafes and coffee shops in Pasadena. Get your caffeine buzz on.
4. Magnolia House
Weekend brunch in Pasadena at Magnolia House is one of the best spots for top-notch craft cocktails and fabulous eats. It's also great for a brunch date with your other half or a meet-up with your best friends.
It's a trendy lounge serving delicious eats. The outdoor space is great for groups. The indoor space is perfect for an intimate brunch setting.
From avocado toast, breakfast sandwiches to chicken and waffles, you'll have a hard time choosing what to eat. For something sharable and savory, I highly recommend ordering the Pork Belly Fried Rice as a side dish.
Brunch is only on Sat & Sun from 9 am to 2:30 pm
Magnolia House | 492 S Lake Ave, Pasadena (Google Map It) | Menu
5. Gus's BBQ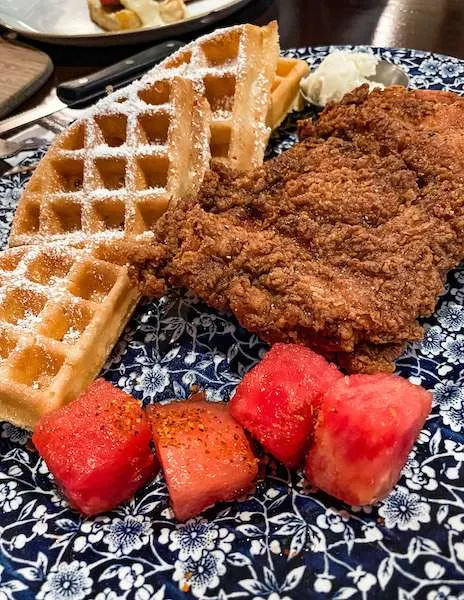 For a Southern-style breakfast in Pasadena, you'll want to head to Gus's BBQ. You won't regret it.
Before you even look at the menu, start off with their Cinnamon Bun Skillet.
Then if you've never had the Chicken and Waffles (only available on Saturday and Sunday), seriously consider ordering this fantastic breakfast combination. Possibly the best fried chicken in town with delicious airy waffles is a must.
Another favorite is their Southern Style Eggs Benedict. Can't handle the spice but love eggs benedict? Order the Classic Eggs Benedict and have them swap up the English muffins for their homemade biscuits.
Depending on what you order, breakfast or brunch could end up being pretty decadent and filling here. Expect to have a happy belly until dinner.
Breakfast is on Sat & Sun from 8:30 am to 2 pm
Reservations on the weekends are recommended.
Gus's BBQ | 808 Fair Oaks Ave, South Pasadena (Google Map It)
6. Dots Cafe
Dot's Cafe does not only have fantastic coffee that comes in the prettiest cups (I love their branding!) and a fabulous dessert bar, their breakfast (and lunch) menu is legit.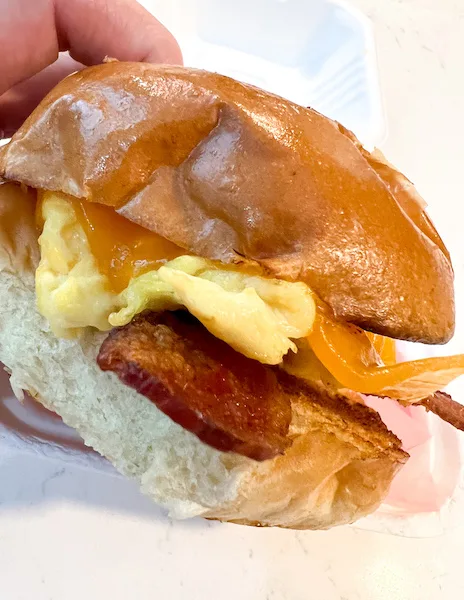 Most recently, I was surprised by breakfast from Dot's Cafe in the morning. Dot's Cafe knows how to properly scramble some eggs. From their scrambled toast to their breakfast sandwich, we ate every last bite. The eggs are fluffy, luscious, and rich. And the bread from the toast is made in-house.
We still have to return to try their pancakes and other breakfast items, but we know they won't disappoint. Have you had their baked goods? Then you know! There is nothing they can't do here.
The only downside with Dot's is that there is limited seating. This is not a sit-down restaurant, it's a lovely cafe. Don't let that deter you though! Take it out if you can't find a seat. Have a picnic. Take it home. You're going to enjoy it.
Breakfast is Mon-Fri 8 am to 12 pm, Sat-Sun 8 am to 2 pm
Dot's Cafe | 3819 E Colorado Blvd, Pasadena (Google Map It)
7. Mercado
In Pasadena Commons on Lake Ave is Mercado. A modern restaurant serving delicious brunch margaritas and a few Mexican breakfast plates on the weekends should be on everyone's list.
We finally made it here on a Saturday brunch, and oh boy, it did not disappoint. It actually surprised us.
There are not many "breakfast" type options available on the menu, but if you get anything with carnitas (and a margarita), you'll be sure to leave there happy.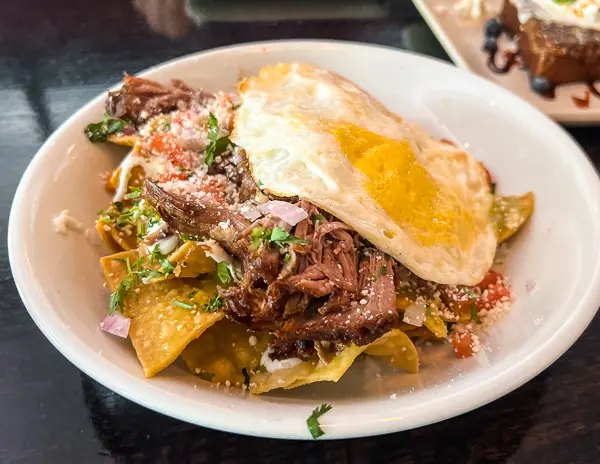 We did a sweet and savory combination by sharing the Canela French Toast and the Chilaquiles Verdes con Huevos y Carnitas. Both are absolutely tasty and satisfying. The Chilaquiles were our favorite of the two, and we highly recommend them. Just don't make the same mistake we did, order the eggs Sunnyside up, not over medium.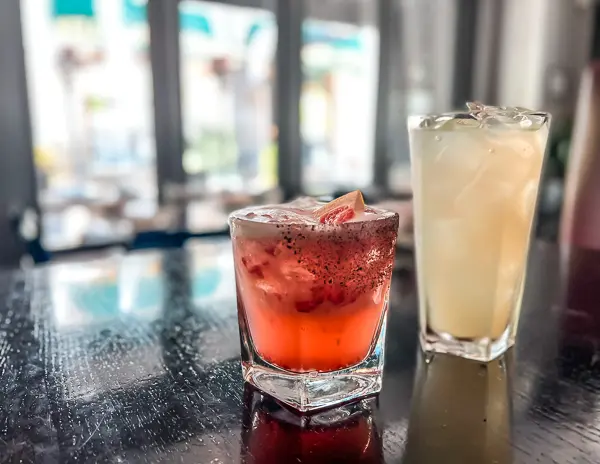 We ordered their special margarita of the day, a raspberry grapefruit margarita. As well as their non-alcoholic Aguas Frescas made of pineapple. Both refreshing and exactly what we needed on a hot afternoon.
Brunch is on Saturday & Sundays from 11 am to 3 pm
Mercado | 140 S Lake Ave, Pasadena (Google Map It)
8. La Grande Orange Cafe
La Grande Orange Cafe is a great spot to meet up with friends or a family for a tasty and fun brunch in Pasadena.
Their eggs benedict with their homemade English muffins is fabulous. For something more decadent, the Short Hash with the slow-roasted roast short rib and a sunny side egg is divine. Order their Lemon Ricotta pancakes for the table to share that something sweet.
While they do have mimosas by the carafe, try their white sangria instead.
Highly recommend their outdoor dining for large groups.
Open Mon-Thur from 11 am to 9 pm, Fri 11 am to 10 pm, Sat 10 am to 10 pm, & Sun 9 am to 9 pm
They have all-day breakfast menu items
Reservations recommended for the weekends
Please note: Due to the pandemic, they currently have everyone ordering from tablets outside prior to being seated. Once you're seated, you'll have full waiter service.
La Grande Orange Cafe | 260 S Raymond Ave, Pasadena (Google Map It)
9. Foothill Restaurant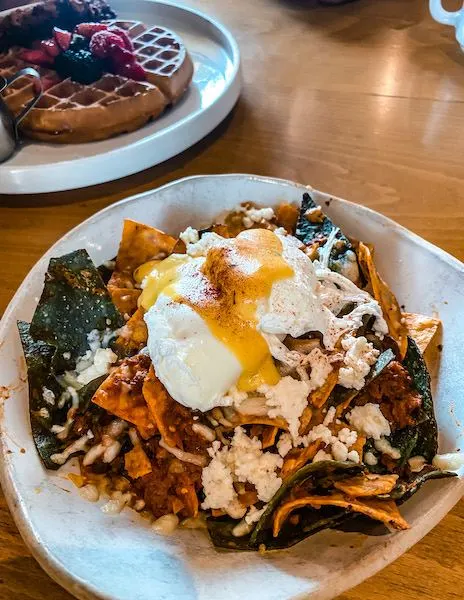 Foothill restaurant has Boozy Brunch in Pasadena on the weekends. Sometimes live music is included. Sit in their lovely outdoor space and enjoy mimosas served by the carafe or a bloody mary cocktail.
They do not have an extensive breakfast and brunch menu, but all the better to make quick and delicious choices.
For anyone that loves spice, order the Chilaquiles with a poached egg – make sure they don't overcook the egg. The Buttermilk Pancakes are great for sharing. You can never go wrong with the classic Standard Breakfast.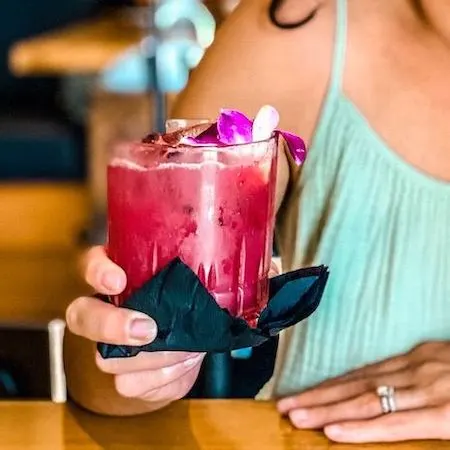 I usually skip the mimosas and order the Chaos is My Friend cocktail.
Brunch is only available Sat & Sun from 9:30 am to 3 pm
Reservations are recommended for earlier breakfast times
Foothill Restaurant | 2835 E Foothill Blvd, Pasadena (Google Map It)
One of the best parts of Pasadena is all the delicious spots to eat. From restaurants to take-out, check out some of our favorite places to eat.
10. Millie's Cafe
Millie's Cafe is located on Washington Blvd, on the opposite corner of Lavender and Honey. Pasadena is their second location, their first being in Silver Lake.
When you see a crowd gathered in front of a restaurant all the time, you have to wonder if they are giving the food away or if the food served is that good.
Well, I'm here to tell you that breakfast at Millie's Cafe is delicious. I can see why it's such a popular and beloved spot in Pasadena. It's family-friendly, the menu is extensive with so many different choices for everyone to choose from, the service is attentive and the space is modern.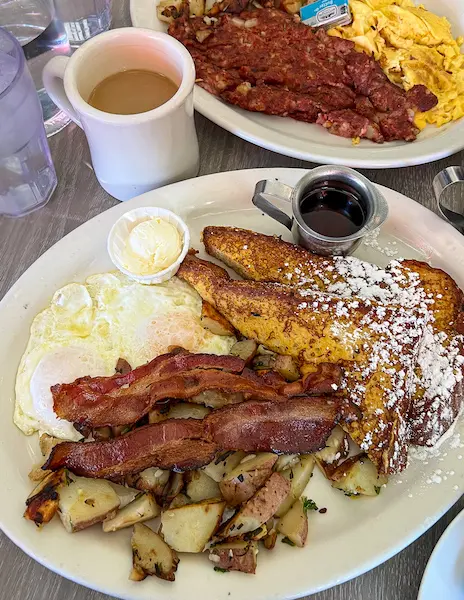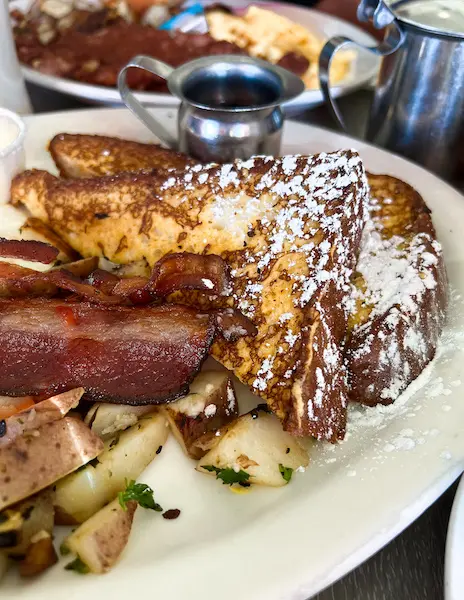 We watched beautiful plates of chicken and waffles, french toast, oatmeal, breakfast burrito, and avocado toast were served. I opted for "the Usual" (that's what it's called) of eggs, bacon, potatoes, and french toast. Hubby had their Heavenly Hash (corn beef hash) with eggs, potatoes, and a biscuit. We thoroughly enjoyed our breakfast and would absolutely return to try other items off their menu.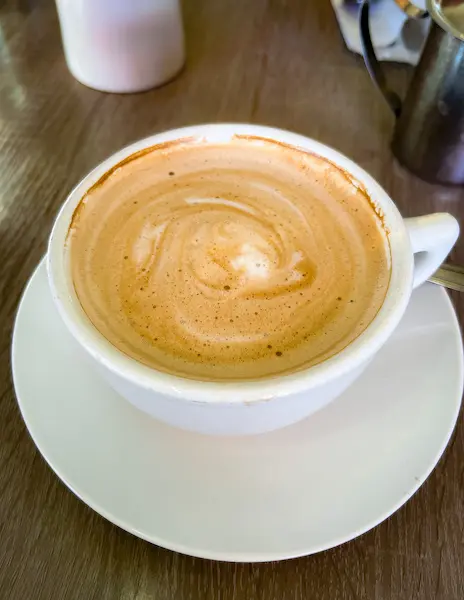 Did not expect much from the latte I ordered, but boy did it pack a punch and it did not disappoint.
From other online reviews, the Eggs Benedict and the Chilaquiles there seem to be a huge hit. There is plenty of variety on the menu.
Have you been to Millie's Cafe? What do you love from there?
Tip: Millie's Cafe has a waitlist on Yelp and you can see how long the wait is. You will want to add yourself to the waitlist at the right time, so you are able to get there before the required check-in time. This will save you time from waiting for a table for a long time.
Open 7 days a week, 8 am to 3 pm
Breakfast is served from open to closing
Millie's Cafe | 1399 E Washington Blvd, Pasadena (Google Map It)
11. Marston's
This casual laid-back spot is a local favorite breakfast and brunch in Pasadena. You feel comfortable and at home the moment you enter the small cottage.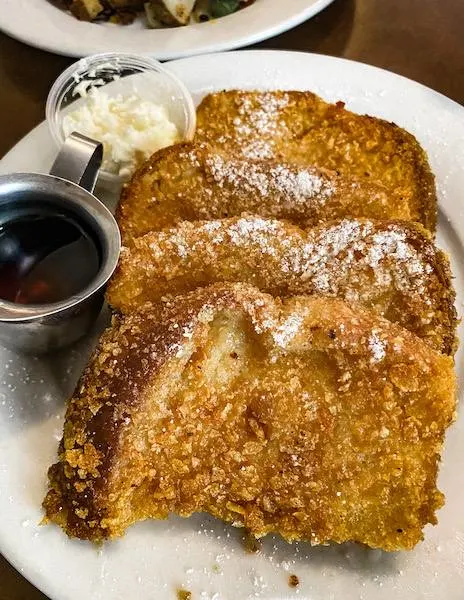 Marston's is known for its Fantastic French Toast. We will normally order an omelet and the french toast to share for a sweet and savory breakfast.
Their Macadamia Nut Pancakes are also really good and they always remind me of my favorite breakfast in Kauai. The only thing that's missing is coconut syrup.
Open 7 days a week until 2:30 pm
Marston's | 151 E Walnut St, Pasadena (Google Map It)
12. Republik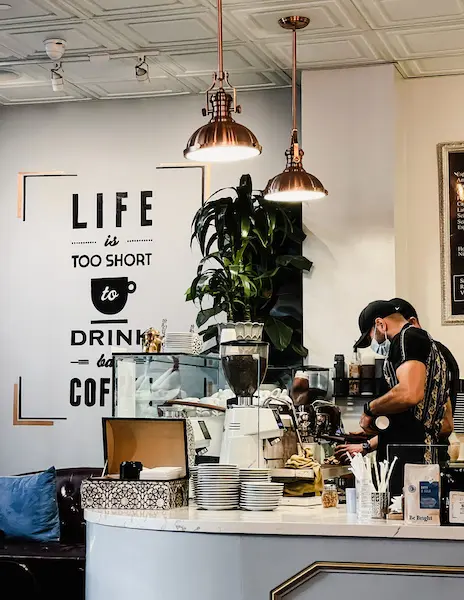 Republik is a fantastic coffee lounge in Pasadena that serves amazing signature coffee drinks and brunch. While you can get coffee, breakfast, and lunch every day of the week and dinner on weeknights, a special brunch menu is reserved for weekends only.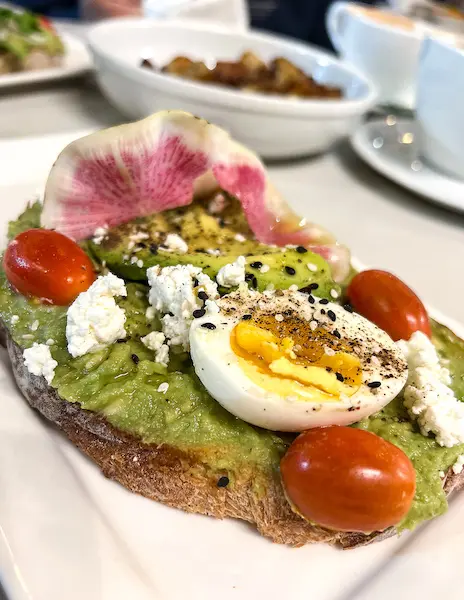 The ambiance is trendy, warm, and inviting. Food is prepared with high-quality ingredients and you can taste it with every bite. You'll find delicious toasts, organic bowls of yogurt with beautiful and yummy toppings, and a few breakfast favorites like their brioche French Toast. We love their avocado toast options.
Here you'll order at the counter and then find a table.
The brunch menu is available on weekends from 7 am to 4 pm
Weekday breakfast/lunch on weekdays from 7 am to 3 pm
Republik Coffee | 854 E Green St, Pasadena (Google Map It)
13. Urth Caffé
This list isn't complete without Urth Caffé. It is one of the busiest spots for breakfast and brunch in Pasadena. Amazing coffee and desserts aren't the only things they serve. This European Style cafe serves a huge menu of breakfast favorites like Belgium waffles, oatmeal, yogurt parfaits, acai bowls, and avocado toasts.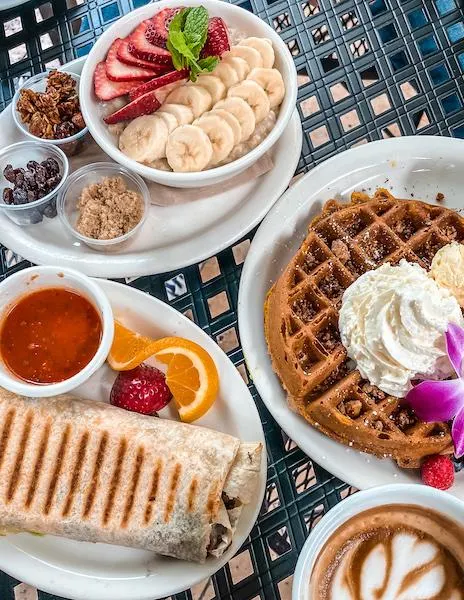 We recently were there for breakfast. Hubby ordered their famous bowl of oatmeal that he loves. I tried their huevos rancheros burrito. We shared their pumpkin waffle (available for the fall season) that was out of this world.
As mentioned in my cafes and coffee shops post, their coffee drinks are the perfect companion to anything you decide to get from their menu.
This is the perfect breakfast spot to meet up with friends or that weekday meeting with a colleague.
Plant-based, gluten-free, and vegan items are available on their menu.
Breakfast is served until 1 pm on weekdays, 2 pm on weekends
Urth Caffé Pasadena | 594 E Colorado Blvd, Pasadena (Google Map It)
14. Great Maple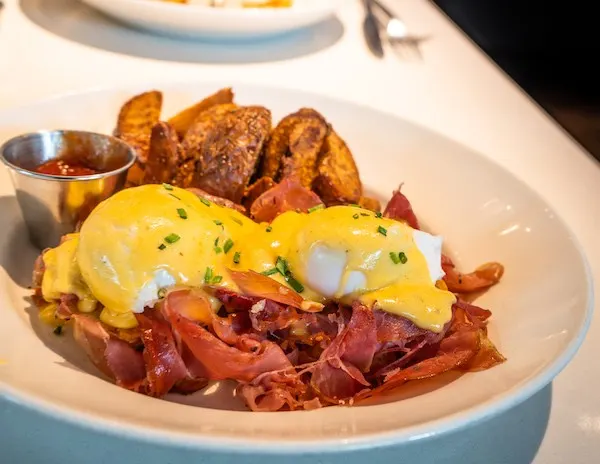 While Great Maple is a chain restaurant, there is no denying that they serve delicious comfort food, that includes brunch. This Modern American restaurant is located in Old Paseo. It has a beautiful interior with a full bar and a nice outdoor space.
They serve a limited brunch menu that is pretty heavy on the comfort side of things… think fried chicken and donuts. So if you're looking for variety, gluten-free, and/or healthy, this may not be the brunch spot for you.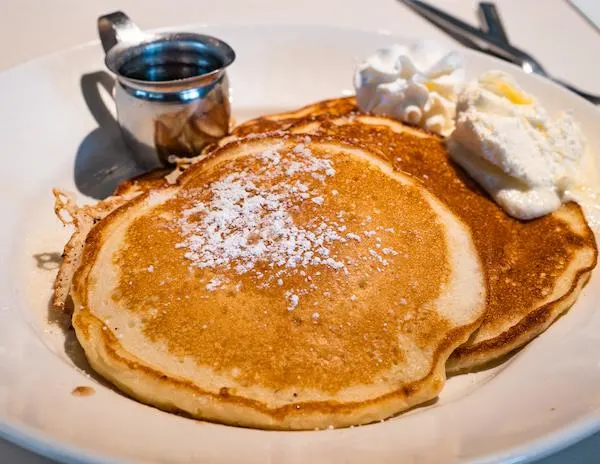 If you are looking to indulge in a plate of Eggs Benedicts with Cheddar Biscuits, Fried Chicken and Donuts, or Buttermilk Pancakes, you found the right place.
Portions are big. The fried chicken and donuts are definitely shareable between two people.
White Peach Bellini's and Mimosas are on the menu as brunch favorites. As well as mimosa kits that include a whole bottle for the table with a choice of juice.
Open Monday thru Friday 11 am to 7 pm
Open Sunday and Saturday
Reservations are recommended on the weekends for brunch as it gets crowded.
Great Maple | 300 E Colorado Blvd, Pasadena (Google Map It)
With all these fantastic places for breakfast in Pasadena, it is always a hard choice where to go. My tip, think about what you're craving for breakfast or brunch and see who serves the best of it.
Where do you like to go for breakfast and brunch in Pasadena?
I will be adding to this list as I discover new places for breakfast in Pasadena. Bookmark this post to return to it later.
Don't forget to share the love on Pinterest: