Looking for the yummiest and best spots for ice cream in Pasadena, California?
I scream, you scream. We all scream for ice cream in Pasadena.
Ice cream is the gateway to happiness to happiness. Whether on a hot or gloomy day, you can never go wrong with ice cream. And enjoying ice cream in Pasadena is even better.
Reminiscence about your favorite country or city with inspired ice cream from Wanderlust Creamery. The Kinder flavor with the hazelnut chocolate always takes us back to Europe.
Surprise the family with a round of sundaes from Twohey's soda fountain.
Or hit up Handel's Homemade Ice Cream at Hasting Ranch for a cone, hurricane, or milkshake.
Try the best frozen yogurt in town at 21 Choices. You won't believe you're eating yogurt.
Have the best waffle cone at Carmela's and choose from their homemade ice cream flavors.
Perhaps, take the kiddos for some old fashion fun at Fair Oaks Pharmacy.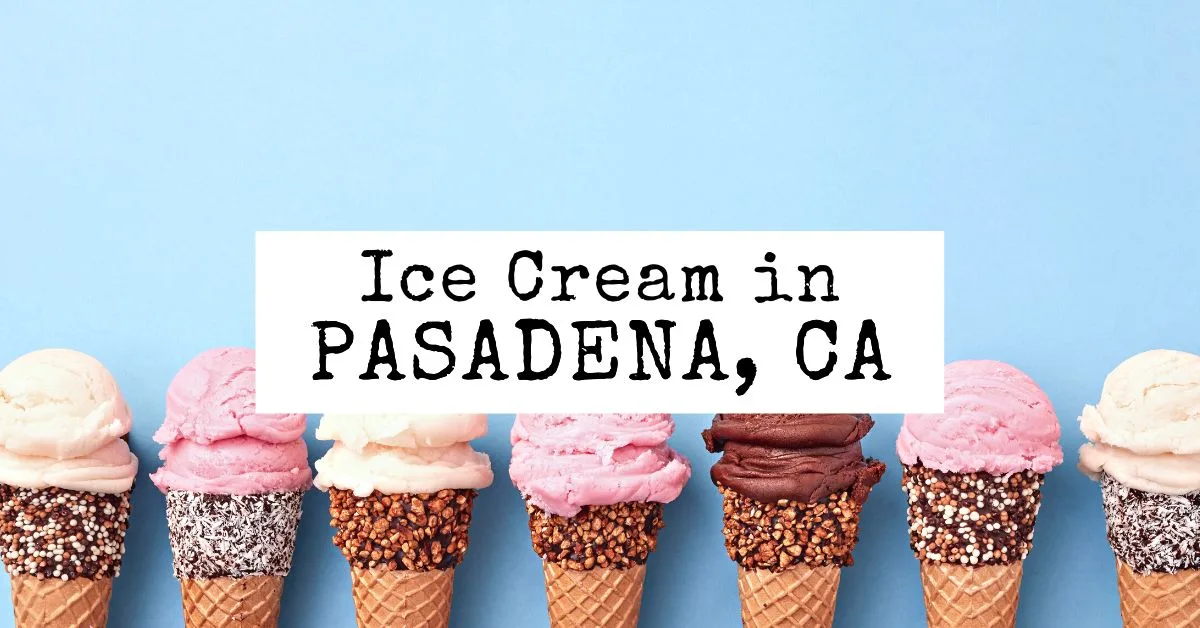 When it comes to ice cream in Pasadena, we have it covered. As Pasadena locals, we make it our duty to eat our way through this foodie city and share the highlights so you can plan your tasty itinerary.
You'll find that each ice cream location has a different menu, flavors, and combinations. Whatever you're craving, you'll find. Soft serve, gourmet ice cream, unique flavor combinations in ice cream shops, soda fountains, and Pasadena must-visit landmarks.
What's your favorite kind of ice cream?
You may find long lines at some but worth waiting to enjoy these cold treats. The lines go by so fast that you'll forget about the wait when you first taste them.
Any day and any season living in Pasadena is a good day for ice cream.
Did you know that LA County was once the dairy capital of America? 
Ice Cream in Pasadena
1. Twoheys Restaurant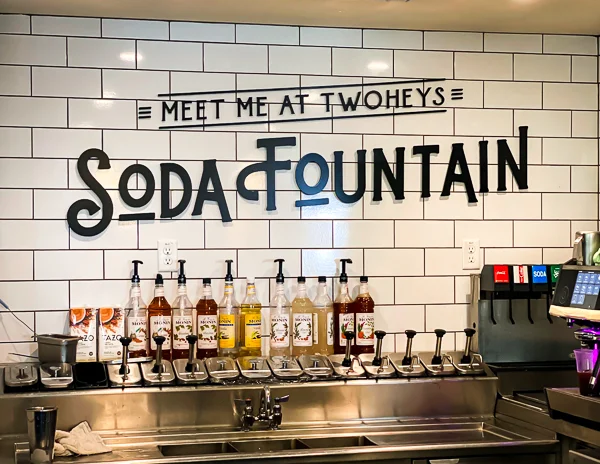 Twoheys is a restaurant, but it gets a pass on this post because it has a dedicated soda fountain to prepare its famous sundaes. This restaurant has been around since 1943 and recently moved to a new location in South Pasadena. We are delighted that they are closer.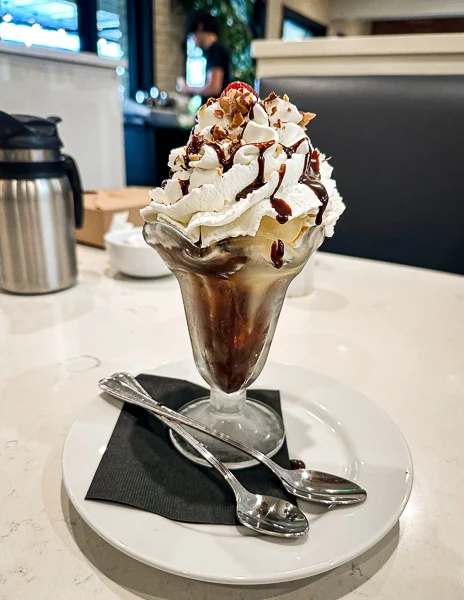 Without a doubt, Twoheys has one of the best sundaes in Pasadena. Whenever we are at Twohey's, we order their sundae for dessert.
Part of what makes their sundae so delicious, on top of the ice cream, is their milk chocolate hot fudge. It doesn't taste anything like what you buy at the supermarket. The best part is that its real chocolate, not watered-down fake chocolate syrup.
The other part of what makes their sundae so amazing is the preparation. It's an art that goes into layering this amazing sundae. They top it with delicious whip cream, nuts, and a maraschino cherry.
What to get? The sundae, of course. Choose a small or large. You can also try their banana split and milkshakes.
For breakfast or dessert, you can also have a freshly made hot waffle with ice cream and fruit. This is also one of my all-time favorite combos.
Seating is available inside or on the patio.
Tip: You can also enjoy their famous sundae at Foothill Restaurant.
Twoheys Restaurant | 424 Fair Oaks Ave, South Pasadena | Google Map It
2. Carmela Ice Cream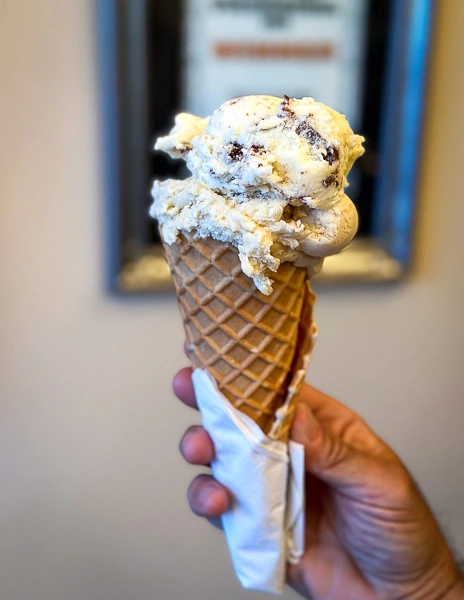 Have you ever given something you just finished eating a round of applause?
This happens when we have Carmela's. Their homemade waffle cones topped with any of their ice cream flavors are fantastic. Crunchy. Caramel-y. Sugary. Deliciousness. One of the best.
We've been following and enjoying Carmela Ice Cream for many years, even before they landed in Pasadena. Sod having them nearby is meant to be.
Their ice cream is amazing and worth waiting in line for. Ultra-rich and creamy flavors will leave your tastebuds and belly extremely happy. Their sorbets are just as delicious.
What to get? Their flavors change, but I LOVE their brown sugar vanilla and cookies & cream ice creams. Any ice cream flavors in one of their delicious and irresistible cones are a must.
Their ice cream sandwiches are also popular. They have some already made in the freezer, but if you want any special combinations or if they are out, they'll make one of you fresh.
Carmela Ice Cream | 2495 E Washington Blvd, Pasadena, CA 91104 | Google Map It
One of the best parts of Pasadena is all the delicious places to eat. Check out some of our local favorite spots.
3. Handel's Homemade Ice cream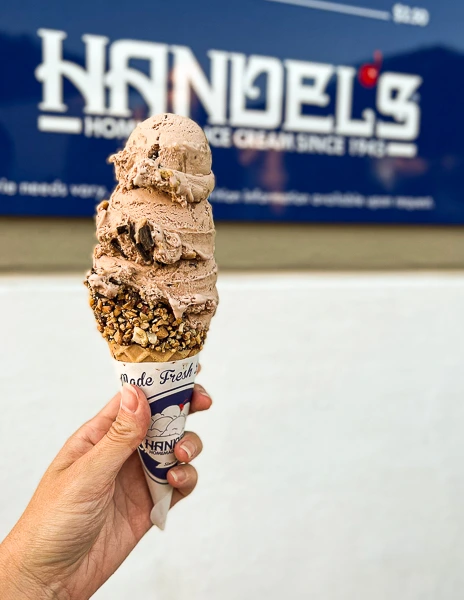 Handel's recently opened a location on East Foothill Blvd in Hastings Village of Pasadena. This franchise started in Ohio in 1945 and made homemade ice cream that is undoubtedly one of the best.
Every time we visit Handel's, there is a long line. Don't fret! It goes fast! It gives you time to peruse their menu board and pick one of their many delicious flavors. You're going to have a hard time choosing! Point your mobile phone to the QR code they posted on the window. Take your time while online to choose the right flavors.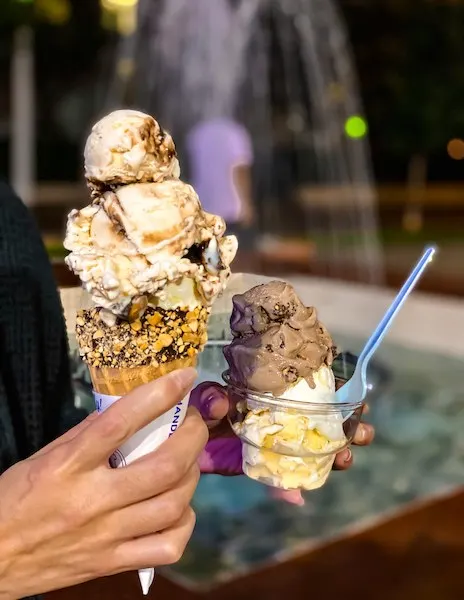 Between the Heavenly Hash and the Buckeye ice cream, we can't decide what we love more. The ice cream is high quality. They are not stingy with the toppings. Every spoonful had chunks of toppings in my Heavenly Hash.
Their French Silk Pie ice cream is one of our other favorites. Ask if they have it available!
Take a look at all their ice cream flavors. There are so many, but the menu is fun to go through, and then difficult to narrow down what you'll want. You can choose between different cones, a cup, a hurricane, and milkshakes.
The Buckeye is one of their top favorite desserts; if you are a peanut butter lover, we highly recommend it.
If you're looking for a fall treat to commemorate the fall season in Los Angeles, you'll want to try their Pumpkin Pie ice cream.
They have multiple take-out windows, including an express line for ice cream cones and cups. There s also plenty of outdoor seating behind the store.
Vegan and sorbets are available.
Handel's | 3405 E Foothill Blvd, Pasadena | Google Map It
4. Afters Ice Cream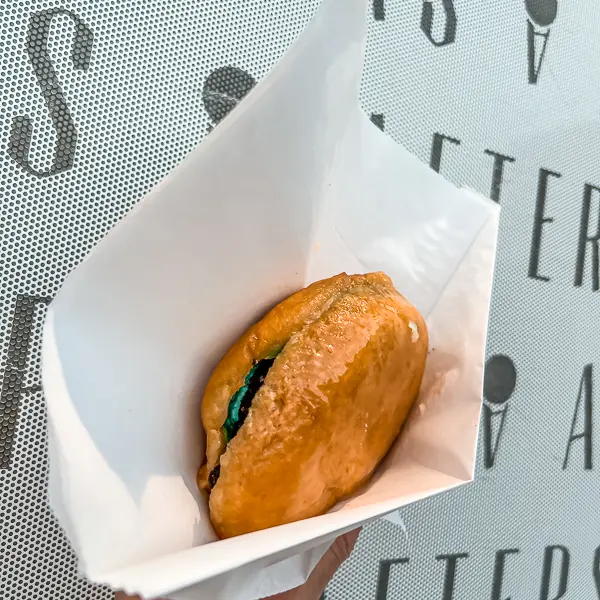 While Afters has 27 locations in Southern California, this is a popular spot for ice cream in Pasadena, and it's one of the most aesthetically nostalgic and cutest ice cream places near me. They are known for their delicious milky bun ice cream sandwiches and unique cereal flavor and combinations.
If you love cereal, and I mean the fun kind of cereal, you'll love Afters.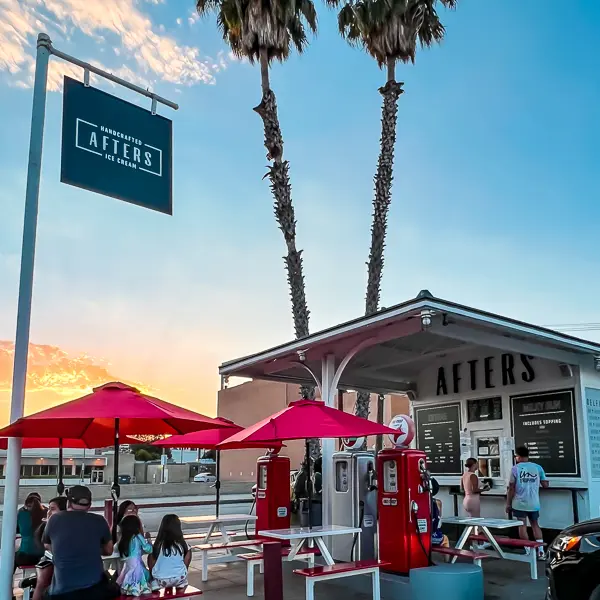 What adds to the charm of this ice cream spot is the location. It is set up in an old-school gas station with vintage gas pumps. Therefore, making a cool classic place to sit and enjoy your milky bun ice cream sandwich.
What should you get? A milky bun sandwich with your choice of ice cream and topping.
Seating is available outside.
Afters Ice Cream | 1265 E Green St #2616, Pasadena | Google Map It
5. Salt and Straw
You'll find Salt and Straw on Colorado Blvd in the center of Old Town Pasadena. A franchise that first opened at the beginning of lockdown, and we are so happy to see them busy up to most recently.
Their unique combinations make Salt and Straw one of the best ice creams in Pasadena. Did you ever think of adding goat cheese to your ice cream? Probably not. You may find it in their sweet and savory combos and wonder what it tastes like.
Every month they have new flavors they create with what's in season. So every time you go to Salt and Straw, you'll get to try something new. They also have classic flavors that are always available, like their Double Fold Vanilla and Chocolate Gooey Brownie.
What to get? Try one of their unique flavors of the month. The combination will surprise your tastebuds. We recently had the Cowboy Coffee Grounds and Bourbon, which was amazing!
Non-dairy and vegan options are available.
Salt and Straw | 39 W Colorado Blvd, Pasadena | Google Map It
6. Wanderlust Creamery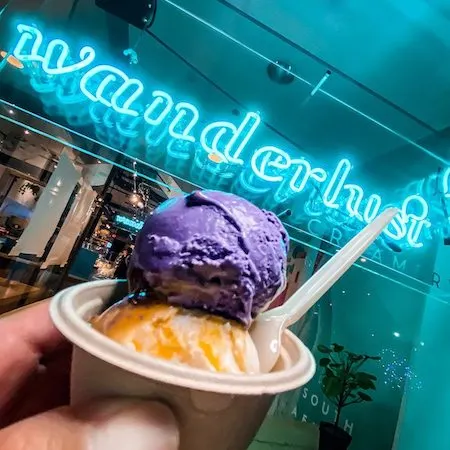 It's hard to miss Wanderlust Creamery in Old Town with their sign glowing above the structure and in the window on Colorado Blvd.
This artisanal ice cream shop has stolen my wanderluster's heart. Besides its deliciousness, we love that its flavors are inspired by travel and destinations. If you want to take your tastebuds on a short trip to a new destination or one you remember, check out Wanderlust Creamery.
What to get? The ice cream combinations are unique, so I suggest being adventurous and trying a couple that calls out your name. Perhaps that takes you on a little trip back to somewhere you love.
The ice cream is creamy, not overly sweet, and delivers the inspired flavors' intention.
Note: Wanderlust Creamery shares space with the Pie Hole. But as soon as you walk in, you'll find Wanderlust Creamery to your right. Follow the line, and it goes fast.
Tip: Want only one scoop but want to try different flavors? Order their single split scoop. 
Dairy-free and vegan flavors are available.
Wanderlust Creamery | 59 E Colorado Blvd, Pasadena | Google Map It
7. Bloomfield Creamery
At Bloomfield Creamery, you can get ice cream, soft serve, and frozen yogurt in one place. So if you're looking for a variety for a group, definitely head here. You'll find a variety of flavors, even the beloved Dole Whip.
What to get? If you like toppings, I suggest additional toppings.
This cute shop has seating inside and outside. Sometimes their vintage ice cream truck is parked outside.
Vegan options are available.
Bloomfield Creamery | 1727 E Washington Blvd, Pasadena | Google Map It
8. Fair Oaks Pharmacy and Soda Fountain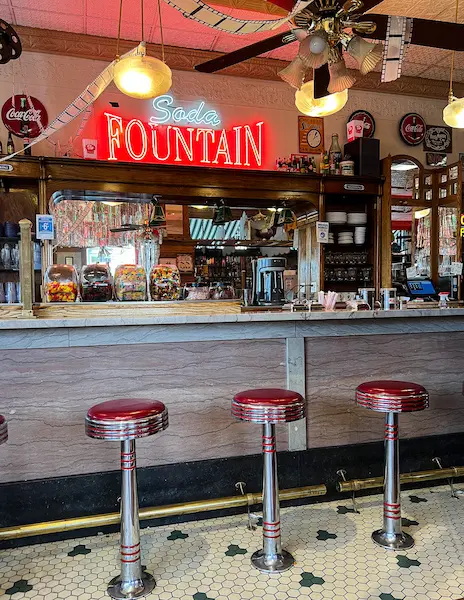 The nostalgia of the Fair Oaks Pharmacy and Soda Fountain cannot be ignored. It is a novelty. This is a great spot for the family to bring the kiddos for some ice cream and old-school retro vibes. It's been a South Pasadena landmark since 1915.
We adore this place because it transports me back to a time when soda shops were neighborhood staples. A time I wasn't born in but can appreciate. It's a piece of the past we get to hold on to and enjoy.
Get a spot at the soda fountain counter, feel like a kid again, or give your kid that old-school experience.
What to get? You'll find an ice cream menu here of scooped ice cream, sundaes, milkshakes, and malts. I'm partial to the ice cream floats.
Fair Oaks Pharmacy | 1526 Mission St, South Pasadena | Google Map It
Check out the top things to do and see in the City of Roses. Go shopping in Old Town Pasadena, explore our Botanical gardens, visit a museum, and more.
9. 21 Choices Frozen Yogurt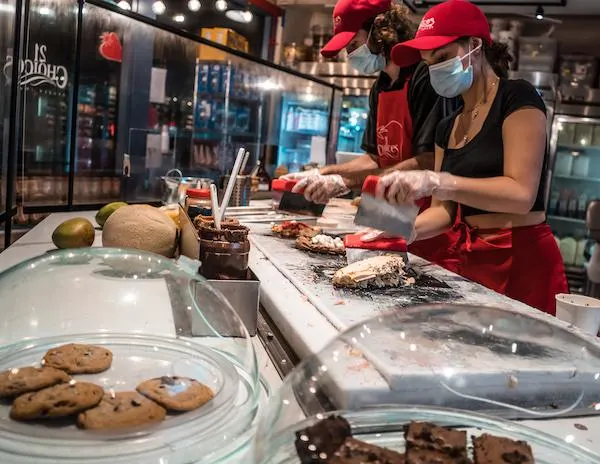 21 Choices is not ice cream but frozen yogurt. I just had to add it to this list. It is possibly the best-frozen yogurt in Pasadena, especially if you get the French Vanilla flavor. It's like having ice cream but not.
Upon the first spoonful of their French Vanilla yogurt, you won't even believe you have frozen yogurt. Their chocolate is just as good.
You can have the yogurt, plain as-is, or try one of their mix-ins. One thing I love about 21 Choices is that you can have them hand mix in ingredients. Fresh fruit, cookies, chocolate, whatever you like. Create your own or choose a combination from their mix-in menu.
Non-dairy flavors are available.
Expect lines, especially at night. Best to go early in the day or very late at night.
21 Choices Frozen Yogurt | 44 N Fair Oaks Ave, Pasadena | Google Map It
Ice Cream Shops Near Pasadena Worth the Short Drive
10. Fosselman's Ice Cream Company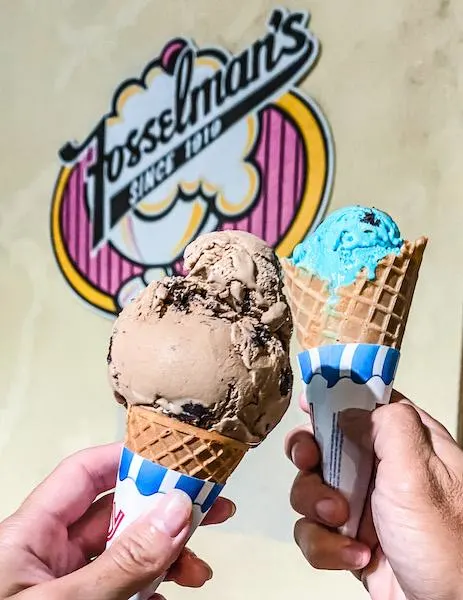 While not in Pasadena, most locals know of Fosselman's and will trek to Alhambra for a scoop of ice cream there. They've been around since they first opened in 1924. Still, run and operated by the Fosselman family.
Old-fashioned hand-made yummy ice cream and various flavors you will have difficulty choosing from. We recently were there, where we both enjoyed scoops of coffee, cookie ice cream, and cookie monster. Check out their seasonal monthly flavors available.
Gus's BBQ in South Pasadena proudly serves Fosselman's ice cream (a few classic flavors). In case you do not feel like going all the way to Alahambra.
Note: Cash only. There is an ATM next door at Wells Fargo.
Fosselman's | 1824 W Main St, Alhambra | Google Map It
11. Mother Moo's Creamery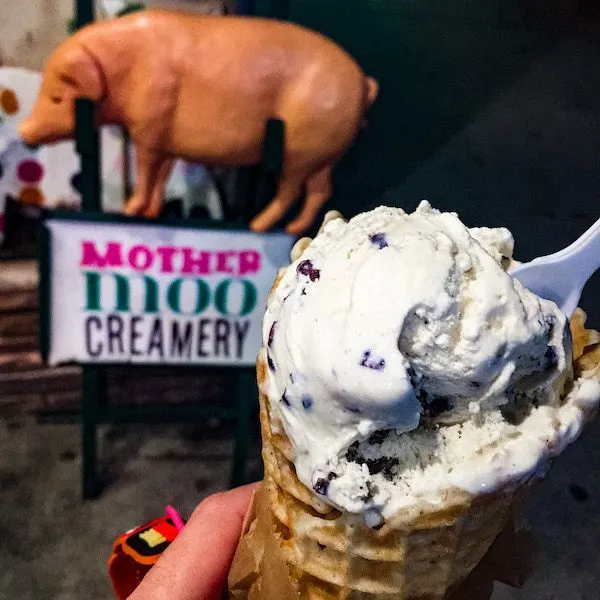 We first discovered Mother Moo's Creamery while looking for a new ice cream spot to take my ice cream-obsessed niece when she was a toddler. We've been going back since. It's one of our favorite places for ice cream outside Pasadena.
There hasn't been an ice cream flavor I have not liked. Their ice cream is creamy yet light and not overly sweet. I love their triple milk.
We can assure you that the aroma of freshly made waffle cones and other baked goods like apple pie, brownies, or cookies will lure you in from down the street.
What to get? Just don't forget a waffle cone.
Mother Moo's Creamery | 17 Kersting Ct, Sierra Madre | Google Map It
Share the tips & love on Pinterest: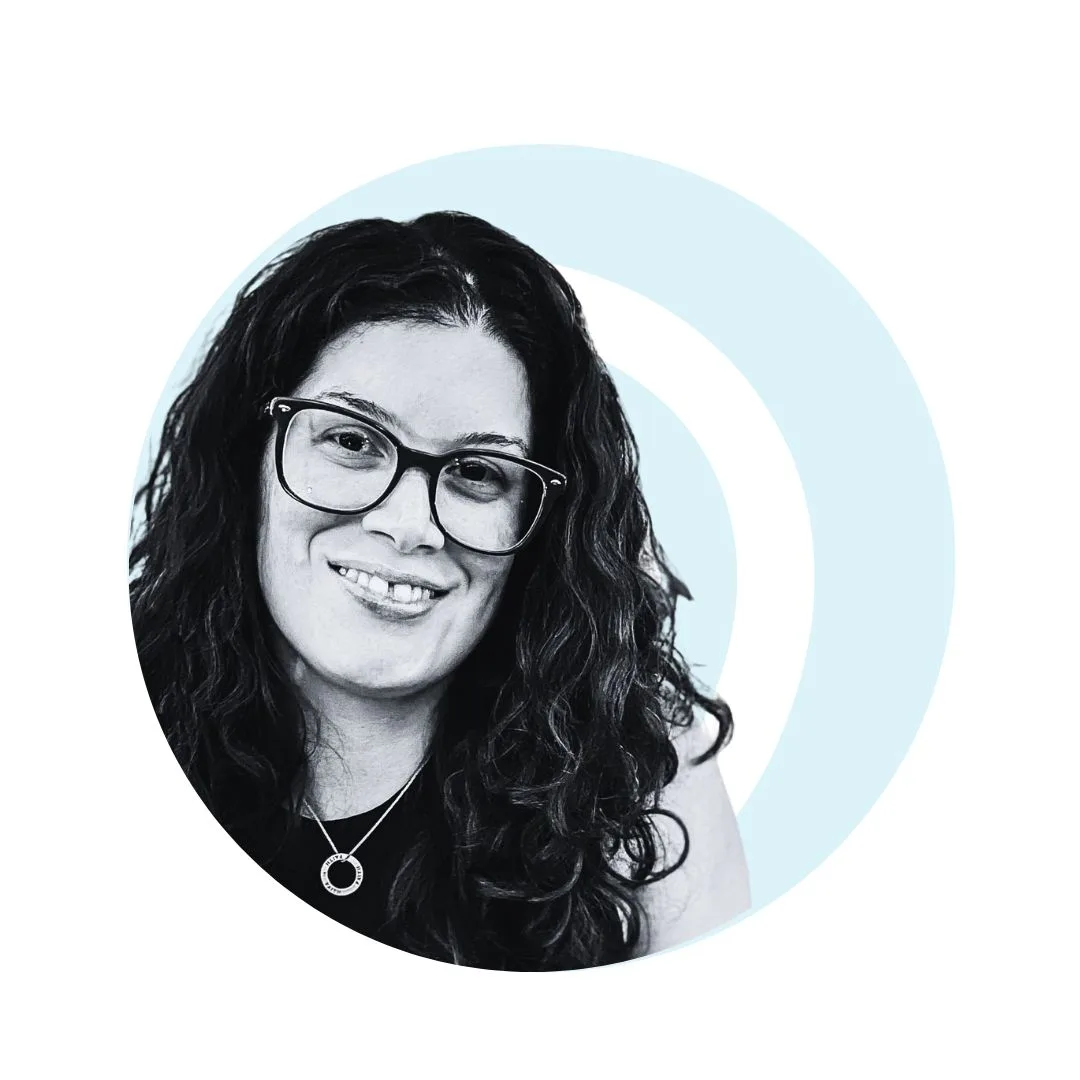 Meet Kathy Ava – a food, travel, and cruise writer based in Los Angeles/Pasadena. With over 20 years of experience planning trips and logistics at her full-time job and for herself, she's become a pro at crafting unforgettable travel itineraries. She's always looking for delicious, fun cruise itineraries and travel destinations and is slightly obsessed with Italy. Her passion and curiosity for travel started in childhood on her yearly and sometimes bi-yearly trips to PR. She firmly believes that life is short and we must make the most of it – so let's explore the world and make some incredible memories.