Los Angeles apple picking… Are you looking to go apple picking in Los Angeles? Or near Los Angeles?
One of the best things to do in the fall is apple picking. Once September and October come around, we think of fall foliage, crisp cool air, comfort foods, everything pumpkin, and when we can go apple picking.
A whole day of fun can be planned around u-pick apple orchards. However, there are not just apples. There is a whole slew of family fall activities in these orchards.
And all the tasty treats that come with the apple season, like pressed cider, apple pie, the smell of cinnamon sugar, and spices… you get my drift.
Anytime we go apple picking, it reminds me of my Uncle's farm. He used to have apple trees. The best was picking the apple right off the tree and taking that first juicy bite. Of course, please refrain from biting the apples until you have paid for them at the orchards.
Those are the best memories to create when you go apple picking.
If you thought apple picking in Los Angeles didn't exist (like I did for many years), it does and doesn't. You must travel just outside the city to experience this traditional fall activity.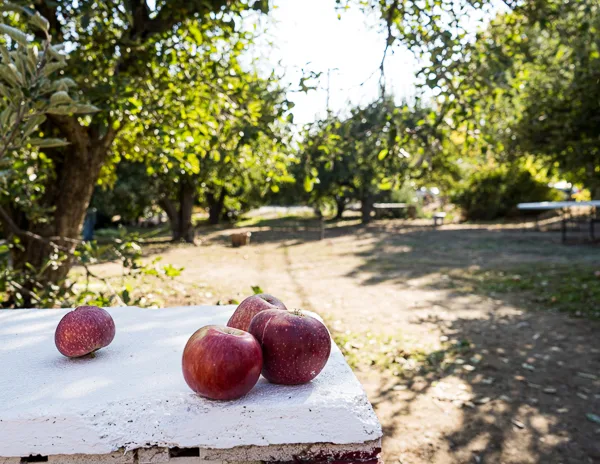 This post may contain affiliate links, which means we'll receive a commission if you purchase through our links at no extra cost to you. Please read full disclosure for more information. We appreciate your support!
You'll find all the apple orchards for Los Angeles apple picking in this list for U-pick and apple farm stores known for their apples and treats.
Do you plan to go apple picking this autumn? Have you been to any of these apple orchards outside of Los Angeles? Which one is your favorite?
Is there Apple Picking in Los Angeles?
The big question…
There are no apple-picking spots within Los Angeles County, but there are apple orchards right outside of Los Angeles County. Most of the apple orchards are located in San Bernadino County. Just about an hour's drive (or a little more), you'll pick your own apples with which to bake that apple pie.
Taking a city break to a destination like Oak Glen is nice. Immerse yourself in the beautiful scenery, and surround yourself with mother nature and fresh air.
You can travel as far as Julian, California, a Goldrush city known for its apples for apple orchards. At that point, we'd recommend making it a stayover in Julian. It's a three hour drive and we wouldn't exactly call it an easy day trip to go apple picking.
What is the best month to go apple picking?
The best months for apple picking are September and October. Depending on the type of apple, some may be ready to pick as early as August.
When can you pick apples in California?
Apples are typically ready to pick in California from late August to October.
Can you pick apples at Oak Glen?
Yes! Oak Glen is a popular apple-picking destination near Los Angeles. There are plenty of apple orchards for u-pick apples and local farm stores where you can also purchase apples from their orchards.
Los Angeles Apple Picking: U-Pick Apples
Where can you go for Los Angeles apple picking?
If you're looking for a fun day out, there are several apple orchards near Los Angeles where you can pick your apples.
1. Willowbrook Apple Farm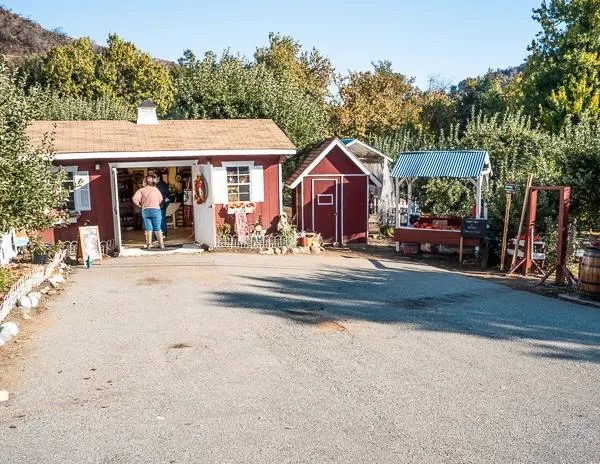 U-pick apples and U-press apple cider are available at Willowbrook Apple Farm. This 100-year-old family farm is delightful and charming, featuring more than just apple picking. There is wine tasting, a small petting zoo, delicious homemade jams, caramel apples, and more.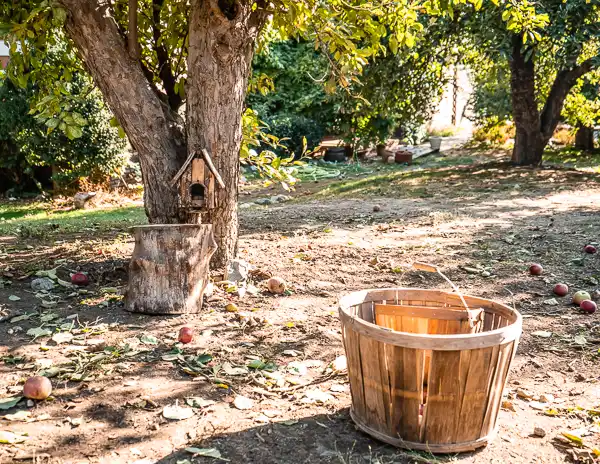 Apple picking season starts at the beginning of September until the apples run out.
During the fall season, Willowbrook Apple Farm has wine tasting and smores by a bonfire – reservations are required.
Willowbrook Apple Farm | 12099 Oak Glen Road, Oak Glen | Google Map It
2. Los Rios Rancho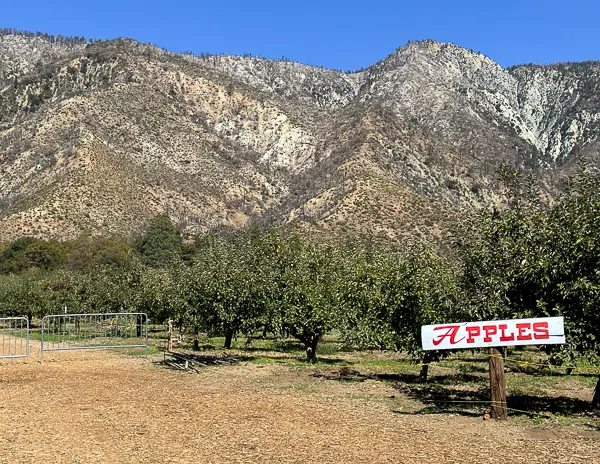 If there is one place that has it all during apple season in Oak Glen, it's Los Rios Rancho. They have apple trees that are over 80 years old. You can plan to U-pick apples when apple season is underway and join in on the other fall festivities they have at their farm.
U-pick apples are available from Friday to Sunday. There is no entrance or parking fee to enter, but you must pay for the apples and any activities you partake in.
They now have an exclusive guided apple-picking tour that you can also book if you'd like to be ridden around a historic farm on a tractor while you pick apples.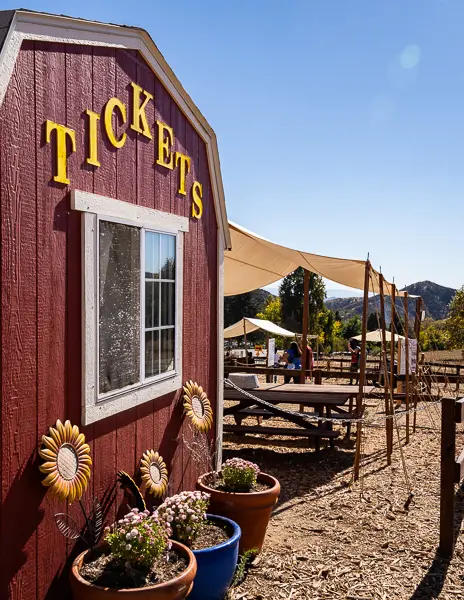 When we visited, we purchased a book of tickets that we used to enter the corn maze and take a tractor ride around the farm. You can also use the tickets for other activities and crafts like candle-making and sunflower picking.
Fun Fact: Los Rios Rancho is a 300-acre apple farm.
The weekends can get buy. We suggest starting early morning or late afternoon, a couple of hours before closing, as the crowds dissipate.
If you're looking for a bite, we recommend the delicious corn-on-the-cob, apple pie, and cider. The trip-tip sandwich isn't anything special or worth the price.
Baskets and bags are provided for U-pick.
There are four parking locations to choose from.
Los Rios Rancho | 39611 Oak Glen Rd, Yucaipa | Google Map It
3. Stone Pantry Orchard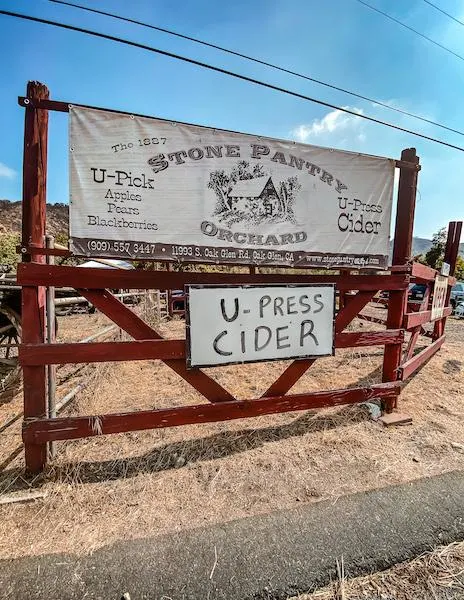 On weekends starting from Labor Day, Stone Pantry Orchard in Oak Glen offers u-pick apples and u-press cider. This small, rustic orchard is the perfect destination for a peaceful, authentic apple-picking experience.
Coming here is straight and to the point, which may be what you're looking for. You pick your apples and press your cider.
You can make an appointment with Stone Pantry Orchard for weekday apple picking.
Stone Pantry Orchard | 11993 South, Oak Glen Rd, Yucaipa | Google Map It
4. Stone Soup Farm and Heritage Orchard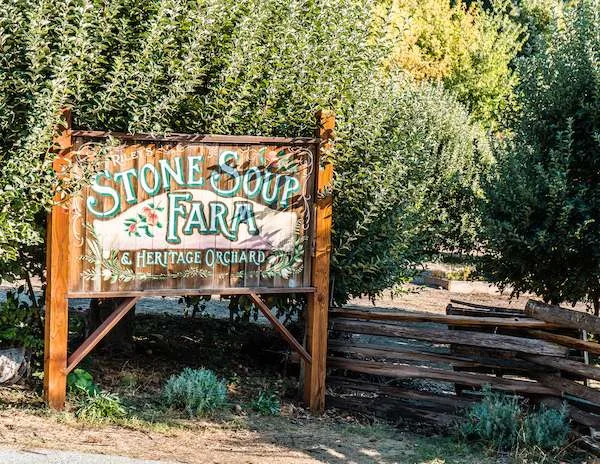 You'll find Stone Soup Farm and Heritage Orchard between Stone Pantry and Riley's Apple Farm. A 3-acre family micro-farm with 130-year-old heirloom apple orchards. They also have berry patches and flower fields.
U-pick apple season starts in October with a $5 pp admission to their Apple Fair and $3.75 per pound on picked apples. The apple fair includes a few family games and activities.
Stone Soup Farm | 12131 Oak Glen Rd, Yucaipa | Google Map It
5. Riley's Farm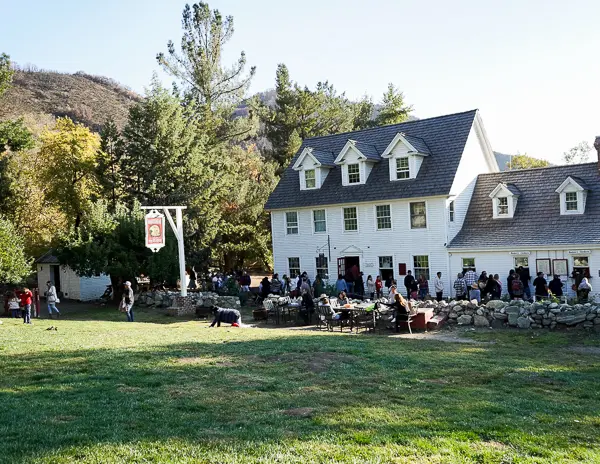 Riley's Farm is another large farm in Oak Glen with over 760 acres, but only 55 acres is open to the public. This is a farm that you could spend your whole day in and still not do everything. So, plan to go early and spend the day exploring their activities.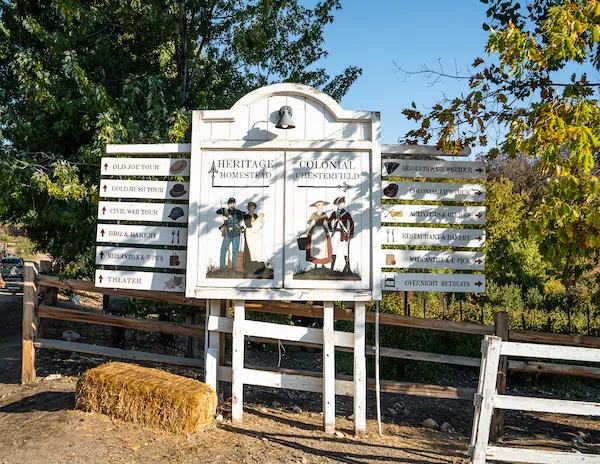 They have over 30 varieties of old heirloom apples. The scenery is beautiful, with plenty of grass for the kids to run around. Pictured above is the Hawks Head, their restaurant where you can order a few things like chicken pot pie and slices of their pies.
What makes Riley's stand out from the rest its dedication to American History that you will see play out across the farm, its activities and events. It remind me of Colonial Williamsburg in Virginia.
A reader tells me this time of year the Riley's Farm Theatre Company's Sleepy Hallow dinner event is fun and a must-do fun. The tickets sell out weeks in advance. So, if you'd like to do this, start planning early. You can check out their events here.
U-pick apples are available at $3.50 per pound starting in September.
Riley's Farm | 12261 Oak Glen Rd, Yucaipa | Google Map it
6. SLO Creek Farms
SLO Creek Farms is a 14 acre organic apple farm in San Luis Obispo. About a 3-hour drive from Los Angeles, depending on where you'll be coming from in LA. So it's a tad farther from all the others nearby for Los Angeles apple picking, but it's worth the trip.
They are U-pick apples is open from Friday to Saturday from September to November.
They have hard apple cider and apple brandy tastings available during apple season. You can also purchase bottles at their farm's market stand.
SLO Creek Farms | 6455 Monte Rd, San Luis Obispo | Google Map it
Other Places to Pick up and Purchase Apples From Their Orchards
You can also stop by a few spots in the Oak Glen area to purchase apples and other delicious treats. The apples come from their apple orchards. Contrary to what other sites may say, they do not have U-pick apples available.
Apple Picking Tips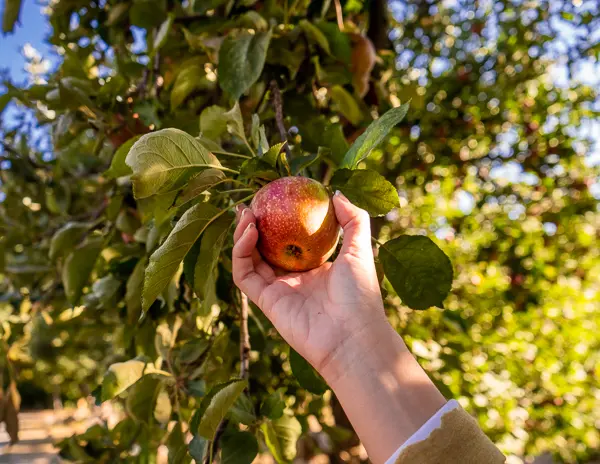 To avoid disappointment, plan your Los Angeles apple-picking trip earlier in the season rather than later when all the apples may have already been picked.
Beat the weekend rush and start your day early. If possible, visit the apple farm during the weekday.
Closed-toe shoes are a must for apple picking. Make sure to wear appropriate footwear.
Don't forget to apply sunscreen before heading out to the orchard. Trust me, your skin will thank you later.
Shield your face from the sun with a hat. Even in the fall, the sun can be intense.
Stay hydrated during your apple-picking adventure by bringing water or checking if the farm sells drinks.
Don't let your freshly picked apples go to waste! Try baking a delicious apple pie with our favorite recipe from Natasha's Kitchen.
We look forward to apple picking in Los Angeles this fall, even if we have to drive just outside of LA Country. Short-day trips are always nice, and if we get to bring home apples, eat apple pie, and other treats, it's worth the fun day out.
But wait, there's more! Don't Miss:
Share the tips & love on Pinterest: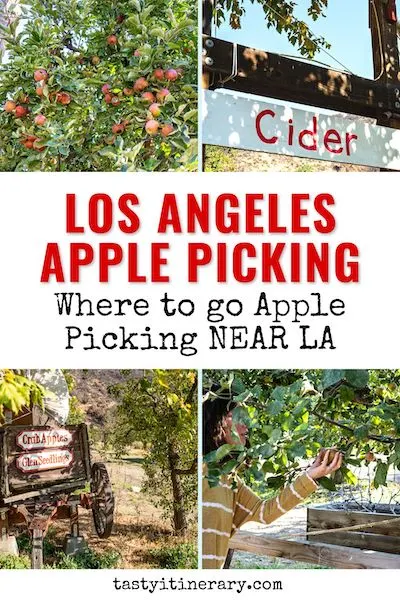 Meet Kathy Ava, a food, travel, and cruise writer based in Los Angeles/Pasadena, and the owner and main writer of Tasty Itinerary. With over 20 years of experience planning trips and logistics at her full-time job and for herself, she's become a pro at crafting unforgettable tasty itineraries. She's always on the hunt for delicious, fun travel destinations and cruise itineraries. She firmly believes that life is short and we must make the most of it, so always say yes to dessert.