Los Angeles apple picking… Are you looking to go apple picking in Los Angeles? Or near Los Angeles?
One of the best things to do in the fall anywhere is apple picking. Once September and October come around, we think of fall foliage, crisp cool air, comfort foods, everything pumpkin, and when can we go apple picking.
A whole day of fun can be planned around u-pick apple orchards. There are not just apples, there is a whole slew of family activities that each of these orchards. And all the tasty treats that come with the apple season like pressed cider, apple pie, the smell of cinnamon sugar, and spices.. ahh, you get my drift.
Anytime I go apple picking, it reminds me of my Uncle's farm. He used to have apple trees. The best was picking the apple right off the tree and taking that first juicy bite. Of course, please restrain from biting into the apples until you have paid for them at the orchard.
Those are the best kind of memories to create when you go apple picking.
If you thought apple picking in Los Angeles didn't exist (like I did for many years) it does and it doesn't, you just have to travel just outside of the city.
Disclosure: This post may contain affiliate links. If you decide to make a purchase from one of those links, we may get a commission at no extra cost to you. We appreciate your support.
Is there Apple picking in los Angeles?
The big question…
The truth is there are no spots inside of Los Angeles county that you can go apple picking in. There are apple orchards right outside of Los Angeles county. Most of the apple orchards are located in San Bernadino County. Just about an hour drive (or a little more) and you'll be picking your own apples to bake that apple pie with.
It's nice to take a city break to a place like Oak Glen. Immerse yourself in the beautiful scenery, surround yourself with mother nature and fresh air.
Los Angeles Apple Picking
Where can you go for "Los Angeles apple picking"? Here are some apple orchards near Los Angeles where u-pick apples are available and you can enjoy a day of fun.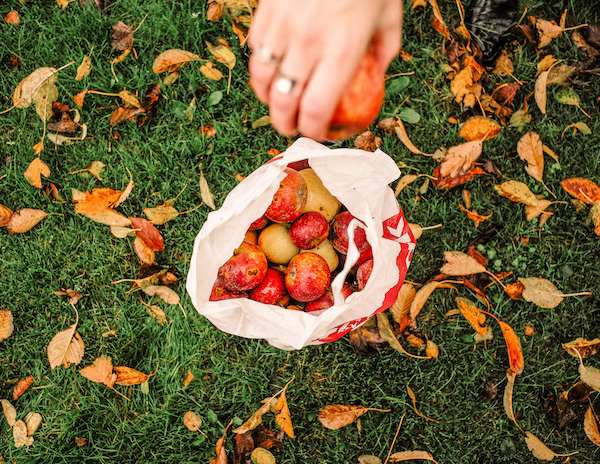 1. Willowbrook Apple Farm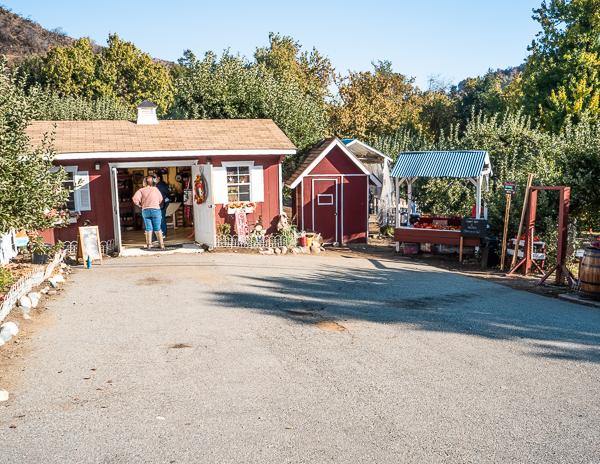 U-pick apples and U-press apple cider are available at Willowbrook Apple Farm. This 100-year-old family farm is delightful and charming featuring more than just apple picking. There is wine tasting, a small petting zoo, delicious homemade jams, caramel apples, and more.
Apple picking season starts at the beginning of September up to when until the apples run out.
During the fall season they have wine tasting and smores by a bonfire – reservations required.
2. LOS RIOS RANCHO
If there is one place that has it all during apple season in Oak Glen, it's Los Rios Rancho. They do have different u-pick fruit seasons available. Once apple season is in full swing, you can plan a day there.
It does get busy, especially on the weekends. Start the day early by picking apples and allow a couple of hours to do so. Then enjoy other fall festivities that may be taking place on the farm… live music, kids crafts, wagon tours, and more.
Bags and boxes are provided for u-pick.
There are 4 parking locations to choose from.
Los Angeles Fall Activities
Chasing fall in Los Angeles, CA? Here are fun things to do during the fall season in LA.
3. Stone Pantry Orchard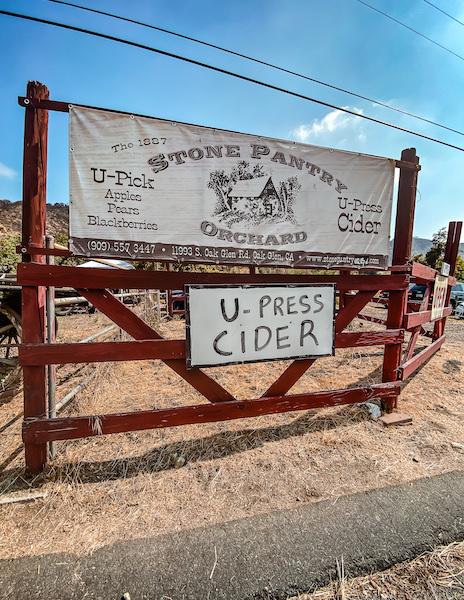 This small rustic farm and orchard are located in Oak Glen have u-pick apples and u-oppress available on the weekends starting from Labor Day.
For weekday apple picking, you can make an appointment with Stone Pantry Orchard.
4. Stone Soup Farm and Heritage Orchard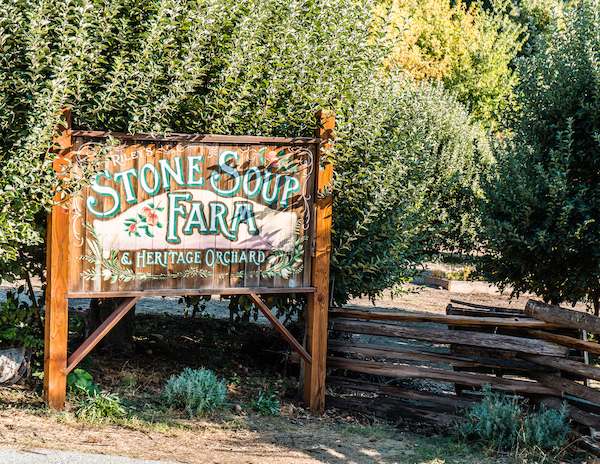 Right between Stone Pantry and Riley's Apple Farm, you'll find Stone Soup Farm and Heritage Orchard. A 3-acre family micro-farm with 130-year-old heirloom apple orchards. They also have berry patches and flower fields.
U-pick apple season starts in October with a $5 pp admission to their Apple Fair and $3.75 per pound on picked apples. The apple fair includes a few family games and activities.
Check out their website for more info.
5. RILEY'S FARM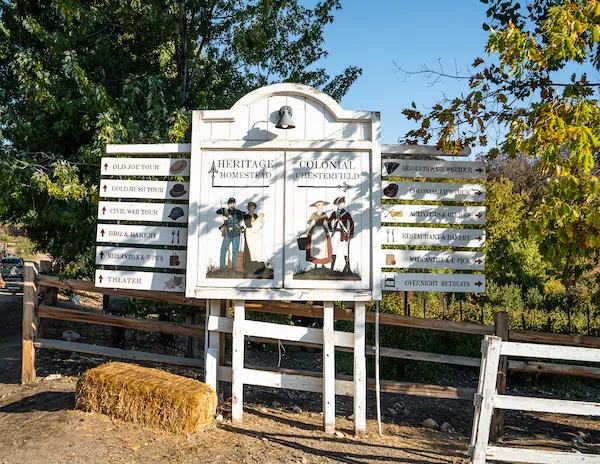 Over 760 acres of apple and berries, and 30 varieties of apples. The scenery is beautiful with plenty of grass for the kids to run around. This farm also packs plenty of American history. Reminiscent of Colonial Williamsburg in Virginia.
I am told by a reader that the Sleepy Hallow dinner event this time of year is a ton of fun. Alas, the tickets were sold out, but definitely keeping this in mind for next year. You can check out their events here.
U-pick apples are available at $3.50 per pound starting in September.
6. SLO CREEK FARMS
This 44-acre farm is located in San Luis Obispo. About a 3-hour drive from Los Angeles, depending exactly from where in LA. So it's a tad farther from all the others nearby for Los Angeles apple but worth the trip.
You pick your own apples from rows and rows of trees at their orchard. They advertise them as organic apples. They open every day of the week from September to November.
They have hard apple cider and apple brandy tastings available during apple season. You can also purchase bottles at their farm's market stand.
Chase Fall in Big Bear Lake
Take a day trip or weekend trip to Big Bear Lake. See all the fall foliage, go on a hike and then have pie at Pickle's Pie Shop.
Apple picking tips
1. Plan your Los Angeles apple picking trip earlier in the season than later. You don't want to get there and find out that all the apples have already been picked.
2. Start your day early. And if the apple farm is open during the weekday, go then and avoid the weekend crowd.
3. Wear appropriate shoes. Closed toe-covered is best.
4. Wear sunscreen. You'll thank me later.
5. Bring a hat to shield your face from the sun. This is LA and even in the fall, the sun is out at full force.
6. Bring water or make sure the farm will have drinks for sale so you can stay hydrated.
7. Most of the farms provide you with bags. However, you can bring a reusable bag just in case.
8. Don't let the apples you picked go to waste. Bake something! This is my favorite apple pie recipe from Natasha's Kitchen.
We are looking forward to apple picking near Los Angeles this fall. It's always nice to leave Los Angeles and experience what is outside of Los Angeles?
Do you plan to go apple picking this autumn? Have you been to any of these apple orchards outside of Los Angeles? Which one is your favorite?
Don't forget to share the love on Pinterest: