Looking for fun things to do in Oak Glen, CA? There is apple picking, fall events, yummy treats, and plenty of family activities.
A day trip to Oak Glen, California, is one of the great escapes from city life in Southern California. Especially in the fall and winter seasons.
Does Oak Glen, CA get snow? Yes, it does snow in Oak Glen during the winter. It's a beautiful sight there when it does snow. But, we've been told by locals there that if it snows, stay away as the roads become dangerous.
We make it a priority to take a yearly trip in the fall. We eat all the yummy fall treats, see the start of the fall foliage and join in on the apple picking festivities at Los Rios Rancho. Eat some pie at Apple Annie's Oak Glen. There are so many fun things to do in the 5-mile radius of Oak Glen.
Oak Glen, California, is a family favorite. The weekends are packed with families and kids running around, smiling and enjoying the beautiful environment it offers. That sweet fresh air of mother nature is seriously lacking when living in Los Angeles.
My sister-in-law introduced us to Oak Glen, CA, a few years ago, and we fell in love with pumpkin butter at Mom's Orchards. She discovered it chasing fall while living in Los Angeles. It's one of her favorite places to bring my nieces, not only in the fall season but year-round. Since then, she's moved, but she misses it dearly.
This post may contain affiliate links, which means we'll receive a commission if you purchase through our links at no extra cost to you. Please read full disclosure for more information. We appreciate your support!
This article is geared towards the fall season, one of the most popular times to visit Oak Glen, California. The number one thing to do in Oak Glen is to go apple picking. They are six apple orchards in Oak Glen, but only 5 are U-pick apples.
Is Oak Glen worth visiting?
We think so! It's a family-friendly destination that is a great place to visit all year round and a great day away from Los Angeles. Find fall foliage and apple picking, cold temperatures and snow during the winter, and berry picking in the Summertime.
What is there to do in Oak Glen in the winter?
Although activities are open year-round, winter is a great time to visit Oak Glen. The temperatures are cooler, and if you're lucky, you might get to see some snow! Visit Snow-Line for mini cider donuts and wine tasting, eat pizza at Wilshire Apple's Shed, or check out one of the historical events at Riley's Farm.
When is the Apple Blossom Festival in Oak Glen?
The Apple Blossom Festival is typically the last weekend of April, in the Spring, depending on the bloom. This year it took place on April 22-24, 200. You can always check their website closer to the date for an exact schedule.
When is the Apple Butter Festival in Oak Glen?
The Apple Butter Festival typically takes place the last weekend of November. Keep an eye on their site for exact dates and information.
Things to do in Oak Glen, California
What's there to do in Oak Glen?
There are many things to do in Oak Glen, California. While there are many fall favorite activities like apple picking and visiting a pumpkin patch, there are also plenty of activities year-round. It may be a tad quieter if you visit outside the fall season, but you can still get your apple cider donuts, enjoy a beer flight, eat at one of many Oak Glens places to eat, and attend seasonal events.
Keep reading to discover the top things to do in Oak Glen and the yummy eats you shouldn't miss.
Mom's Country Orchards: Stop by to Stock Up on Treats
You will fall in love with how cute this country store is; it smells like they are always baking something. They sell homemade jams, fresh-baked sweet bread, fresh-pressed apple cider, hand-dipped caramel apples, and all sorts of goodies.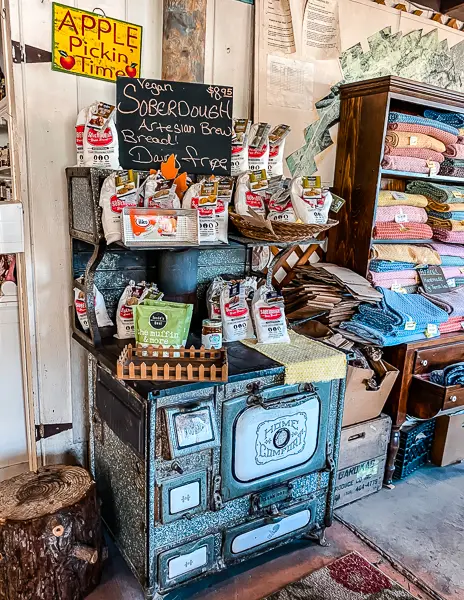 We always leave there with a few things. Our first time there, we went a little overboard but were stocked for the entire fall and winter with jams.
This last time we got their apple blueberry raisin bread for $5 – a steal. It was DELISH. Also, I got an apple cider ice pop for $1 (it was a hot day outside), which was super yummy.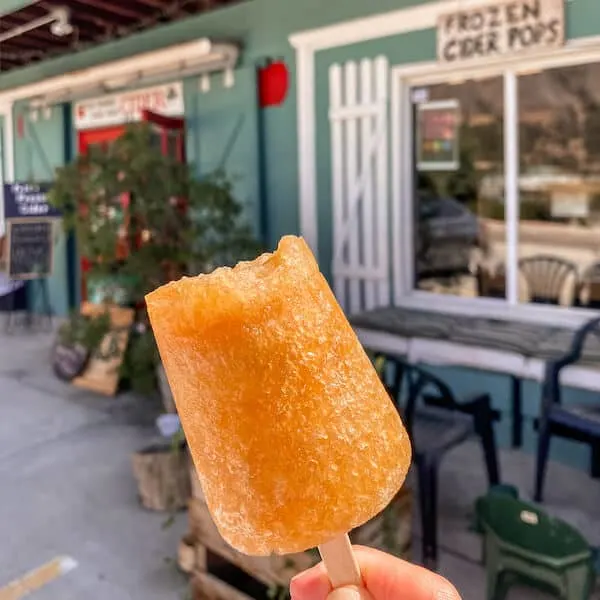 There is no apple picking at Moms, but they sell apples in their produce section.
If there are any products you'd like to sample, ask them. They are ready to help and give you a small taste of their most popular jams.
Mom's Country Orchard | 38695 Oak Glen Rd, Yucaipa | Google Map It
Snow-Line Orchard and Winery: Enjoy Apple Cider Mini-Donuts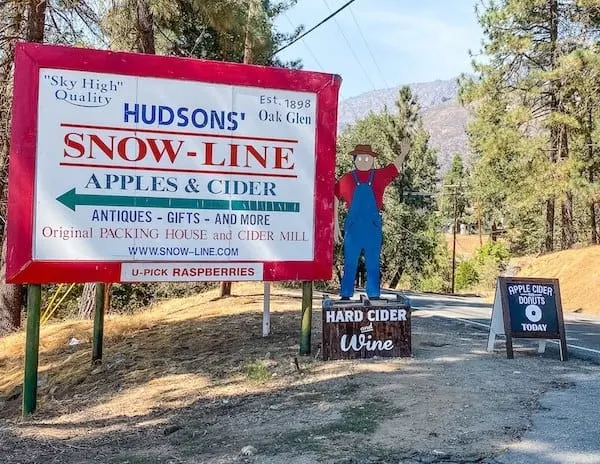 Three words: Apple Cider Donuts
A road trip to Snow Line Orchard in Glen Oak, California, to try their freshly made on-the-spot mini apple cider donuts is 100% worth the trip. These donuts melt in your mouth. They are light, airy, and perfectly sweetened. Two bites. Perhaps one bite if you're so eager.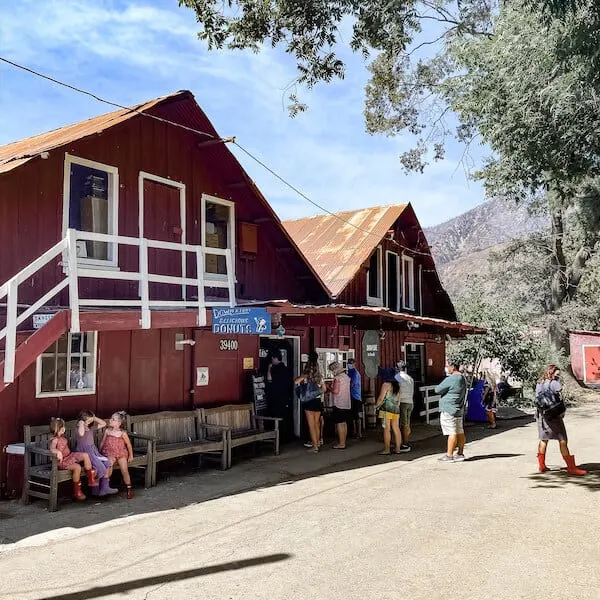 Purchase some apple cider or a flight of wine to go with your donuts. Find a spot in one of their picnic areas near their ancient chestnut tree and enjoy.
If you go on a weekend during the fall season, there will be a long line for donuts. It goes fast and is definitely worth the wait. The donuts are available all year round, but probably only on weekends during the off-season.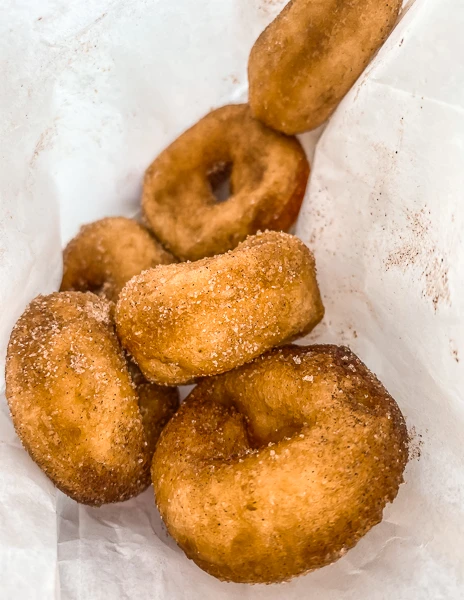 They also have apple pie slices, which we did try. The filling is delicious, but the crust was a tad mushy for my taste.
Wine flights are available outside. If you get the chance, try their apple brandy.
Raspberry picking is available at this orchard when they are in season.
Snow Line Orchard | 39400 Oak Glen Rd, Yucaipa | Google Map It
Chase the fall season in sunny Los Angeles with these fun activities. From pumpkin patches to spooky haunts, check out this list of activities and enjoy the best that autumn has to offer!
Wilshire's Apple Shed: Pizza & Apple Cider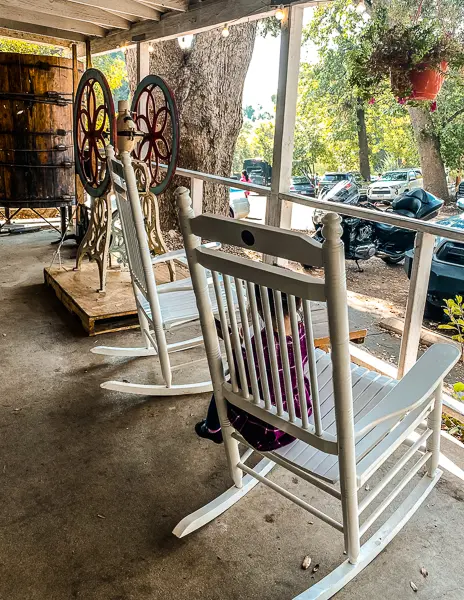 This charming country store, pizza, and coffee house is a gem that should not be missed while in Oak Glen. It offers porch views, specialty coffee drinks, wood-fired pizza, homemade baked goods, hard cider, and cigars.
This is a great spot for lunch or early dinner before closing. Their pizza is prepared in an apple wood-burning pizza oven is delicious. You can taste the high quality and fresh ingredients with every bite.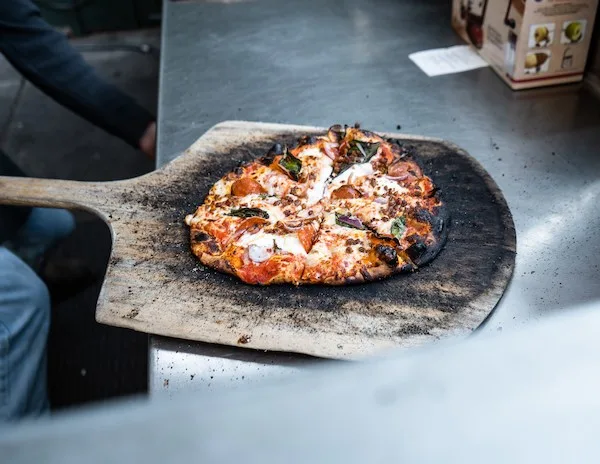 Pair your pizza with their hard apple cider from Glen Oak Cider Co., and you have the perfect combination. They also have a ginger strawberry fizz drink that is non-alcoholic and quite tasty.
If hard cider and pizza are not for you, there is always coffee and apple pie.
You can enjoy their tasty treats on their cozy porch, in a corner inside their shop, or take a seat at one of their picnic tables around the property.
Open from Wednesday thru Sunday, 10 am to 5 pm.
Wilshire's Apple Shed | 11925 Oak Glen Rd, Yucaipa | Google Map It
Enjoy the Fun at Oak Tree Village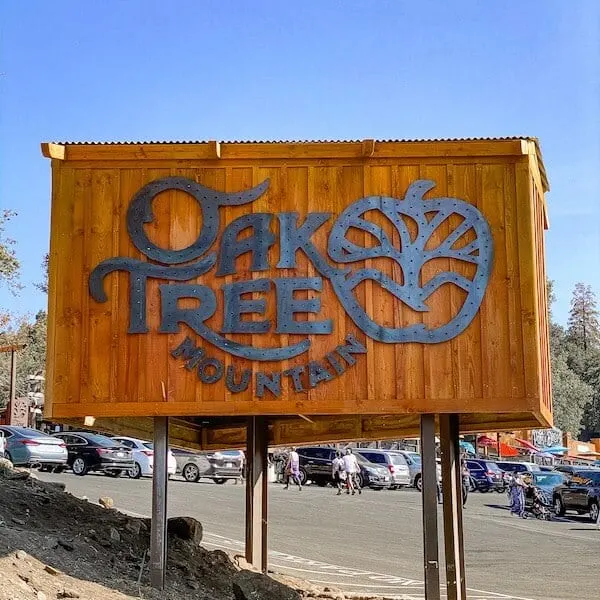 At Oak Tree Village, now known as Oak Tree Mountain, you will find:
multiple artisan shops
food stands
live music
petting zoo
train ride
ax throwing
and plenty of room for the kiddos to run around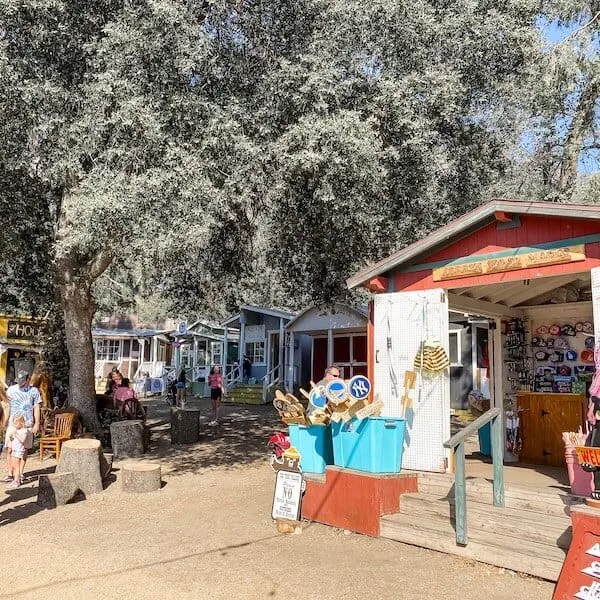 Parking: There is a parking charge. Not sure if it is just weekends only or because it is peak season, but beware of that. We suggest finding parking on the street.
Oak Tree Village | 38480 Oak Glen Rd, Yucaipa | Google Map It
Apple Annie's Bakery and Restaurant: Mile High Pie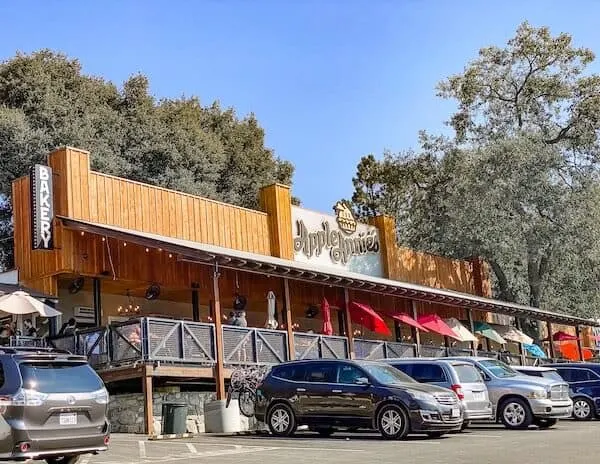 Apple Annie's is one of the most popular restaurants in the area and is known for its 1/4 mile-high apple pie. Expect traditional diner-type foods.
The restaurant used to be a local rustic-style restaurant. In recent years, it received a huge facelift and expansion.
I highly recommend putting your name on the list one or two hours before the time you would like to eat. It is super busy. They do not take reservations.
Grab a pie to go! They have a separate bakery for baked goods.
Apple Annie's | 38480 Oak Glen Rd, Oak Glen | Google Map It
Top Things to Do in Los Angeles
Visiting Los Angeles, California? Planning to explore and be a tourist in LA. Walk amongst the stars on Hollywood Blvd. See the spectacular views of Los Angeles from the Griffith Observatory. Take a short ride on Angel's flight. Here are the top attractions in the city of Angels.
Go Apple Picking in Oak Glen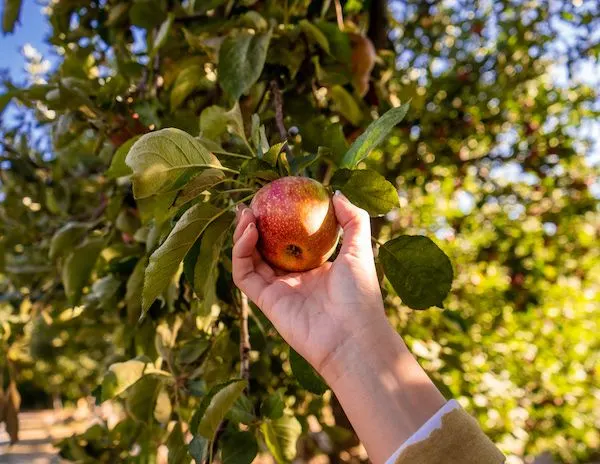 One of the top things to do in Oak Glen, California, is to go apple picking. Angelinos flock to Oak Glen as soon as apple picking season starts. And again at the end of the season to celebrate the apple butter festival.
In the summer, you can find farms that do berry picking.
There are multiple u-pick apple orchards that you can visit.
Los Rios Rancho
Over 300 acres, this family-owned farm in the mountains is home to 10,000 apple trees. The farm also produces raspberries, corn, strawberries, and pumpkins.
In 2020, the farm suffered a devastating loss due to a fire that engulfed a portion of its facilities. They are open for business and ready to welcome you and your family to their farms.
U-pick apples and pumpkins are open daily.
Parking is free.
Fall activities include:
kid crafts
wagon & tractor ride
corn maze
live music
petting zoo
Pick up steak sandwiches at the Farm Fair Courtyard, roasted corn, and a cold apple cider for lunch. Sit at one of their picnic tables and enjoy.
Los Rios Rancho | 39611 Oak Glen Rd, Yucaipa | Google Map It
Willowbrook Apple Farm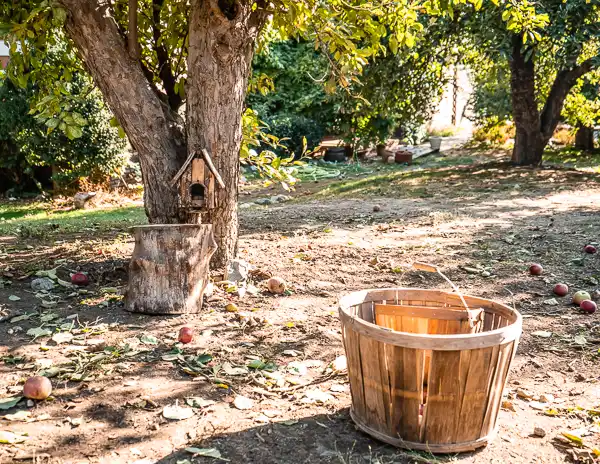 Visit a 100-year-old Stayman-Winesap apple farm. Willowbrook Farms has over 300 acres of Stayman-Winesap apples for you to pick. The farm is owned and operated by the Driscoll family since 2018.
From September to late October, or until the apples run out, apple picking is open to the public.
If they run out of apples, their fall festivities and stores will remain open with cider and other fall treats.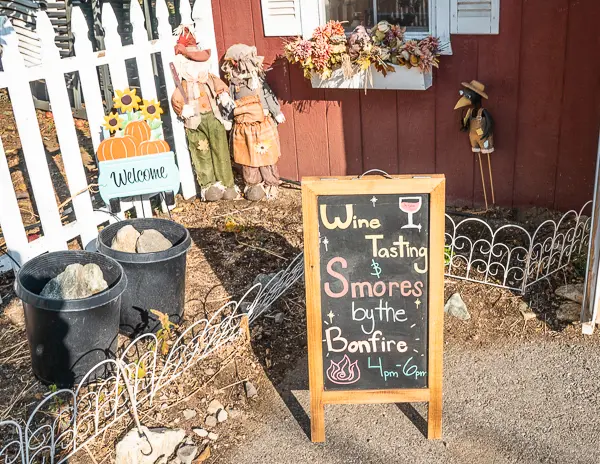 In October, they have wine-tasting and smores on select days. Oh, this sounds like a winning combo to me. Reservations are highly recommended.
Make sure to stay up to date with their calendar of events.
Willowbrook Apple Farm | 12099 Oak Glen Rd, Oak Glen | Google Map It
Stone Pantry Orchard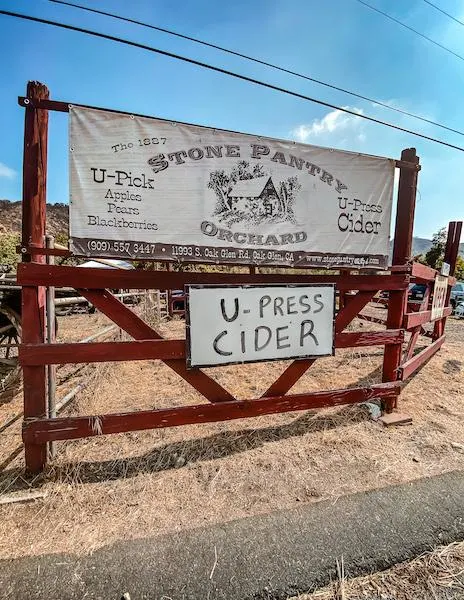 At Stone Pantry Orchard is open on the weekends only for apple picking. Blackberry picking and pear picking are available when in season.
One of the best things about this 130-year-old farm is that it is strictly for picking fruit. U-press cider is also available and sold by 1/2 gallon. Delish.
There are no gift shops or extra festivities.
Farm tours are available by reservations only.
Parking is free.
Stone Pantry Orchard | 11993 S. Oak Glen Rd., Yucaipa | Google Map It
Visiting Oak Glen is always a nice change of pace and environment. During the fall, there is plenty of things to do in Oak Glen. Some farms are closed off-season, but you can still visit Wilshire's Apple Shed, Snow Line, Apple Annie's, Riley's Farm, and others. It's a more low-key time to enjoy the area.
Where would you like to head to first? Will you be visiting Oak Glen, CA? What is your favorite thing to do in Oak Glen? Let me know in the comments!
Share the tips & love on Pinterest: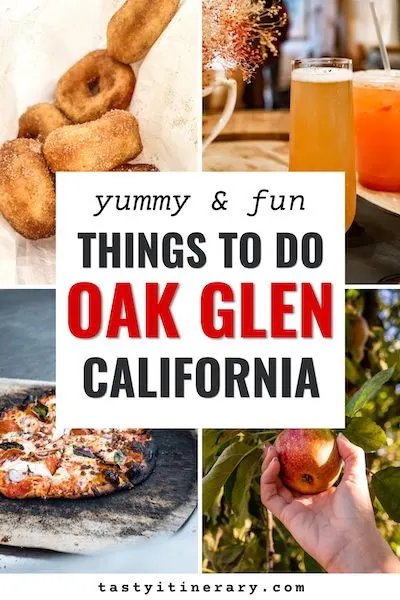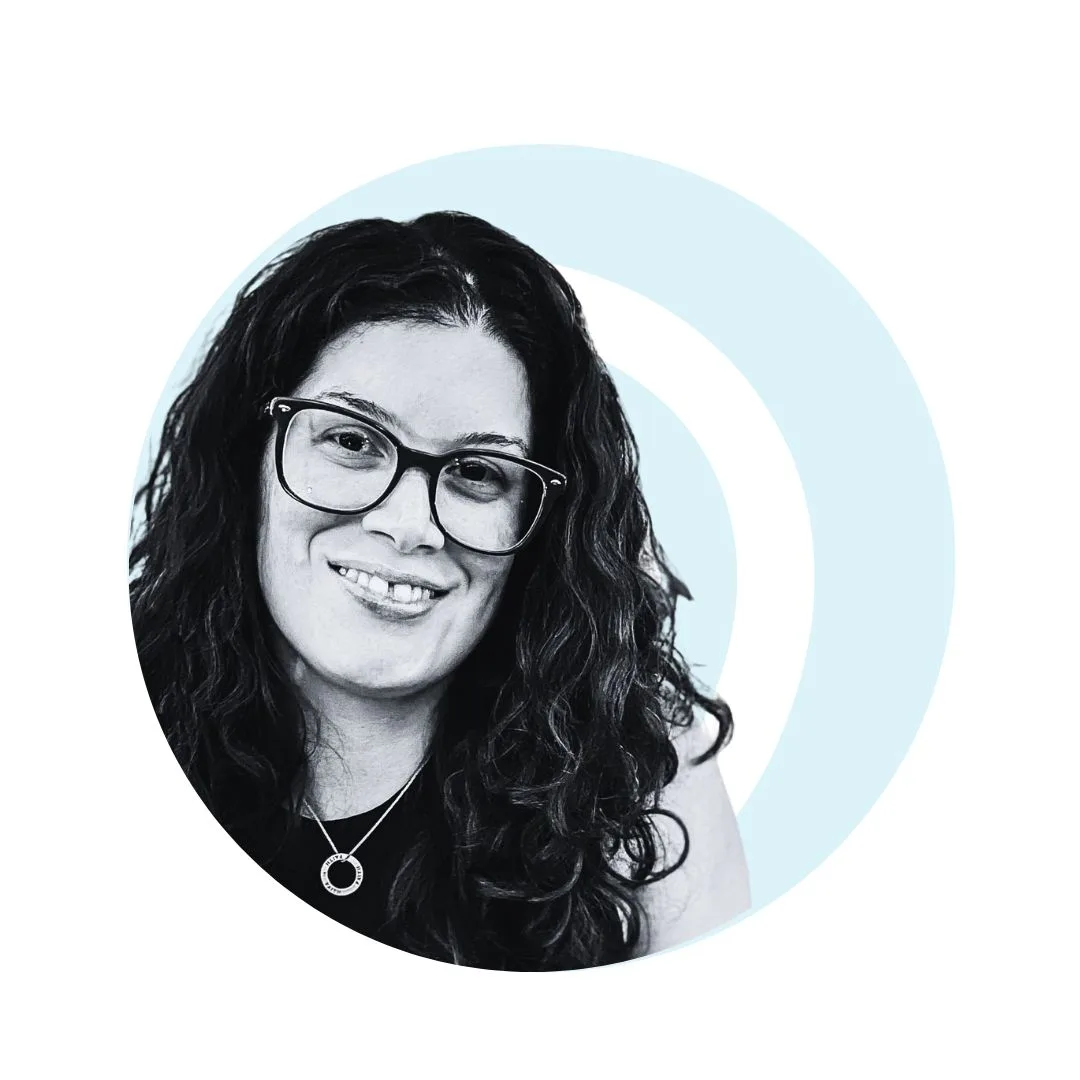 Meet Kathy – a food, travel, and cruise writer based in Los Angeles/Pasadena. With over 20 years of experience planning trips and logistics at her full-time job and for herself, she's become a pro at crafting unforgettable travel itineraries. She's always looking for delicious, fun cruise itineraries and travel destinations and is slightly obsessed with Italy. Her passion and curiosity for travel started in childhood on her yearly and sometimes bi-yearly trips to PR. She firmly believes that life is short and we must make the most of it – so let's explore the world and make some incredible memories.