Planning a day trip to Santa Barbara, CA? Looking to spend a day in this beautiful coastal city? Spend an easygoing great day in Santa Barbara.
While many do weekend getaways to Santa Barbara, we've always done just quick day trips to Santa Barbara. It has always been enough to satisfy our wanderlust.
While you can visit Santa Barbara all year around. Summertime is a great escape from the sweltering heat of the city of Los Angeles and a road trip to the cities in Santa Inez Valley. This coastal city will welcome you with cooler ocean breezes and gorgeous scenic views of the Santa Ynez Mountains.
What I love about Santa Barbara is that it reminds me of the Western Mediterranean. And not surprisingly, Santa Barbara is called the American Riviera. The moment we reach Santa Barbara, the salty air just frees me from all the stresses I was feeling before getting there.
The first time we ever went to Santa Barbara, it was fleet week. We had no idea. It was busy but festive. The atmosphere was poppin' with locals, tourists, and Navy men in their uniforms. We parked on State Street and getting out of the car I could see that magical coastline staring back at me. Just like that, Santa Barbara had a piece of my heart.
We suggest you start the drive early morning to make it there in time for some brunch. That is if you don't make any stops along the way, which I know is hard not to do.
Many people also make the drive from Los Angeles to San Franciso with Santa Barbara as a pit-stop along the way. So if you're good on time, you can make stops in Ventura, Rincon Point, the small oceanside city of Carpenteria, Summerland, or Montecito. You can even go wine tasting at the nearby wineries.
The Danish Village of Solvang is also only a 45-minute drive north of Santa Barbara. It is worth combining Santa Barbara and Solvang as a day trip if you want to squeeze it all in.
This post may contain affiliate links, which means we'll receive a commission if you purchase through our links, at no extra cost to you. Please read full disclosure for more information. We appreciate your support!
A Day Trip to Santa Barbara, CA
How far is Santa Barbara from Los Angeles?
It's about a 2-hour drive from Los Angeles to Santa Barbara, California via the 101-N, which is the fastest route. If you plan to take the Pacific Coast Highway, it could take 2-3 hours, depending on traffic.
Is it worth driving the PCH to Santa Barbara?
If you have never driven the Pacific Coast Highway to Santa Barbara, it is worth the drive. PCH is the scenic route. The coastline is absolutely beautiful and you'll feel like you've left the city of Los Angeles behind to enter another part of the world.
Tip: Take the PCH to Santa Barbara on your way there. Then on your return the 101-S.
Can you take public transportation to Santa Barbara?
Yes. There are daily trips via Amtrak. You can check the schedule here.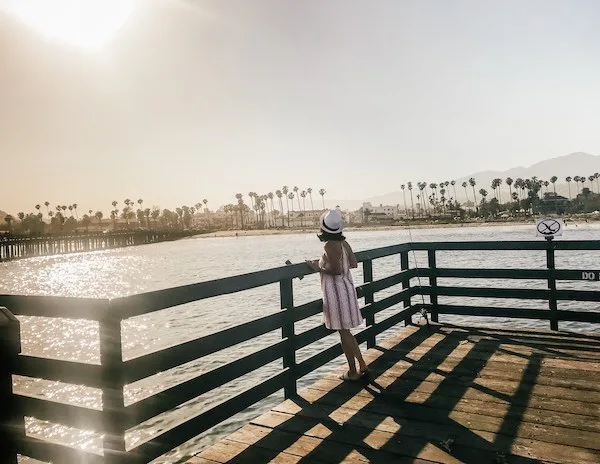 While there is plenty to do, there is only so much you can fit in on a day trip to Santa Barbara. That doesn't mean just because you can't do it all that it's not worth the day trip. Spending the day in Santa Barbara will be worth the drive and perhaps, it is the beginning of many future trips. Maybe even a long weekend trip.
Normally, for us, we just want to enjoy a different environment and explore. Every time we go back we always discover something new. The one spot we always return to is Sterns Wharf.
These are some of the main things you can do in a day.
Downtown Santa Barbara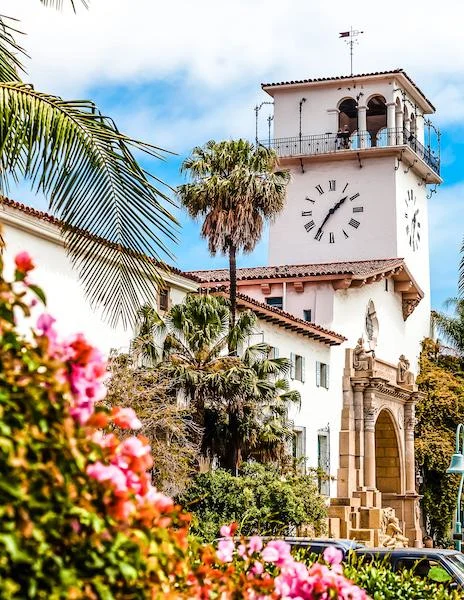 Start your day in Downtown Santa Barbara. It is one of the top things to do in Santa Barbara. It's filled with so many great architectural beauties, shops, cafes, and restaurants. It oozes charm.
You'll want to visit the historic district of Old Town. The Spanish architecture there will make your heart flutter. Red tile roofs, white stucco, beautiful arches, and colorful tile work. Make sure to explore the side streets to find the hidden gems.
The Funk Zone is another neighborhood in Downtown Santa Barbara that is not to be missed. It's 13 blocks of great restaurants, galleries, wine tasting, and other cool finds.
If you're looking to do some big shopping, Paseo Nuevo has all the retail shops your heart desires.
Tip: If you love Spanish architecture, take the self-guided red tile walking tour: more info here.
Top Foodie Pick: Plenty of great cafes and restaurants in Downtown SB. However, check out the Santa Barbara Public Market.
Tour Option: Santa Barbara Food Tour [Book Tour]
Optional: Rent a Bicycle in Santa Barbara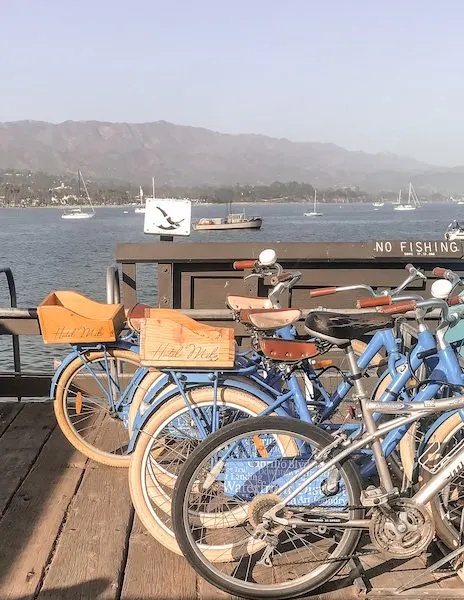 A fun and popular way to get around Santa Barbara is by bicycle. You will find many bike rental shops in Downtown Santa Barbara.
It's a fun idea to keep in mind on your day trip to Santa Barbara. Rent a bike and use it to explore the town of Santa Barbara. You can head on over to Stearns Wharf and ride along the Cabrillo bike path to enjoy the coastal views.
Day Trips From Los Angeles, California
Based out of LA and wondering where you can escape to for the day? Check out our list of some of the best day trips from the city of Angeles.
Stearns Wharf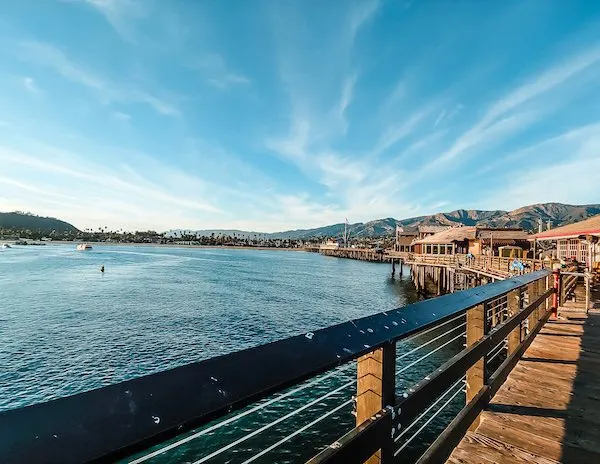 In my opinion, a day trip to Santa Barbara isn't complete until you end up in Stearns Wharf.
Walk down or bicycle to State Street towards the coast and meet up with Stearns Wharf. You can drive into the wharf, but parking is limited. I suggest leaving your vehicle in town and walking to the pier.
At the entrance of the pier, you'll find the popular dolphin fountain. A fun photo opportunity.
Since 1872, this wooden pier has been a landmark of Santa Barbara. The pier is 2,300 feet long and it has gorgeous views of the Sants Barbara coastline that should not be missed. The best time is in the mornings or at the beginning of sunset.
At the Stearns Wharf Pier, you'll find:
Seafood restaurants
and a few specialty shops
Top Foodie Pick: Right before reaching the pier, you'll find a delicious Mexican restaurant: Santo Mezcal.
Stearns Wharf | 217 Stearns Wharf, Santa Barbara, CA 93101 (Google Map It)
East Beach
From Stearns Wharf, visit East Beach, since it's right next to it. Spend as little and as much time as you want at the beach.
Parallel to the beach, you'll find a pedestrian-bike path. You can take that to the harbor or further down the beach. Veer off into the sandy beach, take a stroll and dip your feet along the shore. Spend a little time watching the gentle waves of the coastline.
The beach is clean. Every time I've been there, not crowded. The water will probably be cold as it's the Pacific ocean, so I wouldn't suggest a swim. It's a nice spot for a picnic.
Santa Barbara Trolley Tour
This may be touristy, but sometimes the most touristy things are the most fun. Add it to your day trip to Santa Barbara itinerary.
I recommend a trolley tour…
If this is your first time in Santa Barbara.
If you haven't yet had the pleasure to experience it.
If anyone in your party is unable to walk long distances, but would like the grand tour.
If you just want to have a good time.
This trolley tour picks you up from Stearns Wharf and takes you a 90-minute tour of Santa Barbara. Unfortunately, there are no hop-on and off stops along the way at this time – due to the pandemic. If you're looking for a quick and informative tour of the top historic spots in Santa Barbara, the trolley tour is a good idea.
The kids will also love riding the trolley, so that is a plus.
Daily tours from Thursday to Monday
Cost $25 pp
Santa Barbara Harbor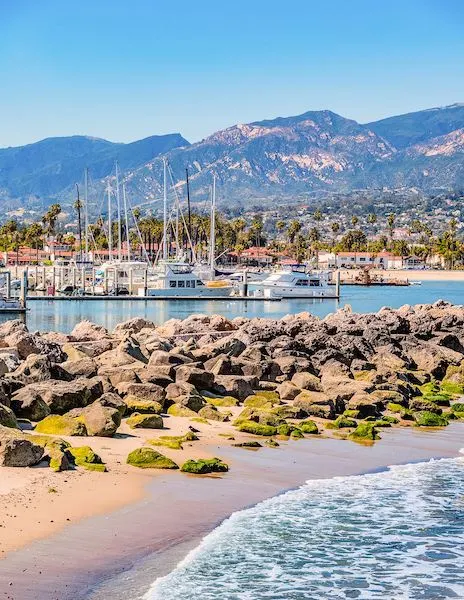 The Santa Barbara Harbor is one of my favorite spots. It may be all the boats that are in the marina or watching the kayakers freely take off into the bay.
It can get busy on the weekends, but don't let that deter you. On a less crowded day, it is peaceful and perfect for people watching.
It's a 20-minute scenic walk or a 6-minute bike ride via the Cabrillo bike path.
Tour Option: Santa Barbara Kayak Tour [Book Here]
Santa Barbara Wine Country
If you're looking to do something a little different and away from the downtown area, spend the day in Santa Barbara Wine Country in the Santa Ynez Valley. Go wine tasting and visit a few of the 200 wineries in the region.
You can follow the Santa Barbara Urban Wine Trail. All wineries and wine tasting rooms are listed by neighborhood. You can start planning your Santa Barbara Wine Country road trip and perhaps include some of the wineries below. Please note some reservations may be required.
Tour Option: Santa Barbara Winery Afternoon Tour [Book Here]
Hope this short itinerary of a day in Santa Barbara inspires you to make that trip there. It was one of my favorite coastal cities and I can't wait to get back there.
Have you been to Santa Barbara, California? What is your favorite thing to do?
Planning a day trip to Santa Barbara, what are you looking forward to?
Share the tips & love on Pinterest: