Planning a day trip to Santa Barbara, CA? Can Santa Barbara be a day trip? See how to spend an easygoing day in Santa Barbara.
Weekend getaways to Santa Barbara are fun, but a quick day trip to Santa Barbara is an easy escape from Los Angeles and surrounding areas.
No matter the time of year you visit the coastal city of Santa Barbara, an easygoing and relaxed vibe permeates the area. Of course, if you visit in the summer, you can expect it to be crowded, but the warm weather and vibrant events make it a popular time to visit.
Summertime is our favorite time to visit, even though it is hot. Taking a stroll by Stearns Wharf is a much cooler and breezier outing than spending in the sweltering heat of Downtown LA and Pasadena.
Although it can be hot during summer, visiting Santa Barbara remains our favorite season. We like to beat the heat from the sweltering temperatures of Pasadena by spending the day by the boast and taking a stroll on Stearns Wharf.
This coastal city will welcome you with cooler ocean breezes and gorgeous scenic views of the Santa Ynez Mountains.
One of the things we adore about Santa Barbara is its resemblance to the Mediterranean. While not precisely Europe, it is called the American Riviera because of its Mediterranean-like climate and architecture. The city's red-tiled roofs, white stucco buildings, and palm trees are reminiscent of the coastal towns in the Mediterranean.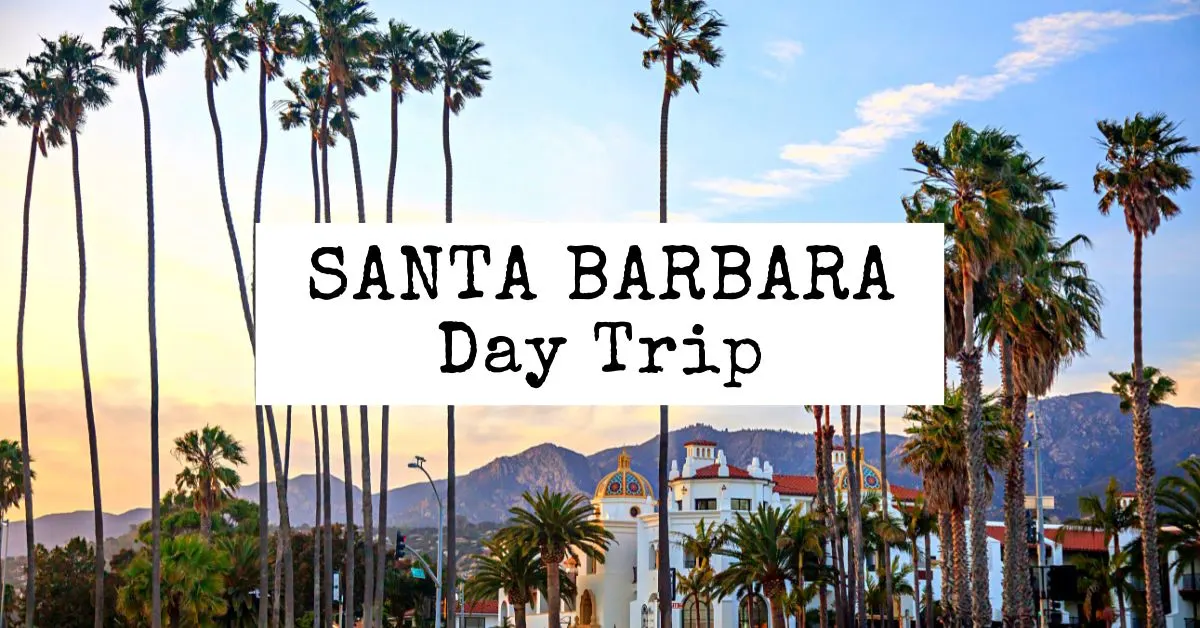 This post may contain affiliate links, which means we'll receive a commission if you purchase through our links at no extra cost to you. Please read full disclosure for more information. We appreciate your support!
It was "Fleet Week," the first time we visited Santa Barbara over a decade ago. We had no idea when we arrived. It was busy but festive. The atmosphere was poppin' with locals, tourists, and Navy men in their uniforms.
We parked on State Street, and as we got out of the car, we could see that magical coastline staring back at us.
Just like that, Santa Barbara had a piece of our hearts.
We suggest starting the drive early for a day trip to Santa Barbara to make it there for brunch. That is if you don't make any stops along the way, which we know is hard not to do, especially if you take the Pacific Coast Highway.
Santa Barbara can be a pit stop along a PCH road trip. Whether you spend a day in Santa Barbara or more, it is up to you. It is worth adding to your itinerary.
This article shares how to spend a day in Santa Barbara. If you're planning a day trip to Santa Barbara, there are plenty of things to do in Santa Barbara to explore. This easy-going one-day itinerary is perfect for those that love the coast and delicious food.
The Danish Village of Solvang is only a 45-minute drive north of Santa Barbara. It is worth combining Santa Barbara and Solvang as a day trip to squeeze it all in. Just keep in mind that it will be a long day.
A Day Trip to Santa Barbara, CA
How far is Santa Barbara from Los Angeles?
Santa Barbara is approximately 95 miles northwest of Los Angeles, depending on your starting point. Depending on traffic, driving from Los Angeles to Santa Barbara typically takes around 1.5 to 2 hours, taking the 101-N.
What is the scenic route to Santa Barbara?
The Pacific Coast Highway is the scenic route to Santa Barbara. It is worth the drive if you have never driven the PCH to Santa Barbara. The coastline is beautiful, and you'll feel like you've left the city of Los Angeles behind to enter another part of the world.
Tip: Take the PCH to Santa Barbara on your way there. Then on your return, drive the 101-S.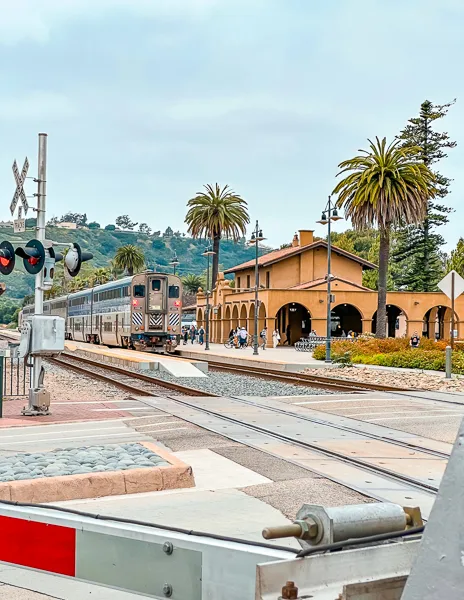 Can you take public transportation to Santa Barbara?
Yes, Amtrak's Pacific Surfliner has daily routes to Santa Barbara. The train drops you off at the Santa Barbara station, just a short walk away from Stearns Wharf Pier and the beach.
Tour Idea:
Santa Barbara via Amtrak Coast Starlight Train Day Trip from Los Angeles [book here]
How to Spend One Day in Santa Barbara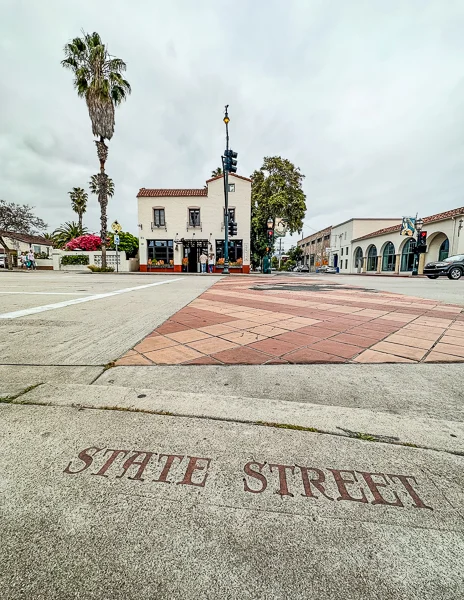 While there are many things to do in Santa Barbara, it doesn't mean that just a day in Santa Barbara isn't enough. Sometimes a day trip is needed for a change of scenery, a taste of the city, and to decide if you want to return for a more extended stay.
After dozens of day trips to Santa Barbara throughout the years, we recently stayed the weekend. We did almost all the same things we love to do in a day in Santa Barbara, only at a slower pace while fitting in a few other things.
Every time we return, we discover something new and return to old favorites.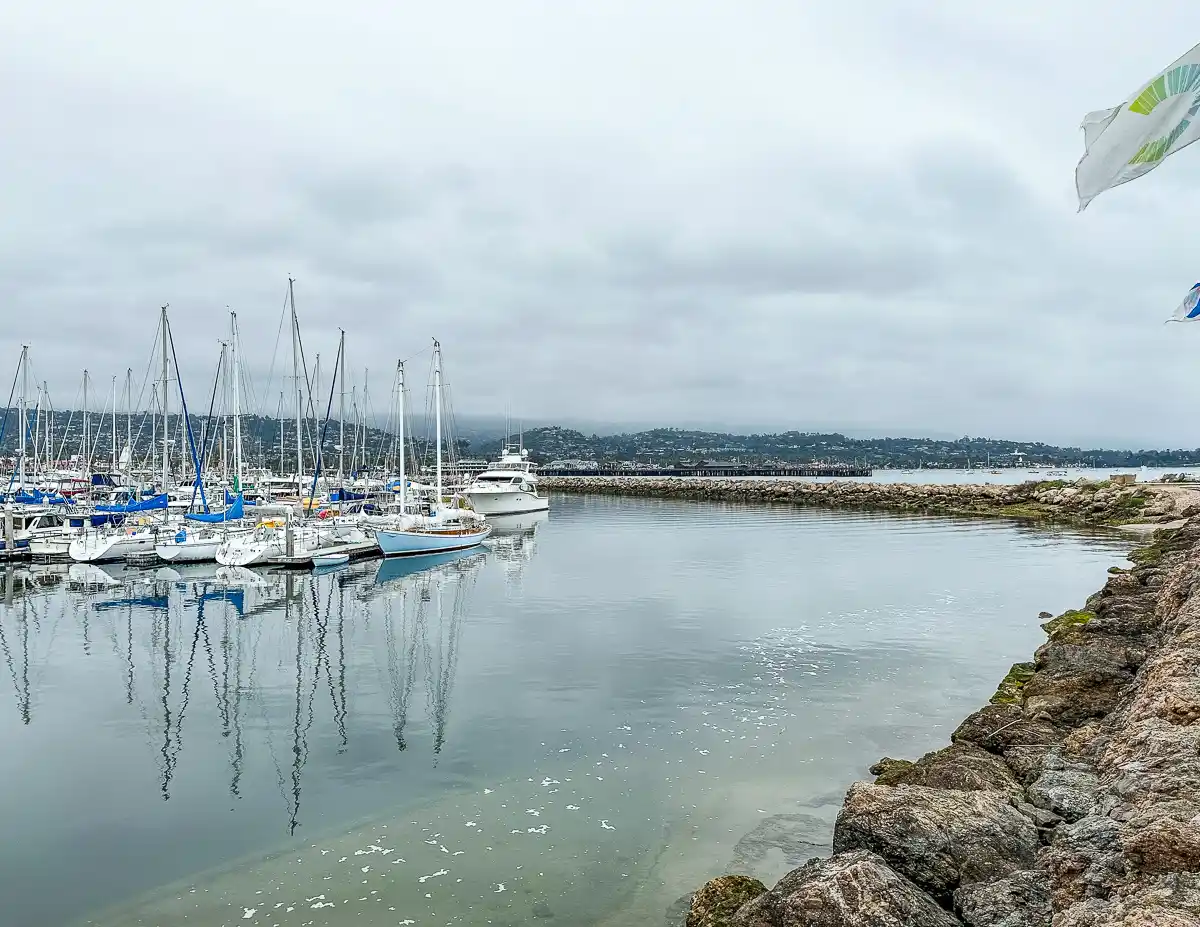 When we visit, we always start our day in Santa Barbara by the water and exploring the coast. There is something magical about being by Stearns Wharf and Santa Barbara Harbor. The picturesque views of the ocean and the Santa Ynez mountains in the distance make for a beautiful backdrop to any activity.
We like to start our day in Santa Barabra near Lower State Street, closer to the water.
Stearns Wharf is a great starting point for a day in Santa Barbara, but you can also start your day from Santa Barbara Harbor, West Beach, East Beach, or even Downtown Santa Barbara.
It's your day; we hope you take a few ideas from this one day in Santa Barbara itinerary to plan your own.
When you decide to take a day trip to Santa Barbara, ask yourself what you want to do. Does a day by the water sound ideal? Do you want to go wine tasting? Go shopping? Or visit some other attractions.
Here are some highlights to visit and experience during your day trip to Santa Barbara:
Take a stroll along Stearns Wharf Pier.
Walk or bike to Santa Barbara Harbor, West Beach, and Leadbetter Beach or East Beach.
Check out The Funk Zone for wine tasting and local craft beers.
Explore Downtown Santa Barbara for its architecture.
Shop along State Street.
Check out The Public Market.
Visit the Santa Barbara Courthouse and climb the clock tower.
See the Ocean Views from Stearns Wharf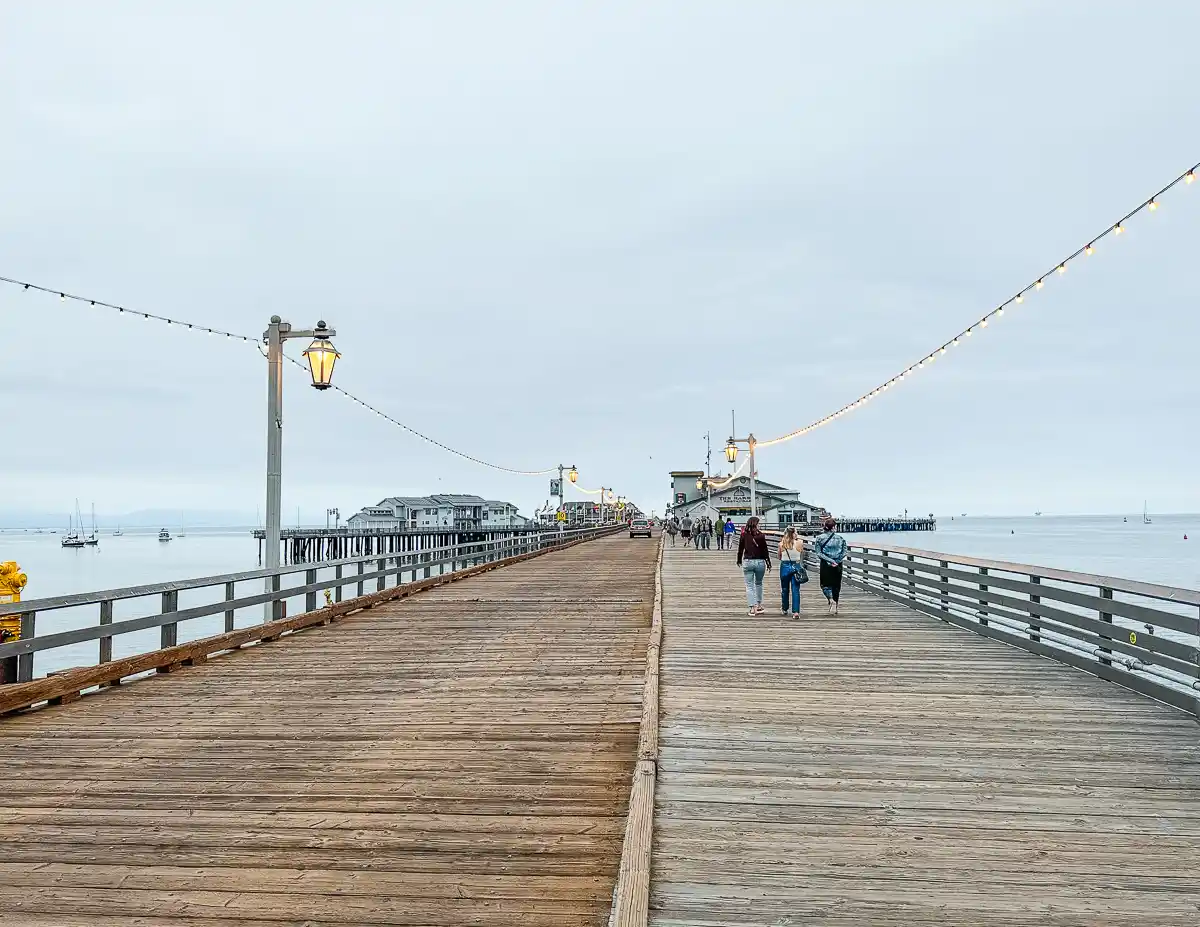 A day trip to Santa Barbara isn't complete without a visit to Stearns Wharf. As you embark on your journey towards the coast on Lower State Street, you'll meet with the Bicentennial Friendship Fountain. The famous dolphin fountain at the pier's entrance.
We like to visit Stearns Wharf at the start of our day before it gets busy in the afternoon. However, visiting Stearns Wharf at night is also lovely.
You can drive onto Stearns Wharf, and while there is paid parking, it is limited and not always easy to find. That said, the first 90 minutes of parking are free, and then $3 per hour after that . We suggest parking your vehicle in town and walking to the pier.
Nearest public parking lot to Stearns Wharf: 100-114 Helena Ave, Santa Barbara [Google Map It]. The first 75 minutes is free and then it is $2.50 an hour after that.
Since 1872, this wooden pier has been a landmark of Santa Barbara. The pier is 2,300 feet long and has gorgeous views of the Sants Barbara coastline and the Santa Ynez mountains. The best time is in the mornings or at the beginning of sunset.
At the Stearns Wharf Pier, you'll find:
and a few other restaurants and specialty shops.
Top Foodie Pick: Check out Goat Tree Cafe for breakfast and brunch before reaching the pier. For dinner and lunch with fabulous cocktails, Santo Mezcal.
Bike Ride or Take a Stroll Along East Beach or West Beach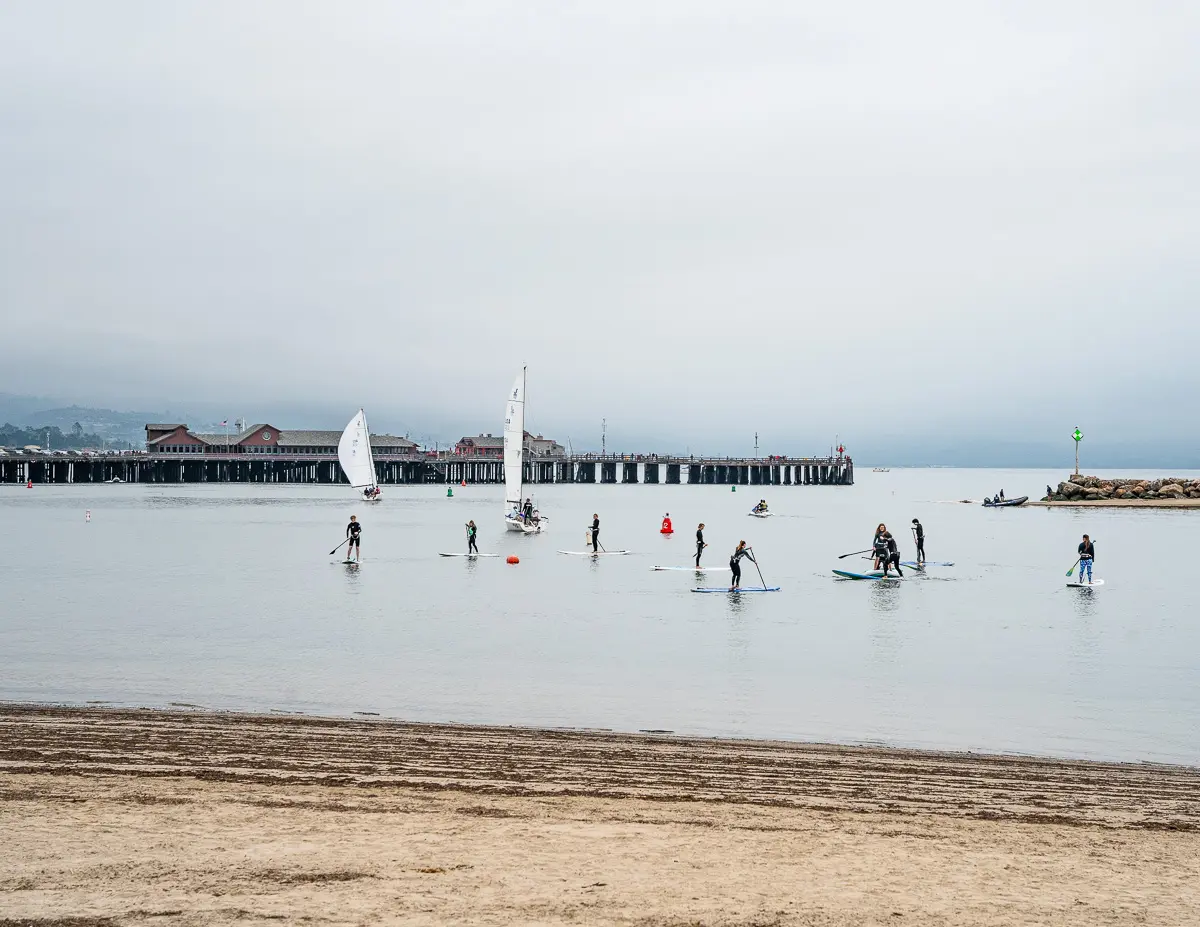 East Beach and West Beach are two of the most popular beaches in Santa Barbara, separated by the iconic Stearns Wharf. You can go east to East Beach or west to West Beach.
Our favorite is heading towards West Beach, intending to continue to Santa Barbara Harbor, where we can indulge in mouth-watering fish and chips at On the Alley and enjoy the beautiful views at Point Castillo.
At West Beach, you'll find volleyball tents set up and paddle boarders gliding along the calm waters. On warmer days, it's a popular spot for swimming, sunbathing, and picnicking during hot summer days.
Biking in Santa Barbara
For those who love biking, the Cabrillo bike path is an option as you explore this path. It offers a scenic route along the coastline, allowing you to soak up the stunning views of the ocean and the surrounding mountains.
The pedestrian-bike path that runs parallel to the beach is also an excellent option for those who prefer a stroll or bike ride. Take your time and make stops along the way to fully appreciate the beauty of Santa Barbara.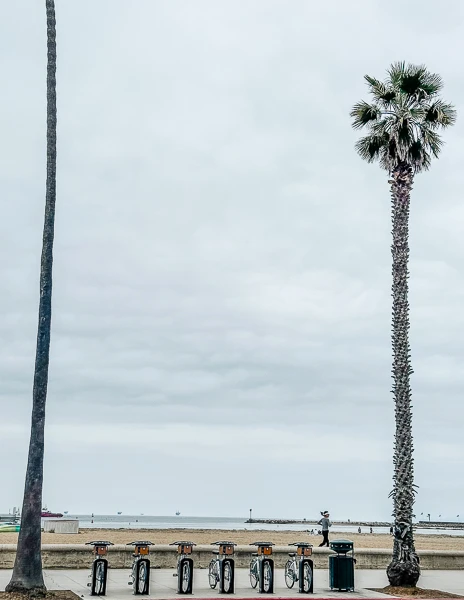 There are bike rental shops in Downtown Santa Barbara and electric city bikes by Santa Barbara BCycle that you can rent at stations along E Cabrillo Blvd and the Cabrillo bike path. We suggest finding an available bike at one of the stations, as you can drop it off along the path as you need to. The cost is $7 per ride for 30 minutes. You can download the app in advance.
Santa Barbara Harbor & Waterfront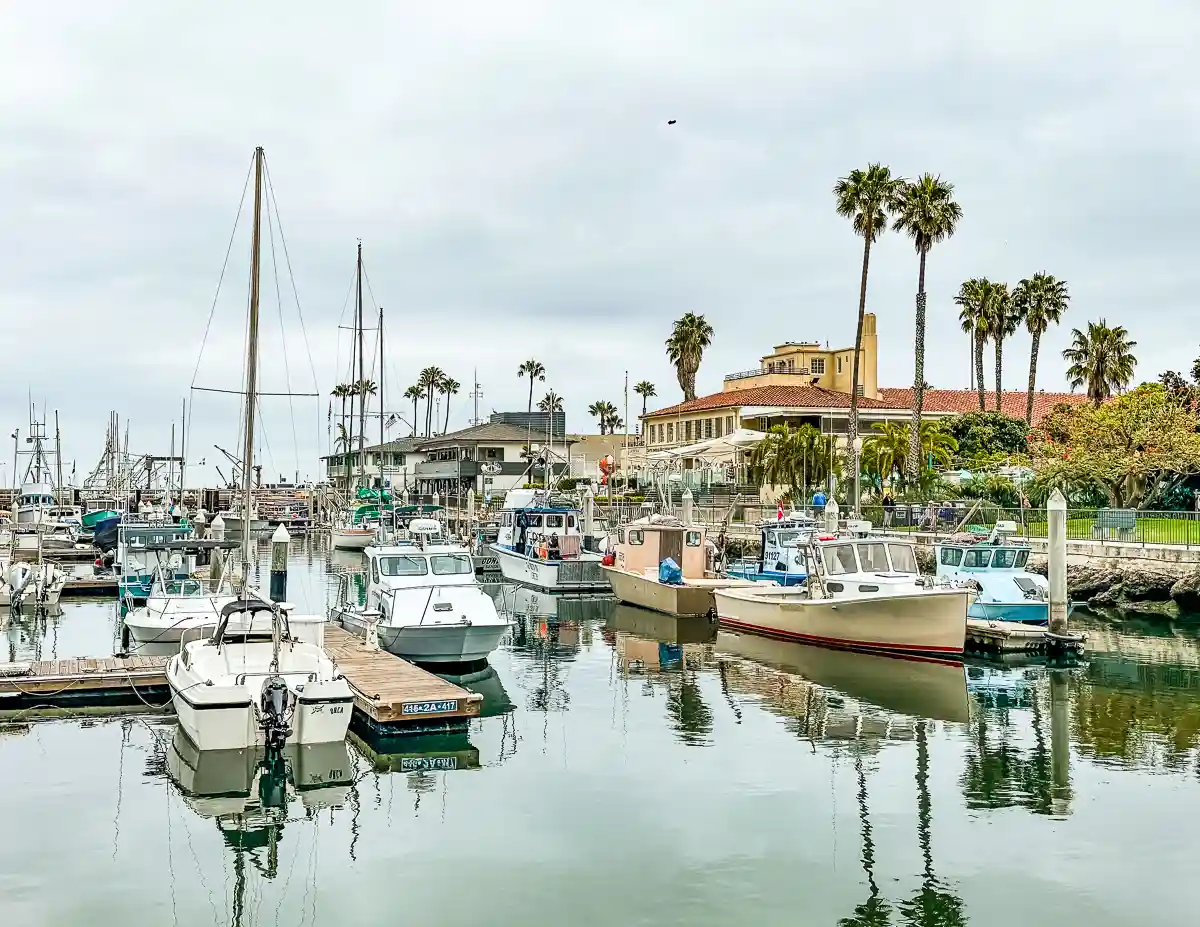 As you continue westward along West Beach, you'll be greeted by the charming Santa Barbara Harbor – a bustling hub of maritime activity. The harbor has many boats, ranging from small fishing vessels to luxurious yachts.
It is a working harbor, so you will witness fishermen bringing in their daily catch, including the Santa Barbara Sea Urchin – one of the most sought delicacies in Santa Barbara. You can find them sold and ready to eat at Santa Barbara Fish Market right at the harbor.
You can also find many water activities at the harbor, such as kayaking, paddle boarding, and sailing. Depending on the time of year, you might even glimpse some playful seals lounging around the docks.
Did you know there is a water taxi from Stearns Wharf to Santa Barbara Harbor and vice versa? The Lil' Toot Water Taxi is a fun ride that departs every 30 minutes and it includes a narration of historical facts and things to know about the area.
Foodie Pick: The fish and chips at On The Alley are the perfect afternoon casual snack or lunch.
Santa Barbara Harbor | 132-A Harbor Way, Santa Barbara | Google Map It
Point Castillo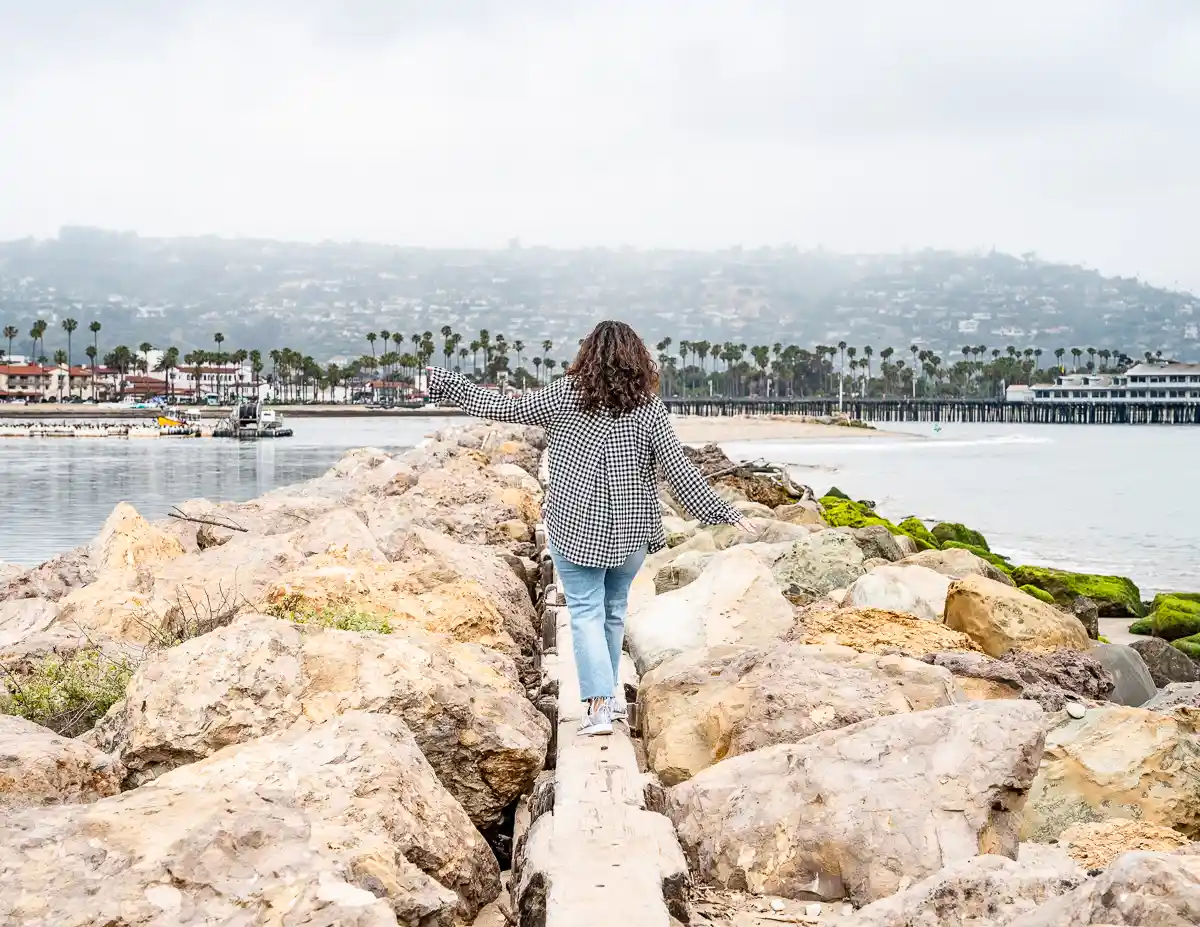 We continue from the harbor and take a leisurely scenic stroll to Point Castillo for breathtaking harbor views.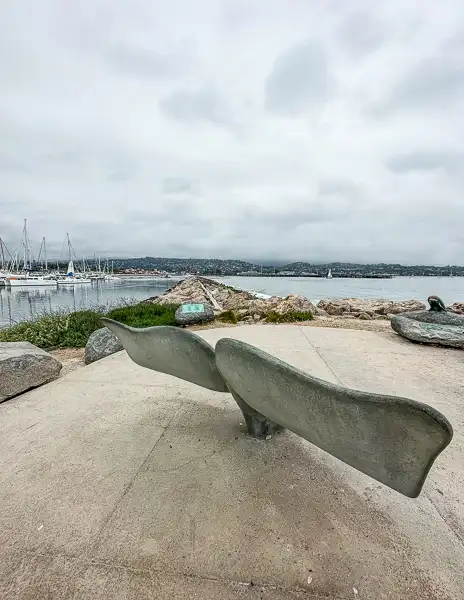 When you reach the rocky shores, you can sit on one of the whale's tail-shaped benched or cross the rocky shoreline to get closer to the water's edge. There is a small beach at the end, and you can see across to Stearns Wharf.
Although the harbor can get quite busy on weekends, it's still worth a visit. On a quieter day, it's a peaceful spot perfect for people-watching and soaking up the laid-back Santa Barbara vibe.
After enjoying the delicious food and stunning views, we go to Leadbetter Beach for relaxation and sunbathing. It's the perfect spot to unwind and soak up the Santa Barbara sun.
Tour Idea:
Santa Barbara Kayak Tour [Book Here]
Visit Downtown Santa Barbara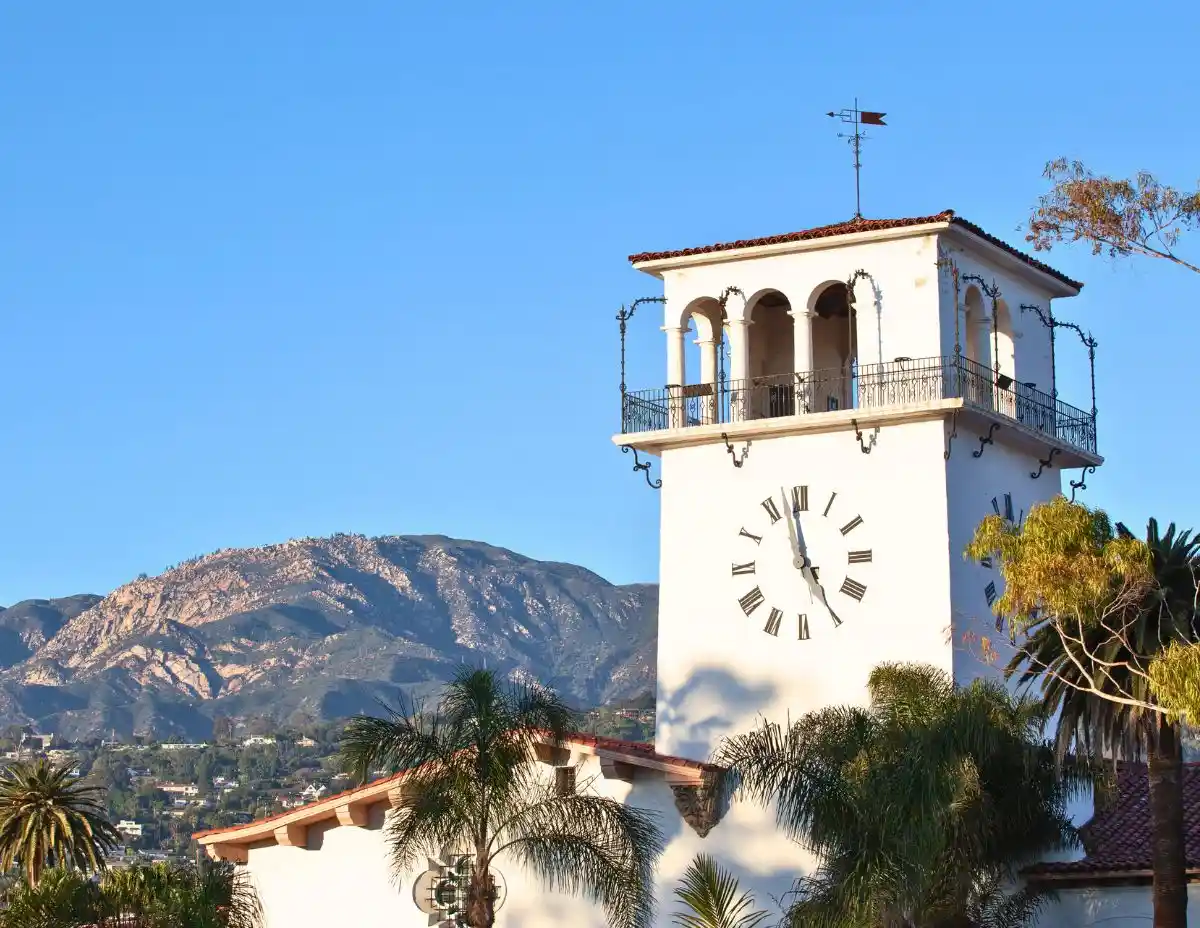 You can return to the heart of Santa Barbara, the charming Downtown area. With its many architectural beauties, shops, cafes, and restaurants, exploring Downtown is a must-do activity in Santa Barbara.
Be aware that you could spend your entire day exploring downtown.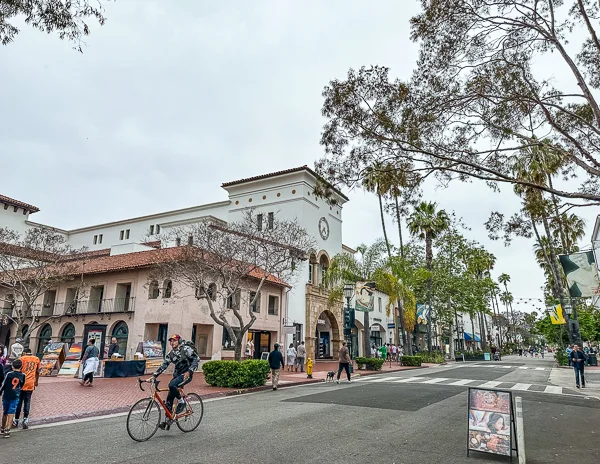 The focal point of the Downtown area is State Street, a ten-block tree-lined avenue that boasts the city's most significant concentration of shops and places to eat. You'll want to explore the side streets to discover hidden gems like idyllic courtyards and unique finds.
If you're coming from exploring the coast, you may want to start at The Funk Zone, off Lower State Street Street, closer to Stearns Wharf, which is also a prominent part of Downtown Santa Barbara. It's 13 blocks of great wineries, cafes, restaurants, galleries, wine tasting, and other fabulous finds like murals and boutique shops that sell handmade leather goods and jewelry.
Fun things to do in Downtown Santa Barbara that may pique your interest:
Visit the Santa Barbara Courthouse for a FREE 360-degree view of the city from the clock tower. It closes at 4:45 pm, so plan according.
Love Spanish Architecture? Take a self-guided red tile walking tour of the Spanish architecture featuring red tile roofs, white stucco, beautiful arches, and colorful work.
Check out the Santa Barbara Public Market. We love Little Heart Cafecito; they have the best coconut tres leche ever.
For some extensive shopping, Paseo Nuevo has all the higher-end retail shops.
Go wine tasting at The Funk Zone.
The Funk Zone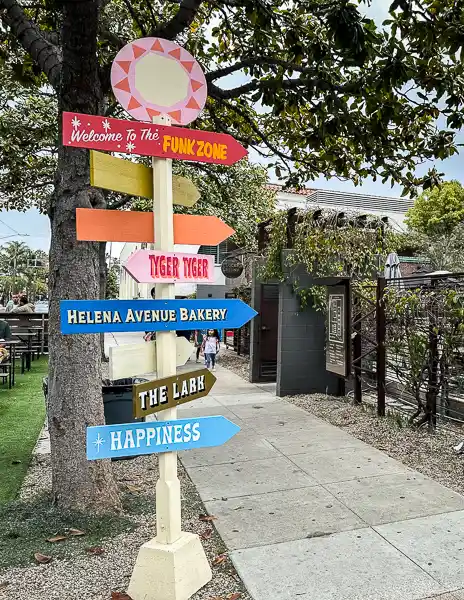 The Funk Zone is a trendy and eclectic neighborhood in Santa Barbara, California, that was once an abandoned industrial area. It has since been transformed into a vibrant and artistic district with numerous wine-tasting rooms, art galleries, restaurants, and boutiques.
You can spend much time here sampling local wines at the various tasting rooms or enjoying the local craft beer and delicious meals.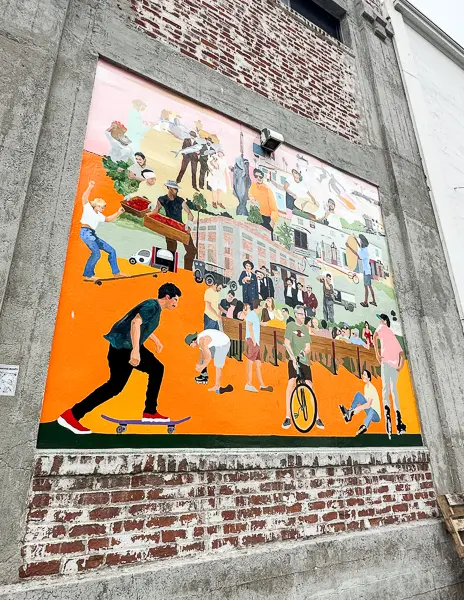 Keep your eye out for fun street art and murals.
Foodie Pick: We had excellent Spanish tapas at Loquita. Their patatas bravas, clams with chorizo, and then churros for dessert were a few of our favorite dishes.
Tour Ideas:
Downtown Santa Barbara Food Tour [book tour]
Santa Barbara Funk Zone Food and Photo Tour [book here]
Optional: Hop on the Santa Barbara Trolley Tour
This trolley tour picks you up at the visitor center and takes you on a 90-minute tour of Santa Barbara. If you're looking for a quick and informative tour of the top historic spots in Santa Barbara, the trolley tour is a good idea. Add it to your day trip to Santa Barbara itinerary.
We recommend a trolley tour…
If this is your first time in Santa Barbara.
If you haven't yet had the pleasure of experiencing it.
If anyone in your party cannot walk long distances but would like to take a narrated tour of Santa Barbara.
If you want to be informed about the destination you're visiting.
You want a quick, fun tour by a local.
Daily tours from Thursday to Monday
Cost $28 pp
Purchase your tickets online in advance.
Santa Barbara Trolley Tour | 1 Garden Street, Santa Barbara | Google Map It
Santa Barbara Wine Country
If you want to do something different and away from downtown, spend the day in Santa Barbara Wine Country in the Santa Ynez Valley. Go wine tasting and visit a few of the 200 wineries in the region.
You can follow the Santa Barbara Urban Wine Trail.
All wineries and wine-tasting rooms are listed by neighborhood. You can start planning your Santa Barbara Wine Country road trip and perhaps include some of the wineries below.
Please note some reservations may be required.
Tour Ideas:
Santa Ynez Valley Wine Tour [Book Here]
24 Hours in Santa Barbara: Where to Stay
With 24 hours in Santa Barbara or more, it allows you to explore this coastal city at a slower pace.
You can fit in some of the city's delicious food, visit the iconic Old Mission Santa Barbara, or stroll through Santa Barbara's Botanic Garden. You can also stop by the Santa Barbara Zoo or make a pit stop in Solvang for the day.
You'll need to stay overnight.
Harbor View Inn
Our recent stay at the Harbor View Inn in Santa Barbara was wonderful. Located at the corner of State Street and across from Stearns Wharf Pier, the hotel's prime location made it an ideal home base for exploring the beach, Funk Zone, and other attractions in Santa Barbara.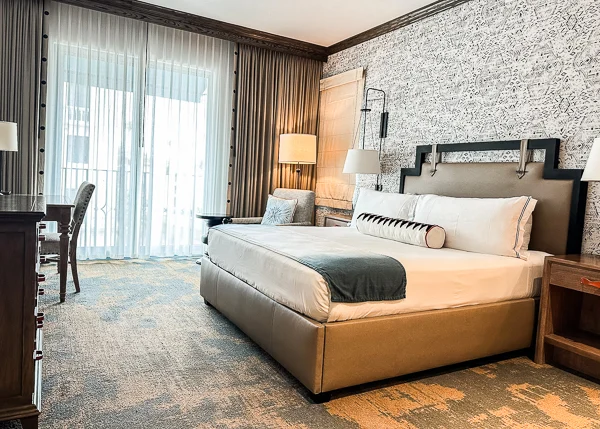 Our room was spacious, newly remodeled, and impeccably clean and comfortable. The bathroom was a highlight for us! We loved the ample shower space and the luxurious rain shower.
We stayed in the North Building, which had its own entrance and parking lot. We appreciated the ability to plug in our electric vehicle in the parking lot.
Though the weather didn't permit us to use the pool, we were impressed by the cleanliness and peaceful ambiance of the pool area.
Overall, our stay at the Harbor View Inn exceeded our expectations, and we highly recommend it to anyone looking for a comfortable and convenient stay in Santa Barbara.
Santa Barbara Day Trip: FAQs
Why visit Santa Barbara?
Santa Barbara is one of those charming cities with beautiful architecture, stunning landscapes, delicious food, wine, and a vibrant cultural scene. It's the perfect little seaside getaway for a day trip or more.
Can Santa Barbara be a day trip?
Yes, Santa Barbara can easily be a day trip destination, especially if you're coming from nearby cities such as Los Angeles. However, there's plenty to see and do in Santa Barbara, so if you have the time, it's worth considering staying overnight to experience all it has to offer.
Where can I spend the day in Santa Barbara?
With a day to spend in Santa Barbara, you have a few great options to explore the city. One option is to explore historic State Street, go wine tasting in The Funk Zone area, and climb the Santa Barbara Courthouse clocktower for a panoramic view. Another option is to explore the beautiful Santa Barbara coastline, starting with a visit to Stearns Wharf, Santa Barbara Harbor, and the beaches you'll come across.
What train goes to Santa Barbara?
Amtrak's Pacific Coastliner goes to Santa Barbara and drops you off near the beach.
A day trip to Santa Barbara is always fun, but check out these other day trips from Los Angeles.
In advance of your trip, don't miss these related articles:
Share the tips & love on Pinterest: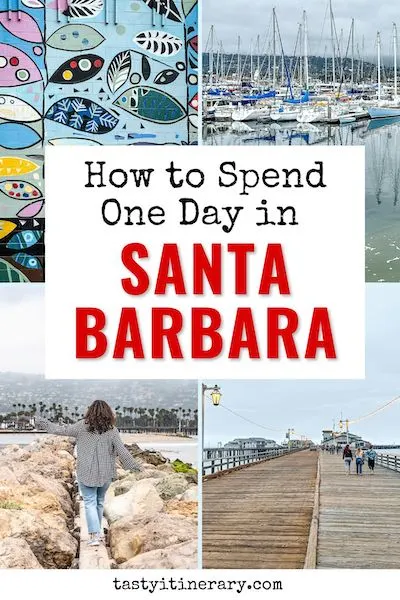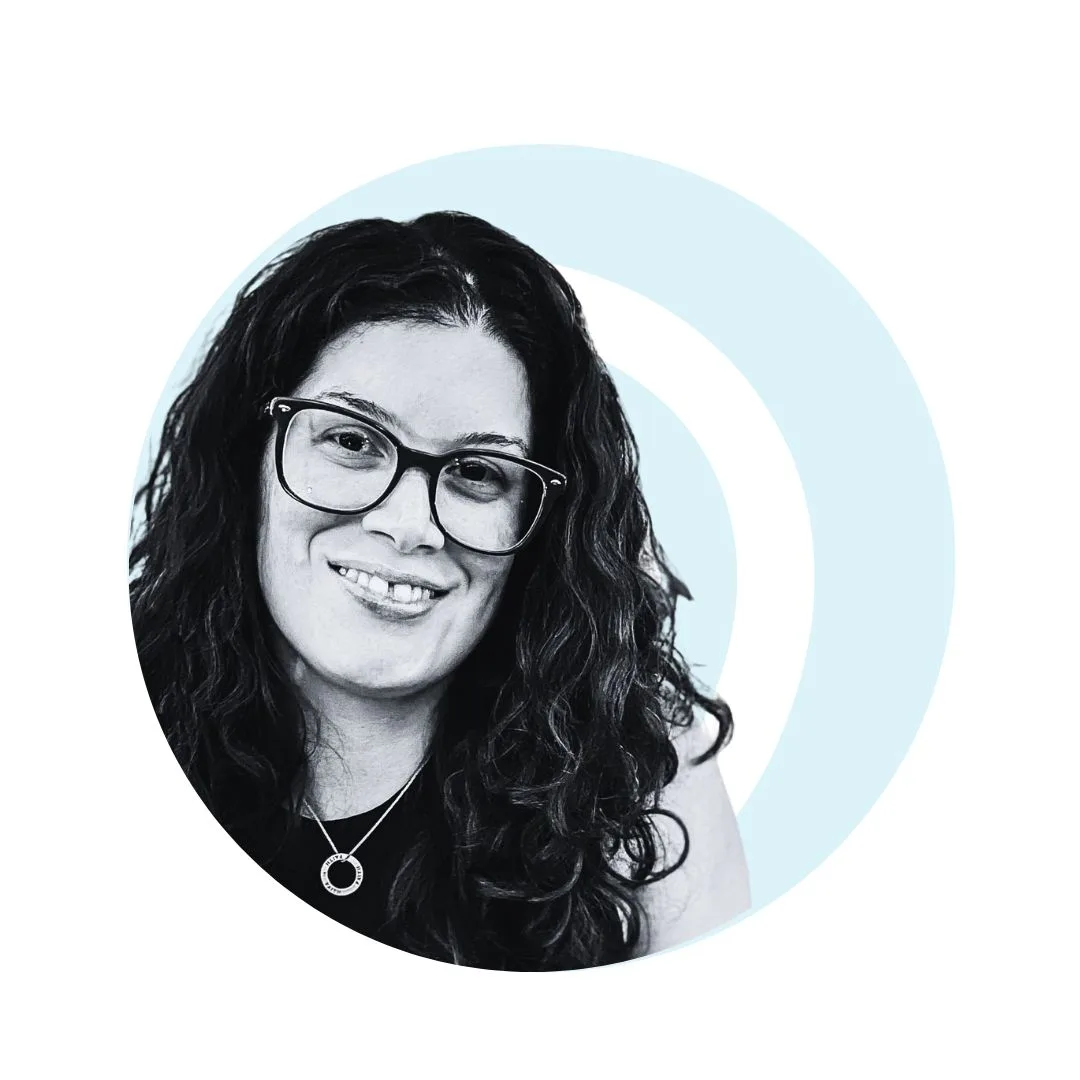 Meet Kathy Ava – a food, travel, and cruise writer based in Los Angeles/Pasadena. With over 20 years of experience planning trips and logistics at her full-time job and for herself, she's become a pro at crafting unforgettable travel itineraries. She's always looking for delicious, fun cruise itineraries and travel destinations and is slightly obsessed with Italy. Her passion and curiosity for travel started in childhood on her yearly and sometimes bi-yearly trips to PR. She firmly believes that life is short and we must make the most of it – so let's explore the world and make some incredible memories.