Looking for the best things to do in Solvang, CA? Where is Solvang? Why is it such a beloved touristy spot in Southern California?
Located in Santa Ynez Valley, you will find the Danish Capital of America, Solvang. Solvang is a Danish Village that was founded in 1911 by a group of Danish immigrants. You will find old-world architecture, windmills and great Danish eats all in Solvang.
A visit to Solvang makes for a great day trip or a great road trip stopover for all. It's actually a two and half hour drive from Los Angeles. Only a 45-minute ride from Santa Barbara.
You can also take public transportation to Solvang. Jump on the Amtrak train en route to Santa Barbara. From Santa Barbara take the Amtrak bus to Solvang Park.
What are the things to do in Solvang, CA? See the traditional windmills, hop from bakery to bakery to try all the Danish treats, imbibe in some local wine tasting, visit the shops and explore Solvang on foot. My favorite thing to do in Solvang is EAT.
If you're a foodie too, you'll want to start off with a pastry or aebelskivers for breakfast. For sure.
When to visit Solvang? Any time of year! Spring and Summer is the busiest time of year. I love visiting during the holidays for Julefest. Julefest is Solvang's month-long holiday celebration. Solvang at Christmas is even more magical and fun.
The reason Solvang is so popular is that we get to step into another place that isn't reminiscent of anywhere else in California. It's like having a bit of Europe in California. For this reason alone, Solvang is worth the visit.
Disclosure: This post may contain affiliate links. If you decide to make a purchase from one of those links, we may get a commission at no extra cost to you. We appreciate your support.
Now the big controversial question is… is it authentic? Some say, yes and some say, no. I have not had the pleasure of traveling to Denmark, yet.
Of course, please correct me if I'm wrong.
Nonetheless, it doesn't mean it isn't enjoyable and fun. I absolutely love Solvang, even if it's a bit touristy. A tad-like themed village inside of a Disney park. To me, that's half the fun. Everyone I've taken there has been charmed by this delightful town, myself included.
Spot the wooden windmills in Little Denmark. Stop to eat Ebelskivers and then get some buttered cookies for the road. Feed Ostriches at Ostrichland. Take a hike to Solvang's hidden waterfall. Among some of the activities in Solvang.
If you're on a Pacific Coast road trip or spending time in Santa Barbara, definitely add Solvang as one of your stopovers.
Things to Do in Solvang
1. Eat aebelskivers (Danish Pancakes)
One of the best things to do in Solvang… have aebelskivers. I admit the #1 reason I normally visit Solvang is to eat my way through the village. Solvang has a number of great bakeries, but you must head over to Solvang Restaurant and order some aebelskivers.
What are aebelskivers? They are danish pancakes topped with powdered sugar and raspberry jam.
You won't regret it. I promise. They are so good!
You don't need to sit down at the restaurant. They have an order and pickup window right outside.
2. Spot a Windmill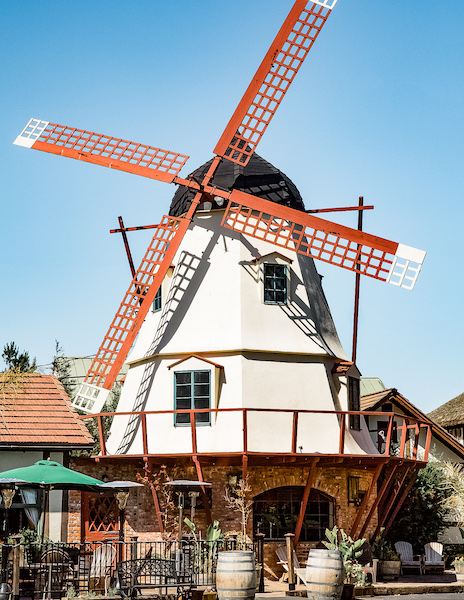 What to do in Solvang? Spot the famous windmills!
There are 4 wooden windmills in Solvang. All in a four-block radius. You won't be able to miss them as you're exploring Denmark Square. They are non-working, but they are aesthetically pleasing and fun.
1622 Copenhagen Dr, Solvang, CA 93463
1440 Mission Dr, Solvang, CA 93463
1547 Mission Dr, Solvang, CA 93463
436 Alisal Rd, Solvang, CA 93463
3. The Little Mermaid Fountain
Similar to the mermaid fountain in Denmark, you will find a smaller scale of the Mermaid statue in Solvang. The statue was installed in 1976 in Denmark Square.
This is one of those pit stops that you'll make along the way to explore another spot in Solvang. You'll see it, take your shot (if you want one) and move on. Just so you know, it is there.
4. Hans Christian Anderson Museum
Hans Christian Andersen was a Danish author that wrote some of the most famous fairytales… The Little Mermaid, The Princess and the Pea, Ugly Duckling, and many more.
This small museum is also a bookstore. It is worth a look as it has a model of Hans Christian Andersen's home with some photos and original letters of this famous author.
Day Trip to Santa Barbara, CA
Plan an easygoing and great day in Santa Barbara. See what to do in the beautiful coastal city dubbed the American Riviera.
5. Elverhoj Museum of history and art
First-timer in Solvang? One of the things to do in Solvang is to take a deeper dive into the history of Solvang and the Danish culture by visiting the Elverhoj Museum.
This is not your typical big museum with its cold harsh edges. This small museum is inside an old Danish house that was converted into a museum. While it is small, there is a ton of interesting information that you wouldn't have learned of unless visiting. There is also the staff here is also super friendly, informative, and helpful.
Museum is open Thursdays thru Monday from 11 am to 5 pm.
Free admission, but a $5 donation is suggested.
6. Copenhagen's Famous Rundetårn (Round Tower)
Check out the replica of Copenhagen's The Round Tower. The one in Solvang is one-third of the size of the one in Copenhagen. It is located behind the windmill on Alisal Rd.
The Round Tower in Copenhagen is a 17th-century tower and observatory. While we can climb the one in Copenhagen, unfortunately, we can't climb the one in Solvang. It does not have a spiral staircase inside and it does not have an observatory. Currently, it is the home of a pizza restaurant and other dining establishments.
7. The Clogs at the Solvang Shoe Store
For some window shopping fun in Solvang, head to the Solvang Shoe store and check out their fun collection of wooden clogs. They have plain wooden ones to decorative ones of all colors.
They used to have ones you can try on and take pictures with. But with the pandemic, you may want to skip the trying-on part of it. Pre-pandemic it was a lot of fun shoving our feet into a huge pair of clogs they had on display.
8. Go Wine Tasting
There are a number of wine tasting rooms throughout Solvang. If you are a wine drinker, I suggest stopping at a few as you're walking around Solvang and getting a taste of the local wines.
Tasting fees start at $5.
Nearby Tour Option: Santa Ynez Valley Biking and Wine Tasting Tour [book here]
Day Trips From Los Angeles, California
Thinking of planning a couple of day trips from LA while you're here. Check out our list of some of the best day trips from the city of Los Angeles.
9. Solvang Vintage Motorcycle Musuem
Right in Solvang Village Square, you'll find a Solvang Vintage Motorcycle Museum. This is a great stop for anyone that loves vintage modes of transportation, specifically motorcycles.
This motorcycle museum features dozens of antique motorcycles and even a couple of old-school bicycles. Check out the one-of-kind motorcycles on display as well.
The staff is friendly and informative.
Cost: $10. Cash Only.
Open only on Saturday and Sunday from 10 am to 4 pm.
10. Old Mission Santa Inés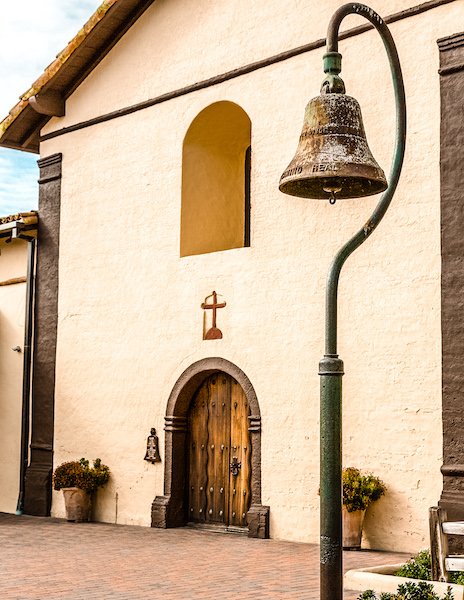 Old Mission Santa Inés was founded in 1804 and is part of the history of California. The mission is well-preserved with beautiful Spanish architecture. You'll want to visit the museum on site before heading to the chapel and the lovely grounds of the Mission.
Self-guided tours are $6.
Monday thru Saturday 10 am to 3:30pm, Sundays 1 pm to 4:30 pm.
11. See a production at the Solvang Festival Theater
Do you enjoy production plays and other musical events? Check out what's playing at the Solvang Theater.
This 700 seat amphitheater is an open-air venue that puts on a number of productions and events right in Solvang. Watch one of their well-produced events under the stars. Bring a blanket and a sweater as the nights do get a bit cold.
12. OstrichLand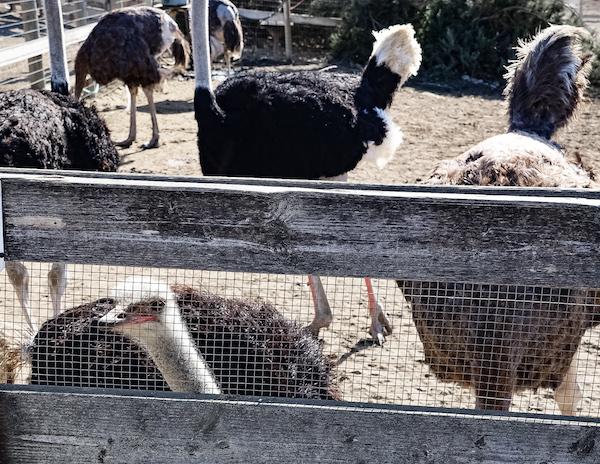 Did you know there is an Ostrich farm in Solvang? It's another one of those fun activities in Solvang you'll want to check out prior to arriving or after exploring the downtown area. Check out the Ostriches and Emus at this central coast. Don't forget to purchase some food to feed these beautiful birds.
My friends recently took their children after visiting Denmark square and they loved it. The kids even got to feed the ostriches. and the kids even got to feed them.
It's a short stop on your Solvang itinerary but a cool one.
Open daily from 9 am to 5 pm.
Cost of admission is $7 for adults and $3 for children.
$1 for Ostrich food.
13. Nojoqui Falls Trail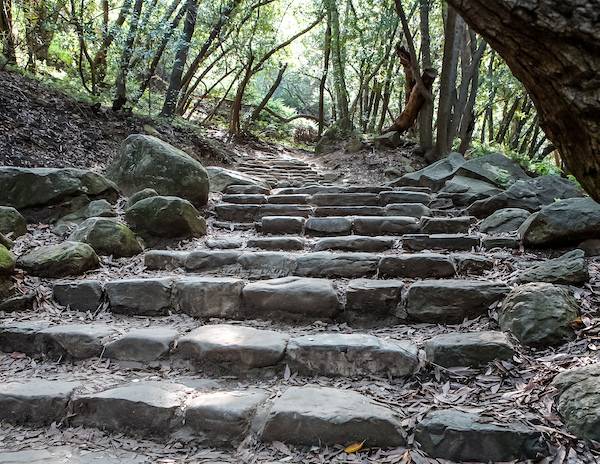 There is a waterfall right near Solvang called Nojoqui Falls. You can drive to the trail and do the easy hike that is less than a mile round-trip. It will take about 10-15 minutes to hike there. The trail is family-friendly, pretty, and full of shade. It is worth a short adventure.
Note, the waterfall may be dry during the drought seasons. So don't be surprised if you hiked it and there is only a trickle of water. Probably best to go days after it has rained.
14. Book a Food Tour
Food tours are one of the best ways to get familiar with a location. I'm a big fan of them when we travel to Europe, so why not here in Solvang? You'll learn about the history of the Danish Village while trying out some great bites from within the city. As an added plus to this tour, they'll also teach you a few smartphone photography tips.
You can book a Solvang food tour with Eat This, Shoot That. Their food tours take place every Saturday, upon availability. Just expect this tour to be lunch.
Places to Eat in Solvang
Succulent Cafe
In the center of Solvang, you'll find Succulent Cafe. An American restaurant serving local wines, charcuterie boards, and some of the most delicious mini biscuits I've ever had. Any place that serves a bacon sundae is a must-try… am I right?
If you know you'll be in Solvang for lunch or dinner, I suggest putting your name on the list early as it gets busy. Also, note that due to the pandemic the menu has been modified and continues to change. Give the menu a quick look before you decide to eat there.
Solvang Restaurant
As mentioned above, you absolutely must try the aebelskivers at Solvang Restaurant. Without a doubt, it's one of my top and best things to do in Solvang and it will be yours too. You only have to get a serving of 3 for a taste.
They do serve other Danish specialties inside. You are welcome to give them a try and let me know what you think.
Solvang Bakeries
There are a few Danish Bakeries I am one that loves to go to each one. Even if it's just to smell the delicious butter in the air. All the baked goods are also so beautiful to look at. Okay, yeah, and scrumptious to eat. It's one of my favorite things to do in Solvang.
You can go bakery hopping, buy pastries to eat there, take on the road, or bring home for breakfast the next day. That's if they make it to the next day.
When I'm in Solvang, I like to bring home some butter cookies and a kringle.
Visiting Solvang is definitely like stepping into another part of the world. All you need is a short day trip to Solvang or a shortstop from your road trip to enjoy what it has to offer. You'll love it. And if you have kids, they'll love it too.
Have you been to Solvang, CA? What is one of the best things to do in Solvang?
Don't forget to share the love on Pinterest: