There are many pros and cons of a fall cruise or a winter cruise. No matter the season, you'll be guaranteed a fabulous time on your cruise vacation.
The shoulder season is the period between the high and low seasons when tourism slows down. This time frame offers lovely weather and smaller crowds. And, if you're looking to save money on your next cruise, sailing during the shoulder season is the way to go.
The shoulder season is one of the best times to vacation, and we take advantage of the off-peak seasons to travel. Many people don't realize that shoulder season can be a great time to plan a cruise.
Advantages of cruising in the shoulder season include:
Fewer crowds
Cheaper rates
Better weather
The main disadvantage of cruising in the shoulder season is that fewer itineraries are available. So, if your heart is set on a specific cruise line or itinerary, you may have to wait until the high season to sail.
If you're looking for a fall cruise or a winter cruise, here are some of the best shoulder season cruises:
Alaska cruises in September or October
Caribbean cruises from September to March
Mediterranean cruises from September to October
Asia cruises from September to December
Australia and New Zealand cruises from October to April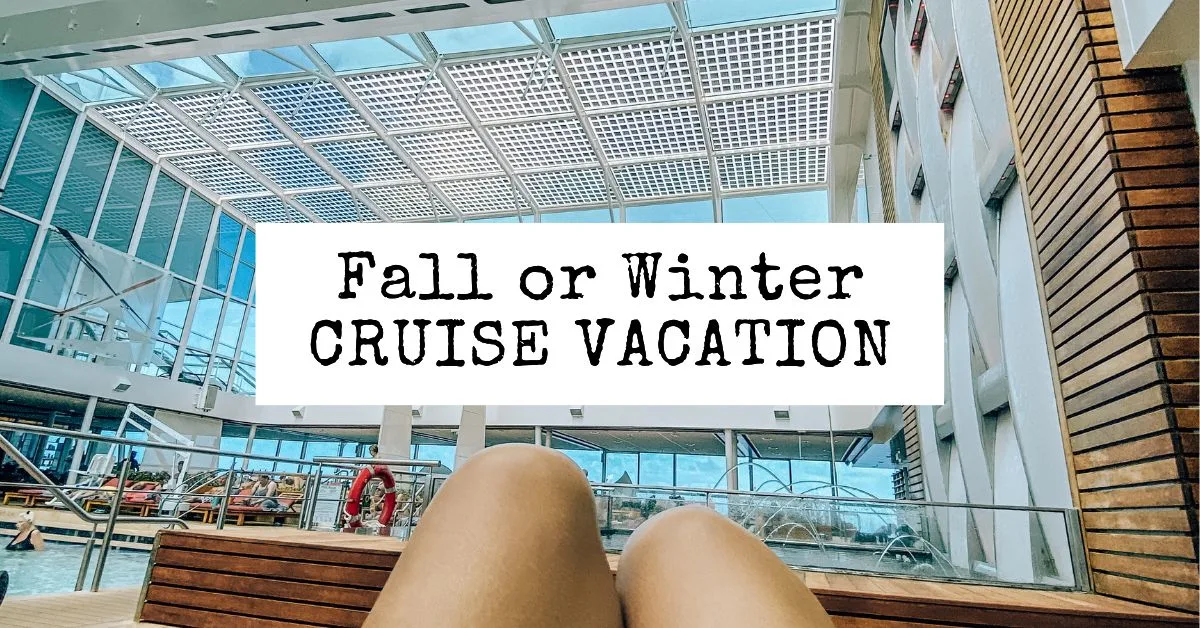 This post may contain affiliate links, which means we'll receive a commission if you purchase through our links at no extra cost to you. Please read full disclosure for more information. We appreciate your support!
But then there are a few destinations we have yet to experience because summer would be the best time. Eventually, we will shuffle around our vacation time. For now, a fall cruise is our favorite time to vacation.
Although we recently enjoyed our first summer cruise to Bermuda on the Norwegian Joy. Which was fabulous, yet we still discussed many reasons we prefer fall cruises.
So, if you're contemplating a vacation off-season, here are some pros and cons of a fall cruise and a winter cruise to mull over.
10 Pros and Cons of a Fall Cruise and a Winter Cruise
1. Summer is Over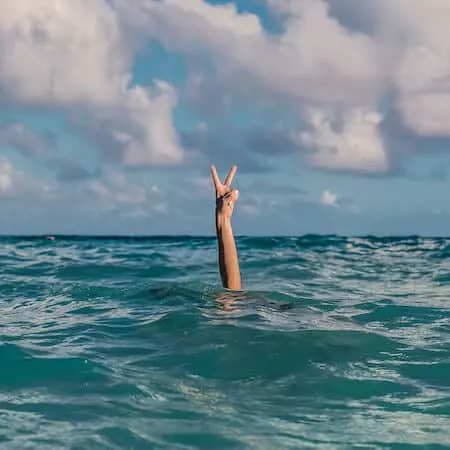 Pros: Summer vacation is over!
Children are back to school, meaning fewer kids are on the ships. Take my word for it – this makes a huge difference. The ships are quieter than they've been in a while.
Families are back to work and traveling less. The summer crowds have dispersed. You'll have an easier time getting around and enjoying the ship, making restaurant reservations, and booking excursions.
Ports are less crowded as well. Imagine walking around and exploring without being jostled by crowds.
Cons: The weather is cooling off in some destinations. Pack a sweater for evenings or excursions in cooler climates.
2. It's Cheaper
Pros: Airfare and cruise prices are cheaper in fall and winter. You can save a significant amount of money by traveling in the off-season.
Cons: In the same token, prices will be higher if you decide to take a fall cruise or a winter cruise during the holidays. Traveling during Thanksgiving, Christmas, and New Year's can be expensive.
3. The Weather is Better in Some Destinations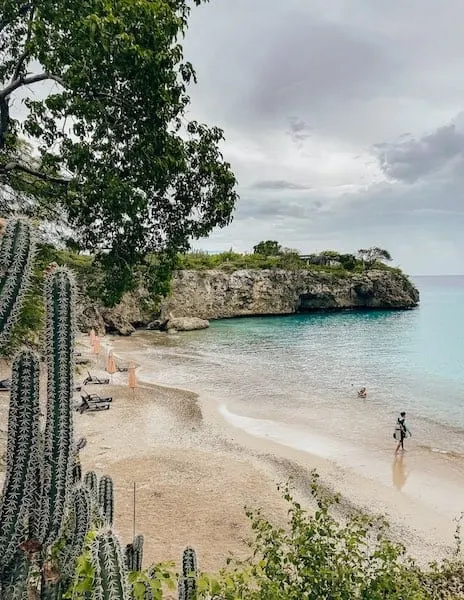 Pros: The weather is cooling off in some destinations, making it perfect cruising weather. The Caribbean is warm year-round, but the humidity decreases in the fall months, making it a more pleasant experience.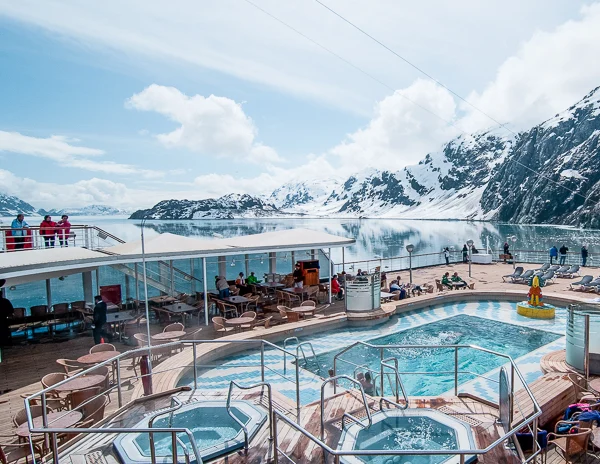 Cons: In other destinations, the weather is not as ideal. Alaska is beautiful but much colder in September and October than in the summer. This is the time to take advantage of thermal spa passes and indoor pools.
New England is gorgeous in the fall, but you risk getting caught in a Nor'easter.
If the weather isn't cooperating, that most likely means rough seas. It's not fun for anyone.
Read more: Alaska Cruise – What To Pack
4. Newer Ships
Pros: The newest ships debut in the spring, so most of the kinks have been worked out by the fall season. You'll likely have a smooth sailing experience on a newer ship.
Cons: You'll find better deals on older ships if you want a bargain.
122 Quick & Helpful Cruise Tips
We've gathered 122 of our top cruise tips and cruise hacks to help make your planning process smoother and your cruising experience even more fabulous.
5. Experience the Magic of the Fall Season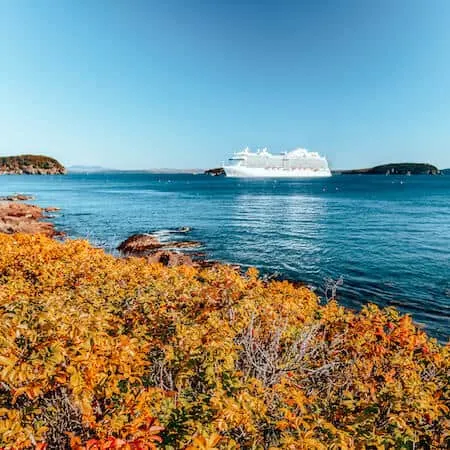 Pros: Depending on where you're cruising from or to (Canada or New England), you'll be able to experience the fall foliage in all its glory. Think of all the beautiful colors of fall.
Cons: You may have to deal with some chilly weather, but it will be worth it when you see the leaves changing color.
6. Experience the Holidays at Sea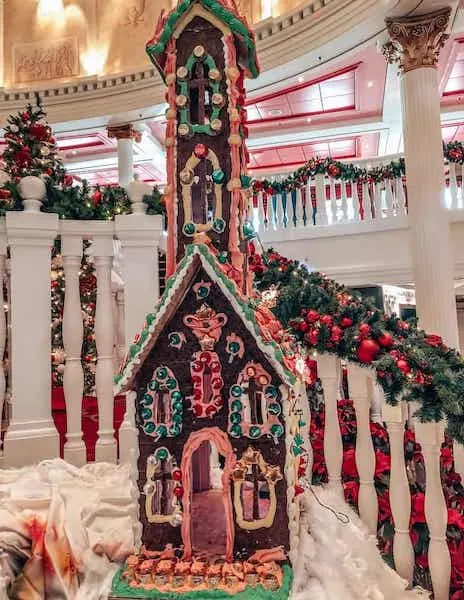 Pros: On a cruise ship, celebrate Thanksgiving, Christmas, or New Year's. What could be more festive than surrounded by family and friends while cruising to amazing destinations?
Imagine the magic of the holiday decor around the ship! The Christmas trees, the massive gingerbread houses, and full spreads of delicious foods without having to lift a finger in the kitchen. I don't know about you, but not having to bust my behind in the kitchen is a plus!
Ringing in the New Year with family and a new set of friends in the middle of the ocean with some bubbly and the band playing in the background. It's a new set of fun and cruise activities to look forward to.
After reading about the festivities on the ships, it is on my bucket list, and you should add it to yours too.
Cons: If you have young children, they may be disappointed not to be home for the holidays.
7. Fewer Crowds
Pros: Since it's the off-season, fewer people are traveling. This means shorter lines, less waiting, and more personal attention from the staff.
With fewer people on board, the vibe on the ship is more relaxed. You can take your time and enjoy the amenities without feeling rushed.
Cons: If you're looking for a party atmosphere, you may be disappointed. The ship will be more subdued than it is during the peak season. At least, this is what we experience during our fall cruise on the Celebrity Equinox to the Southern Caribbean.
Packing for a cruise? Here are some items not to forget and add to your cruise packing list.
8. Explore the Mediterranean in the Off-season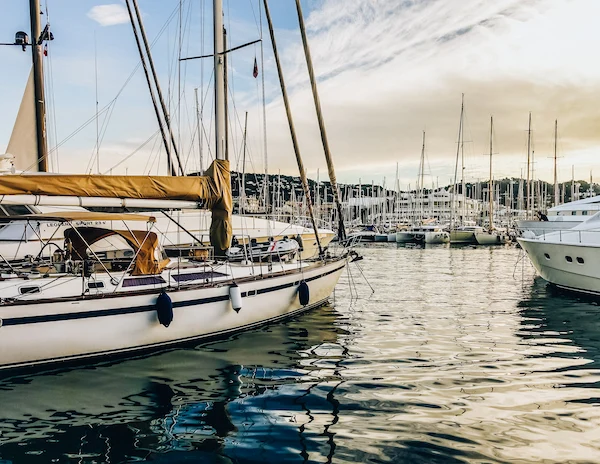 Pros: Like a land vacation, a fall cruise is the best time for a Mediterranean cruise. The weather is still warm, but the crowds have dispersed. You'll have a more authentic experience without the hustle and bustle of peak season.
Cons: Some ports may be closed due to the off-season. Check with your cruise line or travel agent to find out which ports will open during your sailing.
9. Best Time to Take a Cruise to Australia & New Zealand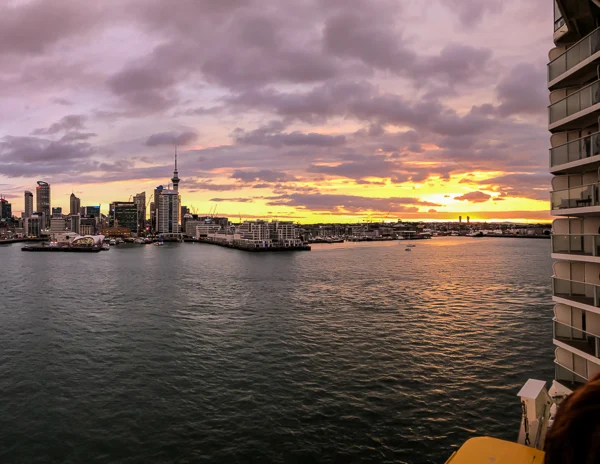 Pros: The weather is perfect for taking a fall cruise or winter cruise Down Under in the fall. You'll avoid the crowds seasons in Australia, and New Zealand are opposite from ours here in the US. Therefore, our Fall is their Springtime, and our Winter is their Summertime.
Time to take a winter cruise through the New Zealand Fjords!
Cons: Possible long flights to those home ports to take these cruises.
10. Hurricane Season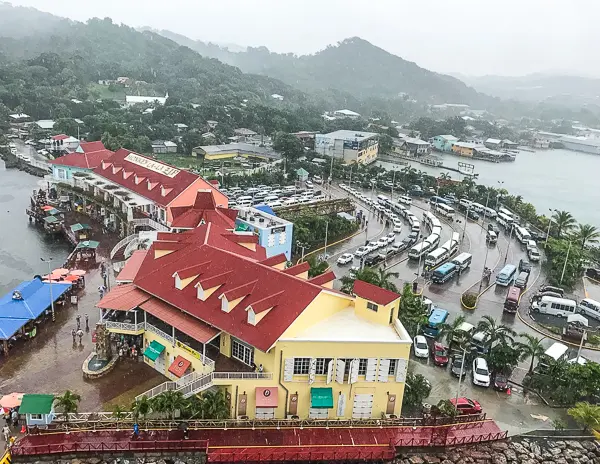 Pros: Since it's still hurricane season until the end of November, the prices for fall cruises to the Caribbean drop due to a lack of demand because summer vacation is over.
You can take advantage of cruise deals in the Caribbean. Just make sure to get "cancel at any time" cruise insurance.
It happened to us, and we had the wrong cruise insurance to protect us. We lost a lot of money and had to rebook a last-minute cruise – which turned out to be one of our favorite cruises – but we still learned a valuable lesson.
Cons: The risk of bad weather. But as I mentioned, you can get "cancel at any time" cruise insurance allowing you to cancel your trip if a hurricane is approaching your destination.
Keep up to date with hurricane season forecasts and news: here.
– Don't Miss: How to Prepare for a Cruise –
Have you decided which type of cruise is better for you- a fall cruise or a winter cruise?
Both offer unique advantages and disadvantages that are important to consider before deciding. Hopefully, the information we've provided has helped you decide.
What season do you love to cruise?
Share the tips & love on Pinterest: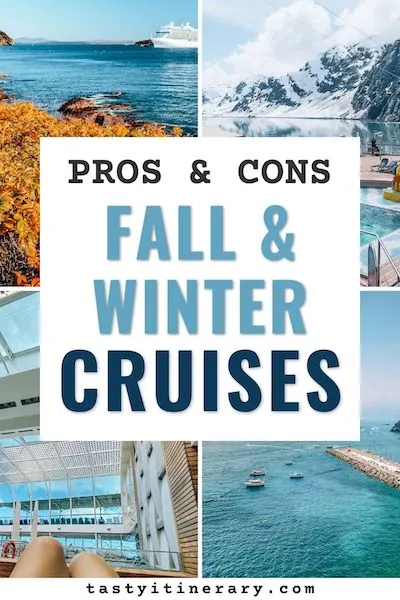 Other related cruise reads not to miss:
25 Best Things About Cruise Vacations
What Not to Pack for a Cruise?
What is Included in a Cruise Ship Vacation?
What Cruise Clothes to Pack for Women
What NOT to Wear on a Cruise: Dos and Don'ts
The Pros and Cons of Cruise Roll Calls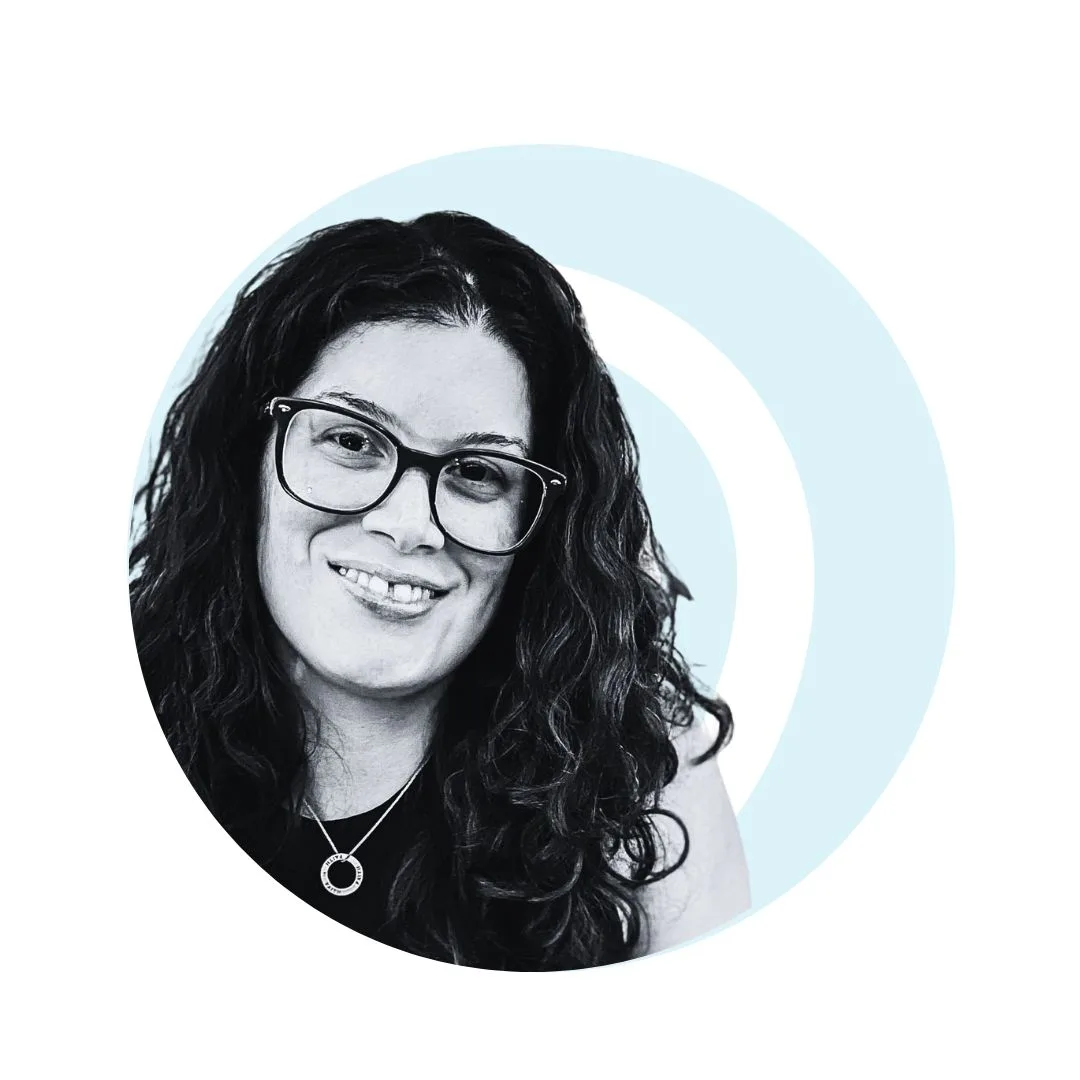 Meet Kathy Ava – a food, travel, and cruise writer based in Los Angeles/Pasadena. With over 20 years of experience planning trips and logistics at her full-time job and for herself, she's become a pro at crafting unforgettable travel itineraries. She's always looking for delicious, fun cruise itineraries and travel destinations and is slightly obsessed with Italy. Her passion and curiosity for travel started in childhood on her yearly and sometimes bi-yearly trips to PR. She firmly believes that life is short and we must make the most of it – so let's explore the world and make some incredible memories.