What are some Alaska cruise tips to help you plan your trip? And, what are the Alaska cruise mistakes you can avoid while planning an Alaskan cruise?
Every trip planned is a learning experience.
Our first cruise to Alaska was one in which we made a few mistakes before even taking our cruise. Some of them are rookie cruise mistakes. We were so excited to cruise to Alaska that I ignored some finer details, usually unlike me.
Alaska is the largest state in the United States, boasting unparalleled natural beauty and wildlife. Its Inside Passage, a network of waterways that stretches along the southeastern coast, is dotted with picturesque towns and stunning fjords, making it one of the most popular destinations for Alaska cruises.
The state's glaciers are also a must-see for any traveler. From the Hubbard Glacier, the largest tidewater glacier in North America, to the Mendenhall Glacier, located just outside of Juneau and is one of the most accessible glaciers in Alaska. You'll be awed by these natural wonders' sheer size and beauty.
Alaska's national parks are another highlight of the state. Denali National Park, home to North America's tallest peak, Mount Denali, is a popular destination for hikers and wildlife enthusiasts.
Glacier Bay National Park, located in southeastern Alaska, is home to some of the most spectacular glaciers in the state and is a great place to spot humpback whales, sea otters, and other marine life.
And cruising is one of the best ways to explore the wonders of Alaska.
But the process of planning an Alaskan cruise can be overwhelming, especially if you've never been and aren't sure what to expect. Even for avid cruisers like us, cruising to Alaska for the first time, we feared things like the cold weather, being unprepared for shore excursions, and exploring Alaska cruise ports.
What do we pack for Alaska??
What do we wear to Alaska?
We were outside our comfort zone with the idea of cruising in Alaska, unlike the Caribbean or the Mediterranean, where we felt more at ease and in the know.
"The best part of travel is stepping outside your comfort zone and experiencing something new."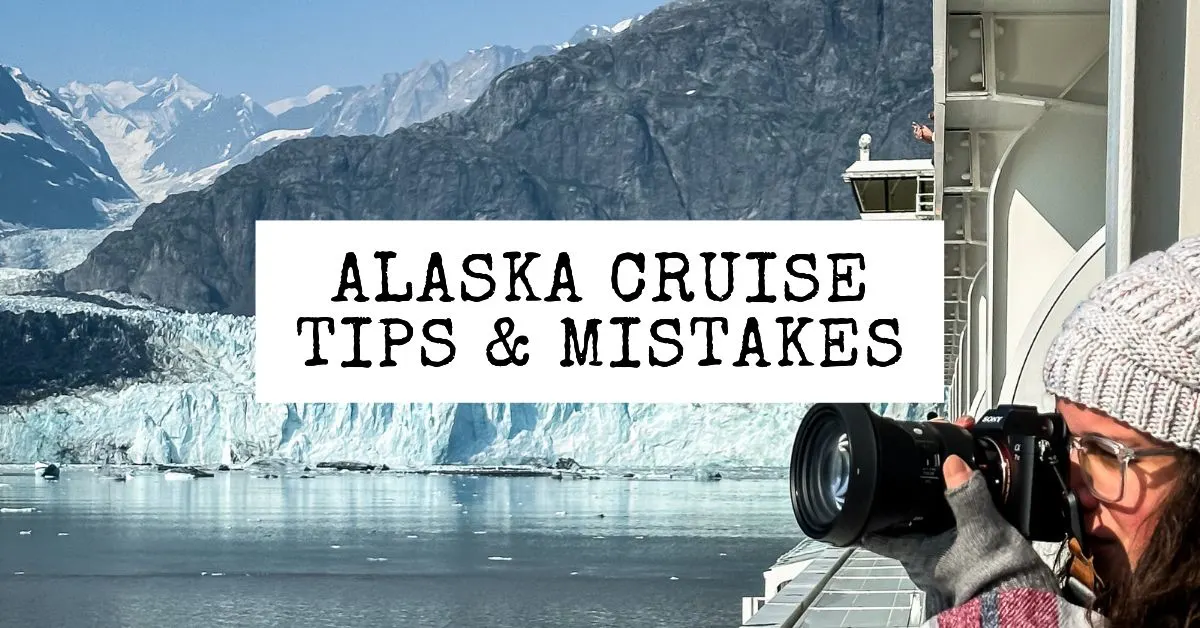 Now that we've been on an Alaskan cruise, once we were there, we realized that we may have been overthinking some things.
I even had guidance from a close friend, a veteran cruiser who has repeatedly taken Alaska cruises and advised me not to overthink things.
That's the truth. Of course, it doesn't mean we can't share our cruise mistakes and the Alaska cruise tips we learned during our planning and trip.
For example, we may have picked the wrong cruise ship. We had a memorable first Alaska cruise, but Norwegian Encore may be too big of a cruise ship for Alaska. And NCL may not be the right cruise line altogether.
At least not for us, traveling as a couple, regarding the Alaska cruise itinerary. And you know, we do love NCL. We would only consider it again if it had an amazing itinerary we couldn't pass up.
In this blog post, we'll provide you with our essential Alaska cruise tips and tricks and the Alaska cruise mistakes to avoid to help you make the most of your Alaska cruise experience.
What Alaska cruise tips and tricks would you add to this list?
Alaska Cruise Tips and the Mistakes to Avoid
Plan and Book Your Alaska Cruise Early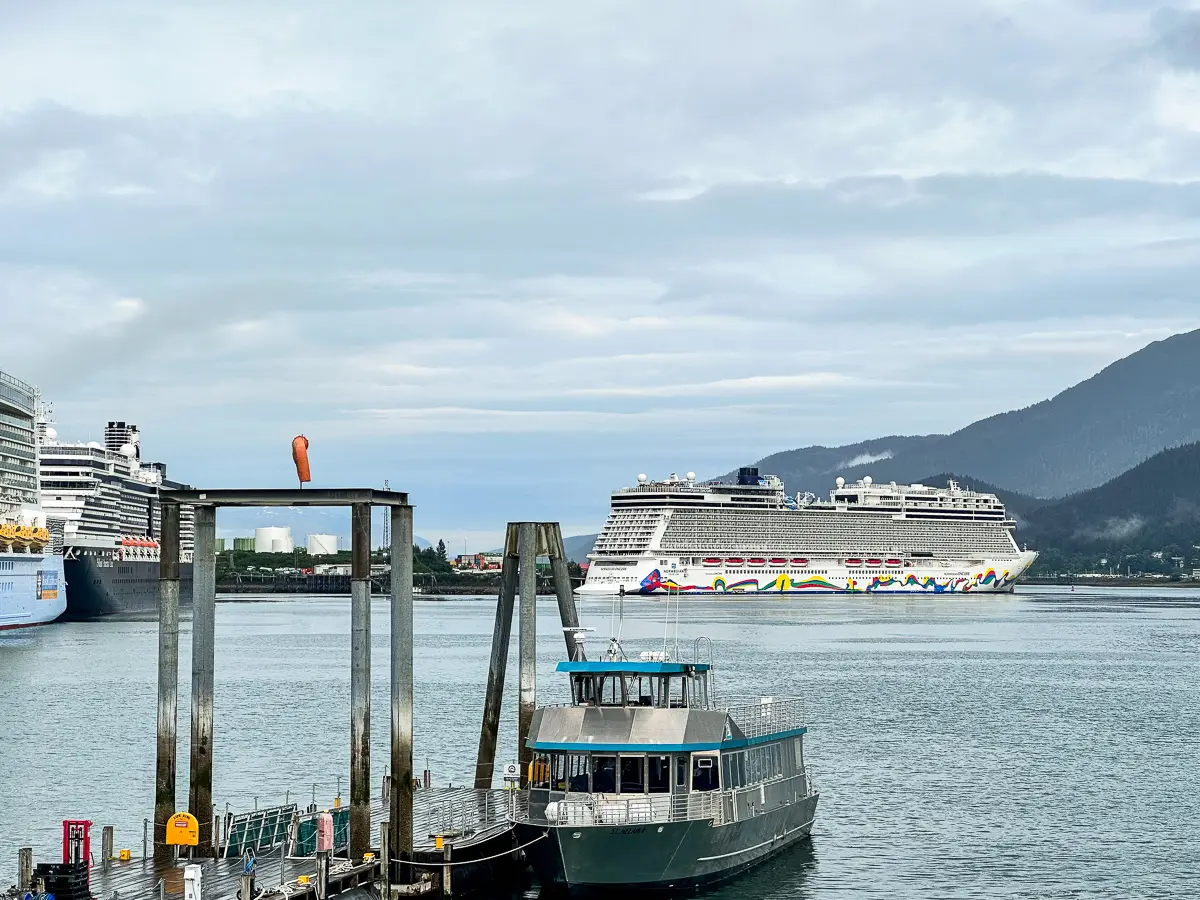 If you're planning an Alaskan cruise, it's best to plan and book early to ensure you get the itinerary, cabin type, and excursions you want. Alaska cruises are popular; the best cabins and excursions sell out, especially during peak season.
Booking early also allows you to get a better rate, save money on a cruise, and get your choice of the best cabin location. Since Alaska cruise season is short and in demand, the prices increase closer to its sail date.
We booked our Alaska cruise a year in advance. We called for a rate adjustment during a flash sale and saved a few hundred dollars months later. And then we watched the rates go up from there. We called a few weeks before our cruise about upgrade options, and the entire ship was sold out.
That's not to say you won't find last-minute cruise deals for inside rooms; you may find plenty. The downside is that many of the best excursions will be sold out. If you're ready to explore independently, it may be a great way to take a spontaneous cruise to Alaska.
Alaska Cruise Mistake: Not booking an Alaskan cruise.
Read more: Kep Steps for Planning a Cruise Vacation
Choose the Right Time to Cruise to Alaska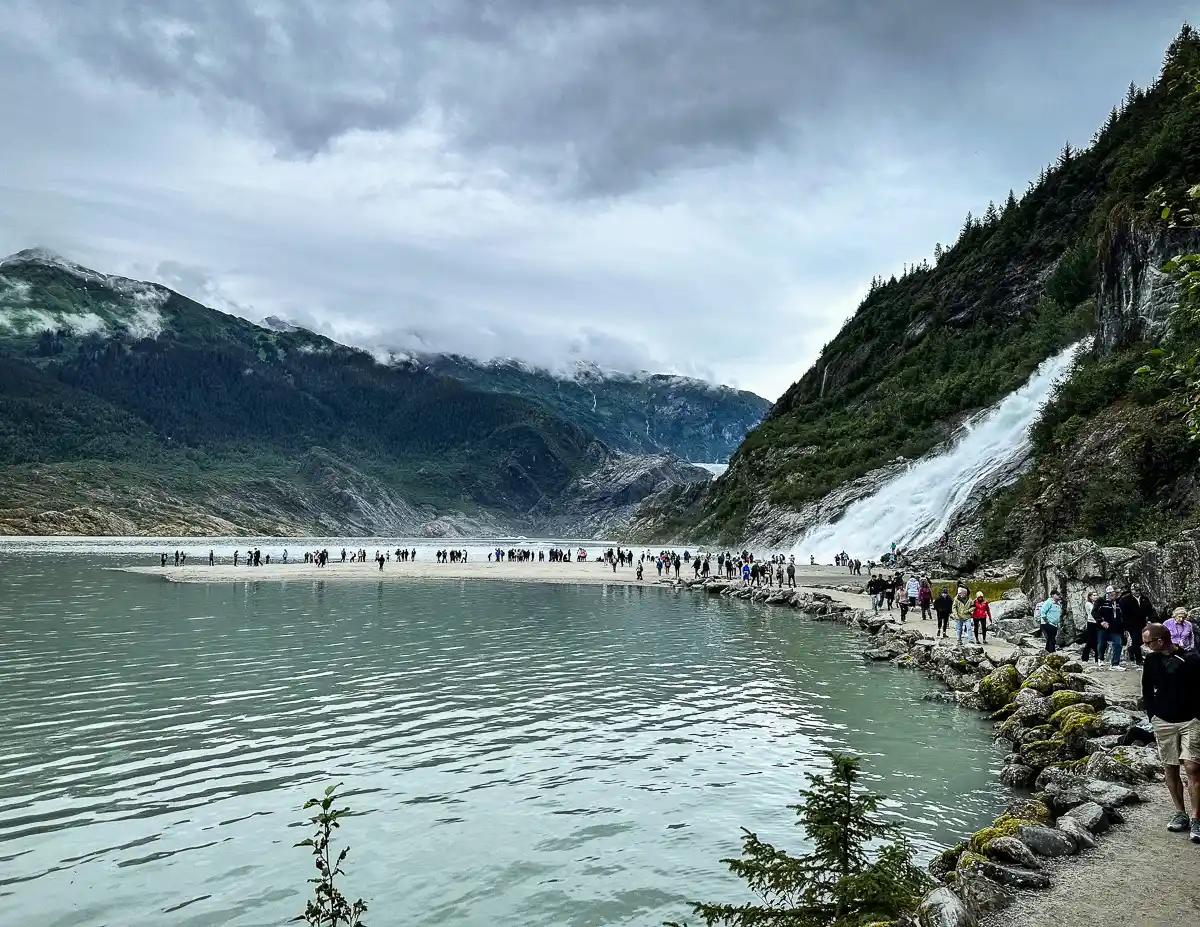 If you plan to visit Alaska on a cruise, choosing the right time of year to maximize your trip is important. That's going to look different for everyone.
Some like to go at the beginning of the Alaska cruise season because it is less rainy, other cruisers avoid mid-summer because of crowds, and some like to cruise towards the end of the season when it's quieter.
Here's a breakdown of what to expect during each month of the cruise season. The weather is unpredictable, so you may still be surprised when you cruise. It can even make a difference whether a port destination gets canceled.
April: Experience fewer rainy days when you visit Alaska in April, making it a great time to explore the state's natural beauty without getting too wet. However, it is still on the colder side, and cruising the passage of Glacier Bay may not be an option if the ship can't get through.
May: This is a good time to take advantage of discounts and deals as it's still considered the shoulder season.
June: See the sights on an Alaska summer cruise in June, when the days are long and the weather is mild. This starts to become a popular time for cruising, so be prepared for crowds.
July: Alaska in July is the best month to spot wildlife, as many animals are active during this time. This is also a great time to enjoy outdoor activities like hiking and kayaking.
August: They say to expect wet summer days when you cruise Alaska in August, but we mostly had warm days at most ports. Locals told us it was not the norm. While the weather may be unpredictable, this is a popular time to visit due to school holidays and mild temperatures.
September: Alaska temperatures start to drop in September, but this is a great time to see fall foliage and enjoy fewer crowds. Be prepared for cooler weather and shorter days.
October: Cruise Alaska in October for chilly weather and cruise deals. This is the end of the season, so you can often find discounts on cruises and shore excursions.
Alaska Cruise Mistakes: Booking a cruise that cruises too late in the season.
There are cruise itineraries out there that are still sailing in October. Alaska tourism starts to shut down for the season in early October, so you'll have difficulty booking excursions and visiting certain locations.
On the plus side, you can find some great Alaska cruise deals for October if you are cruising for the scenery. You will run into less crowds at ports and on the ship.
And, if you're hoping to experience the Northern Lights while on an Alaskan cruise, the chances of that happening are better in September and October.
Decide If You Want to Cruise Out of Seattle or Vancouver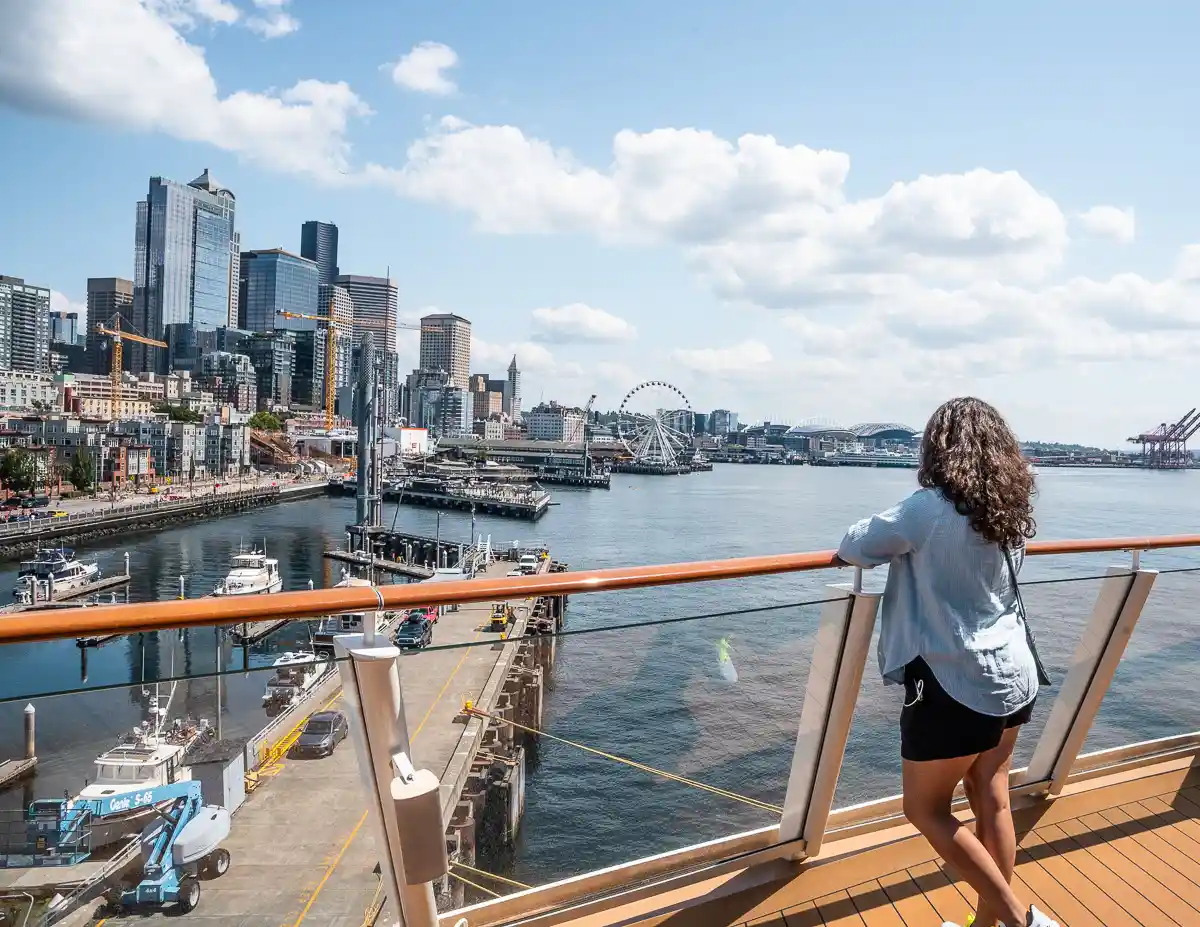 Parking or booking your Alaska cruise itinerary is deciding where you want to depart from on your cruise. The most popular cruise itineraries leave out of Seattle or Vancouver. Still, you can find cruises that depart from Alaska, like Anchorage.
Seattle and Vancouver are both excellent departure points for an Alaskan cruise. Seattle offers stunning views of the Puget Sound and Olympic Mountains. At the same time, Vancouver is known for its cosmopolitan vibe and proximity to the Canadian Rockies.
The classic inside passage is a popular itinerary that departs from Seattle and Vancouver. This route takes you through the protected waters of the Inside Passage. You'll visit ports such as Ketchikan, Juneau, and Skagway, which offer a range of activities and attractions, from hiking and kayaking to cultural experiences and shopping.
Consider cost, travel time, and ease of access when deciding on a departure point. Both Seattle and Vancouver offer convenient transportation options and various cruise lines.
Also, if you do not have a passport, leaving Seattle can be convenient as long as the ship returns to Seattle – it must be a closed-loop cruise that begins and ends in the same port.
Leaving out of Vancouver, you will need a passport.
Sometimes, you'll find itineraries that end at an Alaskan cruise port. Those itineraries are great if you combine them with a land vacation and spend extra days in Alaska.
Alaska Cruise Mistake: Booking a cruise that departs and ends at a port you cannot easily reach by flight or train.
Book a Balcony on Your Alaskan Cruise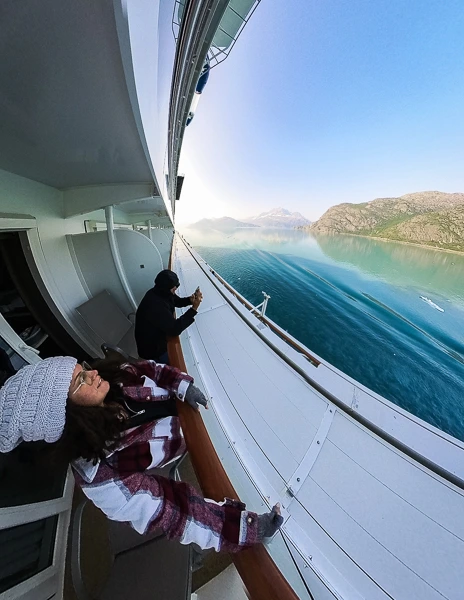 If there is one cruise you should splurge on, it's an Alaska cruise. And booking a balcony is a must if you're going to splurge.
The views from your balcony will be breathtaking, with glaciers, mountains, and wildlife passing by as you sail the inside passage.
Plus, your private outdoor space allows you to fully immerse yourself in Alaska's natural beauty without jostling for a spot on the crowded deck.
Alaska Cruise Tips and Tricks: Ask your room attendant for an extra blanket at the start of your cruise. I used it when I sat outside and it kept me warm and cozy. 
We had a balcony during our Alaskan cruise, and it was one of the best decisions we made, especially when we cruised Glacier Bay. We had room service delivered and enjoyed breakfast on our balcony as we watched the incredible scenes, the chunks of ice floated by, listened to the sounds of the ice cracking, and watched as we cruised to our first glacier.
It was a truly magical experience that we will never forget.
Alaska Cruise Mistake: Booking an inside room or a cabin with an obstructed view is one of the biggest mistakes you can make when planning an Alaska cruise.
While these cabins may be cheaper than balcony cabins, they don't offer the same level of experience. Sure, you can go into public areas to get the same views, but you'll be elbowing through crowds to get a good view. This can be worse if there aren't a lot of outdoor public spaces with views on the cruise ship.
Booking the Wrong Cruise Ship and the Wrong Cruise Line to Alaska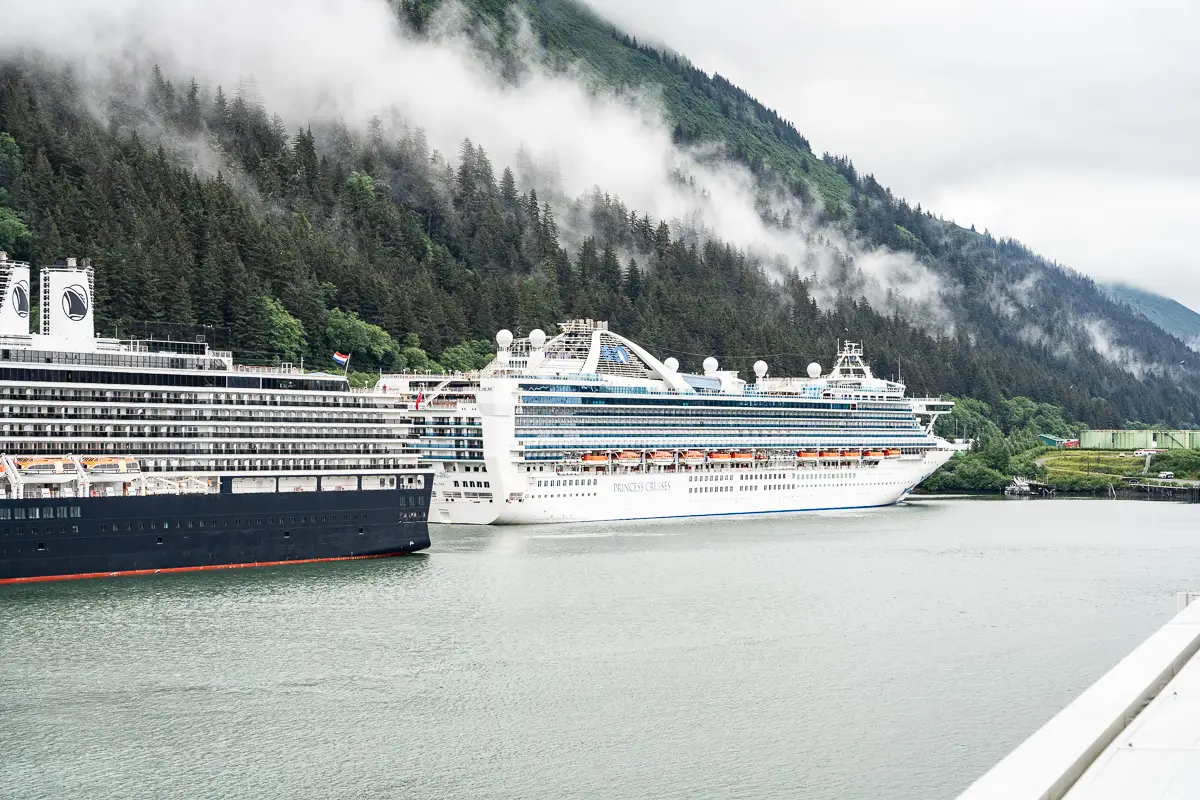 When booking an Alaska cruise, it's not just about choosing the right time of year and the right cabin. It's also important to choose the right cruise ship and cruise line.
Different cruise lines offer different experiences; some are better suited for an Alaska cruise than others. For example, cruise lines like Princess, Holland America, and Celebrity Cruises are known for their Alaskan cruises.
In addition to the cruise line, choosing the right cruise ship is important. Some Alaska cruises are on larger ships with more amenities, while others are on smaller ships that offer a more intimate experience. Again, it's important to consider your priorities and choose a ship that aligns with them.
Alaska Cruise Mistake: Booking the wrong cruise to Alaska altogether.
We cruised with NCL for our first Alaskan cruise on one of their mega-ships in the middle of the summer, and we wished we were on a smaller, more intimate ship. Still loved Alaska, but we made notes for our next Alaskan cruise.
That's not to say NCL is not the right cruise line for you. You need to research to figure out which is.
Find the Right Alaska Cruise Itinerary That Maximizes Your Time in Ports
One of our top tips for an Alaskan cruise is to find a cruise itinerary that maximizes your time in ports and visits key destinations.
To find a cruise itinerary that maximizes your time in Alaska cruise ports, start by looking at the length of the cruise and the number of ports it visits. Consider the amount of time you'll have in each port. Some itineraries may only offer a few hours in each port, while others may allow for a full day or more.
Look for itineraries that offer full days at each port. This will allow you to explore at your own pace without feeling like you have to rush around.
In addition, having ample time in each port allows you to book multiple excursions if desired. For example, you may want to go whale watching in the morning and then take a scenic train ride in the afternoon.
Alaska Cruise Mistake: Booking a cruise that allows a short amount of hours at port destinations.
We did this. We did not pay attention to the itinerary. As I started to plan excursions, I was surprised to find that we'd have half a day in Juneau and Ketchikan. And, then, four hours in Victoria, Canada.
Did we make the most of it? Absolutely. Do we wish we had more time? Yes. Other cruise ships following similar routes had longer days.
Ultimately, it was an Alaska cruise planning mistake made on our part that could have been avoided.
Pack for the Weather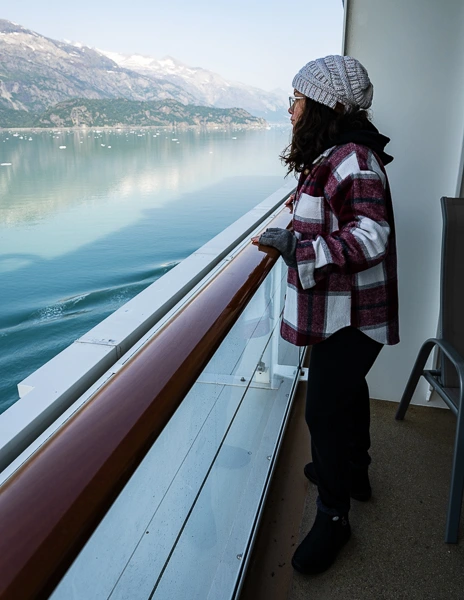 Even during the summer, the weather in Alaska can be unpredictable, and it's important to be prepared for various conditions. Alaskan cruise tip: Pack layers, rain gear, warm clothing, and some lighter stuff for those warmer days.
The best thing you can do is check the weather a week before you cruise to know what to expect. We were delighted to see 70-degree weather on a few stops, but we still had to bring our jackets and rain gear for Juneau and Glacier Bay.
Take into consideration the kind of excursions you'll be doing. If you're doing a lot of hiking, you'll need hiking shoes and maybe even hiking sticks. If you dog sledding on a glacier, the weather drops, so an insulated layer may be appropriate.
Alaska Cruise Mistake: Thinking about an Alaskan Cruise during the summer would be like a Caribbean cruise.
Another mistake is thinking an Alaska cruise will be like a Caribbean cruise. While both are cruise destinations, they offer vastly different experiences. Alaska is all about the natural beauty and wildlife, while the Caribbean is known for its beaches and tropical climate.
If you go on an Alaska cruise expecting the same experience as a Caribbean cruise, you may end up disappointed.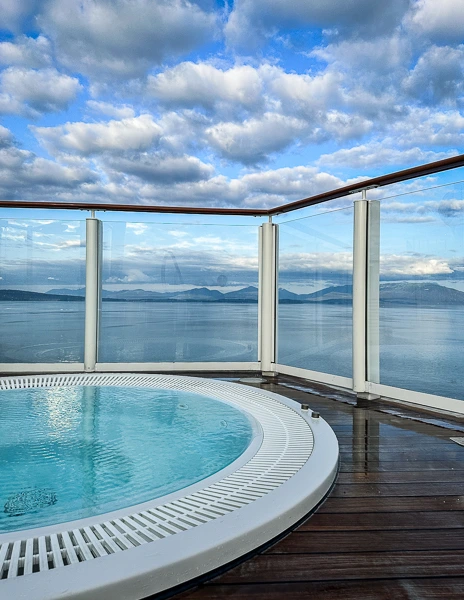 Still, though, pack that swimsuit! We surprisingly had fabulous days of sun during our cruise that was meant to be soaking up the warmth by the pool. And there are also hot tubs for those chillier days. Your cruise ship may also have an indoor pool!
Bring Binoculars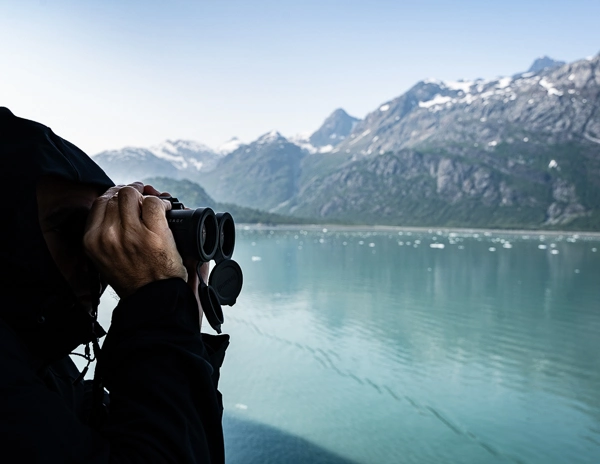 Don't forget to pack a pair of binoculars for your Alaska cruise. While you may not think you'll use them much, you'll be surprised at how often you'll reach for them. The views from the ship are breathtaking, and binoculars allow you to get a closer look at the wildlife and scenery.
You'll want to focus on searching for bald eagles, whales, and other wildlife that call Alaska home. Binoculars also allow you to see glaciers calving up close, a once-in-a-lifetime experience.
We initially didn't think we would use our binoculars much, but we whipped them out dozens of times. They made a huge difference in our Alaska cruise experience. They allowed us to appreciate the natural beauty of the region fully.
Alaska Cruise Mistake: Not bringing binoculars or similar zoom lenses for your DSLR or Mirrorless camera.
Read more: Alaska Cruise Packing List
Book Excursions in Advance
Booking shore excursions in advance is not always necessary when cruising to the Caribbean or Mediterranean. You can often find local vendors and book last-minute tours once you arrive in port.
However, one of our top Alaska cruise tips is to book excursions as soon as possible.
Popular activities like dog sledding, glacier hikes, and kayaking can sell out quickly, so booking in advance is best to secure your spot.
By booking your excursions early, you'll also have more options and can plan your itinerary accordingly. This will allow you to maximize your time in each port and ensure you don't miss out on any must-see attractions or experiences.
You can either book with the cruise or plan your cruise shore excursions on your own to save money.
Alaska Cruise Mistake: Thinking that you can book tours once you're at port or hire a taxi outside to give you a tour.
You may have better chances booking a basic city tour or a wildlife tour from the few stands outside the cruise terminals.
However, booking a taxi is different as they are limited at these Alaska port destinations, but it's not impossible. You have to call and book one in advance.
You can also use Uber and Lyft to go somewhere specific. We used a Lyft to Mendenhall Glacier Visitor Center in Juneau after an excursion of ours was canceled, and it worked out great. Again, there are limited drivers at the port.
We recommend researching the port destinations, things to do, and transportation options when preparing for your cruise.
Bring Your Camera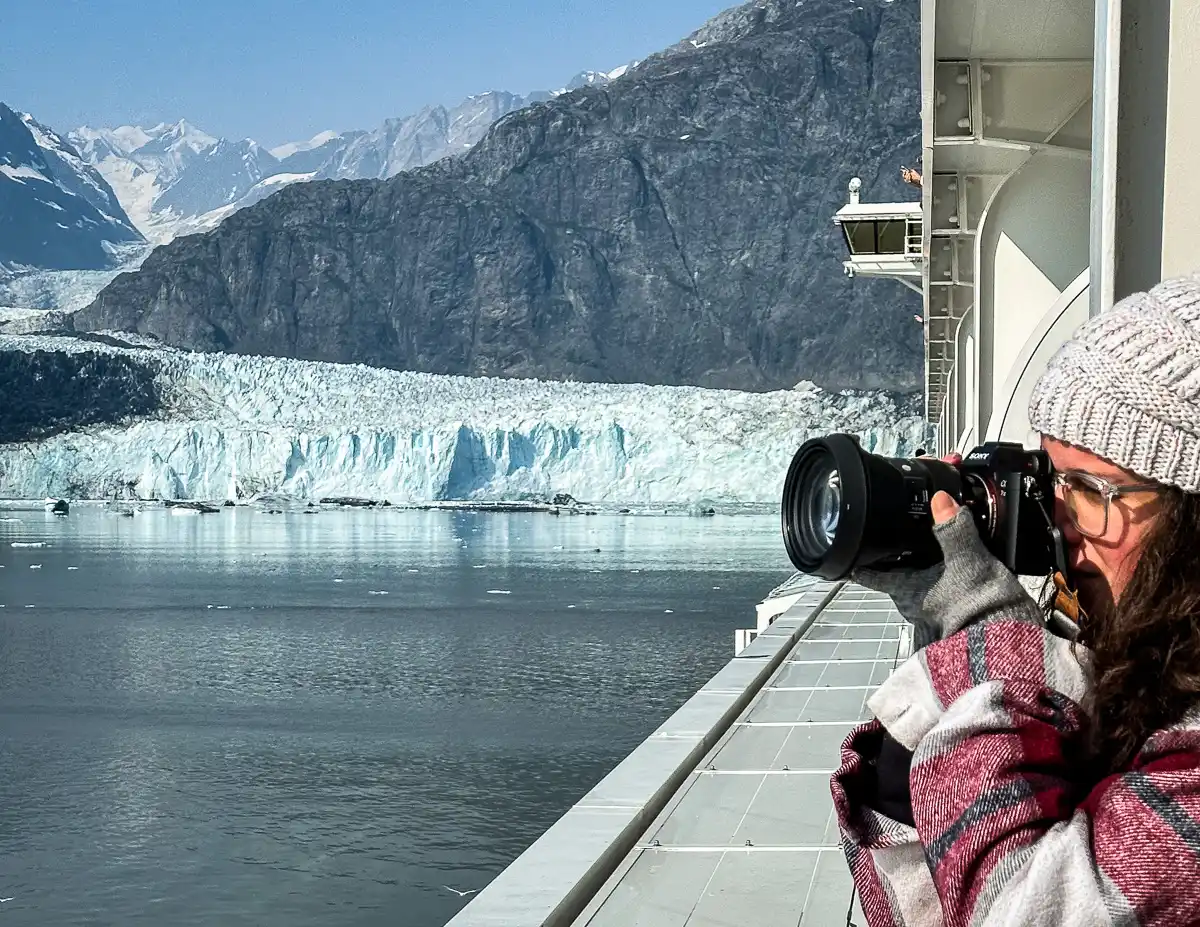 Do not leave home without your camera, even if it's just your phone. Alaska is a photographer's paradise, and you'll regret not capturing some breathtaking and sometimes surprising scenes you'll experience.
Even if you don't have a camera, don't worry. You can always rent camera gear if you don't want to invest in one for the long haul. This is a cheaper option, especially if you don't plan to use the camera after your Alaska cruise.
One of our favorite sites to rent camera gear from is Lensrentals.com (non-affiliated), whether you need to add a camera or a zoom lens to your gear for your Alaskan Cruise.
Whether you use a phone or a rented camera, take plenty of photos to freeze-frame your memories. You'll want to capture the glaciers, the wildlife, and the stunning landscapes that Alaska is known for.
Alaska Cruise Mistake: One of the biggest mistakes you can make on an Alaska cruise is leaving home without a camera.
On an Alaska Cruise, You'll Want to Get Up Early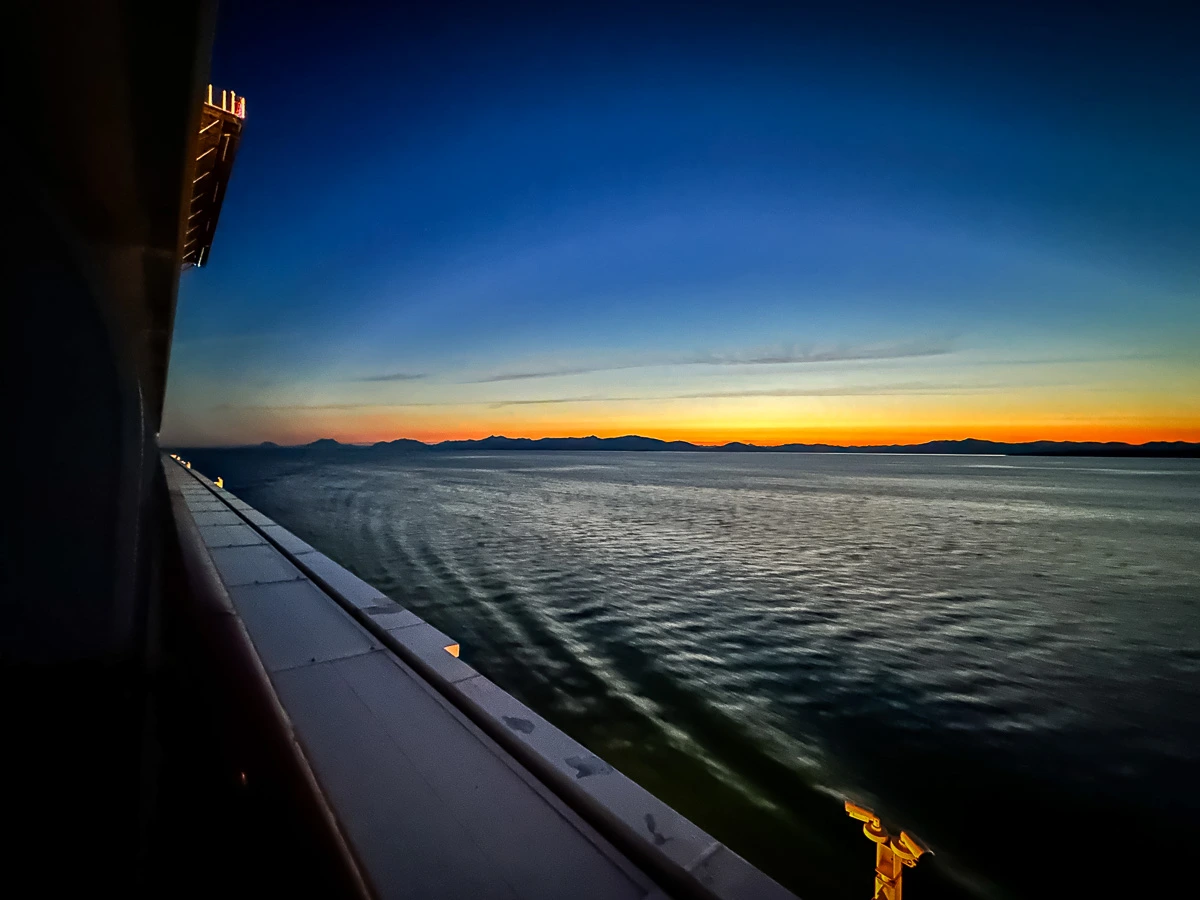 Whether you're a morning person or not, starting your days early on an Alaskan cruise will be more rewarding than not.
There are multiple reasons why getting up early on an Alaskan cruise is beneficial:
Savor the peace of the early morning hours before the hustle and bustle of the day begins.
When you beat the crowds, you can enjoy a quiet breakfast in the dining room and get first dibs at some of the best spots for wildlife viewing. People tend to sleep in and come out later in the day.
Most cruises are docking super early at port destinations, and on those days, starting early will allow you to be one of the first ones off the ship. You can enjoy the port and join your excursions without feeling rushed.
And if it's a short day at port, you want to maximize your day.
Catching the sunrise is always a good excuse to get up early.
Alaska Cruise Mistake: Sleeping in on an Alaskan cruise is a mistake you don't want to make. With so much to see and do in Alaska, getting up early is essential to make the most of your experience.
Port Destinations Will Be Busy, Plan Accordingly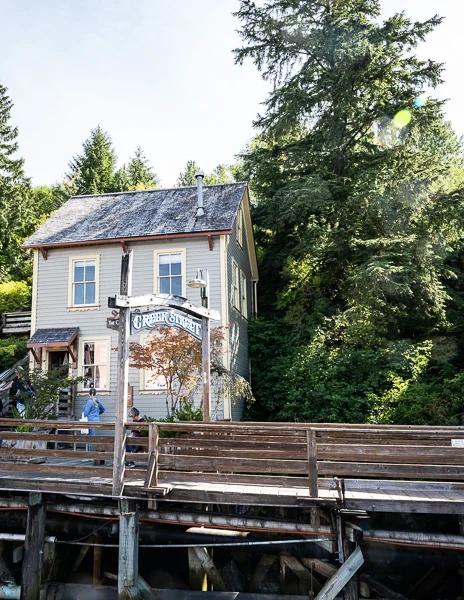 It's not a secret that Alaska cruise season is a big to do. Major cruise lines have multiple cruise ships that sail throughout Alaska from Seattle and Vancouver and sometimes from other cruise ports to ensure everyone can experience Alaska.
However, with so many people visiting the same ports, expect crowds. To make the most of your port destinations:
Consider booking excursions in advance.
Disembarking the ship early to beat the crowds.
Have some plan or itinerary.
Go explore off the beaten path.
With a short day in Ketchikan, we were among the first ones off the ship at 7 a.m. Once the shuttle dropped us off from Ward Cove, we made a beeline to Jellyfish Donuts, which was empty, and by the time we got our order, there was a line out of the door. And we noticed only one cruise ship parked right in Ketchkian at the time outside of our ship.
We had plans to explore Creek Street, which was fairly empty and enjoyable without crowds in the early morning. When we returned closer to noon to take the shuttle back to our ship, there were 3 more ships docked at the port, and people were everywhere.
So this was an instance of getting up early and knowing what we wanted to do, helping us explore parts of the port that usually are crowded.
Try the Local Cuisine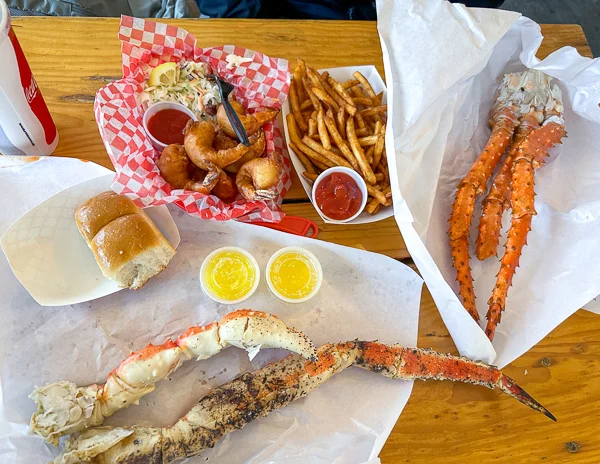 Try the local food while exploring the Alaska cruise ports. Alaska is known for its seafood. From fresh salmon to king crab legs, there are plenty of delicious and unique dishes to sample.
Ask the locals for recommendations on the best places to eat and what dishes to try. They'll happily share their favorite spots and give you insider tips on the local cuisine.
You can always look and book a food tour, if available.
In Ketchikan, we were at a local shop purchasing a few things, and the staff insisted we had to have lunch at the Alaska Fish House. The salmon chowder and fish and chips were recommended – amazing!
In Juneau, speaking to the Lyft driver about crab legs, he said we had to go to Tracy's Crab Shack, but the location was outside of downtown. We had a feast of Alaskan King Legs – so delicious!
In Skagway, we were told to have the Fry Bread at Klondike Doughboy, but we made it right after closing and missed it by minutes.
Alaska Cruise Mistake: Sticking to eating only on the cruise ship. Part of travel is experiencing the local cuisine as it is part of the culture.
Limiting yourself to the cruise ship's dining options will make you miss out on trying new foods and experiencing freshly caught seafood from Alaskan waters.
Check out the local restaurants and food vendors in each port, and don't be afraid to ask the locals for recommendations. You are investing in a new experience in the way of food and supporting small businesses.
Take Advantage of Onboard Activities Related to Alaska
One of the great things about an Alaskan cruise is the opportunity to learn more about the region. Many major cruise lines offer onboard presentations and activities related to Alaska, including talks by park rangers and naturalists.
On our Alaskan cruise, a park ranger came on board. In the morning, we cruised Glacier Bay to give a talk about the local wildlife, history, and geology. It was broadcast in all public areas of the ship, and you could turn on your TV in the cabin to hear it. These rangers are experts in their field and can provide valuable insights into the unique ecosystem of Alaska.
On sea days, they had audio lectures about the history of Alaska that were broadcast in certain parts of the ship, which went hand-in-hand with spotting wildlife from the Observation Lounge or The Waterfront area of the ship.
Not Taking the Time to Enjoy Alaskan Wonders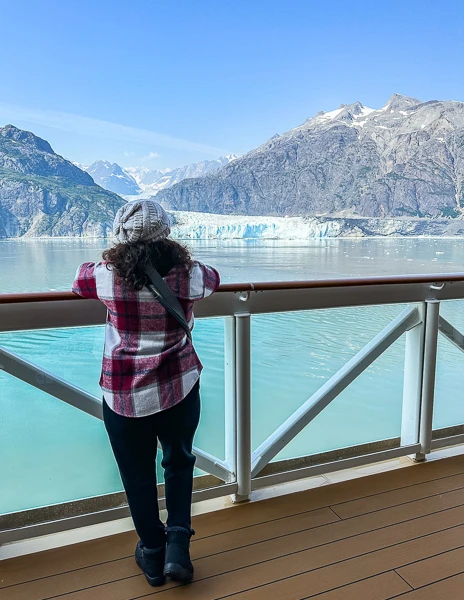 One of the most striking features of an Alaska cruise is its untouched beauty and the scenery that surrounds you at every turn.
To fully appreciate it, it's important to take the time to enjoy it. Don't spend all your time indoors or on your phone. Instead, take in the fresh air and beautiful views.
When we ventured out of our balcony cabin in Glacier Bay, we witnessed many people missing out on the beauty of the glaciers right outside. Too many were inside, busy eating or playing on their phones. Why would you?
So whether you're on the ship's deck or exploring the ports, take the time to appreciate the natural beauty surrounding you. Look out for bald eagles soaring overhead, whales breaching in the distance, seal pups popping out of the waters, and the shape of the mountains in the distance.
In addition to simply admiring the scenery, consider participating in outdoor activities like hiking, kayaking, or whale watching. These activities allow you to get up close and personal with the natural wonders of Alaska.
Alaska Cruise Mistake: One of the biggest mistakes you can make on an Alaska cruise is missing out on the stunning natural beauty right before you. It's a shame to cruise to Alaska and not really appreciate what could be a once-in-a-lifetime experience.
🚢 Book a cruise sailing to Alaska
The Best Top-Value Alaska Cruises w/ Extra Bonuses!
Alaska Cruise Travel Tips: FAQs
What are some tips for taking an Alaskan cruise?
Planning and booking early is important when taking an Alaskan cruise, including shore excursions, as they sell out quickly.
If you can book a balcony, you'll only enhance your experience.
Pack appropriately for the weather and outdoor activities.
Don't forget to bring binoculars and a camera to capture memorable moments. Look out for wildlife while exploring the ports and waterways.
Can you wear jeans to dinner on an Alaskan cruise?
Yes, you can wear jeans to dinner on an Alaskan cruise. Alaska cruises tend to be more about being comfortable and casual rather than dressing up. However, some cruise lines have dress codes for formal nights, so check with your cruise line before packing.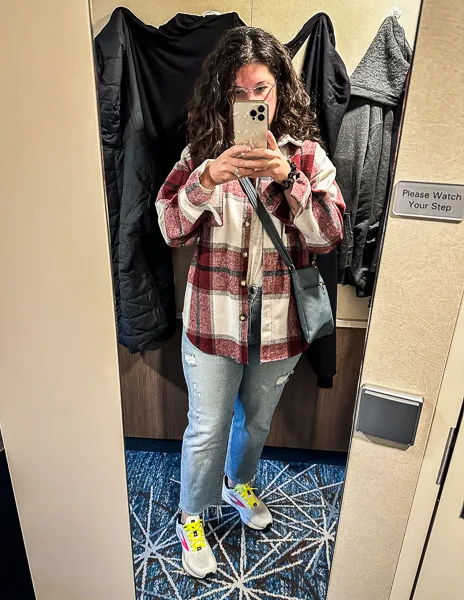 Read more: What Cruise Ship Attire Not to Wear
Which side of the ship is better for an Alaska cruise?
You can't go wrong with either side of the ship as you're surrounded by beauty. We were happy with our portside cabin as portside had the first glacier views while cruising Glacier Bay, which I consider a plus. The ship slowly spun, giving everyone a good view of the glacier at some point.

What's the best month to go on an Alaskan cruise?
The best time to go on an Alaskan cruise is during the summer months, from June to August. The weather is generally mild during this time, and the days are long, giving you more time to explore the ports. Consider that peak season is July and August.
Although off-shoulder months can have its perks, too.
Is it important to have a balcony on an Alaskan cruise?
We think, YES. Having a balcony on an Alaskan cruise is not essential, but it does enhance your experience. A balcony allows you to step outside and enjoy the fresh air, take in the breathtaking views, and even spot wildlife from the comfort of your room.
In advance of your cruise, don't miss these related articles:
Share the tips & love on Pinterest: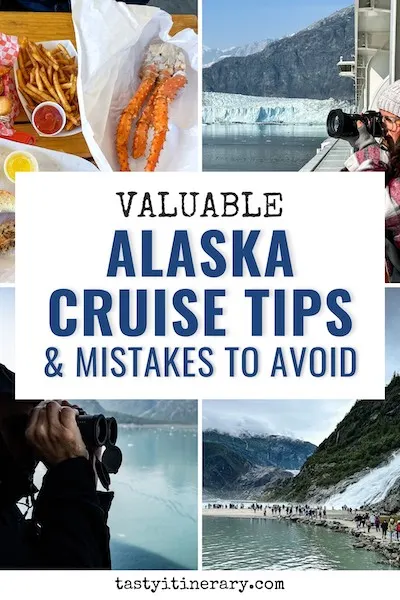 Quick Cruise Planning Guide
Where to book a cruise?
We like to shop around before booking by going directly to the cruise line and checking out the deals on GoToSea, CruiseDirect.com, Costco Travel, and Cruise Compete. Ultimately, the best advice is to find a travel agent you can trust to help you book a cruise.
Hotels for pre-cruise and post-cruise stays
We always use Booking.com or Hotels.com to book international accommodations and Expedia or Hotels.com for US accommodations. Airbnb or Vrbo for vacation rentals.
Can I book my own shore excursions?
Yes, you'll save money booking your own excursions and not with the cruise ship. We like to use Viator or WithLocals. Don't forget to read up on our tips for booking.
Car Rentals
We like to rent a car at cruise ports and for the freedom to explore on our own when the destination makes sense. We also sometimes rent cars during our pre-cruise stay or on embarkation day.
Should I book cruise insurance?
Yes! Cruise insurance is essential. We always book with a third party rather than the cruise line. Compare pricing on Insuremytrip.com.
Packing for a Cruise? Don't miss our essential cruise packing list.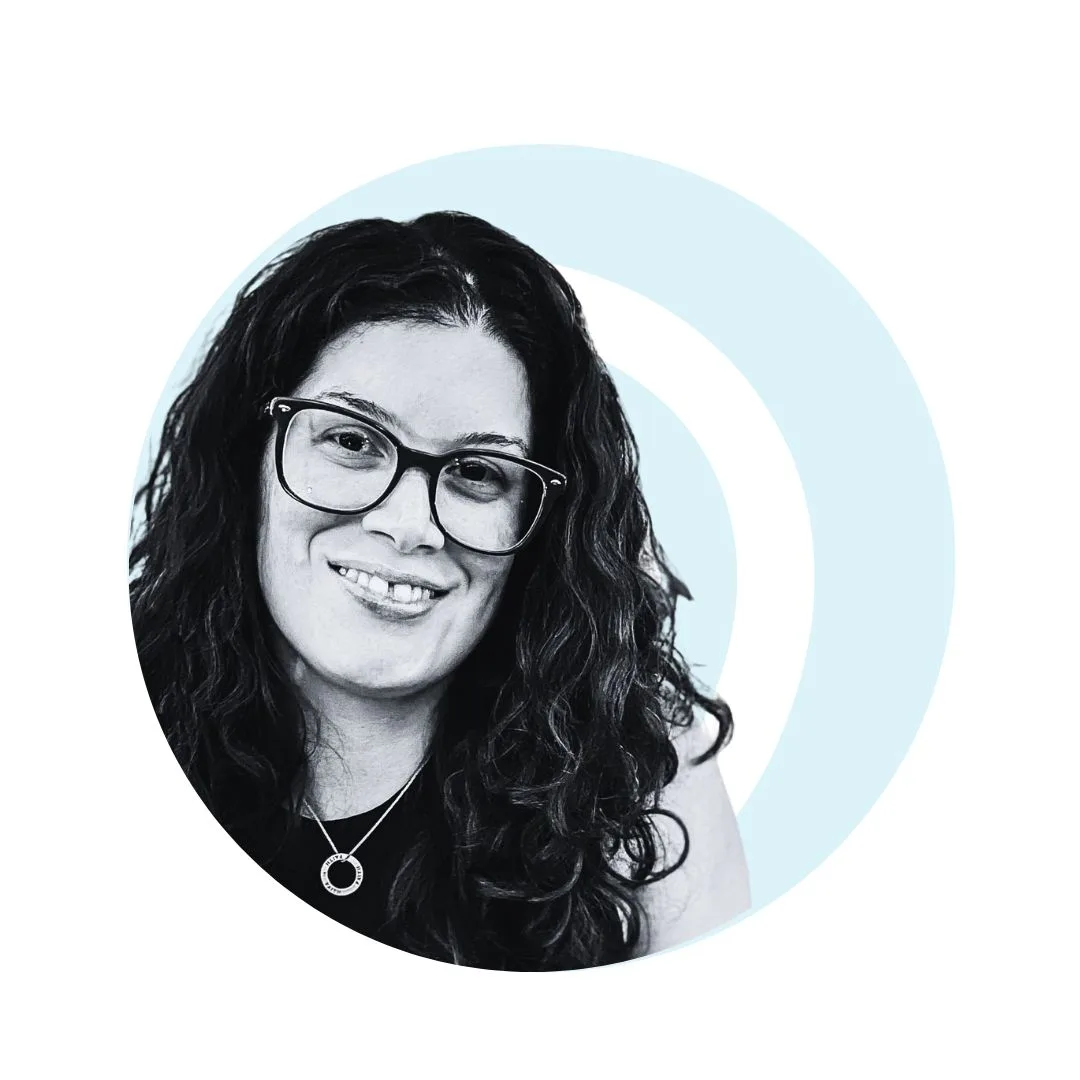 Meet Kathy Ava – a food, travel, and cruise writer based in Los Angeles/Pasadena. With over 20 years of experience planning trips and logistics at her full-time job and for herself, she's become a pro at crafting unforgettable travel itineraries. She's always looking for delicious, fun cruise itineraries and travel destinations and is slightly obsessed with Italy. Her passion and curiosity for travel started in childhood on her yearly and sometimes bi-yearly trips to PR. She firmly believes that life is short and we must make the most of it – so let's explore the world and make some incredible memories.