Wondering how to make the most of a day in Skagway, Alaska? Consider combining the iconic White Pass Yukon Railway train ride with a fun bus excursion into the Yukon Territory.
At Skagway, Alaska cruise port, the possibilities for your day are as diverse as the landscape itself. Helicopter tours, dog sledding, exploring the historic Skagway, enjoying frybread at Klondike Doughboy, or embarking on a hiking adventure along the Chilkoot Trail are just a few enticing options.
With many activities available, how you spend your day in Skagway depends on your preferences. Whether you choose independent exploration, back-to-back shore excursions, or an all-day adventure, the choices are yours.
We opted for a Yukon Rail and Bus Excursion for our cruise day in Skagway (over 8 hours in port). This immersive journey took us from Skagway through British Columbia along the Klondike Highway into the Yukon territory. The return leg featured the renowned White Pass & Yukon Route Railroad, offering breathtaking views of Alaska and Canada.
Despite its length, the day was an extraordinary experience, unveiling the untouched beauty of Alaska and Canada, particularly the Yukon Territory.
The drive from Skagway to the Yukon treated us to majestic mountain vistas, pristine lakes, and a captivating waterfall. Although wildlife eluded us, sightings were common on this excursion, adding excitement to an unforgettable day.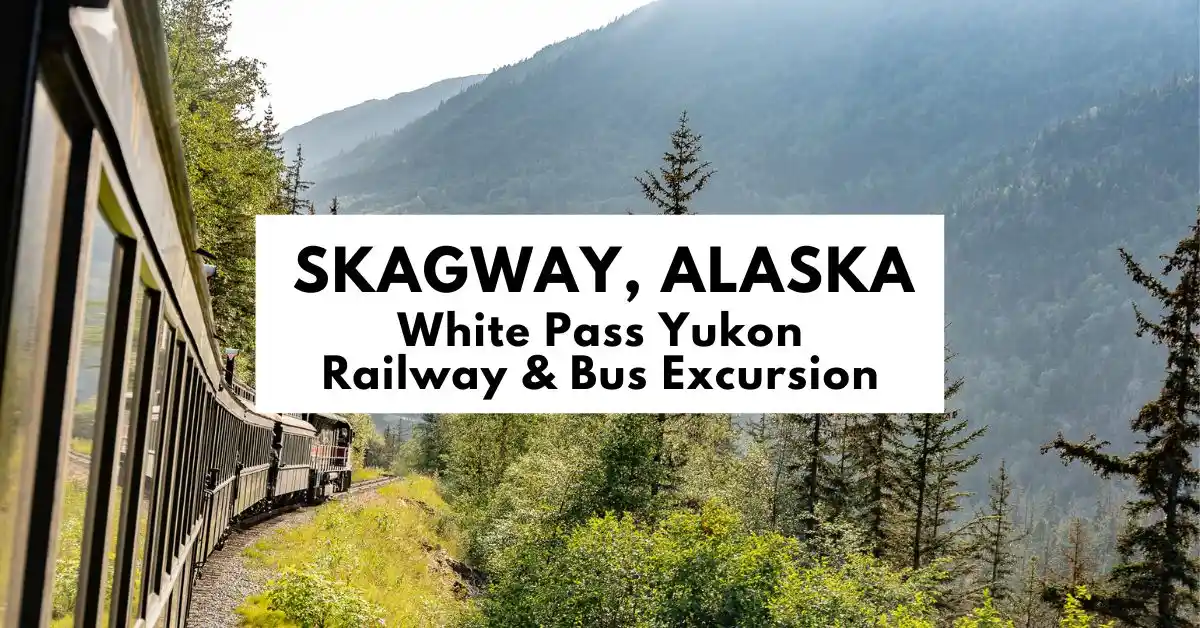 This post may contain affiliate links, which means we'll receive a commission if you purchase through our links at no extra cost to you. Please read full disclosure for more information. We appreciate your support!
We're sharing why we booked this tour, our experience if it was worth it, and any tips we learned to help you decide whether a similar excursion is for you.
About Skagway, Alaska
Skagway, Alaska, is a small town in the state's southeastern part, nestled in a valley surrounded by snow-capped mountains.
The town has a rich history. Skagway was once a bustling gold rush town in the late 1800s during the Klondike Gold Rush. Today, visitors can explore the historic downtown area, carefully preserved to reflect the town's gold rush past.
The streets of this charming and picturesque town are lined with colorful buildings, many of which have been turned into shops, restaurants, and museums.
One of the most popular attractions in Skagway is the White Pass Scenic Railway, which takes visitors on a scenic journey through the mountains and into Canada's Yukon Territory.
The railroad was built during the gold rush era to transport prospectors and supplies to the Klondike gold fields, and today, it remains the top tourist attraction.
Fun Fact: The town of Skagway has a population of 1200+ people. The city thrives off tourism during the Spring and Summer months. People from all over the US come to live and work in Skagway during these months. 
Yukon Rail and Bus Excursion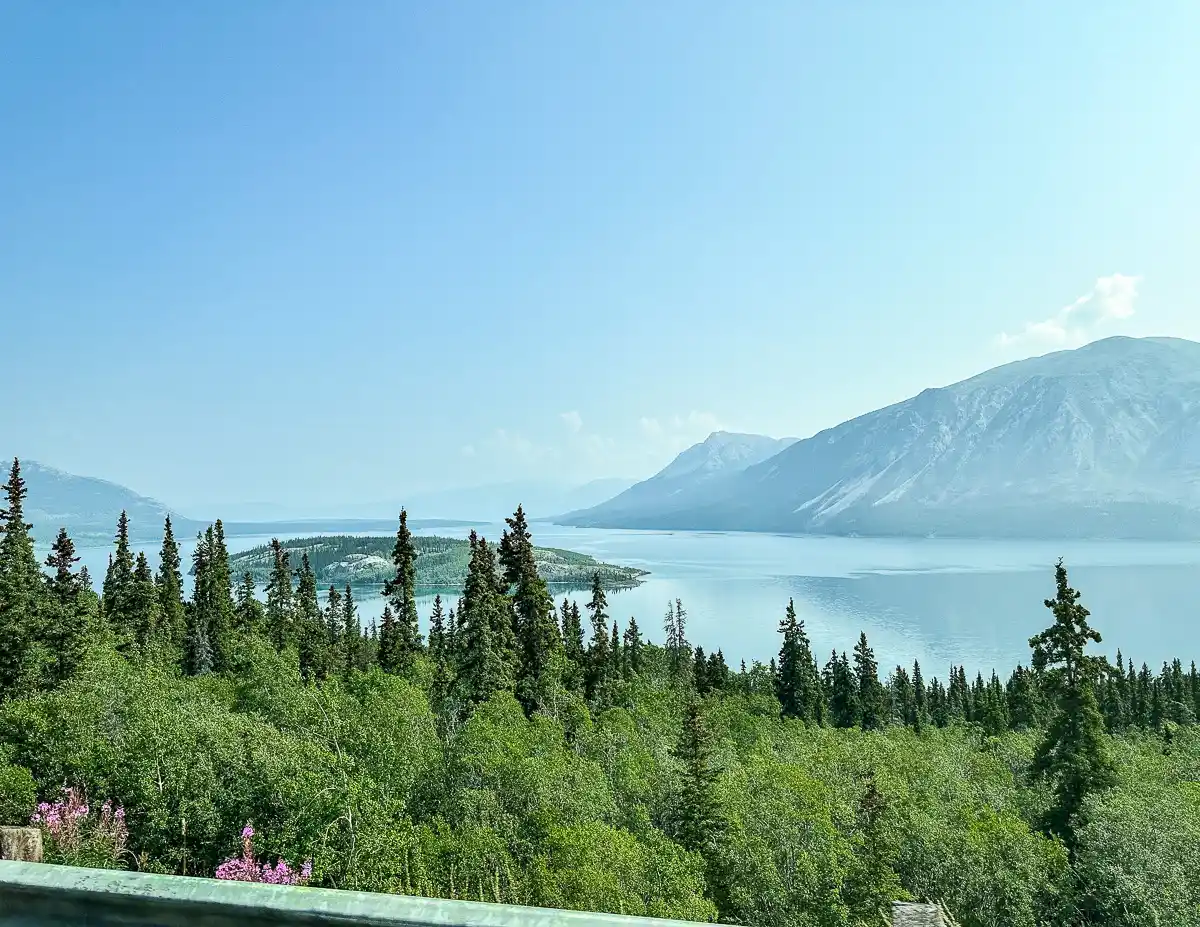 Skagway, Alaska, was the longest day we had in port during our Norwegian Encore cruise. Our favorite is long days at the port because we can see more of what the destination offers.
One of the top things to do in Skagway is to hop on the White Pass Railway for a 3-hour roundtrip ride. We wanted to experience the train ride and fill our day with more.
As we researched shore excursions, we could book independently, and we came across the Yukon Rail and Bus Excursion by Chilkoot Charters (not affiliated), a locally-owned tour company.
This tour truly offered the best of both worlds, combining a scenic bus excursion through Canada's Yukon territory with a White Pass Railway train ride on the way back. The tour was expertly crafted to include all the essentials, from a delicious lunch to multiple stops for photos and even ticket passes for the train ride back.
Moreover, the tour can be booked in reverse for cruise ships arriving in port earlier.
In all, we loved this tour. It was a small group. There were several photogenic spots. The scenery was incredible. The tour guide was amazing. Lunch was good. The train ride back was spectacular and lived up to expectations.
We'd do the train again when and if we are in Skagway again. We loved it so much.
It also helped that we got lucky and had a gorgeous day. It was sunny and warm, and I was so happy I wore a tank top underneath my button-down that I could take off later.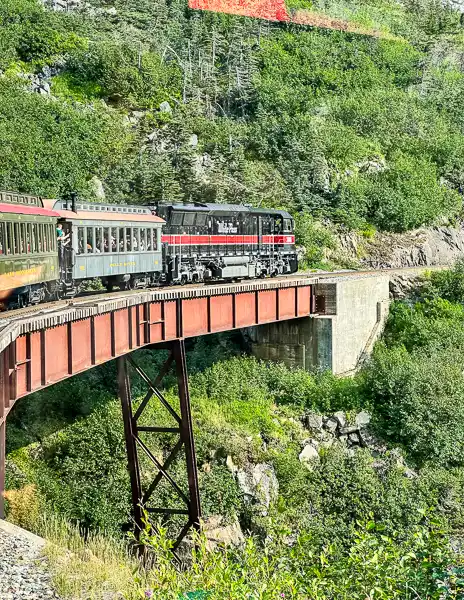 Had the train ride in Skagway not been so high on our list of things to do, we would have done a DIY Jeep Tour or rented a local car to drive ourselves, explore, and make the stops we wanted.
Alternatively, that's what we had in mind for the day, but as I said, Chilkoot Charters offered the best of both worlds, and they did a fantastic job. Plus, this tour saved hubby from driving and allowed him to enjoy the ride as a passenger.
Important: You will need your passport for this excursion or if you decide to drive a similar route. You will be crossing into Canada. Border patrol will check the passports when you enter Canada and upon arriving back in Skagway on the train or crossing back by car.
Bus Ride into Yukon Territory
We decided to start this tour with the bus ride from Skagway Cruise Port and end it with the train ride on the way back.
Along the way, the driver pointed out various landmarks and shared interesting facts about the Skagways' history, culture, and connection to Canada.
We passed through Tormented Valley, Fraser, and White Pass Summit, marveling at the rugged beauty of the landscape and the ingenuity of the early miners who braved these harsh conditions in search of gold.
We stopped at several scenic viewpoints along the way, including Emerald Lake, where the water was smooth as glass, and the reflection of the mountains was like staring into a painting.
We saw plenty more from the drive but made the following stops…
Bridal Veil Falls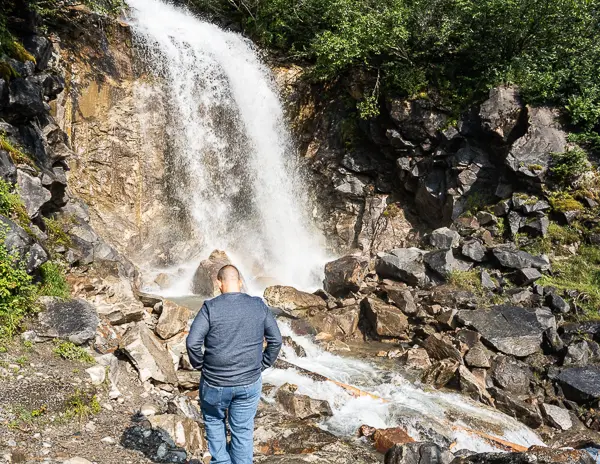 Our first stop was Bridal Veil Falls, a stunning waterfall just a short drive from Skagway. The falls cascade down a rocky cliff face, creating a misty spray that shimmers in the sunlight. We took photos and admired the beauty of the falls before continuing our journey.
Welcome to Alaska Sign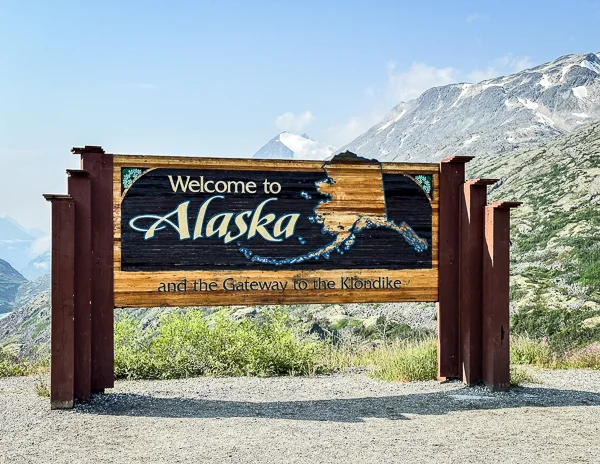 As we approached the British Columbia border, we quickly stopped at the "Welcome to Alaska" sign, the Gateway to the Klondike. The breathtaking views surrounding us were too stunning to pass up, making it a must-see destination even if one doesn't snap a photo of the iconic sign.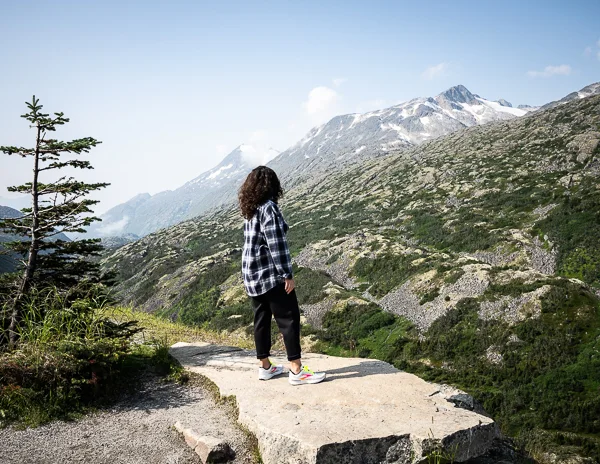 Tutshi & Tagish Lakes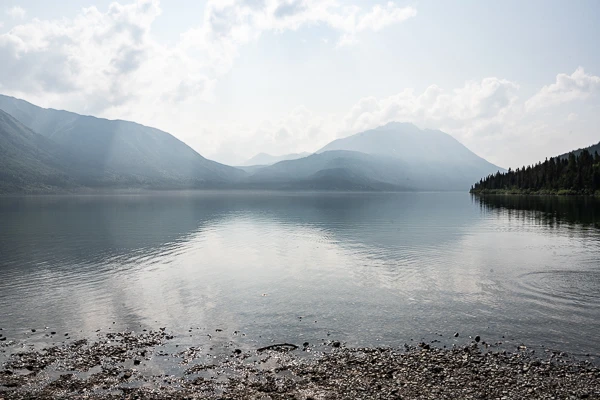 Tutshi and Tagish Lakes are two stunning bodies of water in the southern Yukon Territory of Canada. Surrounded by majestic mountains and lush forests, these lakes offer a serene and picturesque setting.
While we passed both lakes, we stopped at Tutshi Lake.
Welcome to Yukon Sign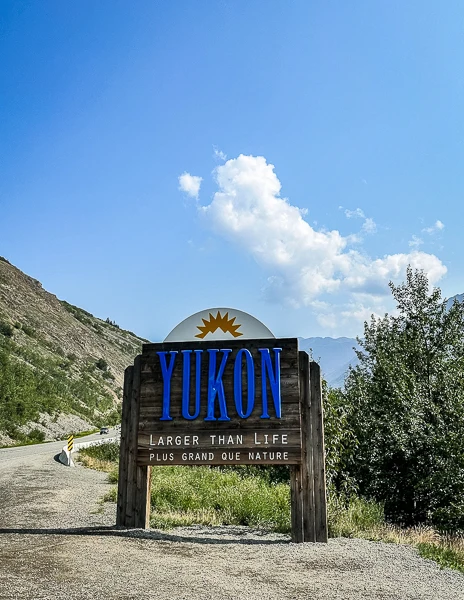 The Welcome to Yukon Sign is another fun stop on the itinerary, offering a perfect photo opportunity with its iconic design and stunning backdrop of rugged mountains and pristine wilderness.
I don't think I've ever taken so many photos of signs in one trip. I never seek them out or wait in line for photos. It was nice to have the driver take photos of us.
Caribou Crossing Trading Post | Wild Adventure Yukon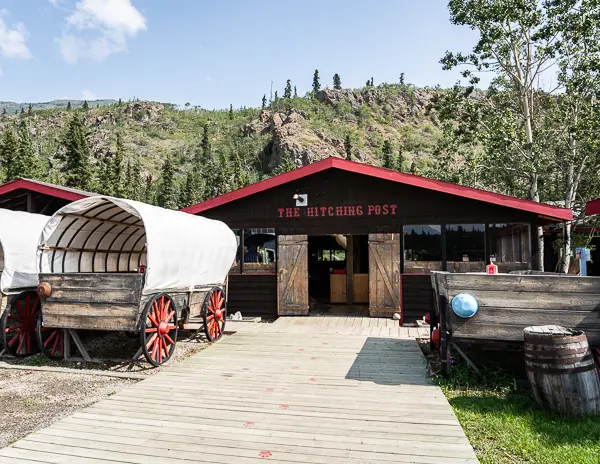 Caribou Crossing Trading Post, now known as Wild Adventure Yukon, is a tourist stop in Carcrass along the Klondike Highway north of the Carcoss Desert.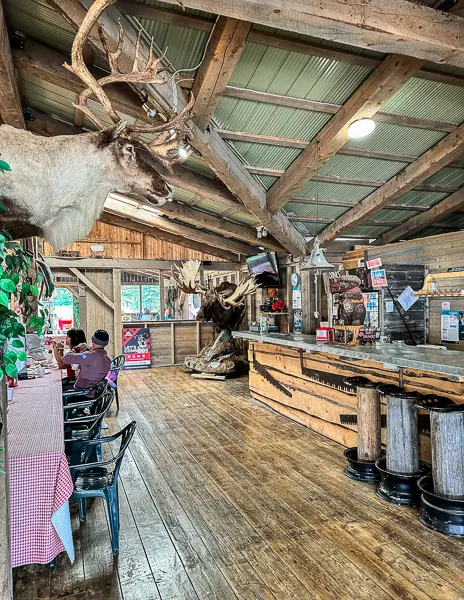 A BBQ lunch with sides and delicious cinnamon sugar donuts was served and included with our booked tour.
Also included was their Yukon Wildlife Museum, which houses an impressive collection of mounted animals native to the region, including grizzly bears, caribou, and wolves.
This stop also has a petting zoo, and you could visit puppies trained for dog sledding. Dog car rides are available for an extra cost.
Gift shop with local treats, souvenirs, and t-shirts.
While we thought this stop was aimed at tourists, there isn't much in the way of food and nice restrooms when traveling up the Klondike Highway.
About an hour was spent here.
Emerald Lake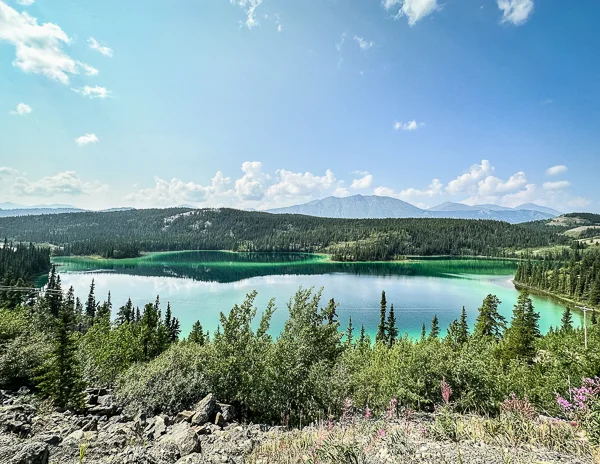 After we left Caribou Crossing, we stopped at Emerald Lake, a breathtakingly beautiful spot often called the "Jewel of the Yukon." The lake's vibrant emerald color results from light reflecting off the fine particles of glacial silt that have settled on the lake bed.
On that beautiful day, the water was so calm that our guide remarked on how lucky we were because it was not always as smooth as glass.
Historic Downtown Carcross
Historic Downtown Carcross was the last stop before heading to the White Pass Railway in Fraser to catch our train ride back. Carcross Commons, a small shopping mall with shops, is where you can buy local gifts, a visitor center, and a clean bathroom. We didn't have time, but Bennet Beach is also walkable from here.
It was too short of a stop to enjoy and explore. The guide was great at narrowing down the best things to do in 20 minutes. Besides using the bathroom, getting coffee at the coffee shop (some of the best we've had), and getting our passport stamps, there wasn't time for anything else. I would have preferred to spend more time here than Wild Adventure Yukon.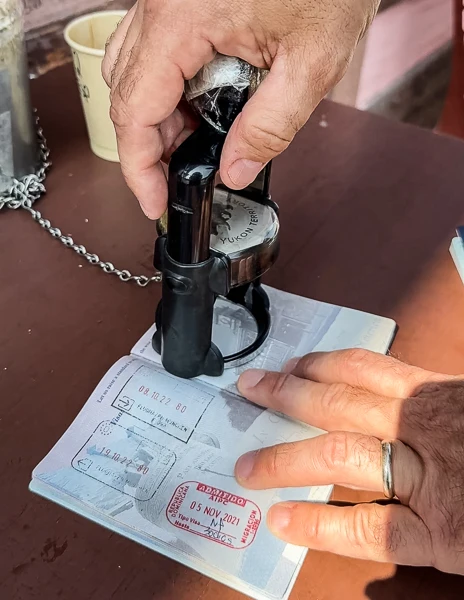 Tip: You can stamp your passport outside the Matthew Watson General Store. The ice cream there looked amazing, too.
With time constraints and having to get us to our train on time, we understood this was a fast-paced tour.
Tour Ideas:
White Pass Deluxe Tour from Skagway Mini-Bus Tour [book here]
Half-Day Yukon Sightseeing Shore Excursion from Skagway [book here]
Skagway Shore Excursion: Yukon Discovery Tour [book here]
White Pass and Yukon Railway Route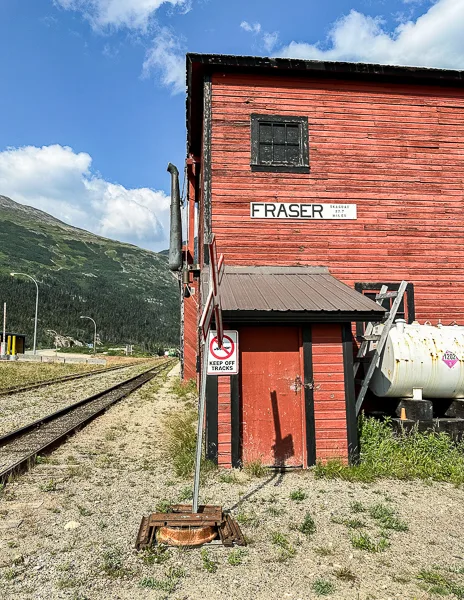 Our tour guide drove us back to Fraser to hop on our train. When we got there, there was a delay, which is a rarity. We had to wait around for about 30 minutes or so before the train picked us up. It's not a bad place to wait, with a view of Bernard Lake.
We almost skipped the train, afraid that the train would be delayed for hours and we'd miss our ship. However, the tour guide made an excellent point and said everyone on the trains was on the cruise ships, half at least booked with cruise-sponsored excursions. The cruise ships weren't going to leave that many people behind.
We decided to wait, and I'm glad we did.
Undoubtedly, the White Pass Railway was the standout of our excursion. Although we appreciated the bus ride, loved our guide, and the stops it offered, the train ride truly stole the show.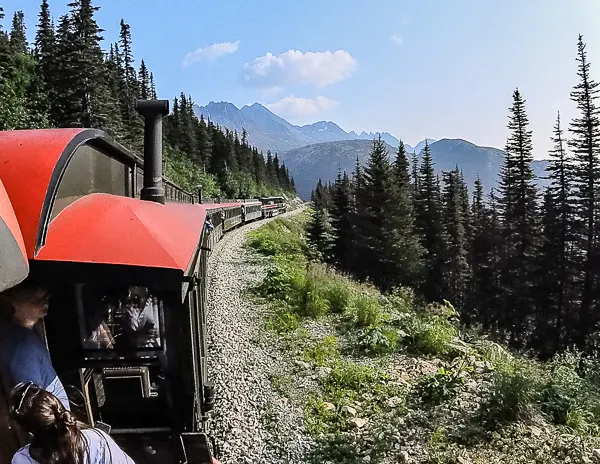 The White Pass Railway has a rich history that dates back to the Klondike Gold Rush. The railway was built and completed between 1898 and 1900 to provide a transportation route from the coastal port of Skagway, Alaska, to the gold fields of the Yukon Territory in Canada.
The views from the train were simply breathtaking, with the tracks winding their way through rugged mountains, deep gorges, and pristine valleys.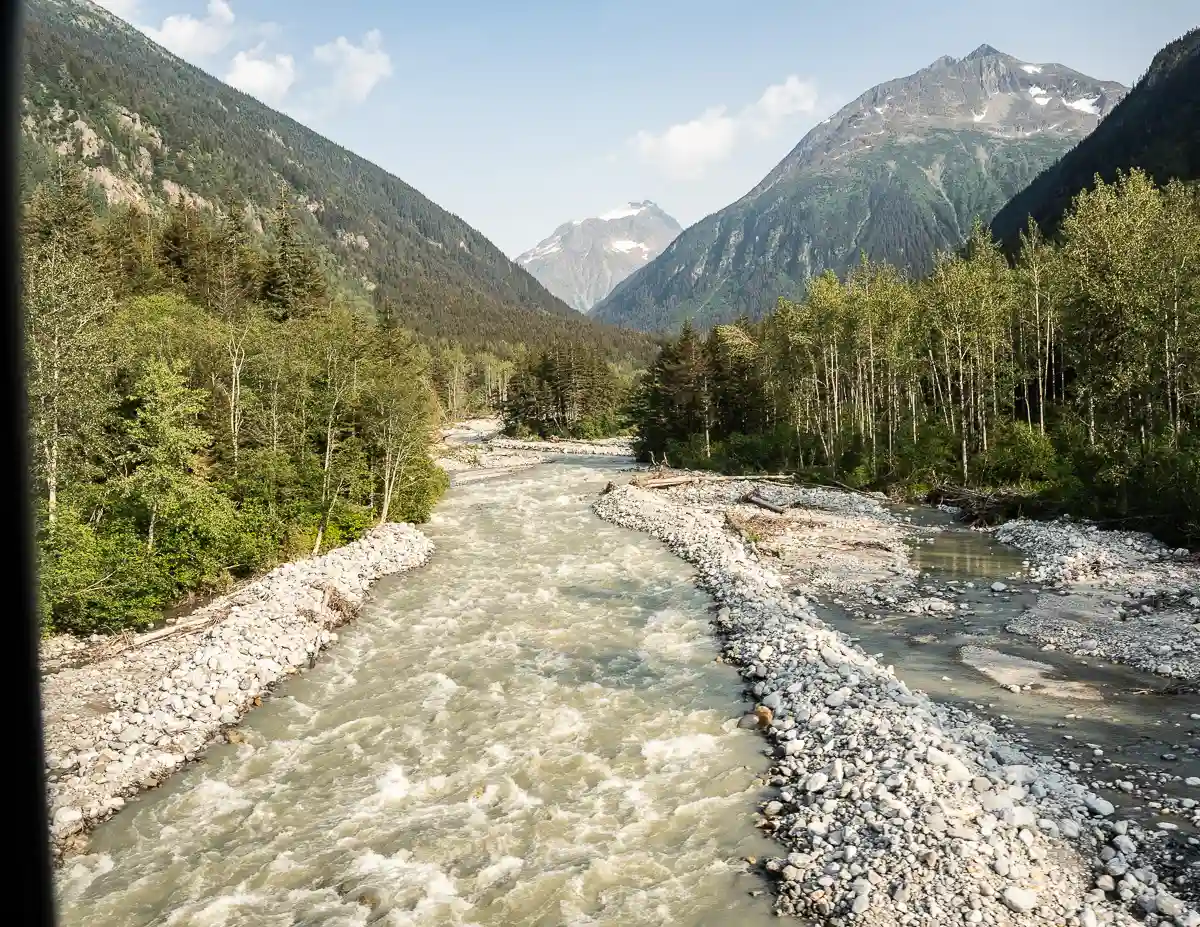 Passengers collectively "wowed" repeatedly as the train made its way through the beautiful landscape, each turning revealing a new vista more breathtaking than the last.
Truly showing off Alaska's magnificence.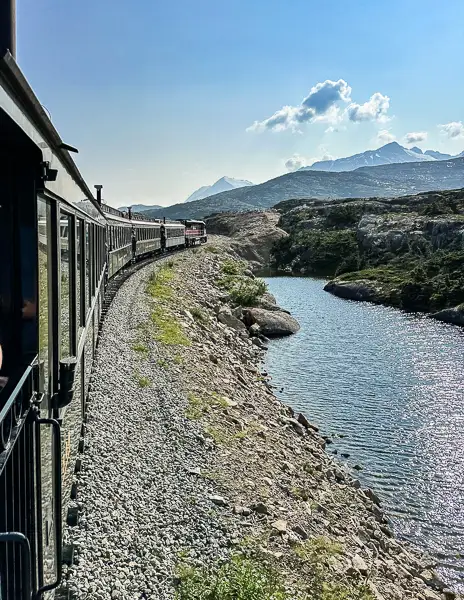 The train's vintage carriages and historic locomotives added to the charm and authenticity of the experience. The wooden seats and brass fittings of the carriages took us back to a bygone era of travel, and the rhythmic clack of the wheels on the tracks provided a soothing soundtrack to the journey.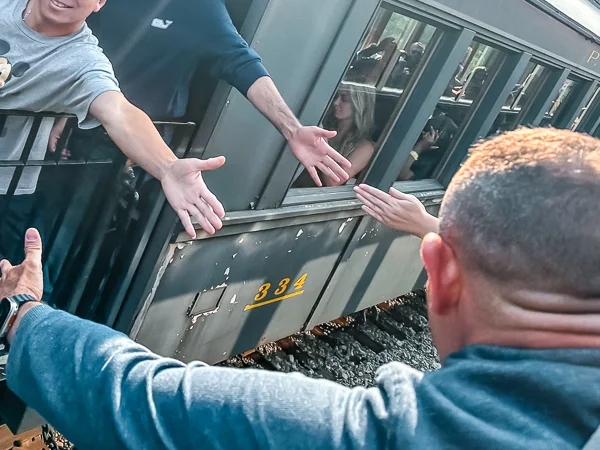 Everyone loved taking turns outside and standing on the open-air platforms between the carriages, feeling the cool breeze on their faces and taking in the panoramic views that stretched before them.
Our one-way journey from Fraser, Canada, was roughly 1.5 hours back to Skagway. When we returned to Skagway, we had to wait for border patrol to enter our train car and check our passports before getting off. It took only minutes.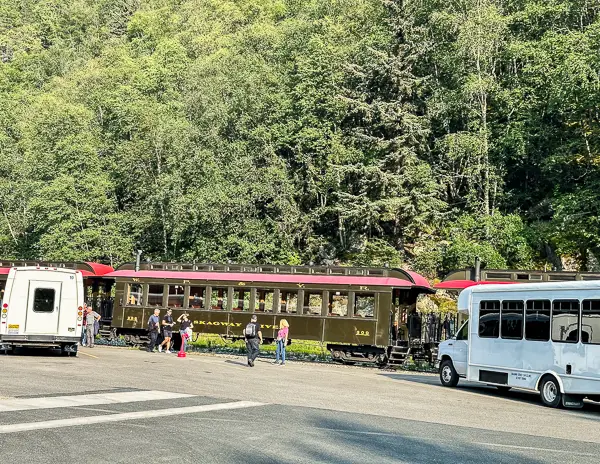 From there, we walked back into the historic town of Skagway before returning to our cruise ship. But our drive from the bus part of the excursion met us, ready to take us to the cruise terminal if we wanted to.
The Yukon Rail Route is only available with excursions into Canada. You still do pass through the White Pass.
Would we have enjoyed the White Pass Summit 2.5-hour roundtrip that everyone books?
I'm sure we would have loved it. However, 2.5 hours? That's a long time on a train for scenic views, so perhaps the 1.5 hours was enough to leave us wanting more.
That said, we wouldn't mind going on the White Pass Railway and, perhaps, spending a little more to experience the Denver Caboose.
Tip: Sit on the right side when returning to Skagway. Left side if you're leaving from Skagway and on the way up to White Pass.
Tour Ideas:
Summit Experience & Yukon Suspension Bridge Tour [book here]
White Pass Summit and Yukon Suspension Bridge Tour [book here]
FAQs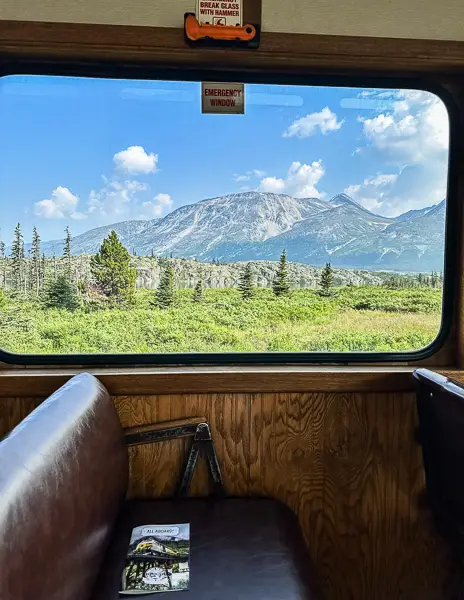 Is the Yukon Rail and Bus Excursion worth it?
Overall, we had a great experience and do not regret it. However, combining the Bus Excursion with the White Pass Yukon Railway makes for a long day, but we did set out to see as much as we could in several hours. The stops we made were beautiful, but they were short and fast-paced. So keep that in mind when you decide to book this excursion.
Is White Pass Scenic Railway worth it?
Yes. The White Pass Scenic Railway is an experience that should be done at least once. You get to see a side of Alaska you won't be able to see staying in town.
If you're not coming to the railway excursion with a bus tour for the day, you can always book just the White Pass Summier excursion for early morning or afternoon.
How long is the white pass train ride?
The White Pass Summit Excursion is a 2.5 to 3-hour round trip. If you have an excursion that combines a one-way train ride with a trip into the Yukon, that would most likely be the Fraser One Way Service, which is one way that goes into Fraser or returns from Fraser, a 1.5-hour train ride.
In advance of your cruise, don't miss these related articles:
Meet Kathy Ava, a food, travel, and cruise writer based in Los Angeles/Pasadena, and the owner and main writer of Tasty Itinerary. With over 20 years of experience planning trips and logistics at her full-time job and for herself, she's become a pro at crafting unforgettable tasty itineraries. She's always on the hunt for delicious, fun travel destinations and cruise itineraries. She firmly believes that life is short and we must make the most of it, so always say yes to dessert.