Planning an Alaskan cruise? Make sure that cruising Glacier Bay is part of your Alaska cruise itinerary, and use our pro tips to make the most of your day.
Glacier Bay National Park in Alaska is a breathtakingly beautiful destination, and one of the best ways to experience this stunning 3.3 million-acre park is by going on a cruise to Alaska.
The stunning scenery.
The extraordinary wildlife.
The fascinating history.
The idea is that these glaciers have been around for thousands of years and are disappearing before our eyes. This is one of the many reasons to cruise to Alaska and witness these glaciers.
We are still in awe from our day at sea cruising Glacier Bay, Alaska. It was one of the most incredible days on our Alaskan cruise, from when we stepped out of our balcony cabin till we saw the last glimpses of the glacier disappearing into the horizon.
You'll want to book that balcony cabin. You'll want to dress appropriately for one of the coldest days on the itinerary. Listen to the Park Ranger's commentary and attend one of their presentations. Without a doubt, you'll want to capture the stunning sites you'll see before you with a good camera or at least witness a closer look with a great pair of binoculars.
We returned from our Norwegian Encore Alaska cruise and are already planning our next Alaska cruise itinerary. We convinced our family to book a group cruise to Alaska for 2025, with Glacier Bay as one of the highlights we look forward to seeing again and sharing it with our family.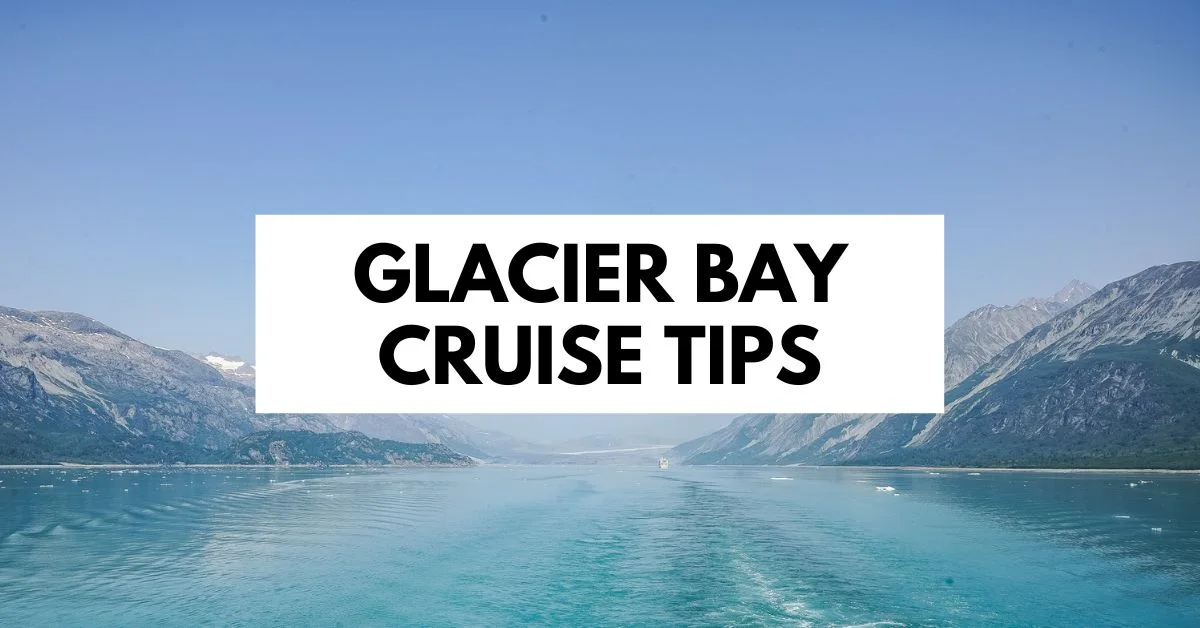 This post may contain affiliate links, which means we'll receive a commission if you purchase through our links at no extra cost to you. Please read full disclosure for more information. We appreciate your support!
As we mentioned earlier, our day at sea cruising Glacier Bay was one of the most memorable days on our Alaskan cruise. Without preparing for it and knowing a few things ahead of our cruise, we could have easily missed out on some of the best experiences when taking an Alaskan cruise to Glacier Bay.
In this article, we share what cruise lines cruise to Glacier Bay, what to expect on the cruise ship as it sails through the Alaska Inside Passage through Glacier Bay, and tips on making the most of your day in Glacier Bay.
Glacier Bay National Park
Glacier Bay National Park in southeast Alaska is a UNESCO World Heritage Site known for its stunning tidewater glaciers and diverse wildlife. It has over 3.3 million acres of rugged mountains, rainforests, and fjords.
Visiting Glacier Bay National Park typically involves taking a cruise ship or smaller vessel, as it is primarily accessed by water. Most major cruise lines offer itineraries that include a day in Glacier Bay, allowing passengers to admire towering ice formations and observe the park's diverse wildlife.
A park ranger will board the ship during this time to provide a commentary with information that includes park's history, geology, and ecology that is broadcasted throughout the cruise ship. Presentations are also given in the theater.
Boats often spend a full day in the park, following a cruise ship route covering over 120 miles. You'll visit glaciers like Lamplugh Glacier, Johns Hopkins Glacier, Grand Pacific Glacier, and Margerie Glacier and be wowed by Mother Nature's extraordinary beauty. However, on your cruise into Glacier Bay, you will likely see Margerie Glacier and Lamplugh Glacier.
Along the way, you'll likely spot humpback whales, sea lions, harbor seals, and otters playing in the icy waters.
Is Glacier Bay worth seeing on a cruise?
Yes, Glacier Bay National Park is worth seeing on a cruise. It's home to stunning glaciers, towering mountains, and diverse wildlife, and going on a cruise is the best way to see Glacier Bay. Witness the beauty of the glaciers, hear the thunderous sound of the ice calving, and spot wildlife like humpback whales, bald eagles, and sea otters. It's a once-in-a-lifetime experience that should be added to your bucket list.
Tips for Planning and Making the Most of the Day Cruising Glacier Bay
If Glacier Bay is high on your itinerary of things to do while cruising Alaska, you must start planning for it when you decide to book a cruise.
There are many factors to consider, and these tips for planning an Alaskan Cruise that includes Glacier Bay will help you book the right cruise itinerary.
1. Choose the Right Time of the Year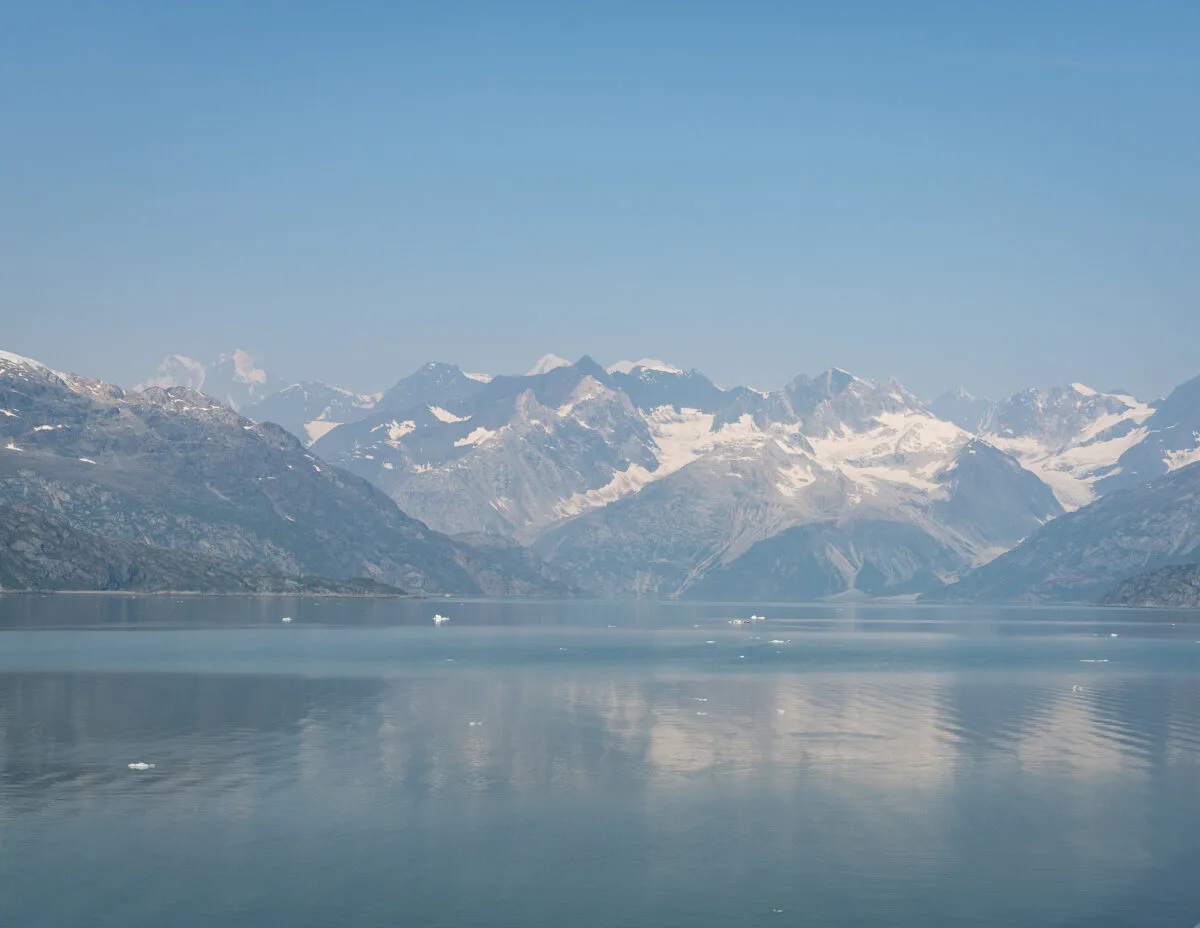 The best time to visit Glacier Bay is during the summer months, from June to August, and maybe September if it's been a warm summer. This is when the most pleasant weather and higher chances of your cruise ship being able to sail Alaska's Inside Passage to Glacier Bay.
If there is excessive ice in the bay, the chances of the cruise ship canceling its sailing into Glacier Bay are high.
2. Research the Best Cruise Lines and Cruise itineraries for a Glacier Bay Alaska Cruise
Only three major cruise lines are allowed in Glacier Bay: Princess Cruises, Holland America Line, and Norwegian Cruise Line.
Research each cruise line's itinerary and choose the one that best fits your travel preferences and budget. Glacier Bay is considered a sea day because you do not get off the ship, but you'll be cruising Alaska's Inside Passage and entering Glacier Bay in the early mornings.
We've highlighted some Alaska cruise tips and mistakes in this other article to help you plan your Glacier Bay cruise and avoid common mistakes.
3. Book a Balcony Cabin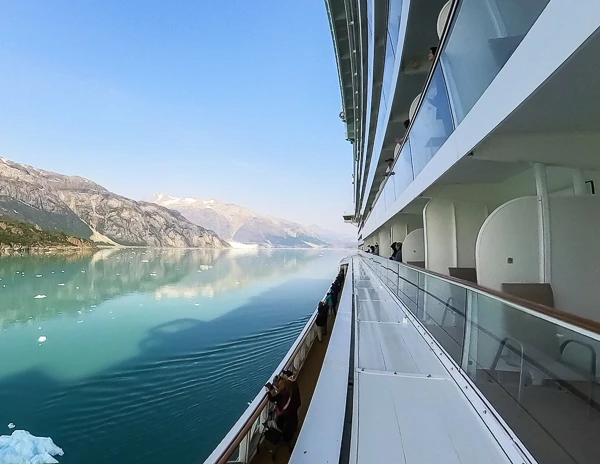 No question about it: splurge a little and book that balcony cabin. It is 100% worth it on an Alaskan cruise, and we'd say it is a must. It provides a private space to relax, sit outside with coffee, and enjoy Alaska's beauty.
On the day the cruise goes into Glacier Bay, you will be happy that you booked a balcony. My husband thanked me continuously that morning, arranging everything and ensuring we had little space.
Our Alaska cruise on NCL had an observation lounge that was always full, and we couldn't always find seats on days we weren't in port. I can't even imagine how packed it was on Glacier Bay Day. We stayed away.
We eventually ventured to the outside decks once we enjoyed our balcony. Most public spaces with seating were taken. You had to stand to look and then worry about blocking other people's views.
With a balcony, you have guaranteed first-class seats.
Tip: Some of the best balcony cabins for a scenic cruise like this would be in the AFT. They offer panaromic views. However, if you're seasick, these cabins may not be for you.

The very least, book a portside cabin, as you'll have the first views of Margerie Glacier. Although, if you do get portside, no worries, the ship does do a slow 360, so everyone can see.
4. Pack for the Weather. You'll Want to Dress in Layers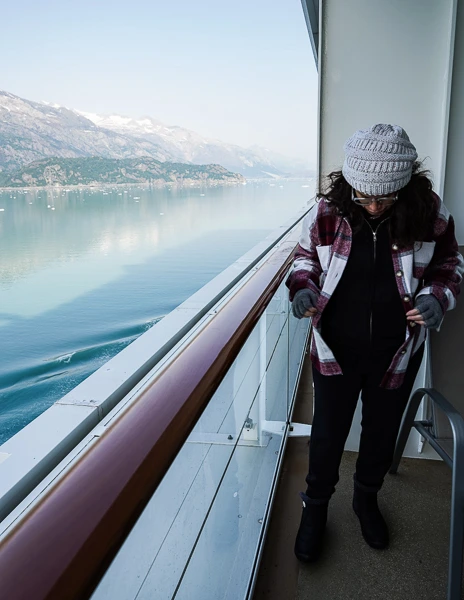 As we've mentioned in other Alaska posts, the weather, in general, can be unpredictable, so it's important to pack for rainy and cold days and warmer days. We got lucky and had a beautiful clear day when we cruised Glacier Bay, but it was still cold.
Our day in Glacier Bay was the coldest day of our seven-day Alaska cruise. The earlier in the day, the colder it is. Putting on layers worked out for us. I wore a long sleeve, a fleeced hoodie, and then a fleeced shacket, but I had my water-resistant puffer nearby.
I even had fingerless gloves on and used my electric hand warmers. The knitted hat was a must! And I never wear knitted hats.
By the afternoon, though, as we cruised out of Glacier Bay, the sun was out, and we started peeling off layers.
You will want to have a rain jacket, in case it rains.
The cruise ship has an observation lounge; you can go inside to see everything from there. Still, I beg you, if you can go outside to see the views without anything tainting the pure beauty of it, DO.
5. Rent or Buy a Good Camera to Bring With You to Take All the Photos and Video You Can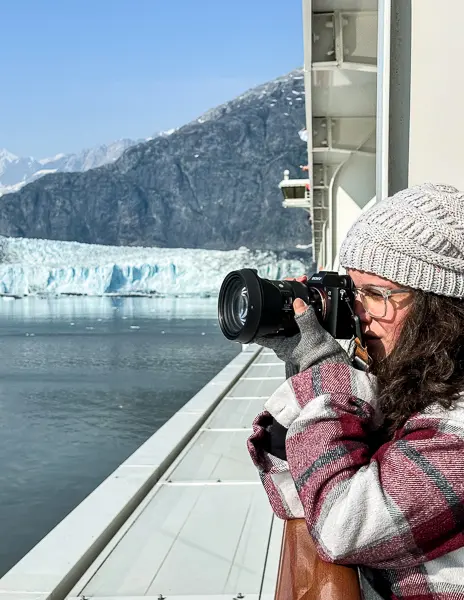 You'll want to capture the stunning beauty of Glacier Bay, so be sure to bring a good camera and perhaps a zoom lens that will let you zoom in to take photos.
Sitting back and enjoying it to its fullest without worrying about taking photos is also an option. However, you will want these memories to look back on for years to come. Your photos will be a tangible reminder of your incredible experience in Glacier Bay.
You'll undoubtedly want to share the beauty of Glacier Bay with your loved ones. After all, what's the point of experiencing something so incredible if you can't share it with others?

After returning from a trip, I feel we have to open others up to the inspiring beauty this world offers, and maybe they'll want to book their adventures in the future.
Tip: You don't need to go out and invest heavily in camera equipment. You can always rent a good camera or a lens for the week from places like Lensrentals.com or Cameralensrentals.com. We highly suggest adding insurance to the rental agreement.
On this trip, we packed and used our Sony A7iii with the Sigma 24-70mm 2.8 (you may want a longer zoom lens), Insta360 x3, and the iPhone 14 ProMax.
6. Pack Binoculars and Use Them Every Chance You Get
If there is one must-have item you should pack for Alaska, it is a pair of good binoculars.
Binoculars are essential for any trip to Alaska, especially if you plan on wildlife watching. When you spot a whale or other wildlife for the first time, you'll want to get a closer look, and a good pair of binoculars will allow you to do just that.
When you're admiring a glacier, binoculars can also come in handy to see the intricate details of the ice formations. You'll be able to see the deep blue colors of the ice, the crevasses, and the jagged edges up close. It's a unique experience you won't want to miss during your Glacier Bay National Park visit.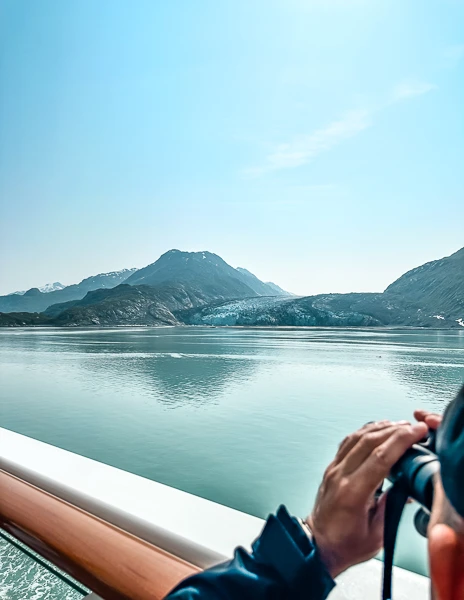 We weren't sure if we'd use the binoculars, but in the end, we were so happy we decided to buy a pair and bring them with us.
7. Ask the Cabin Attendant for an Extra Blanket to Cozy Up to On the Balcony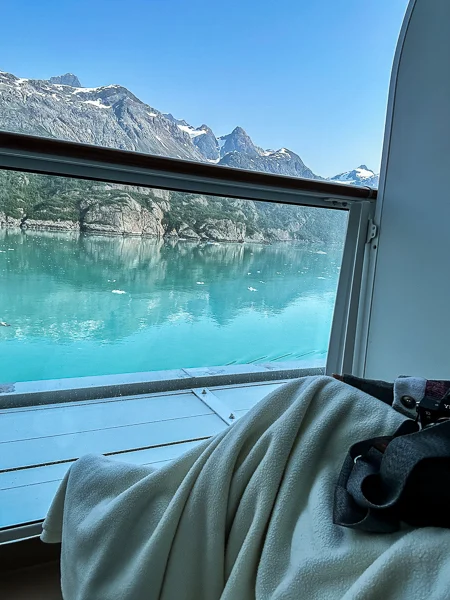 Ask the cabin attendant to bring you an extra blanket at the start of your Alaska cruise. This adds another layer of coziness while sitting on your balcony and cruising Glacier Bay.
8. Set that Alarm and Wake up Early
Sleep in, and you'll miss it.
Throughout your Alaskan cruise, you'll want to wake up early and make the most of your days, especially on port days. The day the ship cruises Glacier Bay, you want to set that alarm and get up early to catch the best views along the passage, including the glaciers. This is a once-in-a-lifetime experience; you don't want to miss a moment.
As you step onto your balcony and take in the breathtaking views, you look up, and to the side over the railing, and you'll notice that other passengers have had the same idea. But don't worry, the atmosphere is serene and peaceful, with everyone silently admiring the beauty of Glacier Bay. It's a moment of shared wonder.
So, make sure to set that alarm.
Hubby was up early that morning before I was to answer the door for our room service delivery. He stepped outside with his coffee and was amazed by what he saw, encouraging me to drop whatever I was doing and come outside with him.
We had not even reached a glacier, and yet the views along Glacier Bay were captivating. The mountains were a work of art. The ice chunks floated by. The sea otters were taking their early swim. We even saw a few whales.
Tip: The night before, when the cruise ship's newsletter is delivered to your stateroom, check what time the park ranger will start it's broadcasted commentary. You will want to wake up at least an hour before hand.

We started our day at 6:30am.
9. Don't Leave Your Cabin: Order Room Service Breakfast and Coffee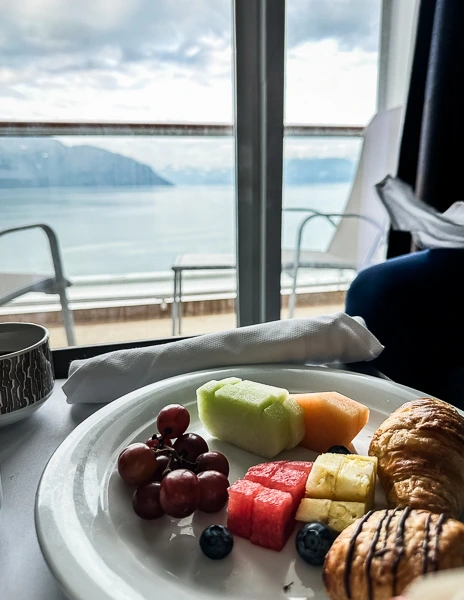 Order coffee and breakfast room service to accompany your morning in Glacier Bay. This way, you don't have to leave your cabin until lunch. Even then, you can order room service again if you like.
Note that there may be a small service charge to order room service. Something you need to confirm with your cruise. It is usually a small charge and worth the convenience.
Tip: Fill out the room service order form the night before to be delivered early the next morning at the time you'd like wake up. A coffee delivery is the perfect wake-up call.
10. Take a Moment and Listen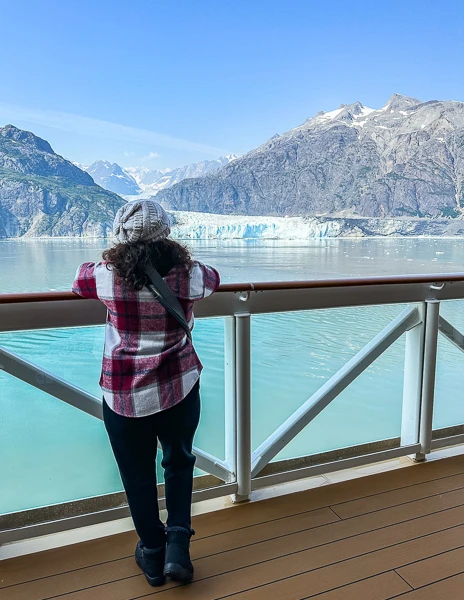 Stand outside and listen; you'll be amazed by the glacier's calving sound.
If you stay inside, you'll miss hearing these wonderful sounds. It can be beautifully peaceful one moment and then suddenly interrupted by the thunderous sound of the glacier calving.
While it is a magnificent sound to hear, it's one of those rare experiences that make you so grateful that you're here.
11. Turn on the TV to the Onboard Lecture or Attend the Park Ranger's Morning Presentation
Part of the experience cruising Glacier Bay is the Park Ranger's commentary. It is broadcast throughout public areas of the cruise ship, and you can turn on the TV in your cabin to listen. Your cruise ship's newsletter will say what channel the commentary will be broadcast on.
We suggest having it in the background, as the park ranger will give information on Glacier Bay's history, geology, and ecology. It only enhances your experience, and you'll appreciate more what you see.
The Park Ranger will also have presentations in an atrium or theater that you can attend to learn more about the park and ask them any questions you may have after the commentary. They also may sell some souvenirs at the end.
Fun Tip: You can also keep a lookout and watch the park rangers board the ship in the early morning. Depending on which side they board, you may have to leave your cabin to see it.
12. Parents Take Your Kiddos to the Ranger's Children Program
On the Norwegian Encore, they had a Ranger's Children program where the kids met the Park Rangers and got to become Junior Rangers.
Check your newsletter and watch for fun kid activities that may be taking place on the ship the day you cruise Glacier Bay.
13. Optional: Venture Out to the Ships Bow, AFT, and Other Outdoor Areas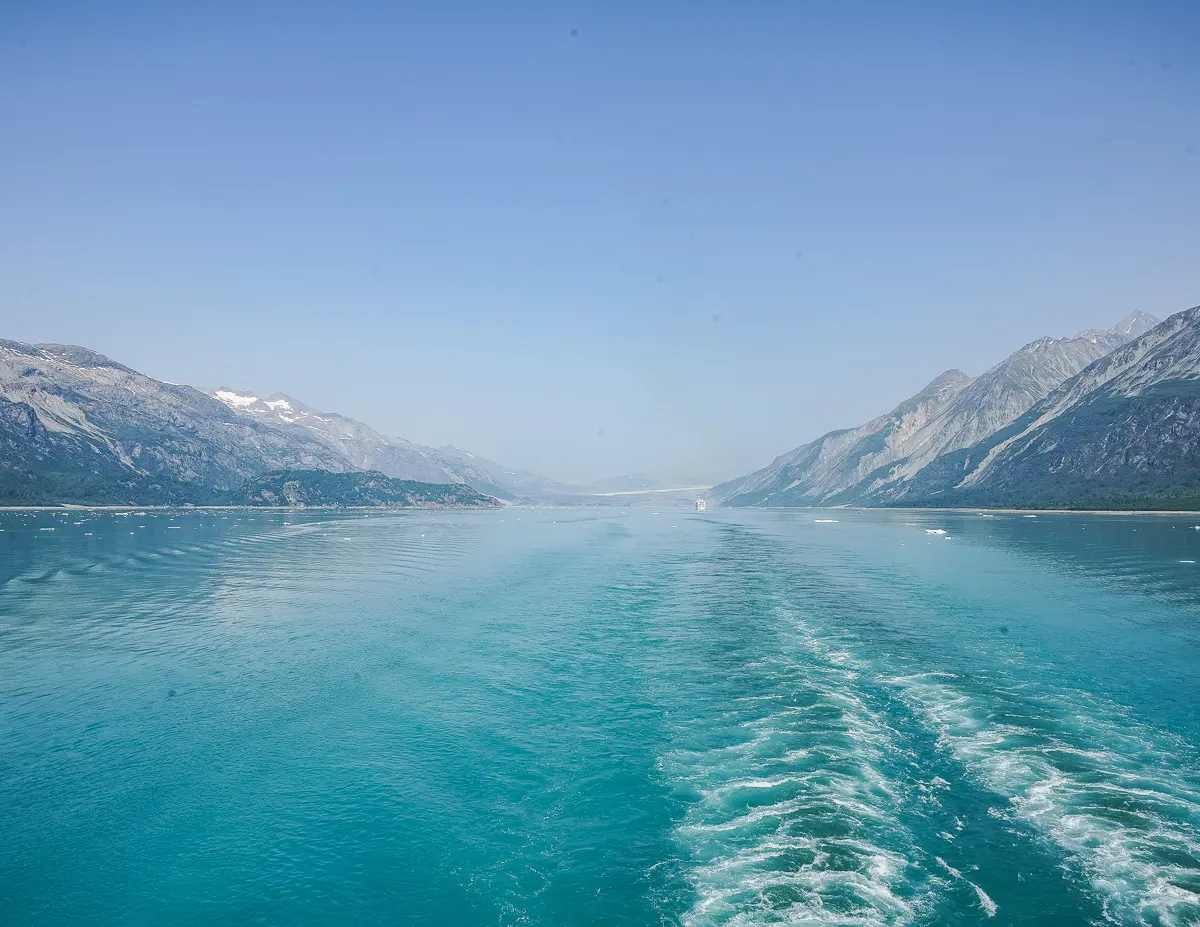 Eventually, you can leave your cabin to experience what's happening outside in the other parts of the ship. It's nice to be in your cabin throughout the morning, but there are other experiences in the public areas while in Glacier Bay.
And, if this is your first cruise to Alaska, cruising Glacier Bay, you'll want to find that balance of having that time to take it all in from your balcony but also participate in other activities.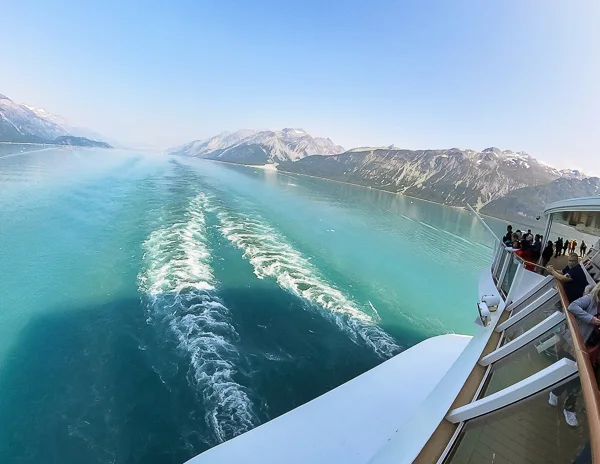 There is also somewhat of a celebratory atmosphere amongst the passengers, mostly of amazement, which is lovely to witness.
The bow is usually open for a certain period during the morning in Glacier Bay. This is a rare occasion, as the bow is usually off-limits. If you've never been on the bow of a cruise ship, this is a great time to take the opportunity to do so.
Photo opportunities to be taken with their on-ship photographers are set up in the bow and the aft of the ship for prime photos.
Even if you do not go for the photo opportunities, visit the aft of the ship anyway. We found it the least crowded yet had the most stupendous views.
Coffee, tea, and hot chocolate stations are set out throughout public areas. Irish coffee stations for an additional cost. I treated myself to Bailey's with whipped cream.
Treats and bowls of seafood chowder are handed out.
14. Above all, Respect the Environment
With all this said, it's a gift and a privilege to cruise into these pristine areas and experience the beauty of nature up close. It's important to remember that we are responsible for protecting these natural wonders for future generations.
Don't toss anything overboard.
Respect wildlife.
Follow the rules.
Which cruise lines visit Glacier Bay?
These three major cruise lines granted permits to enter Glacier Bay National Park, allowing passengers to witness this unique destination's beauty while minimizing the environmental impact.
Mainstream Cruise Lines allowed in Glacier Bay:
Princess Cruises
Holland America Line
Norwegian Cruise Line
Experiences and Services on the Cruise: What to Expect
What to expect on a cruise while cruising Glacier Bay?
On a cruise to Glacier Bay, passengers can expect maps, park rangers, stunning views, wildlife sightings, and a connection with fellow passengers. The staff is readily available; coffee stations and food are set up for convenience.
This is a big day on a cruise. Even though it is called sea day, it isn't your typical sea day. This is what you'd call scenic cruising when the cruise ship slowly makes its way through a scenic route, in this case, it's the majestic Glacier Bay.
Fun Fact: What does scenic cruising mean on a cruise ship?

Scenic cruising on a cruise ship refers to the experience of sailing through a beautiful or picturesque area, such as a fjord, bay, or glacier. During scenic cruising, the ship will typically sail at a slower pace, allowing passengers to fully appreciate the stunning scenery around them.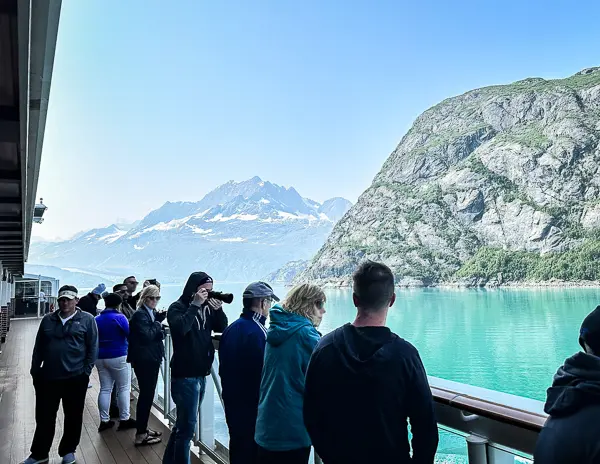 On the day you're cruising Glacier Bay, you can expect:
Maps of Glacier Bay and Other Reading Material
The night before, you'll be given a map of Glacier Bay, along with your newsletter and possibly some other reading material to prepare you for It's great to have the map and follow along with the Park Ranger's commentary.
Park Rangers On Board
A Park Ranger from the Glacier National Park boards the ship by boat in the early mornings. They are on the ship all morning and part of the afternoon for presentations and answering cruise passengers' questions. That is included as part of
All Hands on Deck
There is always staff around on a cruise, but it feels like all hands on deck the day we are cruising Glacier Bay. They are there to provide you with the best day possible.
Coffee Stations and Food
Buffets and restaurants typically open on sea day will also be open (check your newsletters). However, since everyone will be outdoors or in observation areas, the cruise ship does a nice job setting up coffee, juice, and water stations and handing out hot chocolate, pastries, and seafood chowder later in the morning. These are small touches that add to the overall experience.
Stunning Views of Glaciers and Natural Landscapes
One of the primary reasons people cruise to Glacier Bay is to see the stunning glaciers and the untouched beauty of this part of Alaska that you can't see unless it's by ship or
Public Viewing Decks Open
There are public viewing decks; some ships have better public viewing spaces than others. They even open the bow so everyone can get a panoramic view. Perfect opportunity to take photos.
Opportunities to See Wildlife
You will spot wildlife. We've never seen so many whales in our life.
A Connection With Fellow Cruise Passengers
The shared experience of witnessing these magical moments can create a sense of camaraderie and connection throughout the cruise. One moment, everyone is quiet and in awe, enjoying what's before them, and the next, someone is shouting, "Whale!" And then a flurry of excitement breaks out.
Glacier Bay Alaska Cruise: FAQs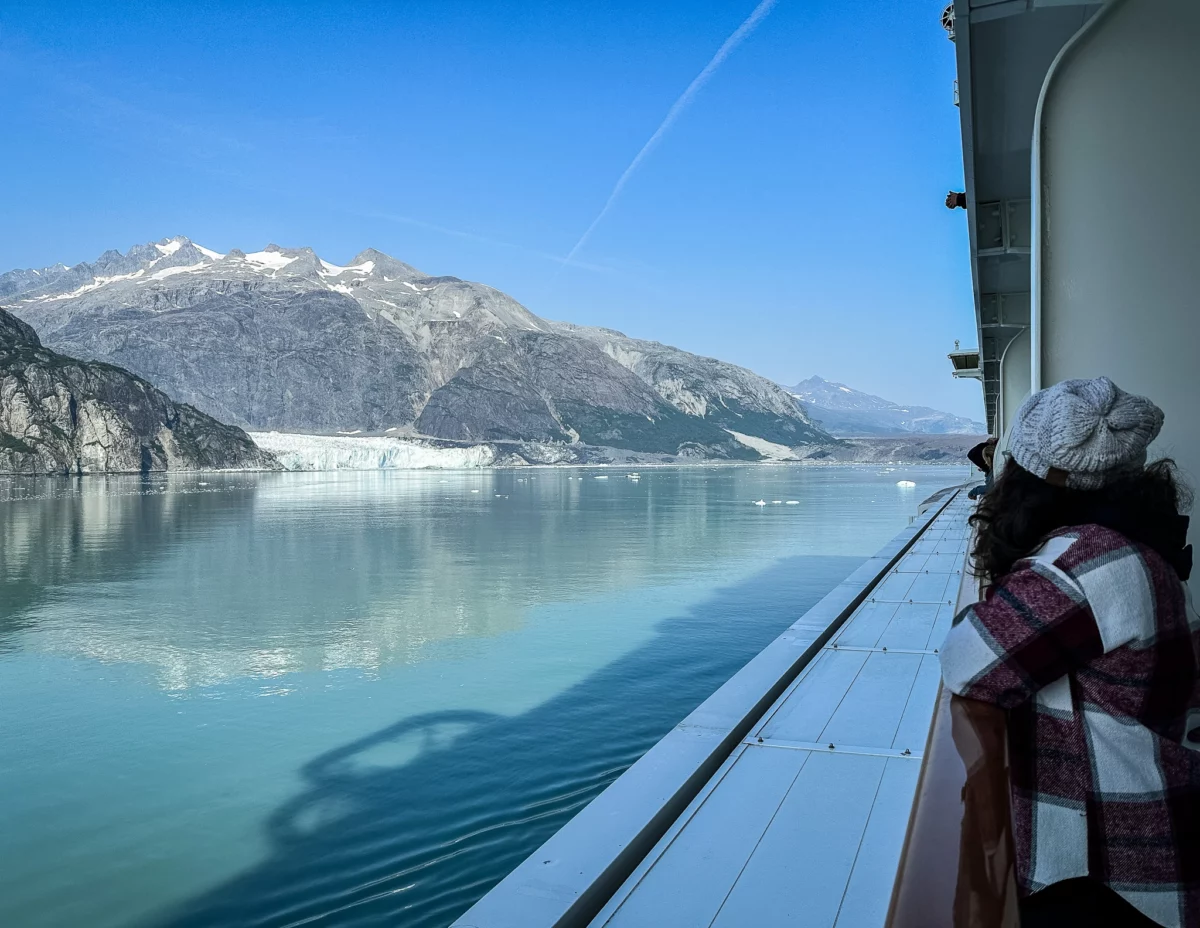 What is the best time to cruise Glacier Bay?
June to August are the best time to visit Glacier Bay as it is warmer and has the longest summer days. September can also be a good time, depending on how warm the summer has been. During this time, it is easier for cruise ships to navigate the area.
Do all Alaska cruises include Glacier Bay?
No. Not all Alaska cruises include a visit to Glacier Bay. Only select cruise lines with permits and contracts are authorized to enter the bay, and there is a strict limit of two cruise ships a day.
If you are interested in cruising Glacier Bay, you must research the Cruise Lines that cruise into Glacier Bay, their cruise ships, and Alaska cruise itineraries before booking.
What side of the ship is best for Glacier Bay?
Portside is the best side for Glacier Bay, only because you'll get first peek at Margerie Glacier. However, the ship will gradually turn so everyone on the ship can admire the glacier from all sides. It will do the same when it reaches Lamplugh Glacier.
Are there any shore excursions in Glacier Bay?
There are no shore excursions in Glacier Bay. Cruising Glacier Bay is technically a sea day because you're not docking at a port and spending it on the ship.
What wildlife can be seen in Glacier Bay?
Glacier Bay is home to diverse wildlife, including humpback whales, orcas, sea otters, harbor seals, bald eagles, brown bears, moose, and more. Your eyes will be glued to the scenery, looking for any signs of movement as Glacier Bay is teeming with life. 
In advance of your cruise, don't miss these related articles:
Meet Kathy Ava, a food, travel, and cruise writer based in Los Angeles/Pasadena, and the owner and main writer of Tasty Itinerary. With over 20 years of experience planning trips and logistics at her full-time job and for herself, she's become a pro at crafting unforgettable tasty itineraries. She's always on the hunt for delicious, fun travel destinations and cruise itineraries. She firmly believes that life is short and we must make the most of it, so always say yes to dessert.