Embarking on a cruise from Seattle? Where is the Seattle Cruise Port? What are the things to do near and around Seattle Cruise Port?
Whether you're embarking on an exciting Alaskan cruise or just stopping in port to explore some of the area's iconic sightseeing spots, Seattle is a must-visit destination.
With 1.43 million passengers expected to cruise out of the Seattle Cruise Port in 2023, it is also one of the busiest cruise ports in the Pacific Northwest. Multiple major cruise lines embark on Alaskan itineraries that start and end in Alaska.
We recently sailed out of Seattle on the Norwegian Encore on an Alaskan cruise. This Emerald City by the Sea left us with a lasting impression after visiting The Space Needle and Pike Place Market and enjoying the beautiful Skyline from the cruise ship. We can't wait to return and explore what this amazing city offers.
Seattle is known for its stunning Pacific Northwest surroundings, vibrant city, and the perfect starting point for unforgettable Alaska cruises. With over a century of history as the region's gateway to Alaska, the Seattle cruise port has grown to accommodate a variety of ships and cruise lines.
It's a popular choice for cruisers planning an Alaskan cruise vacation as it makes an easy starting point to get to and from within the US.
However, Seattle cruise port is also a popular port destination for Pacific Coastal Cruises.
The cruise port is conveniently located near downtown Seattle, providing visitors easy access to the city's top attractions, dining options, and accommodations.
Making it easy to navigate the downtown area and get to and from the Seattle cruise terminal.
This post may contain affiliate links, which means we'll receive a commission if you purchase through our links at no extra cost to you. Please read full disclosure for more information. We appreciate your support!
In this article, you'll find what you need to know about Seattle Cruise Port, the nearest hotels by the port, parking, and the top things to do in Seattle.
The Seattle Cruise Port serves as a major departure point for Alaskan cruises with two cruise terminals.
Multiple transportation options are available to help passengers easily navigate to and from the cruise terminals.
Convenient amenities such as nearby parking, hotels, and downtown attractions make the Seattle cruise port ideal for cruisers.
Seattle Cruise Port
What port do cruise ships leave from in Seattle?
The important thing to know is there are two major cruise terminals at the cruise port in Seattle: Bell Street Cruise Terminal at Pier 66 downtown and the other is Smith Cove Cruise Terminal at Pier 91 northwest of downtown. They are not that far from each other, and still quite easy to reach either terminal from the heart of Seattle.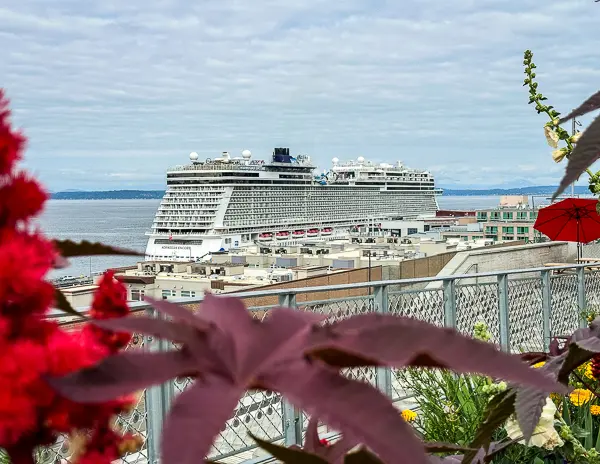 Bell Street Cruise Terminal at Pier 66
Address: 2225 Alaskan Way, Seattle, WA 98121 [Google Map It]
The downtown Seattle cruise terminal is the Bell Street Cruise Terminal at Pier 66, in the heart of Seattle's waterfront near Pike Place Market. It serves as the home port for Norwegian Cruise Line and Oceana Cruises.
Smith Cove Cruise Terminal at Pier 91
Address: 2001 W Garfield St, Seattle, WA 98119 [Google Map It]
The Seattle cruise terminal northwest of downtown is Smith Cove Cruise Terminal at Pier 91, just a 10-minute drive from the iconic Space Needle. It serves as the home port for Carnival Cruise Line, Celebrity Cruises, Holland America Line, Princess Cruises, and Royal Caribbean.
If you are unsure where your cruise is embarking or stopping for the day, you can find your ship and its terminal information on the Port Seattle website.
How far is it to the cruise pier in Seattle from the airport?
The distance between the Seattle-Tacoma International Airport (SEA) and the two cruise ship terminals in Seattle varies depending on the terminal.
The Bell Street Cruise Terminal at Pier 66 is approximately 30 minutes by car or taxi from the airport, with an average distance of 15 miles.
The Smith Cove Cruise Terminal at Pier 91 is slightly further, taking approximately 35 minutes by car or taxi, with an average distance of 17 miles.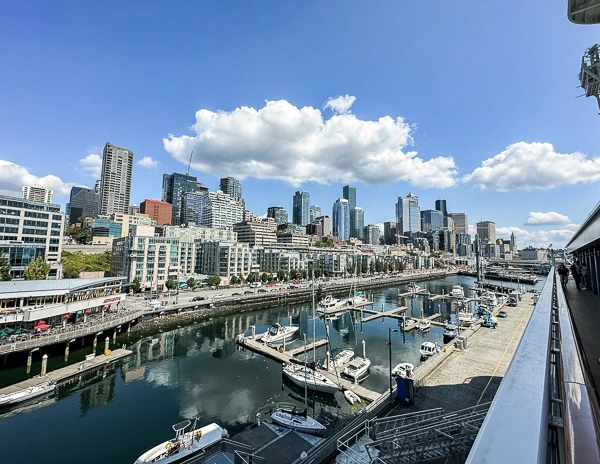 How to Get to Seattle Cruise Port?
Seattle cruise ports are conveniently located in downtown Seattle, making it easy to reach your destination with multiple transportation options.
Seattle By Air
How far is Seattle Cruise Port from the airport?
The Seattle-Tacoma International Airport is a 30 to 40-minute taxi, Uber or shuttle ride to the port of Seattle or your hotel downtown.
Seattle By Train
Taking a flight to Seattle is faster, but if you're on the Pacific Coast, you may want to consider taking a train. Amtrak's Coast Starlight Train can take you from major cities in California, Washington, and Oregon to King Street Station in the Southend of Downtown Seattle. You can take a taxi or uber from the train station to the cruise terminal.
Taxi or Rideshare
Unless you're within walking distance from the cruise terminal, you will probably need to take a short taxi ride from the Seattle Airport or your Seattle hotel to the cruise terminal.
We recommend having the porter outside your hotel call a reputable taxi, or you can book a Uber or a Lyft from your phone.
Hotel Shuttle Service
Another option that may be available is a shuttle service that the hotel may provide to the cruise terminal.
Shuttle Service from the Airport
There are several shuttle services that you can book in advance to transfer you from the airport to your Seattle hotel or cruise terminal.
Cruise Lines also offer a transfer service that you can book in advance with them if your flight arrives on the morning of embarkation day. However, we always recommend arriving at the port destination a day before embarkation.
Book a Private Car or a Taxi With GetTransfer.com
Cruise Ship Parking Seattle
If you plan to drive to Seattle to embark on your cruise, leave your car nearby during your cruise vacation.
Tip: Drop off all the luggage at your designated cruise terminal for your cruise vacation with a porter before parking. This will eliminate the hassle of dragging heavy luggage with you.
Long-Term Cruise Terminal Parking
The easiest thing to do is to park at your designated cruise terminal, so you can easily walk and check in for your cruise.
Each Seattle Cruise Terminal has a parking lot you can park in for your stay. Make sure to make reservation reservations in advance to secure a parking spot.
Pier 66 Bell Street Pier Cruise Terminal – Bell Street Pier Garage
Located across the street from the cruise terminal:9 Wall St.
Seattle, WA 98121 [Google Map It]
There are 1,500 spaces available.
General Parking is $30 a day.
Small discount if you prepay online.
A sky bridge is available from the parking lot to the cruise terminal.
Pier 91 Smith Cove Cruise Terminal – Parking Lot D
Located on-site at the cruise terminal: 2001 W Garfield St, Seattle, WA 98119 [Google Map It]
There are 1,100 spaces available.
General Parking is $29 a day.
Small discount if you prepay online.
Other options:
Find a hotel offering special Park & Cruise Rates.
A parking lot outside the cruise terminal.
Hotels Near Seattle Cruise Port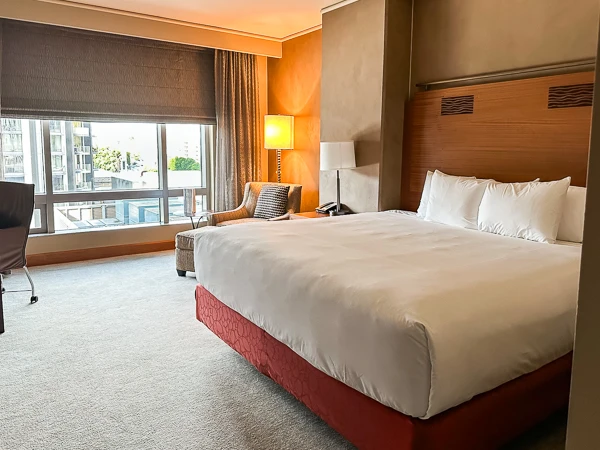 There are over 14,000 hotel rooms in Downtown Seattle, but even then, we suggest booking a hotel room for your pre-cruise and-or post-cruise stay in advance. The hotels closest to the port will book up fast; however, even if you have to stay 10-15 mins from the port, Seattle is walkable for exploring.
We stayed at the Grand Hyatt Seattle and were within walking distance of most major attractions. So you don't have to stay right next to the cruise port. Downtown Seattle is fine.
If you want to wake up on the morning of your cruise and walk to the terminal, you have options with hotels close to Pier 66, but that's not an option if you're leaving from Pier 91.
Hotels Near Pier 66 in Seattle:
Hotels Near Pier 91 in Seattle:
Disembarking at Seattle Cruise Port
When we disembarked at Seattle cruise port, we had an early flight and, therefore, walked off the ship with our luggage as soon as it was allowed. We called an Uber once we were outside.
However, I would have used Seattle's Port Valet service if we had a later flight.
One of the best things about disembarking in Seattle is the complimentary Port Valet service that the Port of Seattle offers. If you have a flight that departs past noon on the day of disembarkation day, this is a fantastic free service you should consider taking advantage of.
What is Port Valet?
Port Valet is a luggage transfer service the Port of Seattle offers to cruise passengers departing from Seattle with a participating airline.
It allows passengers to check their luggage on the cruise ship and have it transported directly to their airline.
The luggage will be checked in for you and will be ready for you to pick up at your final destination.
You'll also receive your boarding passes before leaving the ship. This means you can go directly to security and your gate when you arrive at the airport.
Using Port Valet means that passengers do not have to worry about transporting their luggage to the airport, which can be a significant convenience.
The service is free for passengers and is available for flights with participating airlines departing after 12 pm from Seattle-Tacoma International Airport on the same day of disembarkation.
To sign up for this service and more info, visit the official site for Port Valet in Seattle.
Or you can wait to sign-up on the cruise ship.
Read more: Cruise Disembarkation Tips
Downtown Seattle
We highly recommend exploring Downtown Seattle areas before or after your cruise from the Port of Seattle.
Downtown Seattle is the city's bustling heart, offering a vibrant mix of culture, entertainment, and commerce along its waterfront. The area is home to many of Seattle's most iconic landmarks, including the Space Needle, Pike Place Market, and the Seattle Great Wheel.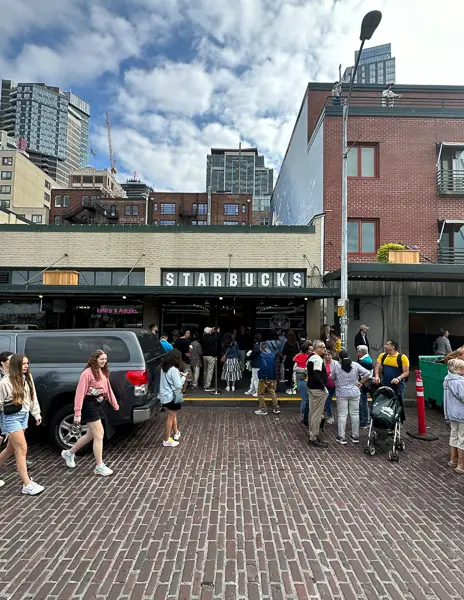 Seattle also has a food and coffee scene worth exploring, starting with Piek Place, a must-visit and historical destination just a short walk from Pier 66. Here, you can witness the famous fish toss, shop for fresh flowers and locally made products, and savor delicious bites from food stalls.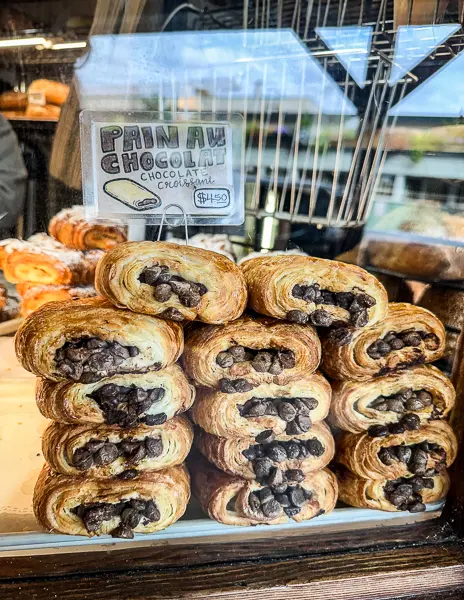 We loved our almost chocolate croissant from Three Girls Bakery.
You can even stop by the first-ever Starbucks store while at it. Of course, expect a long line if you want to get inside.
The infamous Gum Wall is also located at Pike Place.
The city is filled with restaurants, quirky eateries, and cozy cafes. If you're a seafood lover, you'll want to find a place serving local eats like seafood chowder, freshly caught salmon, and oysters.
Besides the market, Seattle's waterfront is a picturesque and bustling area that offers stunning views of the city's skyline and Puget Sound, and you can ride the Seattle Great Wheel at Pier 57.
Visiting the iconic Seattle Space Needle is a must if you've never been. Here you'll get spectacular views of Downtown Seattle and countless photo opportunities.
If you have time, nearby, you can explore the Chihuly Garden and Glass Museum, featuring stunning glass sculptures.
Downtown Seattle is worth an extra day or two pre-cruise or post-cruise to explore the city and at least see its iconic landmarks.
If you plan to stay longer, you can explore beyond Downtown Seattle, where many exciting destinations exist, such as Mount Rainier National Park, Snoqualmie Falls, Woodinville Wine Country, Bainbridge Island, and Leavenworth. These destinations offer natural beauty, small-town charm, and outdoor recreation opportunities just a short drive from the city.
Tour Ideas:
Mt. Rainier Day Trip from Seattle [book here]
Visit Snoqualmie Falls and Hike to Twin Falls [book here]
Leavenworth Tour from Seattle [book here]
Top Seattle Attractions for Cruisers
With limited time to explore before or after your cruise, or if the cruise ship is docking for a short day, here are some of the Seattle Attractions you can experience.
Visit the Space Needle
The Space Needle is Seattle's most recognizable landmark, built for the 1962 World's Fair. The city and waterfront views from the observation deck are stunning. You'll want to visit at least once if you've never been.
We almost didn't book this, thinking that it would be touristy, and it is, but that is part of the fun! We are so glad we made it o the Space Needle.
Tip: Buy tickets to enter shortly before sunset. You can check online what time the sun will set the day you want to visit. Buy the tickets to enter no less than 45 minutes before. Once you enter, you can stay as long as you like. This way you can see the city when the sun is out, at sunset, and then at night.
Space Needle and Chihuly Garden and Glass Combination Ticket [book here]
Make Time to Go to Pike Place Market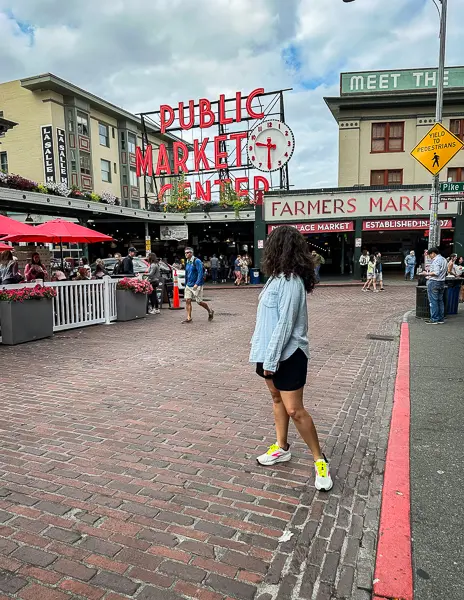 The Pike Place Market is a busy marketplace and an important historic landmark that has been a significant part of Seattle's culture; established in 1907. It is a must-visit Seattle attraction when you're in the city.
While you're there, watch for fish-throwing and signing at Pike Place Fish Market. Visit the original Starbucks coffee shop. See the infamous (and gross) Gum Wall. Visit the flower market, and maybe buy a fresh brunch to bring onto the ship to decorate your cabin. Sample some fresh seafood and check out the many tasty food stalls on your own or a food tour. Don't forget to pet Rachel, the bronze Piggy Bank.
You could spend hours exploring the market and still not experience everything this Seattle icon has to offer. It does get super busy. We suggest trying to get there early morning before the crowds show up.
We decided to do a late check out at our hotel on embarkation day and explore Pike Place Market. It was not enough time, but so happy we did.
Tour Ideas:
Chef Guided Food Tour of Pike Place Market- 2 Hours [book here]
Pike Place Market Tasting Tour [book here]
Take a Ride on the Seattle Great Wheel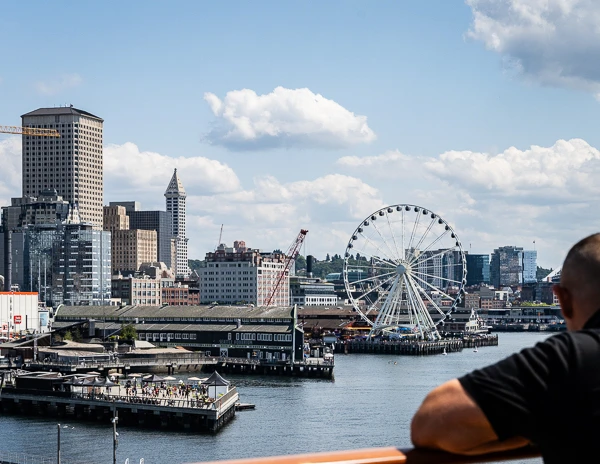 The Seattle Great Wheel is a giant Ferris wheel located on the waterfront at Pier 57. The wheel was constructed in 2012 and stands 175 feet tall, making it one of the largest Ferris wheels on the West Coast, thus becoming an iconic landmark of Seattle's city skyline. You can see it lit up at night with its 500,00 LED lights.
You can see the Great Wheel from the Space Needle and during sail away on the cruise ship.
Take a ride on the Great Wheel for a different perspective of the city of Seattle and its waterfront. There is also plenty of things to do at Pier 57, including dining at The Crab Pot, trying out the bread at Alaska Sourdough Bakery, and taking the kiddos to ride the carousel.
Do a City Tour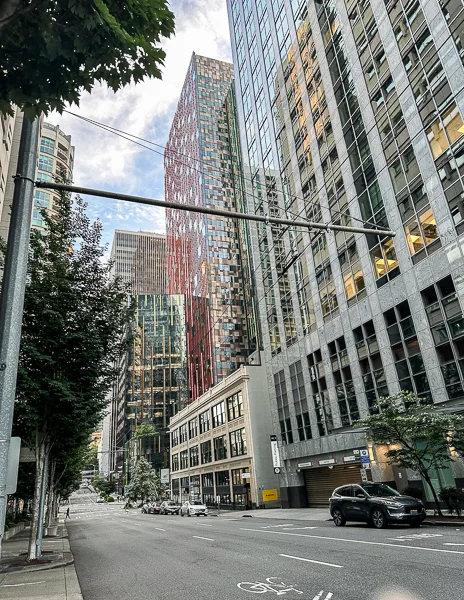 A city like Seattle is one of those cities that a tour of would be highly recommended. With its rich history and vibrant culture, Seattle has much to offer visitors, and a city tour is a great way to experience the important parts of it in a short time.
A city tour is a great option whenever visiting a new city. It helps you get the lay of the land and the history, info, and tips a local guide provides.
Tour Idea:
Premier 3-Hour Seattle City Tour [book here]
Museum of Pop Culture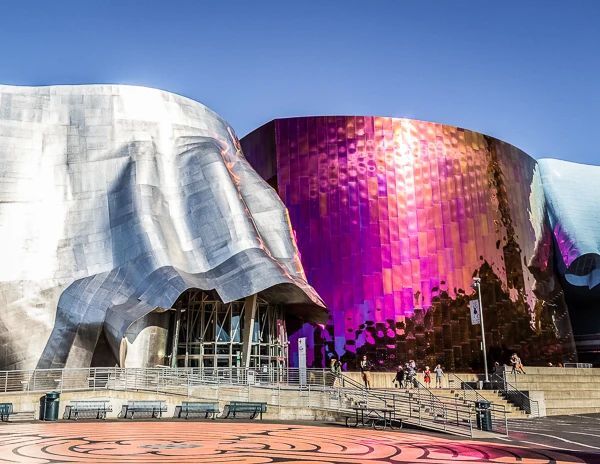 The Museum of Pop Culture, also known as MoPOP, is a unique museum located in Seattle that celebrates the history and culture of popular music and pop culture, like iconic events, TV shows, movies, and more. The museum features diverse exhibits, including interactive installations, rare artifacts, and multimedia displays.
One of the highlights of MoPOP is the Sound Lab, where visitors can experiment with different instruments and recording techniques. So if you're traveling with anyone into music, this would be a cool stop on the Seattle itinerary.
You can spend about 2-3 hours here.
Go on a Coffee Tour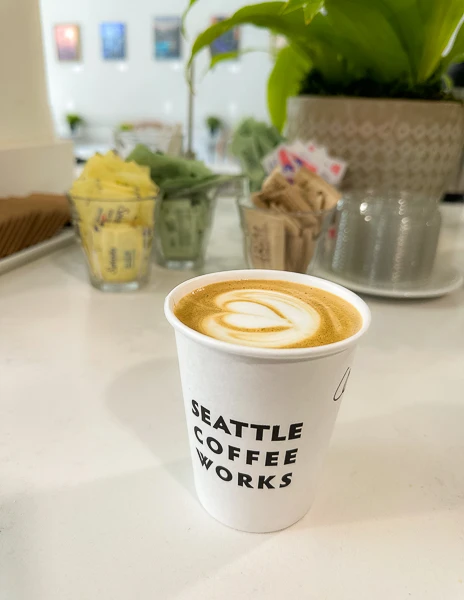 A Coffee Tour may have you buzzing by the end of it. But with Seattle's thriving coffee culture, it's a great way to explore high-quality coffee, explore different neighborhoods, learn about coffee culture, and support local businesses.
While it is cool that Starbucks originated there, there is more to Seattle's coffee culture than Starbucks.
Tour Idea:
Seattle Coffee Culture Tour [book here]
Cruise Port in Seattle, Washington: FAQs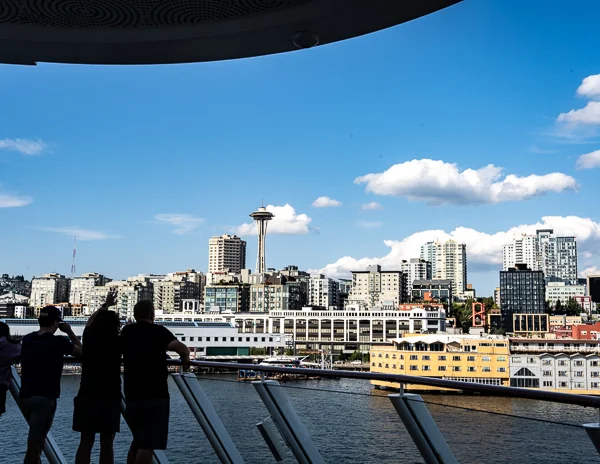 Where is the port in Seattle for cruise ships?
The Port of Seattle operates two cruise ship terminals in Downtown Seattle: The Bell Street Cruise Terminal at Pier 66 and The Smith Cove Cruise Terminal at Pier 91. Norwegian and Oceana operate out of Pier 66. All other cruise lines, like Celebrity, Royal Caribbean, Carnival, Holland America, operate out of Pier 91.
How far is the Seattle airport from the port for cruises?
The distance between the Seattle-Tacoma International Airport (SEA) and the two cruise ship terminals in Seattle varies depending on the terminal and traffic. It's approximately a 30-40 minute drive.
Where do the cruise ships dock in Seattle?
Depending on the cruise line, cruise ships dock at either Pier 66 near Pike Market Place in Downtown Seattle or at the north end of downtown at Pier 57.
What cruise terminal does NCL use in Seattle?
Norwegian and its sister cruise line, Oceana, dock at Pier 66. All other cruise lines dock at Pier 57.
What is the schedule of cruise departures from Seattle?
Cruise departures from Seattle typically occur between April and October, with most cruises departing during the peak summer months of June, July, and August. Specific departure dates and times may vary depending on the cruise line and itinerary. We recommend checking with the cruise line or consulting the Port of Seattle website for up-to-date departure schedules.
How can I get from the Seattle airport to the cruise port?
There are several transportation options from Seattle-Tacoma International Airport to the cruise port. You can take a taxi, use rideshare services like Uber or Lyft, or opt for airport shuttle services. Alternatively, public transit is available via the Central Link Light Rail that connects the airport to downtown Seattle, from where you can take a taxi to the cruise terminal.
🚢 Book a cruise sailing from Seattle
Alaska Cruises from Seattle w/ Free On Board Credit + Discounts on Shore Activities
In advance of your cruise, don't miss these related articles:
Share the tips & love on Pinterest: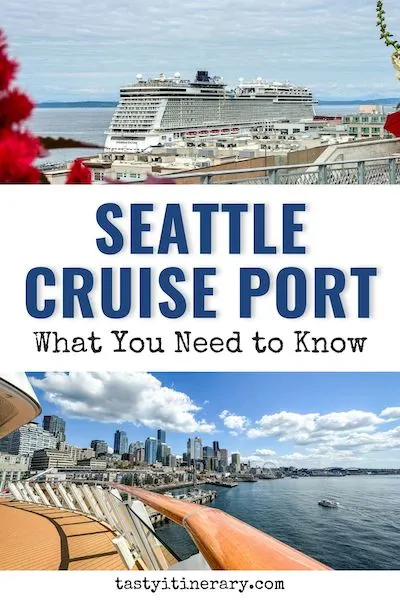 Quick Cruise Planning Guide
Where to book a cruise?
We like to shop around before booking by going directly to the cruise line and checking out the deals on GoToSea, CruiseDirect.com, Costco Travel, and Cruise Compete. Ultimately, the best advice is to find a travel agent you can trust to help you book a cruise.
Hotels for pre-cruise and post-cruise stays
We always use Booking.com or Hotels.com to book international accommodations and Expedia or Hotels.com for US accommodations. Airbnb or Vrbo for vacation rentals.
Can I book my own shore excursions?
Yes, you'll save money booking your own excursions and not with the cruise ship. We like to use Viator or WithLocals. Don't forget to read up on our tips for booking.
Car Rentals
We like to rent a car at cruise ports and for the freedom to explore on our own when the destination makes sense. We also sometimes rent cars during our pre-cruise stay or on embarkation day.
Should I book cruise insurance?
Yes! Cruise insurance is essential. We always book with a third party rather than the cruise line. Compare pricing on Insuremytrip.com.
Packing for a Cruise? Don't miss our essential cruise packing list.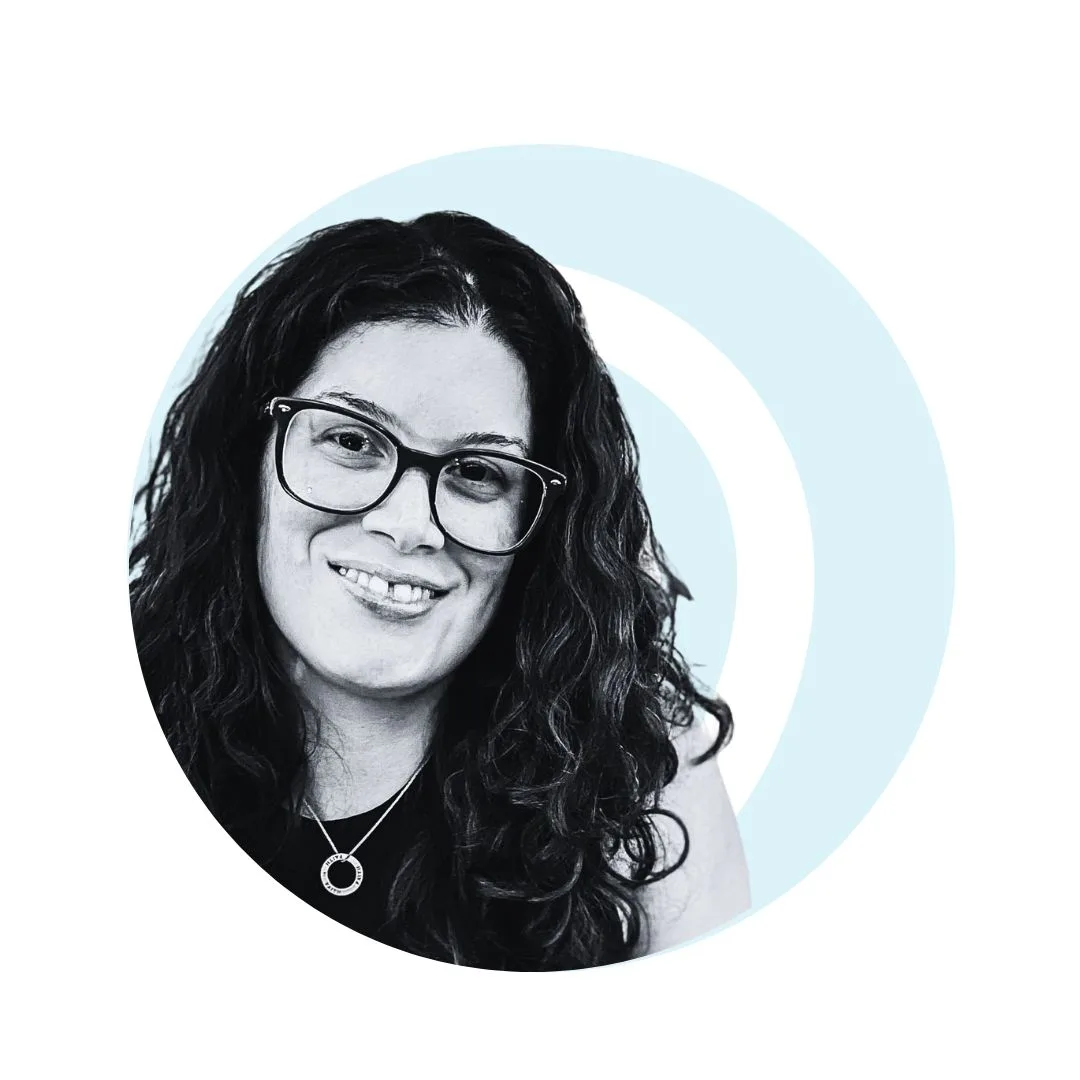 Meet Kathy Ava – a food, travel, and cruise writer based in Los Angeles/Pasadena. With over 20 years of experience planning trips and logistics at her full-time job and for herself, she's become a pro at crafting unforgettable travel itineraries. She's always looking for delicious, fun cruise itineraries and travel destinations and is slightly obsessed with Italy. Her passion and curiosity for travel started in childhood on her yearly and sometimes bi-yearly trips to PR. She firmly believes that life is short and we must make the most of it – so let's explore the world and make some incredible memories.