Cruise disembarkation day marks the end of our time on the cruise ship. Sadly, we do have to get off the ship at some point. You should know some tips and options to make the disembarkation day process smoother.
Sigh, disembarkation day.
Cruise disembarkation day is a travel day. You'll either travel home or proceed to another destination or you'll be extending your cruise by a few days in the disembarkation port or a nearby destination.
Disembarkation day is usually an afterthought because we refuse to start thinking about the end of our cruise vacation during our cruise planning days. Disembarkation day is not our favorite, unlike embarkation day, which is full of excitement. It's a sad day.
Not only do we have to leave behind the luxury of the cruise ship, but you have to figure out the logistics of disembarking, going through immigration, and then transportation to the airport.
If there is one thing about disembarkation day we can all agree on is that we want to disembark the cruise ship as quickly and efficiently as possible without any problems.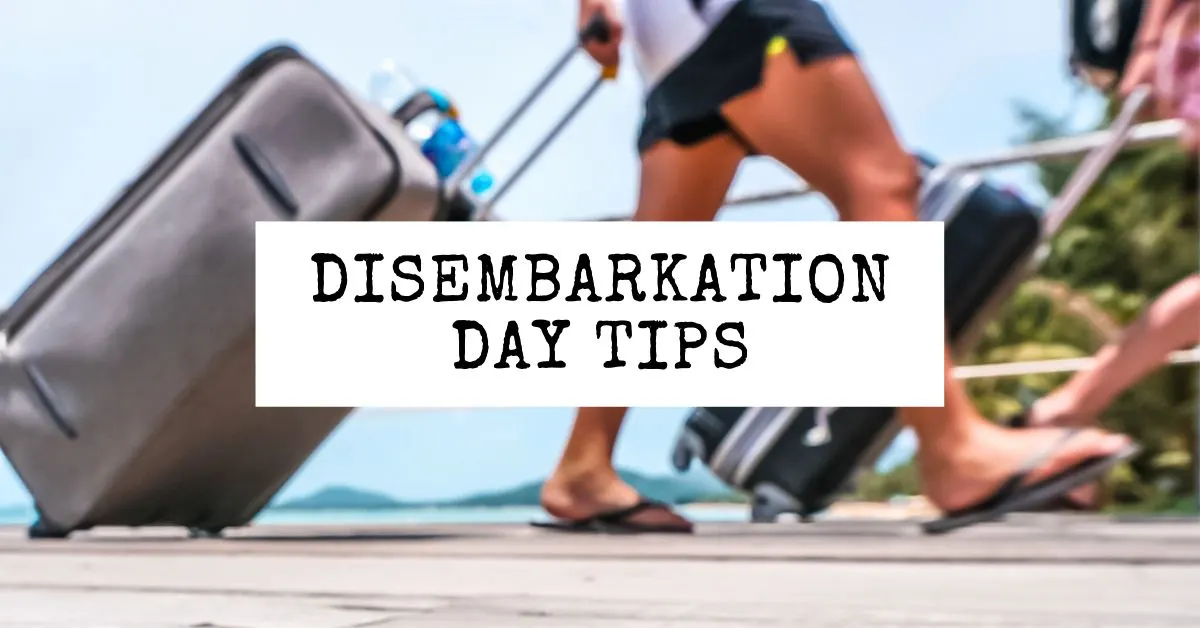 This post may contain affiliate links, which means we'll receive a commission if you purchase through our links at no extra cost to you. Please read full disclosure for more information. We appreciate your support!
In this article, we discuss tips and options for cruise disembarkation day. You can do a few things to make the disembarkation day smoother and less stressful.
Table of Contents
Disembarkation Day FAQs
What is the disembarkation process?
The cruise disembarkation process is when all the passengers have to leave the cruise ship and go through customs. Usually, the disembarkation happens in groups.
The disembarkation process on a cruise ship can vary. You are assigned a disembarkation time dependent on your flight out or can choose your own time. Color-coded luggage tags matching that group time will be provided, or you will need to pick them up near guest services (NCL has them by the guest services desk). You can also choose to do self-disembarkation.
If you choose not to do self-disembarkation day, pack your luggage the night before and leave it outside your cabin door before midnight.
On disembarkation day, the cruise disembarkation process usually starts at around 8 am. Usually, passengers with priority disembarkation and airport transfers sponsored by the cruise will be called first, followed by self-disembarkation and color-coded groups.
Once your group is called, you will disembark the ship.
You will go through security and then immigration. After that, you can retrieve your luggage from the baggage claim area.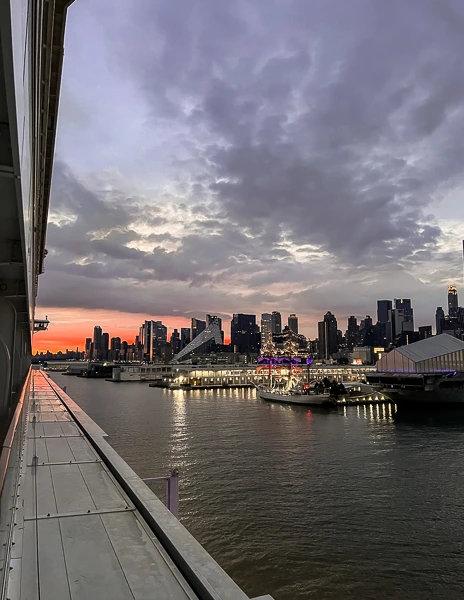 What should we not do on disembarkation day?
There are a number of things you shouldn't do on disembarkation day, including not sleeping in late, not packing, and not disembarking without all of your belongings.
What time do you have to be out of your cabin on disembarkation day?
You will need to be out of your cabin by 8 am.
Is there breakfast on disembarkation day?
Yes, breakfast is served on cruise disembarkation day. You can visit the buffet or sit in the main dining room for one last breakfast. Some cruise lines allow you to order room service.
What time do you disembark a cruise ship?
The time passengers can disembark a cruise ship can vary depending on several factors, such as the ship's arrival time and how long it takes for local authorities to clear the vessel. Generally, cruise ships are cleared for passengers to debark between 7 and 9 a.m.
However, it's important to note that the earliest time to disembark a cruise ship can vary. Some first-time cruisers may assume that the scheduled time a ship returns to port is the first opportunity to disembark, but this is not always true.
12 Cruise Disembarkation Day Tips
Tip # 1: Book Your Return Flights No Earlier Than Noon
Booking flights to and from the cruise port city is part of planning your cruise. We recommend booking your return flights for noon or later on disembarkation day.
You MAY be able to book a flight that leaves as early as 11 am, but that will depend on how far the airport is from the cruise port.
Cruise ships are almost always on time at port and start disembarking between 7 am and 8 am, depending on the itinerary. However, sometimes there can be delays.
It's better to be safe than sorry and book a later flight so you're not rushing to disembark the cruise ship, go through customs, and get to the airport on time.
Tip # 2: Choose to Do Self-Disembarkation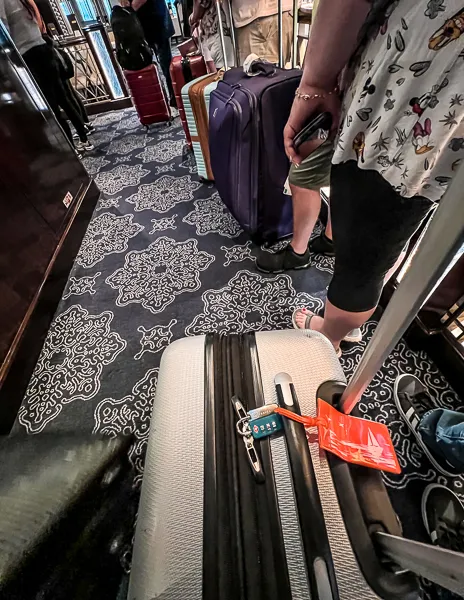 What is self-disembarkation? It's when you disembark the cruise ship on your own without the help of the cruise staff.
To do this, do not place your luggage outside your cabin the night before and keep it with you. You'll be able to disembark early as self-disembarkation is one of the first groups.
You don't have to run to get off when called, but you'll be able to disembark at your leisure and not have to wait or look for your luggage at baggage claim. You can go straight through immigration and exit the terminal.
This is usually our preference. But keep in mind how much luggage you can manage on your own.
Going on a cruise ship vacation? What are cruise luggage tags? Do you need them? And, how do you attach cruise luggage tags? We go over some of the most asked questions, how to print and attach them, and the most popular cruise luggage tag holders on the market, so you can choose what works best for you!
Tip # 3: Check Your Bill Throughout the Cruise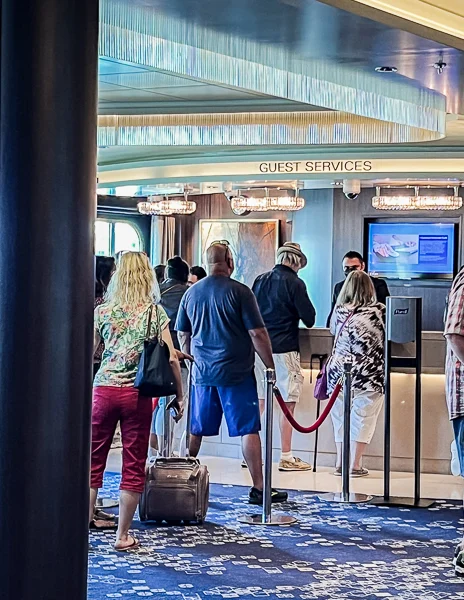 Be sure to check your bill every day or so during the cruise. If there are any discrepancies, you can have them fixed before disembarkation day. It's much harder to fix things on disembarkation day with everything going on.
You'll want to avoid the long lines at guest services the night before disembarkation day. The morning of disembarkation day is even worse.
Tip # 4: Don't Wait Till Disembarkation Day to Pack
If you're taking your own luggage off the ship, start packing your luggage the night before disembarkation day. This way, you're not rushed in the morning, and you can take your time to double-check that you have everything.
Tip # 5: Don't Forget to Take All of Your Belongings
This seems like an obvious tip, but it's one that people often forget. Be sure to double-check your room for anything you may have left behind. It's easy to forget things when packing and preparing to leave.
Check under the bed, in the closets, and the drawers.
What not to pack for a cruise? We've covered all the cruise essentials you should pack for your cruise, but do you know what not to bring on a cruise? These items are prohibited on cruise ships. Your luggage could end up in the naughty room if you pack one of these items. Keep them out of your cruise packing list.
Tip # 6: Have Breakfast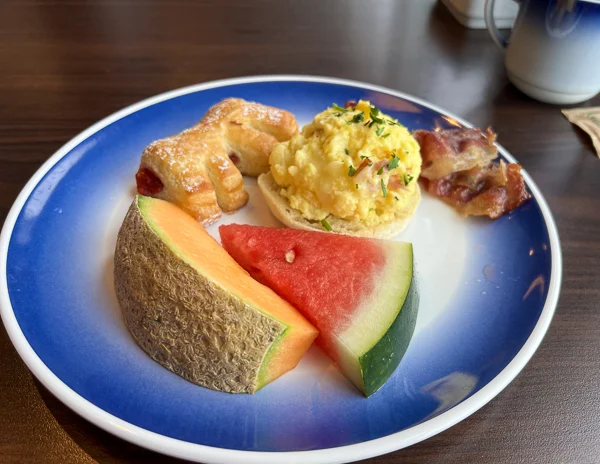 Before disembarking the cruise ship, try to have some breakfast. Even though you're about to get off the cruise ship, this last breakfast is still included and part of your cruise vacation.
If it's open, this is a good opportunity to have one last meal in the main dining room.
Visit the buffet.
You can order room service if it's available on the last day. At least have them deliver coffee and pastries, bright and early. Use it as a wake-up call to start getting ready.
Cruise Tip: The last cruise daily for disembarkation day will be delivered to your room the night before. Give the daily a quick look and see what's open for breakfast disembarkation day morning. Depending on the ship, they may have other things open besides the standard buffet and then plan accordingly.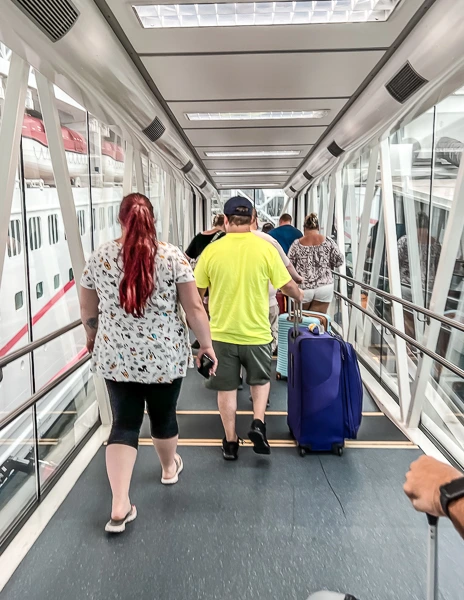 Tip # 7: Have Your Cruise Card Available
Your cruise isn't over until you have signed out with your cruise card. As you disembark, have your cruise card available so they can scan it.
You can keep the cruise card as a memento.
Tip # 8: Be Prepared for Customs
Be prepared for customs by having your passport or other government identification ready for a customs patrol agent to check on your way.
Sometimes, the night before, you may also be asked to fill out a disembarkation form asking for your name, address, and other basic information. You would hand that over to the customs patrol, as well.
Tip # 9: Book an Airport Transfer with the Cruise Line
Book your flights and then book an airport transfer with the cruise line.
The benefit of booking an airport transfer with the cruise line is that the cruise line organizes it, and they work with the disembarkation process.
You will be given a time and place to meet on the ship with other cruises that purchased the transfer. Then be one of the first groups escorted off the ship. The airport transfer will be there and ready to pick you up and take you to the airport.
If you book a private airport transfer or take a taxi, they may not be as familiar with the disembarkation process and may not show up on time or too early.
For example, they will know and adjust their timing if your cruise disembarkation time is delayed. With a taxi or private transfer, you may have to call them and tell them the new cruise disembarkation time, which can be a hassle.
Planning and booking shore excursions for your cruise vacation? How do you book a shore excursion? What helpful cruise excursion tips will help you book and plan them independently? Helpful tips for booking shore excursions to save money, make the most of your time in your port destination and make amazing memories.
Tip # 10: Consider a City Tour for Late Flights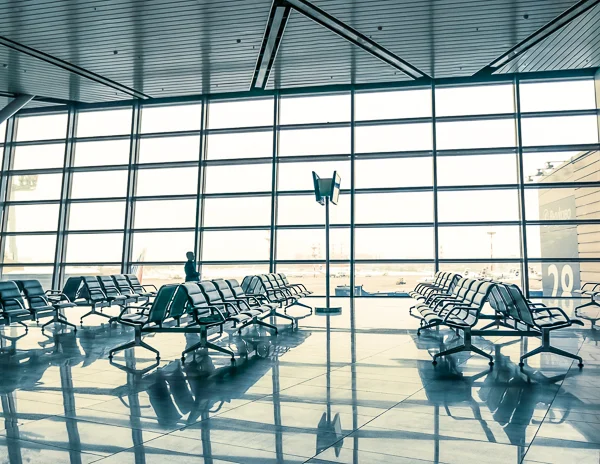 Sometimes we can't avoid booking a late flight out of the disembarkation port city. Nobody wants to sit around the airport for hours waiting for a flight.
If your flight is in the afternoon or evening, consider booking a half-day city tour with the cruise line. This way, you can disembark the cruise ship, tour the city, and then be dropped off at the airport in time for your flight.
Your luggage comes with you on tour and is safely put away until you are dropped off at the airport.
If you have no choice but to wait at the airport for more than 4 hours, consider purchasing a lounge pass for the day. Lounges are a more comfortable way to spend days passing the time in the airport. There is comfortable seating, work stations, food, and drinks included, which are just a few of the lounge amenities. Take advantage of a credit card that offers you lounge access.
Tip #11: Late Departure Flight? Rent a Car for Half a Day
Another option, if your flight is in the afternoon or evening, is to disembark the cruise ship, rent a car for half a day, and explore independently. We've done this multiple times.
We look for the closest car rental agencies near the cruise port and book a car for the day. We'll disembark the cruise and grab a quick Uber or taxi to the car rental agency. Sometimes we can even walk there.
This sometimes turns out to be way cheaper than a cruise line transfer, especially if it's more than two people in your group.
We get to spend our morning and afternoon as we wish, safely storing our luggage in the car's trunk. Then we drove to the airport to drop off the car and take our flight.
Find a car on rentalcars.com.
Tip # 12: Consider Using a Luggage Valet Service
If your cruise line offers luggage valet service, consider booking this in advance for disembarkation day. With this service, everything from the flight check-in process to your luggage is handled for you.
You will receive a boarding pass and luggage tags from the airline, ready to go. You must put your luggage outside the night before disembarkation day, and they will take care of the rest.
You won't have to worry about dragging your luggage around as you disembark the cruise ship and go through customs. You won't see your luggage again until you arrive at your home airport.
Cruise Tip: Don't forget to leave out clothes and anything you'll need to get ready on the morning of disembarkation day. You don't want to wake up realizing that you packed it all away in your luggage and end up having to wear pajamas to get off the ship. Keep a small carry-on bag with you with necessities.
122 Quick & Helpful Cruise Tips
We've gathered 122 of our top cruise tips and cruise hacks to help make your planning process smoother and your cruising experience even more fabulous.
Share the tips & love on Pinterest: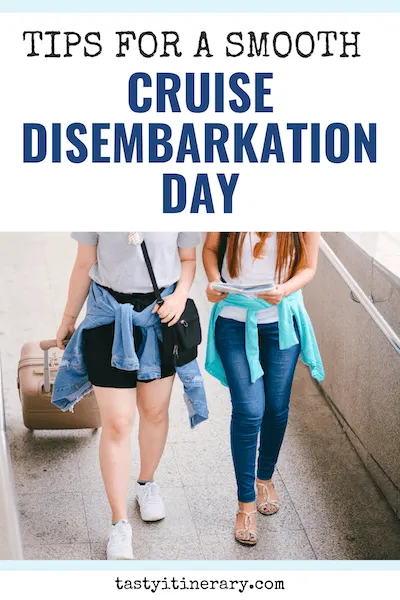 Quick Cruise Planning Guide
Where to book a cruise?
We like to shop around before booking by going directly to the cruise line and checking out the deals on GoToSea, CruiseDirect.com, Costco Travel, and Cruise Compete. Ultimately, the best advice is to find a travel agent you can trust to help you book a cruise.
Hotels for pre-cruise and post-cruise stays
We always use Booking.com or Hotels.com to book international accommodations and Expedia or Hotels.com for US accommodations. Airbnb or Vrbo for vacation rentals.
Can I book my own shore excursions?
Yes, you'll save money booking your own excursions and not with the cruise ship. We like to use Viator or WithLocals. Don't forget to read up on our tips for booking.
Car Rentals
We like to rent a car at cruise ports and for the freedom to explore on our own when the destination makes sense. We also sometimes rent cars during our pre-cruise stay or on embarkation day.
Should I book cruise insurance?
Yes! Cruise insurance is essential. We always book with a third party rather than the cruise line. Compare pricing on Insuremytrip.com.
Packing for a Cruise? Don't miss our essential cruise packing list.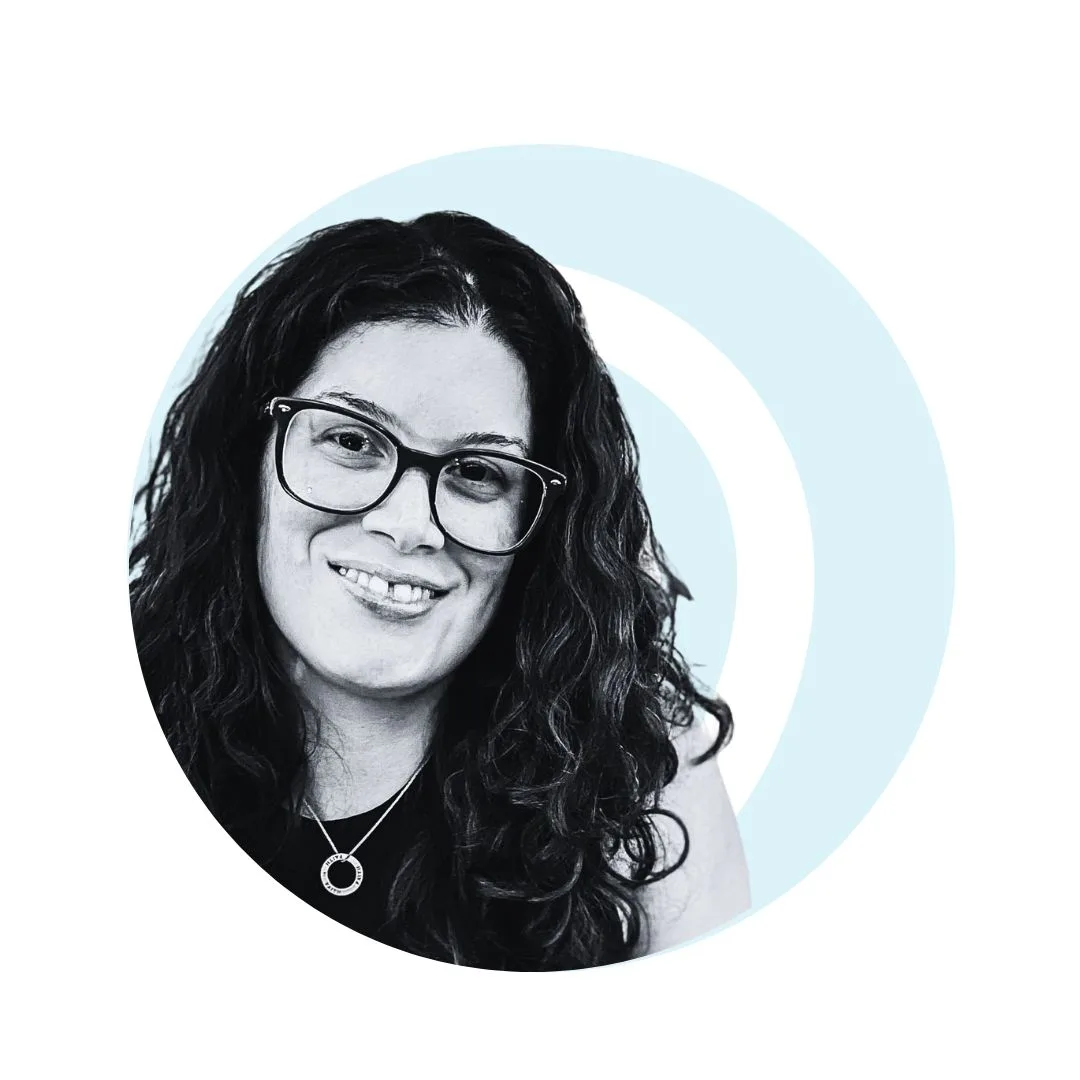 Meet Kathy Ava – a food, travel, and cruise writer based in Los Angeles/Pasadena. With over 20 years of experience planning trips and logistics at her full-time job and for herself, she's become a pro at crafting unforgettable travel itineraries. She's always looking for delicious, fun cruise itineraries and travel destinations and is slightly obsessed with Italy. Her passion and curiosity for travel started in childhood on her yearly and sometimes bi-yearly trips to PR. She firmly believes that life is short and we must make the most of it – so let's explore the world and make some incredible memories.