Are you looking for a cruise drink package calculator? Our simple calculator will help you easily determine if purchasing a beverage drink package with the cruise line is cost-effective and within your budget.
Is the cruise drink package worth it?
There are many factors to consider when planning a cruise vacation. One of them is whether to purchase a cruise drink package or not. Endless drink options are available on a cruise ship, but most cruise lines do not include soda, alcoholic beverages, and specialty coffees in their standard cruise fare.
If you plan on enjoying a cocktail or two during your trip, you must pay for them separately. And this is where a cruise drink package comes in handy.
A cruise drink package can be expensive, but sometimes, it is offered as a perk upon booking or heavily discounted to make it worthwhile. This is all dependent on the cruise line and its offerings.
For example, Norwegian's Free-at-Sea Beverage Package is a free perk that can be added upon booking a cruise during their promotions. The catch is that you still have to pay 20% gratuities of its value. That can add up, so you'll need to calculate if that 20% will cover the cost of what you plan to drink or more.
A cruise drink package can also simplify your experience, allowing you to enjoy various beverages without paying for them individually. You can drink as much as you want and not have to ever look at your account balance.
But how do you know if a drink package suits your budget and drinking habits? That's where a Cruise Drink Package Calculator comes in handy.
The calculator simplifies the decision-making process by estimating your costs so you can decide if a drink package will ultimately save you money. It's as simple as calculating the cost of what you think you'll drink per day and multiplying that by the number of cruise days you'll be saving.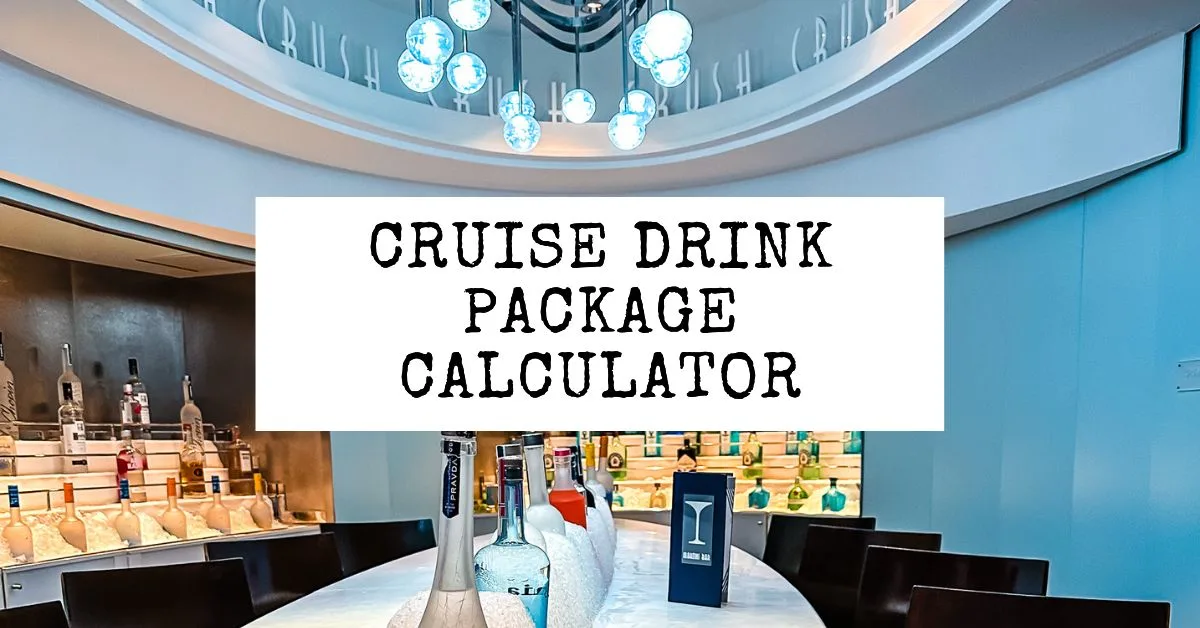 This post may contain affiliate links, which means we'll receive a commission if you purchase through our links at no extra cost to you. Please read full disclosure for more information. We appreciate your support!
If you don't want to do the math, this calculator will do it for you.
It's important to remember that drink packages differ between cruise lines, with varying options and prices. It's crucial to understand the beverage package cost for the specific cruise line you're traveling with and the approximate cost of the drinks you plan on consuming.
What is a drink package on a cruise?
First, what is a cruise drink package? Also known as a beverage drink package.
A drink package on a cruise is a pre-paid program that allows guests to enjoy a variety of beverages at a discounted price.
The specific details of each drink package can vary depending on the cruise line and the package you choose, but here are some general features:
A drink package may include a variety of alcoholic and non-alcoholic beverages, such as soft drinks, bottled water, juices, coffee, tea, beer, wine, and cocktails.
Some drink packages may have a daily limit on the number of drinks you can have (e.g., Carnival), while others may offer unlimited drinks during the cruise.
Drink packages are typically priced per person and can be purchased before the cruise or onboard.
When you purchase a drink package, it is linked to your cruise key card and sometimes stamped with the drink package's abbreviated code. For example, SODA on a Norwegian cruise key card means you have the Soda Package.
It's important to note that drink packages normally do not cover drinks ordered through room service or from minibars in your cabin.
Some cruise lines may also charge a gratuity or service charge for the drink package, which will be added to your overall cruise fare. If you know the cost of the drink package, use our cruise gratuities calculator below.
Benefits of a Cruise Drink Package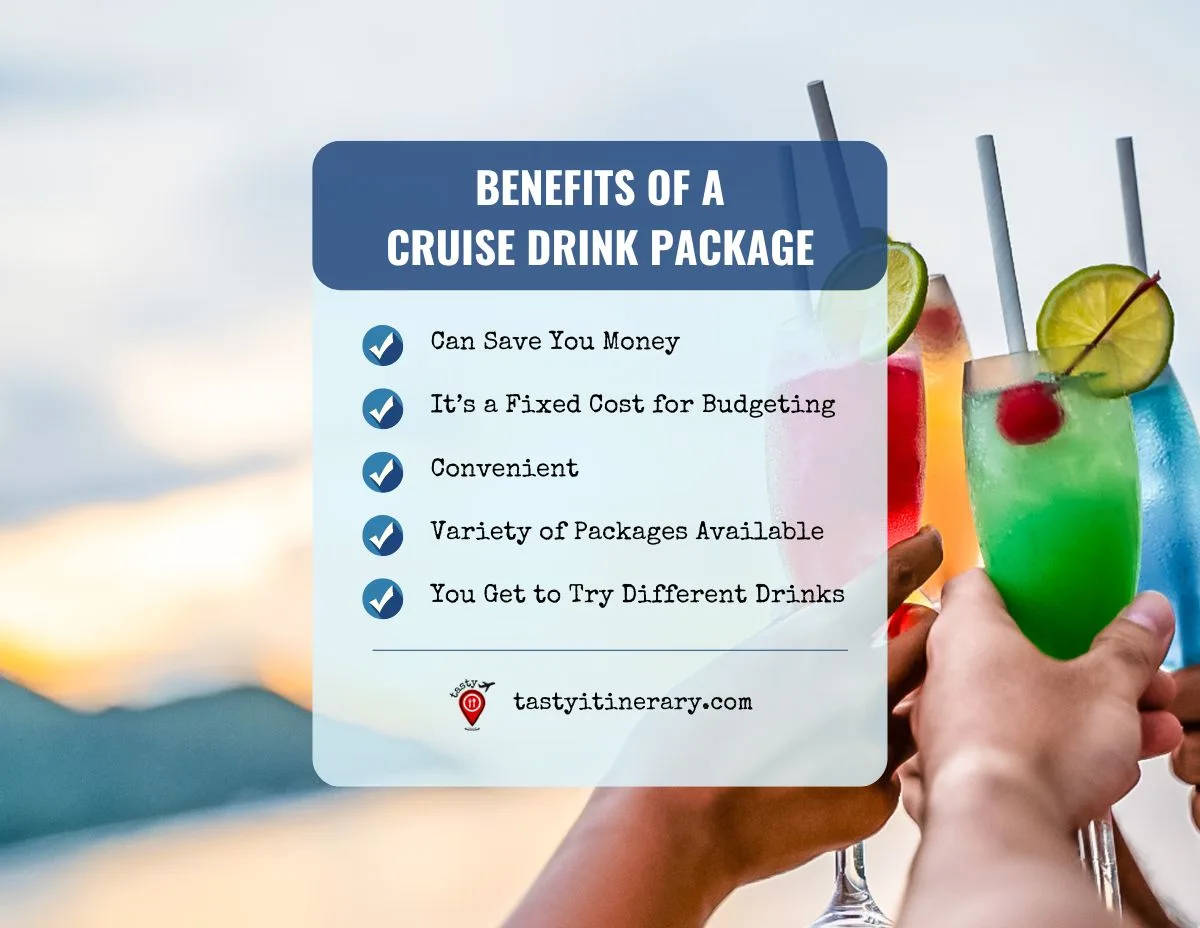 1. Cost Savings
Depending on your drinking habits, purchasing a drink package can save you money compared to buying individual drinks.
You must do the math and use the cruise drink package calculator to see whether the cost of a cruise drink package is worth it. Will the amount of drinks you plan to have during your cruise pay for the package or more?
Sometimes, those savings come in a discounted bundle when booking a cruise. Adding it to your cruise fare may be a no-brainer after you do the math.
Again, do the math.
2. It's a Fixed Cost
We look at the drink package as a fixed cost. Our drinks are paid for in advance, allowing us to better budget our vacation expenses and avoid surprises when settling the bill at the end of the trip.
It ultimately gives us a sense of relaxation and peace of mind.
3. Convenience
A significant benefit for us is convenience. With a drink package, we can order our favorite beverages without worrying about the individual prices and racking up an account balance. It's easy to order what we want, have them swipe the card, and be on our way.
4. Variety
Some cruise lines offer different drink packages to cater to different tastes and preferences. You may choose a package for beer & wine, specialty coffee, or non-alcoholic beverages.
5. You Get to Try Different Drinks
Another plus is that we can freely try out different cocktails, wines, and drinks that we might not have ventured to sample otherwise.
Even my husband, a sober cruiser, uses his drink package to try out different mocktails. He never would have ventured out from coffee, water, and soda had he not had a drink package.
Cruise Drink Package Calculator
A Cruise Drink Package Calculator simplifies decision-making by estimating costs.
Drink packages differ greatly in offerings and pricing from one cruise line to another. Know the cost of the drink package (we provide a simple list below of major cruise lines) and compare it to the total estimated cost the calculator gives you.
Compare the cost of the beverage package to the estimated cost calculated that you think you'll drink for the entirety of your cruise.
The cruise gratuities calculator below will help you figure out how much cruise gratuities will be if you know the subtotal cost of the package.
→ Bookmark this page and return to it as needed.
Drink Package Cost by Cruise Line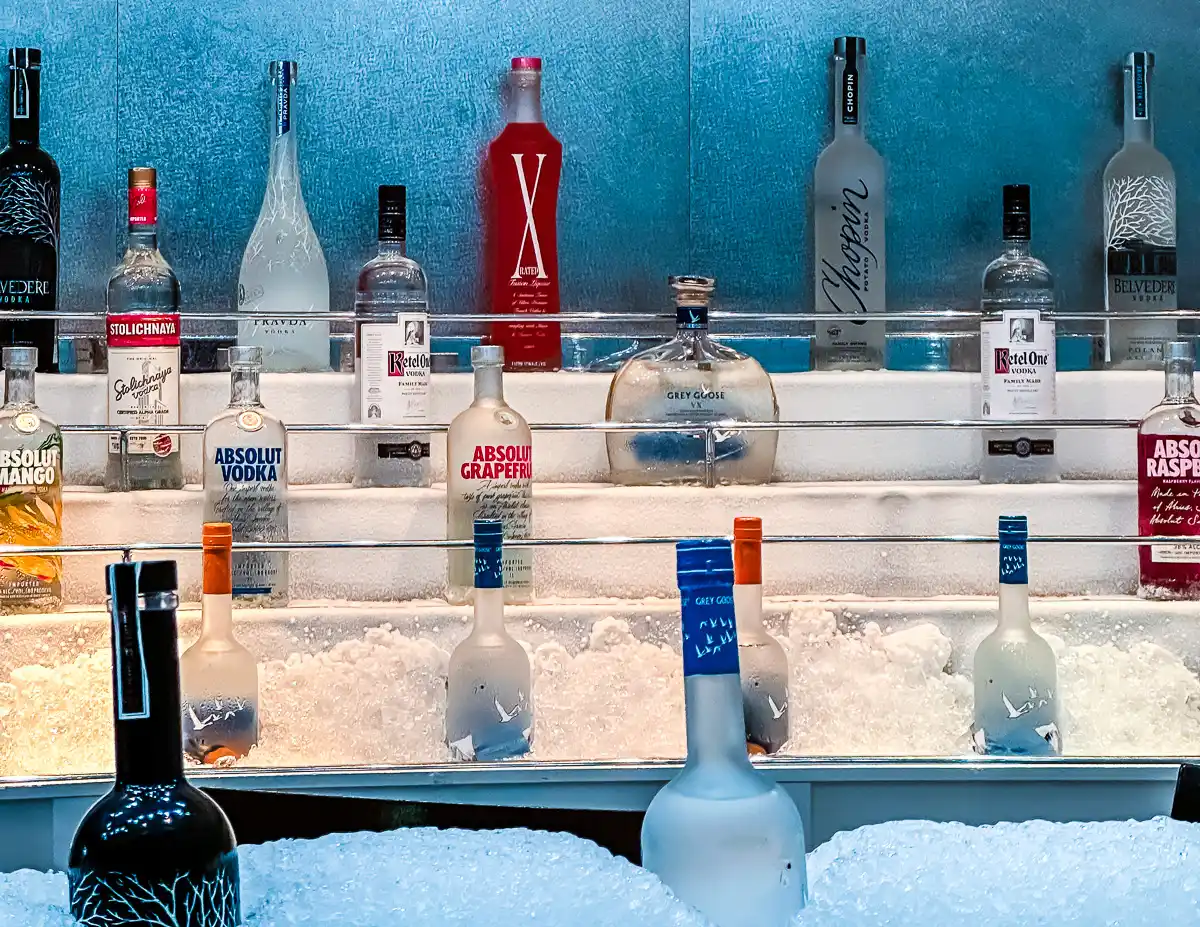 Norwegian Cruise Line
Free-at-Sea Unlimited Open Bar Perk: Gratuities only of $21.80 per person daily
NCL Premium Beverage Package: $109 per person daily, plus 20% gratuity
NCL Premium Plus Beverage Package: $138 per person daily, plus 20% gratuity
Read more: Norwegian Cruise Line's Drink Packages Explained
Celebrity Cruise Line
Classic Package: $89 per person daily, plus 20% gratuity
Premium Package: $108 per person daily, plus 20% gratuity
Zero Proof Package: $30 per person daily, plus 20% gratuity
Royal Caribbean Cruise Line
Note: RCL's beverage packages' cost varies and depends on the cruise ship and sailing.
Deluxe Beverage Package: $56 to $105 per person daily, plus 18% gratuity
Refreshment Package: $29 per person daily, plus 18% gratuity
Carnival Cruise Line
CHEERS! Package: $59.95 per person daily, plus 18% gratuity, if purchased before embarkation day
Princess Cruise Line
Plus Beverage Package: $64.99 per person daily, plus 18% gratuity
Premier Beverage Package: $84.99 per person daily, plus 18% gratuity
Zero Alcohol Package: $29.99 per person daily, plus 18% gratuity
Holland America Cruise Line
Elite Beverage Package: $59.99 per person daily, plus 18% gratuity
Signature Beverage Package: $54.95 per person daily, plus 18% gratuity
Quench Package: $17.95 per person daily, plus 18% gratuity
Have It All: $50 per person daily, plus 18% gratuity (note: this package includes the signature beverage package and other perks like specialty dining and WiFi)
Are drink packages on cruises worth it?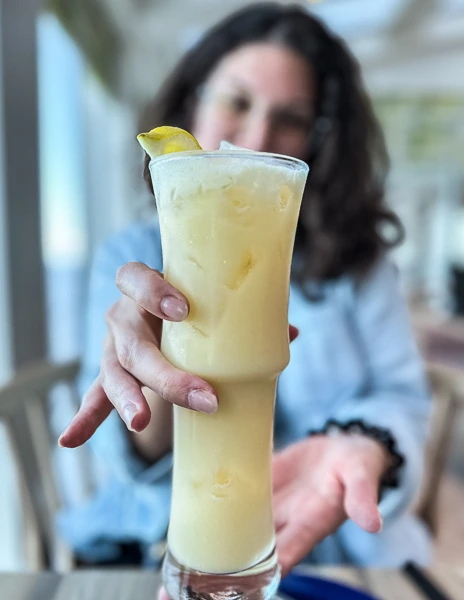 From experience, with each cruise we plan, we always calculate and determine if a beverage package will be worth it. This cruise drink package calculator will be super helpful for us with future cruises going forward.
Determining whether drink packages on cruises are worth depends on various factors and is always a personal choice regarding budget and convenience.
You must first consider your drinking habits and how much you plan to consume during the trip.
A package may not be necessary if you enjoy a 1-2 daily unless it is given to you for free or almost free as part of a promotion.
However, a package can be cost-effective if you plan on drinking more frequently. Compare the package's cost to the price of individual drinks and calculate if it aligns with your budget.
My husband is sober, yet he loves premium sparking water, specialty coffee, and sometimes mocktails, so sometimes, depending on the cruise line, the calculations tell us which package is worth it. Sometimes, that's the Soda Package or maybe something slightly better, like Celebrity's Zero Proof Package.
We'll always purchase or upgrade before embarkation day to get those early discounts. Making it worth it to us.
FAQs
Is it cheaper to buy a drinks package before the cruise?
Buying a drinks package before the cruise is often cheaper than onboard. This is because cruise lines often offer pre-cruise discounts, which can save you money.
How much will I spend on drinks on a cruise?
The amount you will spend on drinks on a cruise can vary widely depending on several factors, such as your drinking habits, the type of drinks you prefer, the cruise line you choose, and the length of your cruise.
That said, you could also spend as little as 0 dollars on drinks if you stick to the water, regular coffee, iced tea, and other juices offered in the buffet that are usually included in the cruise fare.
Cruise drink expenses can rack up quickly if you do not purchase a drink package. A single cocktail can cost anywhere from $8 to $15, while a glass of wine can cost $10 to $15. Soft drinks and bottled water can also range from $2 to $5 per drink.
How to add a drink package to a cruise?
To add a drink package to your cruise, you can typically go onto the cruise line's website to add it to your reservation or call customer service, or you can have your travel agent do it for you. You can also purchase a beverage package once onboard, but you may miss pre-boarding discounts.
Ultimately, is the cruise drink package worth it? Let us know in the comments if you decide to purchase the beverage package.
In advance of your cruise, don't miss these related articles:
Share the tips & love on Pinterest: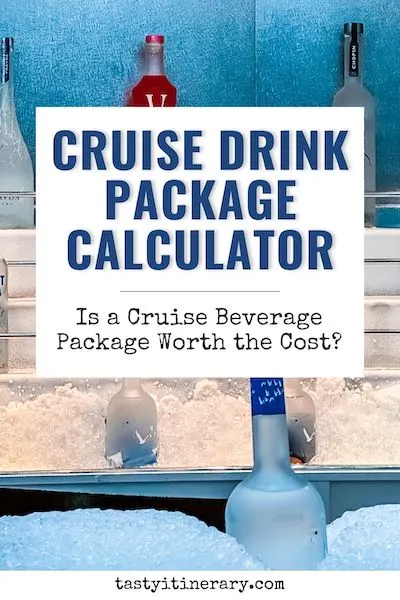 Quick Cruise Planning Guide
Where to book a cruise?
We like to shop around before booking by going directly to the cruise line and checking out the deals on GoToSea, CruiseDirect.com, Costco Travel, and Cruise Compete. Ultimately, the best advice is to find a travel agent you can trust to help you book a cruise.
Hotels for pre-cruise and post-cruise stays
We always use Booking.com or Hotels.com to book international accommodations and Expedia or Hotels.com for US accommodations. Airbnb or Vrbo for vacation rentals.
Can I book my own shore excursions?
Yes, you'll save money booking your own excursions and not with the cruise ship. We like to use Viator or WithLocals. Don't forget to read up on our tips for booking.
Car Rentals
We like to rent a car at cruise ports and for the freedom to explore on our own when the destination makes sense. We also sometimes rent cars during our pre-cruise stay or on embarkation day.
Should I book cruise insurance?
Yes! Cruise insurance is essential. We always book with a third party rather than the cruise line. Compare pricing on Insuremytrip.com.
Packing for a Cruise? Don't miss our essential cruise packing list.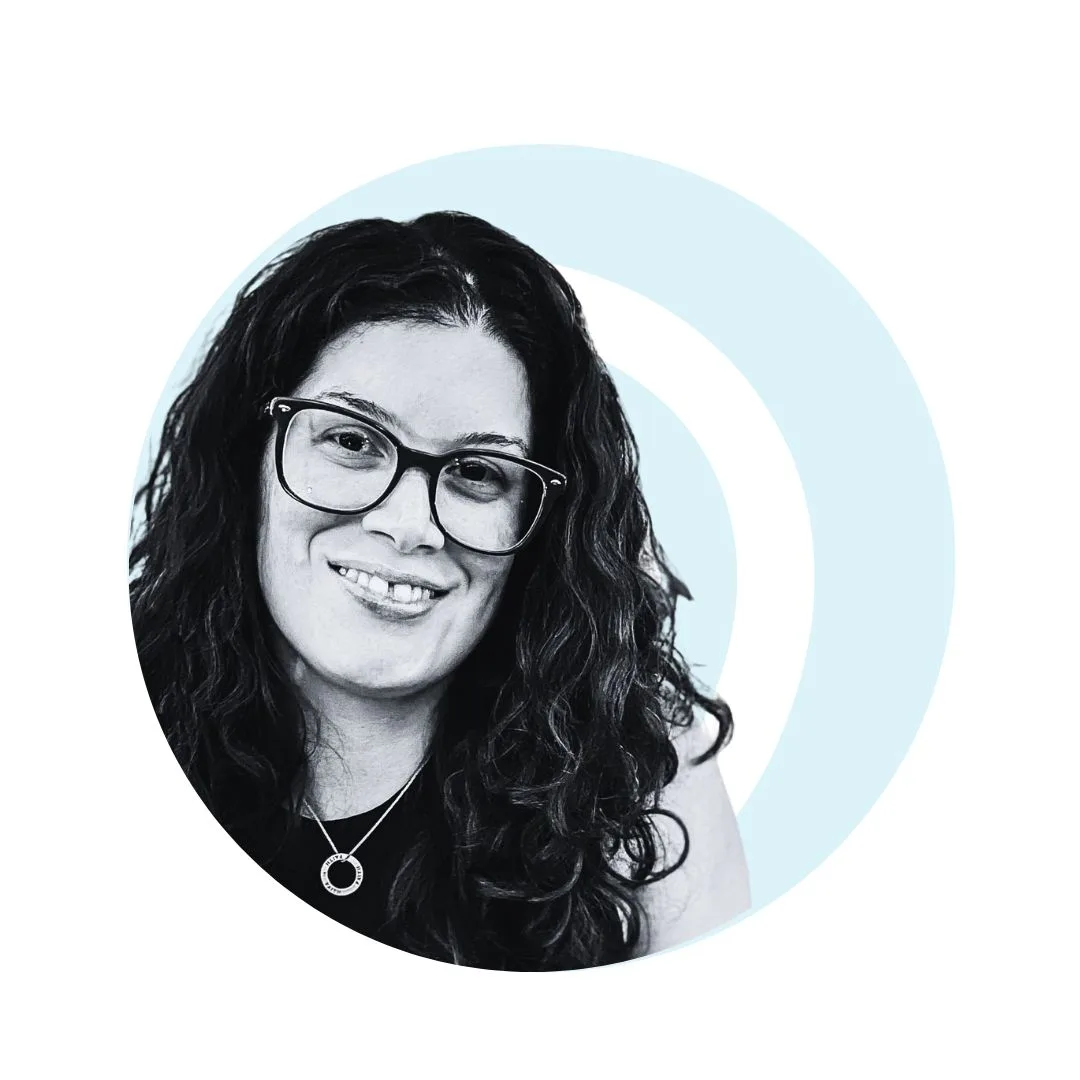 Meet Kathy Ava – a food, travel, and cruise writer based in Los Angeles/Pasadena. With over 20 years of experience planning trips and logistics at her full-time job and for herself, she's become a pro at crafting unforgettable travel itineraries. She's always looking for delicious, fun cruise itineraries and travel destinations and is slightly obsessed with Italy. Her passion and curiosity for travel started in childhood on her yearly and sometimes bi-yearly trips to PR. She firmly believes that life is short and we must make the most of it – so let's explore the world and make some incredible memories.