Cruising for the first time? Thinking about cruising for the first time? Like any trip, planning for a cruise vacation can be overwhelming. We've gathered 20 tips for first-time cruisers, so you don't make the same cruise mistakes we did on our first cruise.
If you're like us, your dream vacation probably includes a cruise. Cruising is a great way to see multiple destinations in one trip without packing and unpacking every few days.
However, cruising for the first time can be daunting – many things to consider. While we cover how to plan a cruise and prepare for a cruise, there are some things you should watch out for during the cruise planning process.
We boarded our first Royal Caribbean cruise to the Southern Caribbean over twenty years ago. It was a fantastic first cruise. We left with a great first impression of cruising. However, we made some first-time cruiser mistakes. If we could go back, we would do things differently.
For starters, we wish we had researched the cruise ports in advance and booked shore excursions. Instead, we got off the ship and wandered aimlessly at the ports. In some ports, there isn't much to do besides shopping.
Also, wish we should have packed a few essential cruise items and a swimsuit for hubby. We spent an extraordinary amount of time looking for a swimsuit for him at the first couple of ports.
We didn't know about drink packages, so we even failed to buy a basic soda package. Didn't learn about it until later in the cruise.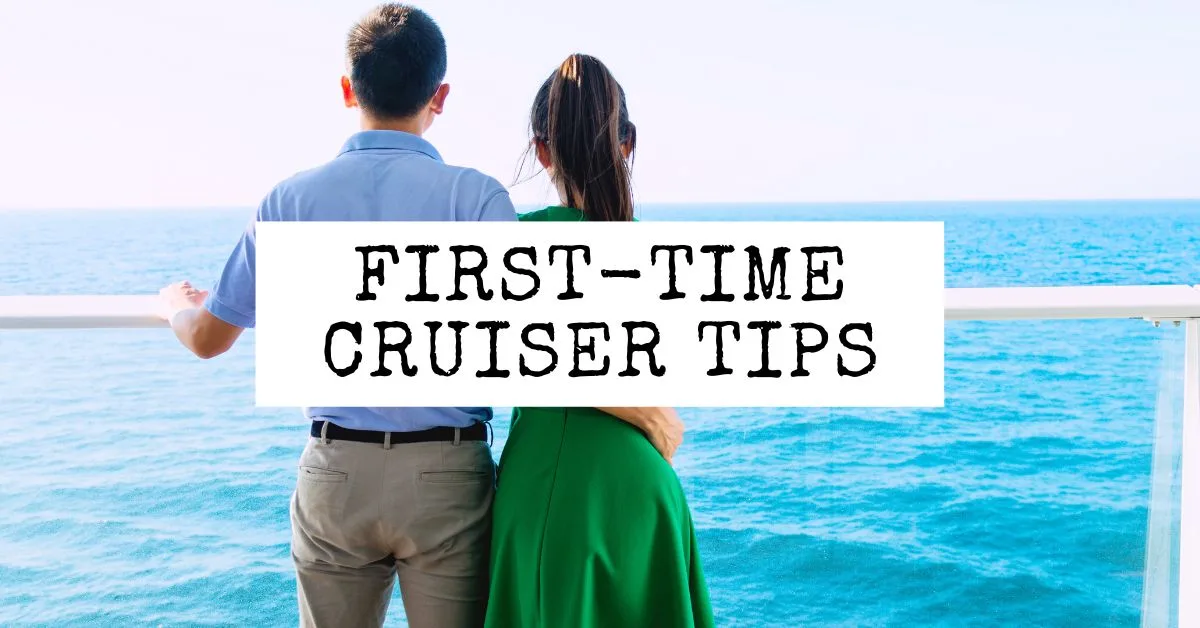 This post may contain affiliate links, which means we'll receive a commission if you purchase through our links at no extra cost to you. Please read full disclosure for more information. We appreciate your support!
These are just a few first-time cruise mistakes that we ponder and cringe at. We were somewhat clueless. But, it didn't turn us off from cruising, and we think that had a lot to do with the cruise line. Royal Caribbean was a solid choice for our first cruise at the time. This goes to show that picking a cruise line is important.
We've put together this list of tips for first-time cruisers. They should help you not make the same mistakes we did during our first cruise but also other typical cruise mistakes to avoid.
Tips for First-Time Cruisers
1. Don't Blindly Book Any Cruise Line & Cruise Ship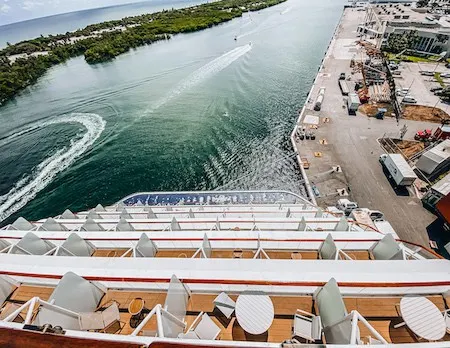 As mentioned above, picking the right cruise line can make or break a cruise vacation. But that first cruise will be the one to make that first lasting impression. A bad experience can lead to you deciding never to cruise again.
Even on our 2nd cruise, we were still making this cruise mistake. We blindly booked our first cruise with Carnival, not knowing much about the cruise line. It sailed from our home port and was going to Mexico, which seemed good enough then.
It was NOTHING like our Royal Caribbean cruise. It was terrible. We got off the ship, saying we would never cruise again. It took us 8 years to brave booking another cruise. Norwegian Cruise Line won us over, and we've been cruising since.
When you find a cruise line you love, it doesn't necessarily mean you have to cruise with that cruise line for the rest of your life. However, that first cruise may determine if cruise vacations are for you.
Choosing the right cruise line is as important as choosing the right cruise ship. Different ships cater to different types of cruisers. Some are better for couples, others for families, and some for solo travelers. Consider what cruiser you are and match that with the right cruise ship.
Do your research on the cruise line and the specific cruise ship you're considering sailing on. Read reviews, look at photos, and watch YouTube videos. Try to get a good feel for what the experience will be like before booking.
It's not so different from planning a vacation and choosing the right all-inclusive resort.
2. Don't Overlook the Ports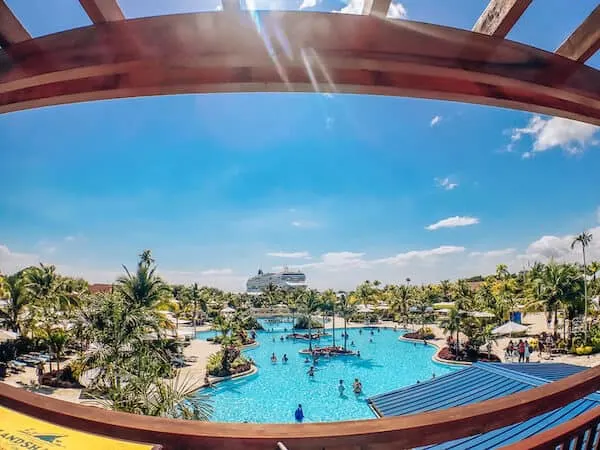 One of the most common mistakes first-time cruisers make when planning their cruise is not considering the ports they will visit. It's easy to get caught up in picking the right cruise line and ship, but also find an itinerary that interests you.
As you review the itinerary, check the times you'll be at each port. If you plan to get off the cruise ship, how much time you're at the port may not matter. However, if you want to do any shore excursions or plan to explore on your own, make sure there is enough time. Three hours at a port is not worth it.
Look at the number of sea days on the itinerary as well. You may want to pick a different sailing if there are too many. Too many sea days can be boring for some, while others enjoy them. You won't know if you will love sea days until you take your first cruise.
Shore days are one of the best parts of cruising. But if you don't consider the ports before booking, you may be disappointed with your choice.
3. Don't Forget to Read the Fine Print
When you book a cruise, there is always fine print that most people don't bother reading. But some things in the fine print can be important, especially for first-time cruisers.
One thing to look for is the cancellation policy. What is the cruise line's policy if you need to cancel your cruise for any reason? Most have a strict cancellation policy, but some may be more flexible.
In the fine print, you'll also find that itineraries are subject to change. The cruise line may need to change the itinerary for various reasons, including weather. If port changes or cancellations occur, the cruise line will try to substitute another port. But if that's not possible, they may give you a partial refund or credit for a future cruise.
Check when the final payment is due. Cruise lines expect final payment 4-6 months in advance.
122 Quick and Helpful Cruise Tips
We've gathered 122 of our top cruise tips and cruise hacks to help make your planning process smoother and your cruising experience even more fabulous.
4. Always Buy Travel Insurance
One of the most important tips for first-time cruisers is to purchase travel insurance. It's common for first-time cruisers to either decline or not realize the importance of travel insurance.
Travel insurance protects you in case of unforeseen circumstances, such as inclement weather, medical emergencies, or even sudden passing in the family. If you have to cancel your cruise, travel insurance will reimburse you for any non-refundable expenses if it meets their policy.
Cruise Tip: You don't have to buy travel insurance with the cruise line. You can buy it through a third party and add "cancel for any reason" for an additional cost. 
5. Don't Wait to Book Your Cruise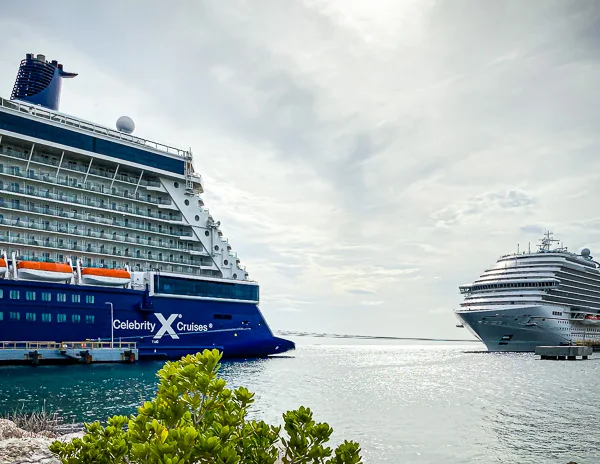 When it comes to booking your cruise, don't procrastinate. The earlier you book, the better. Not only will you have a better chance of getting the cabin type you want, but you may also get a lower price.
We recently booked a cruise over a year in advance from the sail date, and now four months later, the cruise cost has doubled.
It depends on the cruise destination, time of year, demand, and ship. Some Caribbean sailings are cheaper as it gets closer to the sail date. But if you can book last minute and take advantage of those last-minute sales, go for it.
Cruise Tip: Another reason to book in advance is that you can slowly pay it off. This is nice, especially if you book a year or more in advance. So unless you book past the final payment due date, you don't have to pay for the cruise in one lump sum, just a deposit.
6. Don't Book the Wrong Cabin-Type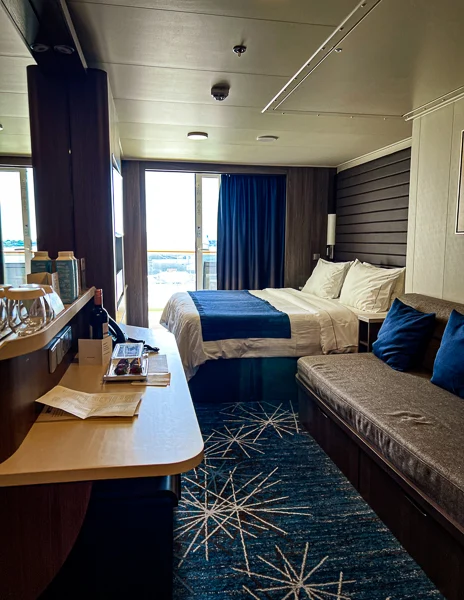 The type of cabin and the location of the cabin you choose to book can make a difference.
Some cruisers are happy with the cheapest cruise cabin, which may be an inside room on the ship's lowest deck. And that's fine. There is nothing wrong with that, but they already know what it is like, and they probably spend little to no time in their room.
If you're claustrophobic and don't like small spaces, don't book an inside room. It's dark, and there are no windows. You may feel like you're in a box.
Suppose you do like to spend time and relax in your room, at least book a window. A balcony is even better, but that costs more money. Once you book a balcony cabin, it's hard to return to an ocean view or inside cabin – at least, this has been our experience.
Cruise Tip: Suffer from motion sickness? Try to book mid-ship cabins on a higher deck. You'll feel less of the ship's motion, and it's usually quieter. Also, look to see what decks are above and below you, you do not want to be under a dining area or the pool deck.
When you book a cruise, there are always extras.
These include:
You don't have to book any of these extras in advance, but some may sell out. For example, you can book drink packages on embarkation day. But you don't want to leave shore excursions at the last minute; the best ones usually are booked up fast.
Note: You do not have to spend anything extra on top of your cruise fare if you do not want to. You can still have a fantastic time without adding anything to your cruise. It's all up to you and how you want to splurge.
8. Don't Fly on the Day of Your Cruise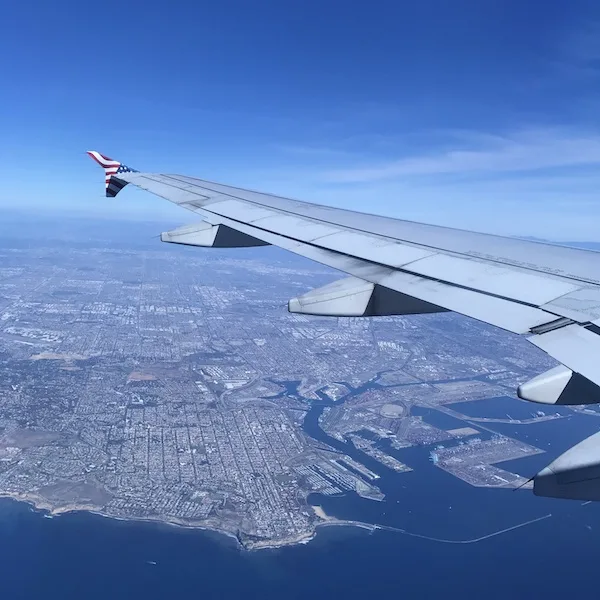 Flying on the day of your cruise is risky. Flights can be delayed or canceled, and you don't want to miss your cruise.
We recommend flying in at least one day before your cruise. This gives you a buffer in case your flight is delayed or canceled.
You will have to book a hotel for the night before. Consider that extra cost. Usually, we will use travel credit card points accumulated over time to cover these hotel charges.
9. Don't Overpack
This is a mistake we see a lot of first-time cruisers make. They overpack and bring way too much stuff on the cruise. We speak from experience as we packed the largest suitcase for our first cruise and didn't even wear half the stuff we brought.
You don't need to bring everything and the kitchen sink. Remember, you're only on the cruise for a week or two. Think of basic wardrobe items that you can mix and match. You don't need all the shoes from your closet, either.
Cruise tip: Some cruise ships may have laundromats (some Princess, Carnival, and Disney cruise ships have them) that you can take advantage of midway through the cruise. Also, look out for mid-week laundry specials that some cruises will have for $25-$40 for a medium size laundry bag worth of clothes.
Read more: Cruise Clothes for Women: Packing Light
10. Don't Forget to Bring the Essentials
There are some things you should never forget to bring on a cruise. These items will make your life much easier onboard.
sunscreen
aloe
motion sickness medication
hat or visor
sunglasses
appropriate shoes
your swimsuit!
What not to pack for a cruise? We've covered all the cruise essentials you should pack for your cruise, but do you know what not to bring on a cruise? These items are prohibited on cruise ships. Your luggage could end up in the naughty room if you pack one of these items. Keep them out of your cruise packing list.
11. Print Out Your Cruise Documents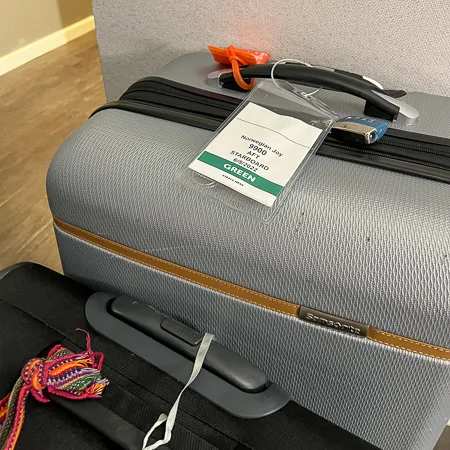 This is one of the cruise mistakes we see people always make. They don't print out their cruise documents, thinking that having them on their phone is enough. It's not. What if you don't have wi-fi or a data signal?
Plus, it's easier for port staff checking you in to have a physical copy of your documents. They can stamp it or scan it and move you along faster.
That also includes your cruise luggage tags!
12. Arrive at the Cruise Port Early
By not arriving at the cruise port, you're robbing yourself of valuable time onboard the cruise ship.
Embarkation day is day one of your cruise itinerary and part of your cruise fare. Choose an early check-in and get onboard as soon as possible. Start your cruise vacay!
13. Don't Miss the Safety Drill
Every cruise ship must do a safety drill before setting sail. Don't think you can skip it. You must attend and participate.
Since returning to service, many cruise lines have evolved, making it easier to do the safety drill. For example, you may have to watch a short video on your stateroom TV before attending the muster station in person.
Or, like for our Norwegian Joy cruise, they emailed us several times with a safety video to watch, and they had us go directly to our muster stations to check in upon boarding the ship.
– Don't Miss: Weighing the Pros and Cons of Cruises Before You Book –
14. Make Reservations for Specialty Dining and Shows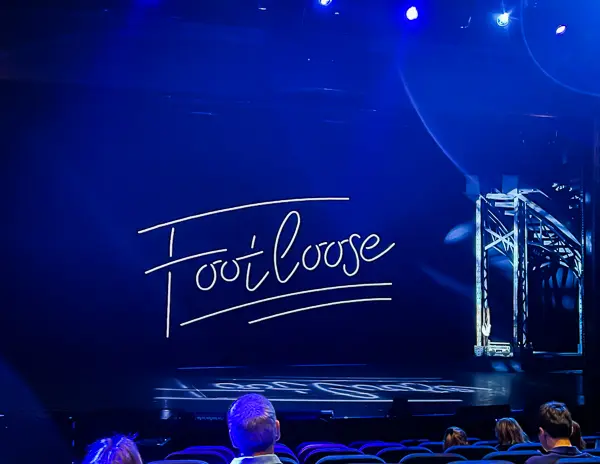 You must make reservations if you want to dine at a specialty restaurant. You can start booking them 60 to 90 days in advance. But you can also wait till you board the cruise to book them.
On the Norwegian Epic, we made no reservations in advance for the specialty restaurants and could not get in at any of them throughout the week. This was a cruise mistake on our part, and we weren't even first-time cruisers at this point. We waited and should have known better.
Not all shows, but some cruise ship shows may need reservations. This you will have to book on your first cruise day. This is also dependent on the cruise ship and cruise line.
15. Don't Forget to Bring Cash
While most things onboard a cruise ship are cashless, there are still some times when you will need cash.
For tips, most people still prefer to give cash tips. You can also use cash at the casino. And if you want to buy things from the gift shops or excursions in port, you may need cash.
16. Don't Do Anything Stupid
You're on vacation, so have fun. But don't do anything that will get you off the cruise ship. That's not fun.
Here are some things you should not do on a cruise:
Don't bring drugs on board. Just don't do it.
Don't get too drunk. Yes, you're on vacation, but you don't want to be the one puking or passing out in public.
Don't bring weapons onboard.
Don't stand on any of the railings on the ship.
Don't try to climb the ship.
17. Don't Miss the All Aboard Time
Missing all aboard time and returning to the cruise port after or just as the cruise is about to depart is one of the worst cruise mistakes first-timers can make.
The cruise ship will not wait for you. They will leave without you. If you miss the departure, you will have to find your own way back to the next port city, which can be expensive, and you will not get a refund for your cruise.
All aboard time is repeatedly announced in the morning as cruisers disembark at the port-of-call, the time is also listed in the daily cruise planner, and there is always a sign in the gangway on your way out. It is always 30 minutes before departure time on your itinerary.
We recommend not cutting it close and making sure you are back at the cruise port at least 1 hour before the cruise ship departure, just in case.
What is a pier runner? Pier runners are cruisers that wait or arrive late to board the cruise ship at the last minute. They run down the pier to make it back before the ship leaves the port.
18. Don't Forget to Check the Weather
Checking the weather is something you should do before any trip. But it's especially important to check the weather before a cruise. If a hurricane is in the forecast, your cruise could be delayed, re-routed, or canceled. You will want to be prepared.
This is when travel insurance can play a huge factor.
19. Don't Be Shy in the Dining Room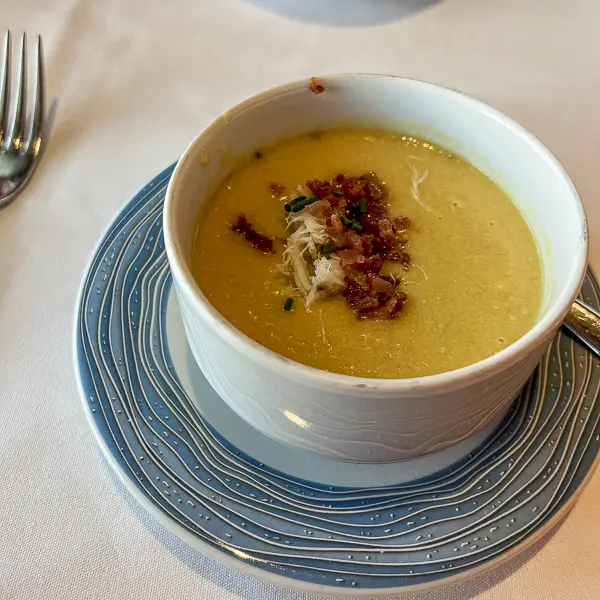 Many first-time cruisers don't know they can order as much as they want in the main dining room. One of the tips for first-time cruisers is to order that second appetizer or share a second entree. It's all included!
If it's lobster night, make it a surf and turf dinner. Order the prime rib with it.
Nobody is saying you should overeat and waste food. The servings are usually small or of normal size, so it's easy to order extra and even share with your party if you like.
20. Don't Forget to Check Your Bill Daily
One of the most important tips for first-time cruisers is to check your daily statement. You should be able to check your bill from your cabin TV account or your cruise app. It will list all charges made to your account.
If you see something you didn't purchase or an error, don't hesitate to go to guest services. Even if you are not buying anything on the cruise, check it anyway. You never know. You do not want to deal with any erroneous charges on disembarkation day.
25 Best Things About Cruise Vacations
Why you should go on a cruise? See our 25 reasons why a cruise vacation is one of the best vacations. Start your vacation planning and cruise planning today. Enjoy the benefits of cruising and exploring port destinations around the world.
FAQ
How do I plan a first-time cruise?
When planning your cruise, you'll want to find the right cruise line that matches your interests and needs. Consider what type of traveler you are. Are you looking for a family-friendly cruise? Are you looking for an adults-only cruise? You can follow the 9 Key Steps to Planning a Cruise to plan your first cruise.
What should a first-time cruiser know?
The one thing first-time cruisers should know is that a cruise is what you make of it. You can do that if you want to be lazy and just lounge around the pool all week. You can do that if you want to be active and try new things. There is a reason cruises are one of the most popular vacation options – because there is something for everyone.
How long should your first cruise be?
Your first cruise should be as long as you feel comfortable. If unsure, start with a shorter cruise to get a feel for cruising. We recommend a minimum of three to four nights for your first cruise and a maximum of 7-9 nights.
The Pros and Cons of Cruise Roll Calls
What is a cruise roll call? Should you join one? What are the pros and cons? After booking a cruise, one of the first things to do is join a roll call. Especially if this is your first cruise, cruise roll calls can be extremely helpful, making cruise planning easier and more fun.
Share the tips & love on Pinterest: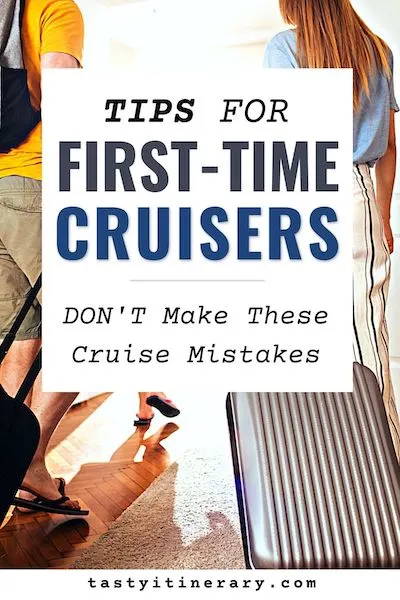 Quick Cruise Planning Guide
Where to book a cruise?
We like to shop around before booking by going directly to the cruise line and checking out the deals on GoToSea, CruiseDirect.com, Costco Travel, and Cruise Compete. Ultimately, the best advice is to find a travel agent you can trust to help you book a cruise.
Hotels for pre-cruise and post-cruise stays
We always use Booking.com or Hotels.com to book international accommodations and Expedia or Hotels.com for US accommodations. Airbnb or Vrbo for vacation rentals.
Can I book my own shore excursions?
Yes, you'll save money booking your own excursions and not with the cruise ship. We like to use Viator or WithLocals. Don't forget to read up on our tips for booking.
Car Rentals
We like to rent a car at cruise ports and for the freedom to explore on our own when the destination makes sense. We also sometimes rent cars during our pre-cruise stay or on embarkation day.
Should I book cruise insurance?
Yes! Cruise insurance is essential. We always book with a third party rather than the cruise line. Compare pricing on Insuremytrip.com.
Packing for a Cruise? Don't miss our essential cruise packing list.
Meet Kathy Ava, a food, travel, and cruise writer based in Los Angeles/Pasadena, and the owner and main writer of Tasty Itinerary. With over 20 years of experience planning trips and logistics at her full-time job and for herself, she's become a pro at crafting unforgettable tasty itineraries. She's always on the hunt for delicious, fun travel destinations and cruise itineraries. She firmly believes that life is short and we must make the most of it, so always say yes to dessert.