What not to pack for a cruise? Some items from home are not allowed on a cruise ship that will send your luggage directly to the naughty room. Then, some items are just illegal and prohibited. Others you should not waste your luggage space on. Check out these 21 items you should not bring on a cruise.
Packing for a cruise can be tricky because you're on a ship for a certain length of time and visiting multiple destinations. You want to be prepared for both the ship and for each destination.
Then, we use some amenities and items daily at home that we think we'll need on vacation, too. But alas, some items are not allowed on a cruise ship, and we shouldn't waste our luggage space with some.
On this site, we have listed all the essentials for a cruise to pack with some cruise packing tips, but let's dig into what not to pack for a cruise. So you can start preparing for your cruise ship vacation.
This post may contain affiliate links, which means we'll receive a commission if you purchase through our links at no extra cost to you. Please read full disclosure for more information. We appreciate your support!
Keep reading as we list more items in this article below, along with some cruise tips.
What Not to Pack for a Cruise?
What not to bring on a cruise? The items listed below should not be packed in your luggage because they are not necessary or prohibited on cruise ships, illegal, unsafe, or dangerous.
What Not to Bring on a Cruise
1. Beach Towels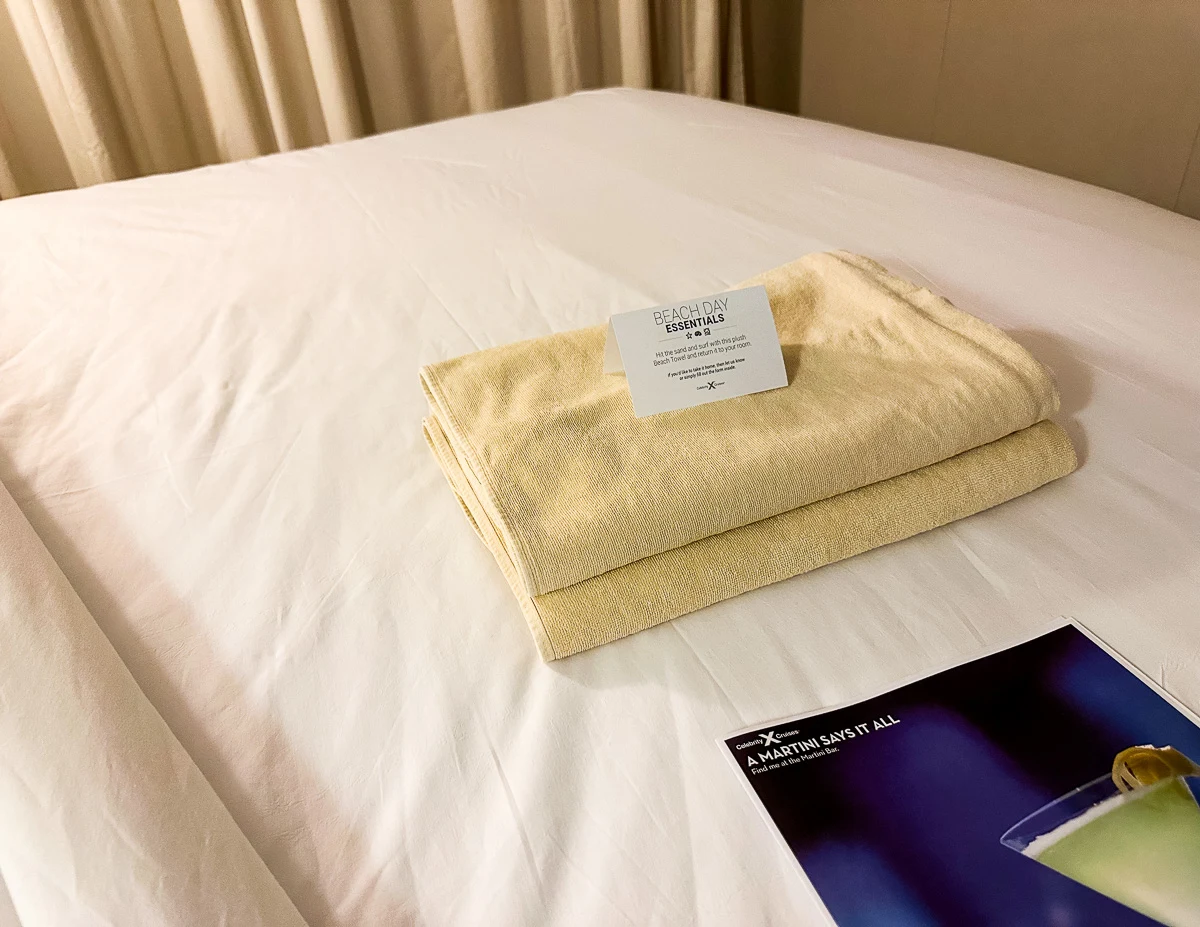 Do you have to bring beach towels on a cruise? You do not. Leave your beach towels at home. Cruise lines provide beach towels you can take off the ship. You have to bring them back from the port, and they'll swap them out with new ones.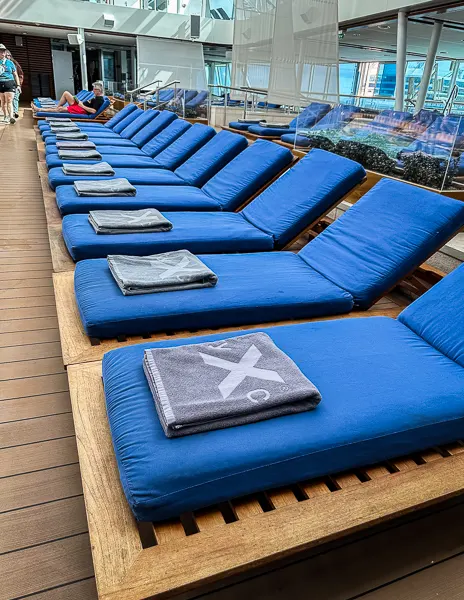 They also provide them by the pool. Depending on the cruise ship, they may allow you to take as many as you want and return them as you no longer need them. They'll even have them ready for you on vacant pool chairs.
Some cruise ships allow you only to grab one by the pool at a time as they monitor them closely.
If you lose your beach towel, you will be charged for it.
2. Hangers
Can you take clothes hangers on a cruise ship? You can, but save your luggage space. Don't pack hangers for a cruise. Every cruise cabin on a cruise line has several hangers in the closet. If you need more, you can always ask your room steward.
3. Shampoo, Conditioner & Soap
This one, we'd say, is optional. Cruise lines provide these basic toiletries in every cruise cabin. Of course, the quality of these items is not the best. So if you're particular about what products you use, feel free to pack your own.
We usually pack our own, especially with my curly hair and sensitive skin. However, many cruisers forgo packing these items and are fine with what is provided.
4. Hairdryer
Do you have to pack a hairdryer on a cruise? No, you don't. There's a hairdryer in every cabin. Of course, some blow dryers are better than others on the cruises.
As someone who appreciates a strong blow dryer, I can vouch that the newer cruise ships provide a great option.
5. Books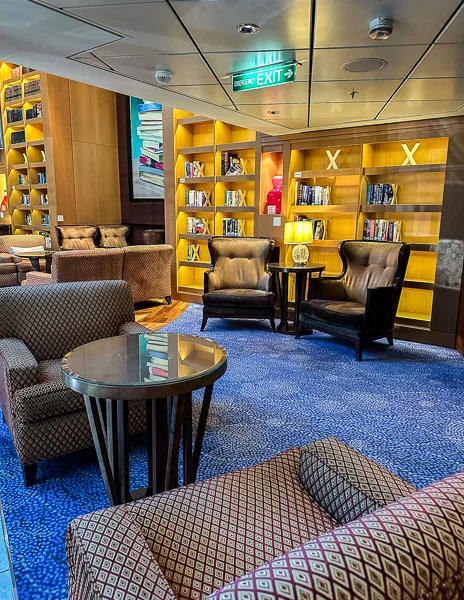 This may be controversial because some of us like to bring a book to read that we can hold in our hands. It's not the same as holding a tablet. But books are one of those items that you do not have to pack for a cruise.
Pack lighter.
Cruises do have libraries. Some are bigger than others, with more selections, but borrowing a book from the cruise library is an option.
Or, just for vacation, consider buying a Kindle e-reader or downloading the Kindle app to your phone or tablet.
6. Hangers
Can you take clothes hangers on a cruise ship? You can, but save your luggage space. Don't pack hangers for a cruise. Every cruise cabin on a cruise line has several hangers in the closet.
If you need more, you can always ask your room steward.
– Don't Miss: 25 Best Things About Cruise Vacations –
Prohibited Items on a Cruise
7. Power Strip with a Surge Protector
Power strips are allowed and an item we do recommend bringing. What is not allowed are power strips with a surge protector.
So, if the power strip at home has a button that automatically shuts off if there is a power surge, leave that one at home. Buy one that does not have a surge protector to bring with you.
8. Iron
You cannot bring an iron onto cruise ships, so leave it off the packing list. And don't expect to find irons in your cruise ship cabin, either.
Some cruise ships may have laundry rooms that supply ironing boards and irons for passengers. However, that is becoming a rare amenity on cruise ships. The last time we used a laundry room on a cruise ship was on a Carnival Cruise Line many years ago.
So, what should you do if you need to iron something while on your cruise?
You can call your cabin steward and request they lend you an iron to use.
We recommend packing a travel-sized wrinkle-release spray to spray your clothes with. We will spray the article of clothing and then hang it in the bathroom while we shower so the steam can bring out the wrinkles.
Have your steward send out your clothes to get pressed for you for a cost. This service is offered on most if not all, cruise ships.

Look for promotions on cruise embarkation day. See if your cruise line offers any deals on boarding day. Sometimes we see this on day one when sailing with Norwegian Cruise Line.
Don't Miss: Cruise Clothes for Women: Packing Light
9. Steamer
Sadly, steamers are not allowed on cruise ships either. It's one of our favorite items to pack when we travel.
We recommend following the same methods and options mentioned above in item 8.
10. Coffee Maker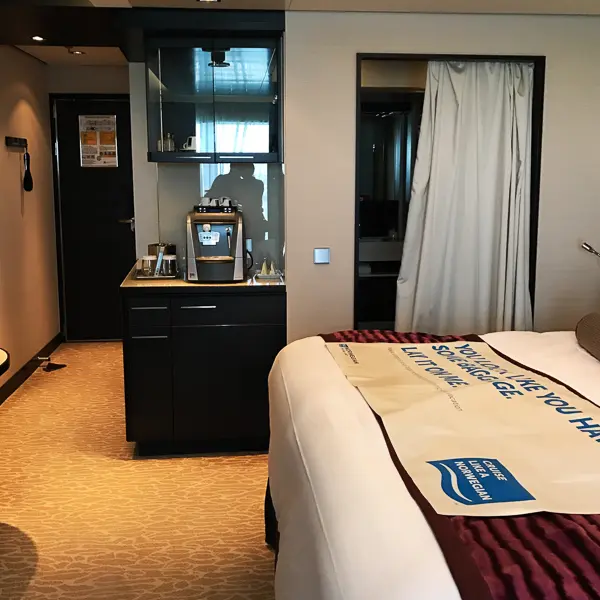 Coffee lovers, leaving your coffee makers at home would be best.
A coffee maker may be provided depending on your cruise line and the cabin you booked.
On the newer ships, we've had coffee makers on Celebrity and Norwegian Cruise Line ships in our cabin. But you should always do the research in advance. You never know when they'll add or remove them.
The best is when you stay in a suite. We stayed in the Haven on Norwegian, and the Lavazza coffee maker was the best amenity in the cabin. We made cappuccinos every afternoon to enjoy on our balcony.
What to do if you must have coffee in the morning?
You can pack instant coffee packets.
Keurigs and Nespresso machines are becoming popular across cruise ships. Find out if you're cruise ship cabin has one. You may be able to bring your favorite single-serve coffee pods.
The easiest and best thing to do to have your morning coffee is to set up room service for the morning for a set time. Do this the night before. Room service will knock on your door with a fresh thermos full of coffee and anything else you ordered from the menu. It's a great wake-up call to start your day.
You can also ask your cabin attendant if they have any coffee makers they can facilitate for your cabin during your stay. Some cruise ships offer this, but most don't know about it until you ask.
Read more: Useful Stateroom Cabin Tips and Hacks
11. Hot Plate & Other Cooking Appliances
With all the all-inclusive food included on a cruise ship, why would you bring a hot plate? Leave the hot plate and any other cooking appliances at home.
Hot plates, toaster ovens, electric kettles, rice cookers, and Instantpots are prohibited.
12. Candles & Incense
For safety reasons, candles and incense are prohibited on cruise ships.
However, there are plenty of safe alternatives to choose from that will give your cabin the same ambiance.
We recommend packing flameless candles. We love to bring the flameless tea candles you can buy at the dollar store and use as a nightlight.
13. Heating Pads & Heaters
What not to pack for a cruise? Anything that produces heat. That includes a heating pad and heaters.
Alternatively, bringing air-activated heating pads is safer if you need a heating pad for aches and pains. These have been lifesavers in the past.
14. Perishable Food
Leave all meats, vegetables, and anything that can perish at home.
You are allowed to bring pre-packaged snacks and non-perishable food items. We usually bring protein bars that we normally pack when we travel, in case we ever need them.
You cannot bring any food items off the ship at cruise ports.
15. Alcohol
If you think you'll be able to bring your alcohol to save on the cost of drinks, think again. Most cruise ships restrict outside alcohol. They want you to buy alcohol on the ships.
There are ways that people sneak alcohol onto cruise ships, but if you're caught, they will be thrown out.
There are exceptions! Some cruise ship lines may allow a limited amount of alcohol, like a bottle of wine per person, but every cruise line is different. Check with your cruise line what their rules are.
What happens when you buy liquor at cruise ports? When you buy local liquor at cruise ports and return to the ship, security will take the bottles from you and hold them until the end of the cruise. You will receive your liquor at the end of the cruise before disembarking.
It's the same if you purchase liquor on the cruise ship. It is held until the day before disembarkation.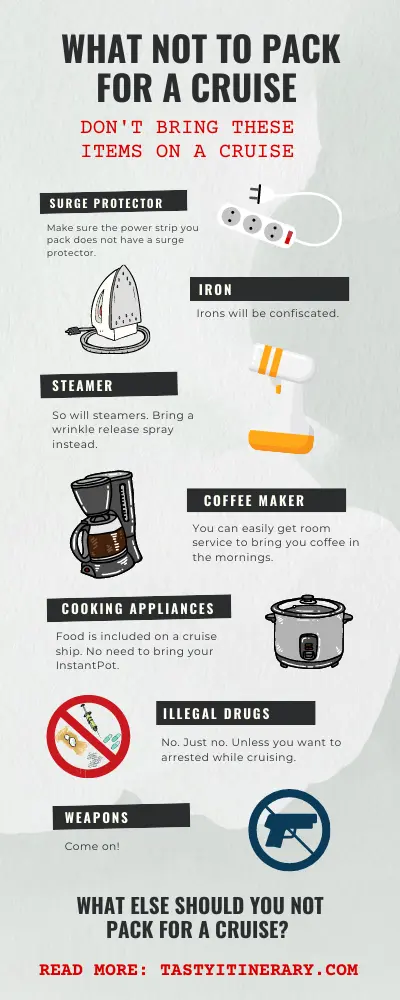 16. Drones
Drones are not allowed to be used on cruise ships, or you can't use them.
Some cruise lines will allow you to bring a drone for use on land only. Of course, in this case, security will hold your drone until you get off at the port.
The drone policies vary between cruise lines.
17. Bicycles, Scooters, Rollerskates…
Anything with wheels is not allowed on a cruise ship. That includes bicycles, scooters, rollerblades, and skateboards. This would be a dangerous activity on a cruise with 2,000 to 5,000 passengers. With all the things to do on a cruise, you should leave these items at home.
But we could see how fun it would be to rollerskate around an empty ship.
18. Inflatables
Inflatables are not allowed on a cruise ship. That includes rafts, kiddie pools, and blow-up balls.
There is only enough room for people to swim in the pools. Leave the inflatables at home.
19. Weapons of Any Kind
What not to pack for a cruise? Weapons!
Weapons are prohibited, and you can not bring them on a cruise ship. If you can't bring it on a plane, you can't go on a cruise ship.
That includes anything considered a weapon, such as pepper spray, mace, a taser, and knives.
20. Explosives or fireworks
What not to bring on a cruise? Of course, you can't bring explosives or fireworks on a cruise ship. That would be dangerous and irresponsible. Leave fireworks to the professional.
Disney Cruise Lines is the only cruise line that still has fireworks displays on some of its cruise ships and itineraries.
21. Illegal Substances
Illegal drugs are not allowed on cruise ships. You will be disembarked at the next port if caught with illegal drugs and turned over to local authorities.
Check out what not to bring on a cruise by cruise line:
What Not to Bring on a Cruise: FAQs
What items are NOT allowed on cruise ships?
For starters, and most importantly, you should not bring on a cruise: firearms or ammunition, illegal drugs, knives of any kind, explosives, pepper spray, and self-defense devices.
These items are not allowed on cruise ships for the safety of all passengers. If you pack any of these items, they will be confiscated, and you may be subject to arrest.
What happens when you bring banned items on a cruise ship?
If you pack any lesser-criminalizing items into your luggage, they will end up in the naughty room at security. You may be asked to surrender the item to security or throw it away.
So checking with your cruise line before packing is important to make sure all your items are allowed on board.
Can you bring weed on a cruise ship?
No, you can not bring marijuana on a cruise ship. Even if it is legal in the state you're embarking from, it is still considered an illegal drug under U.S. federal laws.
Can you bring an empty water bottle on a cruise?
Yes, you can! We recommend bringing a reusable water bottle. Most cruise ships charge for bottled water and sodas, so bringing an empty bottle to fill up with the free filtered water at the buffet is helpful.
Can you bring a pocket knife on a cruise ship?
A pocket knife is not allowed on a cruise ship. It is considered a weapon, which is prohibited from being brought on a cruise.
We hope this list helps you avoid any packing disasters and gives you an idea of what not to bring on a cruise. If it's dangerous or unsafe, don't bring it. Let's keep packing simple.
Meet Kathy Ava, a food, travel, and cruise writer based in Los Angeles/Pasadena, and the owner and main writer of Tasty Itinerary. With over 20 years of experience planning trips and logistics at her full-time job and for herself, she's become a pro at crafting unforgettable tasty itineraries. She's always on the hunt for delicious, fun travel destinations and cruise itineraries. She firmly believes that life is short and we must make the most of it, so always say yes to dessert.