Will you be cruising the Celebrity Solstice? We took a 7-night cruise to the Mexican Riviera from Los Angeles. Read our Celebrity Solstice Review.
After living in Los Angeles for 16 years, you'd think that taking a cruise to the Mexican Riviera is something we do all the time.
The Los Angeles Cruise Port in San Pedro is about a 40-minute drive from Pasadena, and the Long Beach Cruise Port is about the same, around 45 minutes from Pasadena.
Seems like a no-brainer, especially with all the cruise deals. However, we've avoided cruises leaving out of a LA since our first failed Mexican Riveria cruise over a decade ago. We never made it off the ship, even though the cruise ship was anchored right by The Arch in Cabo San Lucas.
While we watched everyone else vacationing (jetskiing and sunbathing) and having a beautiful day in Cabo, we were told we were not allowed to disembark. Swine flu had arrived, and there were huge warnings from the US government – nothing like the C that shall not be named.
Our planned time on the Mexican Riviera never happened, and the cruise ship and the cruise line were terrible. Since then, we've been picky about what cruise lines, ships, and itineraries we book.
Especially because sometimes, we have just one big vacation a year, and that's it. PTO time is limited, and so is money. There are no do-overs. And nope, we were never given a refund or any credits back.
Fast forward to most recently, after receiving emails from Celebrity Cruises offering us a "free" 7-night cruise (in quotations because you still have to pay for port fees, taxes, drinks, excursions… etc.) out of Los Angeles, we couldn't say no. We both were luckily able to take time off, get a dog sitter and book this last-minute trip.
This post may contain affiliate links, which means we'll receive a commission if you purchase through our links at no extra cost to you. Please read full disclosure for more information. We appreciate your support!
So in full disclosure, this trip was a Blue Chip Club offer. We paid $435 in port fees and taxes, plus $245 in gratuities, and we added the Zero Proof Drink package, which was another $300 (30% off). All around $980 or so, not including any additional cash tips, specialty dining, shore excursions, money spent ashore, and other incidentals.
The itinerary had too many sea days for our liking, and we wished it had stopped in Puerto Vallarta. But, for the deal we received, we were happy to get away from home for the week from gloomy LA (bad winter) and experience another Celebrity cruise ship.
This Celebrity Solstice review will cover our cruise ship experience from embarkation at the Los Angeles Cruise Port, restaurants, entertainment on board, and more.
This is all based on our experience and opinions, which may differ from your experience. We also give helpful tips and what to expect when sailing the Celebrity Solstice.
The Celebrity Solstice will be sailing to Alaska starting in May.
Embarkation at the Port of Los Angeles Cruise
San Pedro World Cruise Terminal
100 Swinford Street
San Pedro, CA 90731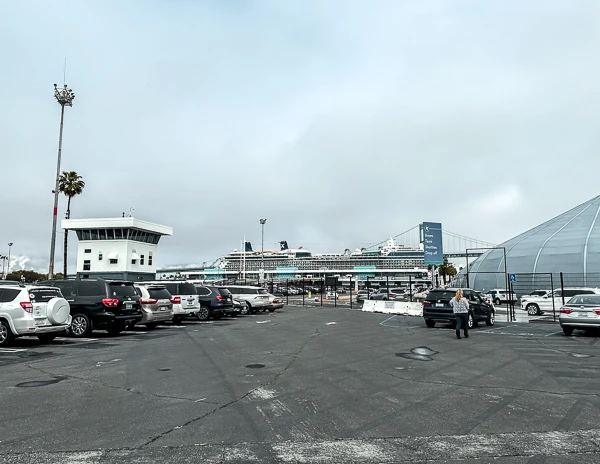 Since we were within driving distance, we decided to park our vehicle in the parking lot across the cruise terminal.
The cost of parking is a max of $20 per day at San Pedro World Cruise Terminal.
When we researched the cost of Uber and taxis, it was a wash for us. It was easier for us to drive, park and make our way to the cruise terminal.
Cruise Tip: If you are parking, first, you can go around, drop off your luggage with a porter, and then go park, so you don't have to drag your luggage across the parking lot to the terminal.

You may see a long line for luggage drop off, but if you hand a porter a nice tip, they will take your luggage off your hands.

Make sure you have your cruise luggage tags attached to your luggage.

There is supposedly a shuttle from the parking lot to the terminal but we never saw any.

Once we entered the terminal, it was one of the fastest embarkations we'd experienced thus far, beating our quick check-in and embarkation in Barcelona sailing Norwegian Epic.
We had our XPress Passes open in our Celebrity App, ready to go with our passports.
The crew will check the XPress Pass before getting on the security line. Then they will check it again as they direct you toward the gangway. And before boarding, they will finally officially check you in and welcome you onto the ship.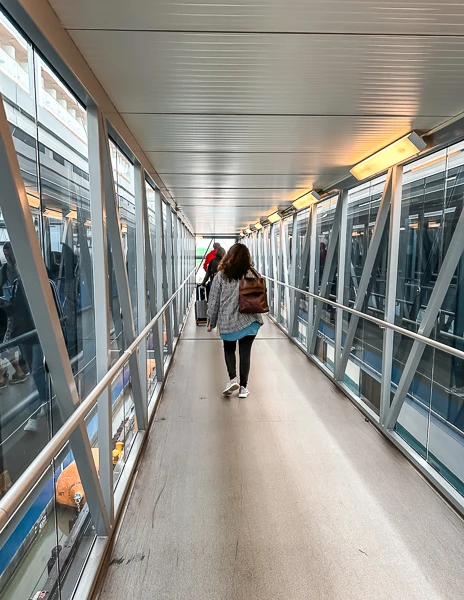 It all happened so fast. It was almost unbelievable.
Read more cruise tips on what to do before and after embarkation day.
Celebrity Solstice Review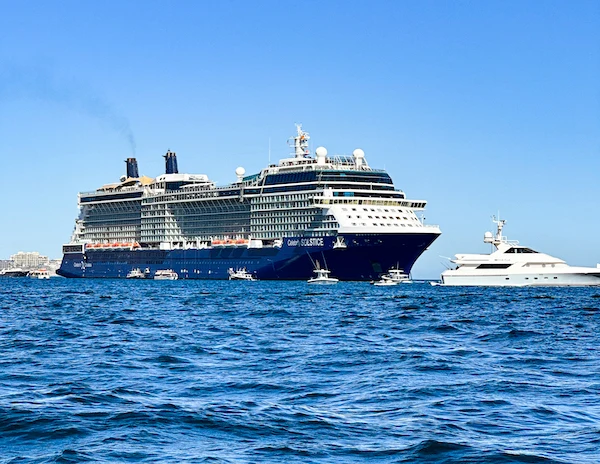 How old is the Celebrity Solstice?
The Celebrity Solstice is an older ship, first launched in 2008, and the first cruise ship of the Solstice class ships.
Has Celebrity Solstice been refurbished?
It received a refurbishment in 2016. According to the crew we spoke to on board, it is due for its Edge Class refurbishment within the next year. And it needs it; it's a bit dated but well taken care of.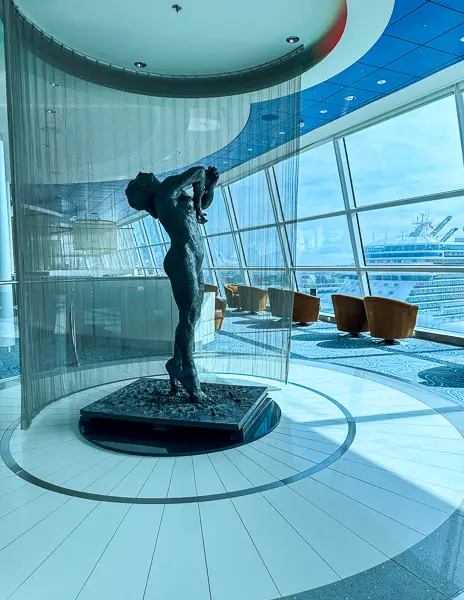 It is the sister ship of Celebrity Equinox, which we sailed a few years ago to the Southern Caribbean. It was the exact layout and size.
Being on the Celebrity Solstice gave us a peek at what the Equinox probably looked like before its Edge refurbishment. So we look forward to seeing what can be accomplished in the 14-22 days it is in refurbishment when the time comes. It will probably look very similar to the Equinox or better when it comes out.
A few things to note for this sailing:
It was a full ship with about 2800 passengers; it only ever felt that way during peak times at the buffet.
A great mix of passengers of all ages.
Five hundred kids on board due to Spring Break.
Is Celebrity Solstice a big ship?
The Celebrity Solstice is a mid-sized ship holding almost 2800 to 3000 passengers.
The Celebrity Mobile App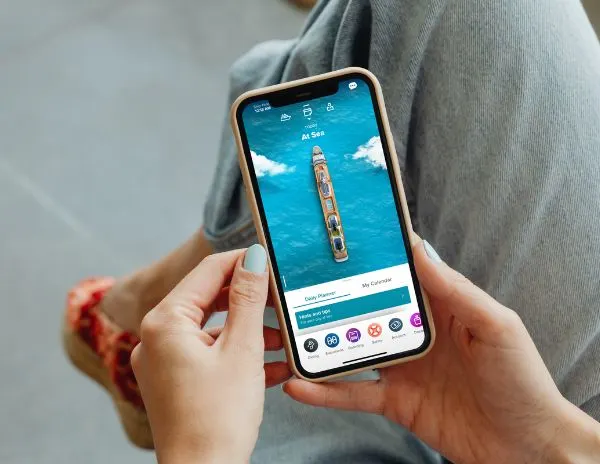 Download the Celebrity Mobile App before embarkation day. This is where you will get the most up-to-date information about your trip, book reservations, shore excursions, drink packages, and more.
Once you check in online, your X-Press Pass will be made available.
The Celebrity App is by far one of the best cruise apps allowing you to check your daily planner and all activities that will be going on on the ship. This includes celebrity shows, pool activities, trivia, dinner menus, and more.
We highly recommend downloading the app as it will make your life easier onboard, and you can use the app for free with the ship's Wi-Fi.
Also, a plus, you can use the messenger service between you and anyone staying in your cabin with the ships Wi-Fi at no extra cost.
Starlink is available onboard the Celebrity Solstice for a surcharge, if you need internet throughout your sailing.
Muster Drill
Celebrity Cruises has so far continued with the digital muster drill. A safety video is available on the Celebrity App before you check in at your muster station.
Passengers must watch this video and check in at their designated muster station before the cruise ship can leave port.
It's one of the easiest muster drills that takes no time to check off the list. Don't wait until the last minute to watch it and check-in. It can hold up sail away.
Influential Cruise Quotes to Inspire Your Next Vacation
No matter where you're headed, these cruise quotes will help get you excited about your next vacation. Whether you dream of a tropical cruise ship vacation in the Caribbean Islands or an adventure exploring European travel destinations, these words of wisdom will set the tone for your perfect getaway. So sit back, relax, and let these quotes inspire your next great escape.
Celebrity Solstice Review Stateroom Veranda Cabin # 8129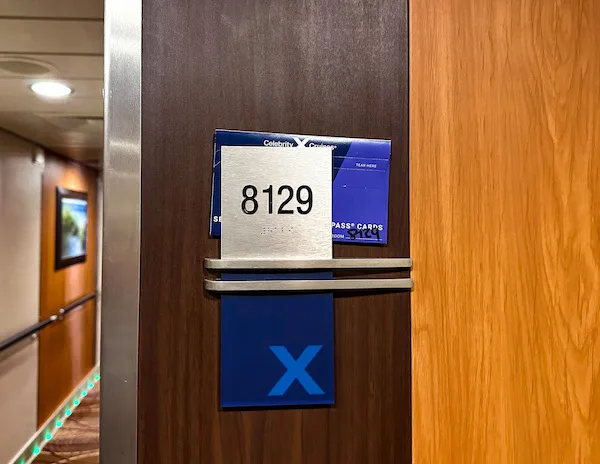 Celebrity Cruise Tip: Key Cards will be waiting for you outside of your stateroom door (shown in photo above).
There were limited cabins when we decided to book this last-minute trip, so we chose stateroom cabin # 8129, located portside and forward.
>
The location was not bad. We were not too far from the forward elevators and stairs. While we did have a walk towards the aft whenever we wanted to go to the main dining room or buffet, we still felt close to everything, as you'll find the majority of things in decks 5 and 6.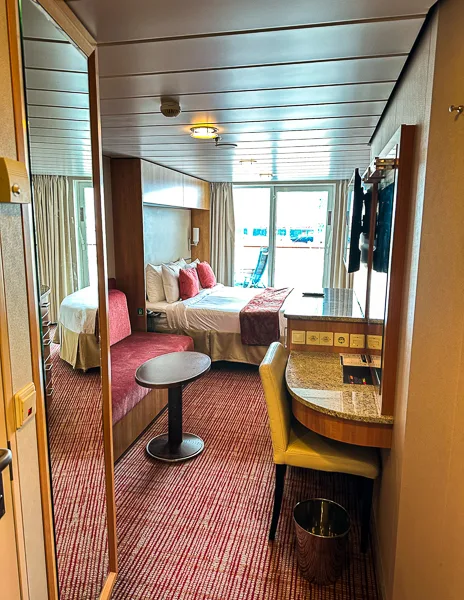 We thought the room was nice, with plenty of storage for two people. There was a closet with hangers, shelving, and a safe. More drawers for storage in the vanity area. And also storage above the bed.
The room was very clean and neat, but the furniture was old. The red in the room has to go.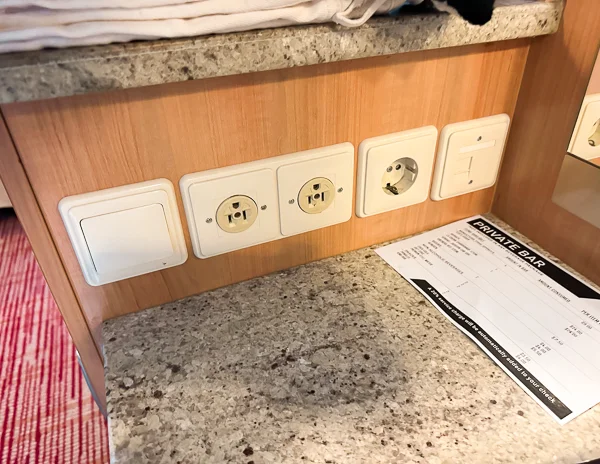 There are NO USB outlets, not by the bed or the vanity. So you do need to bring a few cruise essentials like a plug with additional USB adapters.
There are two US electrical ports.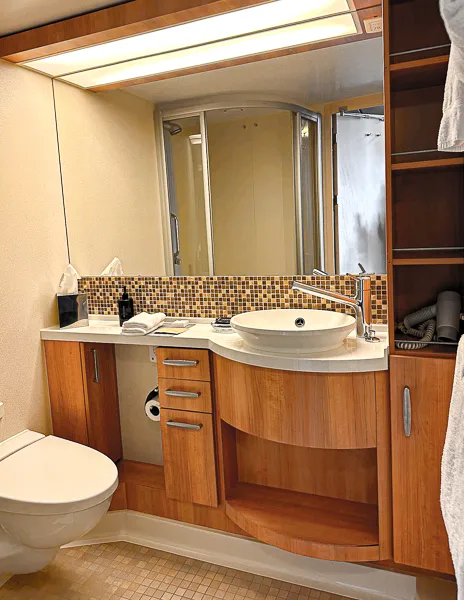 The bathroom had plenty of storage space with an enclosed shower. Note that there is no clothing line inside this shower.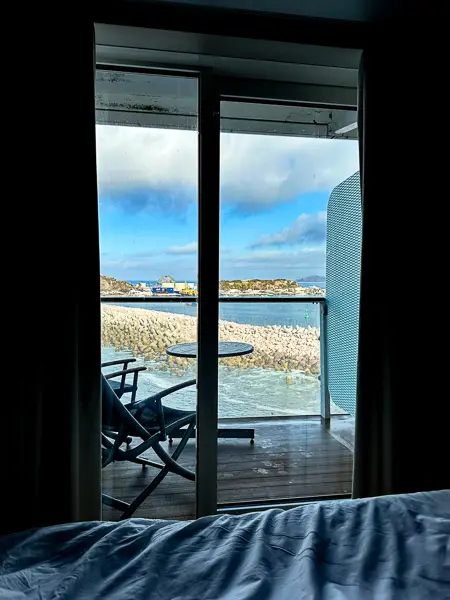 The balcony was roomy with no obstructed views, but the seating outside needed some TLC.
The noise is the biggest downside to the cabin, and probably all the cabins, as it is an older ship. You can hear neighbors as they chat or scream at the top of their lungs. Every door that slams shakes the cabin.
Just keep that in mind when you're booking your room. The walls are thin.
Mohammed was our stateroom attendant and did a wonderful job taking care of our cabin twice a day.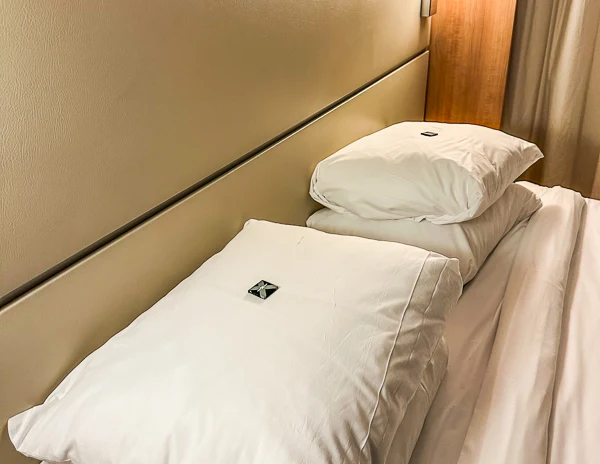 Maybe we are old school, but we are happy that Celebrity continues to provide turn-down service. An additional special touch is the chocolates they leave on your pillows every night.
Celebrity Solstice Restaurants and Dining
Cruising is part of a Tasty Itinerary. The foods we eat on a cruise and ashore stay with us, whether the best or worst things we've ever eaten. And when we are cruising, food is a big part of the experience.
While we enjoy some things more than others and have noticed a decline in quality, we still ate very well and loved our time in Celebrity Solstice.
Oceanview Cafe | The Buffet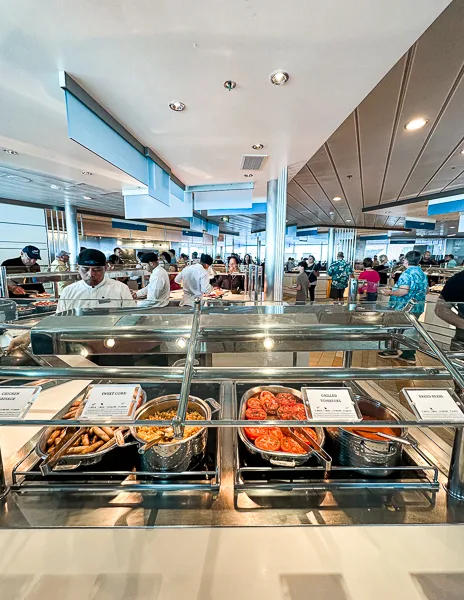 On our last Celebrity cruise, we were wowed by the offerings in the buffet. We even skipped eating in the main dining room many nights because we thought the buffet was better. We have to say this time we weren't as impressed.
Breakfast in the buffet was disappointing. For the most part, they serve the standard American breakfast you find in most buffets and an English breakfast, but the quality of it was lower than what we remembered. If you want real eggs that don't taste like powder, stand at the omelet station for a fresh scramble, omelet, or fried egg. However, you can count on the hard-boiled eggs, the eggs benedict, the muesli, yogurt, and fresh fruit you can always count on.
In our opinion, the pancakes and waffles were terrible, but people were still eating them.
Our suggestion is to try to make it to the main dining room for breakfast if you can.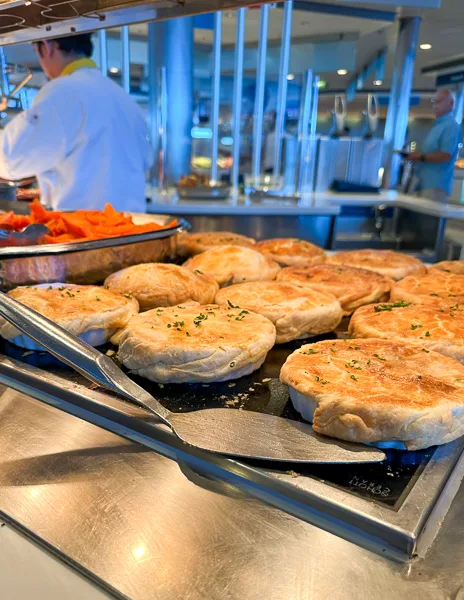 Lunch in the buffet was better but still lacked the wow factor. However, it was the best meal of the day, and we thoroughly enjoyed our lunches in the buffet. Every day at the carving station, new meat from roast beef, porchetta, roasted pork, and other meats was always a win.
The pizza on Celebrity Cruises continues to be one of our favorites. Pizza is available until late at night.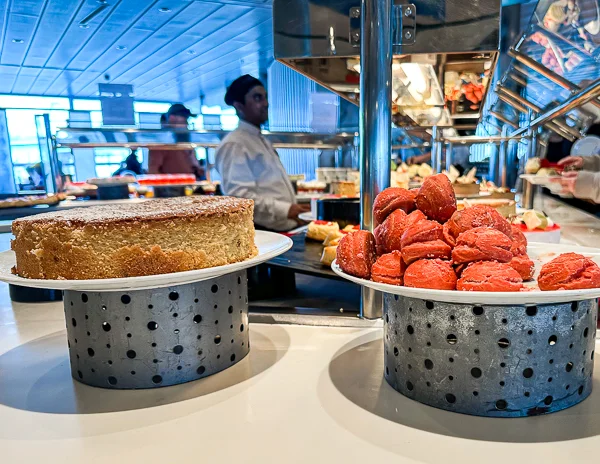 The dessert station was hit or miss. We thoroughly enjoyed their chocolate and vanilla cupcakes, poundcake, tiramisu, and tres leches cake. What's nice is that they also had no sugar desserts and one or two gluten-free options for those with dietary restrictions.
You can also get scooped ice cream or soft serve in the buffet, which was always popular and had a long line.
On this cruise, we ate dinner almost every night in the MDR. The few times we scouted the buffet for dinner selections, we left feeling completely disappointed. They have cut back on their offerings for dinner. Many stations are closed, but you can choose pizza, pasta, salad, burgers, and meat at the carving station.
Other notes:
Seating sometimes was hard to come by. So it's important that you eat, finish and leave during busy times to allow others to sit down and eat.
There is outdoor seating behind the buffet at the aft.
There is a waiter service for drinks.
Don't forget to grab utensils before sitting down.
The Mast Grill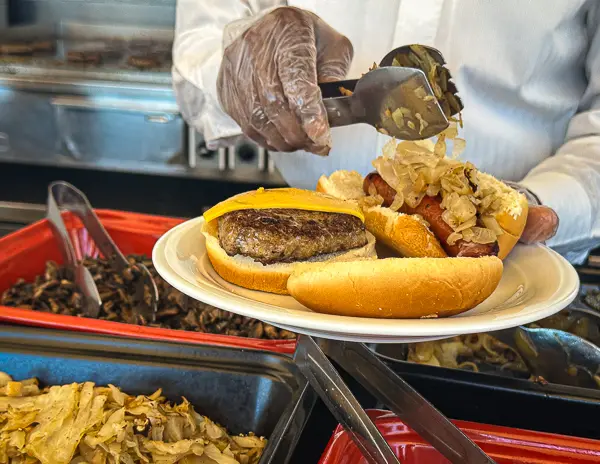 The Mast Grill is on the top deck overlooking the pool. There was always a line, but with a reason, as they grilled some fantastic burgers and hot dogs.
Regarding burgers, we are pretty picky, but we enjoyed our burgers from the Mast Grill. All burgers are grilled fresh; you can add toppings like cheese, bacon, onions, lettuce, tomatoes..etc. They even have a special sauce.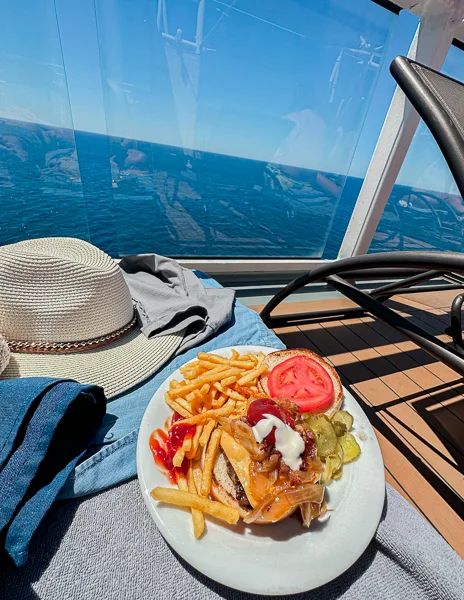 Fries are also available and are hot, crispy, and perfectly cooked.
Grand Epernay | The Main Dining Room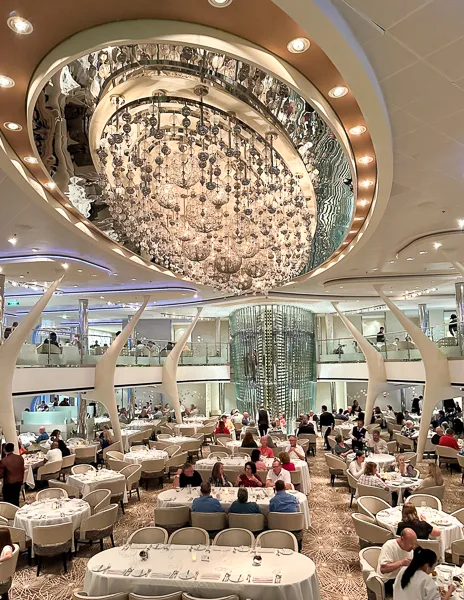 Dinner at the MDR every night was wonderful! We selected anytime dining, and we were seated almost immediately every night.
The Grand Epernay main dining room had two levels from decks 3-4. Select anytime dining was on deck 4, and set dining times was on deck 3. Sometimes though, they would have us sit in deck 3 if a table was available.
On a couple of nights, they asked us if we'd like to share a table, and we had no issues. It was nice to dine and meet other passengers.
We noticed that the menu was condensed down to a smaller selection of appetizers and entrees than in the past. They had a section on the menu with timeless items you could get every night and a selection of special menu items for the day. You could mix and match or order more than one.
Every meal we ordered was delicious, and the timeless items are timeless for a reason. If you're unsure about the specials, stick to the timeless things, as they will never disappoint.
Here are some of the meals we enjoyed from the Grand Epernay main dining room in no specific order.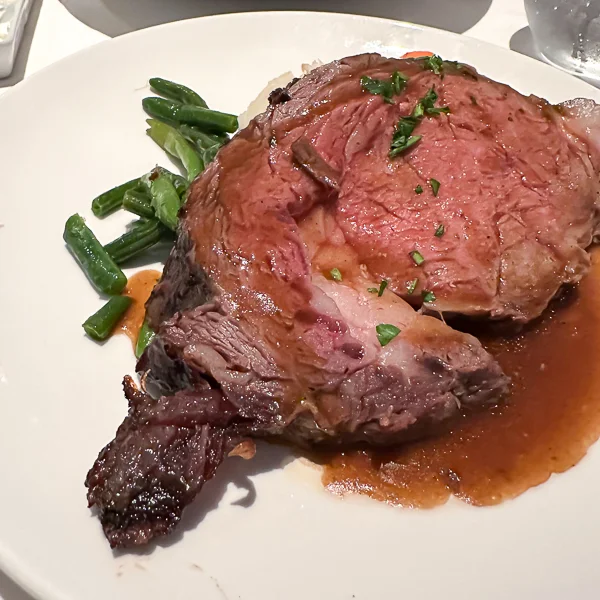 Our top favorite dishes from the MDR were Prime Rib, French Onion Soup, Shrimp Cocktail, and Roasted Milk Fed Veal (hubby had two of these).
The chocolate cake on the Timeless Dessert menu is quite possibly the best dessert on the entire ship.
There were always plenty of vegetarian options available on the menu.
Instead of giving you butter with your bread, they provide whipped butter and dips like roasted pepper, blue cheese, or hummus. This is their way of cutting back on butter since it is expensive. We didn't mind the dips on some nights, but sometimes we'd ask for a pad of real butter.
Here are the dining room menus on the ship for the week. We missed one, but we hope it gives you an idea of what to expect.

Celebrity Solstice Grand Epernay Main Dining Room Menus
Cafe Al Bacio
The Zero Proof Package includes specialty coffees, and we made our fair share of visits to Cafe Al Bacio.
Cafe Al Bacio is a Celebrity's signature cafe that serves specialty coffees like lattes, cappuccinos, macchiatos, and more, including alcoholic coffee drinks.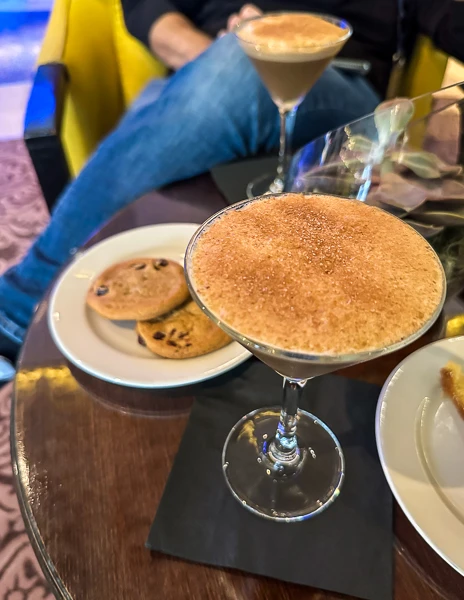 Anything with alcohol is extra or included in the Classic and Premium packages.
They also serve snacks such as pastries and cookies, which are included in your cruise fare with Celebrity. Even if you're not planning to get a specialty coffee, you can stop by for a snack.
Their cookies are delicious!
While we love our espresso, we must say the coffee served in the MDR is Lavazza, and it's really good.
Cruise vs. All-Inclusive Resort
What's the difference? Check out our breakdown of the pros and cons of each option to help make your decision easier. Plan your cruise or all-inclusive resort vacation with these travel tips and tricks.
Celebrity Solstice Specialty Restaurants
Murano
A tasty itinerary wouldn't be complete on this Celebrity Solstice review without visiting one of the specialty restaurants.
Murano is our favorite specialty restaurant on Celebrity thus far. It was the only specialty restaurant we booked TWICE. Once for dinner and another time for lunch.
Lunch: $50 per person, plus gratuities. Wine Pairing $35. [Click for Lunch Menu]
Dinner: $60 per person, plus gratuities.
The menus are slightly different for each meal. There are more choices for dinner, and the lunch menu is more limited but just as outstanding. In either case, you will surely have a fantastic meal if you are a foodie. Dinners like what is served at the Murano can easily cost us $150 pp and up where we live.
For dinner, from start to finish, the meal was amazing. The Lobster Murano is always my pick for the main entree and is prepared tableside.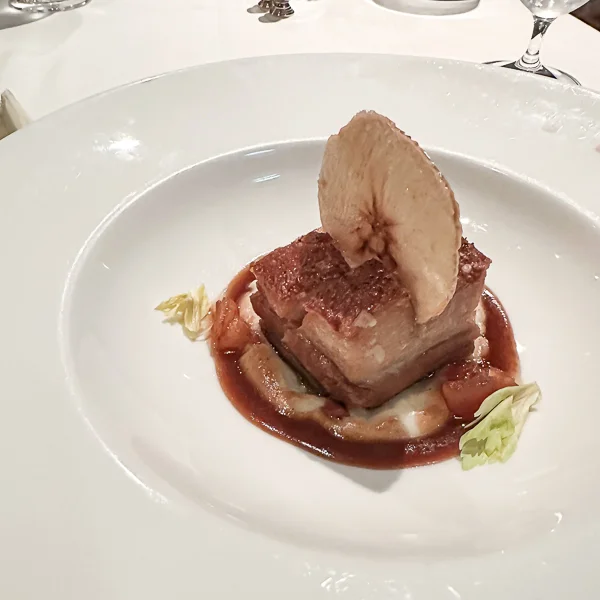 Celebrity Solstice Pool and Hot Tubs
The Celebrity Solstice has three pools: the Solarium pool and two outdoor pools. There are 6 hot tubs, 4 by the outdoor pools, and two in the Solarium.
The Outdoor Pool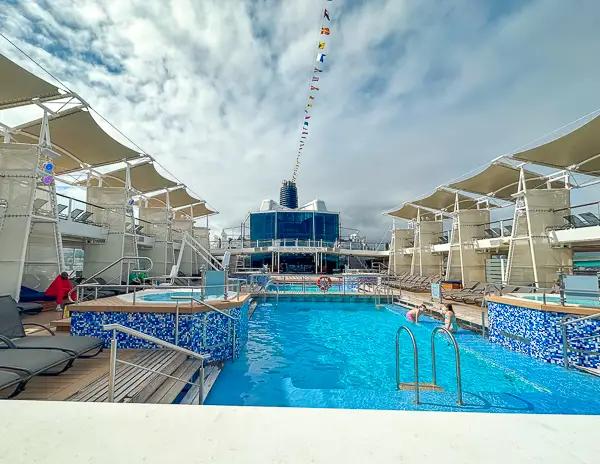 This cruise started gloomy and not with the best weather. Once it cleared up, more people enjoyed the pool and the pool deck.
We never had issues getting seats, but we started our days early outside and always on the top deck above the pool deck. By the afternoon on a sunny day, the pool deck and the pool were full.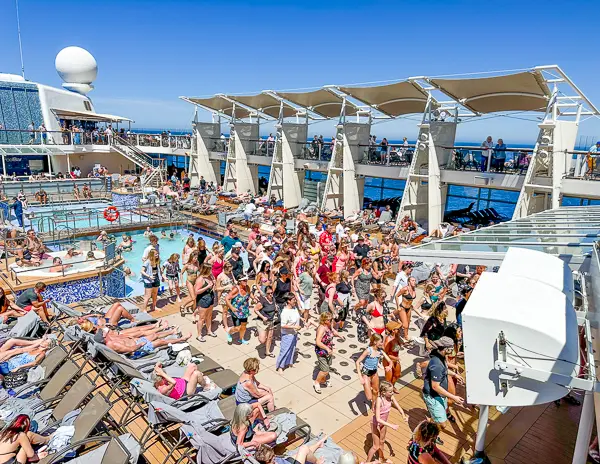 You should know that waiters do go take drink orders, and others roll carts around with bottled drinks. So there was no need to go to the bar if you didn't have to.
The Solarium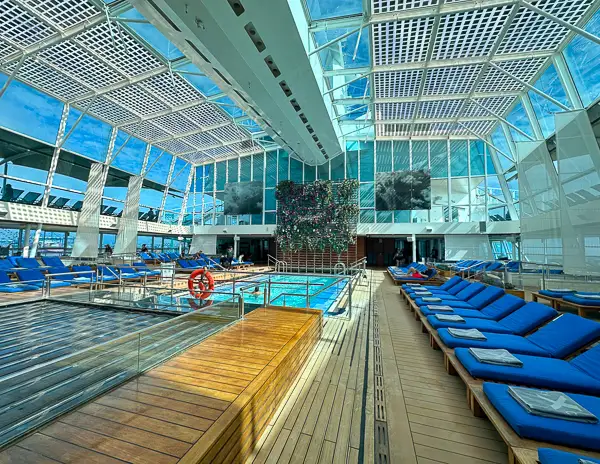 The Solarium pool is the perfect place to relax and get away from it all. It was always quieter when we walked through, with plenty of chairs available.
Celebrity Solstice Entertainment
Celebrity Solstice's entertainment was ten times better than we experienced on Equinox. Most shows were entertaining, and we didn't walk out of any this time around, although we were close to during one of them.
The cruise director, Patrick, was a class act with the right energy and excitement. We truly enjoyed hearing from him when he joined the stage or led an activity.
This week was Spring Break for many, and there were 500 kids on board (not the usual for Celebrity), so Patrick and his team did their best to keep the energy up and everyone involved.
While we will give some quick reviews on the nightly shows, remember there were other activities, parties, and fun throughout the ship. And passengers on this voyage were ready to have fun, unlike our last Celebrity cruise when everything died after 8 pm.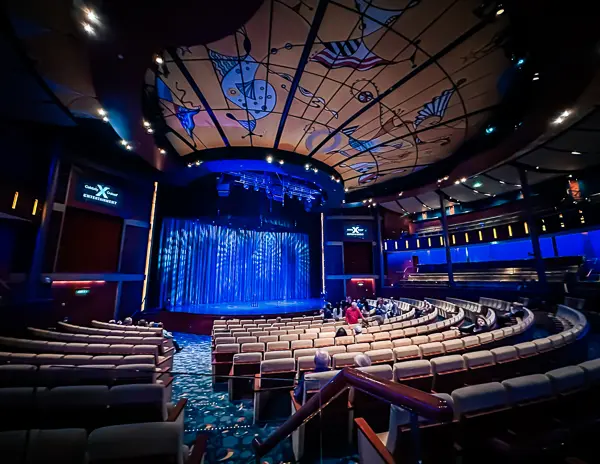 The Celebrity Solstice theater has two levels. Retreat guests have seats reserved for them upstairs.
The theater shows are mostly at 7 pm and 9 pm.
If it's a full cruise like we were on, arrive early to get a seat, but it fills up quickly.
There is no bad seat in the house. You get a good view from all sides in this theater.
There is waiter service for drinks at the theater.
The theater is one of those places on the ship that could use some TLC. The seats are comfortable, but they need some love.
Cheaza | Whitney Houston Tribute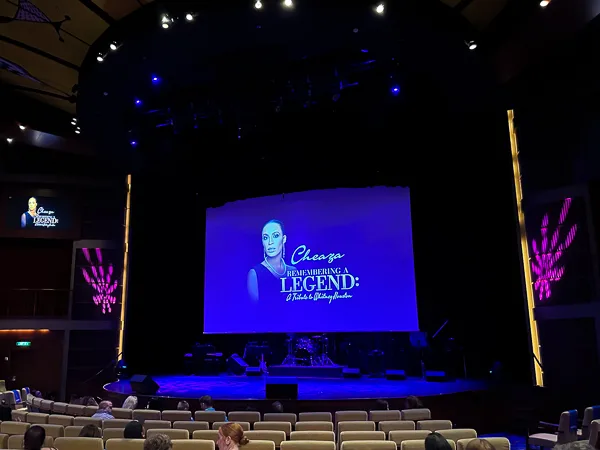 Cheaza was a headliner on the Celebrity Solstice the week we cruised. Her performances were at the end of the week.
Whitney Houston is a legend, and Cheaza's tribute to Whitney Houston was outstanding! We weren't sure what to expect, and even though she ensured we understood there was only one Whitney, boy, did she belt out the notes!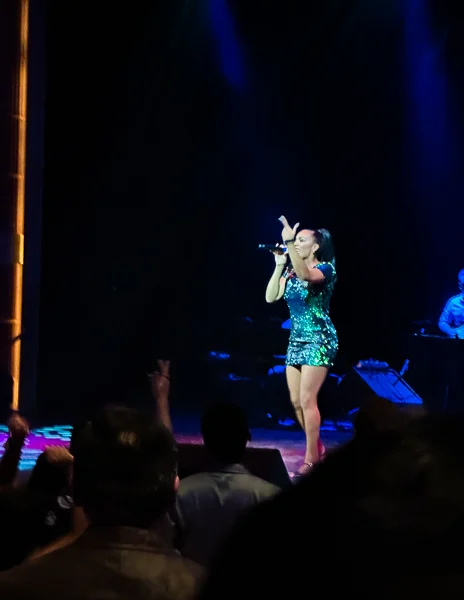 We stood and danced with her as she sang, "I Wanna Dance With Somebody," and when she sang, "I will always love you," we could feel a chill down our spine. Damn, she can sing!
Cheaza was incredible, full of magnetic energy, and brought the house down! We loved her interaction with the audience and the kids.
She also had a performance in the grand foyer where she belted out some Tina Turner and more.
This Queen was the best performance of the week.
The Boy Band Project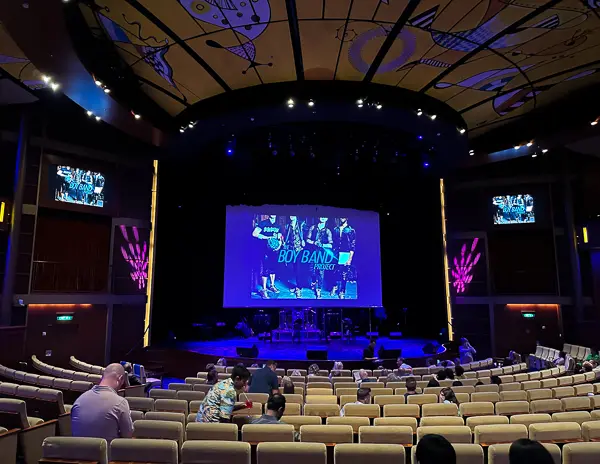 Another headliner of the week was The Boy Band Project. We had no idea what we were in for, but their show was a ton of fun.
Whether you love or hate boy bands, you will enjoy the energy of this group. They perform famous boy bands' songs from over the decades better than actual boy bands and have a fun stage presence. They take their talent seriously, deliver an excellent medley of songs, and bring some comedy comic relief to the evening by mocking the boy band phenomenon.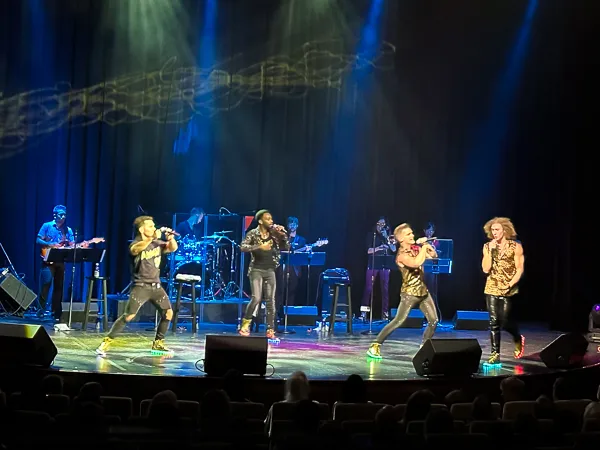 They sang and danced their hearts outs to songs from Boy II Men, Nsync, Backstreet Boys, One Direction, and more, and the crowds loved them.
They also performed some oldies, like from Jackson 5, in the Grand Foyer later in the week.
The Comedy of Frank Townsend
Frank Townsend performed a family-friendly show on the first night of the cruise and then a late-night adult show later in the week. We attended both.
On both nights, he was hysterical. What we loved about his comedy is that he spoke so many truths yet found a way to make it funny.
There were no boundaries on adult night, so if you're easily offended, you should skip.
James Cielen | Magician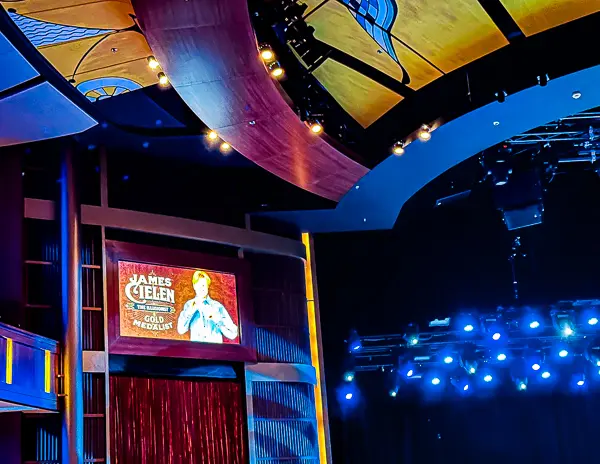 James Cielen is a renowned illusionist and magician. He's performed in casinos, resorts, and on grand stages worldwide.
He wasn't there only to entertain you with his magic tricks but to share his wisdom and show you a few tricks along the way. During his shows, he presented his inspirational story on how he started as a child magician, never giving up and working hard towards his dreams.
His magic and illusions were impressive, and we still wonder how he did some of those tricks.
Rock City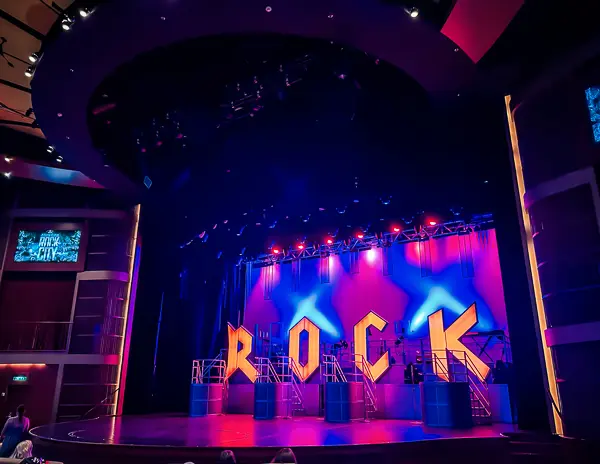 Rock City is the last show of the week and the best performance by the Celebrity Solstice Cast Members.
If you love classic rock music, you will love this show. The celebrity cast members performed a passionate and energetic performance featuring classic hit songs from the 70s through the 2000s. You'll hear some of your favorites from Queen, Led Zepplin, the Eagles, and more.
While not all the lead singers are amazing (the ladies have the best voices), you will still sing along and have a good time.
The acrobatic performances give it an extra oomph.
Broken Strings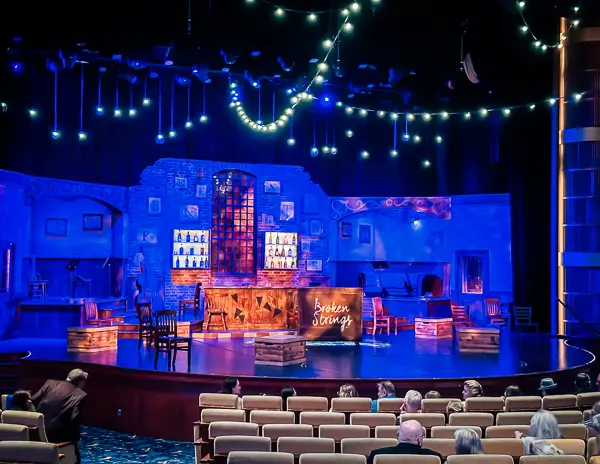 This is another performance by the Celebrity Solstice Cast, which was entertaining as they performed mash-ups of many popular songs that we know and love around someone's birthday party with a 70's theme wardrobe.
The most awkward part is when the cast comes out to chat and dance right next to you in the theater. That always weirds us out cause we are there to see them, not participate.
Other than that, the songs are pretty well performed and danced through.
Amade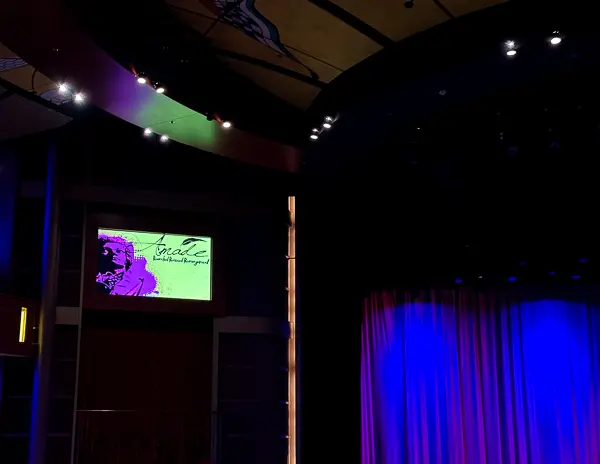 This was our least favorite show of the week. It is a reworked, remixed, and reimagined performance of Mozarks and others composers' classical music along with modern music.
It was a train wreck; we almost walked out. Some performers were not up to the task and butchered some music. While the music and dance were modern, their wardrobe was not, and it was so out of place. Sometimes we wondered if they were inspired by the musical Hamilton and failed.
This was one production we kept saying what the…. fill in the blank.
The best part of this show is the acrobatic performance.
Celebrity Solstice Orchestra
Honorable mention to Solstice's Celebrity Orchestra. They are part of every show and are a talented group of musicians. They play everything from classical, rock, and even pop songs. You name it, and they can play it. They are in the background of all these performances and productions.
Does Celebrity Solstice have a movie theater?
No, Celebrity Solstice does not have a movie theater, just the Solstice theater, where performances are shown. Movies on the Celebrity Solstice are sometimes played in Celebrity Central or under the stars at the Lawn Club.
The Service on Celebrity Solstice
We can't finish this Celebrity Solstice review without discussing the service and crew. It was top-notch! The crew was so friendly, accommodating, and helpful. They were always smiling and happy to assist us. Sometimes they went above and beyond.
Always remember that even though we pay cruise gratuities, it's always nice to tip extra, especially to those that have gone out of the way to make your vacation special.
We only had one issue with one crew member that kept rolling his eyes as we tried to address one of our concerns. The housekeeping manager, Kliment, on Solstice insisted on making up for this crew member. He sent us a beautiful arrangement of flowers and a bottle of wine to our cabin. Which was appreciated but unnecessary as we had already moved on from it, but still, it was very nice of him.
Other Observations
We thought there was plenty of indoor and outdoor seating around the ship. We never felt like we couldn't find a seat somewhere unless we were at the buffet during peak time and had to take a few extra minutes to look.
Cafe Al Bacio is great for those coffee specialty drinks, but you can get many espresso drinks also at the bars. So if you can't make it to deck 5 for your cappuccino or latte, don't worry; the bar at the buffet can make it for you.
You could ask for coffee-to-go cups for your coffee if you didn't bring your coffee tumbler.
The Rain Water in the aluminum bottle on Celebrity is not great tasting. If you're looking for premium bottled water, ask if they have another brand, or bring your reusable water bottle to fill up with filtered water at the buffet.
Unlike our last experience on Celebrity, we noticed fewer pushy salespeople on the ship. Last time it wasn't very pleasant.
While we still do not think that Celebrity is kid-friendly as there aren't many activities like water slides, go-karts, and such, the kids on this ship seemed to be having a blast. We met a couple on their first cruise who told us their kids never wanted to leave Camp at Sea (kids club) because they were having too much fun.
Will we sail Celebrity again?
YES. We already have another Celebrity cruise booked.
While we still think Celebrity has a more relaxing atmosphere compared to other lines, sailing on the Solstice taught us a few things. We've learned on this cruise that sailings can differ from the cruise ship to passengers and from week to week.
We are looking forward to sailing more on Celebrity in the future. Even though we also plan to diversify our future cruise plans.
122 Quick & Helpful Cruise Tips
We've gathered 122 of our top cruise tips and hacks to help make your planning process smoother and your cruising experience even more fabulous. From cruise packing tips and hacks to what to do on the cruise ship and at the cruise ports, we have everything you need to know to ensure your cruise is unforgettable.
Share the tips & love on Pinterest: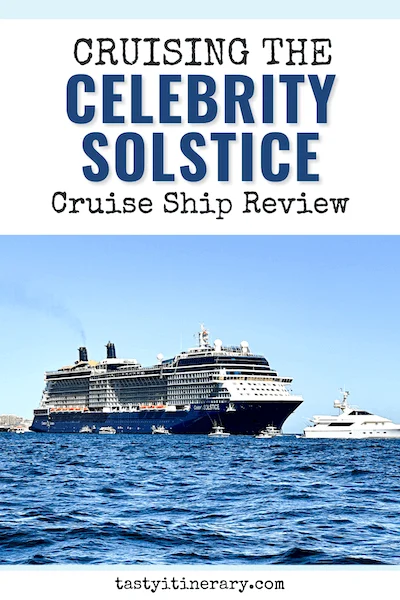 Meet Kathy Ava, a food, travel, and cruise writer based in Los Angeles/Pasadena, and the owner and main writer of Tasty Itinerary. With over 20 years of experience planning trips and logistics at her full-time job and for herself, she's become a pro at crafting unforgettable tasty itineraries. She's always on the hunt for delicious, fun travel destinations and cruise itineraries. She firmly believes that life is short and we must make the most of it, so always say yes to dessert.