Are you looking for some cruise cabin tips and cruise cabin hacks to make the most of your cruise experience?
There are a few levels of excitement on embarkation day.
The 1st: When you get that first glimpse of the cruise ship from the drive there. You point at it excitedly, "Look at that beauty!"
The 2nd: When you step onto the cruise ship, that realization that you're on vacation truly hits. Nothing can stop you now!
The 3rd: When you finally get to your assigned cabin and tour it for the first time. Home suite home!
While stateroom cabin sizes and amenities can vary, they have one thing in common: they are designed to provide cruise passengers with a comfortable, clean place to sleep, shower and relax.
Some are more spacious (hello, the suite life!) than others, but it is your home away from home for the next 3 to 14 nights, or even more, depending on what you book.
No matter how nice the cabins are, there are cabin hacks and cruise cabin tips that will help maximize your space. From packing cruise-cabin musts like magnetic hooks for hanging things to packing an extra power strip for all your electronics, these cruise cabin tips and tricks will make your cruise vacation more comfortable.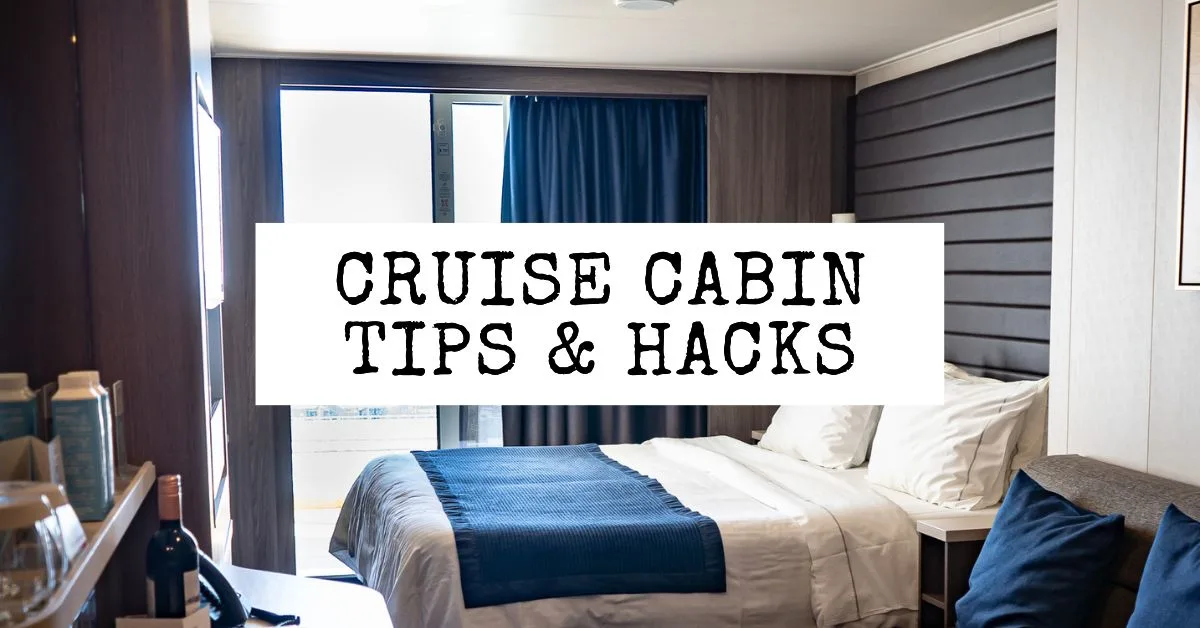 This post may contain affiliate links, which means we'll receive a commission if you purchase through our links at no extra cost to you. Please read full disclosure for more information. We appreciate your support!
In this guide, we first dive into some cruise cabin tips and then jump into some cruise cabin hacks that will change how you use and organize your cabin. How to make it feel more at home and less cramped if you're staying in a cabin stateroom with more than one other person.
Whether you're a first-time cruiser or a seasoned cruiser, you'll be sure to learn a new cruise cabin hack or share a new one with us in the comments.
Cruise Cabin Hacks and Cruise Cabin Tips
1. Book the Right Cabin
When you have decided on the specific cruise ship and itinerary you want to book, the next step is choosing the right cabin that meets your needs, preferences, and budget. This process starts with selecting the appropriate cabin type, which can vary in size, location, and amenities.
Consider your personal preferences and priorities when choosing a cabin type. If you're looking for a budget-friendly option, an inside room may be the cheapest choice. However, if you value access to natural light or fresh air, an ocean view or balcony cabin better fits your vacation needs.
Of course, if you're looking to save money on a cruise, you can always book a guaranteed cabin rate and let the cruise line roll the dice in choosing the cabin for you.
2. Choose the Right Location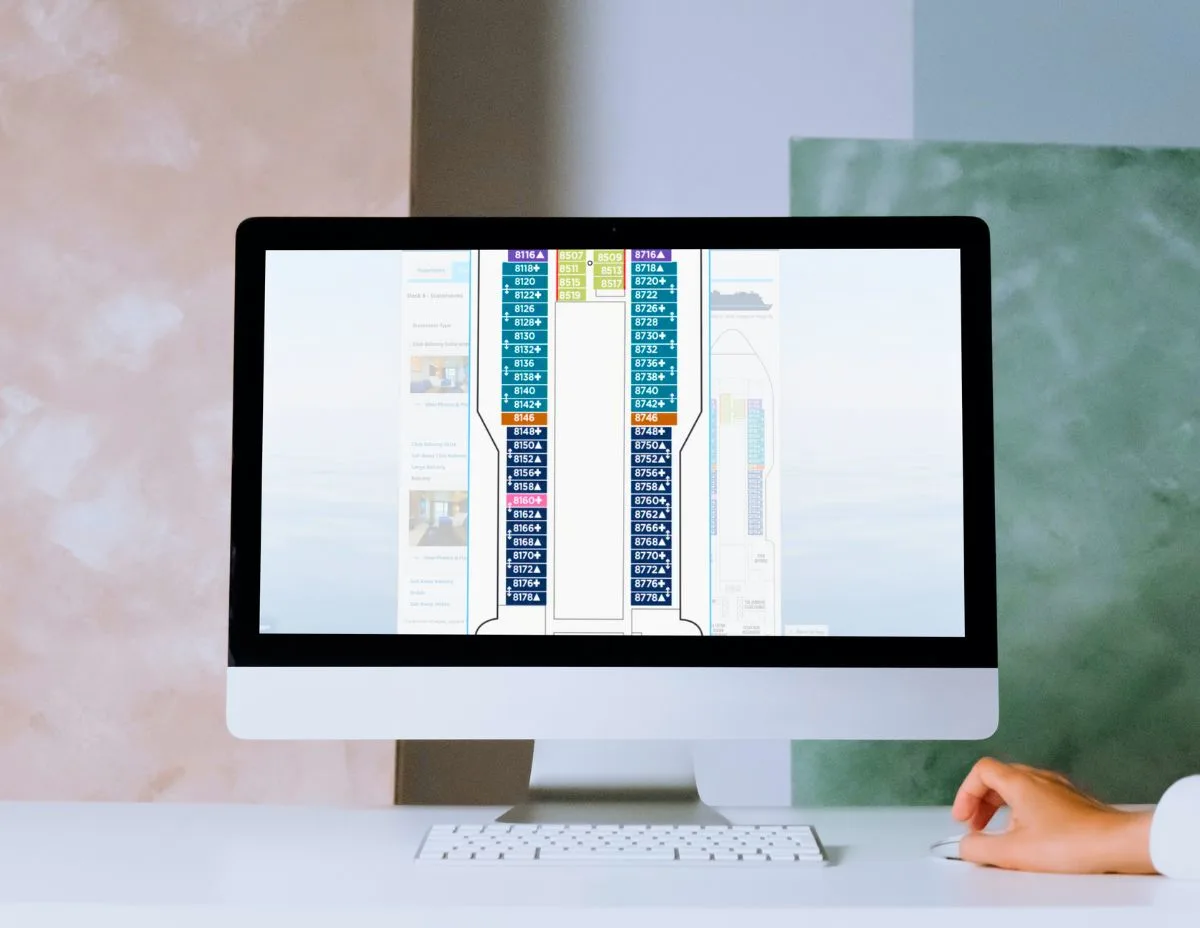 Cruise Ship Stateroom Tip: Location, Location, Location!
Choosing the correct location of your cabin can sometimes make a huge difference.
For instance, mid-ship cabins tend to be more stable and less susceptible to motion sickness while conveniently located near many of the ship's amenities.
However, if you're too far from the elevator or stairs, you may face long walks to and from your cabin. On the other hand, if you're too close to the elevator or stairs, you may experience unwanted noise from other passengers.
Another critical factor to consider is the cabin's proximity to high-traffic areas such as the buffet, pool deck, or lower decks closer to where you can feel the engine vibrating. During one cruise, we barely slept because you could hear the furniture scraping across the deck above us.
Ideally, you want to be surrounded by cruise cabins from every side to avoid noise.
If the view from the cabin is vital, you want to confirm that there are no obstructions like lifeboats.
When selecting a cabin location, consider the ship's layout and your preferences. Don't be afraid to study the deck maps.
Here are a few things to consider:
Would you like to be on the starboard or port side of the ship?
Do you prefer cabins located in the aft, middle, or forward sections of the ship?
Do you want to be close to specific amenities or activities?
3. Look for Reviews of the Cabin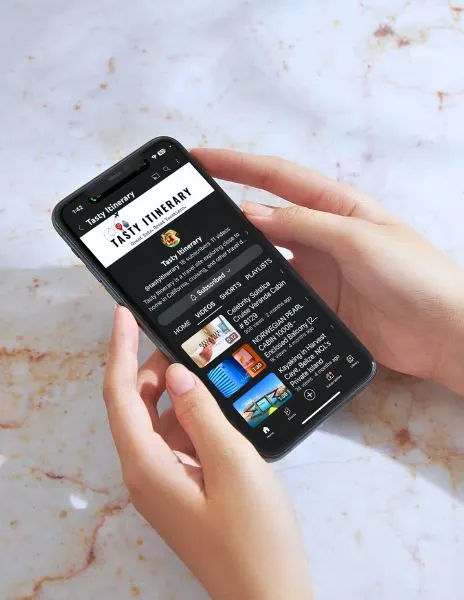 Cruise Cabin Tip: Look on YouTube or search cruise forums or Facebook groups for pics, videos, and reviews of a specific cabin #. You can even do a quick Google search to see what the cabin looks like.
It's exciting to arrive at a cabin and jump straight onto the bed to test its comfort. BUT, stop there for a moment…. let's check for bed bugs.
As clean as any cruise cabin or hotel room can look, it can still have bed bugs. It takes a quick check to make sure there isn't an infestation in the cabin.
Check the seams, creases, and folds of the mattress, as bed bugs often hide in these areas. It's not the only way to check for bed bugs, but it is a start.
Have you seen the YouTube videos of cruise passengers who found their cabins infested with bed bugs?
We are not trying to scare you from not cruising as we LOVE to cruise, and you can get bed bugs anywhere… even at a movie theater. We want to share this cruise ship stateroom tip so you can avoid bringing these critters home.
5. Sanitize Highly Touched Items and Surfaces
One of the other first things to do in your cabin is to sanitize highly touched items and surfaces. We always bring sanitizing wipes as part of our cruise items to pack when we travel.
The stateroom attendants do clean and do their best, but some of them are overwhelmed with the number of rooms they need to clean. You never know what little things they might miss, like cleaning the remote control, which usually is a hotbed of germs in hotel rooms and at home.
6. Unpack as Soon as You can
The luggage is typically delivered before sailing away. One of our top cruise cabin tips for embarkation day is to unpack as soon as possible. Get it out of the way and make yourself more at home.
If you don't do it before sailing away, try to do it before bed. This way, you can store your luggage and get it out of the way.
7. Use Packing Cubes When You Pack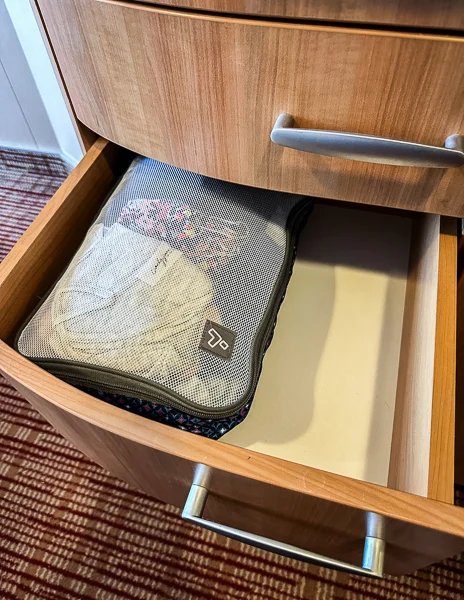 Not only does packing cubes help to keep things tight and organized in your luggage, but it also makes unpacking easy.
After hanging a few things, I place the packed packing cubes in different drawers or shelves, keeping things together as I organized them at home.
8. Store Your Luggage Under the Bed
Once you've unpacked, store your luggage under the bed. There is always plenty of room to store 2-3 suitcases under there without any issues. You want to maximize space in your cabin.
9. Store Valuables and Passports in Cabin Safe
While we have never had anything stolen from our cruise cabin, you can never be too careful. Best to put away any valuables, cash, and passports in your cabin safe for safekeeping.
10. Bring a Power Strip
Pack a multi-plug outlet that will allow you to plug in more than one thing at a time. There are not always enough power outlets in cruise cabins or USB ports.
The newer cruise ships will likely have 2-3 electrical outlets and 1-2 USB ports to plug in items like your phone or other electronics but don't always count on it.
11. Over-the-Door Toiletry Bag or Shoe Organizer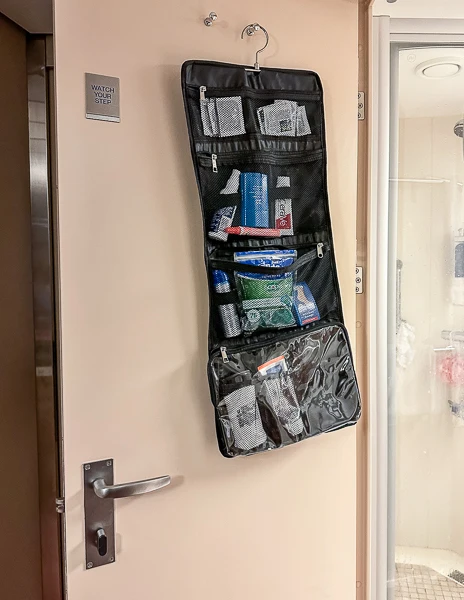 Our over-the-door toiletry bag makes a huge difference when we cruise and travel. It's one of our biggest cruise cabin hacks to keep most toiletries organized and out of the way.
We hang it up on the bathroom door and have to grab things from it as needed. Some things land on the shelves in the bathroom, but a lot stay in the bag.
When we return home from a trip, we leave much of it in the toiletry bag, ready for our next trip.
For families of 3 or more, an over-the-door shoe organizer helps divide and keep everyone's things separate. You can arrange it how it would work best for your family.
12. Use Magnetic Hooks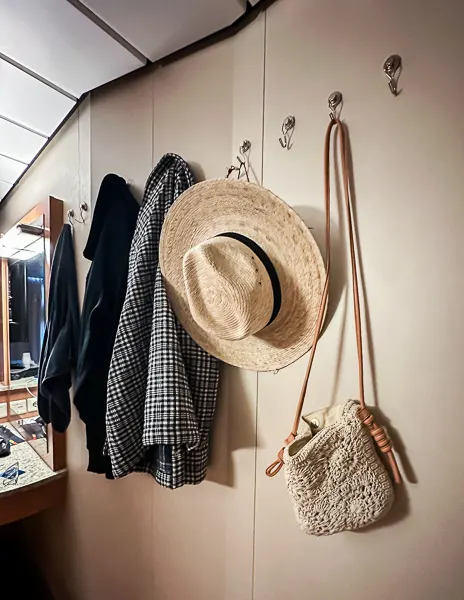 One of the cruise cabin hacks that some cruisers love is the magnetic hooks. Once upon a time, I wondered how useful they would be, but as long as you get the right magnetic hooks, you can use them throughout the cabin in many ways.
The walls and ceilings in the stateroom are all metal; therefore, you can stick magnetic hooks wherever you think you'll need them.
We usually use them to add hooks by the door where we'll hang our lanyards, purse, and even a jacket or sweater. It helps keep the sofa in our room clear of stuff.
We also use them to stick papers to the wall we don't want to miss instead of letting them clutter the vanity.
The magnetic hooks are also good to use in the bathroom to hang clothes to dry.
Tip: Buy magnetic hooks that say they can hold 100 lbs or more.
13. Use a Curtain to Divide a Cabin For Privacy
When traveling with family or a group on a cruise, finding privacy in a standard cabin can be challenging unless you book a large suite with separate bedrooms. However, many seasoned cruisers have discovered a clever cruise cabin hack to create a bit of privacy – hanging a curtain.
Some cruise lines, such as Disney Cruiseline, may already have a cabin curtain separating the bed and sofa areas, providing some privacy. Unfortunately, not all cruise ships offer this nicety.
But that doesn't stop passengers from bringing a shower curtain or thick blackout curtain to hang in the cabin for added privacy during their cruise vacation. The curtain is hung using magnetic hooks. This is one of those cruise cabin hacks that not everyone thinks of.
14. Bring a Laundry Bag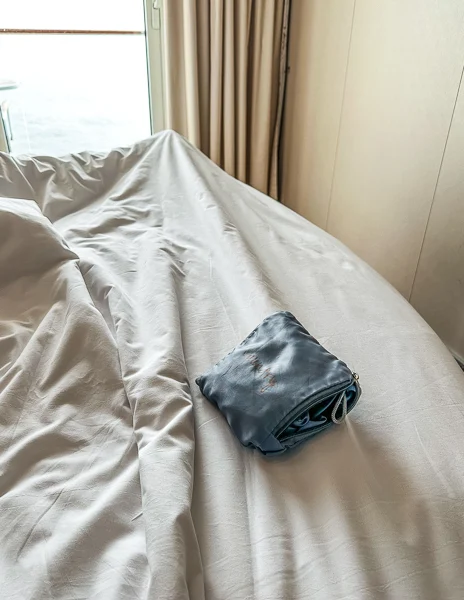 Whether you bring a scented trash bag, a compression bag, or a laundry bag is up to you. It would help if you had something where you could easily stuff your dirty clothes and keep them in the corner of the cabin.
Keeps things organized and dirty clothes from stinking up your cabin.
15. Take Advantage of Cruise Offers to Do Laundry Mid-Way
If your cruise ship does not have laundry rooms –most don't– you may want to consider doing laundry.
For a flat rate, the cruise ship may often have a mid-week all-you-can-fit-in-a-bag laundry special. It's a great time to get laundry done that is sitting around, especially if you have a cruise longer than seven days and you can plan to pack less.
While the bag looks small, if you roll up the clothes one at a time into the bag, you can fit a lot in. The clothes always come back clean and nicely folded, better than I could ever fold them.
It's also lovely to come back home with clean clothes.
16. Bring Laundry Detergent
We always bring a couple of travel packs of our favorite laundry detergent to wash things easily in the bathroom sink in your cabin. You can wash undergarments, swimsuits, and shirts in the sink and then hang them up to dry.
17. Bring a Portable Clothesline & Clothespins
Ideally, there should be a clothesline in the cruise cabin shower for you to hang a few things.
However, that's not always the case. Some cruise ships fail to provide a clothesline. We just experienced this on our Celebrity Solstice cruise; no clothesline existed. When this happens, we get creative by hanging the wet clothes on hangers and using magnetic hooks.
You can also bring a travel clothesline and clothespins and use them with the magnetic hooks to set it up inside the cabin.
Tip: Do not hang anything to dry on the balcony. It's not allowed. There is a risk of it being blown away into the ocean. 
18. Use the Steam From the Shower to Release Clothes Wrinkles
Irons and steamers are items not allowed on cruise ships. You may be able to get an iron loaned by the cabin steward, but that's not always possible.
Some cruise lines like Carnival and Disney have laundry rooms with irons and ironing boards for you to use. That's something you can research and verify before you take your cruise.
We find that hanging the article of clothing in the bathroom near the shower while you're taking a hot shower, the steam helps loosen up wrinkles. Combine that with some wrinkle releaser that you spray beforehand, and it's as good as using a handheld steamer.
19. Request Extra Hangers
We always find that there are enough hangers for us in the closet for the few things we do want to hang. However, a cruise cabin tip is to request extra hangers from your cabin steward if you need them. There is no need to purchase or bring travel hangers with you.
20. Bring a Small Fan to Help Circulate Air in Your Cabin
Bringing a portable fan is not something that we do, but we know many cruisers can't live without a fan in their room. The fan helps to circulate the air and create a more comfortable environment, especially in warm climates. It can also provide white noise to help you sleep more soundly.
Just check with your cruise line beforehand to see if there are any restrictions on bringing fans on board. If you bring a fan, be considerate of your cabin mates, and don't place it in a way that blows directly on them.
21. Bring a Nightlight
It is super dark once you turn off all the lights in the cabin. If you're one to get up to go to the bathroom multiple times at night like I do, one of our cruise tips is to set up a nightlight in the room.
I bring 2-3 led tea lights placed in different corners of the cabin. It gives me just enough light to see where I'm going.
However, there are other options you can consider, like a portable mini-light lamp, a wall plugin night light, or a motion sensor night light.
22. Ask to Empty Out the Mini Fridge
Often, the mini-fridges are not empty and are filled with items that are an additional cost. One of the cruise ship cabin hacks is to ask your stateroom cabin attendant to empty the fridge so you can put your drinks in there.
When would you use the mini fridge:
If your cruise line allows you to bring your case of water or sodas
Or if and when you have a premium package that includes canned sodas or bottled water, you can grab 1-2 at a bar on your way to the cabin.
23. Request a Coffee Maker or a Tea Kettle
A cruise ship stateroom tip that not everyone knows about is that you can request a coffee maker or a tea kettle to be brought to the cabin.
You can ask the steward when you meet them on the first day (a small cash tip would be appropriate), and they will bring a Nespresso-like coffee maker with coffee pods or tea bags and other items needed for your morning coffee.
This amenity is not available on every cruise line and cruise ship, but there has been success on some Norwegian and Celebrity ships. Doesn't hurt to ask.
24. Order Free Coffee or Continental Breakfast as a Wake Up Call
One of our favorite cruise cabin tips is to have coffee and continental breakfast delivered in the early mornings on port days.
Especially if it's free and included with your cruise fare. Double-check with guest services or even the fine print on the room service menu to see if continental breakfast is not an additional charge.
Some cruise lines have begun to charge a flat rate for breakfast delivery (hello, Norwegian). Of course, that would include even the hot breakfast and not just continental.
We plan to order room service during our day cruising Glacier Bay in Alaska so we can spend the morning enjoying the scenery from our balcony.
25. Pack a Coffee Tumbler
Depending on the cruise line you're sailing with and the drink package you may or may not have, a coffee tumbler is an additional cruise cabin hack.
This is my husband's favorite tip –the caffeine lover– because he gets to fill it up with room service coffee or coffee from the buffet and chill on a balcony without worrying about refills for a while.
If you can't get a coffee maker in your room, this is the next best thing after room service.
26. Bring a Small Alarm Clock
When on a cruise, it's common for stateroom cabins not to have alarm clocks. To avoid missing important port days and shore excursions, many cruisers bring a small alarm clock to keep on ship time and ensure they wake up early.
Although you may want to sleep in and avoid alarms while on vacation, staying on schedule with the ship's time is essential to maximize your cruise experience.
Personally, we manually change and set the times on our mobile phones to match the time changes as soon as we receive the notices. We also use our phones as alarm clocks in combination with coffee delivery on mornings when we have to get up early.
27. Don't Forget a Wine Opener
Many cruise lines allow passengers to bring 1-2 bottles of wine per guest onto the cruise ship (a corkage charge may apply). If you do and you plan to drink it in your cabin, do not forget the wine opener.
Of course, don't forget to check if the cruise ship allows a wine opener on board. Some do, and others see it as a weapon and prefer that you ask for the wine bottle to be opened.
28. Refillable Water Bottle
We all have our refillable water bottles at home. Bring one to fill up with iced water or even iced tea. It's a great cruise cabin tip for anyone without a drink package that doesn't include bottled water. You can save money by filling up at the buffet and having access to drinkable water in your cabin overnight.
29. Use the "Do Not Disturb" and "Make-Up Room" Signs
As new ships are built, and older ships get renovated, "do not disturb" and "make-up room" are becoming more common options. These buttons are usually located near the cabin door, allowing passengers to indicate whether they want their room serviced or prefer privacy.
However, if your ship doesn't have these buttons, be sure to use the "do not disturb" and "make-up room" signs that are provided.
Hanging the "do not disturb" sign on your door lets the cabin attendants know that you don't want your room serviced at that time.
Hanging the "make-up room" sign on your door indicates that you are ready for your room to be cleaned and serviced.
30. Decorate Your Door
We do not decorate our cabin doors, but we do admire all the fun decorations on the cruise ship cabin doors as we walk through the ship.
Giving your cabin door unique embellishments will make it stand out. This is a smart cruise cabin hack to implement for fun and when traveling with a group that includes little ones. They will be able to identify their cruise ship cabin.
Cruise Ship Stateroom Tips: FAQs
Is it better to stay higher or lower on a cruise?
Whether it's better to stay higher or lower on a cruise ship depends on personal preference and the type of experience you're looking for. If you're prone to seasickness, staying mid-ship is generally recommended, as you'll feel less motion there. If you're looking for a better view and don't mind feeling a bit of motion, staying higher on the ship can provide stunning ocean views and ports of call, typically closer to the ship's amenities like the pool deck.
Can you leave your balcony door open at night on a cruise?
While many cruisers do leave their balcony doors open to sleep, leaving your balcony doors open at night is generally not recommended for safety reasons.
How do you build privacy in a cruise cabin?
To build privacy in a cruise cabin, you can book a cabin with separate bedrooms, use a curtain or a portable room divider, go outside into the balcony if you have one for some time alone, bring a door hanger, or use headphones to block out external noise.
Creating privacy in a standard cabin can be challenging, but with some creativity, you can make your space more comfortable and private during your cruise.
Why do people bring magnets on a cruise?
People bring magnets on a cruise to stay organized and make the most of the limited space available in their cruise ship cabin which is typically small. Magnets can attach items to the walls, hang wet swimsuits and towels, and decorate cabin doors.
In advance of your cruise, don't miss these related articles:
Share the tips & love on Pinterest: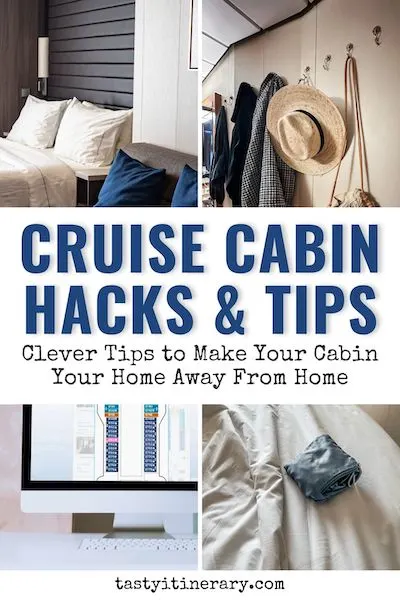 Quick Cruise Planning Guide
Where to book a cruise?
We like to shop around before booking by going directly to the cruise line and checking out the deals on GoToSea, CruiseDirect.com, Costco Travel, and Cruise Compete. Ultimately, the best advice is to find a travel agent you can trust to help you book a cruise.
Hotels for pre-cruise and post-cruise stays
We always use Booking.com or Hotels.com to book international accommodations and Expedia or Hotels.com for US accommodations. Airbnb or Vrbo for vacation rentals.
Can I book my own shore excursions?
Yes, you'll save money booking your own excursions and not with the cruise ship. We like to use Viator or WithLocals. Don't forget to read up on our tips for booking.
Car Rentals
We like to rent a car at cruise ports and for the freedom to explore on our own when the destination makes sense. We also sometimes rent cars during our pre-cruise stay or on embarkation day.
Should I book cruise insurance?
Yes! Cruise insurance is essential. We always book with a third party rather than the cruise line. Compare pricing on Insuremytrip.com.
Packing for a Cruise? Don't miss our essential cruise packing list.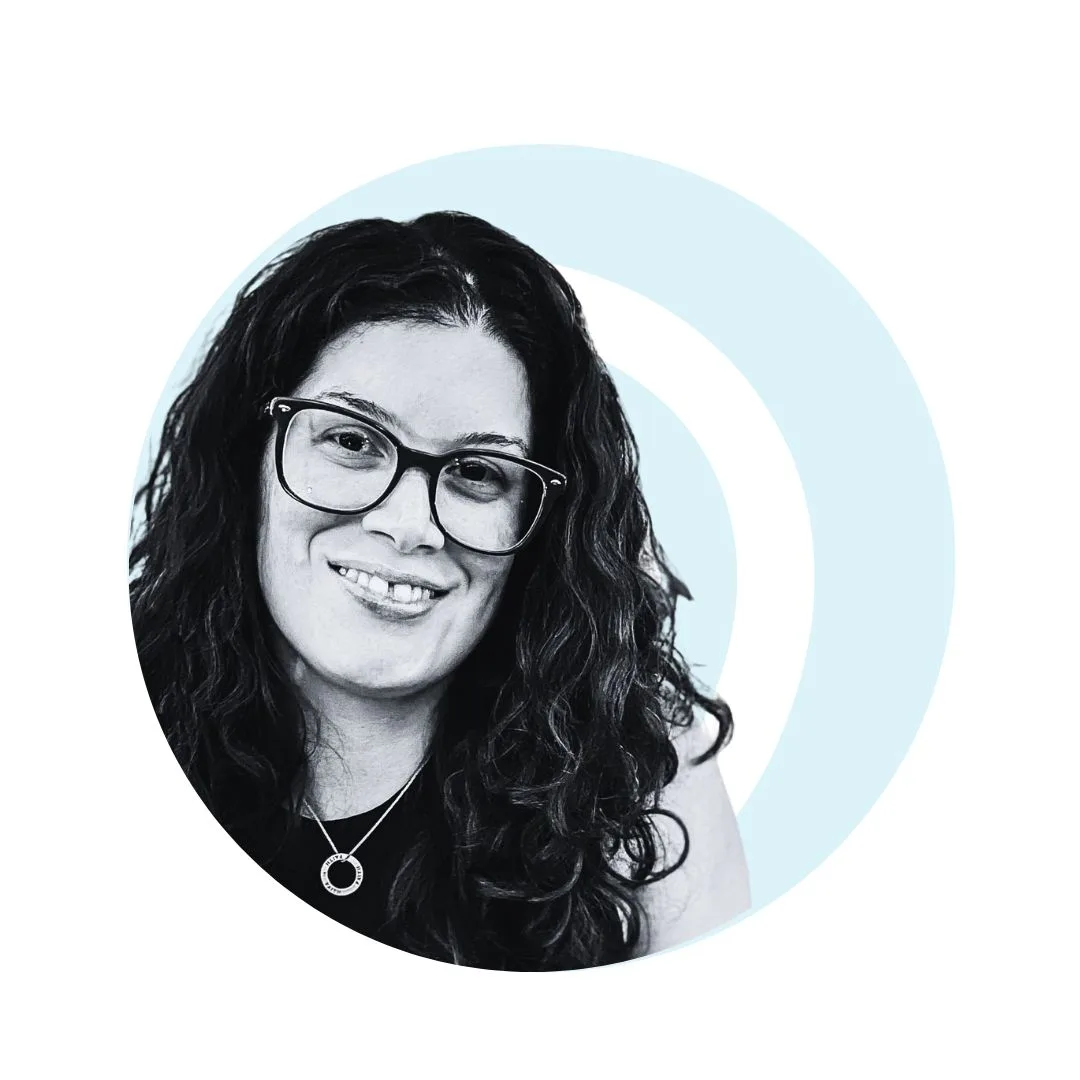 Meet Kathy Ava – a food, travel, and cruise writer based in Los Angeles/Pasadena. With over 20 years of experience planning trips and logistics at her full-time job and for herself, she's become a pro at crafting unforgettable travel itineraries. She's always looking for delicious, fun cruise itineraries and travel destinations and is slightly obsessed with Italy. Her passion and curiosity for travel started in childhood on her yearly and sometimes bi-yearly trips to PR. She firmly believes that life is short and we must make the most of it – so let's explore the world and make some incredible memories.