Are you cruising to Mazatlán, Mexico port? What are the things to do in Mazatlán Cruise Port?
Mazatlán Cruise Port is a popular cruise port located on Mexico's Pacific coast, across from the southern tip of Baja California, usually part of the Mexican Riviera itineraries.
During our last Celebrity Solstice cruise that sailed out of our home port of Los Angeles, we visited Maztalán and enjoyed a fantastic food tour around different parts of Maztalán.
There are many things to do in Mazatlán Cruise Port, but the food was our priority stepping off the cruise ship this time.
In Los Angeles, we can find delicious Mexican cuisine served in many restaurants, but nothing compares to the freshness and authenticity of the dishes you'll find in Mexico.
With our short itinerary on the Mexican Riviera, Mazatlán sounded like the perfect place to explore and try some foodie spots. This is where Pacifico Beer is exported from, so they must have great food.
Of course, you don't have to go on a food tour as we did. Matzalán offers a variety of activities, and even if you're just looking to get off the ship to stretch your legs, their charming historical center is an easy 15-minute walk away from the cruise ship.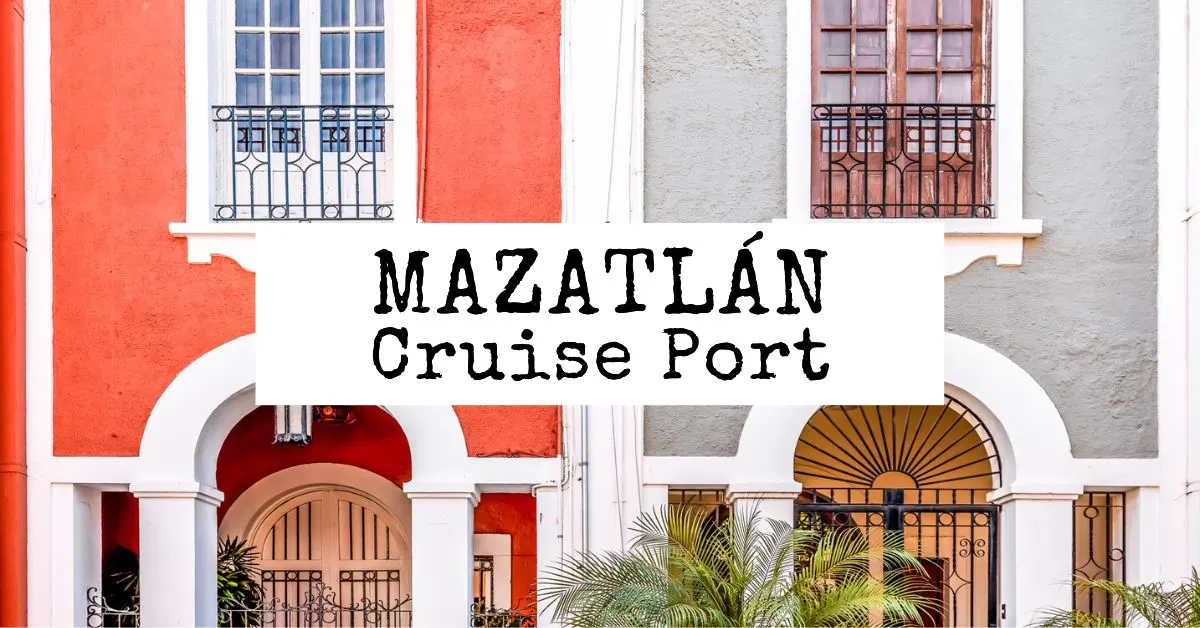 In this port, tourist aide volunteers are posted from the moment you leave the cruise terminal and along a blue line that takes you straight to the Centro Historico of Mazatlán. That easy.
This post may contain affiliate links, which means we'll receive a commission if you purchase through our links at no extra cost to you. Please read full disclosure for more information. We appreciate your support!
In this article, we share what to expect at the Mazatlán Mexico cruise port and some of the best things to do in Matzalán while in port.
We are cruisers and travelers that encourage everyone to explore and experience different cultures or at least do something that will bring you joy to add to your memory bank. We hope these ideas and experiences will help you plan a tasty itinerary in Matzalán.
Mazatlán Mexico Cruise Port
Mazatlan Mexico Cruise Terminal Address
Av. Emilio Barragán 517, Lázaro Cárdenas, 82040 Mazatlán, Sinaloa, Mexico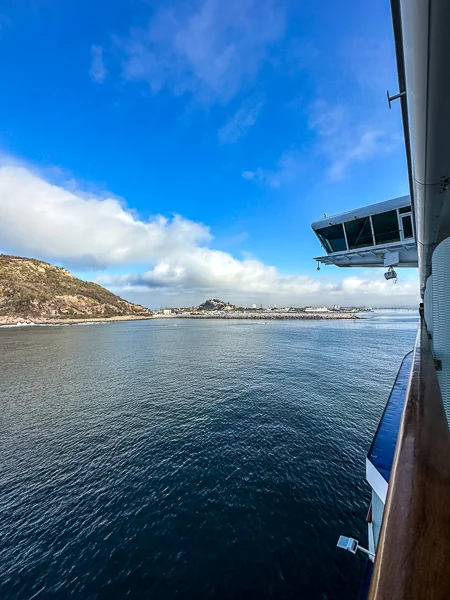 Do cruise ships go to Mazatlán?
Yes! Cruises are cruising to Mazatlán regularly. Many cruise ships that sail out of the West Coast visit Mazatlán and other Mexican ports like Cabo San Lucas, Puerto Vallarta, and more. Check out Mazatlán's cruise port schedule.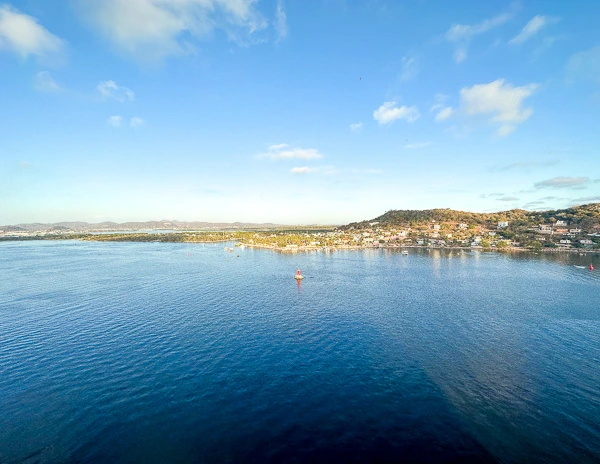 Where do cruise ships dock in Mazatlán?
Cruise ships usually dock at the Port of Mazatlán. The port is about 15 minutes from the historic city center and can be reached on foot or by taxi.
Is Mazatlán a tender port?
No. Mazatlán Cruise Port is NOT a tender port. However, cruise ships dock in a commercial port, so a shuttle service is provided to get you to the terminal for safety reasons. You are not allowed to walk to the cruise terminal on your own from the cruise ship. It is a quick ride that is less than 5 minutes.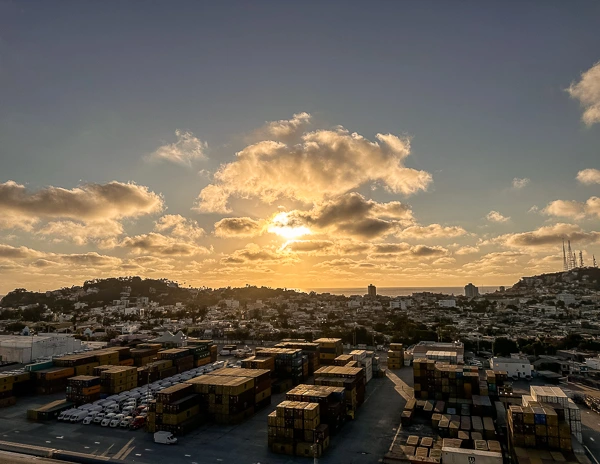 Is it safe for US citizens to travel to Mazatlán?
Yes, it is safe to Mazatlán! We were there right after the US raised the security threat levels and figured the cruise would cancel the port if it were a security issue, but they never did. We were driven all around the city on tour, making multiple stops. Never once felt unsafe and never saw anything that appeared suspect.
Speaking to locals, they all said the city of Mazatlán is safe for tourists – of course, always practice the same safety precautions you would when traveling to any other destination. Leaving the city, outside in the countryside, is where those threat levels go up.
And if you want to be super cautious, stick to tourist areas like the historic center or the Golden Zone.
What is there to do in Mazatlán cruise port?
There are plenty of things to do in Mazatlán Mexico cruise port. You can spend the day in Old Town, take a water taxi to Stone Island, book a food tour, or hike El Faro for stupendous views. These are just a few things you can experience while in Mazatlán.
Mazatlán Cruise Port Tips: What You Should Know
Mazatlán Cruise Terminal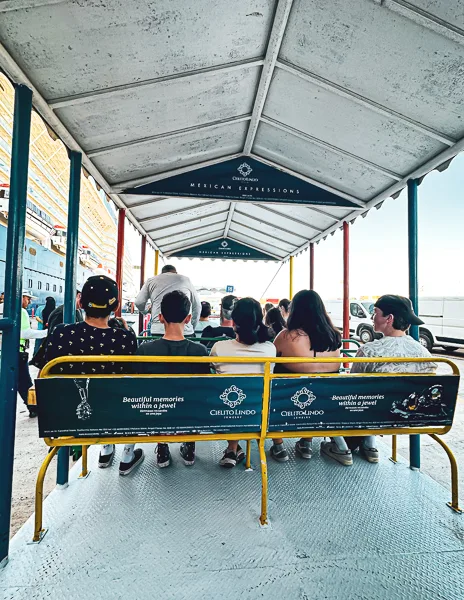 All passengers must take a shuttle from the cruise ship to the Mazatlán cruise terminal. The seats are not comfortable, but it's a short drive.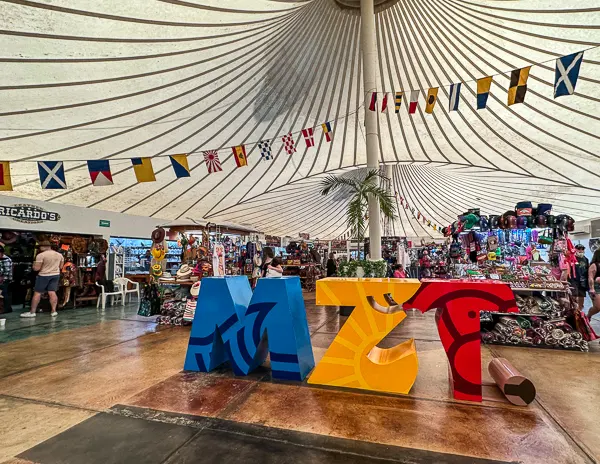 The shuttle will drop you off at the Mazatlán cruise terminal, filled with various shops offering souvenirs, leather goods, jewelry, food stands, and restrooms.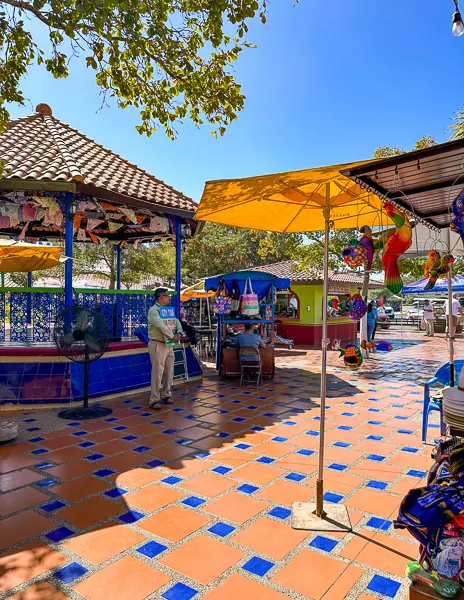 There is also a love outdoor area with more vendors and a few bars. You can easily get off the ship to do shopping within the terminal without leaving it if you wish.
The Blue Line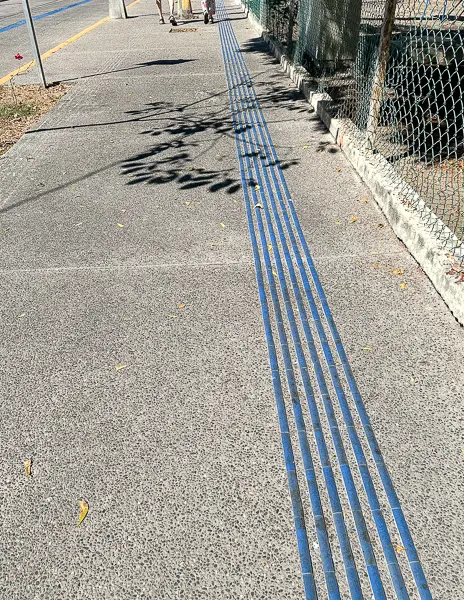 Mazatlán welcomes cruisers with open arms, making it easy for us to get off the ship and explore their Old Town from the cruise terminal. Blue lines are painted on the sidewalk and the street, leading you directly into their Centro Historico.
So as soon as you leave the cruise terminal, look down and follow the blue line.
Tourists Aide Volunteers with shirts indicating who they are will be posted along the blue line handing out maps and ready to answer any questions.
Money
The US currency is happily accepted all over Mazatlán. You do not need to go out of your way to exchange the US for Pesos. However, if you feel you need to have pesos, ATMs are located in the cruise terminal.
Transportation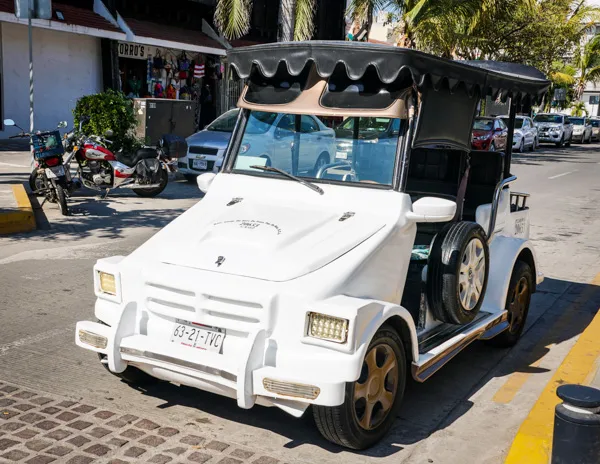 There are plenty of taxis and Pulmonia waiting outside the cruise terminal to drive you or tour the town. Always ask for the rate before getting in or make sure they start the meter.
Buses are also available, although we recommend taking a taxi for convenience.
Key Items Not to Forget:
Cruise Ship Card
Identification
Sunscreen
Hat
Beach towels (if it's a beach day)
Comfortable shoes
Phone
Camera
Tours and Shore Excursions
Book a tour independently, whether in advance or by negotiating with a tour operator at the cruise terminal.
Explore on your own. Take the time to speak to a Tourist Aide Volunteer for ideas on things to do in Mazatlán as they are there to help. They were wearing shirts that indicated they were volunteers, and they were handing out helpful maps.
You can hire a "Pulmonia" taxi for a city tour. It's an open-air golf cart painted in bright colors with seating up to four passengers, and it will take you to all the major attractions around town. They are usually around $20-$25 per hour; negotiate and set the price first.
Read more: Helpful Tips for Booking Shore Excursions Independently
Things to Do in Mazatlán Cruise Port
When speaking to other cruisers onboard about what they would do in Mazatlán Mexico Cruise Port, many indicated that they did their research and found that Mazatlán didn't have much going on. To quote a few people, "It seems, eh."
The truth about Mazatlán is that there is plenty to do, explore and enjoy. It may not have the same reputation as a place like Cabo San Lucas or Puerto Vallarta, but Matzalan is a cruise port that will surprise you – it surprised us.
Let's dive into the best things to do in Mazatlán Cruise Port.
1. Visit the Historic Old Town (Centro Historico)
One of the top things to do near the Mazatlán cruise port is to visit Old Town. You can walk there from the cruise ship, following a blue line painted on the sidewalk and the street, making it easy for cruise passengers.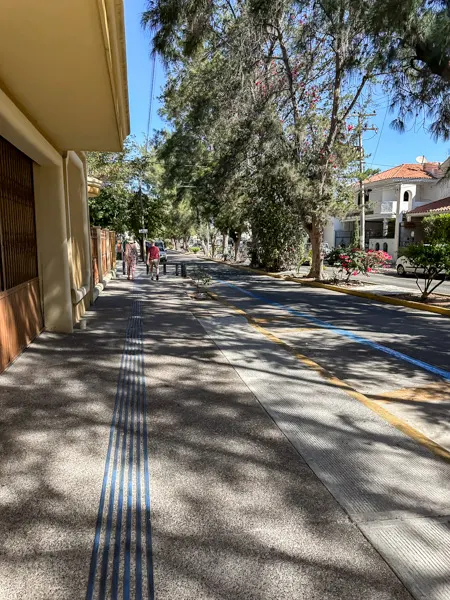 The Centro Histórico is the oldest part of Mazatlán. The old town is a colorful and vibrant area to explore. We loved looking at all the architecture and hidden gems outside some buildings.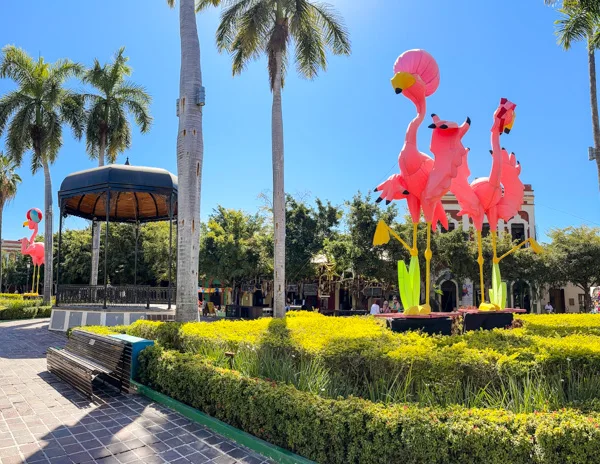 Following past the blue line, you'll find a small square surrounded by restaurants and cafes at the center of Old Town Plaza Machado. On cruise days, you'll find live music or a cultural event. They had Mayan dancers the day we were there; however, that's not historically accurate for Mazatlán.
In and around Old Town, you can visit and see these essential sites: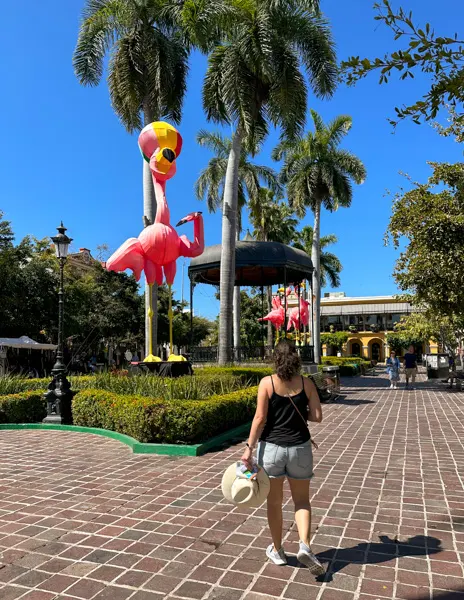 You can walk and explore the area with the self-guided walking tour map provided by the Tourist's aides or sit at a cafe and just take in the lovely surroundings.
2. Take a Food Tour
We love food tours and book them regularly during our trips. In Mazatlán, we took the Barrio Bites Tour with Flavor Teller, a food tasting that included 7 stops in different parts of the city. It was fantastic!
When we book these tours, we always look at them as part of our meal for the day. There is always so much food that it usually fulfills breakfast or lunch, but this tour covered both.
We ate everything from fish tacos from a beloved neighborhood taco stand to trying other typical local eats like fish stew and tasting smoked marlin.
We visited one of the few tortilla factories left and got to eat fresh tortillas made that morning.
When we thought we were done eating, we sat at a typical cenaduria, a restaurant, to share an authentic Mexican breakfast (although it was lunchtime for us) that consisted of chilaquiles, refried beans, machaca (beef), and chilorio (pork), and tortillas.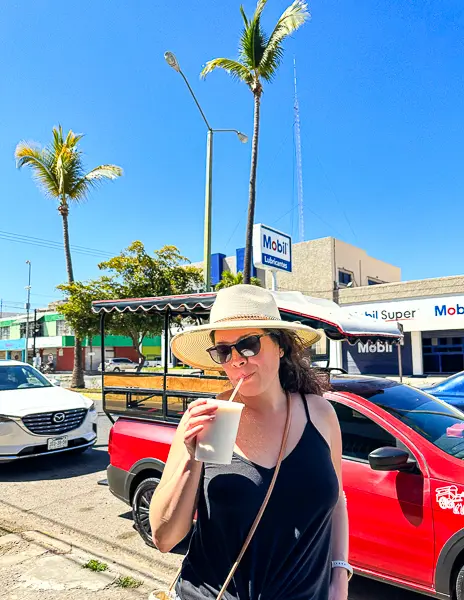 And that's not all! We finished with a coconut milkshake or a local craft beer (you had a choice).
Side note: If you do not eat fish or you don't drink alcohol, there are alternatives.
This was an authentic experience; every bite was as delicious as the next. Although some of us weren't crazy about the dried shrimp, it was a tiny taste from the entire tour and did not ruin anything as we were unknowingly about to have a feast. We still appreciated learning about what the locals eat.
Not only was the food excellent, but the guide was also amazing. We were fortunate to have had the owner, Maaike, take us on our tour. She has made Mazatlán her home for the past 19 years and truly loves sharing her community with others. Along with the food she loves, she shares the history of Mazatlán throughout the tour.
This is a small group tour, which is preferable.
Make sure to book in advance to reserve your spot.
The food tour meets at the historic center, an easy walk from the cruise ship.
This is not a walking food tour as they transport you outside the historic center. Transportation is included.
Flavor Teller does have a food walking tour that takes you to the Mercado.
Mazatlán Barrio Bites tour [book here]
Other Food Tour Ideas:
Mazatlán Mercado Walking Food tour [book here]
3. Hike to El Faro Lighthouse
Looking for a spectacular view? Hike to the El Faro. The lighthouse is on the southernmost highest hill, Cerro Creston, overlooking the city, offering stunning coastline views and surrounding areas.
Did you know that El Faro means "Lighthouse" in English?
Most cruisers take a taxi or pulmonia to the base of the trailhead. If you want to walk, you can, but it's about a 20-25 minute walk. Take into account that the hike itself is about an hour roundtrip.
Visitors must hike up a steep incline with around 340 steps, which can be challenging for some but worth the effort to get to the top. The trail is paved and well-maintained.
Fun Fact: The Lighthouse is 515ft above sea level. 
Climbing the trail is free. Once at the top, visitors can take in the breathtaking views of the city and coastline. On a clear day, it is possible to see for miles in every direction, making the hike to El Faro Lighthouse an unforgettable experience.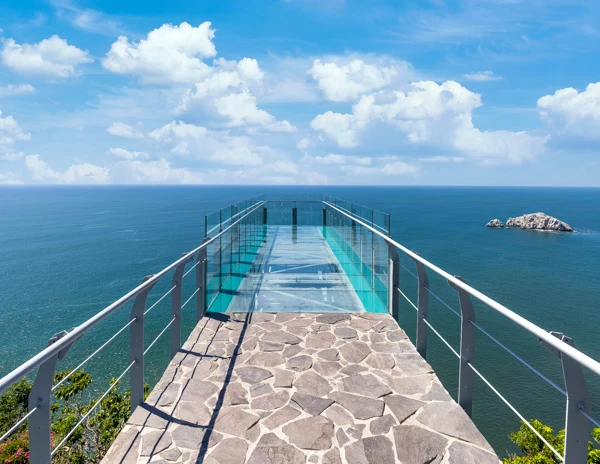 If you want an optimal view of Mazatlán, you can pay 30 pesos to enter a glass platform called "El Mirador de Cristal."
We suggest doing this early morning before it gets too hot, bringing some water and maybe a light snack with you.
Check out AllTrails for more info.
Tour Ideas:
City Tour & Mazatlán Lighthouse [book here]
4. Take a Boat to Stone Island Beach (Isla de la Piedra)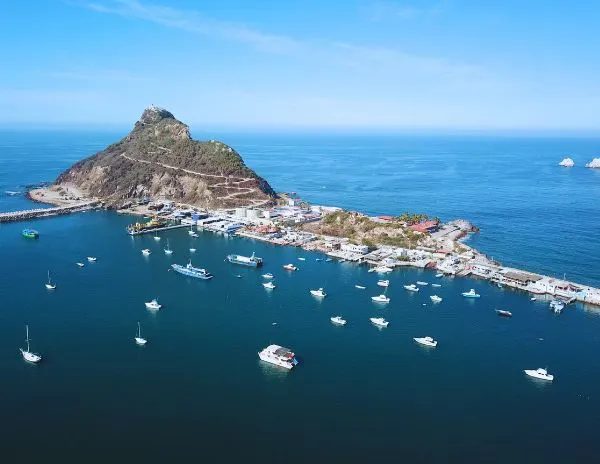 One of the top things to do in Mazatlán is to spend the day on Stone Island Beach, locally known as Isla de la Piedra. It is called an island, but it is technically a peninsula off the coast of Mazatlán, known for its beaches.
To experience this is an off-the-beath path adventure, you must take a boat ride.
Once there, you can choose a bar or restaurant with beach chair rentals, food, and drinks. Take your time to sunbathe or take a swim.
You will also find vendors selling food, souvenirs, clothing, and other things you may be interested in. Make sure to bring some cash if you're interested in shopping.
How to get to Stone Island from Mazatlán cruise terminal?
Cruisers, you want to exit the terminal and make a left. Continue on that road for 15-20 minutes until you reach Embarcadero Playa Sur Ferry Transportation [Google Map It]. Look for a sign that says "Water Taxi to Stone Island."
Once you're dropped off in Stone Island, at the road, make a left and continue walking until you see the beach on your ride, and then you'll make a right onto the beach. It's about a 5-minute walk. You can continue walking on the beach until you find a spot.
When you're ready to return, you'll find water taxis in Stone Island, where they dropped you off earlier. Make sure to give yourself enough time to get back to the ship.
If you're unsure, you can see if the cruise sponsors any shore excursions you can book.
Tour Idea:
Stone Beach Island Getaway [book here]
5. Take a Stroll or Bike Ride Along El Malecón de Mazatlán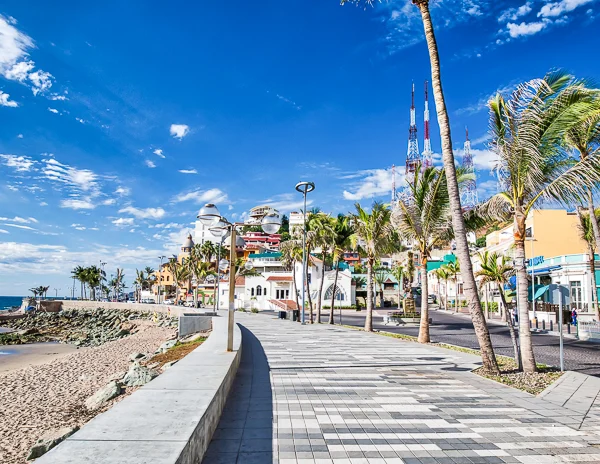 The Malecon is a long, wide boardwalk that runs along the beach in Mazatlán. It is a popular spot for locals and tourists and is excellent for walking, jogging, or bike rides. Our guide that day told us that's where she runs every morning.
Mazatlán Cruise Port to Malecon: From the cruise terminal to El Malecon, the waterfront of downtown, is about a 30-minute walk or a 7-minute taxi ride. You can walk to Old Town and then continue north towards El Malecon.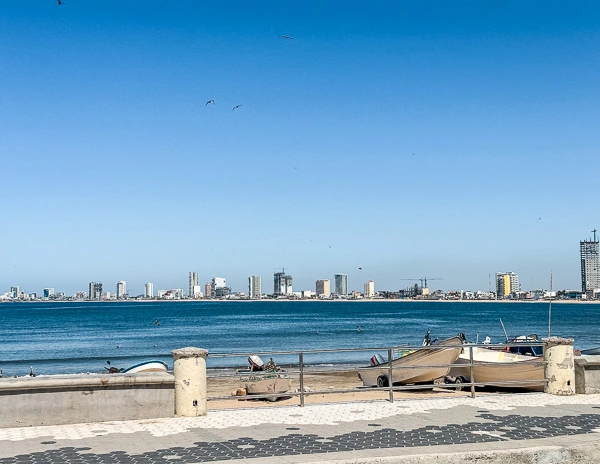 The boardwalk is 13 miles long, and you don't have to walk the entire thing. If you're coming from the cruise port, you'll probably explore the city's waterfront closer to downtown. It's a great place to stroll, plan a bike ride, or even people-watch along the beachfront.
One of the highlights of the Malecon is the Monumento al Pescador, or Fisherman's Monument, located near the beginning of the boardwalk. This statue pays tribute to the city's fishing heritage and is a popular spot for taking photos.
You can take a 20-minute walk West from the cruise terminal to El Malecon [Google Directions] or taxi.
Going farther north of El Malecon, you'll end up in the Golden Zone. We recommend taking a taxi up to the Golden Zone.
If you plan to bike ride El Malecon, you can do so from Baika's. We suggest taking a taxi to the bike rental store as it is farther out on the walk. Baika's also offers bike tours; email them for info.
Tour Ideas:
Mazatlán Smart Bike Tour [book here]
6. Spend the Day at the Beach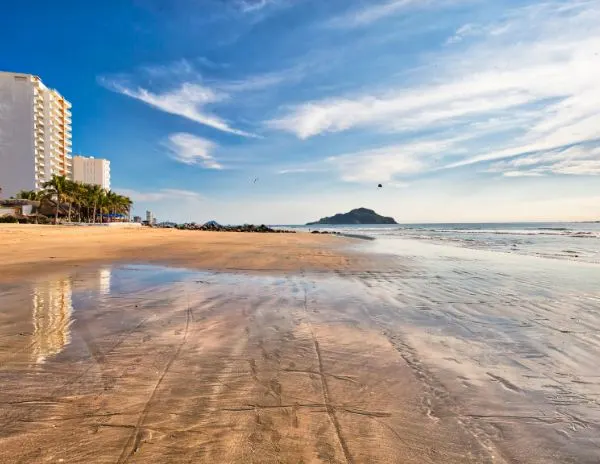 Can you walk to a beach from the cruise port in Mazatlán?
Yes, you can. Play Olas Atlas, right off El Malecon de Mazatlán, is a 20-minute walk from the cruise terminal. However, we recommend taking a taxi or pulmonia to the beaches in the Golden Zone. The farther north you go in Matzalan, the better the beaches.
We mentioned going to Stone Island, but there are other beaches in Mazatlán you can plan to spend your day in, and you don't have to get on a boat to get there.
All the beaches are located along El Malecon, which starts at the Golden Zone and goes south to close to downtown. Here are a few beaches you can plan to spend the day:
Playa Olas Altas: This beach is just a 20-minute walk from the cruise port, along El Malecon, and is known for its big waves that are popular with surfers.
Playa Los Pinitos: This is a secluded beach that is still a 30-minute walk or a 7-minute taxi ride. It is known to be a family-friendly beach as it has calmer waters than Playa Olas Altas.
Playa Norte: This beach is a 7-minute taxi ride or a 27-minute walk. It has places to eat nearby, including Playa Norte Restaurant, which is popular for music, drinks, and food.
Playa Las Gaviotas: This beach is located in the northern part of Mazatlaán in the heart of Golden Zone, and it is said to be worth the 20-minute taxi ride.
Playa Camarón Sábalo: This beach is also located in the Golden Zone, a 25-minute taxi ride to a quieter beach area.
Tour Ideas:
Mazatlan Sightseeing and Beach All Inclusive [book here]
Read more: What to Pack for a Beach Day
7. Explore the Golden Zone (Zona Dorada)
What is the Golden Zone in Mazatlán?
The Golden Zone, also known as Zona Dorada, is the main tourist area in Mazatlán, Mexico, 4 miles north of Old Town. It's also the northern part of El Malecon. You'll find the best beaches here and resort hotels, shops, and restaurants that line up and run the length of Avenida Camaron Sabalo.
You may want to combine some time at one of the Golden Zone beaches with exploring this tourist area of Mazatlán.
Mazatlan Cruise Port to Golden Zone: From the cruise terminal, take a taxi to the Golden Zone. It's about a 25-minute ride.
In the Golden Zone, you can shop, have lunch, and explore highlights like the Mazatlán Sign and The Beatles Tribute.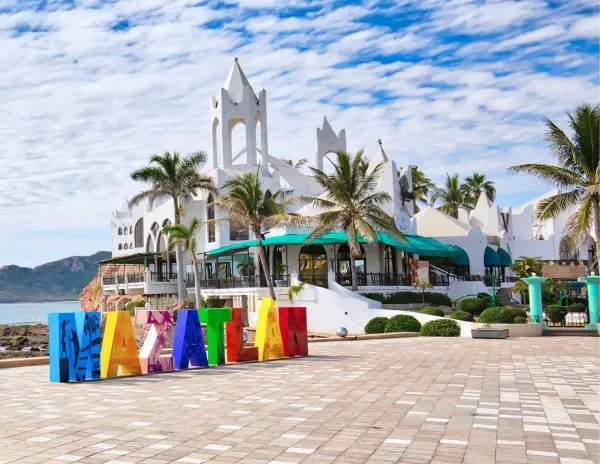 Where is the big Mazatlán sign?
The colorful Mazatlan sign you see in photos can be found at the start of the Golden Zone along Avenida Camaron Sabalo. It's a great spot to take photos to add to your travel memories.
The Beatles Monument
If you're a fan of The Beatles, you must check out the Beatles Monument in Mazatlán, between Ángel Flores and Mariano Escobedo in Olas Altas. Four large bronze statues depict the four members of The Beatles crossing the road, paying homage to their famous Abbey Road album cover.
Tour Ideas:
Mazatlan Sightseeing and Golden Zone [book here]
8. Explore Mercado Pino Suarez in Mazatlán
Just an 18-minute walk [Google Map It] from the cruise terminal is the Mercado in Mazatlán, Pino Suarez. It is the perfect place to find locally handcrafted souvenirs and sample local foods and eateries in the market. The Mercado is also within walking distance from Old Town.
As a foodie, this is one place you'll want to check out. Not only do locals shop here for fresh produce and goods, but you also get to see what locals eat and have the chance to eat at local food counters, serving ceviche, tacos, tamales, and other locally made favorites.
As mentioned earlier, Flavor Teller has a walking food tour that will take you through the market, introducing you to local goods while feeding you from their top spots.
9. Watch the Cliff Divers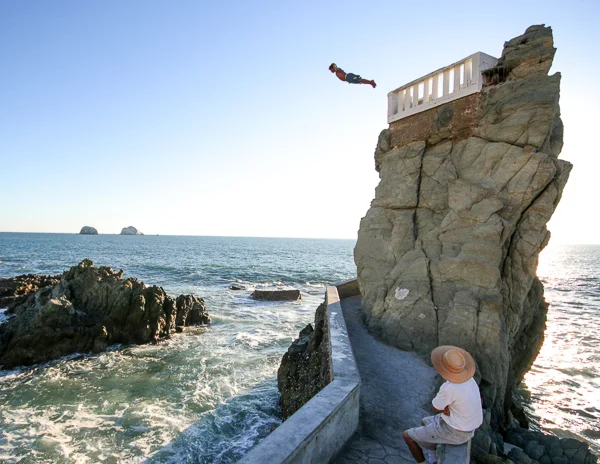 Shockingly, if you look at Mazatlán's Google Map, you'll find that these professional cliff divers are permanently highlighted as "The Diver."
You'd never know it unless you looked at Mazatlan's official guide, but a popular tourist attraction is watching divers leap from a platform about 50 feet above the water – not from an actual cliff.
The tradition of cliff diving in Mazatlán dates back to the mid-1900s when the platform was constructed on the Malecon just north of Olas Altas Beach. Visitors can watch the cliff divers for free, but most spectators are expected to give them a small tip. The divers are not paid for their performances.
You can watch these divers dive off the platform in the afternoon.
Where is it located? It is in Passeo Clausen just north of Olas Altas in the Glorieta Rodolfo Sanchez Taboada Plaza [Google Map It]. It is a 26-minute walk from the cruise terminal.
Once you finish watching the cliff divers, you can take a short walk north to see the Monument to the Continuity of Life. This monument represents the start and end of life, balance in life, and the importance of respecting nature. The monument is adorned with dolphins jumping out and into the water, making it a must-see attraction.
10. Carpa Olivera Saltwater Pool
North of Olas Altas, there is a public saltwater pool with a concrete waterslide, Carpa Olivera. This unique oceanfront public swimming pool is part of Mazatlán's history. The pool was built in 1914 and was remodeled in 2022 with new amenities, fountains, and a pumping system.
Swimming in this marine pool is one of the unique things to do in Mazatlán, Mexico. There are only so many of these ocean pools in the world.
If you plan to go to the saltwater pool, ask a tourist aide if it's open, as it's sometimes closed for maintenance.
Share the tips & love on Pinterest: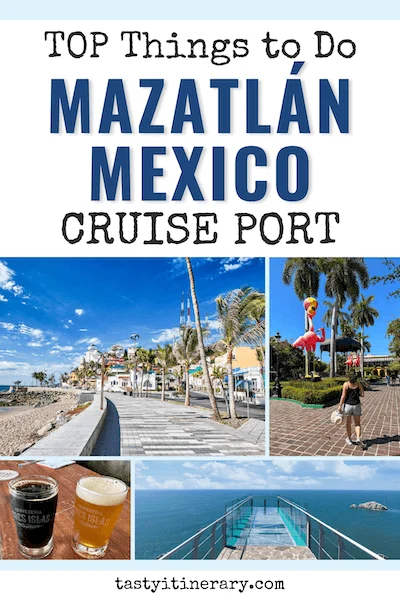 Meet Kathy Ava, a food, travel, and cruise writer based in Los Angeles/Pasadena, and the owner and main writer of Tasty Itinerary. With over 20 years of experience planning trips and logistics at her full-time job and for herself, she's become a pro at crafting unforgettable tasty itineraries. She's always on the hunt for delicious, fun travel destinations and cruise itineraries. She firmly believes that life is short and we must make the most of it, so always say yes to dessert.