Are you wondering if you can be your own tour guide at the Costa Maya cruise port? You absolutely can! We have done guided tours and we have rented a golf cart to explore on our own. Either way, you'll have a great time exploring Costa Maya.
One of my favorite things about the Costa Maya, Mexico cruise port is the water. It's that cerulean blue that invites you to come out and play from the moment you take that peek out of your balcony.
As you're strolling down the long dock towards the port, you can peer over it and you might see a preview of what you may see if you spend some time at the beach. The are plenty of colorful fish and sometimes you'll get to see a stingray or two.
Disclosure: This post may contain affiliate links. If you decide to make a purchase from one of those links, we may get a commission at no extra cost to you. We appreciate your support.
This was our 2nd time in Costa Maya. We were at this beautiful port last year and enjoyed a great tour with Native Choice. After visiting Chacchoben Ruins, we spent the afternoon of fun and relaxation at Seven Color of the Seas Lagoon, also known as Lago Bacalar. Here we also had a delicious lunch and unlimited piña coladas.
It was a great day! We looked forward to returning again in the future. Little did we know at the time then that we'd be back here exactly a year later and exploring on our own.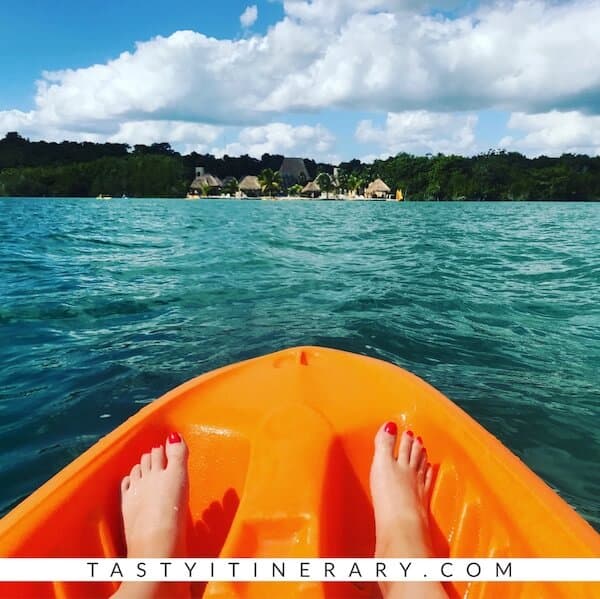 For this cruise itinerary with the Norwegian Pearl, we didn't make any specific plans. I thought we'd wing it and figure it out at the port. If something adventurous didn't spark our spontaneity, I was absolutely fine with another beach day.
Costa Maya Cruise Port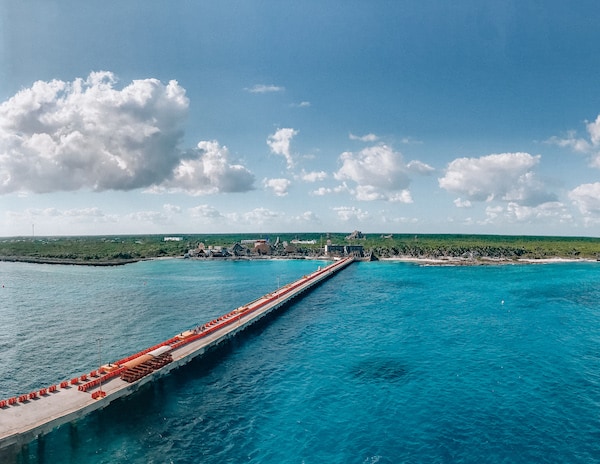 The Costa Maya Cruise Terminal
The terminal in Costa Maya cruise port is built in such a way that you never have to leave its confines unless you want to. It's a maze with many shops, restaurants, and bars with access to the beach and even a free pool. There is a variety of entertainment provided by locals and plenty of photo opportunities.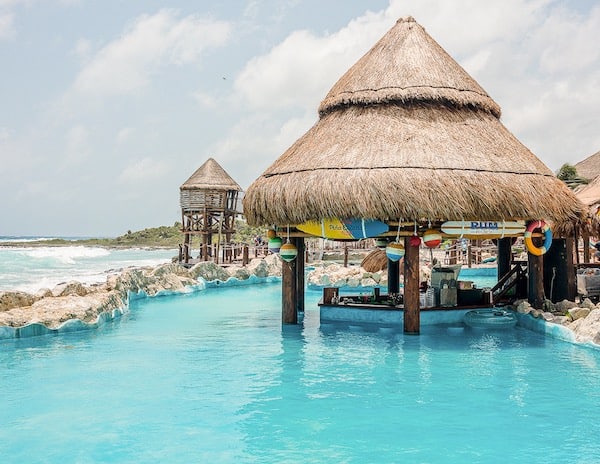 Truthfully, it reminds me a little of Disneyland. And, it's actually one of the nicest cruise terminals I've been to, thus far. Costa Maya cruise terminal is great for tourists who don't want to venture far and want to stay close to the ship.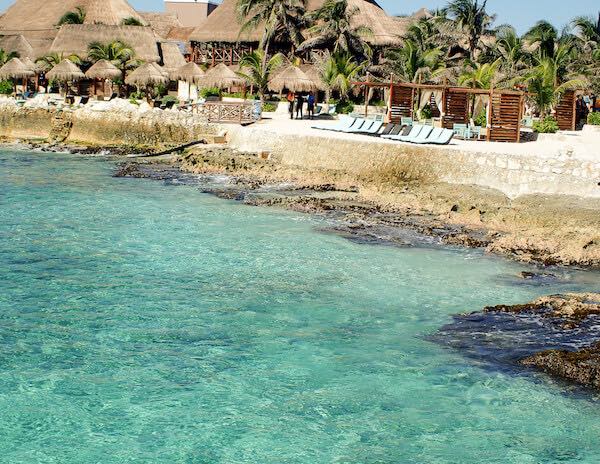 Did I mention it's a maze? Finding your way out of the terminal is an adventure in itself. It doesn't help that shop owners are eager to get your attention so you'll step into one of their business establishments. All while you're trying to find the exit. It delays things for sure.
It's my least favorite part of this port. However, THE JOURNEY IS PART OF THE ADVENTURE, and adventure is what we found right before the exit.
What to Do in Costa Maya Cruise Port
Rent a Golf Cart
Finally! After our way out of the maze, we bumped into a vendor renting golf carts. At first, we started to walk away, but then I looked over my shoulder and thought, "FREEDOM!"
Taxi, smaxi. Psfff. Who needs a taxi when you can drive yourself around?
Hubby followed my train of thought and in minutes he negotiated a 5-hour rental for much less than they were offering it for. So, don't be afraid to haggle a little. Still, be fair.
Thankfully, hubby loves to drive because if it were just up to me, not sure if this is the route I would have chosen. Make sure you're comfortable being behind the wheel and in a golf cart with no doors or windows.
With the rental, they will provide you with a map and give you the route you'll want to stay on with the golf carts. They may also point out locations where you can park for free.
Driving Around Costa Maya
The vendor handed us a map and gave us instructions on two main streets that looped around the Costa Maya, Mexico cruise port area. We didn't pay too close attention to that since we drove through the back streets and even went past the unpaved roads.
I highly recommend you stay on the paved roads as the ride starts to become bumpy and the driver will have a harder time maneuvering the car.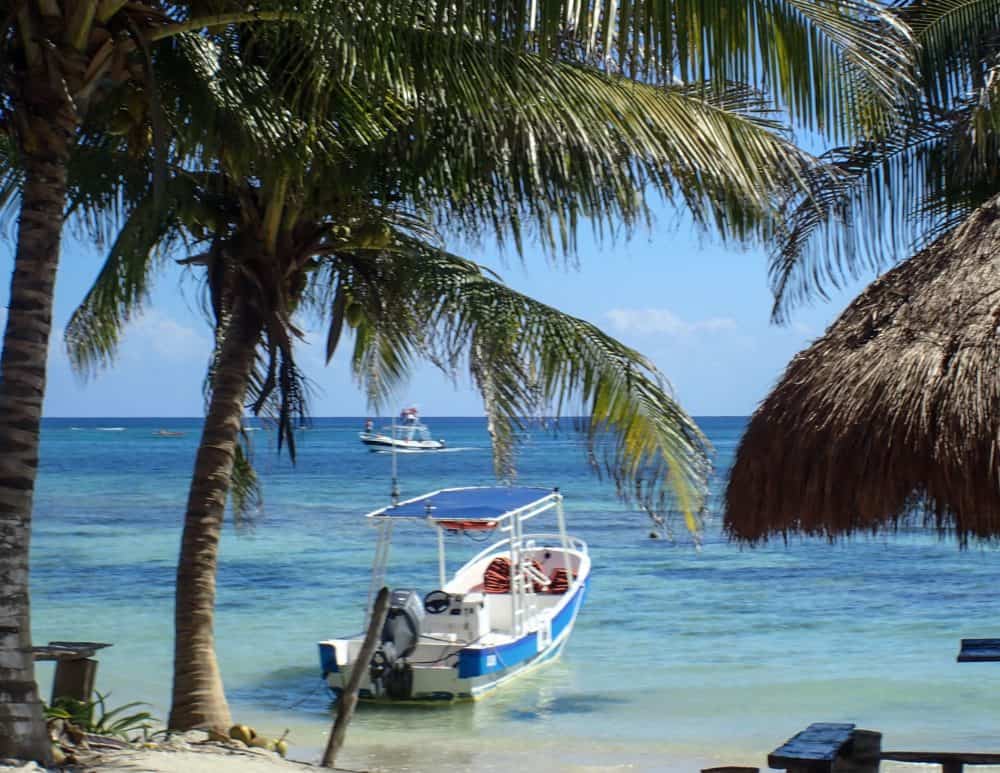 Don't be afraid to be your own tour guide.
The advantage of being your own tour guide means you can make as many stops as you like. There are many beachside bars, resorts, and unoccupied beaches. Locals are eager to make sure you're having a good time while you're there – don't forget to tip.
We never felt unsafe. This is important because I feel many cruisers stay at the terminal and don't explore because of predetermined assumptions. Leave the terminal, explore what this Mahahual village has to offer. Even if it's just a quick trip to Malecon.
Mahahual Malecon (Downtown)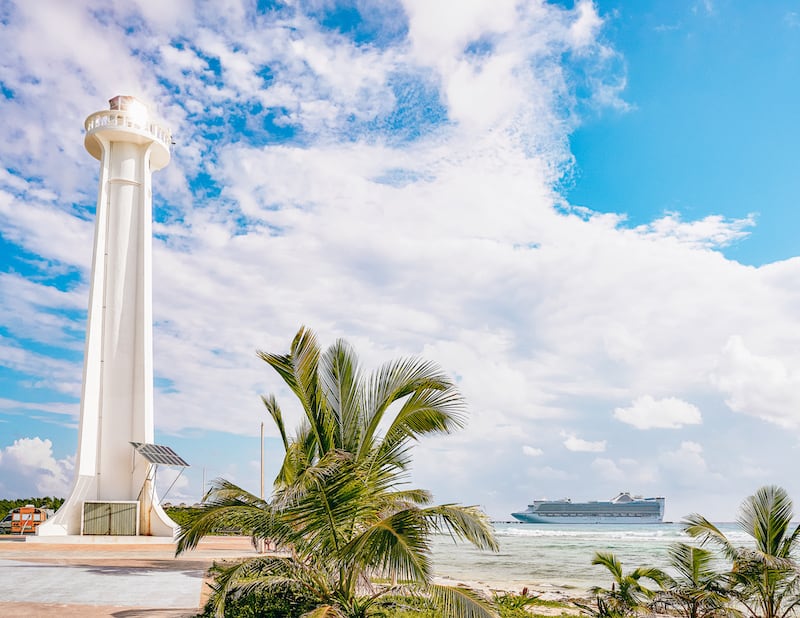 El Malecon in Mahahual is considered to be Costa Maya's beachside downtown area. The pier is filled with beachgoers and nightlife.
Most cruisers take the quick shuttle from the terminal and spend it here for the day. For us, this was our last stop.
You will find everything at el Malecon:
Beach bars
Restaurants
Plenty of chairs along the beach at these bars and restaurants.
Massages
Hair braiding
Pedicures
Souveniers
The famous Mahahual sign
Lighthouse
If you're just looking for a no-frills beach day, this may be the option for you. You can take the shuttle here, find a bar on the beach, order a margarita, some ceviche, and sit under a palm tree between dips in the ocean. The water there is gorgeous!
Sounds like heaven to me!
Other Transportation at Costa Maya Cruise Port
Shuttles are available before exiting the cruise terminal that will take you to El Malecon (the boardwalk) for a couple of US dollars per person.
Taxis are outside of the cruise terminal. You must exit and pass the golf carts.
Warning: If you decide to leave the port terminal to explore or even go on a tour with a guide, there are many potholes on the roads. It will be a bumpy ride.
Explore the Rio Dulce in Guatemala
Is your Western Caribbean cruise stopping in Santo Tomas de Castilla port in Guatemala? This is one port I recommend booking an excursion at. Explore and see the natural beauty of the Rio Dulce.
Costa Maya Beach Clubs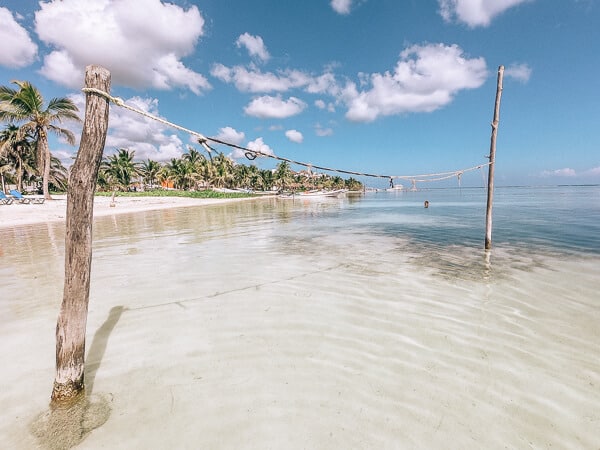 Heading to a beach club is a popular choice. What's not to like? Pay an entrance fee and it may include drinks, food, and activities like kayaking and snorkeling.
I do not have any personal experience with these beach clubs, yet, but I've heard many great things about them. I have them on my list for future trips. This trip was booked last minute and so everything was booked.
Book reservations well in advance. Make your selection wisely. Ask what's included with the entrance fee.
Maya Chan Beach (all-inclusive)
– Don't Miss: Best Beach Drinks That Never Fail –
Other Things to Do in Costa Maya, Mexico
1. Maya, Mayan Lost Magic Kingdom
This is a great alternative for families with kiddos. Not far from the cruise terminal, you'll find Costa Maya's water park. It's a great way to spend a day cooling down. There are zip lines, pools, and waterslides everyone can enjoy.
You can either purchase tickets with your cruise line and that may include transportation. Buy the tickets on the water park site here and hop in a taxi outside of the terminal.
2. Discovery Scuba
Always wanted to learn to scuba diva but haven't gotten to it? Discovery scuba is an amazing way for first-timers or beginners to get an introduction to scuba diving.
3. Take a Cooking Class
Spend the afternoon learning how to make a few of your favorite Mexican dishes like guacamole and enchiladas! Karlita's Kitchen fits right into this Tasty Itinerary. I am onboard the next time I'm in Costa Maya. After lunch, if there is time, hit the beach.
4. ATV Adventure
For those looking for a bit of adventure and thrill, ride ATVs through Costa Maya while your guide introduces you to their local culture. Then have lunch at the beach before riding back.
Pros & Cons I Observed
These are simply observations I made. Nothing will ever stop me from exploring again the next time I'm there.

👎 The maze at the port terminal. There should be an easier exit. If you find it out, please share the tip!

👎 The constant push for tips left a bad taste in our mouths. We are not cheap. If anything, we always overtip. We tip on the regular because we understand what it means to provide service to others with little in return. However, at this stop, they were asking for tips for every little thing that didn't warrant a tip. When we didn't oblige, we'd get an attitude.

👎 Garbage on the side of the roads. Very unfortunate that you're driving along the coast, enjoying stupendous views, only to be disappointed by street rubbish. It's a shame that people do not pick up after themselves. I ask that you please be kind to our world and not leave any trash behind.

❤️ The water is calm, clear, and warm.

❤️ Safe and easy to get around.

❤️ The food! Although I have plenty of Mexican food here in Los Angeles, it's still far superior when having it in Mexico. My TASTY ITINERARY TIP is to eat lunch at one of the many restaurants.

❤️ Aside from the pushiness for tips, everyone was welcoming and warm. We understand they are working hard to provide for their families.
Next Stop: Back to New Orleans to disembark.
I would LOVE to hear about your experience. Are there any must-sees and do's I should do the next time I'm in Costa Maya cruise port?
What do you love about Costa Maya?
Don't forget to share the love on Pinterest: