Harvest Caye, Belize is one of Norwegian Cruise Line's private islands in Southern Belize. As we spent our day enjoying what this resort-style island has to offer, we wondered, who doesn't like a resort? If your cruise is docking in Harvest Caye and it's your first time, don't stay on the ship.
When planning our cruise, I found that there are plenty of mixed and controversial reviews about the "man-made" island. However, none of it deterred me or put me off about Harvest Caye. Our day at Harvest Caye, Belize solely was going to be a day of relaxation.
A day at the beach or pool is always a good day. Don't you agree? Throw in a bit of exploring and some good food – sounds like a vacation to me!
Would I have liked a stop in the mainland Belize port? Sure! But we were intrigued by the idea of Harvest Caye and ready for a day of some fun in the sun. Also, we were in Belize City last year and we had a blast cave tubing.
This Harvest Caye shouldn't be confused with Little Harvest Caye. Which is another private island that you can rent out all to yourself on another vacation.
Disclosure: This post may contain affiliate links. If you decide to make a purchase from one of those links, we may get a commission at no extra cost to you. We appreciate your support.
This was the 5th stop on our cruise with Norwegian Pearl and we were blessed with wonderful weather. We decided that this morning we'd take our time, sleep an hour later than usual, eat breakfast and then leave the ship to explore. As an afternoon activity, we booked kayaking in advance.
Things to do in Harvest Caye, Belize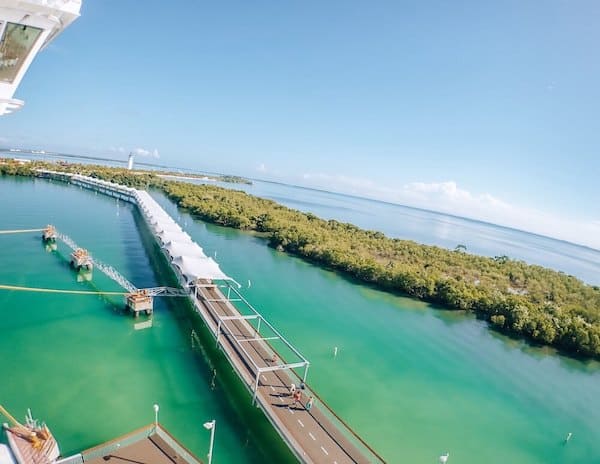 There are so many things to do in Harvest Caye, there is no reason to stay on the ship all day. Unless you hate beautiful pools and beaches. Harvest Caye is worth getting off the ship for at least a few hours and soaking up what it has to offer.
If anything, support the locals working on the island and give back to the local economy.
On our walk onto the island from the ship, I can tell you I immediately appreciated the covered walkway. There is also transportation available for those that can't make the walk. On a hot day like it was, the fans with misters felt amazing!
Harvest Caye is also safe and easy to enjoy.
Activities & Excursions at Harvest Caye
The Pool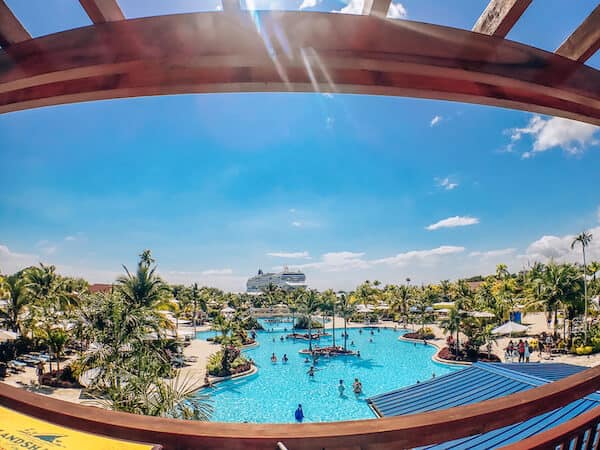 We hit up the pool immediately. This resort-style pool at Norwegian's private island is large and spacious. The area around it was clean and surrounded by lounge chairs that were taken up quickly.
Luckily, we found two seats close to the pool. After settling in we ordered drinks from one of the servers nearby. There are plenty of servers to take your orders. There is a swim-up bar at the pool, which appeared to be very popular and busy all day.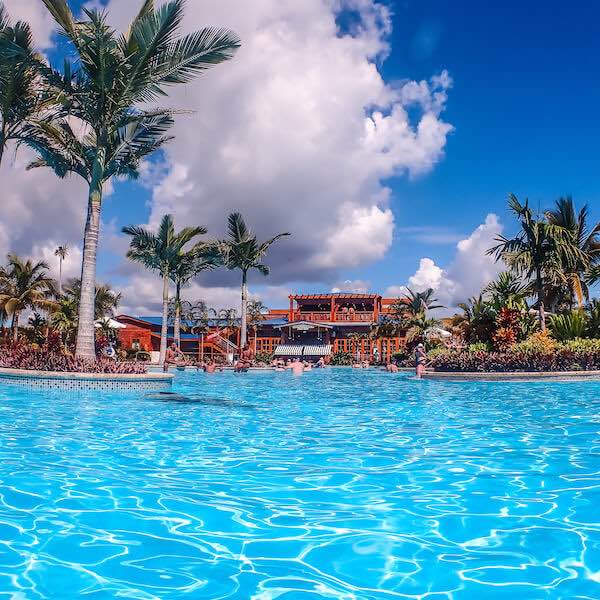 Large misting fans were set up in a couple of corners around the pool area. There are pool cabanas available for an extra cost, but note you have to book in advance.
– Don't Miss: Best Beach Drinks That Never Fail –
The Beach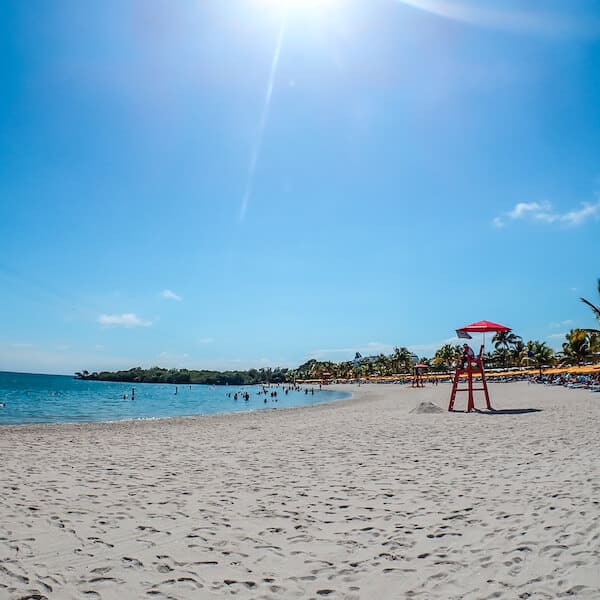 The sand at Harvest Caye's beach isn't the softest. It was a little rough on my feet, however, not enough to keep me from heading into the salty warm water. The beach was clean and the water enough for me to see my red-colored toenails. No need to worry about rough waves as it is calm and perfect for children to play in.
If you have your own snorkeling gear, you can snorkel, but I didn't see anything besides sand and broken seashells. I think you have to swim farther out to see any fish or coral.
There is plenty of seating available for everyone at the beach.
At the excursion desk, you can also inquire about the ferry from Harvest Caye to the mainland. There is one available but at an extra cost. You can absolutely book an independent excursion as long as you make appropriate meetup arrangements on the mainland. To be safe and guarantee you're back on the ship on time, see what shore excursions the ship has available.
Cabanas and villas are also available for a cost throughout the island, some even have their own butlers.
Beach Packing List
Get beach-ready with this packing list! Whether you're heading on a day trip to the beach or taking a beach vacation, this beach packing list comes in handy each and every time. Don't miss packing any of these items. Printable included!
Kayaking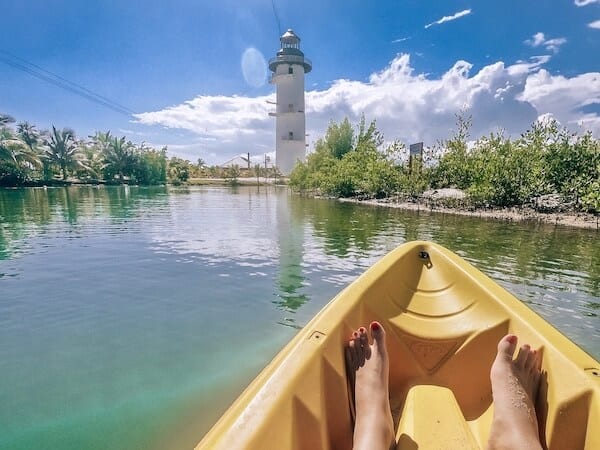 This was the only excursion we booked for the day and we had a great time. We only kayaked around the mangroves; it was fun and relaxing. Of course, hubby did all the paddling. ?I am not much of a kayaker.
Personally, for someone like me with little experience, I appreciated the peaceful waters and the safe perimeter the mangroves provided. You get to see the lighthouse, watch cruisers zip line across it, you'll paddle past the rope course and sometimes you'll get to see a few starfish.
Watch our kayaking video below!
Besides hanging out at the pool or beach, you can also participate in one of their many activities:
Ziplining
Paddleboarding
Kayaking
Nature Center
Splash Zone for kids
Rope Course
Butterfly Exhibit
Next time, we'd like to try zip lining. It looked like so much fun.
NCL as well offers other excursions. For more info, visit the ship's shore excursion desk.
One Day in Key West, Florida
Is Key West on your cruise itinerary? Plan to a trolley tour, visit Hemingway's home, see where to get the best key lime pie, and more… all in one day.
Tasty Itinerary: The Food at Harvest Caye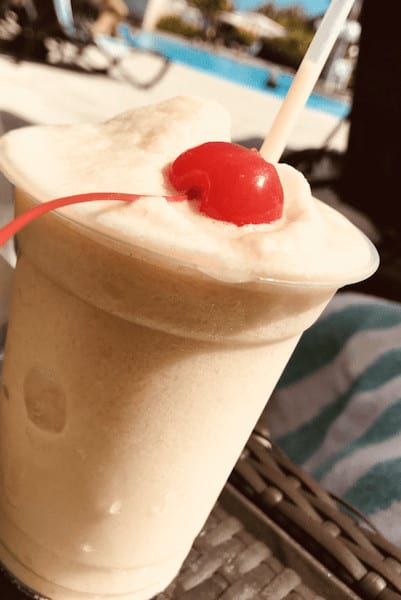 Unlike other private islands owned by the cruise lines, food and drinks are not included. You must pay out of pocket, so make sure to bring cash or a credit card with you when you leave the ship. The ship card will not work as payment.
TIP: IF YOU'RE ON A BUDGET AND YOU WANT TO SAVE $$, RETURN TO THE SHIP FOR LUNCH.
There are a few bars and restaurants available. We ate at LandShark Bar & Grill by the pool and it was pretty good. We shared fried plantains topped with pico de gallo and cotija cheese, and a basket of fried shrimp.
While it was good, we would have loved some local fare. We had the best Belizean tamales last year in Belize City and we were hoping to find some local cuisine. Everything was all geared towards what they probably think tourists -the average American- likes to eat.
Still, though, we enjoyed our lunch and drinks.
Also, on the day we were there, they had 2 for 1 margarita. I have a feeling that's always the special of the day.
Note: Do not forget to close out your check with your server. Someone near us at the pool ditched their check and left the server high and dry. Not cool! The check total, unfortunately, had to come out of the server's pocket.
– Don't Miss: Top Cruise Essentials List to Pack –
Harvest Caye is a Port-of-Call for All Ages
We really enjoyed Harvest Caye. Sure, it is geared towards tourists, but there is nothing wrong with that.
There is something wonderful about being able to get off the ship without any worries and walk right into a paradise. I totally appreciated the small luxuries available, like big clean bathrooms. The lockers are placed throughout to store personal belongings were a huge help at one point. Sometimes it's those details that make a difference.
Everyone you're traveling with will be able to find something to do on the island. Some activities are extra, but what excursion isn't at other ports?
This is a great port-of-call for all ages. It offers something for everyone.
Next Stop: Costa Maya, Mexico
Have you been to Harvest Caye, Belize? Is a port-of-call on your cruise itinerary? Are you planning to leave the ship?
Don't forget to share the love on Pinterest: