Looking for the best beach drinks that never fail to make you feel like you're on vacation? Or the top beach drinks to have this summer or any day of the year. Check out the top 10 winners.
While recently planning my next beach vacation, I couldn't help but think of all the beach drinks I'm going to enjoy. There is something so special about having a beach drink while on the beach… right?
Here are the top places to enjoy these beach cocktails:
at the beach
on a cruise
at an all-inclusive resort
at a beach bar
on an island
by the pool
Have to admit, it's not the same putting in a drinks order at a restaurant or making them at home to just sit in your living room. You'll enjoy them, no doubt. They are delicious. But it's not the same.
You're not officially on a beach vacation or beach trip until you have a piña colada in your hand, your feet up, and feeling that sea breeze kiss your face. The combination is relaxing, enjoyable, and fabulous. It screams, "I'm on vacation!" Also, screams, "I'm in my happy place". Even if it's just for a day, you know how important that day at the beach (and a beach drink) is for the soul.
Disclosure: This post may contain affiliate links. If you decide to make a purchase from one of those links, we may get a commission at no extra cost to you. We appreciate your support.
Since I'm dreaming of beachy drinks, I figured I'd write a list of the best beach drinks that never fail. Any of these popular beach drinks you can order on your beach vacation or prepare at the beach, and you will always enjoy them. Not all drinks have to be alcoholic.
For those planning a beach trip, add a portable blender to your beach packing list. Some of these drinks will require just a little extra effort if you want them frozen. Others you can premix and just pour at the beach over ice.
It may sound like too much work, but I've learned from the best. My mother used to bring a feast to the beach with drinks and made it look easy. She'd appreciate the new portable blenders available today.
Best Beach Drinks
1. Piña Colada
Don't know about you but when I think of the beach or the Caribbean, a piña colada comes to mind. This popular drink is pretty synonymous with the beach. Don't ya think?
I'm partial to piña coladas because I grew up with them. Before you start asking what kind of mother I had, I'll tell you… Puerto Rican. And obviously, it was virgin piña coladas. We used to have them every time we vacationed in Puerto Rico.
What I love about piña coladas is that they taste amazing whether they have alcohol or not. It's creamy and sweet. I like mine to taste more of the coconut cream than the pineapple. You may like a nice balance or more of the pineapple. Usually, I just mix to taste to my liking. It's a vacation in a cup.
What's in a piña colada? Pineapple juice, cream of coconut, and ice. The rum is optional. Top it off with a cherry and slice of pineapple for garnish.
I do not recommend a premixed concoction sold at liquor stores, the taste is just not right.
2. Strawberry Daquiri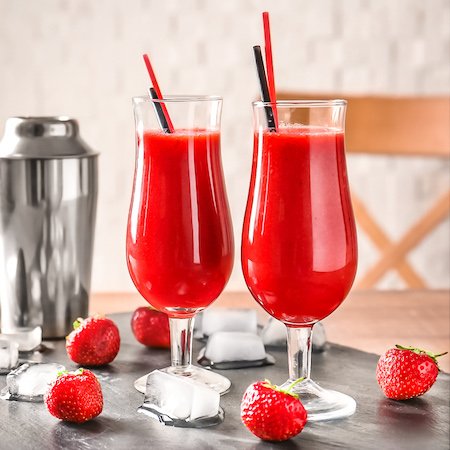 If I had to guess, the strawberry daiquiri has to be one of the top 5 beach drinks in the world. What's not to love about frozen drinks made out of strawberries. It's almost like a smoothie, only with rum, right?
It's easy to prepare and it's another great frozen drink because you can have it with or without alcohol.
What's in a strawberry daiquiri? Strawberries, sugar or sweet syrup, lime, and ice. The rum is optional. Add a strawberry for garnish.
You can freeze your own strawberries to make amazing strawberry daiquiris. It will taste better than any of the strawberry purees out there. Especially if you're making these at the height of the strawberry season. It will be one of the best beach drinks you'll serve.
Bonus: Add some piña colada to your strawberry daiquiri…. boom, you have a lava flow.
3. Mai Tai
Mai Tai's and Hawaii go quite nicely together. That's because Mai Tai's are one of the most popular drinks in Hawaii. If you're heading there soon, make sure to order a Mai Tai everywhere you go.
Of course, you do not have to travel to Hawaii to enjoy a Mai Tai. You can enjoy this Tiki drink wherever you like as long as you have the ingredients to make one. Set yourself up at your nearest beach and imagine you're in Hawaii, Fiji, or any other beautiful beach.
The drink is on the strong side, but delicious. It's slightly tart with a tad of citrus but at the same time sweet.
What's in a mai tai cocktail? White rum, dark rum, orange liquor, lime juice, and orgeat.
Prep before leaving your home. Pour over ice at the beach.
Get beach-ready with this packing list! Whether you're heading on a day trip to the beach or taking a beach vacation, this beach packing list comes in handy each and every time. Don't miss packing any of these items. Printable included!
4. Bahama Mama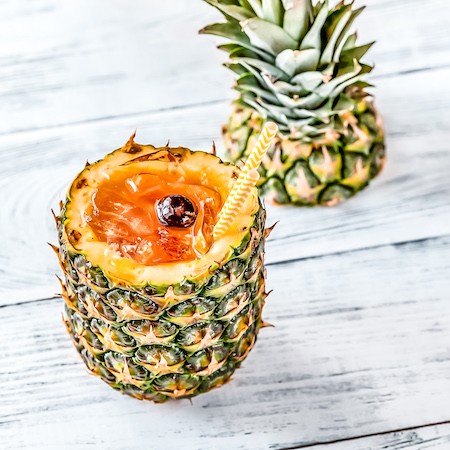 There is always that one drink that tastes like juice and you slurp down like nothing until you realize you're drunk. That's the Bahama Mama. A bright and delicious drink that reminds me of the Caribbean.
Easy to make ahead of time and serve over the rocks at the beach. A little goes a long way, so don't let this sweet-tasting drink fool you. It has three different kinds of rum.
What's in a Bahama Mama? Orange and pineapple juice, coconut rum, white rum, and dark rum.
Funny story: I asked the waiter on my Celebrity Equinox cruise for a glass of water. He comes back later with a Bahama Mama because he forgot what I ordered. Ha. It was a fun afternoon.
5. Margarita
On the rocks or frozen, a margarita is exactly what you need when you're at the beach. Pairs perfectly with most beach foods.
The best part of a margarita, you can add your favorite fruit base to it for some added sweetness. I can't resist a mango margarita.
What's in a classic margarita? Lime juice, orange-flavored triple sec liqueur, and 100% agave tequila. Salt the rim of the glass and top with a slice of lime.
Prepare in advance, bring it to the beach and serve over ice.
6. Mojito
The mojito cocktail originates from the Caribbean island of Cuba. It is a great beach drink because it's light, sweet-citrusy, and the fresh mint makes it oh so refreshing. It's a wonderful summer drink.
What's in a mojito? Muddled mint, lime juice, simple syrup or sugar, soda water, and rum. Top with a couple of pieces of lime.
Plan ahead with these easy snacks for the beach. Keep it simple, healthy, and delicious.
7. Sangria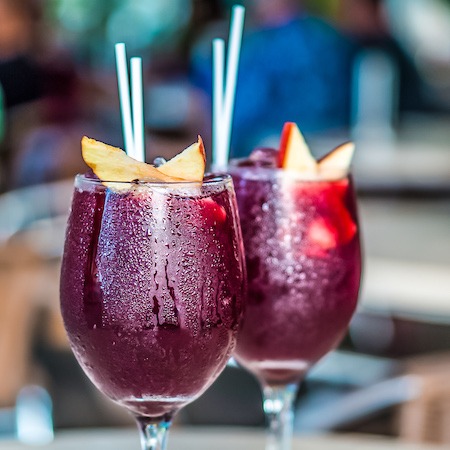 With a sangria in hand, you'll be transported to the Mediterranean coast of Spain.
What's not to love about sangria? It's a wine with cut-up fresh fruit that you can sweeten with juice or spike with your favorite liquor. There are so many ways to make sangria that you can start experimenting with different recipes online.
What is in a sangria? Red wine, juice or liquor, and fresh fruit.
My brother-in-law has literally made a vat of sangria in a cooler for picnics and parties. I can easily see this done for a beach trip.
8. Watermelon Aguas Frescas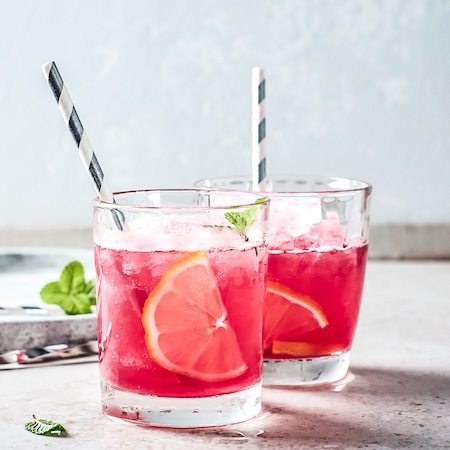 There is no alcohol in this (go ahead if you want to spike yours), but this is a fantastic refreshing and hydrating drink everyone can enjoy. I absolutely love watermelon Aguas Frescas and I look forward to summer days when I can enjoy one.
Fun fact: Aguas Frescas literally translates into cooling water.
What's in a watermelon Aguas Frescas? Watermelon, water, sugar, lime, and mint. Top with a slice of lemon.
You can absolutely prepare Watermelon Aguas Frescas ahead of time. Blend the ingredients together at home. Strain it before pouring it into a pitcher. Refrigerate overnight.
Note, that you can make Aguas Frescas from any seasonal fruit.
9. Coconut water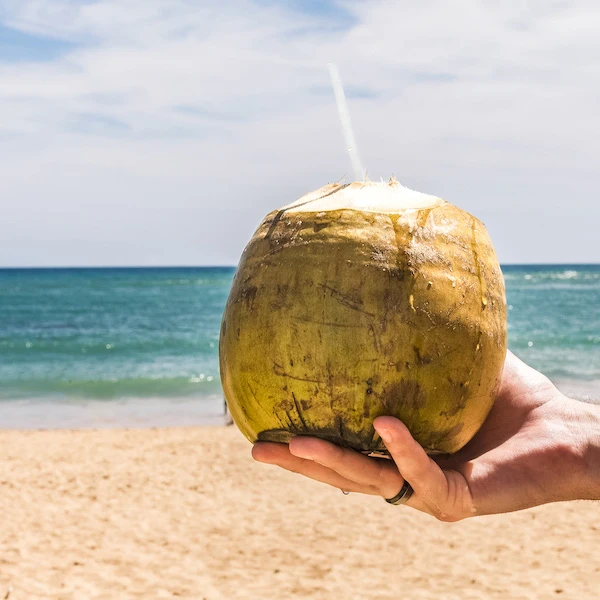 Speaking of hydrating and refreshing drinks, I couldn't leave coconut water off this list. I love agua de coco. When I'm on a beach vacation, if I see anyone selling fresh coconuts, I'm sold.
On our last vacation at the Hilton La Romana in the Dominican Republic, our butler service surprised us with fresh coconuts. He spiked mine (hubby is sober) with some rum… lovely treat.
Coconut water is good for you. Possibly the healthiest and best beach drink on this list. It has natural electrolytes, so it's very hydrating. Lots of potassium which helps those muscles after swimming all day.
If anything, keep some coconut water on hand to hydrate after drinking all the alcoholic beach drinks above. It is said it helps with hangovers.
10. Beer
Last but not least, beer. We don't think of beer when thinking about beachy drinks… at least I don't. However, it is one of the most common drinks to take to the beach or order at the beach. A bucket of beers for less than $10? Yes, please!
Beer is just so easy to toss in a cooler with ice for a day at the beach. No mixing drinks. Just go to your market and pick up a few of your favorites. Sometimes we just have to keep it simple.
What's your favorite beer?
Don't think I need to say this but I will… drink responsibly. And chase alcoholic drinks with lots of water.
What is your favorite beach drink?
What is the first drink you order on a beach vacation?
Don't forget to share the love on Pinterest: