Planning your trip to the beach? Do you have your beach snacks ready? It doesn't have to be complicated. Here are 11 easy beach snacks for a day in the sun.
What kind of beach snacks did your parents bring to the beach when you were young?
Recently reminiscing about our beach trips had me thinking of my childhood beach excursions living in the Bronx. I use the word excursions because that's what they were to us… excursions. Once one of us in the community decided we were going to the beach for the day, it would turn into a whole group of us. And normally the trek was via bus and subway.
The parents would plan everything. How to get there? What to pack for the beach? What beach snacks should they bring? Should they bring beach cocktails for the adults? But looking back now what my mom and her neighbor friends called "snacks" then, was really a full-on Puerto Rican feast… a whole roasted pork shoulder, rice with peas, potatoes salad, and all the other fixings typical for a special occasion. This is just typical for our culture to do and consider these their beach "snacks".
And believe me when I tell you, she really believed they were "snacks". Then I moved to PR for a bit, and realized, this was a thing with my aunts as well.
Looking back. We ate well. Those are memories that I really cherish. Of course, my beach treats today look very different from my mother's version of beach snacks.
The beach snacks to pack are quick, easy, and somewhat healthy. Enough to keep us going until we can go out to eat at the end of it.
Plus, what is it with the water that makes a person hungry? I think I snack more at the beach (or by the pool) than I do just spending a lazy day at home. I just get the munchies. The last thing I really want is a full heavy meal, even though that's what my mom fed us as children. Not that I didn't love it, mom.
Disclosure: This post may contain affiliate links. If you decide to make a purchase from one of those links, we may get a commission at no extra cost to you. We appreciate your support.
The Best and Easy Beach Snacks
There is nothing I love more than talking about food. Especially if it's foods to bring to the beach that I can munch on while gazing at a beautiful body of water. Thankful for my sister-in-law (with little ones) who has taught me how to easily put together snacks for occasions like a beach trip. She also contributed to this list today.
Now, make sure you have a high-quality cooler that you are able to pack these beach snacks in. You can pack them all or mix and match a few below. Depends on how many people are going, how long you're going to be there, and how hungry you're going to be.
1. Hummus and Veggies
Delicious and healthy. This is a snack everyone will get on board with. Pick some ready-made hummus at your favorite local. Pair it with carrots, cucumbers, tomatoes, roasted peppers, pita bread, and crackers. Really, you can put hummus on almost anything.
You can't go wrong with any of the hummuses sold at Trader Joe's
Want to make your own quick dip? My favorite food blogger Skinnytaste has chickpea and roasted pepper dip that is delish. It goes perfect with veggies. Definitely prep it the day before and store it in the fridge overnight.
2. Sliced Apple with Peanut Butter
Slice up some of your favorite apples. Pack some peanut butter or favorite nut butter in a separate small container. Voila, you have a snack that is yummy and filling. Should help sustain everyone for a while.
Did you know that apples are a great source of fiber?
Tip: Don't like apples? Swap the apples for celery sticks.
3. Watermelon Slices
What's a summer day at the beach without watermelon?
Watermelon is a great fruit that helps keep you hydrated because of its high water content. Perfect for a day at the beach under the hot sun.
Prep and slice the watermelon prior to heading to the beach. So it's easy to hand out. You can also cut the watermelon into cubes, but with the slices, you don't have to worry about serving dishes.
4. Berries and other fruits
Spring and summertime is the best time to enjoy the berries that are in season: strawberries, blueberries, raspberries, and blueberries. When you go to your local market, see what they have. Grab what looks good and prep at home in a nice Tupperware container.
Grapes and cherries are other great grab-and-go fruit.
Another great idea is freeze-dried fruits. Trader Joe's has a mango that is delicious and there is no mess of cutting into the fruit itself.
Personally, I like to pick up the mixed berry salads or fruit salads that they have ready to go because it's easy. But sometimes not as economical. Do what works best for you.
Get beach-ready with this packing list! Whether you're heading on a day trip to the beach or taking a beach vacation, this beach packing list comes in handy each and every time. Don't miss packing any of these items. Printable included!
5. Cheese and Crackers
How can we plan a day at the beach with no cheese and crackers? And they go well with the fruits and nuts mentioned above. You easily have the makings of charcuterie board going in your cooler.
If you want to make it easy for yourself, pick up some mozzarella string cheese or Babybel cheese. They are individually wrapped and great to just toss into the cooler.
Choose your favorite crackers and you're good to go.
Tip: You can also smear peanut butter on those crackers or dip them in the hummus.
My Italian husband is asking, "where is the salami?" You can totally add that too to go with your cheese if you want.
6. Corn on the Cob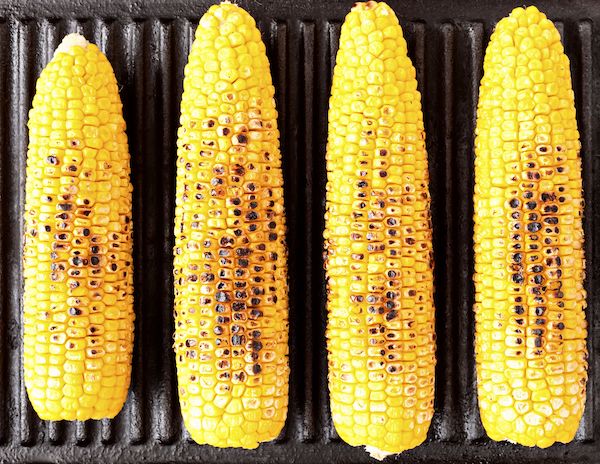 Roast it. Grill it. Boil it. Steam it. However, you like to prepare your corn, do so in advance. Pack and refrigerate to bring to the beach with you.
Corn on the cob is an effortless snack that anyone can grab from the cooler and start munching on.
And if you like, you can bring your favorite season to sprinkle on top of at the beach. Everything But the Elote seasoning blend from Trader Joe's is a good one.
7. Roasted Peanuts or Other Nuts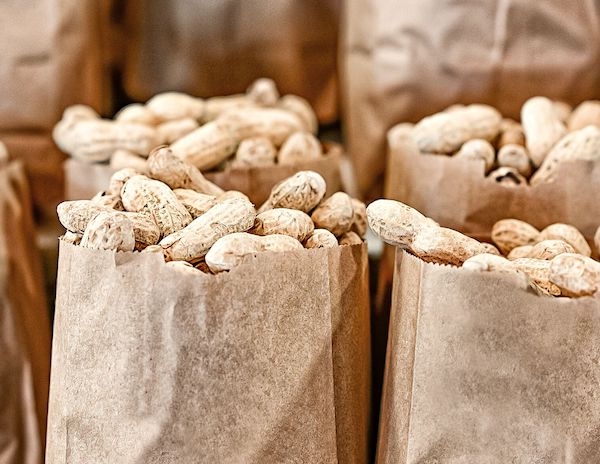 Keeping with one of my mom's traditions, I love to bring roasted peanuts with me to the beach. Yes, peanuts with the shell. My mother loved roasted peanuts and this was her treat.
Nuts in general are a great source of protein and snacks to have on hand. Pack your favorite nut: peanuts, almonds, cashews, or walnuts. Whatever floats your tastebuds.
7. Popcorn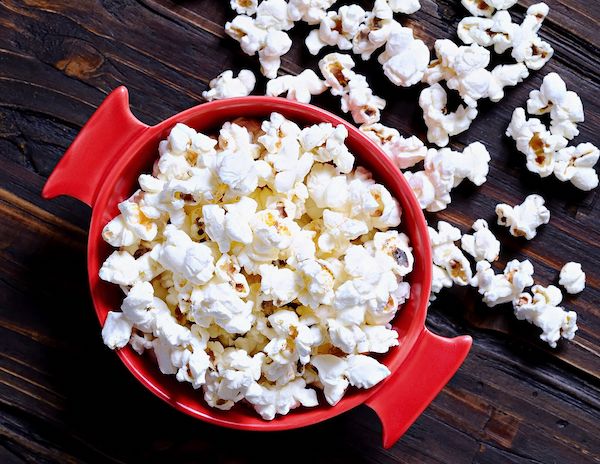 Instead of packing potato chips, let's pack some popcorn.
Air-popped popcorn is a healthy snack and one that takes almost no effort to prepare. Of course, depending on what you decide to dress your popcorn with, the healthy part may disappear.
Imagine sitting at the beach, people watching with some popcorn in hand.
8. Peanut Butter and Jelly Sandwiches
Do you like more jelly or more peanut butter? Or do you like an equal amount of jelly and peanut butter?
A peanut butter and jelly sandwich is an easy snack and everyone's childhood favorite. You can easily prepare these the night before as well. Line up the slices in double rows and slather on your favorite nut butter and fruit jelly or jam.
This one I had to add to the list because this is hubby's favorite all-time snack. Every time he makes himself one and I ask him what he's having, his reply is, "a little snack". It's also his number one request when we go to the beach or on road trips. That's if we don't stop at our favorite Italian deli to pick up a sandwich.
A beach day goes together like pineapple juice and coconut cream in a piña colada. Check out the best beach drinks that scream, "I'm on vacation," even if it's just for a day.
9. Granola Bars or Protein Bars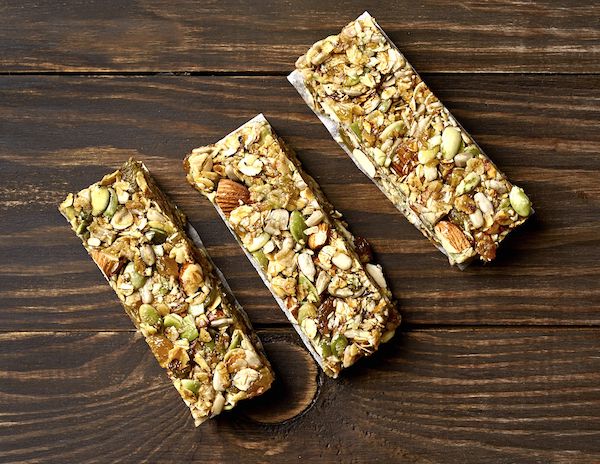 Granola bars or protein bars are favorite grab-and-go snacks. These are so easy to take to the beach (or anywhere) because they are always in the pantry.
What are your favorites? Currently, I love the Cliff Bar Nutter Butters.
You can also attempt to make your own granola bars. Get them ready the night before.
11. S'mores Kit
This is a bonus treat.
If you want to make the day a little extra special, add a s'mores kit.
I know what you're thinking… if you're not building a fire or camping, how are you supposed to melt the marshmallow? In my experience, you don't need a fire to enjoy s'mores. Just give me all ingredients together and I'll eat it as is. That may just be me.
Does it taste better all melty? YES. So here is a solution if you want to go the extra mile: this hibachi grill set. Take it with you, fire up the Sterno it comes with and boom, you can roast marshmallows at the beach.
The kids will love it!
What do you like to eat when at the beach? What kind of snacks do you pack?
Don't forget to share the love on Pinterest: