Don't know about you, but for me, finding info on Santo Tomas de Castilla cruise port was challenging. With this post, I hope to be able to give you some guidance as to what to expect when your cruise ports in Santo Tomás de Castilla and tell you about our Rio Dulce Guatemala Tour with lunch in Livingston.
Compared to other popular cruise ports, I found little info online regarding this Santo Tomas de Castilla cruise port. Any information I did find was old and didn't offer much information, even on TripAdvisor. For a while there, I did not know what to expect at this port, besides it being an industrial area.
According to our local travel guide, they receive a ship a week.
Disclosure: This post may contain affiliate links. If you decide to make a purchase from one of those links, we may get a commission at no extra cost to you. We appreciate your support.
Book a Tour
Your cruise ship will have tours available [Norwegian Pearl did]. Originally I booked a Rio Dulce Guatemala tour with the cruise line, but then I found Happy Fish Travel offering a similar tour for about the same cost, but with lunch included in Livingston.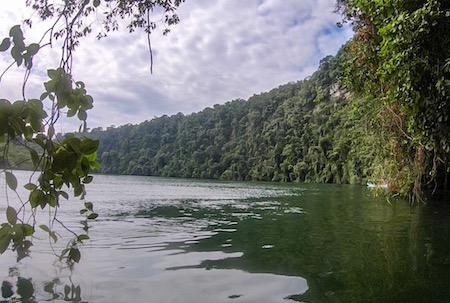 Santo Tomás de Castilla, Guatemala was day 6 of our cruise itinerary – another first for us. Since we had limited time here, prior research was important. I strived to make the most of our day. I contacted Happy Fish regarding their RIO DULCE CANYON /AK-TENAMIT / LIVINGSTON TOUR (they have many others) and received a prompt response.
You do have the choice to pay via their site pay portal online to secure your spot or you can reserve them and pay upon checking in with cash. I chose to pay in advance with a Visa card so I didn't have to carry more cash than I needed the day off. Note: the charge will be in their local currency. I am here to report we had no issues with our credit card payment.
Santo Tomás de Castilla Port
The port itself leaves little to be desired and you may be tempted to stay on the ship. Don't. If this is your first time here, do not skip this port. The Rio Dulce Guatemala Tour is the best experience from this cruise itinerary.
I do highly recommend an organized tour. If an organized tour isn't your thing, you can negotiate with a water taxi at the dock and have them take you to Livingston to perhaps have some lunch and walk around. Try to get them to give you a quick tour of the "sweet river".
There is a visiting center with tour booths; a variety of stands selling souvenirs, and bathrooms. This where you want to go when you get off the ship on your own. Here you can buy souvenirs, book a tour (if you didn't book one in advance) and enjoy some of the local entertainment. You can also find water taxis across the way at the docks that can take you to Livingston.
We found Happy Fish inside not far from the entrance and checked in with them. They provided us stickers with their logo to identify us and explained where and when to meet our guide outside. In the meantime, we checked out the souvenirs and made mental notes of what we'd like to purchase when we were back, in case we didn't find anything during the tour.
We then met with our tour guide, René, by the docks. There they fitted us with life vests (a little uncomfortable on a hot humid day, but a must) and helped settle us into the boat.
Tip: If you have back problems, sit towards the back of the boat. It is a bumpy ride entering Rio Dulce, but worth every bump.
Cruising the Norwegian Pearl
We went from enjoying the suite life on a mega-ship to a standard balcony cabin on this mid-size cruise ship. See why it turned out to be one of our favorite cruises.
Tour of Rio Dulce Guatemala
My words, video clips and-or photography, honestly don't do this beautiful country justice. I know it is only a small part of the Rio Dulce that we toured and we only spent half a day there, but it was an absolute pleasure and privilege. I was swept away by the magnificence of the entire experience. We were flanked by their national rainforest, and we were reminded once again how incredible the world is and we haven't even scratched the surface.
Here are a few Rio Dulce fun facts:
Rio Dulce translates to "Sweet River".

It connects to Guatemala's largest lake – Lake Izabel.

You can reach Castillo de San Felipe from the Rio Dulce (definitely seeing this on on my next visit).

It's the principal transit point to Livingston.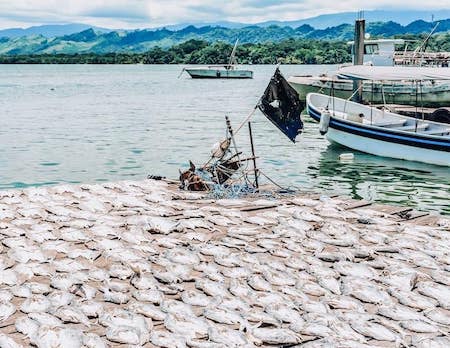 We visited the local children's school and walked around their beautiful lush campus. Students were off from school that day, but on a normal school day, they are eager to welcome their visitors.
Part of this tour included a natural spring for about 20 mins. We never were planning to get in. I'm glad we didn't because I wasn't too impressed with it. It was "spring" connected next to a bar and a dock. Not what I was expecting. I did pick up a fresh coconut drink and a homemade coconut dessert from the bar.
Leaving the spring, we were taken into a beautiful lagoon filled with lily pads. Local kids in canoes emerged to sell us souvenirs. While this is the sort of sales tactic we try to stay away from when we travel, it was acceptable this time – we were charmed into a purchase.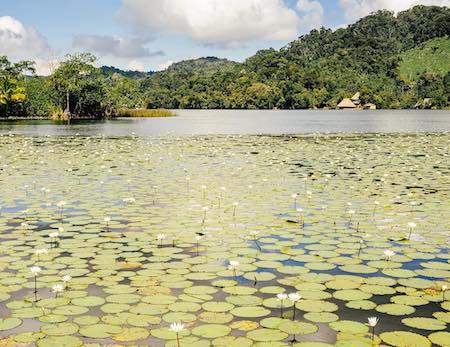 Lunch in Livingston, Guatemala
Lunch was included with our tour at the Happy Fish Restaurant in Livingston. We had the choice of chicken or fish; I had fish and hubby the chicken. The dishes were served with rice, beans, and vegetables. It was a tasty lunch. The fish was fresh and grilled perfectly. And, I ordered a coco loco to go with my lunch.
After lunch, we had time to walk around Livingston. There were many local shops open selling their fruits and vegetables for the day. Plenty of souvenir shops too. Many of the women were dressed in traditional clothing that represented their culture.
Part of the main street was closed down to vehicles; not sure if that's the norm or if they do that for the tourist's safety.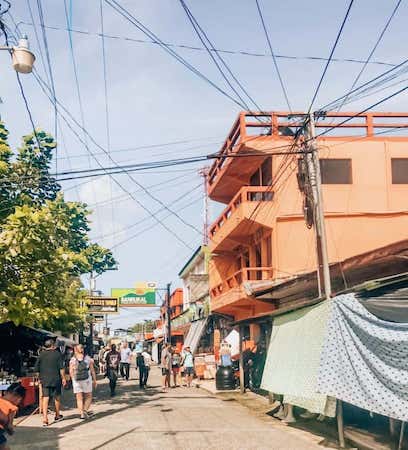 Soon we were on the way back to the port. Where I purchase jade for a necklace, coffee, and chocolate.
Next Stop: Harvest Caye, Belize
It was a wonderful day. The people were beautiful, kind, and welcoming.
Our tour guide, Rene, from Happy Fish Travel did a terrific job as our guide. We hope to return in the future and perhaps rent one of those huts on the river and explore.
Have you been to Guatemala? Have you toured the Rio Dulce?
Don't forget to share the love on Pinterest: