Is the Roatan, Honduras port-of-call on your cruise itinerary? We spent our day at Daniel John's hanging out with monkeys and sloths before we heading out to snorkel the 2nd largest reef in the world that goes from Mexico to Panama.
We were here last year with the Norwegian Getaway and it was raining so bad, we never left the actual cruise terminal. I remember being extremely disappointed, so I was psyched to have another chance to explore.
This time rain or shine, we were making it to Daniel Johnson's Monkey & Sloth Hangout. I booked the Monkey Snornekling which included time at the hangout and then snorkeling at the reef.
Disclosure: This post may contain affiliate links. If you decide to make a purchase from one of those links, we may get a commission at no extra cost to you. We appreciate your support.
Coxen Cole Cruise Port in Roatan Honduras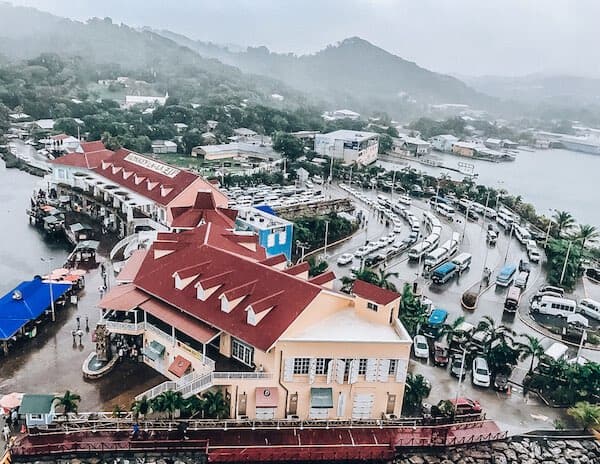 Cruising on a Norwegian ship? It will dock or tender at the Coxen Cole, Roatan cruise port.
This is a tender port.
If there is more than one ship at this port, there is a possibility that you may need to tender. We had to while cruising on the Norwegian Pearl. Last year, on the Norwegian Getaway, we docked.
What do you mean by tender?

The cruise ship will dock and anchor off-shore. Which means smaller boats will transfer cruise passengers ashore.

CRUISING TIP: IF IT'S A TENDER PORT, AND YOU DO NOT HAVE PRIORITY STATUS ON THE SHIP, GIVE YOURSELF ENOUGH TIME IN THE MORNING TO BE ONE OF THE FIRST ONES OFF THE SHIP. THAT IS IF YOU WANT TO MAKE THE MOST OF YOUR DAY AT THE PORT.
This time around the Norwegian Getaway ship got first dibs of the dock, so we were stuck having to tender.
Just like the morning when we anchored in Grand Cayman, I woke up bright and early to snatch up one of the first group tickets being handed out at the pool deck.
The turnaround for tender at this port was not as fast as in Grand Cayman. At this port, the Norwegian had to use their own lifeboats. The lifeboats do not hold as many people as the double-decker boats from Grand Cayman.
I was afraid we wouldn't make our tour because group 5 was called an hour after anchoring. So plan accordingly.
Daniel Johnson's Monkey & Sloth Hangout
We walked outside the port gates to find a guide with a Daniel Johnson's Monkey and Sloth Hangout sign. The tour we chose included transportation, but you can easily take a taxi to the location and simply pay to see the hangout. It's a small fee that goes to the care of the animals.
The Hangout
Monkeys and giraffes are my favorite animals. There are no giraffes at Daniel Johnson's, but there are definitely monkeys, sloths, parrots, and an adorable retired elderly raccoon living the good life. We learned a bit about them all. Your time at the hangout is educational.
The sloths live and hang out in the mangrove. We were able to hold one and it was better than holding a baby. The fur is so soft, and they can cuddle just right. They seem to always have this peaceful smile on their face.
Everything is done ethically and with great care.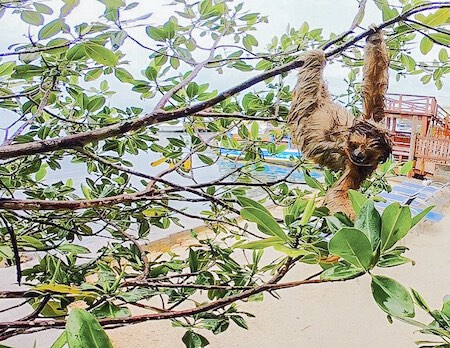 Hanging out with the monkeys, Ronnie and Snookie (named after the Jersey Shore cast) was an amusing experience. They'd climb and jump from person to person, looking for treats in everyone's pockets. Warning, they are mischievous.
Take off your jewelry and empty your pockets. The handlers will do advise strongly to remove anything the monkeys can get a hold of before you enter their space. Someone in the group did not take off their stud earrings and one of the monkeys started sucking on it thinking it was a treat.
At one point, one of them jumped on my shoulder and started to get frisky with me, trying to slip his hand under my shirt. Can't blame him, he was just looking for more snacks! As the handlers sometimes keep treats in their pockets. We all just found it adorable and forgave them right away. The handler was great at rounding them up.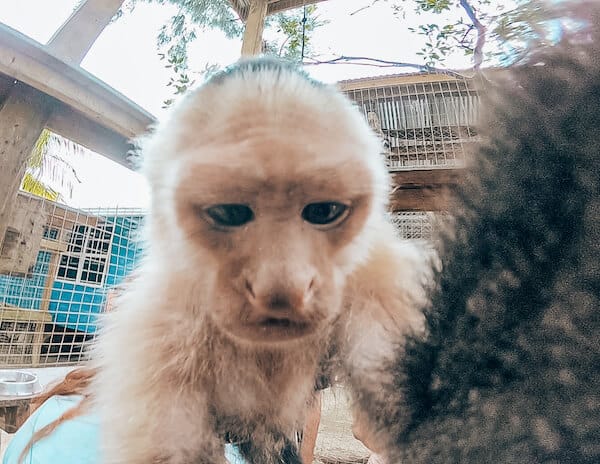 We also got the chance to visit with the parrots and macaws. I personally skipped this part and stayed outside of the enclosure. I was afraid of them landing their claws on my head and grabbing onto my thick hair. And, I was avoiding getting bitten. Hubby loves parrots, so he did go in and experienced it fully.
Daniel Johnson's Sloth & Monkey Hangout
Website | TripAdvisor
Snorkeling in Roatan, Honduras
If you're visiting Daniel Johnson's hangout in Roatan, Honduras, I recommend adding the snorkeling. After you're done visiting the animals, a boat will take you from their dock right out to the reef. Gear is included if you don't have your own. Guides are with you in the water to make sure you're safe, and also to point out anything you might miss.
It was raining when we arrived, and it rained during the tour. We almost canceled this part of our day. Thankful to the hangouts staff that convinced us that the snorkeling was not to be missed. They were absolutely right!
Suffice to say, the snorkeling here is incredible! The reef surrounding the island is beautiful. The rain only made the day more memorable. The water was so nice and warm, it didn't bother us. Although the visibility wasn't optimal due to the rain, it was still an amazing experience.
We also swam all the way to the wall, where it suddenly just drops and all you see is the deep blue sea. It was breathtaking and scary all at once. I just couldn't believe I was there.
Our day in Roatán ended in a downpour and we had to make a quick dash to tender back to the ship. No matter the weather, we left exhilarated and so full of joy. We were grateful for the opportunity and new experience.
It's what travel means to us: the journey, the adventure, and the chance to explore. What does it mean to you?
Under the sea is a whole other world I'm learning to appreciate and love. I'd like to learn to scuba dive to discover more and have added it as part of my future goals.
Is Cozumel, Mexico on Your Cruise Itinerary?
Spend the day at Paradise Beach enjoying drinks on the beach or playing in their water park. See the other fun things to do in Cozumel.
Other Things to do in Roatan Cruise Port
1. Eco-Walk & Zipline
Ziplining is a blast. I did it once in Costa Rica and would totally do it again in the right setting. This one sounds like so much fun. You get to see the beauty of the Honduras jungle by walking through 8 suspension bridges before ziplining. You'll finish the tour off at the beach.
Please note: This tour takes off from the Mahagony Bay cruise terminal.
2. Food Tour
Food tours are always high on my list of things to do anywhere I travel. Combine food and culture, and you have a great day. After the tour, if there is still time, head to a nearby beach.
3. Beach Resort for the Day
Spend your day at Bananamara beach resort. Get day passes that include transportation, beach chairs, an umbrella, and more. Water activities are available at the resort for an extra charge.
4. Hiking and Beach Hopping
Customize your own hiking tour and/or beach hop on Roatan Island. Sometimes some of the best days are planned with a local tour guide doing what you want to do.
Next Stop: Santo Tomas de Castillo, Guatemala Cruise Port
Do you love monkeys and sloths? Thinking of visiting Daniel Johnson's during your next visit to Roatan, Honduras?
Don't forget to share the love on Pinterest: