Are you thinking about a vacation in Bermuda? How about cruising to Bermuda? How are cruises to Bermuda? There is more than one way to get to Bermuda, and taking a cruise is one of them. Here at 10 reasons why you should cruise to Bermuda.
Shockingly, Bermuda was never on our list of places to visit.
You know, the Bermuda Triangle and all that.
Then we started cruising more and heard about this fantastic island from other cruisers. Since it's such a popular cruise destination, there had to be something special about the island.
And we were right!
We recently sailed on the Norwegian Joy from NYC to Bermuda and fell in love with everything the island offers.
Bermuda is a breathtaking vacation destination. The island is located in the North Atlantic Ocean. It is known for its stunning pink-sand beaches, crystal-clear waters, which contrast sharply with the deep blue waters of the Atlantic Ocean, and colonial architecture.
On top of that, the food is outstanding. Everywhere you turn while exploring the island, you'll find it clean and safe. Let's not forget about the locals, some of the friendliest people we've ever met.
There are many things to do in Bermuda, both on land and water.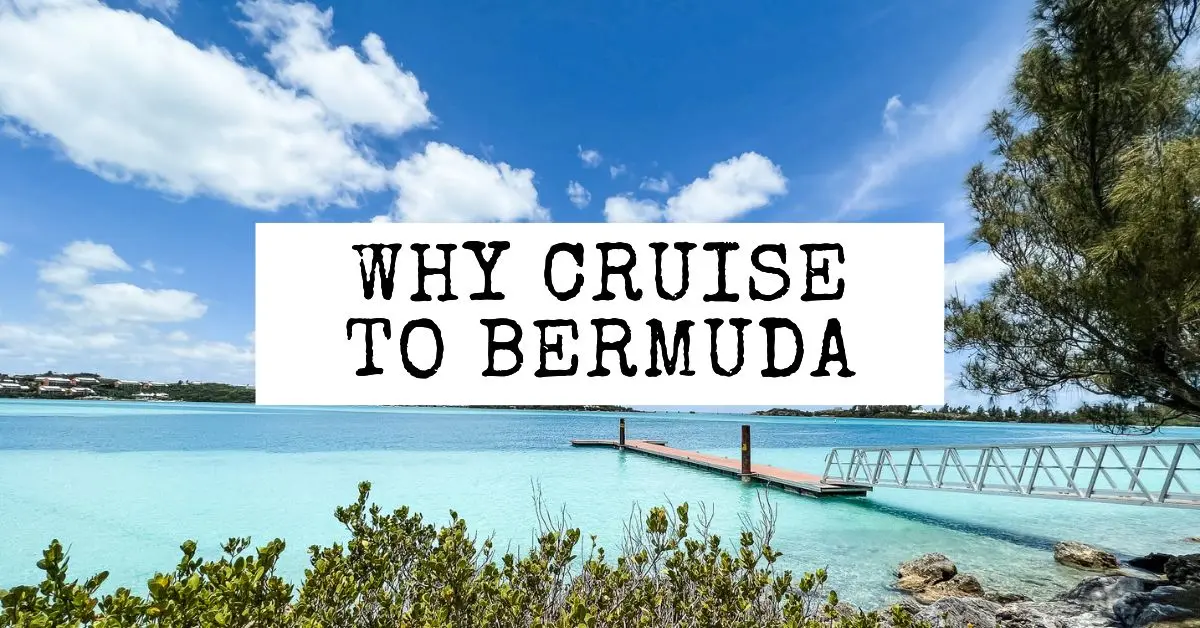 This post may contain affiliate links, which means we'll receive a commission if you purchase through our links at no extra cost to you. Please read full disclosure for more information. We appreciate your support!
You can book a flight to Bermuda — it's a short one from most major cities on the United States East Coast. Then book a hotel or a vacation rental. Spend more than a few days there if you choose to. We'd love to do that in the future, too.
However, cruising to Bermuda is the perfect choice for the reasons we will list below. A cruise to Bermuda is one of the best ways to travel to this island destination. Here are our top reasons why cruising to Bermuda should be on your list.
If you are wondering if preparing for a cruise is difficult, don't worry. We have you covered there as well. You can check out how to prepare for a cruise next.
Cruising to Bermuda
1. Great Value for Your Money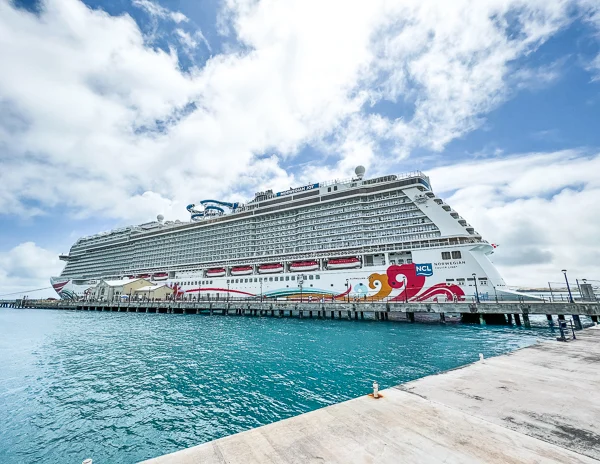 It's not a secret that Bermuda is expensive. Everything from food, lodging, and activities can be pricey. However, cruising to Bermuda can save you a lot of money.
When you book a cruise, your cabin, meals, and entertainment on the cruise ship are included in your cruise fare. Which helps offset what you're
Plus, the cruise lines often offer special promotions and deals that make cruising to Bermuda even more affordable.
That's not to say you won't spend money when you're off the ship in Bermuda. You probably will on transportation, food, and a tour. We always encourage cruisers to support the local economy at ports.
When you compare the cost of a land vacation in Bermuda to a cruise to Bermuda, you realize cruising to Bermuda is a greater value. Especially if you are traveling as a family, the cost of a resort or vacation rental alone may add up to more than the cost of a cruise.
2. It's Two Vacations in One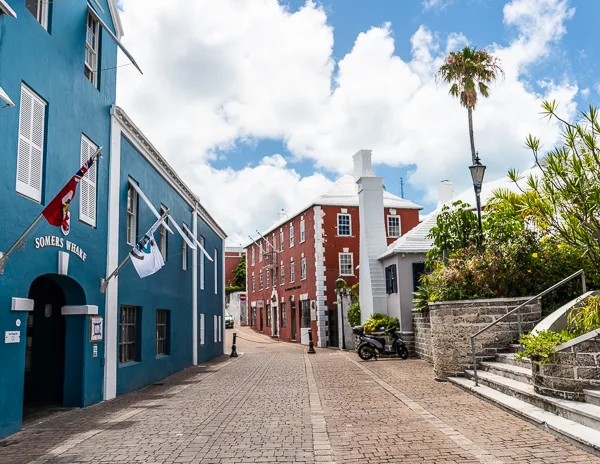 We are firm believers that the cruise ship is a destination in itself. When you cruise, you're cruising for the cruise ship and ports. So on a Bermuda cruise, you are enjoying two types of vacation a cruise ship and then Bermuda.
While on the cruise ship, you can enjoy everything it offers, from delicious dining options, Broadway-style shows, live music, movies by the pool, casinos, clubs, bars, and so much more. Read more on the things to do on a cruise.
And then, when you're in Bermuda, you can explore this beautiful island country. With its pink sand beaches and turquoise waters, you'll want to spend a reasonable amount of time on the beach.
– Don't Miss: What to Pack for the Beach –
3. Perfect Amount of Time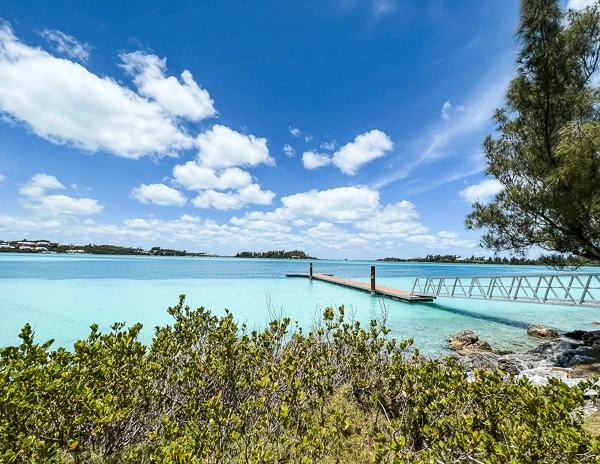 What's unique about cruises to Bermuda is that the itineraries include overnight stays for up to 2-3 days, which is the perfect time to fall in love with the island.
You'll have a full days in Bermuda to explore!
And you can go back to the cruise ship when you need a break from being on land. You can always take advantage of all your cruise ship offers and relax on board.
4. Bermuda is a Great Family Destination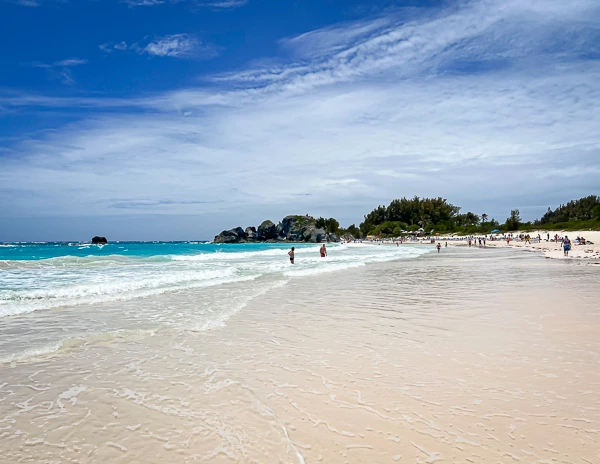 Bermuda is a great cruising destination for families. Families can enjoy the cruise ship, including kid's clubs, and then off the ship in Bermuda.
The island has excellent things to do for everyone in the family. You can find beaches where the waters are calm for kids to enjoy and for parents not to freak out. You can also do plenty of tours and activities together as a family.
Before you set sail, pack these essentials that will help make your cruise even more enjoyable. These items include everything from sun protection essentials to must-have medications. We also cover what not to pack for a cruise on our site.
5. Transportation Made Easy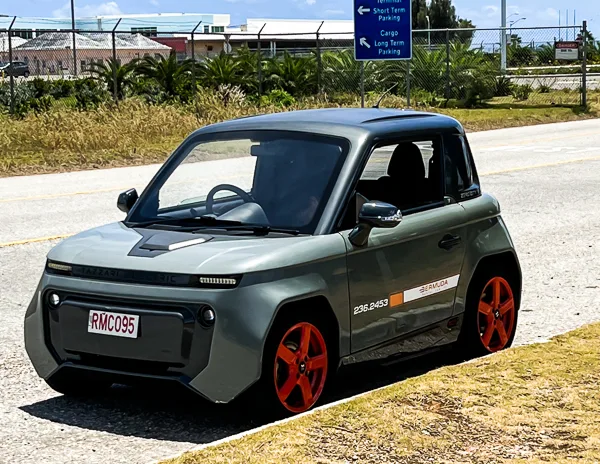 Transportation is made easy for cruisers. Step out of the cruise terminal in the Royal Naval Dockyard and the various transportation options available to cruisers, from taxis, shuttles, ferries, etc.
Since Bermuda doesn't rent out cars (only two-passenger electric vehicles) to visitors, many cruisers opt to use taxis or shuttles in port. And the shuttles to the beaches are easy and affordable.
If you're doing a land vacation in Bermuda, unless you're staying in Hamilton or St. George, you must arrange taxis, a driver, or rent an electric vehicle to get around town. If you're a family of 3 or more, you will need a taxi or a driver because electric vehicles only fit 2 people at a time.
Then there is always the bus. Bermuda has great public transportation.
6. You Don't Have to Worry About Dining Options
As a foodie, it's pretty stressful researching and figuring out what to eat every day, three times a day, when on a land vacation. Yeah, sometimes we wing it and discover delicious places to eat. Other times, they are major disappointments.
One of the reasons we loved cruising to Bermuda was that we only had to figure out lunch. On the cruise ship, you have the main dining room, buffet, room service, and specialty restaurants on board.
Some cruisers ventured out to nearby restaurants by the cruise port at night, but we stayed on the cruise ship.
We were so tired from the sun and all the exploring we did all day that we were happy to relax on the ship at night. Then we'd start early the next day, taking advantage of everything Bermuda offers.
7. Perfect Way to Unwind On Your Way to Bermuda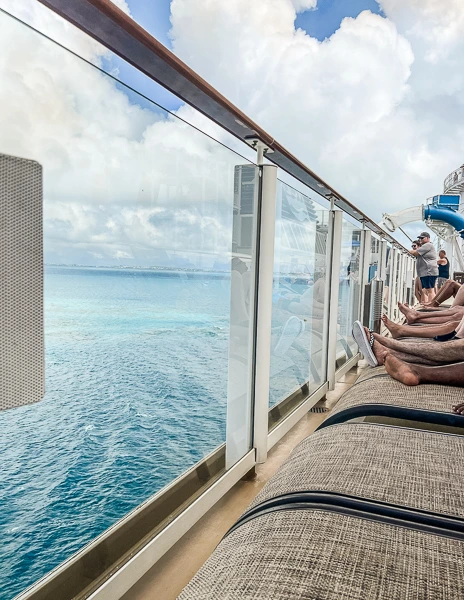 A cruise is a perfect way to unwind and relax. We all know how stressful life can be. And a cruise is a great escape from reality. The 1-2 sea days on the cruise ship before arriving in Bermuda are the perfect way to start your vacation.
Sometimes, the stress from just getting ready for vacation gets to us in those first couple days. We slow down as we try to catch our breath. Then we are fully ahead in vacation mode after it passes.
It's nice having those sea days on the cruise, enjoying the ship, and relaxing before arriving in Bermuda.
8. Bermuda is a Safe-Cruise Port
Is it safe to cruise to Bermuda?
Bermuda is one of the safest cruise ports. It's one of the safest cruise destinations we have been to.
That's not to say that other cruise ports aren't safe, and you should stay away. It just means that in Bermuda, we didn't feel the need to be hyper-vigilant about everything. Our spidey senses never went up.
Of course, you should always take precautions when traveling to any destination, but we felt comfortable in Bermuda, and you will, too.
9. The Views from a Cruise Ship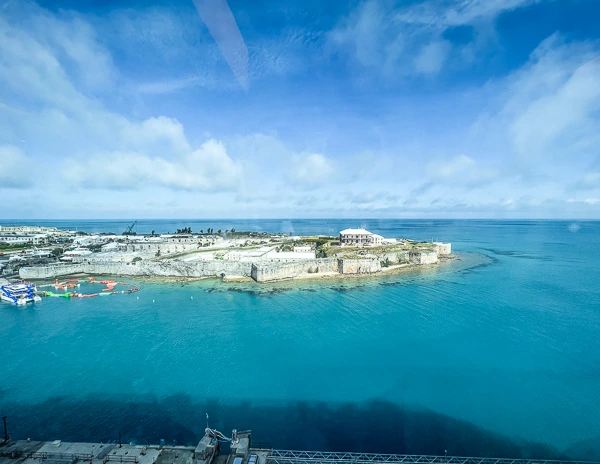 One of the best reasons to cruise is the views from the cruise ship. That's no different when cruising to Bermuda. Being on the ship, the scenery and perspective you get from Bermuda's port are beautiful.
As your cruise ship enters the Port of Bermuda, you'll be in awe of the turquoise waters and coral reefs surrounding the island.
At sunrise and sunset, it is also pretty special. But if you can be by the water at the restaurant or the beach at sunset in Bermuda, we highly recommend that.
10. It's an Easy Trip from East Coast Cities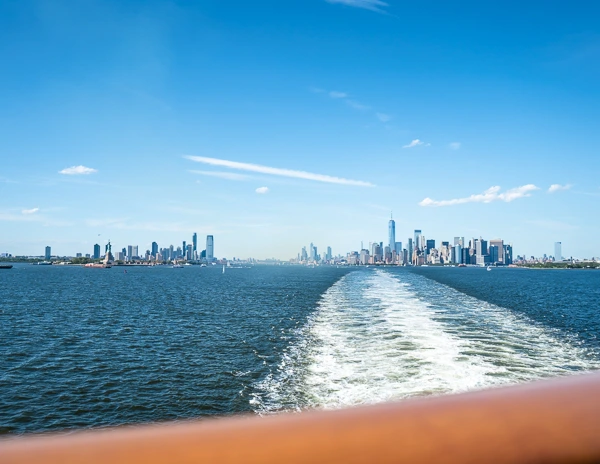 What ports have cruises to Bermuda?
Bermuda departure ports are mostly from these US Destinations: New York City, Boston, Baltimore, Cape Liberty, Norfolk, and Florida.
We were born and raised in New York and had no idea when we lived there that cruising to Bermuda was so popular. It's an easy and affordable vacation for locals living near and around New York City, Boston, and New Jersey.
With the cost of flights and everything up, it's a no-brainer for East Coasters to book a cruise to Bermuda.
Our close friend in NY recently searched high and low for vacation options for her family of four. It turned out that booking a cruise on Norwegian Joy, which we recently cruised on, was a 1/3 of the cost of most quotes she received. She compared all-inclusive resorts and other cruises and flights leaving from other states.
Now, she and her family simply have to take an Uber from her home to the Manhattan Cruise Terminal. And they will have the best cruise to Bermuda.
When flights are at their highest, it's worth looking at what cruises are leaving near your home port. It is worth it for East Coasters within driving distance from these ports that go to Bermuda.
– Don't Miss: 10 Amazing Ideas for One Day in New York City –
Cruises to Bermuda: FAQ
Who cruises to Bermuda?
Bermuda is a great cruising destination for families, couples, and friends.
When is cruising season in Bermuda?
The cruising season in Bermuda is from April to October.
What are the best times to cruise to Bermuda?
The best time to cruise to Bermuda is during the summer months. July and August are also the busiest months for cruising to Bermuda.
How long are cruises to Bermuda?
Cruises to Bermuda typically run on a 7-day itinerary. Although, occasionally, you may find longer 9 to 12-day itineraries that will have Bermuda as a port-of-call.
Are cruises to Bermuda fun?
Cruises to Bermuda are fun! Since most Bermuda cruises stay overnight, you'll have the opportunity to relax on the beach, enjoy the nightlife, and explore the island.
The beaches are some of the best in the world, and there's plenty to do both during the day and at night. The island also has various attractions, from historic fortresses to secluded coves. Bermuda is sure to provide you with lasting memories.
122 Quick & Helpful Cruise Tips
We've gathered 122 of our top cruise tips and cruise hacks to help make your planning process smoother and your cruising experience even more fabulous.
What did you decide? Are you cruising to Bermuda?
We hope the answer is YES. And that you'll start planning a future cruise to Bermuda. You won't regret it!
Plus, if you decide to cruise out of New York City, that sail away is magical and worth adding to your bucket list.
Share the tips & love on Pinterest: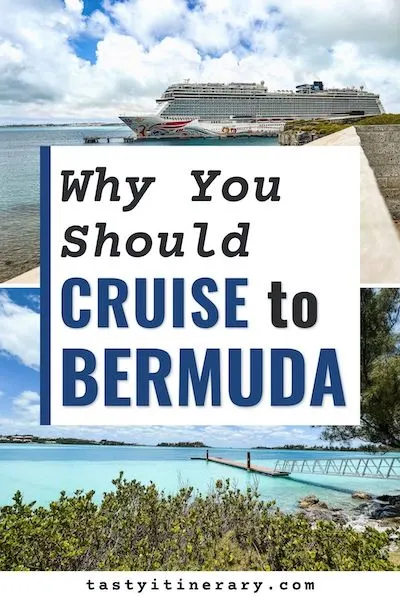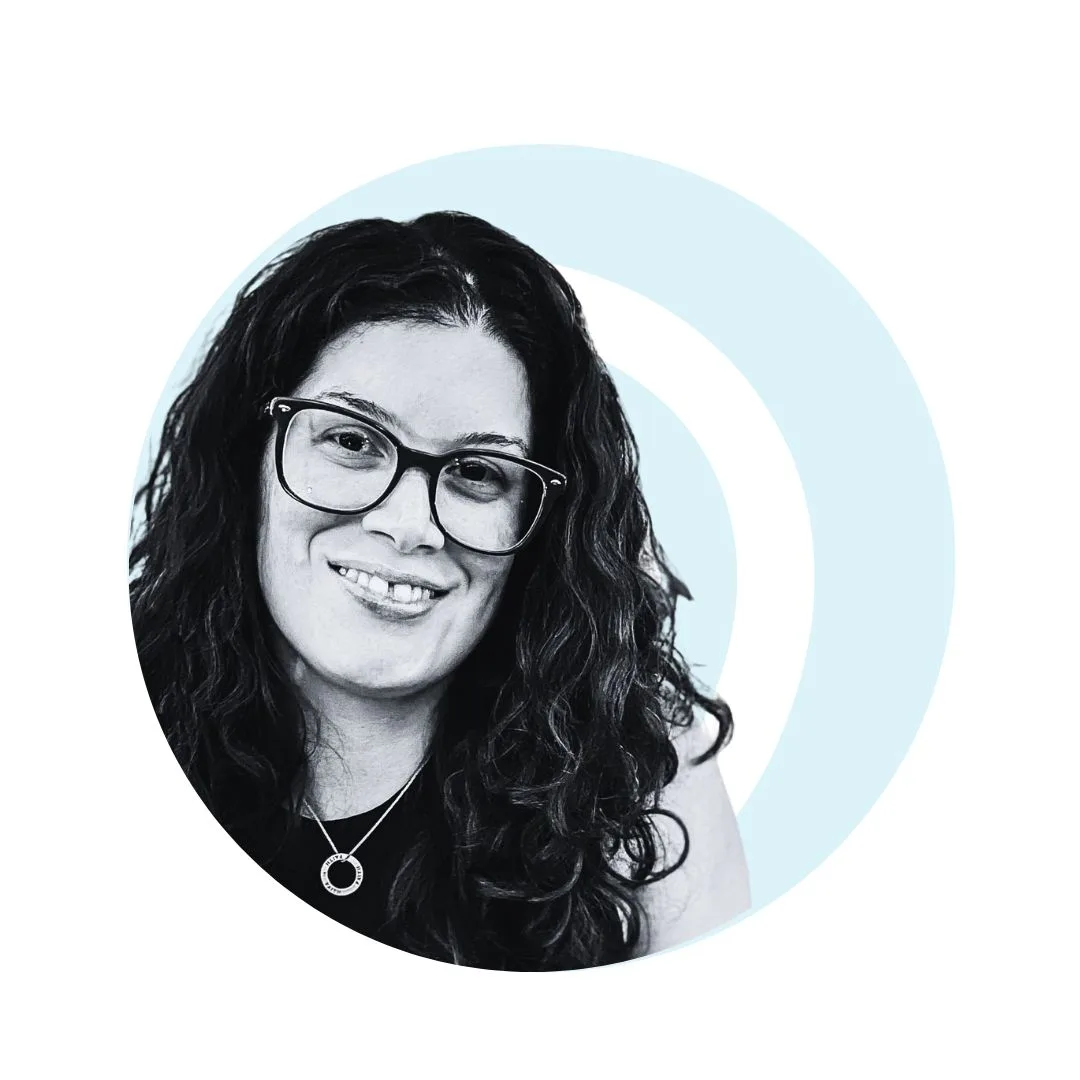 Meet Kathy Ava – a food, travel, and cruise writer based in Los Angeles/Pasadena. With over 20 years of experience planning trips and logistics at her full-time job and for herself, she's become a pro at crafting unforgettable travel itineraries. She's always looking for delicious, fun cruise itineraries and travel destinations and is slightly obsessed with Italy. Her passion and curiosity for travel started in childhood on her yearly and sometimes bi-yearly trips to PR. She firmly believes that life is short and we must make the most of it – so let's explore the world and make some incredible memories.