Looking for amazing places to eat in New Orleans that are a must? These spots are worth making reservations, standing in line, or worth the wait. You'll love every bite.
New Orleans is quite possibly one of the best foodie destinations in the country. As a matter of fact, US News named New Orleans #2 on the Best 15 Foodie Cities in the US. Right after San Francisco. I can't deny it, San Francisco has a fantastic food scene, too.
New Orleans serves their traditional cajun and creole food as well as foods that are influenced by European traditions and Southern comfort food. You'll find delicious dishes like gumbo, fried chicken, shrimp boils, muffulettas, and more.
While I yet have discovered ALL the fabulous eats in New Orleans, this shortlist is too good not to share.
In this post, I'm sharing places to eat in New Orleans that is worth adding to your itinerary. These establishments are located in the French Quarter or right outside of it, as this is where most of us travel to when we visit the Big Easy. They will have your tastebuds singing praises and craving more.
Disclosure: This post may contain affiliate links. If you decide to make a purchase from one of those links, we may get a commission at no extra cost to you. We appreciate your support.
I know, I'm ready to head back to New Orleans for seconds. Also, there are way too many restaurants in New Orleans and smaller foodie spots I have to try.
This is an incomplete guide that's just pointing you in the right direction of deliciousness so you eat well when you're in the Big Easy. In return, if you find places to eat in New Orleans you think I must try, I would love to hear all about it.
Upon hearing my love for Willie Mae's (which they love too), multiple locals gave me recommendations to some of their favorite local and non-touristy spots. The funny thing is, they all sort of pointed me to the same couple of places. You'll find those at the end of this post. They are on my list for next time.
Places to Eat in New Orleans
1. Willie Mae's scotch house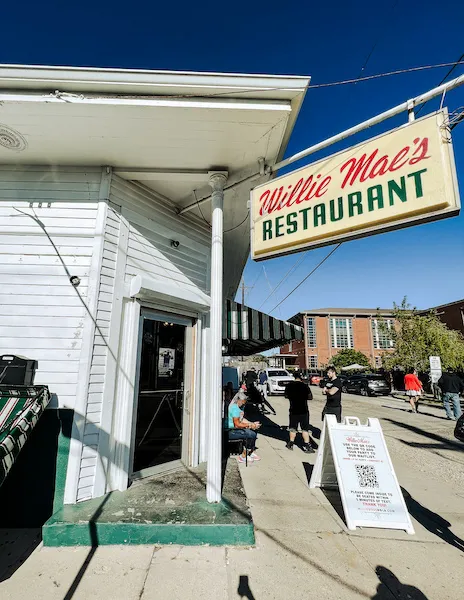 Willie Mae's was on my list of places to eat in New Orleans for several years. The last time we were in New Orleans, we didn't make it. So it took me that long to finally make it to this restaurant that now has become infamous and with reason. At Willie Mae's you will have the best fried chicken ever.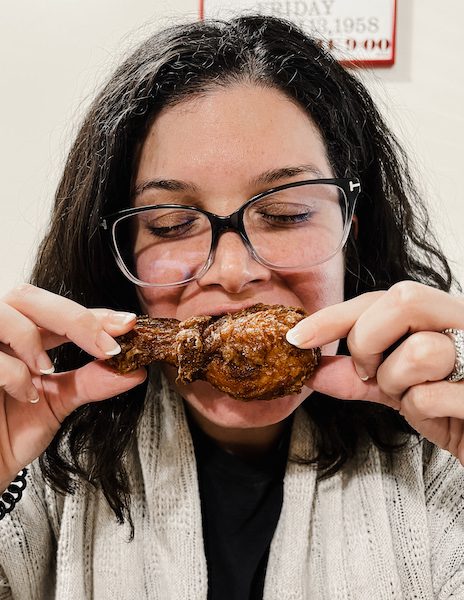 It's a recipient of the James Beard award. It's been titled the best fried chicken in America. Phil Rosenthal from Somebody Feed Phil eats here in his New Orleans episode. Obama loves Willie Mae's fried chicken.
You'd think by now that maybe it's overhyped, but I'm here to tell you that it's not. It's love at first bite. A first bite that breaks into a delicately crispy skin and into the juiciest and most flavorful chicken with a kick.
Even with all the accolades, the location in the historic Treme neighborhood continues to serve quality food with fabulous service.
The kindness of the staff and their love for the menu was evident as we asked them what to order besides the fried chicken. They did not leave us astray. I have a feeling that every single thing on Willie Mae's menu is as delicious as the next.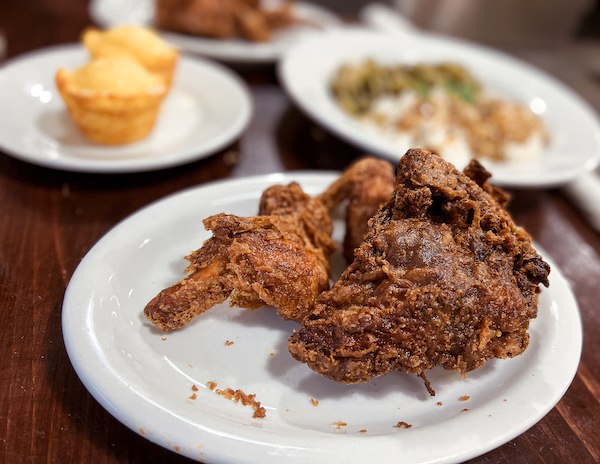 We each ordered a fried chicken plate. I got the white meat and hubby the dark meat. Mac n cheese sides (not pictured as it came late but fresh) and the rice with green beans that were so good, we wanted to lick the plate after. Of course, we didn't forget the cornbread.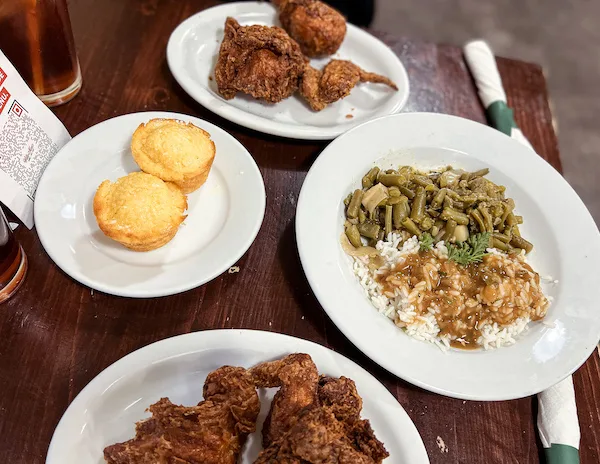 Normally, I'm not a huge fried chicken fan. Hubby is. However, I immensely enjoyed each bite and did not leave anything behind. I can honestly say this was the best fried chicken I've ever had in my life.
If you're staying in the French Quarter, we suggest taking a Lyft or Uber to Willie Mae's. The driver will probably tell you that is worth the trip and wait once you get there. On your way back to the French Quarter, don't be afraid to walk off the meal.
Have you been to Willie Mae's? Is it now on your list?
2. Acme Oyster House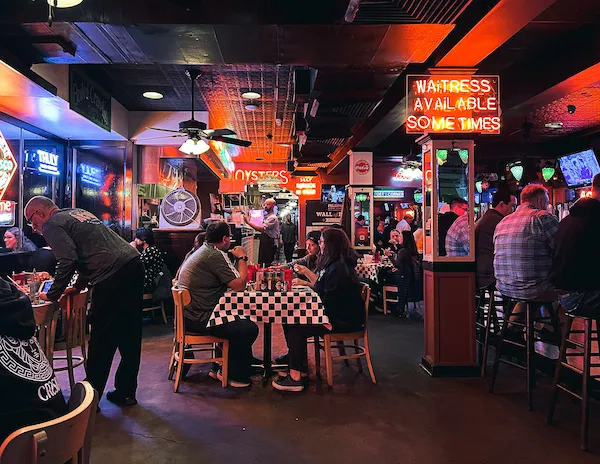 Let me preface this by saying that I do not like raw oysters. At all. Tried it once, gagged and that was the end of ever trying oysters that were not fried.
Repeatedly I was told I needed to try charbroiled oysters. Specifically, if I visited New Orleans I had to go to Acme or Felix's. On this last trip, even though I was still full from Willie Mae's, we dared to have Acme's for dinner. I just couldn't leave New Orleans without trying charbroiled oysters. Not this time.
We waited in a short line and once sat down, I had no idea how many oysters I should order. The young woman at the table beside us turned around and said, "you have to order a minimum of 3 dozen. I'm telling you, they are so good, you're going to want more… as a matter of fact, I can give you one right now to try. They are THAT good. I come to New Orleans 3 times of year to have them." Her enthusiasm was appreciated.
My stomach didn't think it could handle 3 dozen oysters. So I remained sensible and just ordered a dozen with some hush puppies on the side. Well, once I had my first oyster, I understood the stranger's enthusiasm. It was one of the best oysters I've had in my life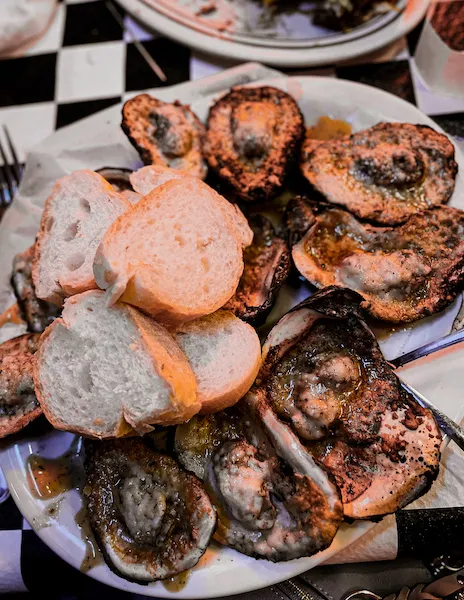 The oysters are charbroiled, so they are cooked, not raw. It's how they are prepared that makes them so damn delicious. Butter, lots of garlic, other seasonings, and cheese! And, there is no mistaking that charcoal flavor that adds to the crispy cheese on the edges of the oyster shell.
The combination of it all makes for a heavenly sauce that you will dip the bread that they give you into that sauce. It is quite addicting! If I was not eating on a full stomach, I would have ordered more.
Warning, other places will say they have charbroiled oysters but they are not prepared the same or even similar. Learned that lesson the hard way.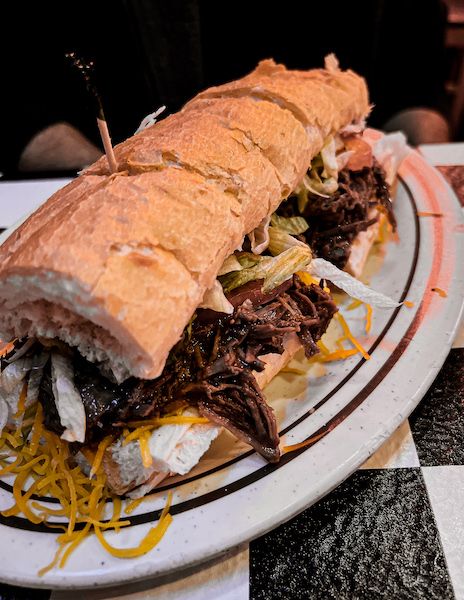 Traveling with someone that doesn't like oysters, period, or doesn't like seafood? Don't worry because hubby ordered the Acme "10 Napkin Roast Beef" which is a sandwich with roast beef and all the fixins'… um, that was incredible too. The meat was so tender and that gravy… drooling again.
3. Muriel's Jackson Square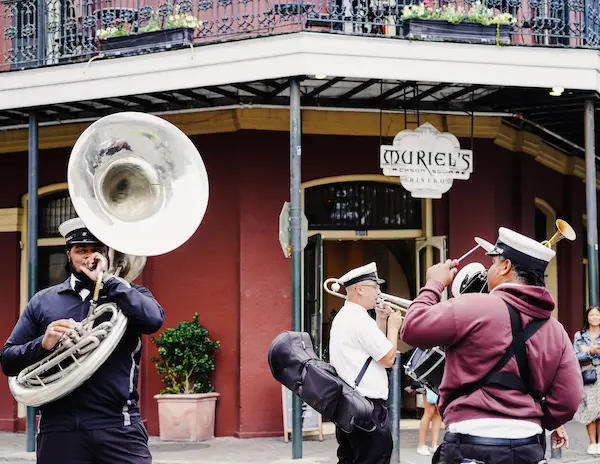 Looking for a place to eat in New Orleans for a special occasion? Perhaps an anniversary dinner or a birthday brunch? Muriel's in Jackson Square is the place for you.
We had the pleasure to not only dine at Muriel's for our friend's wedding reception, but we also had a fabulous brunch here too on our own. Both times the food was excellent. Which is not a word I'd use for most foods served at weddings.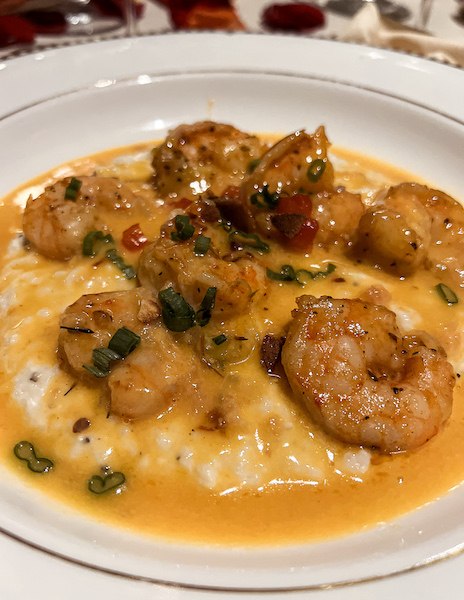 At the wedding, we were served crab cakes as an appetizer and a choice of filet mignon or shrimp and grits. All dishes are offered on their dinner menu.
The crab was so good, that my husband who hates fish, ate it and is still raving about it.
The filet mignon was so tender that all that was needed was a butter knife to cut into it that everyone talked about it all night.
The shrimp and grits were just as fabulously creamy and you could taste the smoked tomato butter sauce and garlic.
Muriel's is located right by our hotel, Place de Armes. On our last morning in the French Quarter, we ran into a brunch crowd in front of Muriel's. Surprisingly able to get seating. We had a superb brunch of Bananas Foster Pain Perdu and Eggs Veney. It was sinfully, fulfilling and one of the best brunches I've had.
We do recommend making reservations at this New Orleans restaurant, if possible.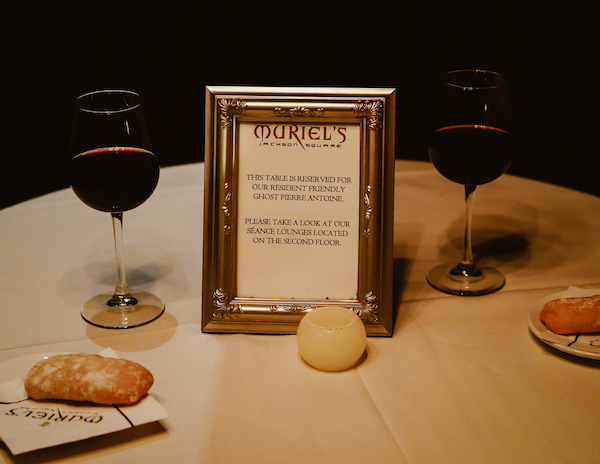 Fun Fact: Muriel's is haunted. Every day a table is set with bread and wine for the ghost.
Best Things to Do in the French Quarter
Visiting New Orleans and staying in the French Quarter? Don't miss these things to do in this vibrant historic neighborhood. Eat beignets, visit Jackson Square, take a ghost tour, and more.
4. NOLA Poboys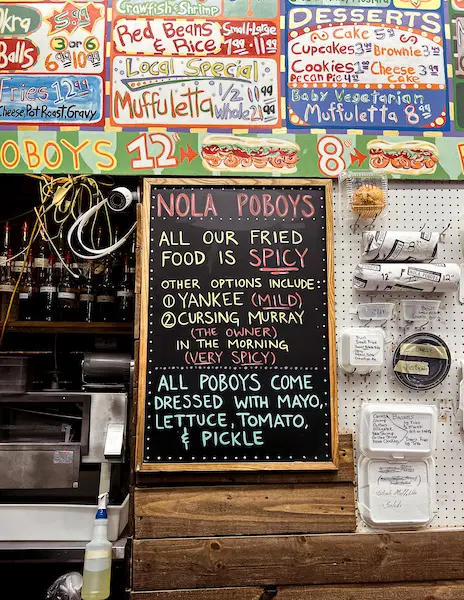 NOLA Poboys was a happy find the first night we arrived in New Orleans. We were 30 minutes away from going on a night Cemetary tour but absolutely starving.
I literally pulled out Yelp for quick takeout and NOLA Poboys came up as #1 closest to our location with great reviews. We literally ran in, ordered, and prayed we got our food to eat in time to make it to the tour.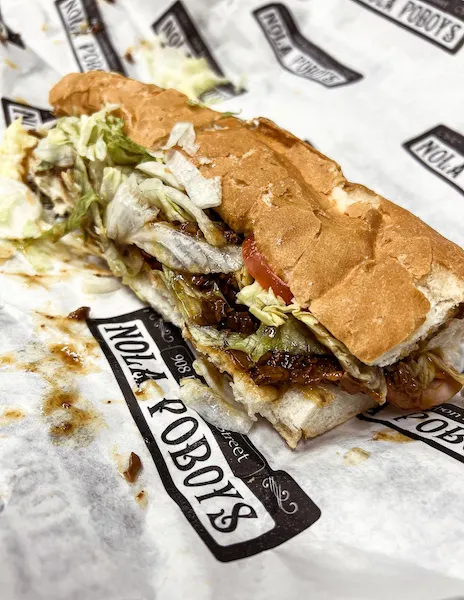 We got our food, even though we had just minutes to eat it, it wasn't a challenge. The Big Easy po'boy (roast beef and ham) we ordered with everything and boudin balls were so mouthwatering good, we scarfed it down in no time. I wish we had made time to return for more to savor it.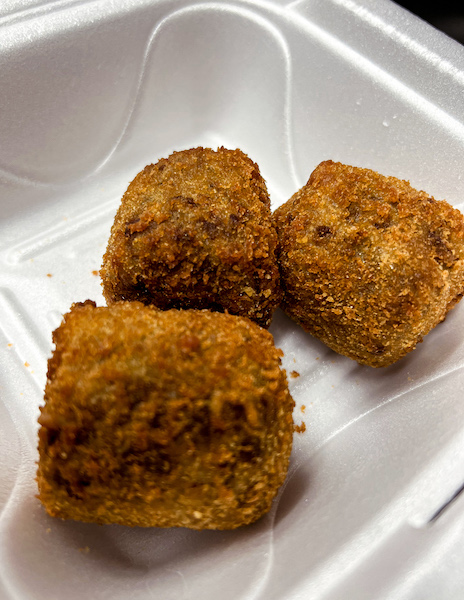 Po'boys first originated from a coffee stand back in 1923 and it's since been a fixture of New Orleans cuisine. Po'boys are sandwiches that are made with a protein of your choice between a French bread with lettuce, tomatoes, mayo, and mustard. A fried shrimp po'boy is one of the most popular.
You can get po'boys almost anywhere in New Orleans. Of course, NOLA PoBoys does it right and they have a number of other items on their menu that may interest you.
5. Loretta's Authentic Pralines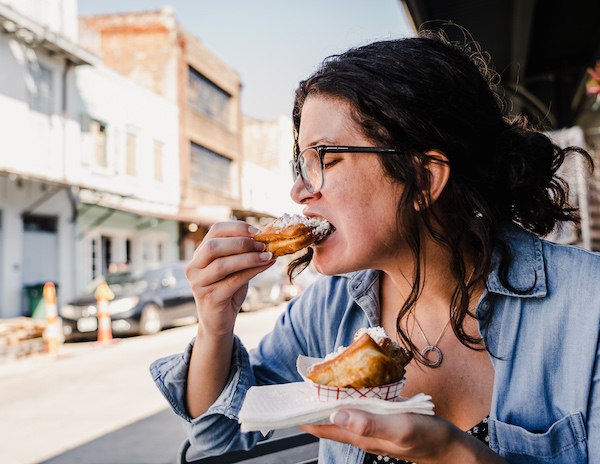 Oh, Loretta's. You had my heart at beignets.
Loretta's pralines are delicious, but you have to have their beignets. They are the best beignets I've had in the French Quarter. Light, airy and yet, crispy. So delightful that you're not going to stop at one.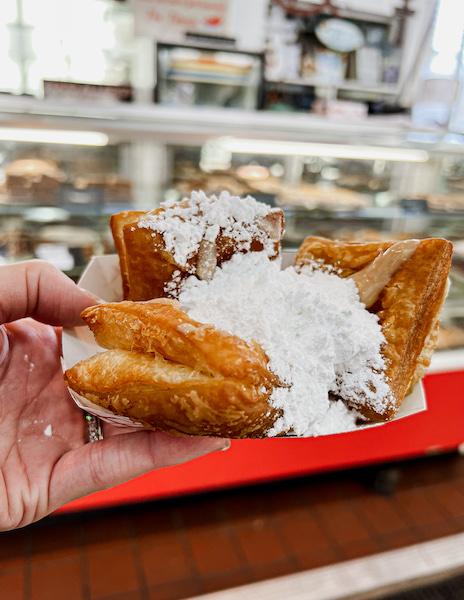 With a location in the French Market, we ordered a serving of praline stuffed beignets. I was full from Muriel's brunch and thought, oh I'll just have one. Nope, I had two. They were seriously out of this world.
Then I was procrastinating trying her crab stuffed beignets that a local said I had to try. Next time, for sure. Without a doubt, the crab beignets are on my menu for next time.
Have you tried a savory beignet? What kind?
You must add Loretta's to your list. Whether it's for lunch for crab beignets… or maybe a burger beignet… or one of her sweet beignets. It's a must-try. You can skip cafe du monde's and check out Loretta's.
We went to their French Market location in the French Quarter. Their original location is at 2101 North Rampart.
Scrumptious Spots for Beignets in New Orleans
Where to have the best beignets in New Orleans? Cafe du Monde is not the only place to have beignets in New Orleans. Check out our list of places for delicious beignets in Nola.
6. Alberto's Cheese and Wine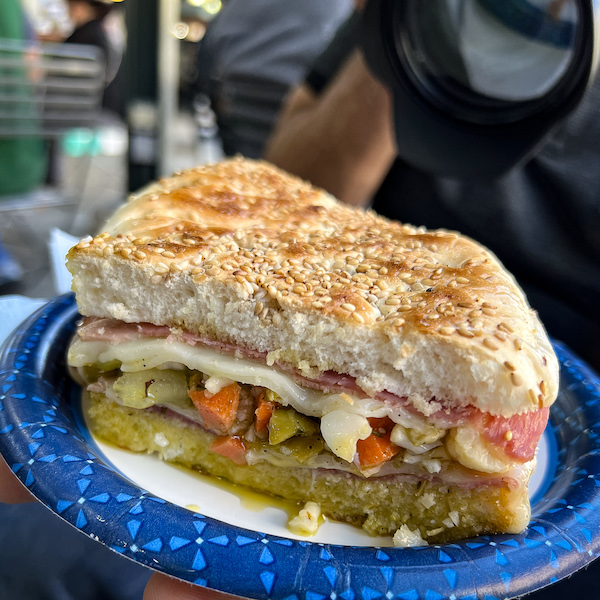 We love Alberto's in the French Market. The first time we visited New Orleans, we took a walking tour of the French Quarter and the local guide insisted their muffulettas were worth trying. Now, we always return to Alberto's for muffulettas.
A muffuletta is basically an Italian sandwich on a round sesame bread with a layer of cold cuts and an olive tapenade. Some places warm it and some don't. What I love about Alberto's is that they serve it warm and toasty. You can order a 1/4 of a serving just to try it or a whole one to share.
It's a casual spot. Easy and delicious food to eat. Perfect for lunch or a snack in between meals. Next to this stand is Loretta's.
7. Ruby Slipper Cafe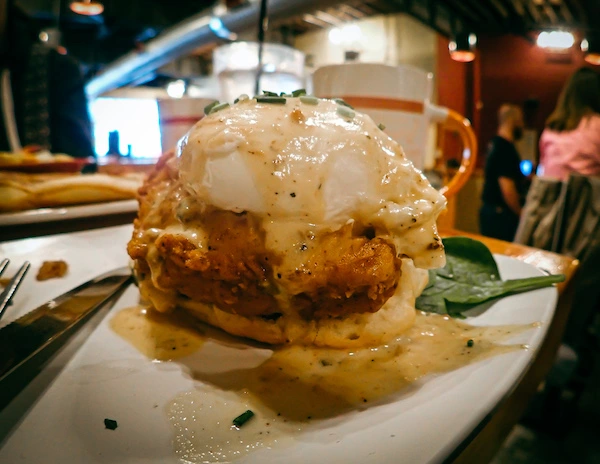 If you love breakfast, you're going to love Ruby Slippers Cafe.
Ruby Slipper Cafe is a southern-style spot that serves creative comfort breakfast and brunch food all day. Their dishes will hit your stomach just right and keep you full for a good portion of the day.
Their biscuits will sing to you. Okay, not really. But they are fantastic. The last time I was there, I didn't think my stomach was up for a full breakfast but I had one bite of my husband's biscuit and that's all it took. I ordered my own biscuit.
Arrive on the early side or be ready to wait for a table. Make sure to verify their opening times as the pandemic has shifted things.
8. French Toast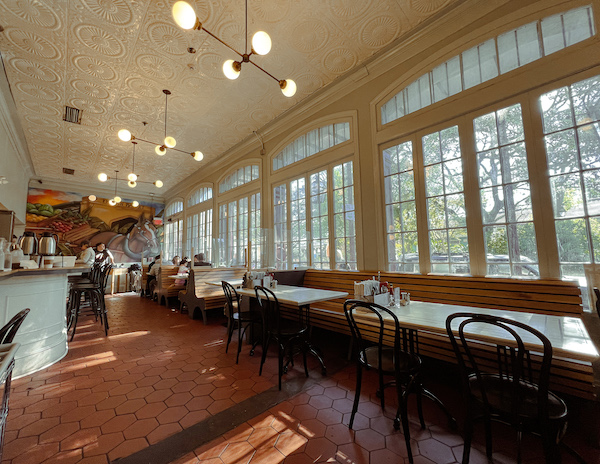 Another French Quarter breakfast spot to add to your list is French Toast. This quaint little restaurant is serving some yummy french toast dishes, waffles, and savory crepes.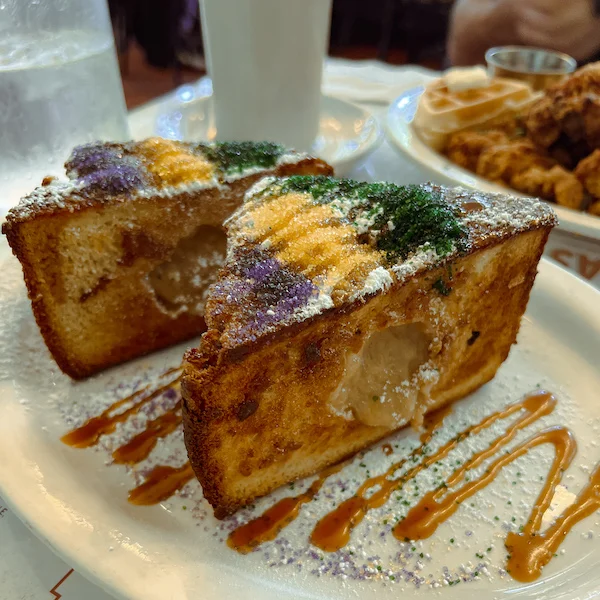 I was curious about their stuffed King Cake french toast, so I ordered it with a side of eggs. It's a pretty dish and also quite delicious. My favorite was the crispy edges of the french toast.
Their fried chicken and waffles impressed my hubby, he ate the whole thing. The fried chicken wasn't Willie Mae's but it was great. Crispy, juicy and it went well with the airy waffle.
Locals Favorite Spots To Try
Triangle Deli – Southern style food, serving the best mac n' cheese.
Brother's Food Mart – Recommended for their fried chicken .
Key Fuel – The best po'boys supposedly are at the gas station.
Hope you get to experience one or all of these restaurants in New Orleans. It's a short list, but a goodie, and I stand by it.
I left out a few places that certainly did not leave a good impression. My goal is to return to New Orleans and eat my heart out again. I will be updating this list as I do but keeping it short and full of high-quality foodie spots.
Have you tried any of these restaurants in New Orleans? What are your favorite places to eat in New Orleans?
Don't forget to share the love on Pinterest: