Looking for influential travel and cruise quotes?
Travel is one of the best things in life. It broadens your horizons, allows you to meet new people and see new places, and can inspire you.
Traveling by cruise ship is a unique way to see the world and one of the most relaxing and enjoyable vacations. Not to mention, it's also a great way to see some amazing destinations. Cruising has something for all, whether you're looking for relaxation or adventure.
As you begin planning your cruise vacation, it's always helpful to be inspired by cruise and travel quotes that will excite you about your next cruise trip. Perhaps, one of these quotes will stick with you as a few have with us.
We've compiled this collection of 55 influential travel and cruise quotes.
What is a travel quote?
A travel quote is any travel statement that motivates or inspires. Travel quotes can come from famous people, travel writers, poetry, books, movies, and anonymous sources. They often capture the essence of why we travel and can be used as motivation when planning a trip or reflecting on past travels.
Why do people use travel quotes?
People use travel quotes for many reasons. Some people find them inspiring, while others find them motivating. Some travel quotes make people laugh, and some make people think. But no matter the reason, we can all agree that travel quotes are a great way to capture the spirit of travel.
How can you use cruise and travel quotes?
You can use cruise and travel quotes in several ways. You can use them as inspiration for your next vacation, share them with friends who love to cruise and travel, or even post them on social media to inspire your followers. Always remember to cite your sources when sharing quotes.
Influential Travel and Cruise Quotes
Without further ado, here are 55 cruise and travel quotes to inspire your next vacation…
1 . "Travel not to escape life, but so life doesn't escape you." – Unknown
One of our favorite travel quotes applies to all travel… not just cruising! This cruise quote reminds us that life is short, and we should make the most of it by exploring as much of the world as possible.
2. "The sea, once it casts its spell, holds one in its net of wonder forever." – Jacques Cousteau
This cruise quote comes from the famous French explorer and oceanographer. It reminds us that the cruise vacation experience is truly unique and unforgettable.
3. "Better to see something once than to hear about it a thousand times.' – Asian Proverb
4. "I want to be where the people are." – The Little Mermaid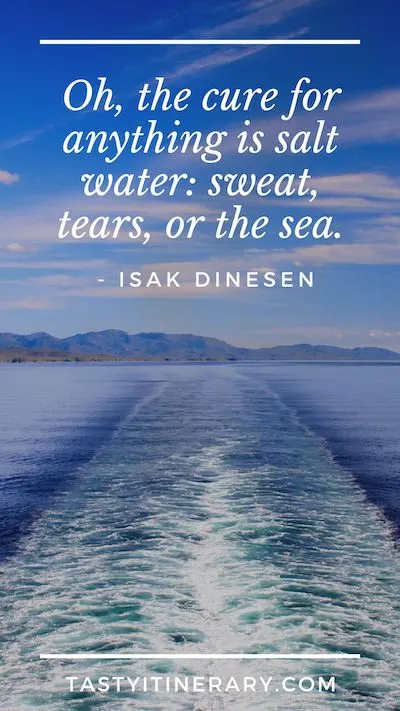 5. "The cure for anything is salt water: sweat, tears, or the sea." – Isak Dinesen
Just take me to the sea! Whether you are planning a beach vacation or a cruise, the sea is the magical cure for it all.
6. "I am not afraid of storms, for I am learning how to sail my ship." – Louisa May Alcott
This cruise quote encourages us to face our fears and embark on new adventures.
7. "There is something magical about the sea." – Unknown
Weighing the Pros and Cons of Cruises Before You Book
What are the pros and cons of cruises? Cruising is one of the most popular options when it comes to vacationing. While we cruise addicts sing its praises and how much we love it, cruising still has its faults. We've put together a list of pros and cons of cruising to help you decide before you book your first or next cruise vacation.
8. "Adventure is worthwhile." – Aesop
In other words, cruise adventure is worthwhile. In reality, any travel adventure is worthwhile.
When you cruise, you can choose your adventures at each port destination. Book a fun shore excursion or spend it exploring the port. It's up to you.
9. "I could never stay long enough on the shore; the tang of the untainted, fresh, and free sea air was like a cool quieting thought. – Hellen Keller
This quote reminds us that a cruise vacation is a perfect opportunity to get away from it all and enjoy some fresh air.
10. Travel changes you. As you move through this life and this world, you change things slightly, you leave marks behind, however small. And in return, life – and travel – leaves marks on you. Most of the time, those marks – on your body or on your heart – are beautiful. Often, though, they hurt. – Anthony Bourdain
Anthony Bourdain is an iconic figure in the travel industry. Make sure to watch episodes of his travel show No Reservations for further travel inspiration.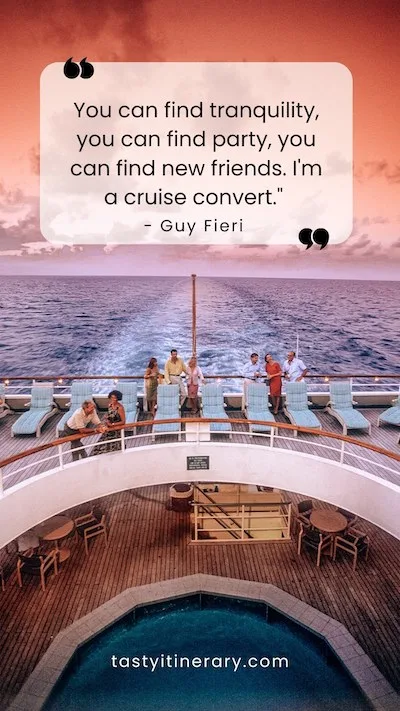 8. "You can find tranquility, you can find party, you can find new friends. I'm a cruise convert." – Guy Fieri
10. "Ocean: A body of water occupying about two-thirds of a world made for man – who has no gills." – Ambrose Bierce
11. " My light shall be the moon And my path, the ocean. My guide, the morning star As I sail home to you." – Enya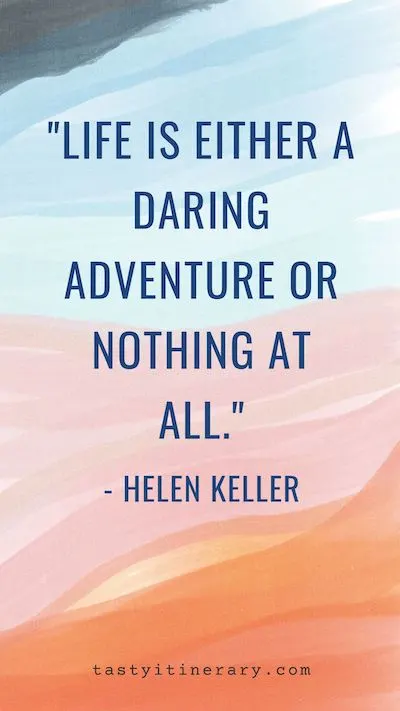 12. "Life is either a daring adventure or nothing at all." – Helen Keller
Another favorite! Take that vacation. There is no time better than now.
13. "A sailor's life is filled with adventure and romance." – Unknown
Cruising can be full of adventure and romance. Start planning that couple's cruise getaway or cruise honeymoon.
14. "We must free ourselves of the hope that the sea will ever rest. We must learn to sail in high winds." – Aristotle Onassis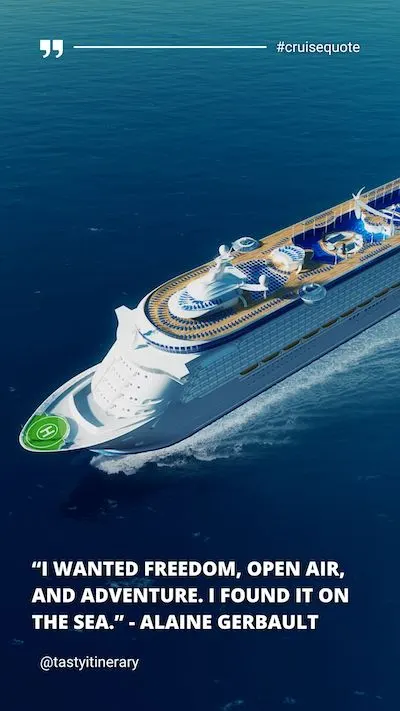 15. "I wanted freedom, open air, and adventure. I found it on the sea." – Alaine Gerbault
16. "The sea, once it casts its spell, holds one in its net of wonder forever." – Jacques Yves Cousteau
Once you start cruising, it's hard to stop. There is something exceptional about cruise vacations and being out in that open sea.
17. "I have found out there ain't no surer way to find out whether you like people or hate them than to travel with them." ― Mark Twain.
18. "I am not afraid of storms, for I am learning how to sail my ship." – Louisa May Alcott
This cruise quote encourages us to face our fears and embark on new adventures.
19. "The days pass happily with me wherever my ship sails." – Joshua Slocum
20. "Ships are the closest things to dreams that land-dwellers will ever experience." – Robert N. Rose
21. "Changes in latitudes, changes in attitudes." – Jimmy Buffet
23. "The journey of a thousand miles begins with a single step." – Lao Tzu
24. "Man cannot discover new oceans unless he has the courage to lose sight of the shore." – Andre Gide
25. "The world is a book, and those who do not travel read only one page." – Saint Augustine
26. "Just another day in paradise…" – Phil Vassar
One of the many reasons to book a cruise is the port destinations. Every morning is a new day that you wake up in a new destination… paradise.
28. "If we were meant to stay in one place, we'd have roots instead of feet." – Rachel Wolchin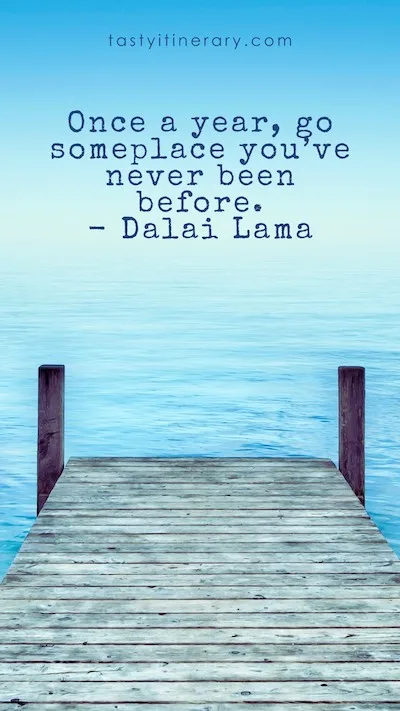 30. "Once a year, go someplace you've never been before." – Dalai Lama
Whether you venture locally or abroad, explore or eat somewhere new. Always be open to trying new things.
31. "My favorite thing to do is go where I've never been." – Unknown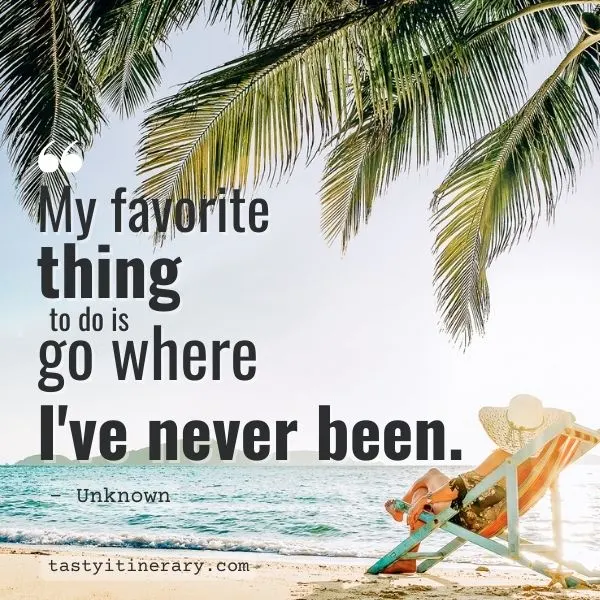 32. "I'm the king of the world! – Titanic
33. "To travel is to live." – Hans Christian Andersen
34. "A ship in harbor is safe, but that is not what ships are for." – John A. Shedd
This cruise quote encourages us to step out of our comfort zones and explore the world. A cruise vacation is a wonderful opportunity to do just that!
Before you set sail, pack these essentials that will help make your cruise even more enjoyable. These items include everything from sun protection essentials to must-have medications. We also cover what not to pack for a cruise on our site.
35. "Not all those who wander are lost." – J.R.R. Tolkien
35. "Smell the sea and feel the sky. Let your soul and spirit fly." – Van Morrison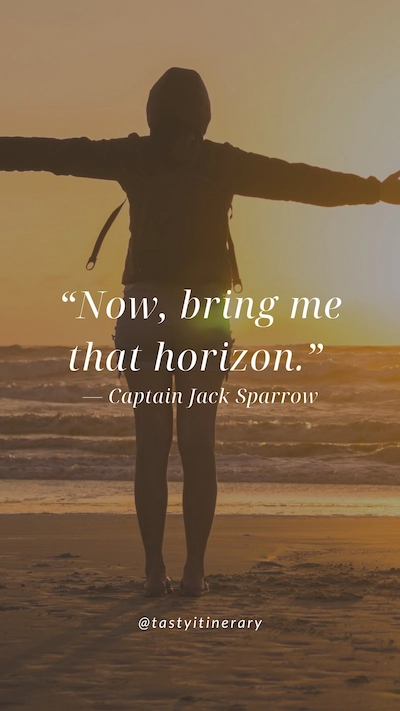 36. "Now, bring me that horizon." — Captain Jack Sparrow
37. "The joy of life comes from our encounters with new experiences, and hence there is no greater joy than to have an endlessly changing horizon, for each day to have a new and different sun." ― Christopher McCandless (Into the Wild)
38. "And I think myself what a wonderful world." – Louis Armstrong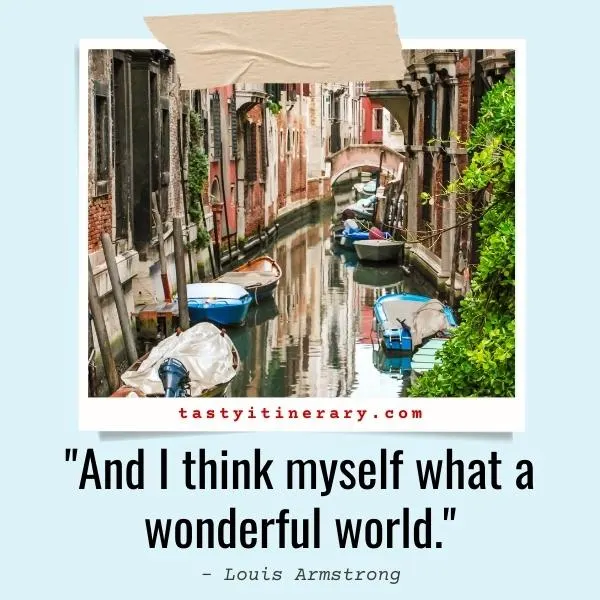 39. "Live in the sunshine, swim the sea, drink the wild air." – Ralph Waldo Emerso
40. "All of us have in our veins the exact same percentage of salt in our blood that exists in the ocean, and, therefore, we have salt in our blood, in our sweat, in our tears. We are tied to the ocean. And when we go back to the sea whether it is to sail or to watch it we are going back from whence we came." – John F. Kennedy
41. "High tides & good vibes." – Unknown
42. "I love how it feels to unwind by the ocean." – Miranda Rae Mayo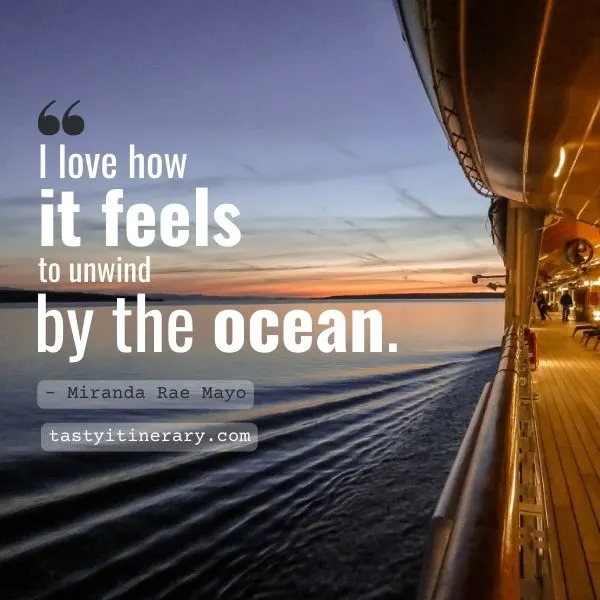 43. "One's destination is never a place, but always a new way of seeing things." — Henry Miller
44. "An ocean breeze puts a mind at ease." – Unknown
45. "Cruising is fixing your boat in exotic locations." – Unknown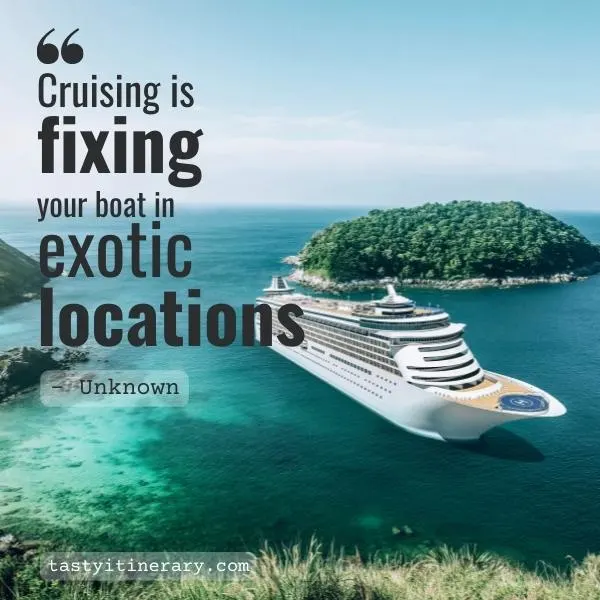 46. "The traveler sees what he sees, the tourist sees what he has come to see." – Gilbert K. Chesterton
47. "The ocean is a mighty harmonist." – William Wordsworth
48. "If there's a heaven for me, I'm sure it has a beach attached to it." – Jimmy Buffett
49. "My soul is full of longing for the secret of the sea, and the heart of the great ocean sends a thrilling pulse through me." – Henry W. Longfellow
With all the things to do on a cruise, sometimes the best part is simply enjoying the quiet moments at sea. This cruise quote reminds us to appreciate the beauty of the open ocean.
50. "Exploration is really the essence of the human spirit." – Frank Borman
51. "Remember that happiness is a way of travel – not a destination." – Roy M. Goodman
52. "Dance with the waves, move with the sea, let the rhythm of the water set your soul free." – Christy Ann Martine
53. "See the line where the sky meets the sea, it calls me. And no-one knows, how far I'll go" – Moana
54. "Why do we love the sea? It is because it has some potent power to make us think things we like to think." – Robert Henri
55. "In need of vitamin Sea" – Unknown
Share the tips & love on Pinterest: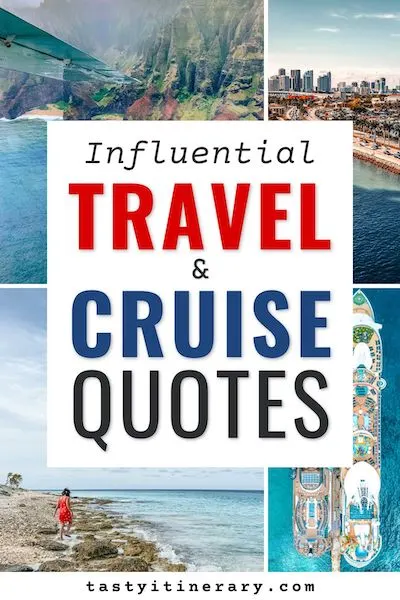 Meet Kathy Ava, a food, travel, and cruise writer based in Los Angeles/Pasadena, and the owner and main writer of Tasty Itinerary. With over 20 years of experience planning trips and logistics at her full-time job and for herself, she's become a pro at crafting unforgettable tasty itineraries. She's always on the hunt for delicious, fun travel destinations and cruise itineraries. She firmly believes that life is short and we must make the most of it, so always say yes to dessert.