Are you looking for Pasadena Restaurants on Lake Ave? Look no further, we cover 8 delicious and fantastic restaurants on Lake in Pasadena, California.
Lake Ave in Pasadena, California, runs north and south. Starting north in Normandie Heights and all the south, you hit Oak Knoll. It is one of the main streets in Pasadena and is home to many shopping centers, markets, and, of course, restaurants.
Most notably, south of Route 66, on South Lake Ave, is where you'll find The Shops on Lake, the Commons, and Burlington Arcade. It's another great destination aside from Old Pasadena for great shopping and great eats.
And at night, the twinkling lights around the palm trees in the center divider of Lake Avenue are always there to welcome you.
So if you're looking for somewhere to eat in Pasadena that's not in Old Town, consider checking out these Pasadena Restaurants on Lake. Here are 8 restaurants on Lake Ave in Pasadena that you'll love as much as we do.
We are Pasadena locals sharing our love of food and the things to do in Pasadena.
Pasadena Restaurants on Lake
1. The Arbour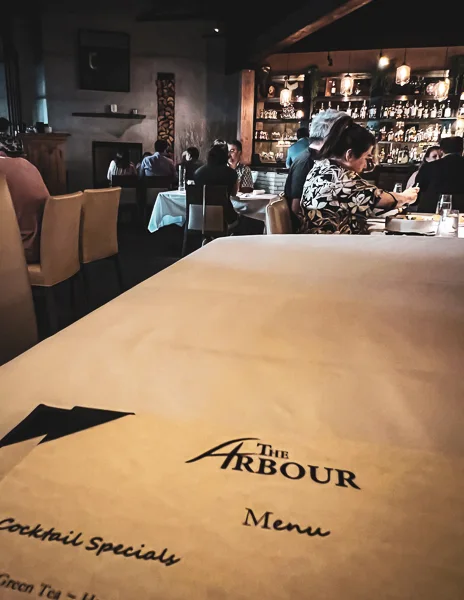 The Arbour is one of those restaurants on Lake Ave that can easily be missed, and it should not be. This Pasadena restaurant is one of our favorites because of its delicious organic homemade foods to, its intimate setting, and its decor. We love this restaurant for date night.
Their menu isn't overwhelming and is filled with light to comforting dishes that will please most palates. Everything is homemade with local products.
One of the best touches is the warm fresh rolls of bread served at the start with homemade butter, sea salt, and sage.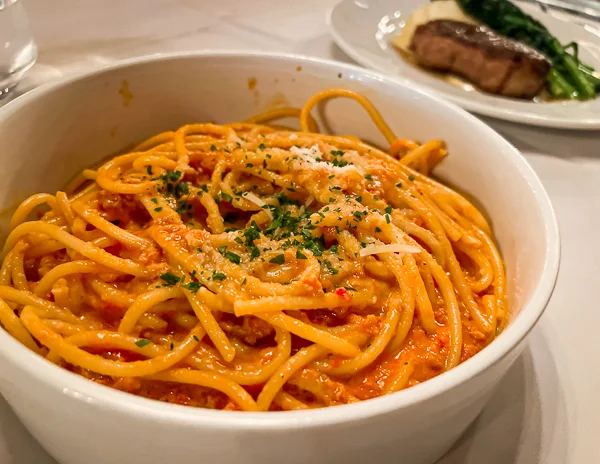 The last time we were there, we ordered the bucatini alla vodka with great skepticism as it's a dish that easily can be disappointing. The Arbour is not an Italian restaurant, but the chef hit a home run with this pasta dish. And, we highly recommend it.
The New York striploin was tender, and perfectly cooked as ordered. The hollandaise sauce is rich and buttery. The mashed potatoes were so smooth and tasted perfect when mixed in with the hollandaise.
Leave room for dessert; their warm apple strudel with homemade ice cream is fantastic.
The full bar alone is worth a visit. Their featured cherry old-fashion was one of the best we've had. Their japalpeño margarita seemed to be a favorite as we saw them constantly being served around us. A wine list is available.
The service is wonderful and the staff is attentive.
The Arbour | 527 S Lake Ave #120, Pasadena | Google Map It
2. Smitty's Grill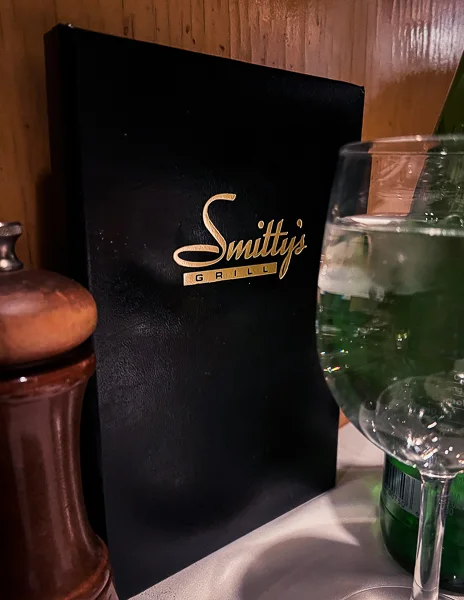 Smitty's Grill is a classic American restaurant on Lake Ave that has been a Pasadena favorite since the 80s. The restaurant has a cozy atmosphere, great for a night out with friends to share a chicken pot pie.
What kind of meals is Smitty's Grill known for? The old classic comforting dishes like meatloaf, chicken pot pie, mac n' cheese, baby back ribs, and buttermilk fried children. They also serve other favorites like skillet cornbread, crab cakes, roasted rib eye, Cioppino, and more.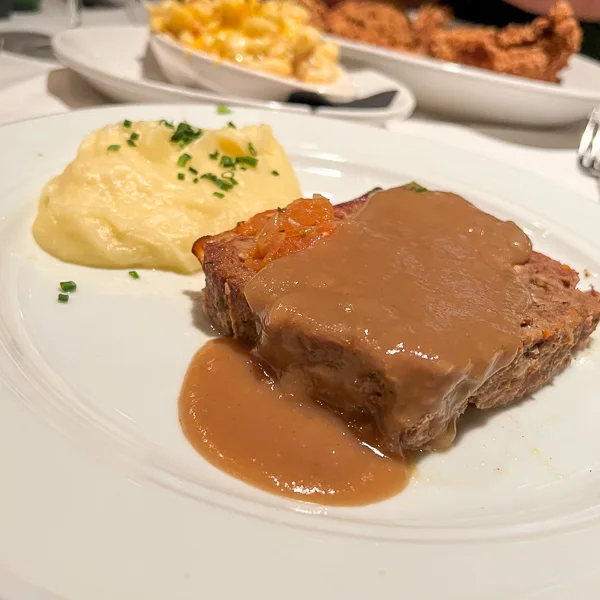 The meatloaf at Smitty's surprised us, it was really good. Loved the bacon and gravy on it. Almost as if mama made it. We just wouldn't go comparing it to others.
And the buttermilk chicken was crispy and juicy. Someone claimed it was one of the best he's had.
You can never go wrong with a chocolate cake for dessert.
Many tables were enjoying the chicken pot pie, which is large enough to share amongst two or more people. So keep that in mind if you do plan to order it.
Smitty's Grill | 110 S Lake Ave, Pasadena | Google Map It
One of the best parts of Pasadena is all the delicious spots to eat. From restaurants to take-out, check out some of our favorite places to eat in Pasadena.
3. Magnolia House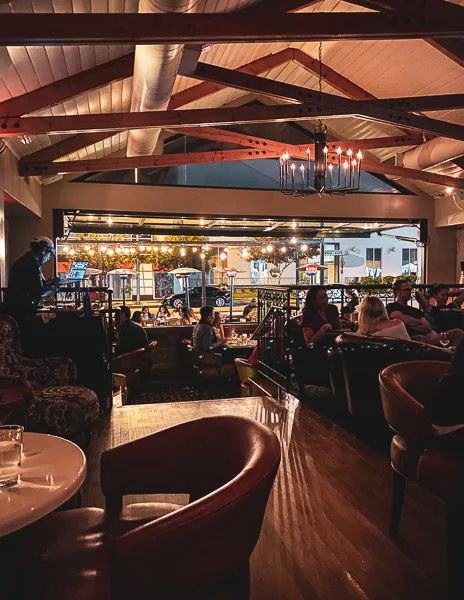 Magnolia House on Lake Ave in Pasadena is a 100-year-old historic craftsman home serving fantastic craft cocktails and delicious shareable plates. Whether you sit inside or take advantage of their outdoor setting, you'll have a beautiful time.
Plan date night or catch up with old friends at Magnolia House. Its cozy, quaint, and charming atmosphere makes it the perfect spot to grab drinks and something to eat.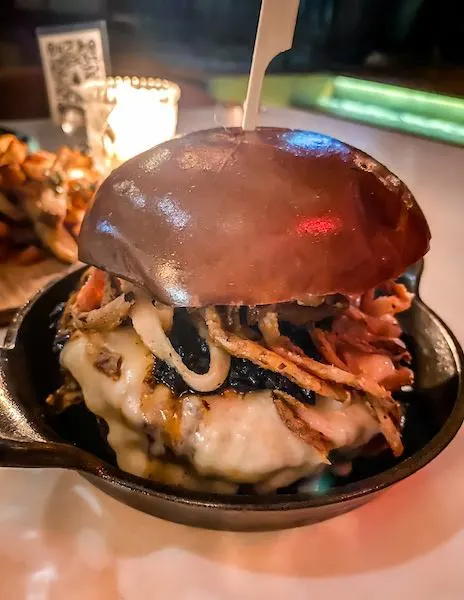 Some of our favorite items are their burgers, truffle parmesan, Belgium fries, Brussel sprouts, Korean pork-belly fried rice, lamb riblets, and Greek donuts. We almost always strive to try something new but always end up ordering the same.
Burger and Bourbon (old fashion) is Tuesday's special and always a hit. Yup, fries are included, too. It's a great deal for $20.
Magnolia House | 492 S Lake Ave, Pasadena (Google Map It) | Menu
4. Mercado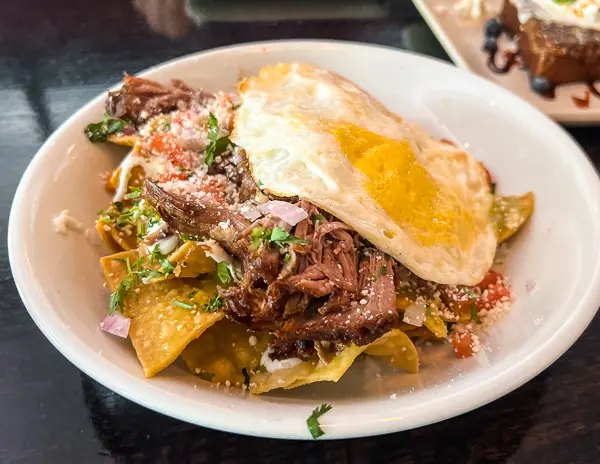 Margaritas and carnitas? Yes, please.
Mercado is a trendy restaurant serving modern Mexican cuisine in the Commons on Lake ave. Expect excellent drinks, attentive service, and Mexican food with added flair.
Start a margarita and guacamole, then order anything with carnitas as your entree. The tender, flavorful meat is some of the best we've had.
The margaritas are crafted with top-notch ingredients and are absolutely delicious. You can also ask about the Aguas Frescas of the day. These refreshing drinks are perfect for quenching your thirst on a hot day.
The restaurant exceeded our expectations. We were hesitant because we normally stick to our tried-and-true hole-in-the-wall Mexican spots and food trucks in Pasadena. However, we finally decided to treat ourselves and try Mercado. And we are glad we did! The atmosphere was wonderful, the service was excellent, and the food was delicious.
Note they are only open during the week for dinner and then on the weekends for brunch and lunch.
Mercado | 140 S Lake Ave, Pasadena | Google Map It
5. Dan Modern Chinese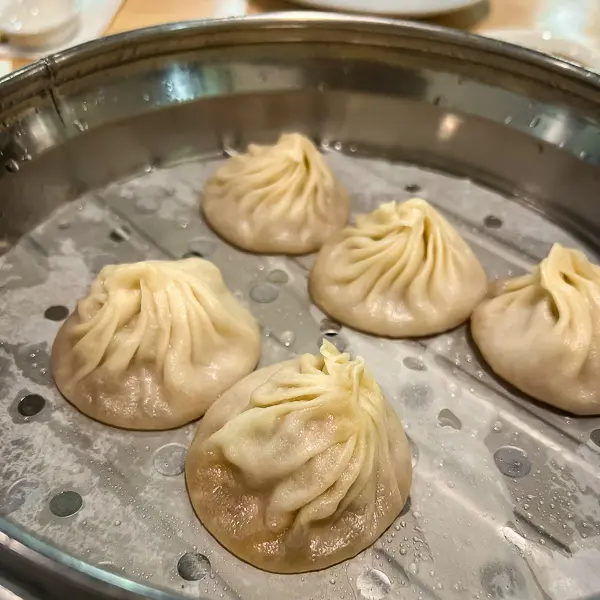 Dan Modern Chinese in The Commons serves the most delicious handmade dumplings and noodles in Pasadena. It's one of the best Asian restaurants in Pasadena. The soup dumplings are probably as good or even better than Ding Tai Fung.
This Chinese restaurant's menu focuses primarily on dumplings, rice, noodles, soup, and vegetable dishes. The dishes are smaller in size but the perfect size that allows you to order multiple items to share at a table. This way, you can try a bit of everything.
We tend always to order scallion pancakes, pork soup dumplings, beef noodles, and the bok choy.
The restaurant inside is sterile and sleek. It's not the coziest of places. However, the food served is fantastic. If you're looking to have a great meal, Dan Modern Chinese delivers.
It is also one of the few places worth ordering take-out delivery from.
Dan Modern Chinese | 146 S Lake Ave #105, Pasadena | Google Map It
6. Celestino's Ristorante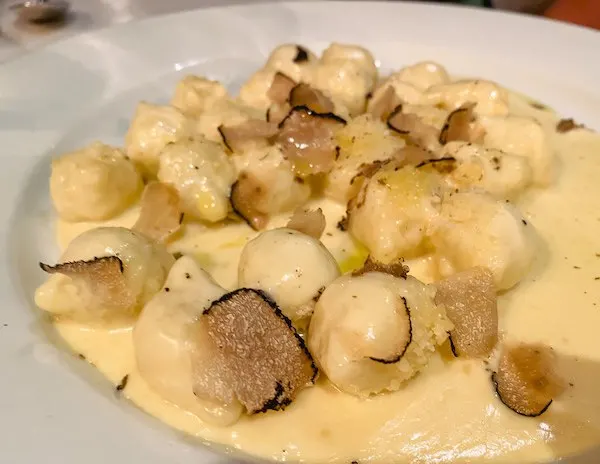 Celestino's is a Pasadena restaurant on Lake that serves traditional Italian dishes in a lovely intimate setting. We suggest requesting sitting on their patio, especially if you want to make it a romantic dinner out.
They have a full antipasto menu, pasta plates, and entrees. They have a wine list if you like to enjoy a bottle of wine with your meal.
We are suckers for anything with truffles, so the gnocchi with shaved truffles is a go-to of ours.
Great Italian restaurants in Pasadena are few. Thankfully, Celestino's is one of those that we can count on.
Celestino | 141 S Lake Ave, Pasadena Google Map It | Reservations
Where can you go for a delicious and filling breakfast or brunch in Pasadena? Check out these fantastic restaurants that serve pancakes, chicken & waffles (with brunch cocktails!), and savory items such as eggs benedict.
7. Pie 'n Burger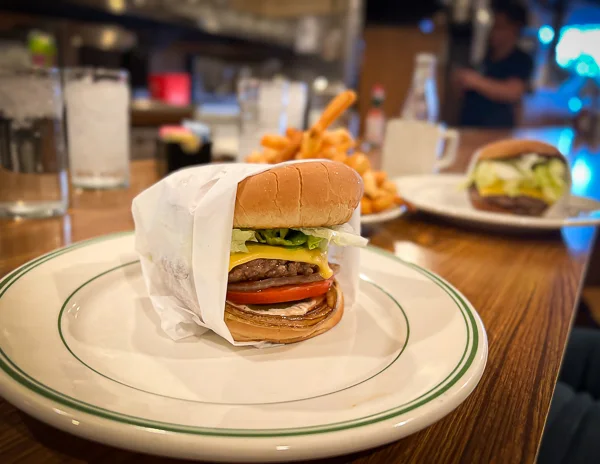 Pie 'n Burger is not exactly a restaurant on Lake in Pasadena, but it's right off Lake Ave on California and a beloved local spot. Most would agree that it should be on this on this list.
This classic burger joint is for burger lovers and pie fans.
It's a casual spot, no-frills that will serve you a scrumptious cheeseburger with fries. If you like, get a side of ranch to dip your fries in – it's homemade and so good.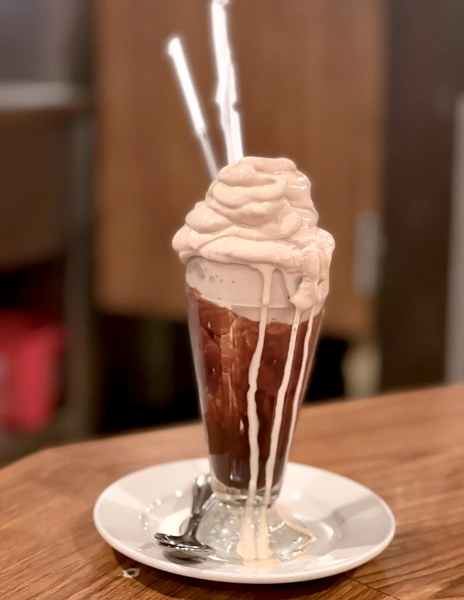 Order a shake on the side, root beer float, or hold off on the sweets, so you can order a slice of pie with their homemade whip cream.
Ask the server about their cakes. Their coconut cake is one of the best, just like grandma used to make.
We love coming here because it's laid back, delicious American comfort food, and the staff is awesome.
Just remember, it's old school, it's cash only. They do have an ATM inside.
Pie 'n Burger | 913 E California Blvd, Pasadena | Google Map It
8. La Caravana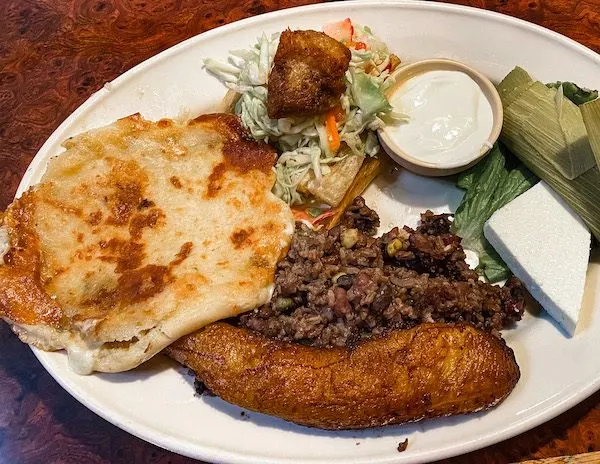 La Caravana is a Salvadorean restaurant on N Lake Ave, farther north than the others mentioned on this list. If you're looking to try something different, this is the spot.
This family-run restaurant prepares and serves the most delicious pupusas as well as other Salvadorean dishes. From their menu, the Plato Tipico Loco is a great way to try a little of everything from pupusas, rice and beans, cheese, fried yucca, etc.
We always order extra pupusas as well to go with it. The revueltas (pork and cheese) are our favorite. Make sure to top the pupusas with curtido (slaw) and salsa before you dig in.
The family here is always so kind and warm. Service can sometimes be a little slow, but keep in mind as you wait that they are preparing these pupusas in the back by hand and with love.
La Caravana | 1306 N Lake Ave, Pasadena | Google Map It
Superb Pasadena Restaurants You Need to Try
Pasadena, California, is known to have one of the best food scenes in Los Angeles. New cafes, eateries, and restaurants in Pasadena are opening monthly. We've gathered a list of superb Pasadena restaurants you should have on your radar when exploring Los Angeles.
You'll find something delicious to eat at all these 8 Pasadena Restaurants on Lake. There are still a few restaurants we have our eye on that we haven't gotten a chance to try.
Which restaurants on Lake in Pasadena do you enjoy? Let us know in the comments.
Share the tips & love on Pinterest: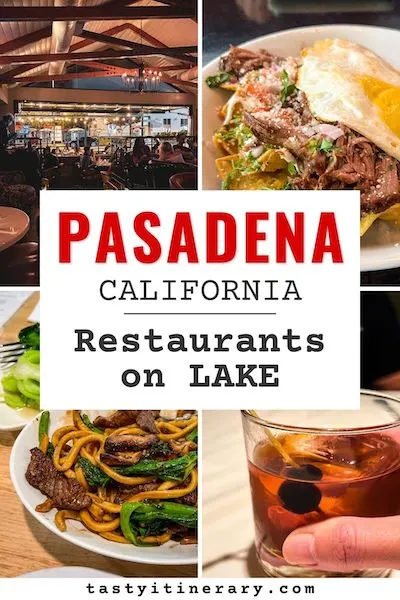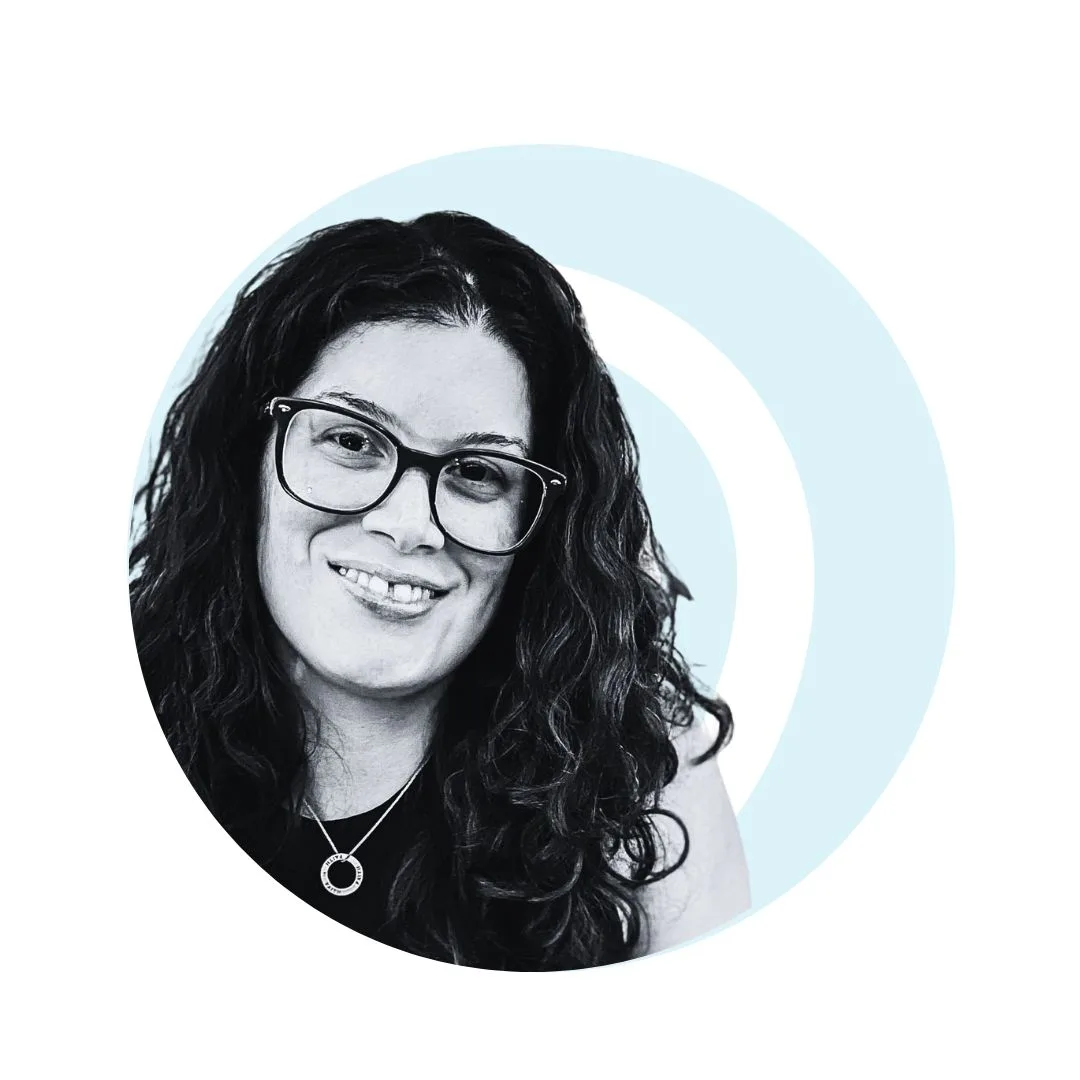 Meet Kathy Ava – a food, travel, and cruise writer based in Los Angeles/Pasadena. With over 20 years of experience planning trips and logistics at her full-time job and for herself, she's become a pro at crafting unforgettable travel itineraries. She's always looking for delicious, fun cruise itineraries and travel destinations and is slightly obsessed with Italy. Her passion and curiosity for travel started in childhood on her yearly and sometimes bi-yearly trips to PR. She firmly believes that life is short and we must make the most of it – so let's explore the world and make some incredible memories.