Planning to book Hilton La Romana resort? Eyeing the 5-star luxury all-inclusive resort on the beautiful Caribbean Island of the Dominican Republic? In this post, I share my Hilton La Romana review.
After binge-watching episodes of Caribbean Life on HGTV during the lockdown, we dreamed of getting away to the Caribbean again. Actually, we dreamed of moving to an island after the pandemic was over.
Alas, the pandemic never really ended, and we went two years without traveling anywhere. Anyone else can relate?
Not that we were waiting for the pandemic to end to travel. But with the pandemic came other issues, like finding someone willing to dog sit. Eventually, we did and started planning our annual big vacation.
When our friends invited us to their wedding in New Orleans, we took that opportunity to travel from there to Islamorada in the Florida Keys, then to La Romana, Dominican Republic.
We were away for 16 days. While exhausting, it was also glorious.
We talked about visiting the Dominican Republic many times. Growing up surrounded by the cuisine, culture, and a few traditions introduced to me by friends and family, I've always wanted to visit.
While this visit was less exploratory and more of a luxury vacation where I sunbathed at the beach most of the week, it was one I'll never forget.
A leisurely vacation with a touch of luxury in a beautiful location on a beach is exactly what we needed. Hilton La Romana provided everything we were looking for during our week of relaxation. There were a few things that could use some tweaking.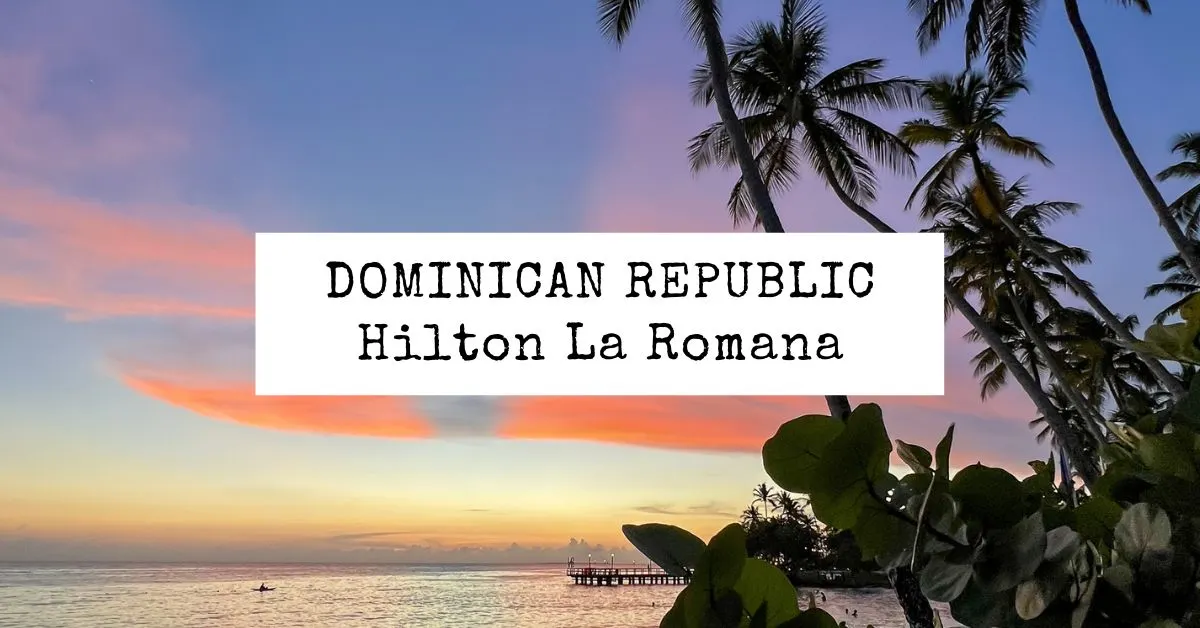 In this Hilton La Romana review, I'll provide our honest experience. Hopefully, it will help you decide whether to book this all-inclusive resort for a future vacation.
How did we choose Hilton La Romana All-Inclusive Adult Resort?
The Dominican Republic has a variety of all-inclusive resorts to choose from. The majority of them are in Punta Cana.
While I'm sure Punta Cana is beautiful and offers great value, I wanted to go somewhere slightly less touristy with fewer resorts. La Romana is also on the Caribbean coast of the Dominican Republic.
The Hilton La Romana is one of the few all-inclusive available. We compared what the Hilton La Romana would offer against the other all-inclusive nearby, Dreams Dominicus.
After stalking Trip Advisor, YouTube, and other online reviews, we decided it was our best choice. It offered a tad more elevated and relaxing experience that we were looking for.
We booked an all-inclusive package, including flights, our stay, and transportation to and from the resort.
We booked a partial oceanview room and upgraded to a premium package. Well worth the upgrade.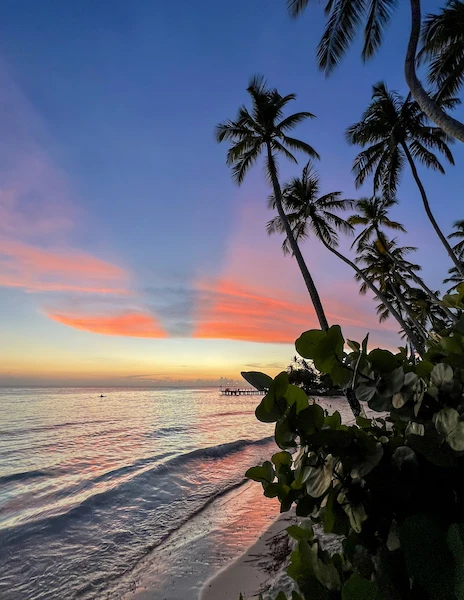 Is Hilton La Romana safe?
Yes. We felt safe during our stay at the Hilton La Romana. We walked the grounds at all hours of the night and never once felt unsafe. There is also security throughout the resort that you only notice if you're looking for them.
In regards to Covid-19 protocols, everything throughout the resort is kept impeccably clean and sanitized. All employees wear masks at all times. Guests are required to wear masks in common areas. Hand sanitizers are provided throughout the resort.
Is Dreams La Romana now Hilton?
Hilton La Romana was formerly known and owned by Dreams.
Which popular attractions are close to Hilton La Romana, an All-Inclusive Adult Only Resort?
Hilton La Romana was formerly known and owned by Dreams.
Which popular attractions are close to Hilton La Romana, an All-Inclusive Adult Only Resort?
From Hilton La Romana, you can book a boat excursion to Catalina Island and Sanoa Island.
Can I park a car at Hilton La Romana All-Inclusive Adult Resort & Spa Punta Cana?
Yes, there is parking available at Hilton La Romana. Parking is included with your daily resort fee.
What are some of the property amenities at Hilton La Romana, an All-Inclusive Adult Only Resort?
At the Hilton La Romana adult-only side, you can enjoy many amenities, including all-inclusive bar service, pools, a beach, restaurants, a spa, and a casino.
Traveling to La Romana, Dominican Republic
We were happy that we were in Florida and could take a short flight from Miami to Punta Cana. From Miami to the Dominican Republic is a two-hour flight. From Los Angeles, it would have been a 10-hour travel day with a connection.
Landing at Punta Cana airport was great. I was baffled by how efficient it was to go through their immigration and customs to enter the country.
I can't say the same when we departed, though. Unless you're booking first class with VIP service, I suggest you arrive early at the airport, 3 hours minimum before your departure flight.
Expect long lines to check-in or drop off your luggage. Don't be surprised if airline agents are as confused as you are.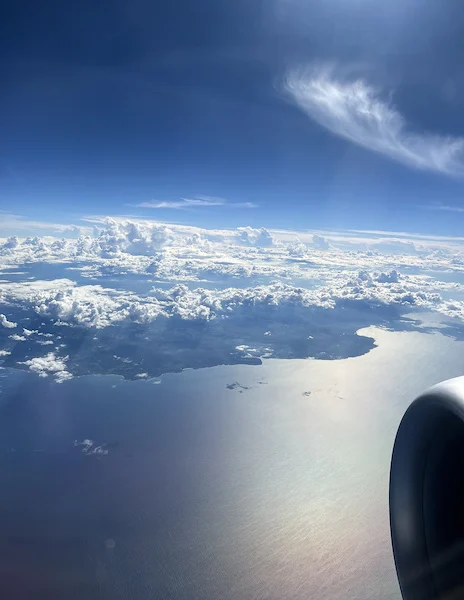 – Don't Miss: Travel Essentials in Your Carry-on Backpack –
How far is Hilton La Romana from the airport?
From Punta Cana to Hilton La Romana it is 43 miles, close to a 50-minute drive.
From Santo Domingo, Las Américas International Airport to Hilton La Romana it is 70 miles, close to 1 hour & 30-minute drive.
From La Romana Casa De Campo International Airport to Hilton La Romana is 10 miles, an 18-minute drive.
While there is an airport in La Romana, flights there are limited and far between. You should look for the dates you plan to go just in case you do find a great flight.
Otherwise, it is best to fly into Punta Cana or Santo Domingo. You'll probably get a better package deal if you book a flight to Punta Cana or Santo Domingo.
What are the Covid travel restrictions to enter the Dominican Republic?
For US travelers, you do not need to have a negative Covid test or a vaccination card to enter the Dominican Republic or to stay at any of the resorts. however, you will need to have a vaccination card in some cases as you're exploring the islands. For further information, please click here.
Returning to the US, all US citizens MUST have negative covid test results within 24 hours of departure. The Hilton La Romana will provide a covid test.
Is there an entry and exit form required?
You are required to fill out an entry (and exit) form prior to departing. You can find the form here. They will ask you to scan the QR code as you're exiting customs.
Tip: Fill the form out the entry and exit form the night before or the morning of departure. Make sure to save a copy of it printed or on your phone ready to go.

If you fill it out too early, it does expire. 
Share now or save for later.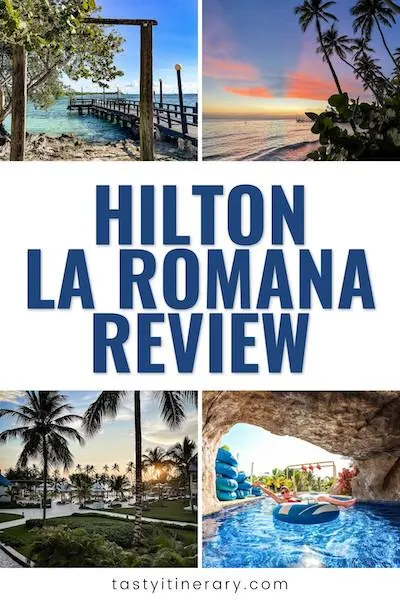 Hilton La Romana Review
Hilton La Romana is an all-inclusive family resort and also an adult-only resort located in Bayahibe. This all-inclusive resort has two sides.
As guests staying on the adult side, you are welcome to use the amenities and attend activities on the family side of the resort. Children are not allowed on the adult side.
If you are looking exclusively for an adult-only hotel and never expect to see a child, I suggest considering a different adult-only resort. You will run into children when you leave the adult side.
Hilton La Romana is promoted as a 5-star hotel, but I'd say it is more of a 4-star resort. The resort is gorgeous, and the level of service they provide is great, but for a 5-star resort, they could make a few improvements.
Due to the aftermath of 2020, they are at 50% capacity or less as I write this post. Making our experience pretty fabulous. We never felt at any point that the resort was overbooked or crowded.
I have a feeling I would have had a different experience finding seats on the beach if the resort was a full capacity. We did pay for butler service that reserved our seats every morning. When we arrived early, most of the beach chairs were already taken.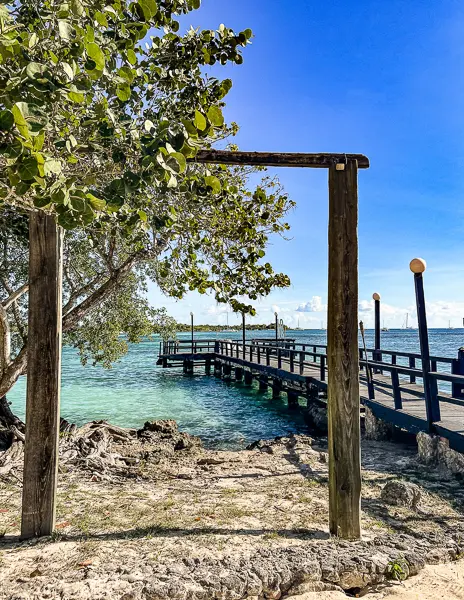 Overall, we had a wonderful week at the Hilton La Romana. The resort is impeccably clean and absolutely gorgeous. The landscape throughout is a work of art.
All the staff we interacted with were incredibly kind, warm, and helpful. Some would go above and beyond for the smallest things, like running to the next closest bar to get hubby coffee because they didn't have any at the restaurant.
They are short on staff in some areas, but the staff at the resort is hustling and trying to provide the best service. It's really on Hilton to staff the resort appropriately. Of course, with everything going on in the world, staffing shortages seem to be a common problem everywhere.
Premium Partial Oceanview room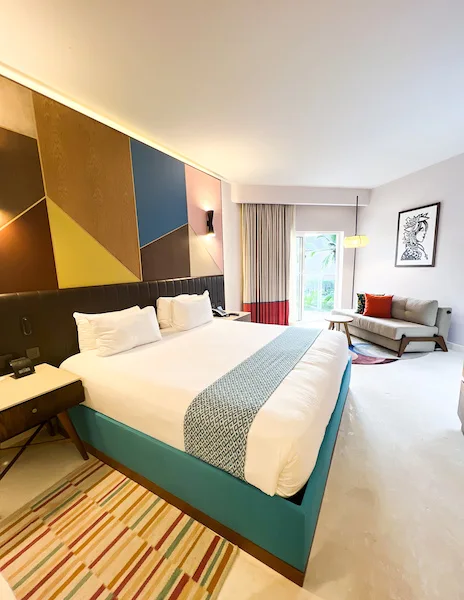 When booking, without a doubt, we knew we wanted a view of the ocean. It didn't have to be an oceanfront, but some sort of view of the ocean. The partial ocean view room we were given at check-in did not disappoint. We had a view of the pool, palm trees, and Playa Bayahibe.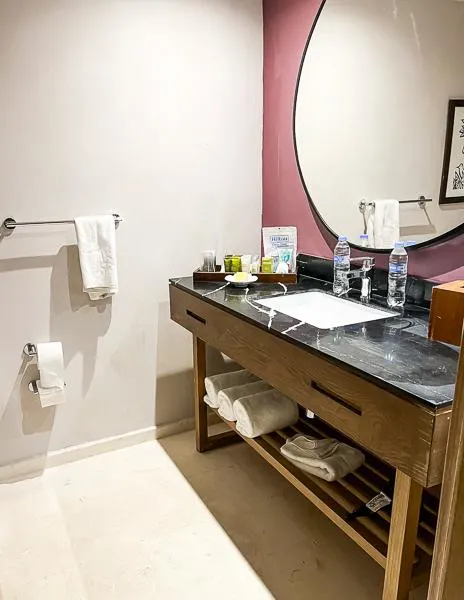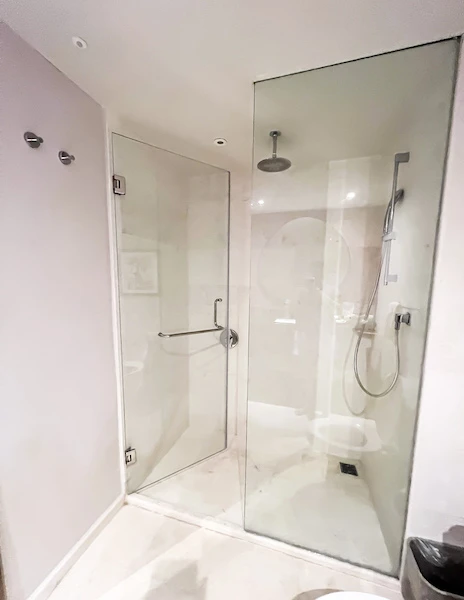 We also booked a Premium room that was part of the Premium club package.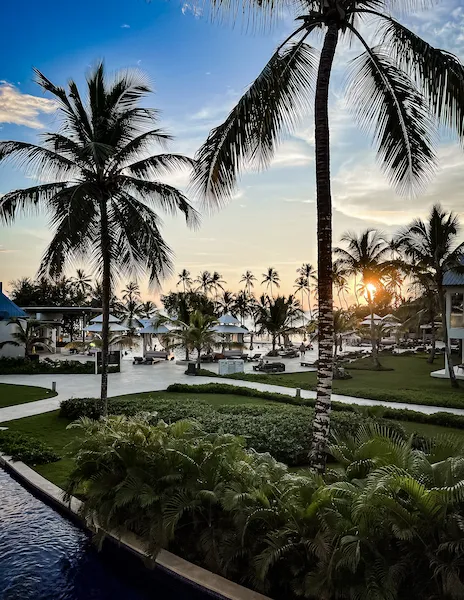 The room was spacious, modern, and very clean. We loved our view from the furnished balcony. The fridge was replenished daily with water, beer, and juice.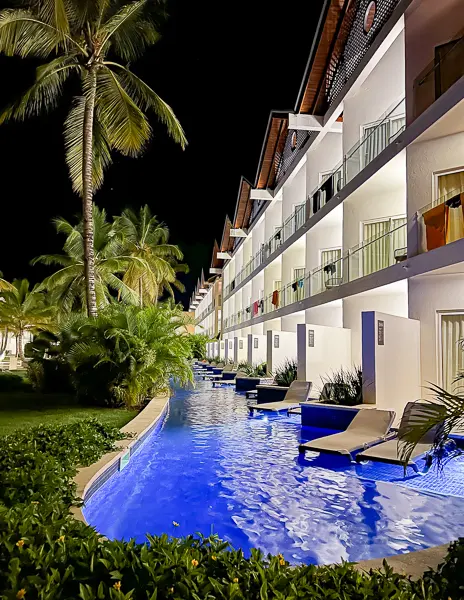 The swim-up resort rooms looked like fun, and a neat way to sort of have your own private pool space. Keep in mind that if you book a room with a swim-up, you're basically sharing a pool with your neighbors. Which means they can swim up to your room's lanai at any time.
Is the Premium Club worth it?
The premium club is worth it if you're looking for slightly more personalized service. Take into consideration the benefits below.
The wonderful concierge alone was great. We were escorted there upon arrival to check-in and were welcomed with glasses of champagne. At this time, during check-in, with the concierge, you can add the Butler service to your stay when you check-in.
Hilton La Romana Premium Club Benefits:
Private Premium Pool
Private Premium Lounge (located next to the premium concierge service desk)
Premium Beach Area
Private Concierge Service
Daily Snack, desserts, and premium liquors in the Lounge
Premium breakfast at the Grill Restaurant (family side) and "Noor Restaurant" (adult side)
5% off at gift shops
Complimentary room service delivery
We did find that the downside of the premium benefits is that there is nothing to distinguish you from a premium club guest from a standard guest. No wristbands. Never once were we asked whether we were premium guests.
Anyone could walk into the premium club sections at the beach and pool to enjoy it. Not that I want to leave anyone out, but you do pay extra for premium service.
When you check in, one of the first things you should do is seek out the Premium Lounge. See where the Premium pool bar is. Get a lay of the land and familiarize yourself with your Premium benefits so you can take full advantage.
Nobody will walk you through it all – one thing needing improvement.
In my opinion, for a 5-star resort, it should be premium service for everyone that books a room at this hotel.
Note: The waiter service at the beach is not making your cocktails with the Premium liquor you paid extra for to stay at the resort. You have to walk all the way to the Premium Pool Bar or to the Premium Lounge.
Butler Service
Bulter service is an additional cost of $199 for 7 days. A butler is assigned to you and you're in communication via Whatsapp (mobile app) throughout your entire stay.
Planning to spend it by the beach most of the time? It's worth the extra cost just to have the butler reserve and guarantee seats for you every morning at the beach. The beach chairs are all taken by the time you make it there.
Poolside and beachside, they set you up with an ice bucket full of beer, water, soda and-or champagne. As well as fresh fruit daily.

They can not bring you cocktails from the bar. But they may surprise you with fresh coconuts as drinks.
The butler will coordinate dinner reservations for you at all the restaurants and any special dinners or events.
Get beach-ready with this packing list! Whether you're heading on a day trip to the beach or taking a beach vacation, this beach packing list comes in handy each and every time. Don't miss packing any of these items. Printable included!
Restaurants at the Hilton La Romana Adult Only Resort
Does Hilton La Romana All-Inclusive Adult Resort & Spa Punta Cana have a restaurant on-site?
The Hilton La Romana Adult Only Resort is welcome to use the restaurants on the adult side and on the family side. Between both sides, it has a total of 10 restaurants, not including the 2 cafes.
The best meals we had were Adult Side of the resort. We were not always impressed by the food, but nothing was unedible, except anytime we got anything that claimed to be filet mignon. Be aware if you're a red meat eater, the quality is not great.
The staff across all the restaurants are very attentive, and we always left a small tip on the table. We did notice that sometimes they were stretched out a bit too thin amongst the tables. Again, something that the Hilton needs to work on.
Adult Side Restaurants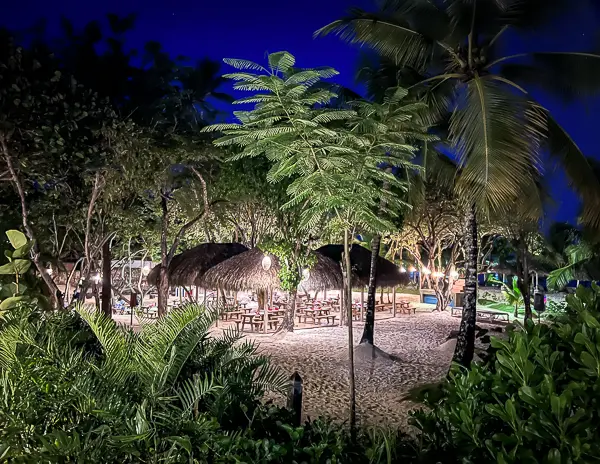 Chinola Restaurant
This is the Dominican restaurant and the best restaurant in the resort... in my humble opinion. This restaurant is located on the beach. I was afraid they'd Americanize their cuisine, but thankfully they did not. The food served here was phenomenal.

I highly recommend the sancocho as an appetizer and the chivas (the goat stew) for the entree. The dessert brought me back to my childhood. I wish I had eaten here more than once.

Tip: Make sure to book the Chinola restaurant early on your arrival, as this restaurant is not open daily.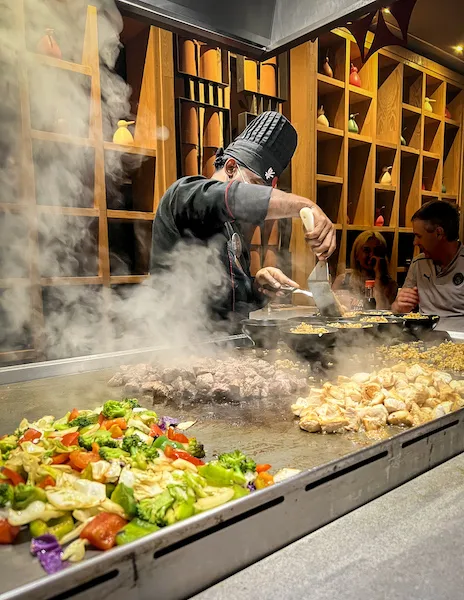 Sakura Restaurant
This is the Japanese hibachi restaurant and the 2nd best restaurant in the resort. We've been to Benihana's and other similar hibachi restaurants many times. This one definitely was just as entertaining and delicious.

The menu is prefixed, so if you have any dietary restrictions, let them know ahead of time.

Tip: This restaurant seems to be always booked. Make sure to get a reservation early in your stay.
Noor Restaurant
Since Noor is part of the Premium Club, we ate here a few times for breakfast and lunch.

I always ordered the typical Dominican breakfast, which consisted of fried eggs, magu (mash boiled green plantains), fried salami, and fried cheese. It tasted exactly what I remember from my youth.

Lunch here is delicious. I loved the ceviche on the menu.

This is the only restaurant that I noticed had a nice charcuterie plate as an appetizer on their dinner menu, which was quite nice to have on the last night there. I made the mistake of ordering the chimichurri steak, and the meat didn't taste right.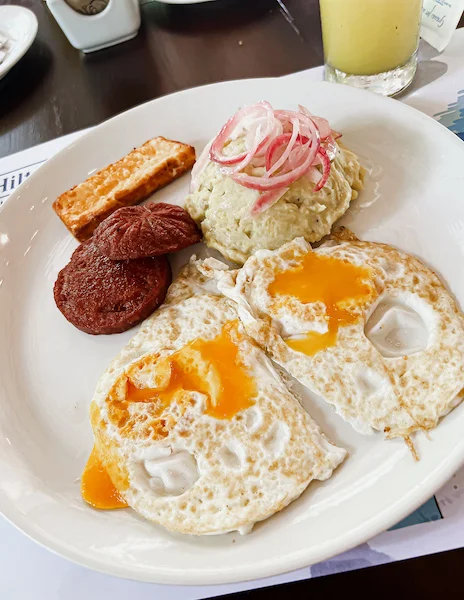 Mare Restaurant
This is a lovely restaurant with a view of the beach. They mostly serve seafood.
Family Side Restaurants
Ausangate Restaurant
The Peruvian restaurant was also another surprising delight and the only restaurant on the family side I loved. I wasn't expecting much, but the Lomo Saltado was excellent. The red meat served in the dish was surprisingly tender and delicious.

I asked for a white rice side, so I suggest you do the same if you order the same entree.
The Grill Restaurant
We ate here on our first night, in which I had the jerk chicken that didn't taste anything close to jerk chicken. However, it was flavorful. This is a lovely romantic spot by the water, which is great for a special night or perhaps a beautiful premium breakfast with a view.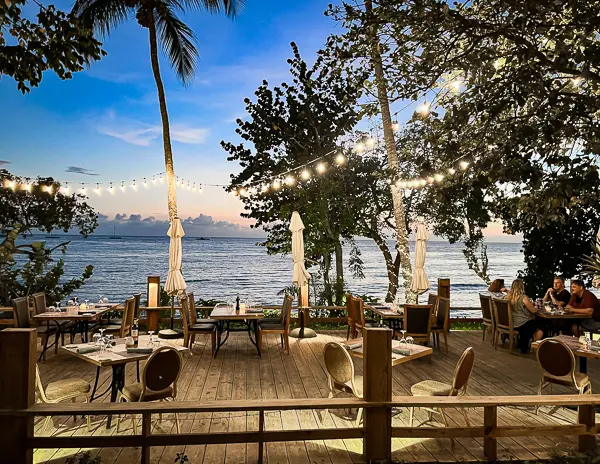 Restaurant Moustache
This is a French restaurant, and I was told this is their top restaurant. While the food was good, it wasn't exceptional. If you expect anything close to authentic French cuisine, go in with low expectations.
Azzuri Restaurant
This is the Italian restaurant in the resort. We skipped it to save ourselves from disappointment. We are serious about our Italian food.
Pizzeria
This is on the family side by the pool. The pizzas are pretty good for what they are. Great mid-afternoon snack. You'll have to walk over there to get it unless you get pizza delivered to your room (we did that one night, and it was not as good).
Beachside Grill
You'll find burgers and hot dogs here daily. Sometimes they'll have special lunches like tacos or paella. The tacos and paella were pretty good. Get ready to stand in line for this.
Cafes at Hilton La Romana
There are two cafes at the Hilton La Romana. One is on the family side, and the other is on the adult side. As an adult-only resort guest, you can take advantage of both. They are open from 7 am to 11 pm.
Aroma Cafe
Las Tres Hermanas Cafe
If you have read my blog, then you know coffee is important to us. We were at the cafe every morning and a few times throughout.

The coffee in the Dominican Republic is strong and will wake you up. The good news for those that need it, they do have lactose-free milk available.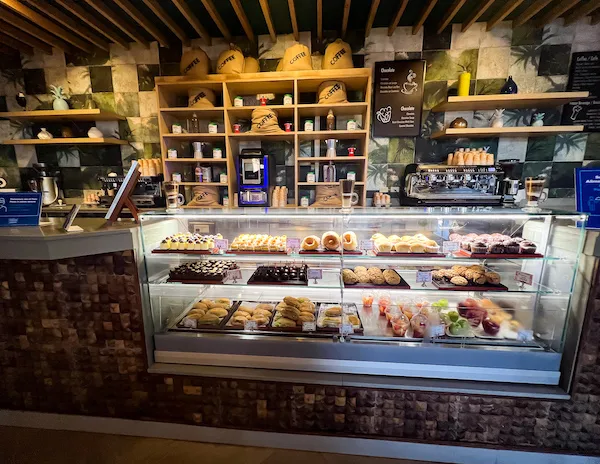 Along with coffee, they have snacks throughout the day, from baked goods to quick sandwiches that are great for a quick snack.
Cruise vs All-Inclusive Resort
What's the difference? We break down the key differences and similarities between cruise vacations and all-inclusive resort vacations. So you can plan the perfect getaway that fits your needs.
Playa Bayahibe
The Hilton La Romana Resort is overlooking and is set on Playa Bayahibe. This sandy Caribbean beach will not disappoint. The moment you lay your eyes on the cerulean blue water, you will instantly feel at ease and glow with happiness. The water is warm yet refreshing on those hot and humid days.
The Hilton La Romana all-inclusive package includes the following water activities:
Scuba Caribe (a tour company that works with the Hilton) is right on the beach behind Chinola Restaurant, and they will help set you up.
Mask for Snorkeling
Paddleboarding
Pedal Boats
Kayaking
We spent most of our days on the beach if we weren't on an excursion.
While we do live in California with a beautiful coastline, the water is normally freezing, and it's not in the Caribbean. All we wanted was to spend our time on the beach relaxing, snorkeling, and swimming.
Tours and Excursions
The resort will have tours and excursions team members walk around the beach, selling you the tours they offer. While friendly, we highly suggest you go directly to Scuba Caribe on the beach for any water-related tours.
Most tours like the sunset tour, a day trip to Catalina Island, or Sanoa Island that involves a boat, will be led by Scuba Caribe. You can book directly through them for the same price or sometimes less.
The Scuba Caribe staff is amazing. We went out with them a few times. Every time, we had a fabulous time.
Hubby even decided on our last two days to get his Scuba Certification through them. They did a great job explaining everything and making sure he was safe.
The diving and snorkeling tours are well worth it.
Stunning views, intoxicating crystal-clear turquoise waters, and a day of relaxation, swimming, or snorkeling… your choice. See why you should book a day trip to Caribbean Catalina Island.
Pools at Hilton La Romana
We spent hardly any time by the pool because we are blessed to be able to do that at home. This vacation was focused on enjoying the beach amenities.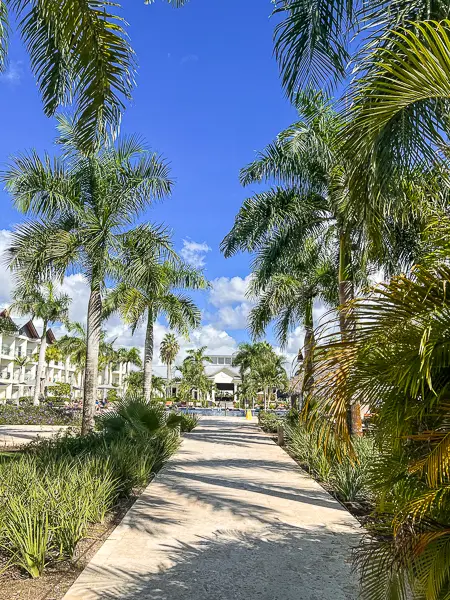 As you walk the property, you'll find many pools throughout. A couple of them are private pools for premium club members and smaller ones that you can book for 2-4 people overlooking the ocean.
Swim-up bars can also be found at the main pools. Due to the pandemic, they were closed.
Main Pools on the Adult Side
Infinity Pool
Premium Adults-Only Pool
Main Pools on the Family Side
Family Pool
Premium Family Pool
Hilton La Romana Spa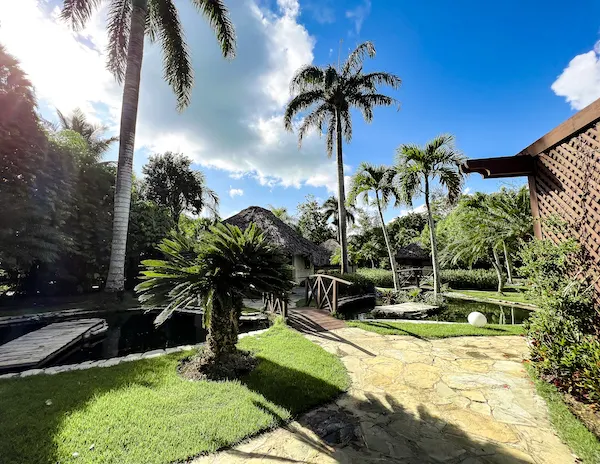 The grounds at the Spa in Hilton La Romana are quite lovely. You should take a moment to walk around behind the spa. There is a koi pond, a lovely area with a private pool, and another with a hot tub – that is an extra charge to use.
We booked a body scrub and massage. The coffee scrub they used on us smelled so good and I swear my skin was softer after. The massage was exactly what we needed.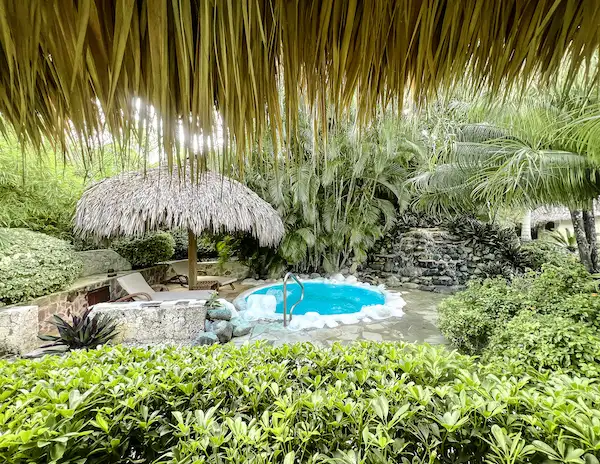 I didn't really think of this spa as a luxurious world-class spa, but I have to remind myself that this is a tropical destination. The vibe will not be the same as a luxury spa here in Los Angeles.
Hilton La Romana Water Park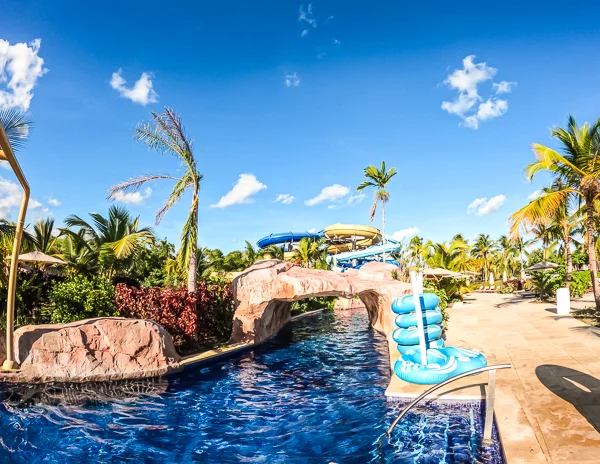 The Hilton La Romana an all-inclusive family resort, has a small water park. We spent an afternoon here, and it was a blast.
I highly recommend going, even if it's just to sit in a tube and lay back in the lazy river. Especially on a hot day, it is quite refreshing.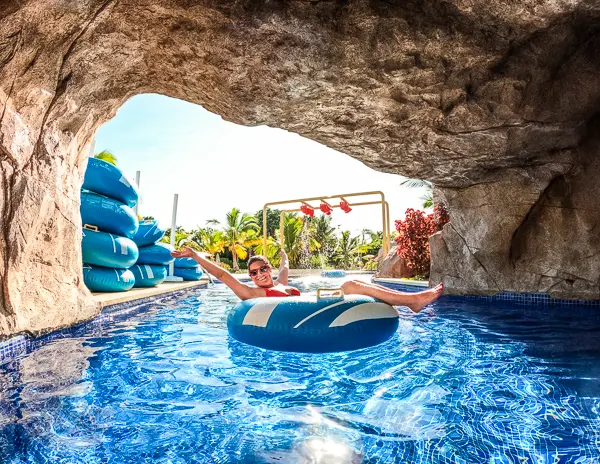 The slides are exhilarating and for everyone of all ages.
Shockingly, there weren't many kids in the afternoon, and it was relatively quiet. Not sure if it's always like this since it is disconnected from the main resort area. You must walk out of the family resort main entrance to find it.
A beach day goes together like pineapple juice and coconut cream in a piña colada. Check out the best beach drinks that scream, "I'm on vacation," even if it's just for a day.
Nightly Entertainment
The nightly entertainment is lacking.
Some nights they'll have a DJ playing at the adult side lobby. Or they'll have a local singing popular songs.
You also have the Casino, which was sparse of machines due to social distancing.
There is a discotheque that seemed to be closed during our time there.
For a 5-star resort in the Dominican Republic, I would have enjoyed seeing a live band playing some merengue and other local traditional music.
On the family side, they'll put on shows and trivia that is probably more fitting for families. We weren't into it.
But if you're out basking in the sun all day, you'll be too tired after dinner to stay up all night.
Ready to Book Your All-Inclusive Stay with Hilton La Romana?

Compare all-inclusive packages and offers at these top travel sites:

• Jetblue Vacations

• Expedia

• Go directly to Hilton website to book.

Tips For Planning and Staying at the Hilton La Romana
1. Consider the Premium Club Benefits when booking your stay at the Hilton La Romana.
2. Consider the Butler service for the week. He or she will smooth out any kinks with dinner reservations and beach chairs.
3. Book La Chinola Restaurant and Sakura for some time during your stay on day one as it gets booked quickly.
4. On day one, familiarize yourself with your premium club benefits.
5. Take a day to walk the property past the family resort. There are some beautiful views along the rocky coastline.
6. Bring enough cash for tips. We had to take out money from the ATM a few times, and obviously, you will only receive Dominican pesos from it.
7. Pack mosquito spray! You will need it. I list our favorite brands in my Beach Packing List.
8. Also, do not forget Reef Safe Sunscreen. You'll need it! The gift shop sells it at a whopping $30 a bottle.
9. Pack eco-friendly or reusable straws. They do not provide straws with your beach drinks. While it's okay for some drinks, it's not easy to drink a piña colada or any other frozen cocktail without a straw. The only straws available are paper straws given to you with your iced coffee as the coffee bars, and the baristas guard them.
10. You will be given towel cards upon check-in to redeem for beach towels. Don't lose the cards or the towels, or you will be charged.
11. The Wi-Fi can be spotty by the beach. If you need the internet and can't live without it, have a data package for those weak Wi-Fi spots.
12. Bring a couple of masks to wear in common areas. Note: disposable masks are provided in your room amenities, and they are also provided throughout the resort.
13. To book your Covid test, speak to the concierge. They will provide a QR code for a form that each guest must fill out.
We departed Hilton La Romana with heavy hearts but great tans and beautiful memories. Without a doubt, we'll return in the future.
I promised to return to the Dominican Republic to explore it properly. It's a beautiful country with much more to see outside the resort.
Hope this Hilton La Romana review helped you book this resort for your next vacation, anniversary, babymoon, or honeymoon… whatever it is you're celebrating.
Have you traveled to the Dominican Republic?
Share the tips & love on Pinterest: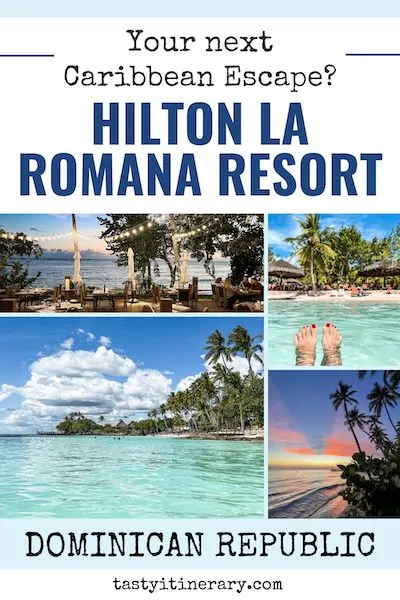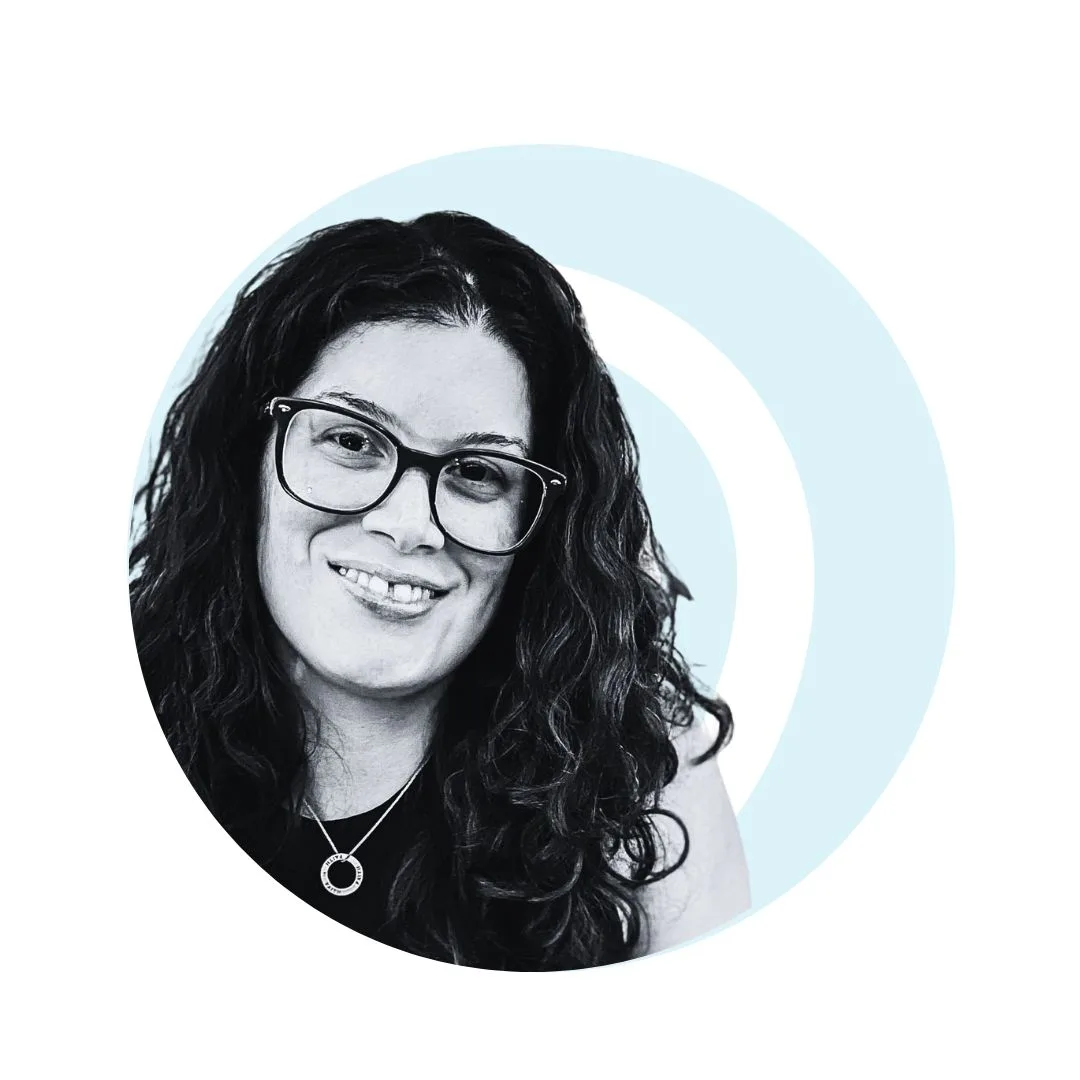 Meet Kathy Ava – a food, travel, and cruise writer based in Los Angeles/Pasadena. With over 20 years of experience planning trips and logistics at her full-time job and for herself, she's become a pro at crafting unforgettable travel itineraries. She's always looking for delicious, fun cruise itineraries and travel destinations and is slightly obsessed with Italy. Her passion and curiosity for travel started in childhood on her yearly and sometimes bi-yearly trips to PR. She firmly believes that life is short and we must make the most of it – so let's explore the world and make some incredible memories.