You must be thinking, why would I start a personal travel blog now? There is a pandemic. The most exciting part of the day is the constant snacking taking place.
I hear ya! I'm typing this with a chocolate chip cookie stuffed in my mouth and as soon as I pause in about 15 seconds, I'll grab another one.
I've been home for the past few weeks debating if I should continue writing about my outstanding travel posts while the world is shut down. Would I start a personal travel blog now if I didn't have one?
The answer is YES. There is no better time to get those creative juices going. If the idea of travel sparks joy in your life, why not start a personal travel blog for fun?
Disclosure: This post may contain affiliate links. If you decide to make a purchase from one of those links, we may get a commission at no extra cost to you. We appreciate your support.
Why did I start a travel blog?
One of the questions I get asked a lot, especially from non-bloggers, is why did I start blogging about my travels? What's the purpose? What do I get out of it? What do you as a reader get out of it?
I needed to do something for myself that in turn helped others. More than anything, I want to inspire people to leave their mundane routines behind, even if just a few vacation days, and explore a new destination.
If I could travel back in time, I would have started this blog several years ago when the thought first crossed my mind. A simple personal travel blog, like the one I'm encouraging you to start today, would have been perfect. I've always been passionate about travel. I look forward to vacations even more than I do my morning coffee.
The thing is I was too worried about putting myself out there. Because the sound of sharing parts of my life with the world wide web is intimidating.
See, years ago I went through a shitty time in my life. Everything that made me, ME, was derailed. Snuffed out. A blog was another complication I thought I didn't need, which was complete BS.
You can't worry or fix the things that you have no control over. You CAN work on the things that you do have control over. A blog you love to work on is something you can control.
So, if I could go back in time, I would start one no matter the circumstances. Our travels are a special time in our lives and we didn't do a fantastic job taking photographs or jotting down some of the places we visited in the past.
As a matter of fact, today we were talking about our trip to Greece and it's honestly a blur now. It was so long ago. I wish I had documented it all properly.
I can't keep regretting what I didn't do. The point is that eventually, I did start a blog. Once I learned I needed to take care of myself first and focus on what I can control, I started to do more of the things I love to do. Slowly, but shortly, Tasty Itinerary was born.
Fun fact: Hubby came up with the name Tasty Itinerary? And, I love it.
Here are 7 reasons why you should start a personal travel blog:
It gives you the chance to document your adventures
Inspire other friends and family to travel
Share what you have learned from your travels.
You get to help friends and family plan their future vacations
It will give you a sense of purpose
Connect you with other travel lovers
Because your blog is your space
Reasons to Start a Personal Travel Blog
Document Your Travels
One of the number one reasons to start a personal travel blog is to so you can document everything from your vacations. You want to record these wonderful memories and one day you can return to look back at them. Look at it as an online journal.
Sadly, for years, we went away and besides checking in everywhere on Facebook, I never really journaled about our travels. We'd post pictures here and there, but to be honest, I've never been a fan of knowing that Facebook basically owns everything I upload on my profile.
Get Your free SmugMug 14-day trial today, and save 15% on a new account.
And no, Instagram is not the same as having a blog either.
Then there was that time I was too lazy to take any photographs, which is so out of character for me. Granted, I was not in the best headspace. When we were away, I focused on really enjoying our time. Travel is the one place that everything seemed normal and everything was right in the world.
What I'm trying to say is? Don't lose these experiences and leave them in the past. Put them somewhere, so you can always reminisce about the best parts as well as the worst parts of your vacation.
Also, if you have a family, do it for your children. They will appreciate this later in life. Have you heard of The Bucket List Family? They are far beyond a simple personal travel blog; however, they have created and documented amazing memories for their family to cherish forever.
I wish they would adopt me.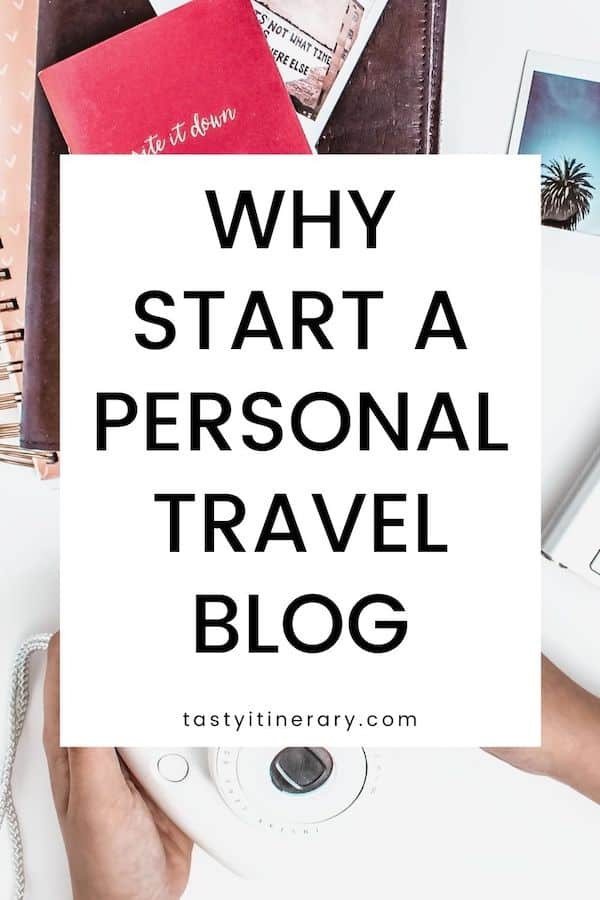 Inspire to Travel
Hopefully, by documenting your vacations with your new personal travel blog, you can inspire others to travel.
For me, travel is a topic I'm passionate about. The world is beautiful, full of history, culture, and amazing foods we should all have the chance to experience. Why wouldn't I want to promote travel?
I remember our first trip to Europe. So nervous. About what? I'm still not sure. We acted like it was going to be a once-in-a-lifetime trip. That we'd never make it back to Europe. And before that, we had only traveled within the US and to the Caribbean Islands. Hubby has been to Canada. Yet, Europe seemed like another planet.
Why? We have friends in London. Family in Italy. Yet, it still felt so scary.
Guess what? We went, we fell in love with Europe and found it to be not any less scary than traveling to Florida. Only prettier with better food and we were surrounded by history.
We've been to Europe several times since then and we always can't wait to go back. In the meantime, we encourage our friends and family to take the leap, do something that scares them and take that trip.
By sharing your own experiences, you will inspire to travel.
Share What You Learned
With every trip planned, I learn a slew of new travel tips that I can't wait to share with everyone.
Document everything and use it to guide others that are planning to have similar trips. Loved your sailing trip around the island of Kauai? Did you find a great foodie spot in Santorini? Was Eagle Beach in Aruba one of the best beaches you ever been to? Tell your audience about it.
Since I started Tasty Itinerary, I set out to write all about our trips and include as much information as possible. Anything I think will be helpful, I include.
I love to read about other people's travel experiences. That's just a fact.
How to Save More Money to Travel
Are you saving money to travel? Check out these great tips to save more and travel more.
Help Others With Vacation Planning
In turn, when you share, you are helping others plan their vacations.
Do you know how many times I get asked by friends and family to help them with their vacation planning? All the time. And, that doesn't count all the logistical travel I book for all our travel at work.
Planning a trip can be intimidating! Some have no idea where to start and few think it's impossible. However, seeing someone close to them have a great time, you're inspiring and helping them plan their future vacation.
From personal experience, I know it helps me when someone I trust refers me to a restaurant they ate at or a tour they might have taken. The guidance is gold. It saves me time. Points me in the right direction.
Don't be afraid to shell out some travel advice.
Purpose
We all need purpose.
For me, I needed purpose outside of my family, work, and home. To invest the energy somewhere that allowed me to serve others in a way that also brought me joy.
Community
When you start a blog, you may come across other bloggers. When you're researching specific things online, you will find that there is a community of bloggers online for just about everything. I've connected with other travel lovers, book lovers, foodie lovers, Disney lovers, and all sorts of other niche-specific blogs.
When I first started blogging about my travels, I had no idea this whole other world existed. It may seem like the travel niche is saturated, however, there is room for more. Especially, if you are starting a personal travel blog.
Every blog is filled with different experiences and has something unique to offer.
My favorite part of being part of a like-minded community is that we never tire of chatting about our adventures. We also have one common goal: inspiring others to travel.
A Blog is Your Space
The best part about a blog is that it is YOUR SPACE. You get to write about anything you want. If travel isn't exactly your passion, perhaps there is something else that lights up your world.
Personal blog ideas:
Family memories
Craft projects you're working on
Short fictional stories
Daily musings
Pregnancy journey
Wedding Planning
Motivational
and more…
Challenge: Start Your Own Personal Travel Blog
Some people scrapbook. Others are great about printing photos and putting albums together. Travel journals are also a great idea. But, if you're not into any of those things, like me, and prefer to be more creative on your computer, a personal travel blog is perfect?
Since we are all home right now, use the time to set up a simple blog. You do not need a fancy, complicated blog to share your travel memories with your friends and family.
There are free and simple blog services like WordPress and Blogger.
If you'd like to own your own URL and pay for hosting, I highly recommend signing up with SITEGROUND.
Start by writing the following posts:
Work on your bucket list.
What are some of your favorite local spots close to home?
Tell us about a past vacation.
The memory of your first flight.
Share with your family and friends. Right now, we all need some inspiration from the outside world. Inspire them to come to visit you or book that next vacation for when this pandemic is over.
Years from now, when you reminisce over old posts and photos, you'll smile and be grateful you started a personal travel blog. These are memories you will never forget because you took the time to write all about them.
---
Are you going to start a personal travel blog? Do you have one? What is your reason for blogging?
---
Don't forget to share the love on Pinterest: