Planning a weekend trip or a day trip to Big Bear Lake? Here are 6 tips you should know as you plan your time in Big Bear Lake.
It's been hard being home during the pandemic so much. Everything was closed for some time, and things started slowly reopening. Some restrictions, all depending on where you go.
So it's nice to have a city break and plan a day trip outside the city of Los Angeles. Since our day in Big Bear lake, we have taken some day trips. A day trip to Big Bear Lake is one of them. It was our first time there, and once we got there, we wondered why it took us so long.
Driving to Big Bear alone was an adventure in itself. Surrounded by glorious mountains, scenic views, and evergreens that will compel you to pull over several times.
This post may contain affiliate links, which means we'll receive a commission if you purchase through our links at no extra cost to you. Please read full disclosure for more information. We appreciate your support!
Big Bear Lake is a day trip away from Los Angeles, and we were finally able to take our first-day trip there. It had been on our list of day trips for some time, and we weren't disappointed once we got there.
Once you arrive at Big Bear Lake and are surrounded by the beauty of mother nature, you'll want to plan a longer trip for next time. We suggest booking a cottage, cabin, or hotel at Big Bear Lake for a longer stay: see rates on booking.com here.
What to know for a Day Trip to Big Bear Lake
1. It's Four Seasons of Fun
Did you know Big Bear touts itself as a four-season destination? Yes, it's true. Big Bear has four distinct seasons that offer visitors endless opportunities to enjoy their time in this picturesque area!
Unlike Los Angeles, which seems to have two seasons (winter and summer) basically, you can enjoy all four seasons of fun in Big Bear.
Being able to experience Fall, Winter, Summer, and Spring means a great deal for those Southern California residents looking to enjoy the change of season.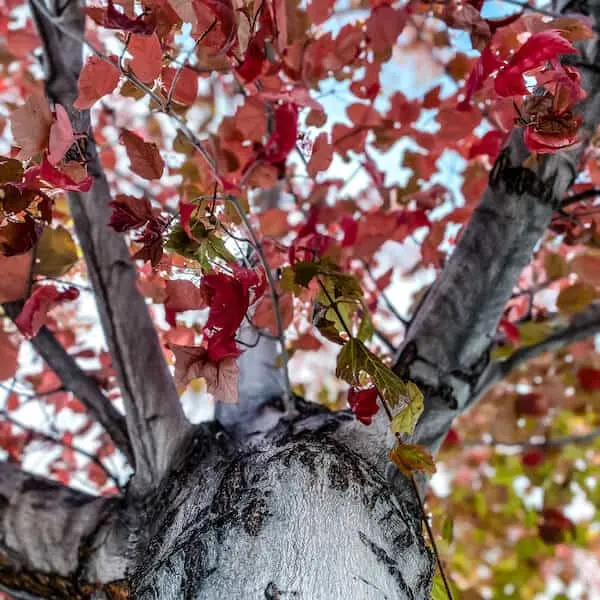 A few weeks ago, we drove to Big Bear Lake and were so happy to find cooler temps and the fall foliage we were missing in Los Angeles.
At the beginning of November, it snowed. The arrival of Winter. Those of us living in warmer parts of Southern California like to drive to see the snow.
Tip: You will need tire chains in the winter when it snows to drive into Big Bear.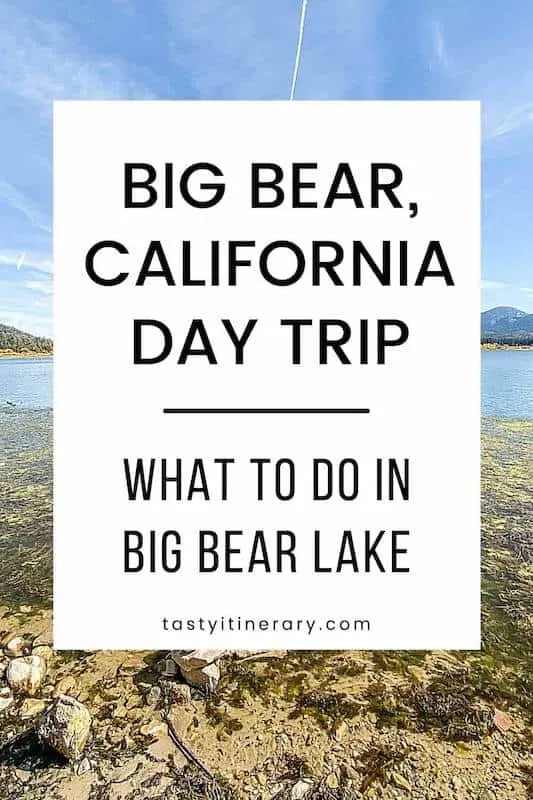 2. Take the Scenic Route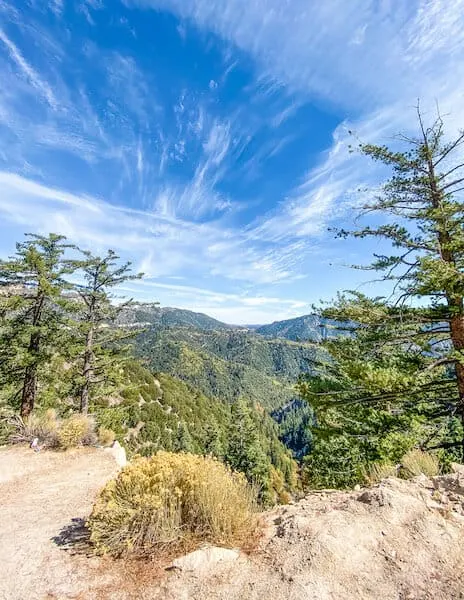 When you enter San Bernardino National Forest on your day trip to Big Bear Lake, California, experience the beauty that awaits with each turn of this lush landscape.
Directions to Big Bear Lake Scenic Route
We don't want you to miss the scenic route around Big Bear Lake.
When you're driving into Big Bear, you will be on CA-18. You will reach a turnoff for SR-38. You'll see a peek of the lake ahead of you and a sign pointing to Big Bear telling you to make a right. Do not go right. Turn left on SR-38, and this will take you through the Northside of Big Bear Lake – the scenic route.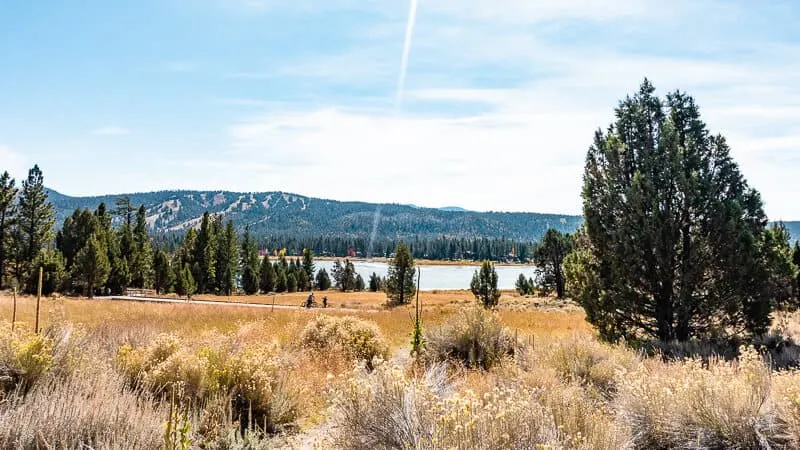 Looking for a fun and relaxing day trip? Visit the wineries and olive farm in Ojai, California. This is a perfect destination for a nature lover or foodie with stunning views of the mountains and valley. There's plenty to do here, from wine-tasting to sampling local olive oils.
3. Big Bear Lake Activities to plan ahead of time
Big Bear Lake is the heart of the San Bernadino National Forest and is worth visiting.
Whether you're looking for a quick getaway or want to spend the weekend exploring nature, there are plenty of places near Big Bear Lake that will make your heart happy. With its stunning views and lush forests, it's no wonder this area is popular with tourists and locals alike.
There are plenty of things to do at Big Bear Lake that you won't be able to do in just one day. You can choose an activity and plan ahead for future visits, or enjoy whatever suits you on this trip.
Big Bear Winter Activities
Skiing
Snow Tubing
Snow Boarding
Big Bear Spring, Summer & Fall Activities
Hiking
Bicycling
Fishing
Boating
Kayaking / Canoes
Paddle Boarding
BIG BEAR TOURS
Private Tour to Bluff Lake Reserve
Zipline Tour Big Bear Experience
Family-Friendly Nature Hike around the Big Bear Valley
4. You should plan on wearing layers
You should be aware of the weather forecast before heading out to see what clothes you should wear for that day
Since Big Bear Lake is a four-season destination, the temperatures vary greatly. If you're planning a day trip in the fall or winter, I recommend wearing layers. The afternoons can sometimes be on the warmer side. After the sun sets, you'll be happy to have that jacket or thick sweater nearby.
Even in the Spring and Summer, you should expect some changeable weather. More than likely, you'll experience cool mornings and nights. Have a light jacket or sweater with you.
Tip: Consider your planned activities, you may want to pack hiking boots or tennis shoes.
5. Big Bear Lake Village
If you don't plan to do any activities and this is just a spontaneous day trip to Big Bear lake, don't worry. You can visit Big Bear Lake and then head over to their downtown area, Big Bear Lake Village.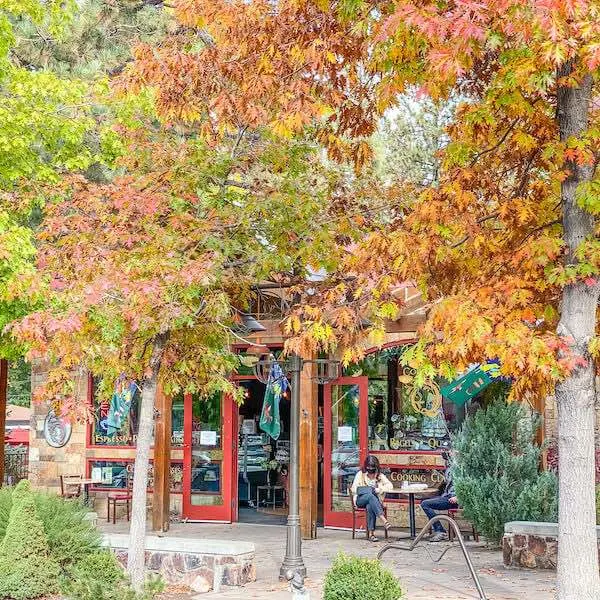 Big Bear Lake Village is a charming area with lots of shopping and great eats. If you have never been to Big Bear, this would be the perfect stop for your first time in town.
Be aware that some shops and cafes will start closing before sunset. Many restaurants stay open for dinner.
Free street parking and public parking lots are available.
The Village | 40641 Lakeview Dr, Big Bear Lake | Google Map It
Take a day trip to Oak Glen for the fall season or any time of year. It's one of the best day trips from Los Angeles. Read the top yummy and fun things to do in Glen Oak. From apple picking, berry picking, apple pies, apple cider, apple cider donuts, and many fall activities and events near Los Angeles
6. Big Bear Lake Eats
There are plenty of fantastic places to eat in Big Bear. Whether you choose to have lunch, dinner, or both, a quick search on Yelp will help you find exactly what you'd like to eat.
Here are a few tasty itinerary spots I can recommend…
Big Bear Coffee Roasting Company
Recommended by a local Big Bear friend, this is the coffee shop where you want to get a warm cup of joe or iced coffee. Your day trip to Big Bear won't be complete without it.
Big Bear Coffee | 41080 Big Bear Blvd, Big Bear Lake | Google Map It
Fire Rock Burgers & Brew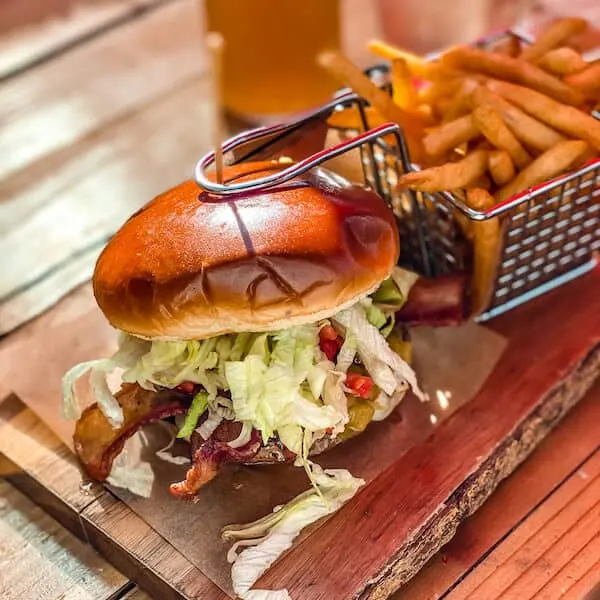 The day we were there, we were craving burgers, one of our favorite things to eat. We found Fire Rock Burgers & Brew in the Village. It's a rock-n-roll-themed, laid-back spot that serves unique burger combinations and a variety of beer.
Hubby had the Eye of the Tiger burger, topped with Philly cheesesteak. I had the Californication. While both burgers were delicious, I have to admit the Eye of the Tiger burgers was way tastier. The fries were nicely crisp.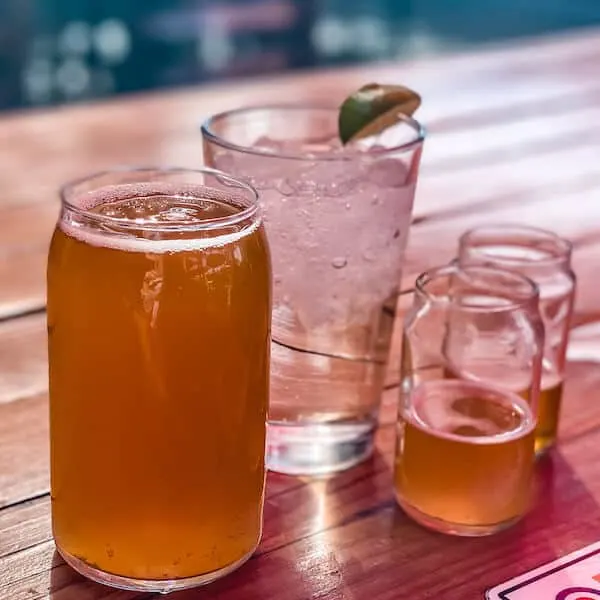 On the menu, they'll pair their delicious burgers with craft beers. Beer samples are available, don't be afraid to sample a few.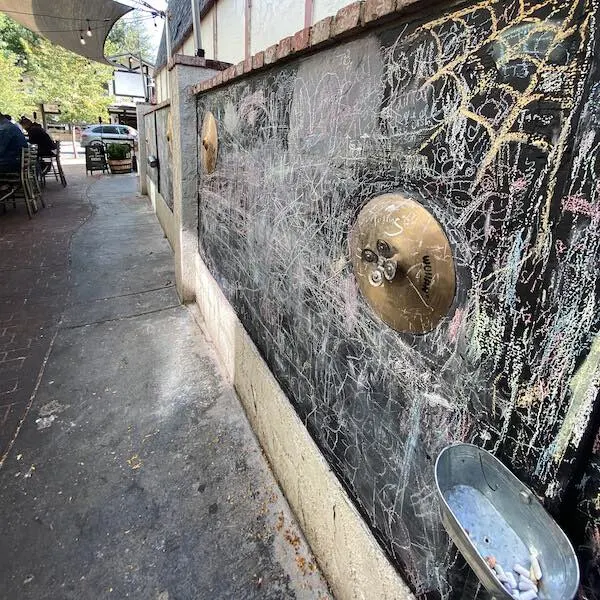 We loved the chalk wall outside of the restaurant where you can write anything you want on it.
Fire Rock Burgers & Brew | 618 Pine Knot Ave b, Big Bear Lake | Google Map It
Pickle's Pie Shop
The one that got away…
If you're obsessed with pie, like we are, try to make it to Pickle's Pie Shop. We got there too late and missed having pie. Now it's on my tasty itinerary must-have list. The next time I'm in Big Bear, I'm having this for breakfast.
Pickle's Pie Shop | 829 W Big Bear Blvd, Big Bear | Google Map It
You can enjoy a day trip to Big Bear Lake any time of the year, and it will be an escape from city life. Whether in summer, winter, or fall, there is always something fun to do while exploring this beautiful part of Southern California.
If you plan your next getaway soon, we hope this article has given you some helpful information on what to expect when visiting for the first time.
Will you be planning a day trip to Big Bear soon? Perhaps a weekend trip?
If you have been to Big Bear Lake, California, let me know what you love about it in the comments.
Share the tips & love on Pinterest:
Meet Kathy Ava, a food, travel, and cruise writer based in Los Angeles/Pasadena, and the owner and main writer of Tasty Itinerary. With over 20 years of experience planning trips and logistics at her full-time job and for herself, she's become a pro at crafting unforgettable tasty itineraries. She's always on the hunt for delicious, fun travel destinations and cruise itineraries. She firmly believes that life is short and we must make the most of it, so always say yes to dessert.