Wanna know how to save money to travel?
Saving money is important. Having travel savings is even more important for a traveler or just anyone wanting to achieve their vacation goals. This is why you have to think outside the box and figure out ways to add money to your travel savings.
When there is a will, there is a way.
If you want to go on vacation, you have to save money. Not only to book it, but for the expenses along the way as well.
Sometimes our budgets only go so far and we have to get creative. We need to make this vacation happen.
8
Tips to save more money to travel:
Set-up a Direct Deposit
Use Your Tax Return Refund
Travel Savings Jar
Sell Stuff You Don't Need Anymore
Save Money from Your Grocery Budget
Eat Out Less
Work a Side Hustle
Learn to Use Reward Credit Cards
8 Tips for How to Save Money to Travel
Set-up Direct Deposit into Savings or Vacation Club Account
First of all, you should have separate savings account for travel or a vacation club account. If you don't, go to the bank and open one today.
Our banks make it easy for us to save with all the options.

You can either:
a) open a savings account,
b) take advantage of their vacation club,
c) both
Both?
If you can afford it or budget right, why not? If you can't, either or is fine! Just make sure you start some sort of savings.
Then once you have a travels savings account, you can automatically set a direct deposit from your checking. Choose an amount that you won't miss. An amount that will help you reach your vacation goals and fits your budget. Watch the account grow.
A vacation club account is slightly different. You can set up a set dollar amount to be deducted from your checking account and deposited into the vacation club account. At a certain time later in the year, the bank will disburse the money. Until then, you're not allowed to withdraw from the account until disbursement date. You should always check the terms with your bank.
The best part about these two options: the money is safe and it will be accruing interest.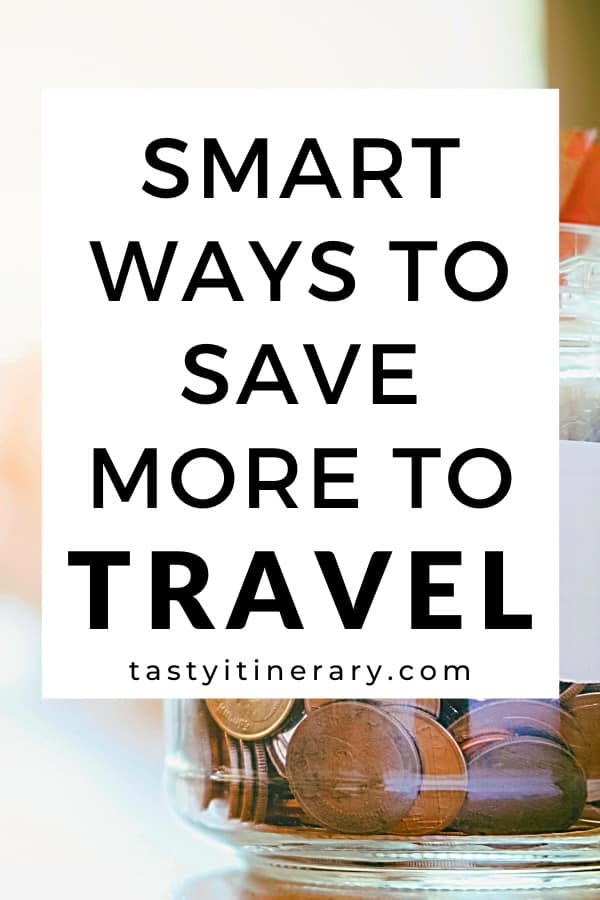 Set Aside Your Tax Return Refund
So, you completed your tax returns. Now, Uncle Sam owes you a sum worthy of celebration. By celebrating, I mean, booking a flight.
First of all, just a little reminder that this post is on how to accrue travel savings and not how to pay off your debt. However, if you feel inclined to be responsible and use this unforeseen amount to pay bills, you do what you gotta do. You have 7 other ways to save for travel.
Where were we? Oh right, celebrating.
Whether you book a vacation right away or set it aside and deposit it into your travel savings account that is up to you. Start dreaming and planning that future vacation.
Where do you want to go?
Travel Savings Jar
Cha-ching!
Start saving up your extra change! You have no idea how much change can add up quickly. We once cashed in our travel savings jar and ended up leaving on vacation with an extra $500.
And I know, who carries cash nowadays? That's our problem – we never have cash! In return, we don't save as much change as fast as we used to. So we make it a prerogative to sometimes withdraw extra money when we come across cash-only retailers. The extra cash and change end up in our change jar.
Set up a piggy bank. It can be an actual piggy bank, one of those cool digital coin banks, a mason jar, or a glass jug.
Sell Odds & Ends Around Your Home
Look around you, I bet you'll find a few things collecting dust that no longer is serving their purpose or you no longer want.
At least once a year, hubby and I look around our house, garage, and anywhere we keep things to see what we can get rid of. There is always the odd piece of furniture. The electronic device we bought and stopped using, but still works great. The piece of art we never hung. Old books. The list goes on.
Did you spot something?
Now, sell it!
You can go on eBay, Facebook Marketplace, Offer Up, and many other sites to sell these 2nd hand items.
Make that extra chedda'! And then stock it away as part of your travel funds.
Travel Resources to Help You Book Your Next Trip
Here are the travel resources we use to research and book our travel. Start planning!
Save Money from your Grocery Budget
Instead of spending $100 on groceries, push to only spent $80 and save the extra $20 for travel. 
My personal favorite when I'm at the grocery store is to pay with my ATM and then withdraw an extra $20 for my travel fund. Oops, I went over my grocery budget… all for the sake of travel.
You know you would have probably spent it on Starbucks later.
Cut Back on Lunches and Dinners Out
Bring lunch to work. Prepare more dinners at home.
I understand it can suck. I LOVE to eat out – anything not to do the dishes. I am lazy about packing lunches because I rather keep the leftovers for dinner the next night.
Eat ramen. PB&Js. Remember the days of mac n' cheese for dinner? Who am I kidding, I still eat mac n' cheese for dinner.
Think of all pizza you're going to eat when you make it to Italy!
Seriously, do you know how much money is spent eating out all the time? Have you ever calculated it? I have and it's scary.
It adds up and we don't even realize it. If you live in a city like Los Angeles, as I do, you most likely spend $10 or more a day for lunch. That's $50 or more a workweek. $200 a month. Let's not even add up the dinners as it's a $50 minimum per couple without drinks for one night.
The point is to try to cut back. Set aside the money you would have spent out on lunch or dinner, deposit it into your savings account.
Get a Side Hustle
Sometimes we just need to work a few extra hours here and there to make enough for the things we want.
Think about what other jobs you can do to make some extra cash. Keep that goal of vacationing on a Hawaii beach in mind when you're brainstorming, it will motivate you.
Do you like dogs? Set up a dog walking service on Rover. Maybe you can dog-sit on the weekends.
See if you can work a couple of nights serving drinks at a local bar.
Mow your neighbors' lawns. Drive for Uber. Work at a local pizzeria, delivering pizza.
What do you do for work? Is there anything you can do on the side outside of work hours? Graphic design? Photography? Website development?
Are you crafty? Do you knit? Maybe set up an Etsy shop.
The possibilities are endless. There are so many ways to make extra money. You just have to think outside the box.
And as always, take the extra money and add it to your travel savings.
Apply and Use Rewards Credit Card
Before we get further into how to maximize credit card rewards for travel, I want to make sure you fully understand: YOU MUST PAY OFF YOUR FULL STATEMENT BALANCE EVERY SINGLE MONTH ON THE DUE DATE IN ORDER FOR THIS TO WORK. You can then reap the rewards without going into debt.
There are a variety of reward credit cards out there, all with a different set of perks and rewards. You must research and choose the card that will best fit your needs and lifestyle.
When you do, in order to maximize those rewards and use either the cash back or points towards travel, you should use your credit card to pay for everything. Even the bag of chips at 7/11. 
I have a Chase Sapphire Reserved and with it, I pay all the bills that allow me to use a credit card, our groceries, doctor visits, vet visits, Starbucks runs… you name it. Oh, you take a Visa? I whip out the card. Since it's all within my monthly budget, I'm just using my card to accrue the points and at the end of the month I pay it all off.
What can I do with these points? I can book my next vacation with these points. The more points I have, the more opportunities I have to use them for flights, resorts, and cruises.
I had a Virgin America card back when it existed and I was able to book about 5 free flights with the points I had accumulated with it.
You can do the same with a cashback card as well. I have an American Express card that rewards me with 6% cash back for groceries. You bet that I'm using this credit card every time I buy groceries. I would have paid for the groceries with my debit card. Now, I'll just pay the amount to American Express.
The dollars add up quickly!
It's basically free money… as long as you use your credit card appropriately.
As a beginner, you may want to look into a Capital One Venture Card or a Chase Sapphire Preferred card.
Of course, I am not a guru on this and I won't pretend to be. I will refer you to an actual travel points guru: The Points Guy.
---
Hope these tips help you get started to save for travel or add more to your travel savings.
Do you have a travel savings account? How are you going to start saving for your next vacation? What creative ways do you use to save for vacation?
---
Don't forget to share the love on Pinterest: