An Adventurous Day in Aruba Cruise Port
How to spend a day in Aruba Cruise Port? How do you narrow it down with so much to explore on the island?
Aruba has been at the top of our list for over 20 years.
When we lived in New York, everyone seemed to head to Aruba once a year. We'd look up the prices of hotels and flights, mull over the ridiculous rates, and quickly squash the idea of ever going.
We can visit a beautiful beach when visiting my family in Puerto Rico.
That's what I used to say to quench my envy and curiosity. Because we didn't need to travel to Aruba – a lie we told ourselves.
Back then, we were young, broke, and had little to no experience planning a tasty itinerary as we do now. If we could, we would go back in time and tell our younger selves, "Aruba is so worth it – make it happen!"
In our wiser years, "making it happen" or going after what we want is important. We don't just give up.
You can guess by now that we will be returning to Aruba for a longer stay in the future. But for now, we have a day in Aruba cruise port recorded into our memories.
While we didn't get to spend a week in Aruba, we loved our ABC island cruise. We highly recommend this cruise itinerary if you want to island-hop the Southern Caribbean on a friendly budget.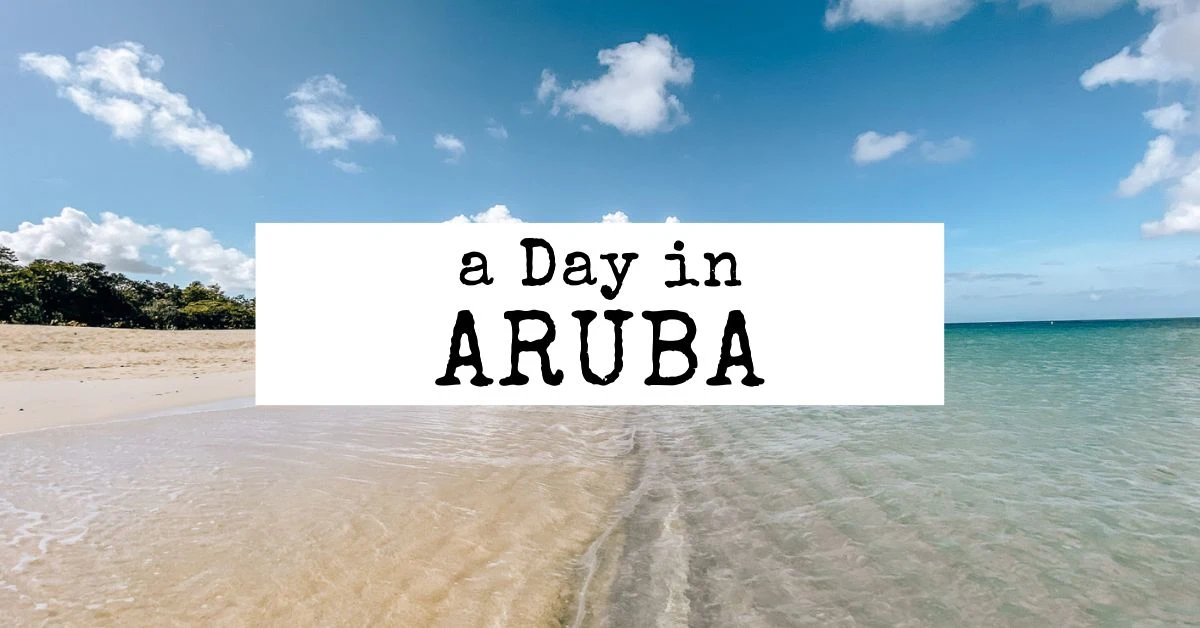 This post may contain affiliate links, which means we'll receive a commission if you purchase through our links at no extra cost to you. Please read full disclosure for more information. We appreciate your support!
When your previous cruise port is canceled…
On day 3 of our Celebrity Equinox cruise, we were supposed to stop in Grand Cayman. It was canceled due to a storm. The port authority instructed our ship to turn around. Yipee! We got a head start on our journey to Aruba. They announced we'd dock in Oranjestad at 7 AM instead of the original time of 2 PM time.
7 am to 11:59 pm in Aruba cruise port?! It felt like Christmas. And we did have Santa vacationing on the ship. We swear!
While we felt bad for anyone looking forward to Grand Cayman, we were selfishly celebrating and figuring out what to do with the extra hours in Aruba. We had a tour booked for 2 PM, and there was no way we were staying on the ship that morning with the blessing of extra time at port. No siree. You must maximize your time at port!
On this trip, we had internet onboard, and we were able to research a few nearby beaches. Eagle Beach ranked high as one of the best beaches near the cruise port. Then we heard it announced by the Cruise Director the morning of, and we thought, we better get there quickly.
Aruba Cruise Port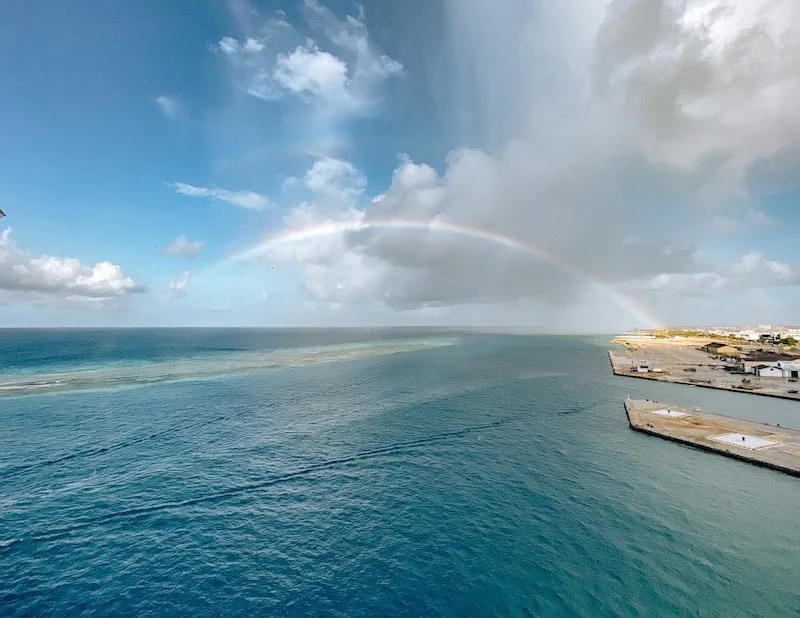 Where do cruise ships arrive in Aruba?
The Aruba cruise port is located in the heart of downtown Oranjestad. It is a convenient walk to many shops and restaurants in the area.
The pier is also close to the main bus station, so it is easy to get around the island. You have the option of taking a taxi outside the cruise terminal as well.
You will also find tour companies offering tours outside the cruise terminal if you do not have one booked.
How easy is it to get out of the Aruba Cruise Port terminal?
A few cruise veterans told us that the ABC island cruise itinerary was their favorite because leaving the ship was stress-free. You are welcomed onto the island without anyone hassling you and trying to sell you their services.
They were not wrong. There are no long cruise terminal mazes to get through, like in Costa Maya. You leave the ship and its secure cruise terminal area right onto the Island.
We are used to having to hustle through the terminals. But disembarking at Aruba cruise port was easy peasy.
A fresh breath of salty air. After we left the secured area where the ship was docked, we walked a quiet terminal to a taxi waiting idly near the cruise port, got in, and were on our way to Eagle Beach in no time.
There was no maze. No hounding. No hassle.
We can get used to this Southern Caribbean itinerary.
A Day in Aruba
A day in the Aruba cruise port is not enough. We always say that cruise days are never enough, but they are great introductions to new destinations.
This is how we spent our day in the Aruba cruise port. There are endless things to do in Aruba, whether you're here visiting with a cruise ship or on a land vacation.
Visiting for a day in Aruba with a cruise, you can have a beach day, go on a guided tour, drive around in a rental car, or even snorkel on a catamaran. Depending on your number of hours, you can break it down as we did, spending it at the beach for half a day and a tour for the other half.
At the end of this article, we also have listed some tour options for inspiration.
Earling Beach Morning: Eagle Beach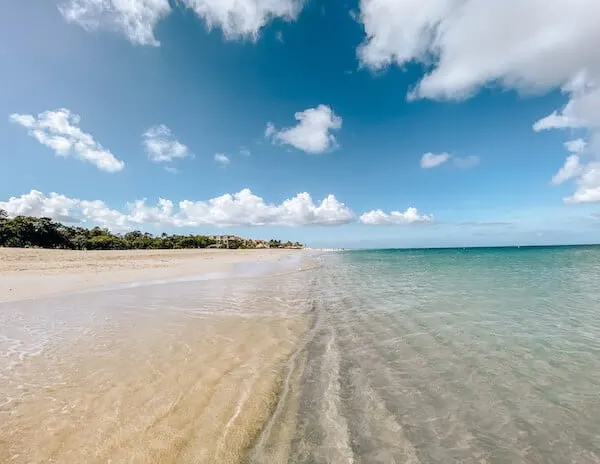 Eagle beach is a 15-minute drive from the cruise port. The kind driver dropped us off right outside of the Coco Loco Beach Bar. The bar was starting to open up, and the beach was deserted at 8 AM.
We passed the bar onto the beach and looked to rent beach chairs and an umbrella for the day. There were a couple of vendors in front of the bar, renting them for $40 total for the day. Instead of taking the first few offers, we kept walking north of the bar on the beach.
For those directionally challenged, like me.., I can never tell you if you're going North, South, East, or West. So, turn RIGHT onto the beach from the bar.
Not sure how I remember any of this. I was too busy gawking at the horizon, the water so damn inviting, I was of no help to hubby figuring out the chair and umbrella situation.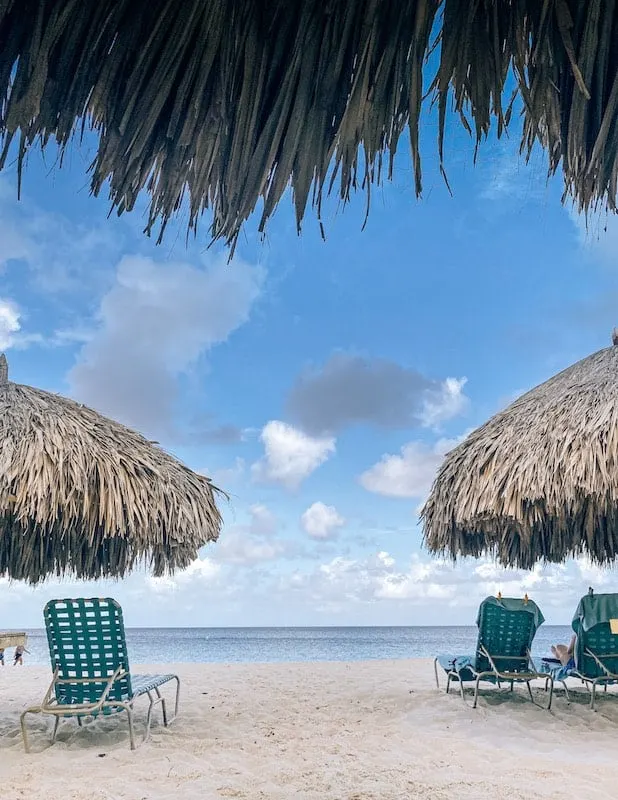 We skipped probably 3 vendors with stacked chairs and umbrellas before finding a set of about a dozen palm palapas set up with chairs on the beach. They rented us a spot for $30. And you guys, the setup and the view are perfect.
I dropped my stuff on the chair, tossed my coverup to the side, and sped off to the shore. Let me tell you, I fell hard. I fell in LOVE.
Eagle Beach is everything you imagine when you think of a beautiful beach. White soft sand, calm and beautiful cerulean blue water that is clear and warm to swim in.
So peaceful. Quiet. At least the morning I was there.
,
The seats are a waste for me because, with serene waters like this, I like to sunbathe by the shoreline and sit there, taking it all in. However, Hubby likes to sit back, relax, and watch from afar. I did get to coax hubby to join me for a swim a while later.
Hubby was impressed by the beach as much as I was. We agreed that we should have visited Aruba much sooner. If we didn't have a paid tour later, we would have stayed for the rest of the day.
We met a group from New Jersey vacationing there for the week. They love Aruba so much that they have a timeshare at Eagle Beach and make it there every year.
Serious goals.
Other top beaches near Aruba cruise port:
⛱ Manchebo Beach
⛱ Baby Beach
⛱ Baby Beach
⛱ Arashi Beach
⛱ Palm Beach
Lunch at Matthew's Beachside Restaurant
We did manage to have lunch in Aruba right before heading to our UTV tour. As we strolled south on the beach, searching for restaurants in Aruba, we were given the name Matthew's by those sunbathing and enjoying their stay at nearby resorts.
Matthew's is a bar and restaurant right on the beach. They had a two-for-one special on drinks for lunch when we were there.
I ordered my go-to quesadilla. Hubby got the steak sandwich, and it was the star of lunch. My quesadilla was good too, but the steak on his sandwich was tender, flavorful, and well-marinated. It left my tastebuds with a lasting impression.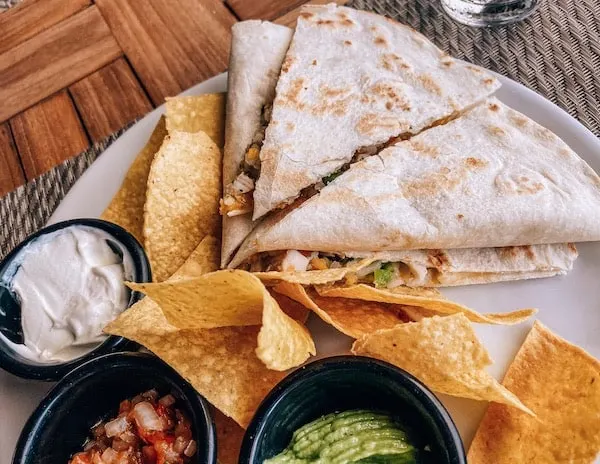 The waiter that served us was genuinely kind. He told us that it becomes super crowded right around the holidays.
Other places to eat near Aruba Cruise port
Here are some options from my notes:
Best Beach Drinks That Never Fail
No beach vacation or beach trip is complete without beach drinks and beach cocktails. Here is a list of the top alcoholic drinks for fun at the beach and a few easy non-alcoholic drinks to complete the beach vibe.
UTV Adventure at Arikok National Park
During our vacations, I always look for something adventurous that may be outside my comfort zone and that my spouse will love.
I mean, it's his vacation too. Unlike me, he loves ATV tours. Let me clarify, I don't enjoy driving an ATV, but I don't mind riding on one.
Many years ago, I almost drove myself off a cliff in Oahu. A tree saved my life. I walked away from the incident just fine. Thank you, Jesus. That's led to me just not trusting myself on an ATV. However, I did try driving an ATV again during a private tour in Costa Rica. I still did not enjoy it. I kept fearing for my life.
So this time, I compromised and booked a UTV tour for Two. This way, hubby drives, I can enjoy myself and not worry about dying. And yes, I have that much faith in my husband's driving abilities.
ABC Tour
After lunch, we took a taxi to ABC Tour's office to check-in for our 2 PM tour. It was a smooth process. They have a professional set-up, and it is a reputable tour company. You're not taking an excursion with just anyone. They have other tours available on their site.
We paid an additional $25 for insurance to cover the UTV. In my opinion, insurance should be part of the rate. Either way, we decided to fork over an extra 25. We just wanted to walk away safely at the end of the tour with no drama.
Tip: If you're doing a UTV Tour, bring a bandana or something to cover your nose and mouth. If not, the office will have its own branded face cover for $5 each.
The UTV tour started from the ABC office and took us to the following stops in Arikok National Park:
Indian Caves
Fuente Natural Bridge
Fontein Gardens
Boca Prins
Jamanota Hill (Highest point in Aruba)
Natural Pool "Conchi"
Please note that the tour company can change the stops at any time.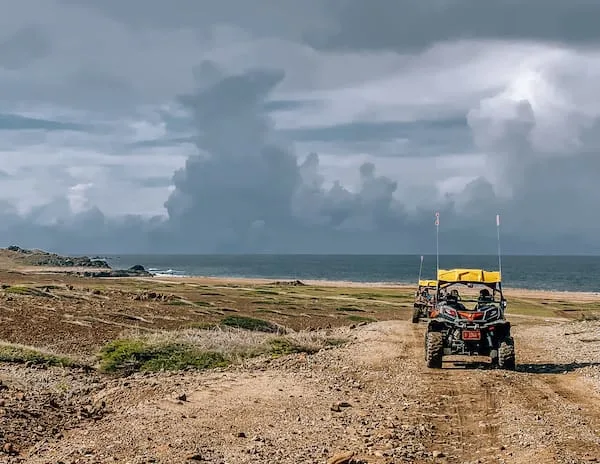 This tour is rain or shine, so be prepared to get wet and muddy. We ended our tour filthy but happy.
Tour Option:
Aruba ATV Tour with Natural Pool Swim [book here]
Can you tour Arikok National Park in Aruba on your own?
You can rent a Jeep (or any 4×4 vehicle) and take a similar tour of Arikok National Park. If you have an early start in Aruba cruise port or vacation in Aruba, you can make a day of this.
There is much more to explore. What we saw on tour were just the highlights. It's a fun UTV tour in Aruba and fits our needs for the partial day I thought we'd be having in Aruba.
If I had to plan the day again as a do-it-yourself, I'd rent a Jeep, hit Arikok National Park early, and then finish the day off at Eagle Beach.
Arikok National Park
The Arikok National Park is almost 20% of the island of Aruba. It's a protected area that was only established and protected in 2000.
From the moment you enter the national park, prepare to taste and breathe in the dirt that kicks up from the dry land. Having a face mask is important. It is a dry, rugged desert land with rocky and bumpy roads. It's the perfect destination to off-road with an ATV or UTV in Aruba. Since it was drizzling on and off throughout our tour, we were covered in mud by the end of it.
Make sure you are ready for an adventure off-road in Arikok National Park. In between, we made a few stops at some of the highlights. If you're doing this tour without a guide, you can pace yourself and see more of what the National Park offers.
One first stop was the Fontain Cave, an Indian cave made of limestone with Indian carvings that you need a flashlight to see. This cave is gated and only open to visitors between 8 AM and 4 PM.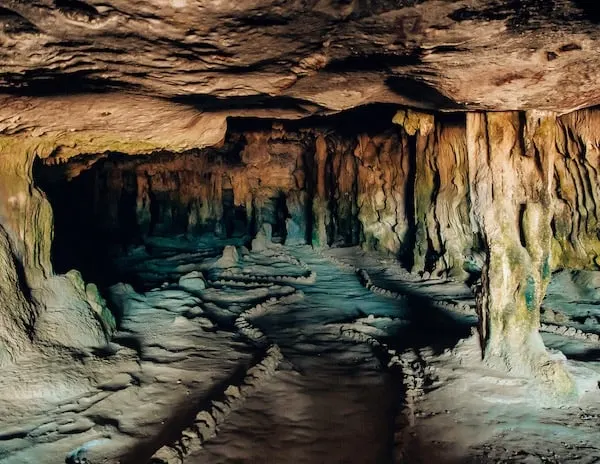 After our stop at the cave, we walked down to Fontein Gardens, where we dipped our feet into the pond and let the fish eat our dead skin. Have you seen this done in shops at other ports?
My favorite part of touring the National Park was the gorgeous vistas and rock formations off the coast. We stopped at the Conchi Natural Pool for a swim and to explore.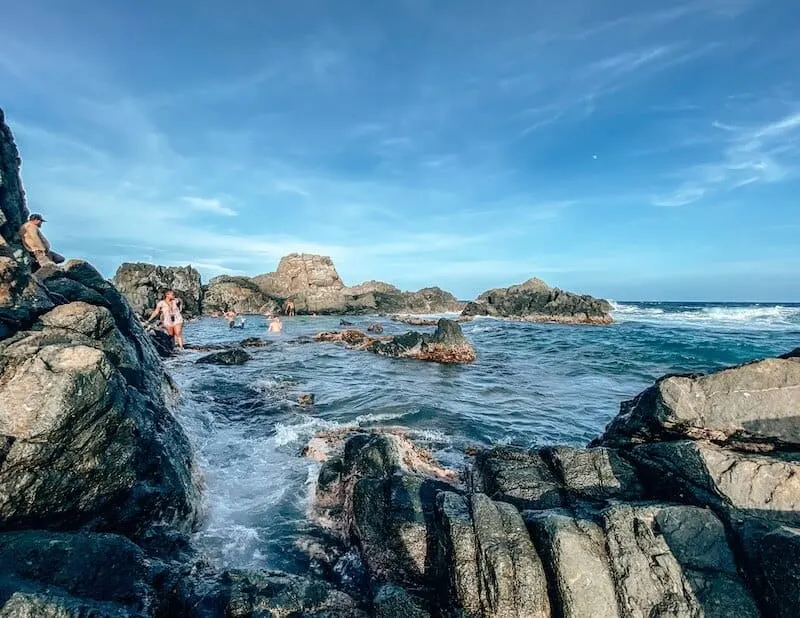 Regarding Conchi Natural Pool, expect to descend rocky steps into this area. There are beautiful lava rock formations and black sand. We did not go into the natural pool as the waves hit the rock formations, so many people had difficulty getting in and out. We decided to explore the area on foot.
Tip: Don't forget your water shoes. You'll need them for this part of the day.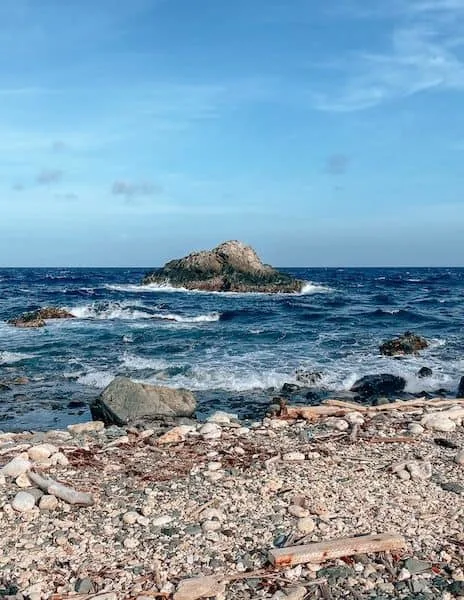 I would have loved to have stopped at Prins Bay or Dos Playas; we drove by it. Something you can do if you're touring on your own.
Jamanota Hill is the highest point in Aruba and one of our last stops. It's a great view that you're not going to get anywhere else on the island.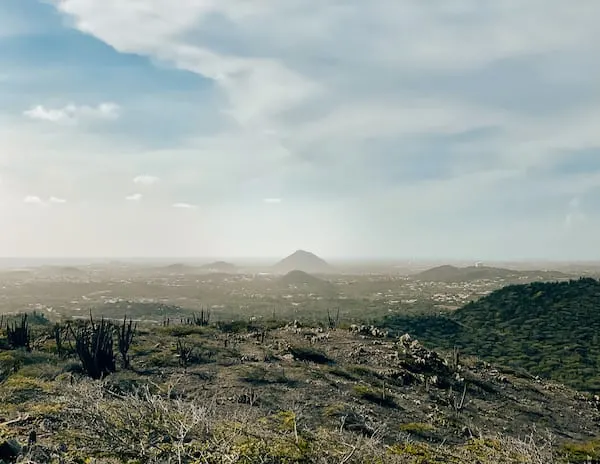 Who will love Arikoki National Park?
Anyone who loves to hike, explore caves, and discover different rocks, textures, and natural pools will love Arikoki National Park. It's great for groups, couples, and families looking to explore a part of what makes Aruba.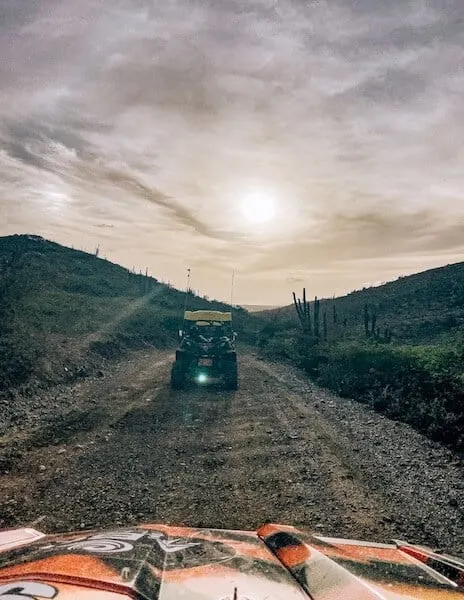 At the end of our UTV tour, the original plan was to return to the ship, shower, and leave the ship again to have dinner at a local restaurant. The Celebrity Equinox was scheduled to leave Aruba cruise port at midnight, so why not?
Sometimes the idea is great on paper and not so much the reality. We were completely wrecked by the time we got back to the ship. A shower and dinner in the main dining room called our names.
You can also find my Instagram story highlights from the day: here.
Aruba Cruise Port Shore Excursions
Other things to do in Aruba on a cruise…
Sometimes it's easier to take a shore excursion as we did. Perhaps a UTV tour isn't for you. Here are some other tours you may consider for a day at Aruba cruise port.
Read more: 11 Helpful Tips for Booking Shore Excursions Independently
1. Go on a Full Island Tour
If you have 6 hours, touring the island and getting a proper tour from a local is a great idea, especially if you're scouting it for future vacation spots.
What? I'm always scouting on all my trips.
2. Afternoon Snorkeling Tour
We want to snorkel on every island. From what I saw at Eagle Beach, you have to go way out from the shore in order to snorkel. So why not head out in the afternoon and snorkel from a boat?
3. Aruba Sunset & Dinner Tour
If you have a late day in Aruba, a sunset tour with dinner is a perfect way to end your day in Aruba before heading back to the cruise ship Make the most of your cruise day.
4. Go Parasailing
Imagine the beauty of Aruba from above. Parasailing is not only an adventure but a peaceful experience. Once you're up there looking out at the amazing scenery around you, you won't regret it.
5. Visit the Flamingos at De Palm Island
Looking for an all-inclusive day that includes lunch, snorkeling, drinks, flamingos, and more? Spend the day at De Palm Island.
Next stop: Beach Hopping in Curacao Island
Share the tips & love on Pinterest: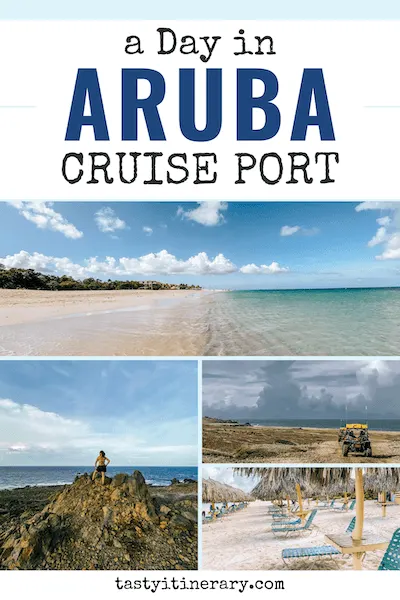 Meet Kathy Ava, a food, travel, and cruise writer based in Los Angeles/Pasadena, and the owner and main writer of Tasty Itinerary. With over 20 years of experience planning trips and logistics at her full-time job and for herself, she's become a pro at crafting unforgettable tasty itineraries. She's always on the hunt for delicious, fun travel destinations and cruise itineraries. She firmly believes that life is short and we must make the most of it, so always say yes to dessert.