Are you planning a Bonaire vacation? Is Bonaire port-of-call part of your Southern Caribbean cruise itinerary? See the top things to do in Bonaire in a day. You'll be calling this Dutch Caribbean island paradise shortly after arriving.
There is nothing not to love about Bonaire. The island is just the right size to spend a day or a week. Ideally, a week would be perfect to relax and do all the things there is to do in Bonaire.
Cruises to Bonaire
We are so thankful that we had the opportunity to visit Bonaire for the first time on our Celebrity Equinox cruise. If it weren't for the cruise, I don't think Bonaire would have ever landed anywhere on my radar. Had I heard of the island? Yeah, but only in the same conversations that had Southern Caribbean and Aruba in the same conversation.
Cruising is a great way to discover new destinations and get a taste of what they are like, so you can then return for a longer stay. If you're not sure about planning a whole Bonaire vacation, consider looking at cruises to Bonaire.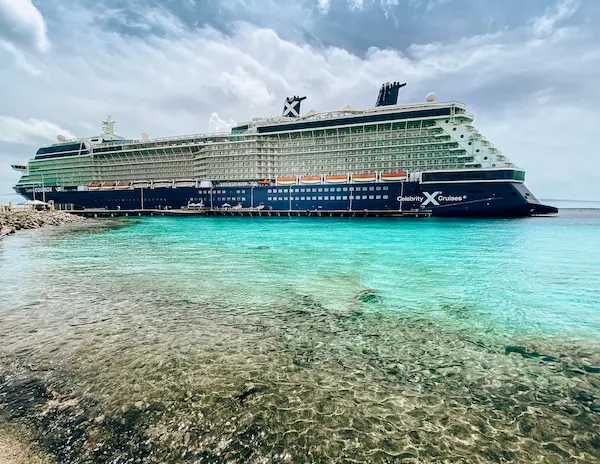 You can also just trust me when I tell you that Bonaire is worth some vacation time. Bonaire takes pride in their island and preserving what mother nature has blessed them with. The moment you step onto the island, you will instantly feel relaxed and curious to see what it has to offer.
It's on the top of one of my favorite Caribbean islands thus far. The water there is glorious.
There are a number of things to do in Bonaire, including diving and snorkeling. They call it "divers paradise" for a reason.
Bonaire Cruise Port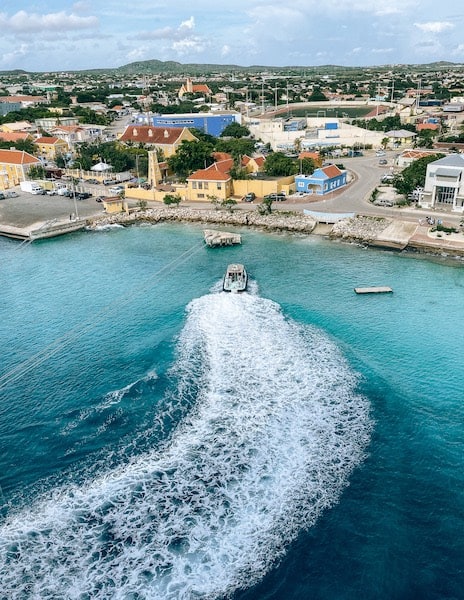 What to expect? This is the easiest and best cruise port I've ever experienced. The best part, no tendering.
Once you step out of the gangway, bypass the mascots outside for pictures and walk off the short pier, you are on the island. There are a few booths set up for local tour companies, like Bonaire cruisers. Some stores nearby. That's about it
I should disclose that the Celebrity Equinox was the only ship docked that day.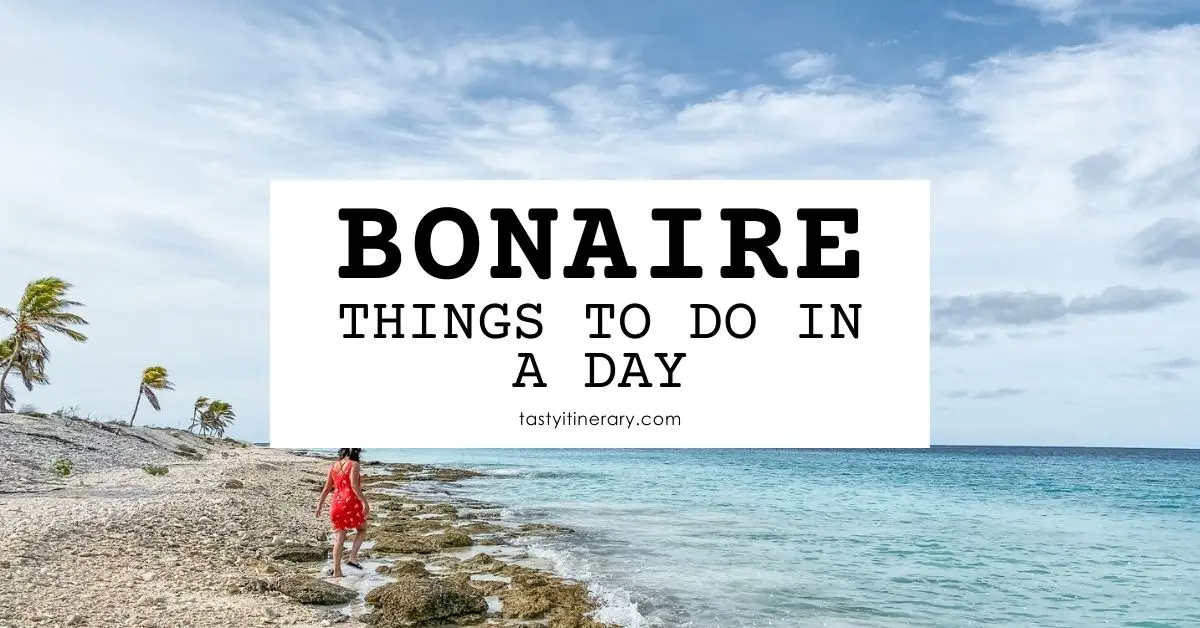 Disclosure: This post may contain affiliate links. If you decide to make a purchase from one of those links, we may get a commission at no extra cost to you. We appreciate your support.
Things to Do in Bonaire
Golf Cart Rental: Rent One & Tour the Island
When I was researching 'things to do in Bonaire on a cruise day', driving the island in golf carts continued coming up. Then I found out that the rentals are booked FAST.
I mean, MONTHS in advance.
I didn't think I was going to rent a golf cart at the time, but when we decided to explore the island with the time we had, I emailed Bonaire Cruisers immediately.
And guess what? The golf carts were booked on my requested date 4 months ahead of time. 4 months!
Bonaire Cruisers kindly added me to their waiting list. Within a few weeks, someone had canceled their booking and they emailed me asking if I still wanted the golf cart. I booked it. Worse case, I'd cancel, but we ended up keeping our reservation.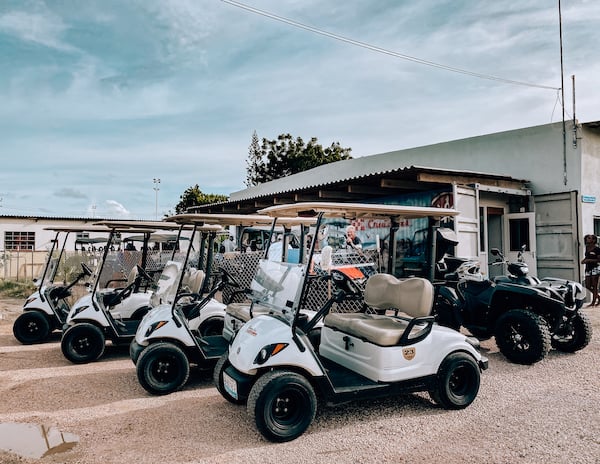 Is a Golf Cart Rental in Bonaire worth it?
Yes, it's a fun experience. At least something you can do once.
Do you think a car rental may be better?
Like anything else, everything has its pros and cons. I do think a car rental will get you to farther destinations faster.
Is the golf cart safe to drive around in Bonaire?
Yes. It's the perfect island to drive around in a golf cart in. As a matter of fact, there was never any crazy traffic to watch out for and regular vehicles would just pass right around us. It was very calm and the main road pretty empty.
How long does it take you to make a loop around the island?
It took us not even 2 hours to drive around the main road of the island with a few stops. Once we made the first go around, we continued on to 1000 Steps.
Cons of driving a golf cart?
The sun will be shining on you quite a bit, so prepared to get a little sunburnt. I suggest wearing a long sleeve rash guard or wrapping something around your shoulders as you drive around, on top of applying sunscreen.
We rented from Bonaire Cruisers
Excellent customer service from the very 1st email exchange and all the way until we dropped off the golf cart.
A Bonaire cruiser representative will meet you right outside where the cruise ship docks. They check your name off the list and then direct you to their office which is only a short walk away.
It's a smooth process checking you in. They go over safety, the map of the island, and instructions on how to drive the cart, and then send you on your way to explore.
Rather take a tour? Check out this North and South Island Tour with a Native Guide: [Book Here].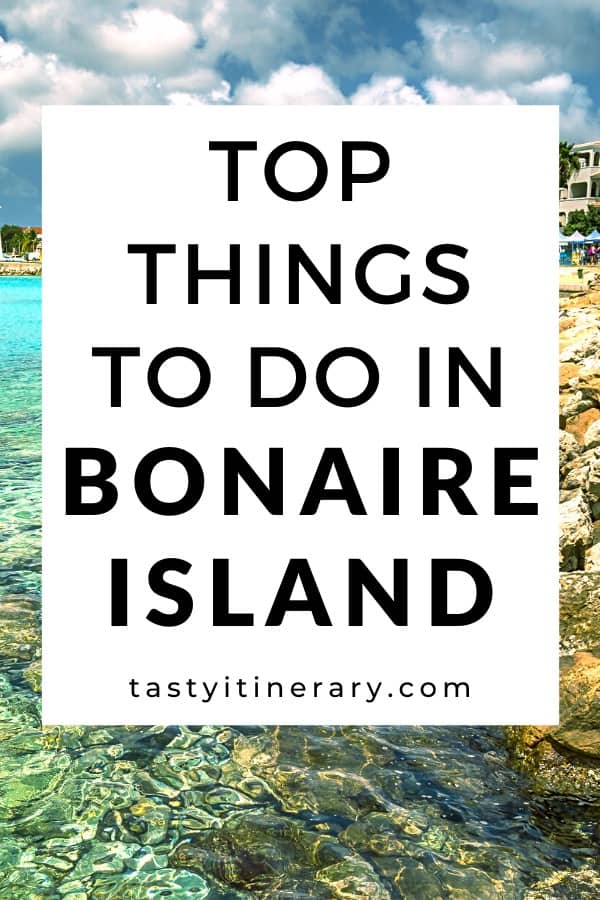 Explore the Bonaire Beaches
There are over 22 beaches in Bonaire. I don't think you can go wrong with any of them.
Do not expect all beaches in Bonaire to have white sandy beaches. Instead, you may find beautiful beaches filled with a variety of hard coral and rocks.
My #1 tip is to make sure you have a good set of water shoes.
What I loved about the beaches is that they are easy to find along the routes. Each beach entrance is marked with yellow bright rocks with the beach name written on it.
1000 Steps (North Shore)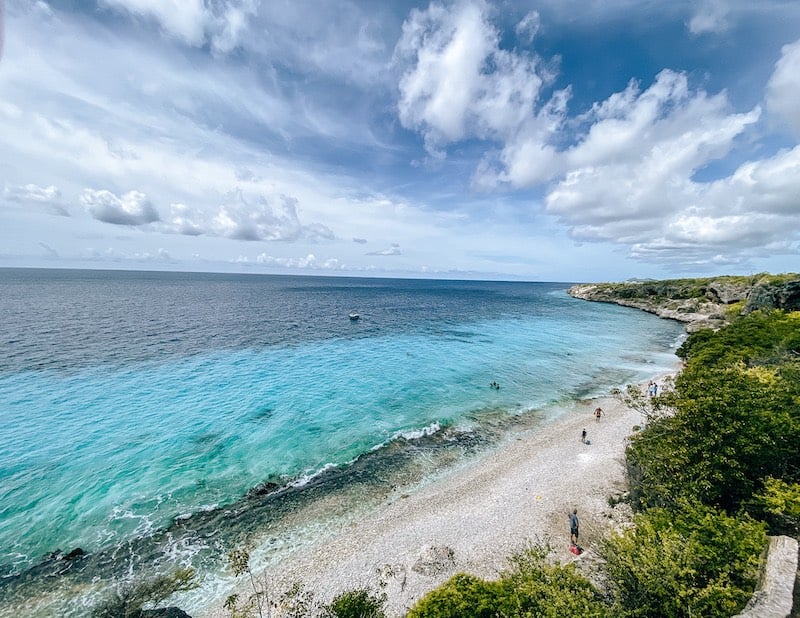 I'm going to start with my favorite time of our day on the North Shore of Bonaire at 1000 Steps beach.
Believe it or not, our golf cart made it all the way to 1000 Steps beach. There were several cars parked along the side of the roads. I think a smaller vehicle definitely helps when parking.
Why is it called 1000 steps? Because of the limestone steps, you have to take to get down to the beach. There aren't literally 1000 steps, but it's a pretty steep descent and then you have to take them on the way back up.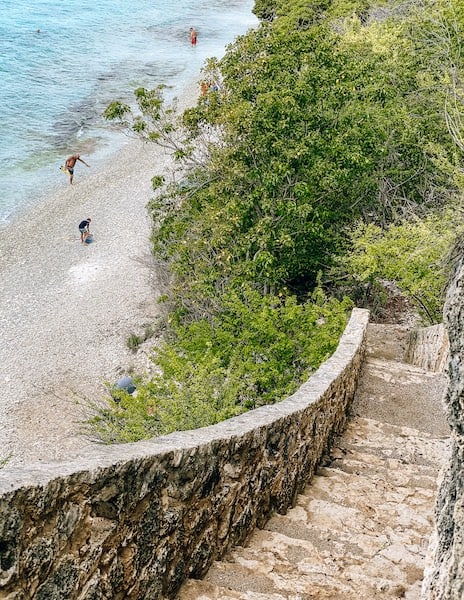 We walked further down the shore and found the perfect enclave to sit under for shade. Hubby immediately went out to snorkel. There were at least a dozen snorkelers at this location. We even saw a few scuba divers.
I am not a strong swimmer, so I didn't trust swimming too far away from shore to snorkel. Hubby went and till this day raves about the snorkeling here. He even saw a sea turtle! Seriously, it made his entire day.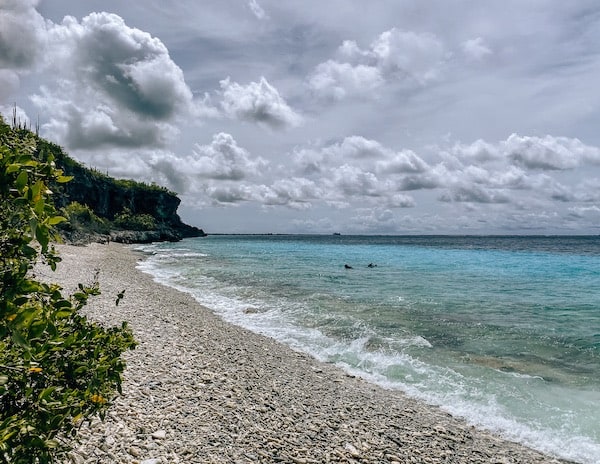 While he snorkeled, I was joined by these wonderful ladies vacationing there from the Netherlands. It was their last day in Bonaire, after 3 weeks of being on the island and they said 1000 Steps was by far the best spot they found on the island. They also insisted I visit the Netherlands soon and see more than just Amsterdam – I promised, I've been dying to visit anyways.
Pink Beach (South Shore)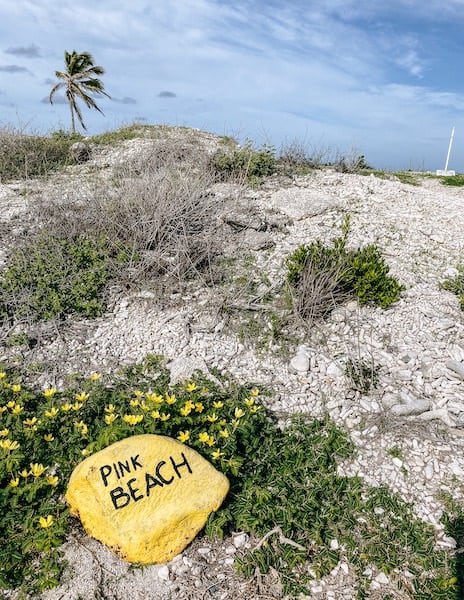 Earlier in the day, we made a quick stop at Pink Beach and were just amazed at the sheer beauty of it. Nobody was around. The waters were not calm enough to swim in. It was such a nice spot to just sit and take in.
Te Amo Beach
Not far South from the Bonaire airport and cruise port, you will find Te Amo beach. Since it's so close to the port, it may be filled with cruisers.
Don't let that stop you if you're looking for a few hours at a beautiful beach.
Klein Bonaire
Klein is a small islet off the West coast of the island of Bonaire. It's uninhabited and you can visit by taking a water taxi. The taxi will drop you off at No Name Beach where you can spend the day and return back to the main island at a later time.
Book a Water Taxi in Advance to Klein | Cost: Adults $20, Kids 12 & Under: $10 R/T
Go Beach Hopping in Curacao
Are you island hopping the ABC islands? Rent a car in beautiful Curacao and go beach hopping.
Salt Pans & Pyramids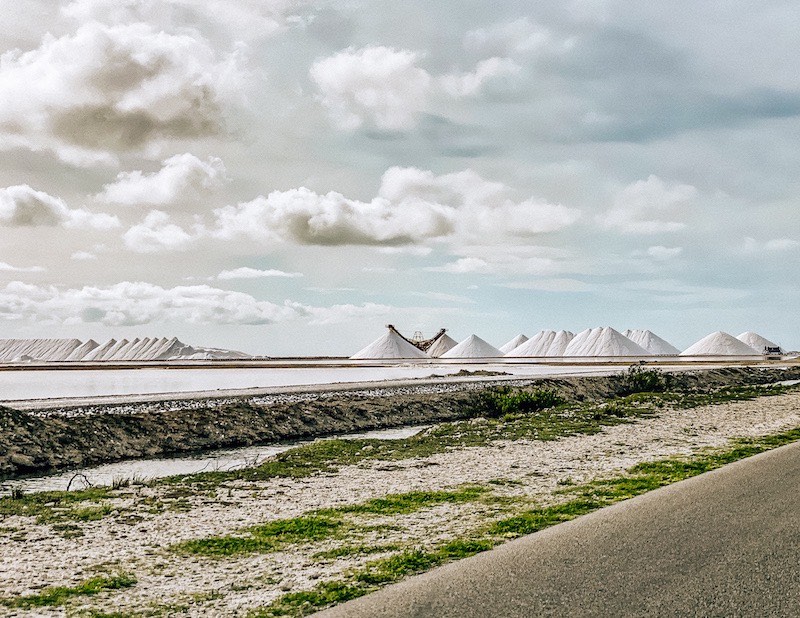 Salt is produced on the island of Bonaire.
These salt pans at certain times of year turn pink. Isn't that cool? It would have been cool to see, but it wasn't the right time of year. I've never seen salt pyramids before, so that was a first for me.
Imagine driving along the road, the blue Caribbean ocean on one site and pink water on the other side. I have to go back to witness this.
When can you see the salt pans turn pink? It all depends on the evaporation of the water and the crystallization. There is more of a scientific explanation to it – and I'm not even going to try to dive into that web that isn't mine, ha. But if you manage to visit when it's pink, that's definitely a unique sight to see.
Pekelmeer Flamingo Sanctuary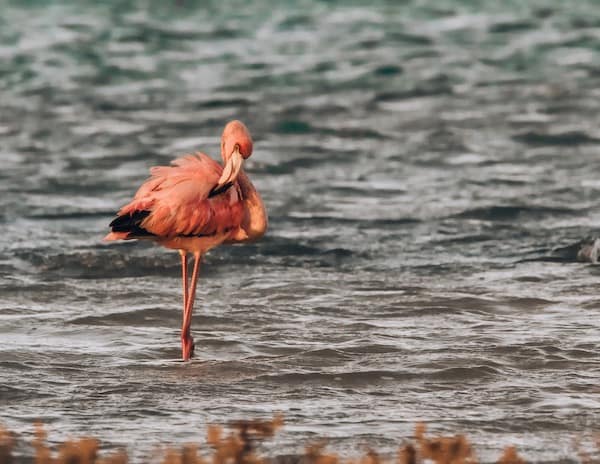 As you drive South, you will spot flamingos in their natural habitat. You can stop at Pekelmeer Flamingo Sanctuary.
Note, you can't get too close, but you can still take photos and admire them from a distance. Sadly, I did not get any great photos, but I do have a video here.
It's worth the stop.
Old Slave Huts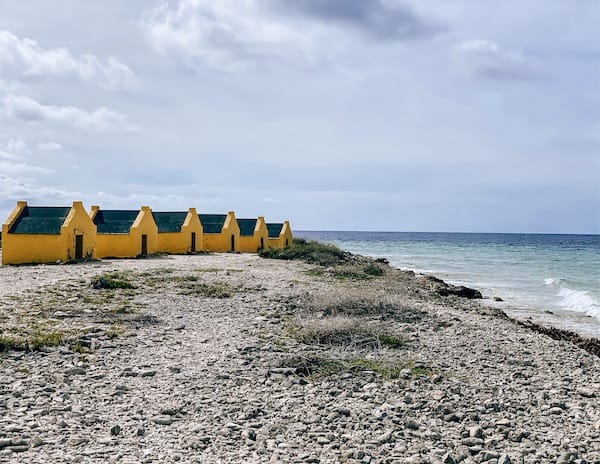 Part of Bonaire's history is these slave huts that were built in the mid-eighteen hundreds. The huts are where the workers used to sleep and live.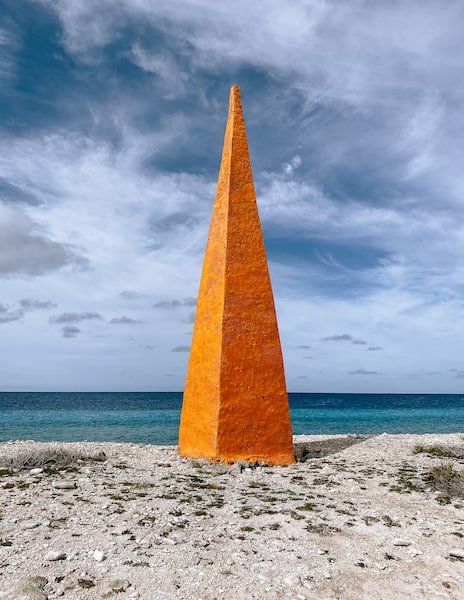 Keep a lookout for the pointy structures called obelisks. There are 4 of them throughout the island, each one representing a color of the Dutch's flag. Ships coming into land would use these to navigate to shore.
Willemstoren Lighthouse
South of the Flamingos, you will find the lighthouse.
As you drive around the coast you will see wood assembled in different triangular and pyramid shapes. Locals supposedly collect driftwood and other items washed ashore by the lighthouse to put them together.
Washington Slagbaai Park
Unfortunately, we did not have enough time nor the right vehicle to reach Washington Slagbaai National Park, Bonaire's nature sanctuary. I am including it because a planned day here is a great option.
If you're in Bonaire for more than a day (lucky you), I'd spend the day driving and exploring one of the two routes of the park. There are also three hiking trails available.
At this park be ready to see beautiful vistas, beaches, native wildlife, local vegetation, flora, and beaches where sea turtles nest.
Entry fee: $45 pp (Free if you already purchased a diving tag for Bonaire National Marine Park)
Tour Option: Tour Washington Slagbaii Park with Local Guide [Book Here]
Bonaire National Marine Park
The marine life here is the bomb! So, if diving or snorkeling is your thing, then you have to make a day of it at Bonaire's National Marine Park. This is the mecca for divers.
If you're a diver, diving in Bonaire is not be missed. There are excursions available that leave from near the port to the park to snorkel or dive.
Entry-free to scuba dive: $45 | Other water activities: $25
Other Activities & Tours in Bonaire to Consider
Whare are other things to do in Bonaire? You can always book one of these tours.
1. Cave Tour
Did you know there are almost 400 caves in Bonaire? I didn't either until I bookmarked this tour.
Explore two caves on the Northside of the island with a local guide. Explore ancient formations and even snorkel in crystal clear water in one of the caves.
2. Tour Downtown
Don't feel like beaching it? Why not tour the streets of Kralendijk?
3. Kayak & Snorkel The Bonaire Mangrove
Start a Lac Car beach and take glass bottom kayaks to the Bonaire Mangrove reserve. Let an informed guide point out and share their knowledge of the untouched beauty that resides in the mangroves.
4. Snorkel Trip on a Catamaran
Sail on Catamaran to Marine Park and snorkel at some of their best spots. Lunch is included with this tour and it is cruise ship itinerary friendly.
5. Landsailing Adventure
Have you ever heard of land sailing? I sure haven't. This unique and fun Bonaire adventure involves a blokart. Ride (or is it sail?) against others in the tour for an hour in the windiest part of the island and see who wins.
Bonaire is Paradise
There is no doubt that Bonaire is special. The breathtaking coastal views at every turn really left me with my mouth hanging open. I just couldn't believe how blue the water is, sometimes like a neon turquoise that I'd pinch myself to make sure I wasn't dreaming.
The locals are super friendly and they take great care of their island.
If you have a cruise day coming up and it's your first time, I highly suggest touring the island and seeing as much of its beauty as you can. You will want to return for a longer vacation.
See highlights of our day in Bonaire on Instagram.
Next Stop: Key West, Florida
Have you been to Bonaire? If not, have you added it to your bucket list? What's the one thing you look forward to seeing or doing in Bonaire?
Don't forget to share the love on Pinterest: