What if we told you there is an idyllic Italian storybook village less than a couple of hours from Rome and the port of Civitavecchia? Let us introduce you to Civita di Bagnoregio.
Whether you're looking to plan a day trip from Rome to Civita di Bagnoregio or on a cruise from Civitavecchia to Lucca, this post has you covered. We discuss the things to do in Civita di Bagnoregio and how to get there from Rome and Civitavecchia.
While planning our Norwegian Epic cruise that stopped in Civitavecchia for the day, we came across a photograph (familiar with the ones below). It was of a European town sitting on a hill with a bridge that appeared straight out of a storybook.
When we discovered that Civita di Bagnoregio was only an hour and a half drive from Civitavecchia, my heart happily danced.
While Rome is the popular choice from Civitavecchia, we've been there many times. So we decided that a new adventure was much needed.
If you are cruising the Western Mediterranean itinerary or planning a Rome itinerary, check out our article dedicated to the must-see sites in Rome.
This post may contain affiliate links, which means we'll receive a commission if you purchase through our links at no extra cost to you. Please read full disclosure for more information. We appreciate your support!
Where is Civita di Bagnoregio located?
Civita di Bagnoregio is located in central Italy in the Lazio region, bordering the Umbria region. It is about 2 hours from Rome by car.
Is Civita di Bagnoregio worth visiting?
It is worth visiting if you love charming villages and towns with beautiful views and history. Once you arrive and see this Italian village perched on top of the hill surrounded by nothing but the Calanchi Valley, it will be love at first sight.
However, if you're running on limited time, can't drive a car there, or have no interest in booking a tour, it may not be worth the journey on public transportation.
Depending on when you start your day, this is probably worth a half days trip before moving to another city. We chose to spend the majority of our time here before heading back to the cruise ship.
If you have a full day to explore without returning to a cruise ship by a certain time, we highly recommend combining your day trip to Civita di Bagnoregio with time in Orvieto.
How do I get to Civita di Bagnoregio?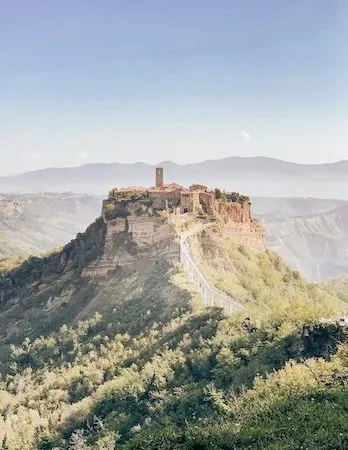 Port of Civitavecchia to Civita di Bagnoregio
Unfortunately, there are NO DIRECT TRAINS from the port of Civitavecchia to Civita di Bagnoregio. You must be willing to drive, book a private car, or take a tour.
Option 1: Rent a Car
Civitavecchia to Civita di Bagnoregio is 1hr 15min drive.
Driving to Civita di Bagnoregio seems to be the easiest and fastest mode of transportation from Civitavecchia. We rented a car from Avis near the cruise port. Make sure to have reservations in advance.
Option 2: Book a Tour
Tour Ideas:
Shore Excursion: Orvieto & Civita Di Bagnoregio Tour [book here]
Orvieto and Civita di Bagnoregio from Civitavecchia [book here]
Rome to Civita di Bagnoregio
Civita Di Bagnoregio is a great day trip from Rome. This village is about a 2-hour drive. Cruising through the beautiful Italian countryside is only half the adventure.
Option 1: Rent a Car
Rent a car for the day from a local car rental location in Rome. The drive is as long as taking the train and bus combination below. The plus side is that you can explore the Italian countryside on the way to Civita di Bagnoregio.
Find a car on rentalcars.com.
Option 2: Take the Train & Bus
In Rome, you must take the train from Roma Termini to Orvieto (another great city to explore from Rome). Book the direct train to Orvieto, which is 1hr 15min.
From Orvieto, the Cotral bus runs from Mon-Sat to Civita di Bagnoregio; the bus stop is in front of the Orvieto train station. Please note since the pandemic, the routes and buses may be limited and are subject to change at any time.
Option 2: Book a Tour or Private Car
Tour Ideas:
Civita di Bagnoregio Private Tour from Rome [book here]
From Rome: Orvieto & Civita Bagnoregio Coach Tour [book here]
Parking at Civita di Bagnoregio
There is a parking lot near the entrance to the bridge for a Euro.
Have some Euro coins on you for parking. If you do not have any change, there is a coffee bar in the courtyard where you can purchase something small to get change.
It is also said you can park for free under the bridge, but we followed the signs for parking.
What to See and Do in Civita Di Bagnoregio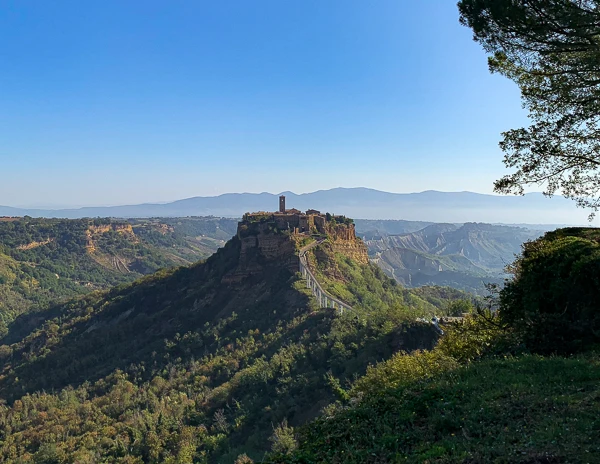 The unique village of Civita Di Bagnoregio sits at the top of a hill, and it's worthy of a storybook feature. A full view of this hilltop town will greet you when you enter via its neighboring town of Bagnoregio.
It's quite a sight upon seeing it. Photos honestly do not do it justice. It almost looks like a painting.
The only access to the village is by a pedestrian bridge. There are no vehicles allowed.
So imagine the little to no noise pollution once you're there. Zero! It is so refreshing and peaceful.
It's unlike any other Italian town I have visited so far. While the locals have been working hard to restore it, it felt timeless.
Here are some fun facts about Civita di Bagnoregio:
It was founded 2500 yrs ago by Etruscans.
The bridge was rebuilt in 1965. The original bridge was blown up during World War II.
Labeled a "dying city" due to less than a dozen residents and the eroded hilltop that will one day crumble.
10 Memorable Experiences in Italy
Italy is a country that wins your heart on the first visit. So if you're looking for some inspiration for your next or first Italian adventure, here are 10 memorable experiences in Italy that should make your bucket list. You'll find many amazing and unique Italy experiences you will remember forever.
Walk the Pedestrian Bridge
Pay the small entry fee. Walk the pedestrian bridge. Explore the village.
The only way to enter and explore Civita di Bagnoregio is by paying the small entry fee and walking the pedestrian bridge.
There is a small entrance fee of 5€ per person to enter before the pedestrian bridge.
The tickets help keep count of the number of tourists that enter the city, and the money is used to help pay for the renovations.
The pedestrian bridge is about 1000 ft long. The bridge may look like a long and exhausting walk, but it wasn't too bad for someone who rarely works out. Go at a pace and admire the stunning views of Calanchi Valley; before you know it, you're at the entrance.
However, if you have mobility issues, it may be difficult for you to get around.
Please do not go there with the intent of snapping a picture from afar without giving it a chance. Why bother making an effort to go there and not explore it?
Tour Idea:
Civita di Bagnoregio 1.5-Hour Guided Walking Tour [book here]
Take in the Beauty of Calanchi Valley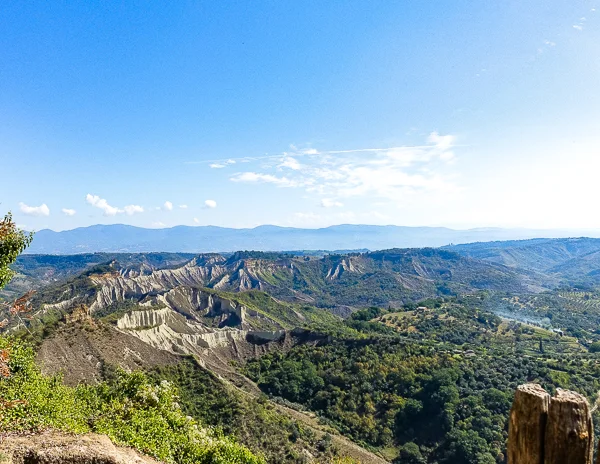 The Calanchi Valley is a picturesque sight to behold. The steep, sloping hills are covered in a thick layer of white marble dust, making the entire area look covered in snow. The contrast of the green trees and blue sky against the white landscape is beautiful.
The breathtaking views of Calanchi Valley around you will enthrall you. As you creep along taking pictures, before you know it, you'll be right at the entrance of the hilltop village.
Wear comfortable shoes.
Porta Santa Maria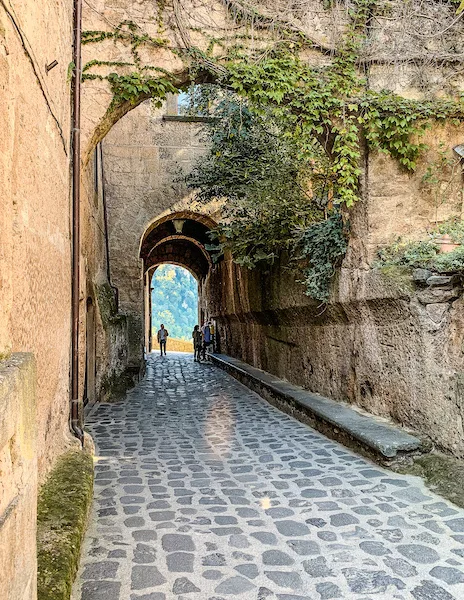 Porta Santa Maria is the gateway that marks the entrance to Civita di Bagnoregio. It's a beautiful, old stone gateway that's been around for centuries.
Main Square of Civita di Bagnoregio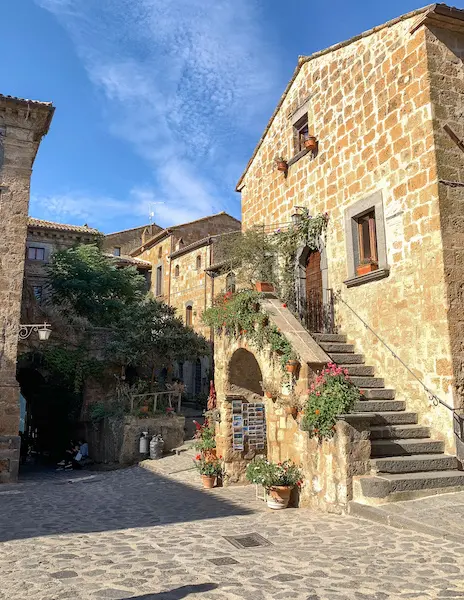 You'll see the main square before you as soon as you enter the gateway, Porta Santa Maria. It's a beautiful, quiet square surrounded by old stone buildings. A church in the square has a few small cafes and restaurants. It's a great place to relax and take in the beauty of the village.
You'll want to sit outside one of the cafes and absorb the square's charming details.
We found seats Bar La Piazzetta and ordered an espresso and cookies. We were lucky it was still early in the day and not crowded. I'm unsure if that's because it was a weekday in the fall.
Once we finished our espresso, we explored what this little town had to offer. Let me tell you, lots of charm and idyllic spots! We took photos and videos of everything.
As time passes and it gets later in the day, you'll see more and more people arriving. I read elsewhere that Rick Steve brings busloads of his tour groups during the summer, so keep that in mind. Getting there early may be the key.
San Donato Church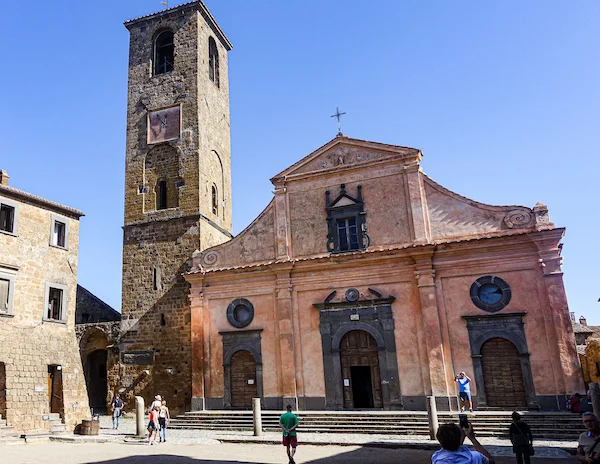 The San Donato Church is a beautiful, old stone church located in the main square of Civita di Bagnoregio. Old stone buildings surround the church and has a small courtyard in front of it. The original building dates back to the 7th century. The facade was rebuilt in the 1500s.
Tour an Etruscan Cave
During your exploration, you may come across a tour or two of Estrucan Caves.
We paid 2 € and toured an Etruscan cave where the Italian movie Pinnochio was filmed. There were plenty of props from the film. More interesting were the old artifacts of old weapons and tools. Underground was an ancient wine press and bedroom quarters.
Walk Around and Explore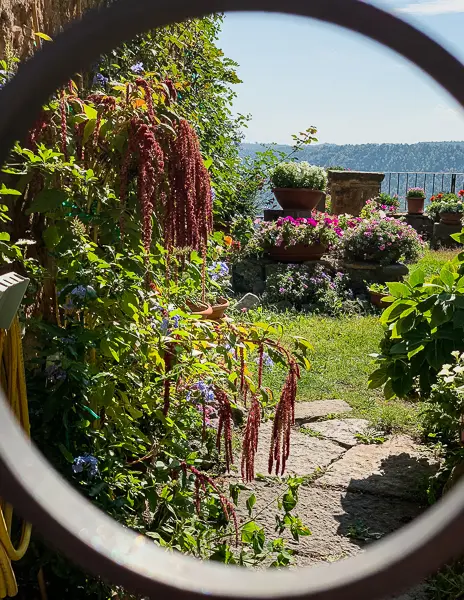 There are plenty of charming spots to explore in Civita di Bagnoregio. Be sure to wander the cobblestone streets, charming nooks, and corners. Go down all the walkways and peek at the canyons at the end of it.
You'll find idyllic gardens, homes, and old stone buildings.
Where to Eat in Civita di Bagnoregio?
To complete a beautiful day spent in Civita di Bagnoregio, look to have a sit-down meal. There are many restaurants; some may be closed because of the season and-or time of day.
During our day there, we had not researched any of the restaurants. The little I had skimmed through suggested reservations because the restaurants are crowded for lunch, but I think that is during the summer.
We found one restaurant with tables outside and patrons enjoying beautiful dishes for lunch, so we decided to see if they had a table available.
Lucky for us, they did.
Alma Civita Ristorante
During our two-week trip hopping between cities in Italy, Spain, and France, our meal at Alma Civita was one of our favorites. We still talk about it.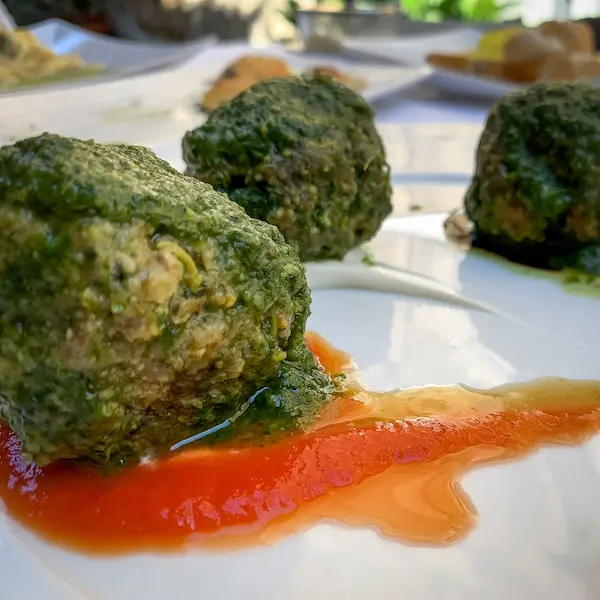 We still think about their freshly baked focaccia bread perfectly combined with a sprinkle of black salt.
The stacked eggplant parmesan was mouthwatering.
The Cacio e Pepe prepared with pasta made from scratch was a home run.
Even the little mushroom puff pastry they served as a welcome appetizer smelled amazing and melted in my mouth.
We tried the house meatballs, also a winning appetizer.
For dessert, they offered us a sampler medley of the desserts of the day. We were ready to try all of them, but we had no idea they would bring out a platter of normal-sized pieces. We were expecting sample sizes, but it reminded us that we were in Italy… so Mangia!
We couldn't eat them all, but we did our best. Our favorite was their tiramisu… so get that if it's on the menu.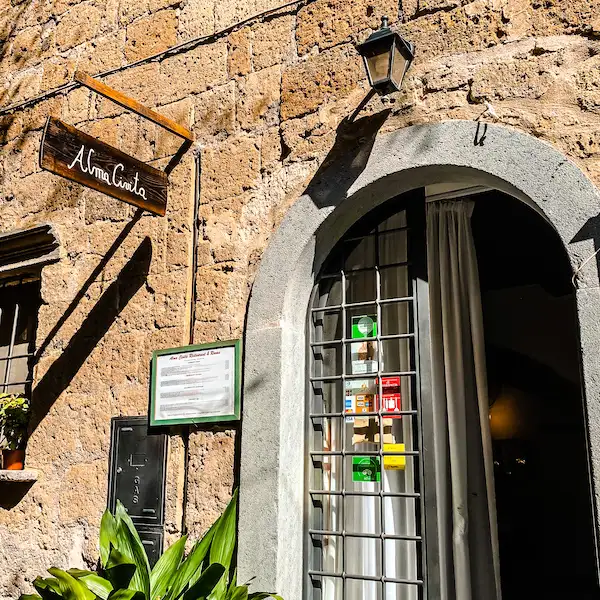 The service at Alma Civita was excellent. The family running it was kind and ready to feed us. there the next time I'm in town.
While we sat outside to enjoy the beauty of the afternoon, they had a beautiful indoor space with more tables.
If you plan to have lunch there, visit their website for more information, as they open at selected times during the year.
Looking for a place to stay in Civita di Bagnoregio? Alma Civita also has vacation rentals available: click here for more info.
Alma Civita | Via della Provvidenza, Via Madonna della Maestà | Google Map It
Italy will steal your heart with its delicious food and amazing cities. There are many reasons to visit this beautiful land, but we've narrowed down 10 of the most compelling ones for you!
Civita di Bagnoregio is a Great Day Trip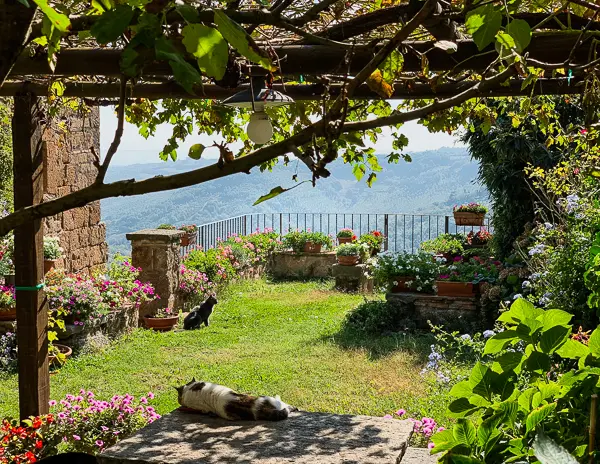 Civita di Bagnoregio is a delightful day trip and what we probably envision when we visit Italy. It will help you escape the chaos of long touristy lines and stuffy museums. It's an opportunity for a road trip! Or a pit stop on your Italian adventure.
You can return home with beautiful memories of a charming village you had to walk a 1000ft pedestrian bridge to see.
Plan an early visit. Explore. Have a nice lunch, or pick up a quick snack there. Help the locals continue to breathe new life into the town called "the dying city."
– Inspiring Quotes About Italy: Your Next Foodie Destination –
What do you think of this storybook village? Do you plan to add Civita di Bagnoregio it to your Italy itinerary?
Other Related Mediterranean Itinerary Articles:
Plan a Day Trip to Capri From Naples
Share the tips & love on Pinterest: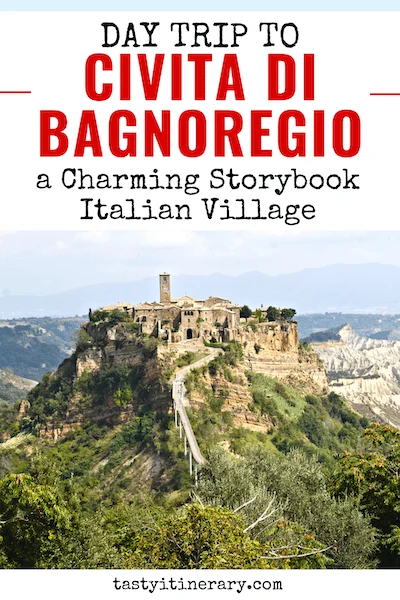 Meet Kathy Ava, a food, travel, and cruise writer based in Los Angeles/Pasadena, and the owner and main writer of Tasty Itinerary. With over 20 years of experience planning trips and logistics at her full-time job and for herself, she's become a pro at crafting unforgettable tasty itineraries. She's always on the hunt for delicious, fun travel destinations and cruise itineraries. She firmly believes that life is short and we must make the most of it, so always say yes to dessert.