What if I told you there is an idyllic Italian storybook village an hour and fifteen minutes from the port of Civitavecchia or 2 hours from Rome? Let me introduce you to Civita di Bagnoregio.
Civita Di Bagnoregio from Rome
And if you're reading this with the idea of taking a trip to Civita Di Bagnoregio from Rome, keep reading. Civita Di Bagnoregio is a great day trip from Rome. This village is not even a 2-hour drive. It is absolutely worth the drive. Cruising through the beautiful Italian countryside is only half the adventure.
Once you arrive at the final destination and see this Italian village perched on top of the hill surrounded by nothing but the Calanchi Valley, it will be love at first sight.
Disclosure: This post may contain affiliate links. If you decide to make a purchase from one of those links, we may get a commission at no extra cost to you. We appreciate your support.
For more Covid-19 information for Italy, click here.
Rome from Civitavecchia Cruise Port?
"We're going to Rome again!"
"No, technically the cruise ports in Civitavecchia, which is an hour outside of Rome."
"Oh. So, are we going to Rome then?"
"With the other 3,000 passengers from the ship? I don't think so."
That was the honest conversation hubby and I had after booking our Western Mediterranean cruise. We love Rome, Italy. In fact, I have a whole blog post dedicated to the must-see sites in Rome.
However, the thought of having to elbow my way through the city didn't sound like fun as I was looking to relax during the first few days of our trip. As it is, even without a cruise ship at port, the Eternal City seems to always be crowded. I didn't want my last wonderful trip to Rome to be erased by new tales of long lines and limited time.
We decided since we've already explored Rome in the past, we were going to rent a car or take a train to another nearby destination. It was the perfect opportunity to explore other parts of our favorite country.
During my research, I came across a photograph (familiar to the one below) of a town sitting on a hill with a pedestrian bridge that appeared straight out of a storybook. When I found out it was only an hour and a half drive from Civitavecchia, my heart did a happy dance.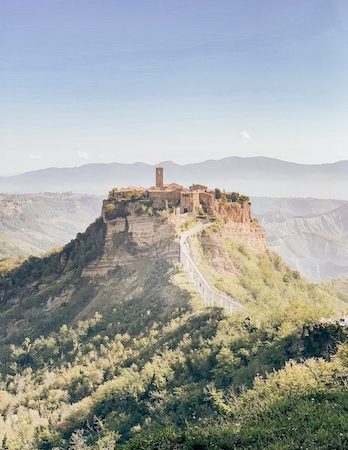 Rome Travel Tip
There is nothing wrong with visiting Rome if it is on your bucket list and a priority for you from the Civitavecchia cruise port.
If it is your first time, I highly recommend you go!

My only advice is that you don't try to do everything in one day. You know the old saying, Rome wasn't built in a day? So imaging trying to do it all in a span of 8 hours.
Choose a couple of sights and focus on them. Take any extra time to stroll through the streets of Rome. Have a nice authentic Italian lunch or an early dinner before returning to the cruise ship.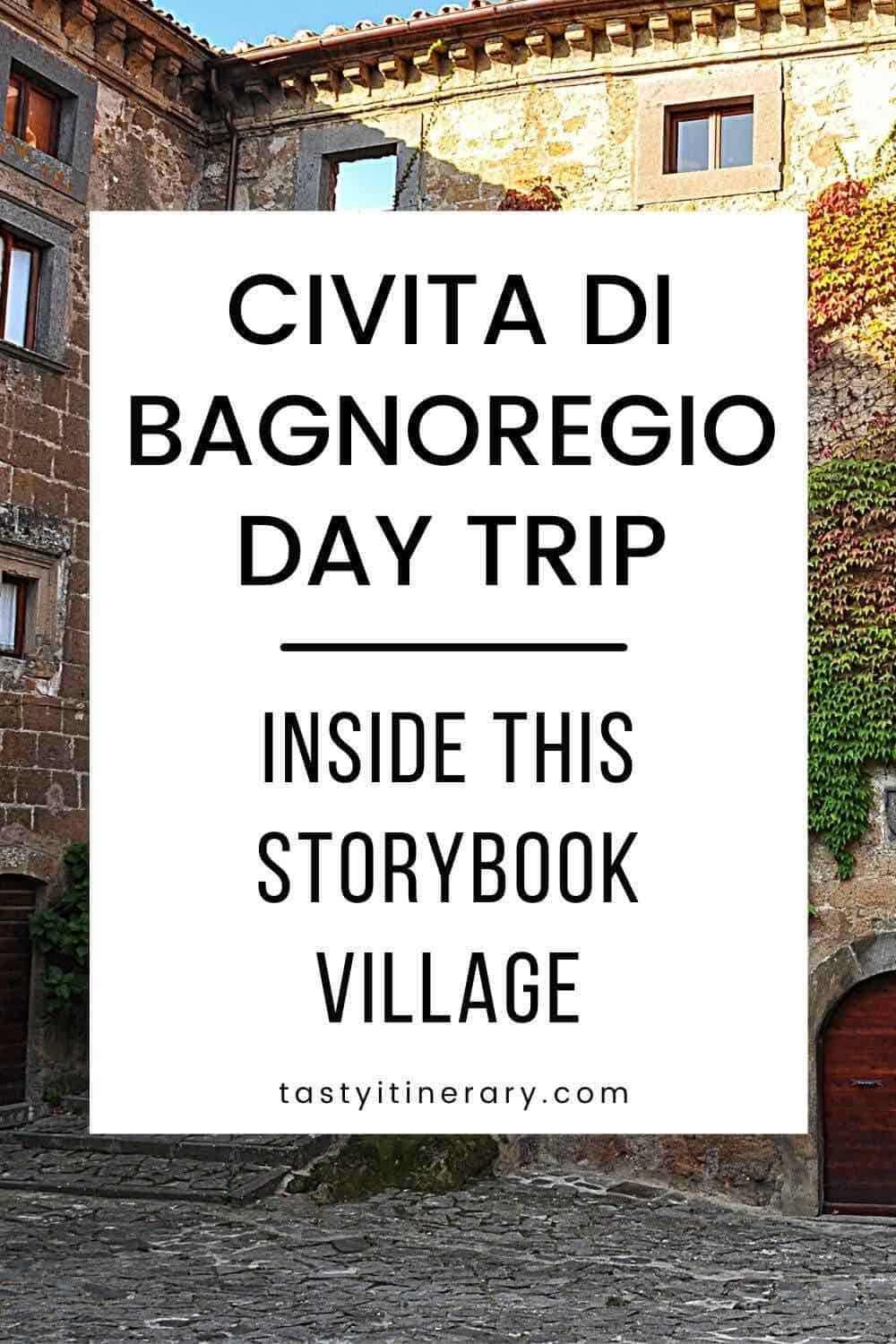 Civita Di Bagnoregio
The unique village of Civita Di Bagnoregio sits at the top of a hill and it's worthy of a storybook feature. It's quite a sight upon seeing it. A full view of this hilltop town will greet you when you enter via its neighboring town of Bagnoregio.
Moments prior we were frustrated with the parking meters, but once this beautiful town came into view, it was worth the headache. By the way, it would be handy to have some Euro coins on you for parking. If you do not have any change, there is a coffee bar in the courtyard.
The only access to the village is by a pedestrian bridge. So imagine the little to no noise pollution there is once you're there. Literally zero! It is so refreshing and peaceful.
It's unlike any other Italian town I have yet to visit. While we know the locals have been working hard to restoring it, it felt timeless. Untouched by time.
Here are some fun facts of Civita di Bagnoregio:
It was founded 2500 yrs ago by Etruscans.
The bridge was rebuilt in 1965. The original bridge was blown up during World War II.
Labeled a "dying city" due to less than a dozen residents and the eroded hilltop that will one day crumble

.
Inside Civita Di Bagnoregio
Walk the pedestrian bridge
The only way to enter and explore Civita di Bagnoregio is by paying the small entry free. I highly recommend paying it.
Pay the small entry fee. Walk the pedestrian bridge. Explore the village.
Do not go there with the intent of just snapping a picture from afar without giving it a chance. Why bother making the effort to go there and not explore it?
Depending on what time you start your day, this is probably worth a half days trip before you move on to another city. We chose to spend the majority of our time here before heading back to the cruise ship.
There is a small entrance fee of 5€ per person to enter before the pedestrian bridge. Not only do the tickets help keep count of the number of tourists that enter the city, but the money is used to help pay for the renovations.
Worth it.
How long is Civita di Bagnoregio?
From afar, the bridge looks like it may be a long and exhausting walk, but I'm here to tell you that it really isn't. Especially if you go at a pace, which you will. It's about 1000ft.
Calanchi Valley
You will be so enthralled with the breathtaking views of Calanchi Valley around you as you creep along taking pictures that before you know it, you'll be right at the entrance of the village.
Wear comfortable shoes.
Porta Santa Maria
As soon as you reach the top and enter via its gateway, Porta Santa Maria, you will wish that the walls could talk. Imagine all the history and stories it must hold from over 2500 yrs.
Main Square
Once we passed through the archway, we entered a beautiful courtyard of the Main Square of Civita di Bagnoregio. Here we found a cafe, ordered espresso, and cookies, where we sat outside to absorb it all in. The charming architecture is worth the time to sit for a while and absorb it all in.
We were lucky that it was still early in the day and not crowded. I'm not sure if that's because it was a fall weekday.
We did see more people entering the Main Square as we left later in the afternoon, so perhaps getting there early is key. I did read elsewhere that Rick Steve brings busloads of his tour groups during the summer, so keep that in mind.
We finished our espresso and decided to head out to see what this little town had to offer. Let me tell you, lots of charm and idyllic spots! We were taking photos and videos of everything.
Explore Capri, Italy in a Day
Visiting the Amalfi Coast? Hop on a ferry from Naples and spend the day on the island of Capri.
San Donato Church
The San Donato Church and the bell tower are ahead of the Main Square It's a simple quaint church. Out of respect, we did not take any photos of the inside. The original building dates back to the 7th century. The facade was rebuilt in the 1500s.
Tour an Etruscan Cave
We paid 2 € and we toured an Etruscan cave where the Italian movie Pinnochio was filmed. There were plenty of props from the film. More interesting were the old artifacts of old weapons and tools. Underground was an old wine press and a bedroom quarters.
Walk Around and Explore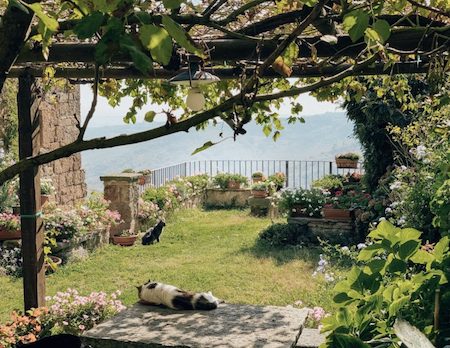 A local had a gorgeous garden you can tour for a small fee. We decided to skip that and keep exploring.
I highly suggest walking around town and making it down all the walkways as you'll be able to get views of the canyons at the end of it.
Tasty Itinerary: Where to Eat in Civita di Bagnoregio
It was the perfect day to have a sit-down lunch. I was dying to have an Italian feast.
There are many restaurants, some were closed because of the season and-or time of day. I had not done any research on any of the restaurants. The little I had skimmed through suggested reservations because the restaurants are crowded for lunch, but I think that is during the summer.
We came upon one restaurant with tables outside that were taken and after a quick look on Yelp to see the reviews, we decided to see if they had a table available. Lucky us, they did.
Alma Civita Ristorante
From my entire two week trip, the meal we had here in Alma Civita was one of my favorites.
I still think about their freshly baked focaccia bread perfectly combined with a sprinkle of black salt.
The stacked eggplant parmesan was mouthwatering.
The Cacio e Pepe prepared with pasta made from scratch was a home run.
Even the little mushroom puff pastry they served as a welcome appetizer not only smelled amazing, but it melted in my mouth.
We tried the house meatballs, also a winning appetizer.
Don't forget a glass of wine!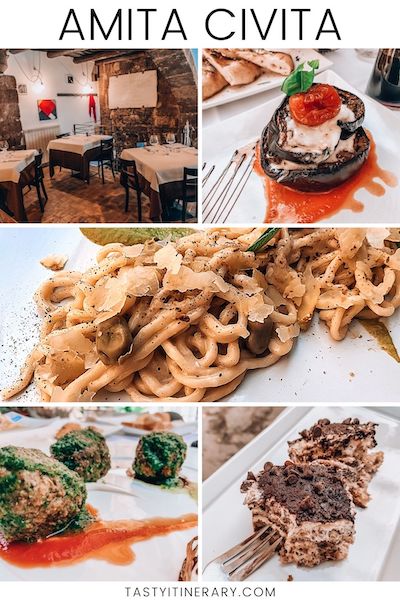 For dessert, they offered us a sampler medley of the desserts of the day. I was ready to try all of them, but I had no idea they were going to bring out a platter of normal-sized pieces. I was expecting sample sizes, but this is Italy.
Mangia!
We weren't able to eat them all but we did our best and my favorite was their tiramisu.
Not to be cocky, the tiramisu tasted close to the one I prepare that has taken me many years to perfect. Maybe I'll share the recipe with you all one day.
The service at Alma Civita was excellent. The family running it was kind and ready to feed us. I found out they also have vacation rentals that looked like they were recently remodeled and I would absolutely stay there the next time I'm in town.
While we sat outside to enjoy the beauty of the afternoon, they have a beautiful indoor restaurant that I would have never noticed if I had not gone to the restroom. On their Trip Advisor page, it looks like you can dine below in an old Etruscan cave. I'll have to check that out in the next visit.
If you plan to have lunch there, visit their website for more information as they seem to be open at selected times during the year.
A Quick Road Trip to Lucca, Italy
Read a car and take a quick road trip to Lucca, Italy from Livorno cruise port or from Florence. See what to do and where to get the best focaccia in the city.
How to get to Civita di Bagnoregio

?
Car Rental
Driving to Civita di Bagnoregio seems to be the easiest mode of transportation from Civitavecchia and the fastest. We rented a car from Avis near the cruise port; make sure to have reservations in advance.
From Civitavecchia Cruise Port: 1hr 15 min
From Rome: 2 hours
Take the Rail
From Civitavecchia Cruise Port: Unfortunately, there are NO DIRECT TRAINS from the cruise port to Civita di Bagnoregio.
From Rome to Civita di Bragnoregio is possible, but slightly more complicated. You will have to take the train to the city of Orvieto (2 hours). Then take the Contral bus from Orvieto to Civita di Baganoregio.
From Orvieto the Cotral bus runs from Mon-Sat to Civita di Bagnoregio; the bus stop is in front of the Orvieto train station.
Not driving? Consider one of these tours:
Private Tour: Civitavecchia to Civita di Bagnoregio [book here]
Umbria and the Etruscan Land Shore Excursion from Civitavecchia Port [book here]
Private Tour: Rome to Orvieto & Civita di Bagnoregio [book here]
Civita di Bagnoregio is a Great Day Trip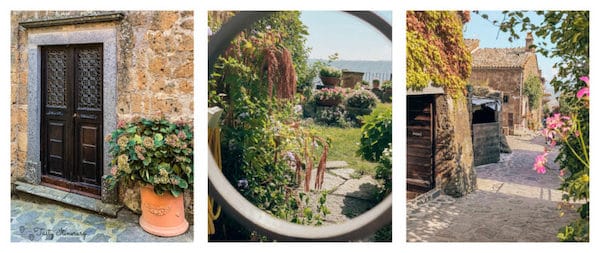 It's unique. It will take you away from the chaos of long touristy lines and stuffy museums. It's an opportunity for a road trip! You can return home with beautiful memories of a charming village that you had to walk a 1000ft pedestrian bridge to see.
Plan an early visit. Explore. Have a nice lunch or pick up a quick snack while you're there. Help the locals continue breathing in new life into the town called "the dying city".
What do you think of this storybook village? Will you visit when in Italy?
Would love to hear about all the other unique and beautiful villages and towns you've visited. Comment below!
Don't forget to share the love on Pinterest: