Planning a day trip to Capri, Italy? Perhaps a day from Naples to Capri? See how to get to Capri from Naples and what to do in Capri, Italy in a day.
Every time we return to Italy, I swear I feel like I am home and exactly where I belong. Sometimes I wonder if I have Italian roots. When I heard our cruise was docking in Naples, I knew I had to make the trip from Naples to Capri and spend the day.
I love Italy. I know I've said this before, but it's my favorite country.
Hubby's family is from Naples. So he has a deep connection with the country that his parents were born in. I am Puerto Rican and I'm pretty sure my ancestors are from Spain, and maybe, France. Italy? I'm not sure. Perhaps I'm Italian in my past life. Who knows?
One day, I'll do a DNA test for fun. At the end of the day, it won't matter. In my heart, I am part Italian. So returning to explore other parts of Italy during the first three stops of our cruise made my heart happy.
Disclosure: This post may contain affiliate links. If you decide to make a purchase from one of those links, we may get a commission at no extra cost to you. We appreciate your support.
For more Covid-19 restrictions and information for Italy, click here.
Day Trips from Naples
Naples, Italy is the first stop from our Western Mediterranean 7-day cruise on the Norwegian Epic. There was a slight resistance from me at first before we booked this cruise. I love Italy, but I was ready to explore new places, and the first three stops (Naples, Rome & Florence) we'd been to more than once.
I don't want to sound ungrateful, I understand that taking these trips is a blessing, but there are always other options. I prefer to do something new and exciting, which is why you have to think outside the box.
When you arrive at the planned cruise port, you are not obligated to stay at the port or go to the advertised city on the itinerary. There are options! Most of the time, you must leave the port-of-call to make other beautiful discoveries.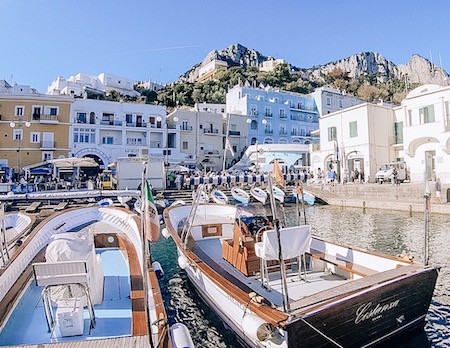 From the Naples port, you can explore…
Explore the Amalfi Coast [tour option with a local]
Take a guided tour of Pompeii and visit Mt Vesuvius [book here]
Have you heard of Procida or Ischia Island? Take a boat tour and explore. [book here]
We've done some exploring of the Amalfi Coast in the past. I was ready to return to Sorrento and Positano for the day. However, there was one unexplored destination nearby we hadn't made it to and it excited me: The island of Capri.
And as long as the weather stayed in our favor and-or the cruise line didn't decide to change the itinerary, we would spend a day in Capri, Italy.
I did research tour options. When we only have a short time to explore, sometimes it's easier to meet a guide.
After looking up the ferry location and the ferry schedule, I realized we can do this all on our own and stay within our allotted time to explore. Our cruise ship was docked in Naples from 7 AM to 7 PM (a full 12 hours) with a 6:30 PM all aboard time.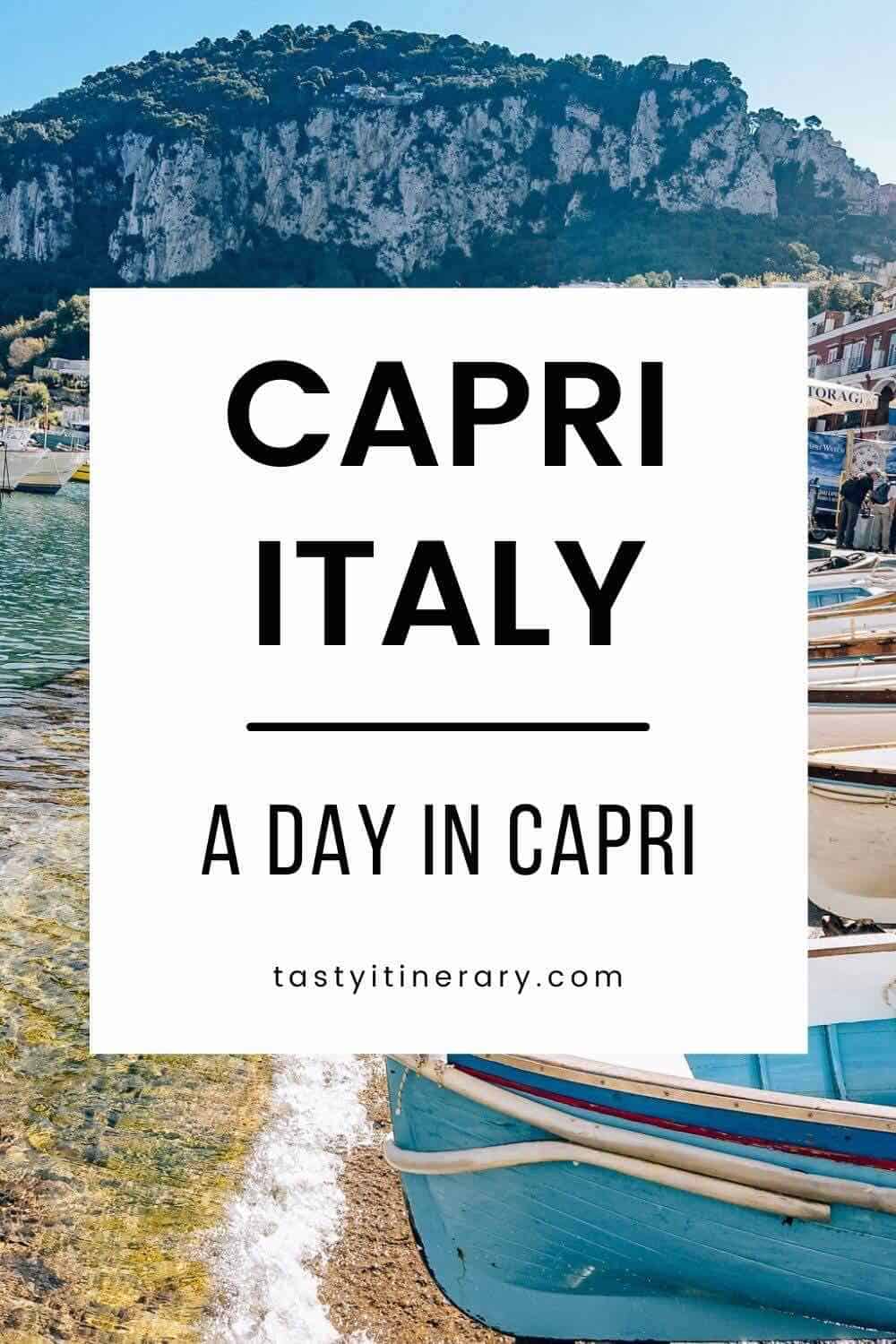 Naples to Capri, Italy
The only way to get from Naples to Capri is by boat. You either hire a private boat to take you there or you travel with everyone else on the ferry.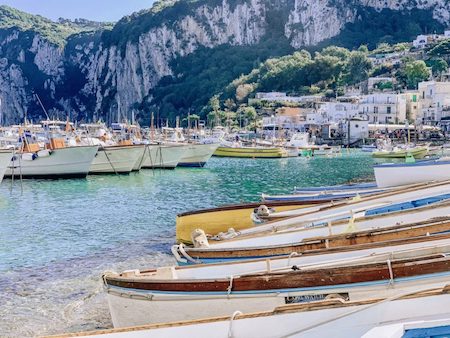 Ferry to Capri
It's easy to hop on a ferry from the Naples cruise port. The hydro ferry leaves Molo Beverello and it was located to the left of where the Norwegian cruise ship docked. Finding the ferry was a cinch, the ticket office was a little more complicated. If you decide to purchase your tickets at the dock, the ticket office is past the ferry dock and it will be facing the city of Naples, not the docks.
I'm telling you this because hubby and I went around looking for the ticket office only to be told to go around the corner like it's on the other side. Then be prepared to stand on line with impatient (but endearing) Italians trying to cut to the front of the line to depart on the same ferry. Thankful hubby is a partial-speaking Italian and was able to hold his own.
We made it onto the 8:05 AM ferry and arrived in Capri by 9 AM. We purchased our return at the same time for a 5:05 PM departure from Capri.
Spoiler alert! We made it back to the Naples port by 6 PM, with more than enough time left to make it back on board before 6:30 PM.
NAPLES TO CAPRI FERRY INFO
Departure from Molo Beverello
High-Speed Ferry
Travel time: 50 mins
Cost: 20 – 23 € per person, each way
Click Here for Ferry Schedule
You can purchase your roundtrip tickets online ahead of time. I believe there is an additional surcharge. The problem is if you're cruising and your ship arrives later than anticipated, I don't think you can return or exchange your online ticket. It is a small gamble, but you can save time that way if you're in a crunch.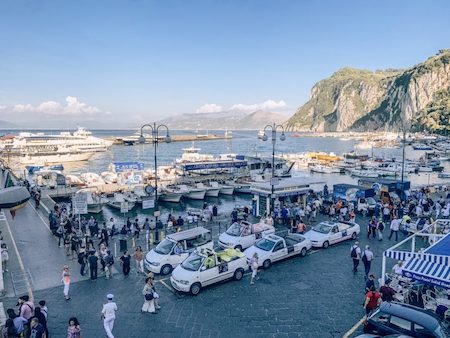 A Day in Capri, Italy
What to Do in Capri, Italy
Capri Island Boat Tour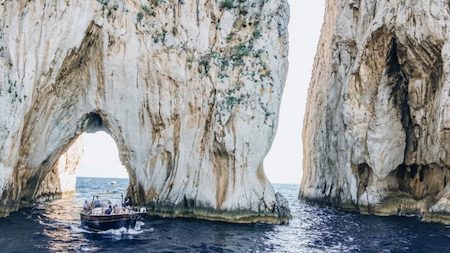 As soon as we got off the ferry at Marina Grande, we booked a boat tour of the island. Besides having some authentic Italian grub, I really was looking forward to this boat tour.
I know, I know, I was just on a cruise ship. What's so special about another sail? It's not the same. The cruise ship is gigantic and stays pretty far from the coast when it's cruising unless it's about to dock. At no point did it take us around the island of Capri.
Seeing this beautiful island from the water at a close distance is a completely different experience. Since I wasn't going to be around to see it at sunset, this is the next best thing.
Also, the Blue Grotto intrigued me. Who doesn't want to see glowing water?
Sadly, high tides made it impossible to enter the Blue Grotto. Be aware, the tour company you will most likely insist they aren't aware of its status. Maybe they are, maybe they aren't. Open or not, you may have to go for it, take the tour and find out when you arrive at the Blue Grotto.
What I was shown was a small hole because the entrance was covered by the high tide. The Blue Grotto is free, however, the boat service to get inside of this cave is an additional 10 € pp.
The island tour is separate. It can range from $18 and up on a shared boat. If you can swing a private boat ride, go for it.
The island tour was fun and I'm so happy we did it upon first arriving on the island. The sights of natural beauty around the island was something special to see.
Especially the Faraglioni Rocks [where we shared a kiss for another a lifetime of happiness when we sailed beneath the arch]

The Statue of the Scugnizzo greeted us and welcomed us from its spot

We passed by Tiberius' leap

Visited the point of entry of a few different grottos

Passed by the Punta Carena lighthouse

The sirens rock

And much more.
Combine the boat tour and some walking, you can see a great amount of Capri in a day.
For those of you reading this that are lucky enough to stay overnight, consider a sunset tour! You only live once! Report back.
A Quick Road Trip to Lucca, Italy
Is Livorno a port-of-call on your cruise to the Mediterranean? Rent a car or take the train and spend the day in Lucca. See what to do in the old city behind the ancient Renaissance walls.
Capri Town
In order to get to Capri Town, you have a few options.
We chose to take the funicular (cable car) to town. The ticket office can be found right at the pier. We were lucky and there wasn't a long line, so this was the best choice for us.
You can consider taking the bus, a taxi, or set out on foot, but I wouldn't recommend walking up to Capri because it is a long walk with lots of stairs, uphill.
Marina Grande Funicular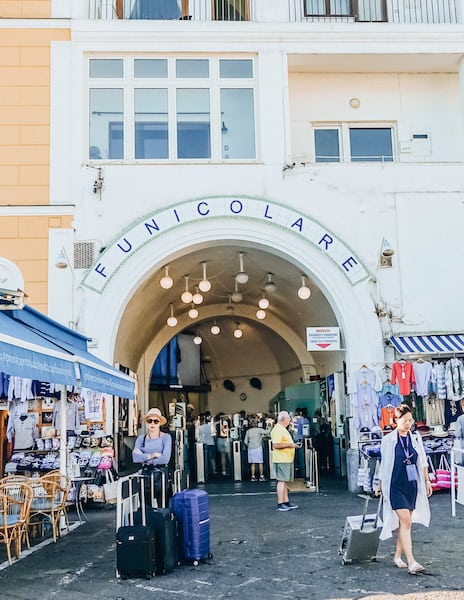 Marina Grande Funicular Info
Cost: 2 Euros pp
Travel time: 15 min
————————-
Learn More
We explored and walked Capri Town at the end of our day, before leaving to catch our ferry back to Naples. It's a cute town with tons of shops and the farther in you walk, you'll find a ton of high-end shops.
Just a little word of caution, unless you look like a VIP, you're probably going to get the "Pretty Women" treatment when you step inside one of the designer stores. Hubby stepped inside of Dolce & Gabbana and was told to not come in. It was quite shocking.
Big mistake. Big. Huge! – Pretty Women
Happy it happened at the end of our day! They have no idea who they are turning away at the door.
Explore Anacapri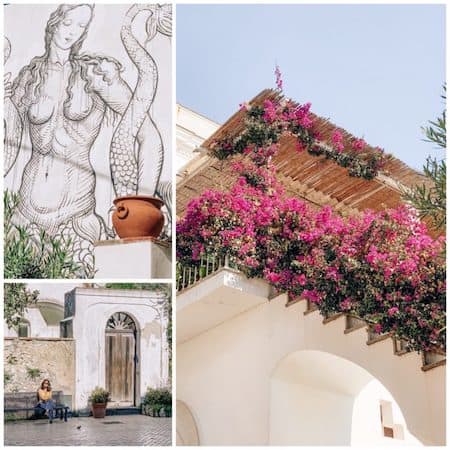 Another part of the island of Capri is the town of Anacapri. It is located on the slopes of Monte Solaro. It is said to be quieter and less touristy than Capri Town, but I can't attest to that because there were just as many tourists here.
To get to Anacapri, you can take a bus or a taxi. We jumped into one of their convertible taxicabs in Capri and paid about 20 euros. I had my heart set on the chairlift to Mount Solaro, so we had the cab driver drop us off at Piazza Vittoria.
After you're done with the chairlift, I recommend exploring this beautiful town. I fell in love with the cute alleyways, flowered walls, and gorgeous doors. Plenty of shops, cafes, and restaurants.
Take the Chairlift up to Monte Solaro
I had read something about the chairlift but hadn't really taken the "chair" part to heart. It literally is a one-person chair you quickly slide your behind into with a simple bar they swing over your lap to "secure" you into it, and then it lifts you up to the summit of Mount Solaro. Sort of like when you go skiing. Check out this snippet I posted on Instagram.
Thankfully, I'm not afraid of heights. The 10-minute ride up was peaceful and had a spectacular view. The views are even more incredible when you reach the top! So, don't be afraid of the chairlift! Get in that seat, enjoy the views up and get ready to see some amazing views! Cause the other option is a 2-hour hike. Eeek!
The Church of San Michele in Anacapri
My gratitude goes out to the wonderful cab driver from earlier that recommended we see this church. Being that St. Michael is hubby's patron saint, we had to see it upon our return from Mount Solaro. It is about a 5-minute walk from Piazza Vittoria.
We've seen plenty of churches during our travels, but this small church built in 1719 is a must-see, in my humble opinion. The inside is unique in its octagonal shape and the hand-painted floor showcases the biblical story of the expulsion of Adam and Eve from the Garden of Eden that dates back to 1761.
To preserve the floor's painting, you are not allowed to walk on the floor. Instead, use the wooden walkway built along the edges of the floor. Make sure to look up and around as they're many beautiful details that make this church special. Climb up the spiral staircase and take in the full view of the art from above.
A Day in the Storybook Village: Civita Di Bagnoregio
Rent a car and take a quick road trip to a once dying Italian village: Civita Di Bagnoregio. This is a great day trip from Rome or the port of Civitavecchia on cruise day.
Tasty Itinerary
This is my favorite part of every blog post. Sometimes during these one-day trips, we decide to have a sit-down meal. Other times, we grab quick snacks as we go and try several items that may fancy us. This day, it was kind of grab-and-go.
Gusto Caprese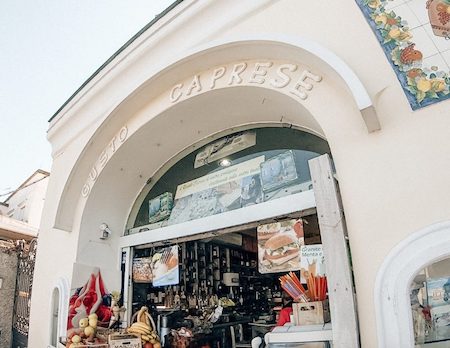 When we first arrived in Capri Town, Hubby and I were starving. The big breakfast we had on the cruise ship was no longer holding us up. We needed fuel! We ended up finding this cute deli/cafe with an Italian mama standing outside drawing us in with her freshly baked goods.
When mama is standing outside waving you in with yummy Italian goods, you don't ignore her. When the wonderful aroma pulls you under a spell, you follow that delicious goodness. When your mouth starts to water at the sight of it all, you decide you're having one of everything!
Okay, maybe not one of everything as we didn't even get to try these baked goods, but what we had was delicious!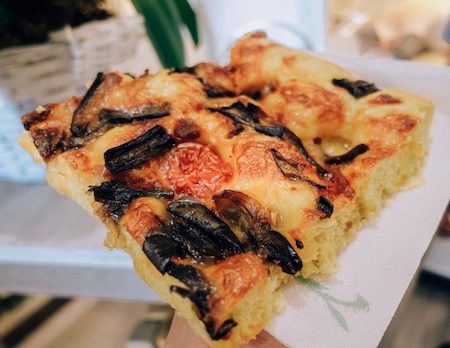 Pizza, guys! PIZZA! The pizza was fresh out of the oven! You know, I had to have a slice. It wasn't your usual pizza pie, it was more like a Sicilian but not really.
The dough was freaking delicious! I think it had cornmeal in it. It was topped with roasted mushrooms, onions, and some sort of Italian meat. I didn't care. It was perfect!
I'm not a pizza fanatic. I rarely want to eat pizza back home, but pizza in Italy is a must!
Hubby loves a good Italian sandwich. That's all he wanted from the moment we booked our trip and that's exactly what he got (many times throughout our trip). They had fresh bread and hand-sliced Italian prosciutto and cheese. He was in heaven.
So mama handled the front while her daughter (the chef) was behind the counter in her small kitchen, preparing food.
We found out after that the chef specializes in ravioli. If I had more time and more room in my stomach, I would have totally returned to try some. If any of you decide to stop by and end up trying it, let me know what you think.
Limoncello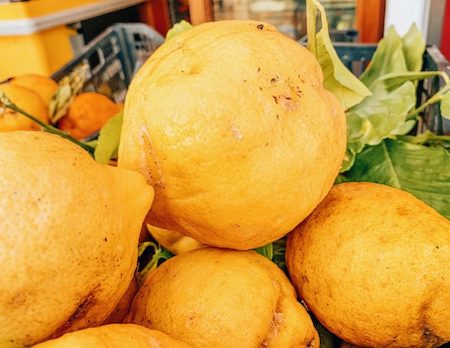 When I think of Capri, fat lemons the size of my head come to mind, and it's exactly what we found outside some of the markets. From those juicy lemons, you can prepare a vat of limoncello. It's basically alcoholic lemonade, but way better.
Limoncello is sold everywhere. I mean, everywhere! I recently found out from The Uncorked Librarian that the ferry has a bar, and they serve limoncello to help with your motion sickness (I'll let her tell you that story). The limoncello is an additional cost, of course. Nothing is really free in life.
So if you do not start sampling the limoncello on the ferry, stop at a bar or cafe on the island to have a taste or pick up your own bottle at one of the many shops. You can't miss limoncello.
Granita
This is basically a lemon slushy made from the beautiful lemons grown on Capri, Island. Absolutely refreshing on a hot day.
Leaving Capri, Italy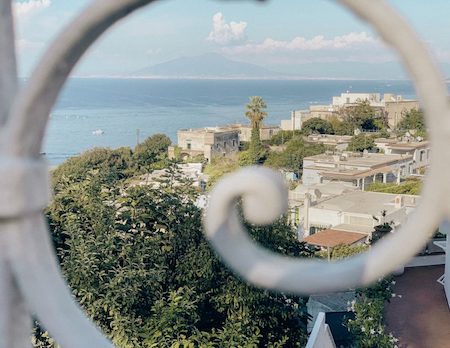 We enjoyed our time in Anacapri and wish we had spent more of our time there than in Capri town. Afraid we weren't going to get o our ferry on time, we decided to leave Anacapri. While standing in line for a taxi, we met another couple also heading back to Capri, so we decided to split a cab ride. It's always nice to meet new people!
Since we had some time, we walked around Capri. This is when we had our "Pretty Women" moment. After that, we decided to just head back to Marina Grande to wait for our ferry.
We hadn't purchased a return ticket for the tram, so we decided to just walk down to Marina Grande. We had the time.
If you decided to do this, give yourself at least 30 minutes to head down on foot. There are a lot of stairs and at times you'll have to trek downhill on the side of the street. The upside to this is you'll see another part of this island with beautiful residences and views of the marina.
We also came across a supermarket, where I ran in and purchased a few pounds of espresso. If you love Italian coffee, consider buying some at a local market.
Tasty Itinerary Tip: Don't be afraid to wander into local supermarkets. Take a look at all the local goodies.
Is a day trip from Naples to Capri worth it?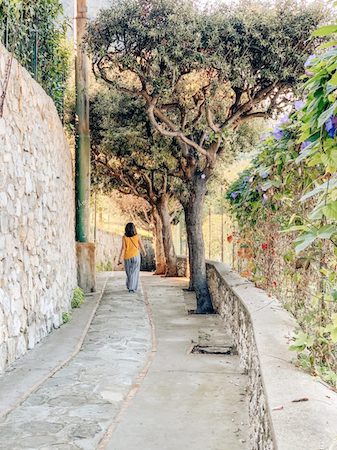 Yes!
It was a successful day in Capri. With only 8 hours, I believe we rocked it. We got lucky and had a beautiful day in October. The only thing I would change is less time in Capri town and that's only because of the snooty vibe we encountered towards the end of the day.
Capri is a gorgeous island with many nooks and corners to take plenty of pictures in or to enjoy a bottle of limoncello. In my opinion, a day trip is more than enough to quench your curiosity.
Will we return? Perhaps someday in the future. For now, we have scratched the Island of Capri off of our bucket list.
What do you think about spending a day in Capri, Italy? Would you get on a ferry from Naples?
Don't forget to share the love on Pinterest: