Searching high and low for foodie gifts that will bring joy to your loved one's stomach? These foodie gift ideas will inspire you.
Disclosure: This page contains affiliate links, which means we earn a commission if you use those links. There is absolutely no extra cost to you. We appreciate your support! It helps us keep this blog running. You can read our disclosure here.
---
Any foodie lover will agree that some of the best gifts are the ones that either delight their tastebuds or assist them in creating something scrumptious.
I say this as a foodie that literally goes nuts every time I'm gifted something food-related. My sister-in-law gifted me truffles on my last birthday and I pretty much ate them in one sitting. True story. Don't judge.
The key to a foodie's heart is their stomach.
With Christmas around the corner and birthdays coming up all year round, I've compiled a list of many of my favorites gifts for foodie lovers.
Fun and Delicious Foodie Gifts
Food Presents
1. Chocolates
Always a home run with chocolates. It's go-to gift that you can never go wrong with.
You can splurge on a box of chocolates from Godiva or find something more fitting for the wallet like Sees Candies.
If there are any local small chocolate shops in your area, I suggest stopping in and seeing what they have available. Definitely taste test a few while you're there. 😉
2. Chocolate Covered Fruit
One of my all-time favorites gifts is a fruit basket or chocolate-covered fruit from Edible Arrangements. I've received several throughout the years and they never disappoint. The fruit is always fresh, sweet and the chocolate covered ones are always a plus. They are great for sharing.
3. Cheese Selection
A well put together cheese basket, especially during the holiday season is a great gift.
At the office, we like to send a few clients a collection of cheese boxes from Cowgirl Creamery and we always receive positive feedback. Sometimes I call local gourmet cheese shops in different cities. I have them prepare specialty gift boxes to be delivered and pair with specialty wines and other treats.
Harry & David have a great selection of meat & cheese charcuterie boards you can have delivered. Who doesn't love a charcuterie board?
4. Popcorn
Gourmet popcorn is great for families to share. Porpcornopolis has a variety of different flavors and for every occasion.
Foodie Gifts: Subscriptions & Gifts Cards
5. Butcher Box
If your foodie is a carnivore, they will appreciate a gift box or subscription from Butcher Box. They deliver 100% quality, organic meats, chicken, and fish. With just one box, you'll be saving them money on groceries.
As a huge fan and subscriber of Butcher Box, I highly recommend it. We look forward to our box every month.
6. Cratejoy
Cratejoy has a variety of snack, beverage or food subscription boxes that any foodie will love. Sign up for one month or two, cancel at anytime.
7. Favorite Restaurant GC
Think of their favorite establishments or any of the places they've been wanting to try.
Gift certificates sometimes can be impersonal, but they don't have to be. This kind of gift means that you gave it thought and you were paying attention.
Gift Idea
Pair the gift certificate with their favorite bottle of wine or champagne. Maybe they can bring the bottle with them to the restaurant, as long as the restaurants allow it.
$15 Off Your First Box of ButcherBox
8. Goldbelly
Foodies normally love to eat out and try all the best restaurants. A gift from Goldbelly will allow them to try dishes from some of the most popular foodie spots from around the US.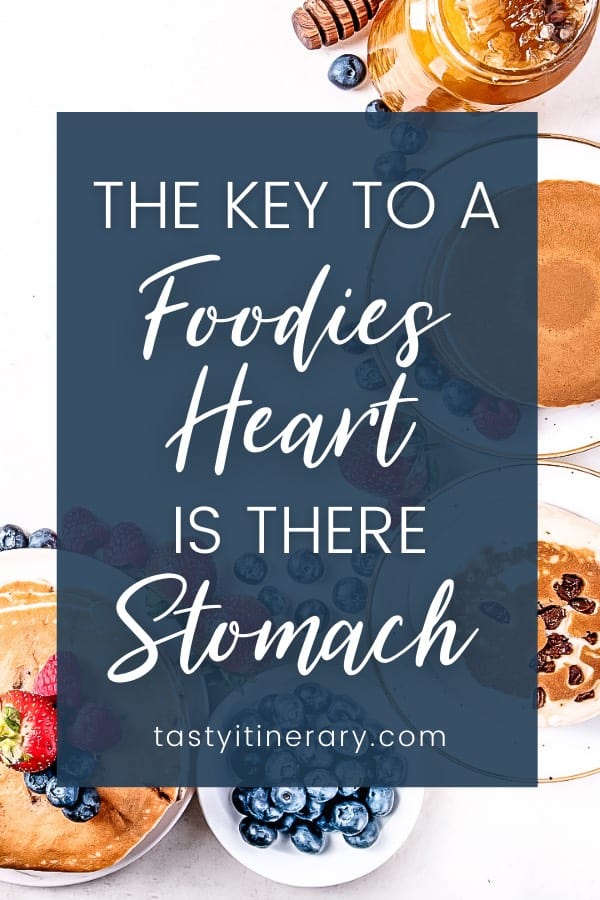 COOKING & KITCHEN FOODIE GIFT IDEAS
9. Cookbooks
no products
A cookbook is a thoughtful gift for foodies or anyone that enjoys cooking. Present them with a cookbook with recipes of their favorite cuisine or perhaps, something that helps them prepare quick meals.
It's also a budget-friendly. For under $20, you can gift someone a gift that they'll use repeatedly for years to come.
10. InstantPot
An InstantPot is the kitchen appliance everyone should have in their kitchen. I have gifted this appliance and still get unsolicited appreciation about how much it has changed this person's life.
Yes, it's that amazing. It helps save time in the kitchen and helps prepare fantastic meals. During the fall and winter, its the best appliance to prepare cozy soups, chili, and stews.
If you're foodie doesn't have one, I'm 99% sure they have their eye on one.
---
30+ Gifts for Coffee Lovers
Read More
---
11. Air Fryer
An air fryer is another fantastic kitchen appliance that recently has become popular. You can make everything from fries to a roast in one (depending on how big it is). Everything comes out delicious, crispy, and healthier than an actual fryer.
Personally, I own the Skinnytaste Airfryer by Vremi that has served me well, but I have my eye on this Airfryer Oven next.
12. KitchenAid Mixer
A kitchen aid mixer is dream appliance for foodies that love to bake. They will be able to whip cream in matter of seconds. Mix dough without having to
The best part of a KitchenAid mixer is that there are attachments they can buy down the line that makes this appliance versatile. Like, a pasta maker.
13. Personalized Pizza Board
A personalized pizza board is a great addition to any kitchen. Not only does it look cool against a backsplash, but you'll also be inspiring any foodie to start making their own pizza if they haven't already.
Gift Idea
Pair the pizza board with a pizza cutter, a pizza dough kit, and some pizza sauce.
14. Pasta Maker
Fresh pasta is the best! Who doesn't love Italian cuisine?
A pasta maker is one of those gifts most people don't usually think of buying for themselves. Once they are gifted with one, the idea of making sounds like a fun and doable. It will quickly become a Sunday favorite activity.
15. Fondue
Cheese, chocolate, and lots of memories will be created with this fondue set. It's fun, classic, and always a yummy time.
16. Le Creuset Cookware
If you're looking to impress a foodie that loves to cook, a gift of Le Creuset will have them swooning. From the skillet to the dutch oven, there is no wrong choice. This is cookware that should last a lifetime.
---
Everything Cozy & Warm Gifts
Read More
---
Foodie Couple Gift Ideas
17. Cooking Classes
A cooking class is a great activity that involves food. If you're looking for a gift for a couple that shares a love for food, this is an option that will provide a fun time with delicious food, and perhaps they'll even make new friends.
18. Food Tour
There isn't a foodie I know that doesn't love a great food tour. Check-in their local neighborhood and nearest city for food tours near them. Perhaps plan and surprise them with a foodie walking tour. You'll never know what you'll discover.
Fun Presents For Foodies
19. Cheese List T-Shirt
no products
Cheddar, swiss, gouda, parmesan, goat, and pecorino listed on a t-shirt. Wonder if it's in order of favorites? The designer read my cheese-loving mind.
20. #Foodie T-Shirt
Need I say more? Great foodie t-shirt for the Instagrammar that is snapping a shot of every plate they are about to eat and posting it on social media.
21. Sushi Socks
These cute socks and colorful socks come in sushi sock box. A fun foodie gift for foodies that can't get enough of sushi.
22. Cereal Scented Candles
no products
Cereal lovers will find this homemade cereal candle not only adorable, but they will love the aroma of fruit loops.
23. Scratch-off Foodie Travel Map
no products
Travel foodie lovers will love this map. They'll return from their US travels and scratch off everything they ate as they explore each state at a time.
24. Foodie Trivia Game
The trivia game for serious food lovers. Gather your friends for game night, homemade pizza and fondue.
25. Foodie Book List
Here is a yummy challenge! 1,000 Foods to Eat Before You Die is a book that lists the world's best foods that we should all try once in our life.
It will also be fun to go through the foodie list and checkoff the things that's already been tried.
26. Socks with Funny Sayings
Who doesn't want socks that say, "if you can read this bring me tacos"? There are chocolate, sushi, popcorn, and other options.
27. Foodie Mug
no products
A mug with the definition of foodie on it for their morning coffee, tea, or hot chocolate. Definitely perfect for a mug cake.
28. NYC Food Pyramid
This cool art print is for foodie lovers from New York City or anyone that has loved their foodie tour of the Big Apple.
As a former New Yorker, this modern print is one I would absolutely frame and put up on my wall.
29. Avocado & Donut Earring Set
no products
Are avocados and donuts a favorite snack? This cute set of avocado and donut studs are too adorable to pass up.
30. Foodie Dice
no products
Just roll the dice.
Ever have that issue that you just don't know what to have for dinner? These foodie dices help you not only make up your mind but give you the inspiration you're looking for. Roll the dice and you'll have a winning dinner combination in no time.
It's a fun little game that kids can help with, too.
31. Gingerbread House Kit
A gingerbread house kit is an enjoyable activity you can give your foodie friends and family as a Christmas gift. They'll have a great time putting it together and then eating it.
---
Hope these foodie gifts helped inspire you for the upcoming holiday season.
What will you be gifting the foodie in your life? Is there anything from this list you'd love for yourself?
---
Don't forget to share the love on Pinterest: