Find the perfect gifts for coffee lovers. You can never gift them too much caffeine.
Looking for coffee related gifts for the coffee lovers in your life? Or perhaps, you're a coffee lover, and you want to treat yourself?
You found the right place to find the perfect gifts for coffee lovers. Step into our coffee lover's meeting, where we talk about the vice we can't live without.
I'm Kathy, and I love lattes. What's your fix?
Like clockwork, we get up every morning, and the first thing we do is prepare coffee. Do you do the same?
We are fans of our french press, our Nespresso, and Keurig. Although, every now and then, we pull out the Moka pot to make café con leche or have a shot of espresso for the day.
One of us is Italian. The other is Puertorican. We love our coffee.
When that nutty, robust aroma hits our nostrils, it's the beginning of a beautiful day. I swear a slight We can't wait for that first taste of morning gold and sunshine.
The day isn't right without a good cup of joe. Am I right?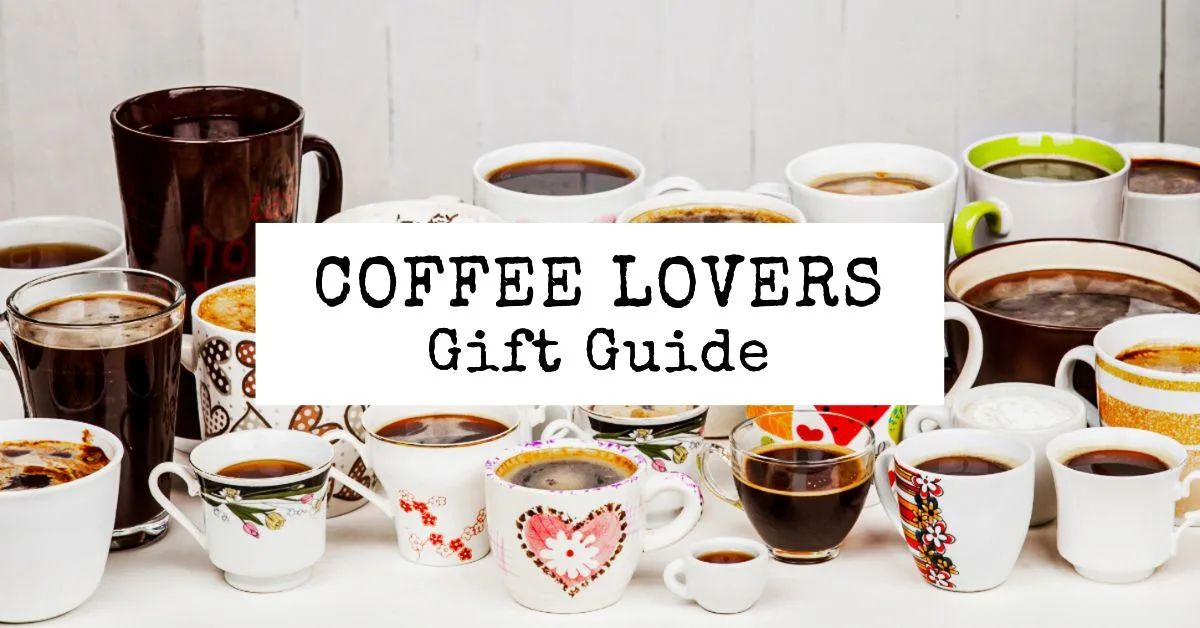 This post may contain affiliate links, which means we'll receive a commission if you purchase through our links at no extra cost to you. Please read full disclosure for more information. We appreciate your support!
You have all sorts of coffee lovers.
Some will drink coffee at various times of day, and it doesn't matter what kind; make sure it has caffeine.
Others like a light roast over a dark roast.
Few are purists, it's simple black coffee. No cream or sugar.
We also have the coffee snobs (no offense – we are all snobs about something) that are particular about how it should be prepared. Chemistry sets in their kitchens, and they will actually pay $15 for a cup at a fancy boutique coffee shop.
To each their own. Whatever makes you happy.
This is why this list of gifts for coffee lovers will cover an array of coffee-related gifts and coffee gift ideas. From budget-friendly to the luxury items your coffee lover is pining for and will love.
There is no tasty itinerary without a good cup of coffee.
Gifts for Coffee Lovers
Coffee and Espresso Makers
Let's get right to what makes the magic happen. In this day and age, without coffee makers, where would we be?
Coffee makers are already part of a coffee lover's daily life. BUT coffee lovers will accept upgrades and additional forms of coffee prep.
Here are some coffee gift ideas in the form of coffee and expresso makers.
1. Moka Pot
You can never go wrong with an old-school Moka Pot. You just can't. For me, it's the holy grail of espresso makers because it goes back to abuela making espresso. As long as you are brewing quality espresso, you will always have a robust flavorful brew.
Drink it on its own. Bless it with baileys. Prepare it with steam milk for some cafe con leche.
In my humble opinion, my Bialetti is the best espresso maker. That's outside of my Abuela boiling coffee in a pot and then straining it through a coffee sock – so OG.
The best part of a Bialetti is that it's a great budget gift and thoughtful for the espresso lover in your life.
Pair it with their favorite espresso beans.
2. Bunn Heat & Brew Programmable Coffee Maker
Make your coffee lover's dream come true with a Bunn coffee maker. This is the same brand you'll find at diners and cafes. There is a reason the restaurant business relies on the Bunn brand.
It makes 10 cups of coffee in 3 minutes!
Caffeine addicts can appreciate speed when they need their fix.
2. French Press Coffee Maker
The French press is a timeless favorite amongst coffee lovers. A single-serve, small-footprint machine that makes up to six cups of rich and bold-tasting joe in just five minutes!
3. Ninja Dual Pro System
Imagine waking up in your own personal coffee shop. The Ninja Dual Pro is a dual system that takes grounds and Keurig Pods.
They can choose from 4 brew styles; including iced beverage-coffee over ice cubes–what do ya say? And it comes with a frother!
Save this coffee gift guide now, share it with friends or come back to it later.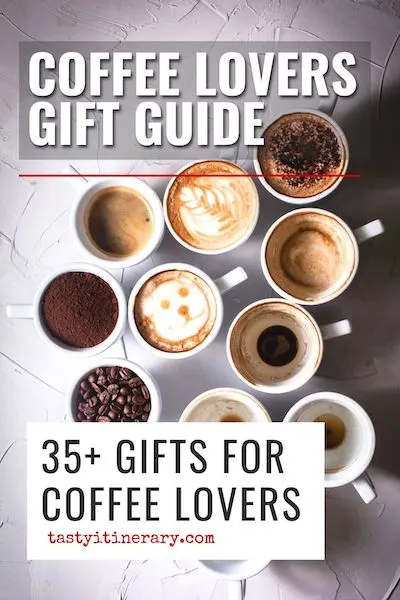 4. Breville Barista Espress
Looking to spoil the espresso-loving person in your life? The Breville Barista Espresso machine will do it. It less than a minute, it will ground beans and then brew it into the liquid gold, espresso.
Not going to lie, we have our eyes on this one for a long time. We are just lacking counter space. One day own a Breville Espresso machine – just putting it out there into the universe.
Are you looking for cozy gifts for yourself or someone special? Check out our everything cozy gift guide for some of the best warm gifts.
6. Cold Brew Coffee Maker
For the iced coffee lover in your life, this is a great gift. Also, budget-friendly and simple.
We have this pitcher at home and it's one of our favorite coffee makers. It's easy to use and it makes amazing cold brew.
The best part: it has a lifetime warranty! If you have a problem with it, contact Bean Envy and they will send you a new one. We speak from experience as we had a weird leak and contacted Bean Envy, they were responsive and quick to resolve my problem.
Highly recommend!
7. aeroPress coffee maker
Love a French Press coffee, but don't need a whole press worth of coffee? The AeroPress coffee maker is the perfect tool to quickly make that rich and smooth cup of coffee without sacrificing taste and quality.
Push a Button, Quick, and Easy Coffee
Pop a pod into a machine, push a button, and voila, coffee!
Magical, isn't it?
We think so. We can't live without our Keurig and Nespresso machines, especially on busy mornings.
The best part of these machines is that they save time. Coffee in an instant. Coffee lovers can make a cup on their way out the door to work without stopping at Starbucks, which is another way to save money.
What's your favorite quick and easy coffee machine?
8. Keurig
Keurig machines are a great way to get your coffee fix. Not only do they take up little space, but with the variety of flavors and options available you're bound find one that suits whatever mood or taste preferences YOU have!
Factor in counter space, style, water capacity, and if the machine will accept reusable pods.
9. Nespresso
The Nespresso is an espresso and latte machine that will provide you with the perfect drink in less than thirty seconds. There are two types of Nespresso machines: Original and Vertuo. They came in different sizes and some more luxurious than others.
If you have a pure espresso lover, you'll want to choose an Original Nespresso machine.
If they love espresso and coffee, or will take anything with caffeine, then a Vertuo Nespresso Machine. The Vertuo Nespresso machine will do coffee and espresso pods.
We LOVE our Nespresso maker and use it daily. It's a fantastic gift for coffee lovers.
10. SPINN Coffee Maker
Recently, the SPINN coffee maker was introduced to me by a good friend. This modern and nifty automatic coffee maker has made its way to the top of our wish list.
With just a push of a button from your phone, coffee is ground and brewed for your espresso, coffee, latte… whatever your caffeine of choice is, it does.
The best part of it is that it uses NO PODS. You can use your favorite coffee beans with this magical machine.
Yes, it's a little on the extravagant side of gifts. So save this for yourself or someone you really want to spoil and impress.
Coffee Making Gadgets
The possibilities for gadgets are endless, and it's hard to go wrong with coffee related gifts.
From grinders that will give you exactly what type of brews your heart desires all the way up through frothers that will help prepare that silky frothy milk for your lattes.
11. Handheld Electric Mixer
Add some fun to the coffee lovers morning with the latest budget-friendly gift! This handheld electric mixer will allow you to make delicious drinks like dalgona coffee, whipped cream-styled lattes, and Greek frappes.
Coffee Gift Set: Greek Frappe Basket
Frappe Hand Mixer, Nescafe Instant Coffee, and Glass tumbler

Print out a little card with a Frappe recipe to include with your basket.
12. Electric Milk Warmer & Frother
The perfect latte or cappuccino is just a few minutes away with our Electric Milk Warmer and Frother!
For those of us that love a latte, you can't go wrong with this coffee lovers gift. It's great to use with milk and any milk alternatives.
Gifts for Coffee Enthusiasts
13. Chemex Pour Over Carafe
This carafe will make you feel like you're in science class working on a science experiment. But it is one of the most basic ways to make a cuppa without pulling out a techie gadget.
We have not tried it, but the Chemex pour-over carafe is beloved by many coffee snobs and addicts near and dear to me.
You'll need ground, paper filters, and a hot water kettle to achieve liquid gold.
14. A Coffee Grinder
A coffee grinder is a must for anyone that takes their coffee beans seriously.
Don't know how many times we've purchased whole-roasted coffee beans in the past and forgotten that we did not own a coffee grinder.
The Cuisineart Coffee Grinder above is a great gift for coffee lovers and their coffee bar.
15. Coffee Bean Roaster
Gift them a coffee bean roaster. It can be a fun and unique hobby to start at home. The joy from
Gift Idea: Roast Your Own Coffee
Pair the coffee bean roaster with the Coffee Roaster's Handbook and raw coffee beans.
16. Coffee Bean Box Subscription
When all else fails, a coffee bean box subscription is a great gift for any coffee snob and lover. There are more than a few to choose from online.
If you find yourself wondering what kind of coffee to order someone, first look for at least single-origin coffee.
Searching for foodie gifts that will bring joy to the food lovers in your life? From a foodie, here is a list of fun and delicious list gift ideas for foodies.
Coffee Gift Idea: Cofee Related T-shirts
The best part of the day for coffee lovers day is the coffee. It's a delicious pick-me-up that can make even the most frustrating morning feel slightly better.
And what would make this come full circle? A coffee t-shirt that makes them laugh or others around them smile or relate to their coffee addiction.
A t-shirt is the perfect small gift for any coffee lover. It's affordable, practical, and will make them smile. So next time you're looking for a small gift, don't forget the coffee t-shirt.
17. For the Iced Coffee Addict
If you know someone who loves iced coffee, no matter the season, this t-shirt will be perfect for them!
18. Funny Coffee T-Shirts
Cool Coffee Gift Ideas: Coffee Home Decor
19. Caffeine Molecule Metal Wall Decor
Slightly nerdy and super modern, this caffeine molecule metal wall art is perfect in the kitchen, dining room, and on the wall over a coffee nook or cart.
20. Coffee Bar Signs & Decor
There's no doubt that coffee lovers know how to decorate a kitchen or coffee bar. But for those who want to add a little extra, these signs and decor items are the perfect way to do it.
21. Coffee Menu Sign
Looking for the perfect coffee gift? Why not try a coffee menu sign or print? This fun item is perfect for any coffee lover. It's a great way to display favorite coffee drinks and makes a great conversation starter, so you can show off your coffee knowledge.
Unique Coffee Related Gifts: Jewelry for Coffee Lovers
If you're looking for a gift that coffee lovers will remember forever, look no further than a sparkly coffee-themed trinket. Whether a coffee charm or a necklace, this gift is sure to elicit a smile.
And what's more, it's a gift that keeps on giving, as the coffee lover in your life will think of you every time they look at it and take a sip of their morning brew.
22. Coffee Tumbler Charm
Finding the perfect gift for the coffee lover in your life can be hard. They might already have every coffee mug and gizmo imaginable. But there's one coffee-themed gift they're sure to love: a sterling silver coffee charm.
This charming little token can be added to an existing bracelet or necklace, and it's a subtle way to show your coffee-loving friends how much you care. They'll cherish it for years to come.
23. Caffeine Molecular Necklace
For the caffeine aficionado and lover of science, the caffeine molecular necklace will be a conversation piece.
24. Coffee Cup Charm Necklace
This handmade and charming sterling silver coffee cup charm looks half- full of coffee, but it's a red cubic zirconia inside the silver skeleton of a cup. Super cute and memorable without breaking the bank and staying within a small budget.
25. Must-Have My Coffee Bracelet
This other handmade sterling silver piece is an expandable bangle with three charms: a coffee tumbler, an oval piece with "must have my coffee," and a heart. The combination that defines a coffee lover.
Coffee Related Gifts: Coffee Mugs
26. Thermal Mugs
Nothing worse than a fresh hot cup of coffee going cold within minutes. The great quality thermal coffee mug or a tumbler is a luxury in coffee lover gifts that will be truly appreciated, enjoyed, and used repeatedly.
Plus, it makes it easy for them to take coffee on the go. Making their life easier and full of caffeine.
27. Iced Coffee Tumblers
We can't forget our iced coffee lovers. One thing about drinking coffee, whether hot or cold, is that the cup matters. For some reason, glass iced cold coffee from a glass tastes better. Right? But there are also a variety of cup and tumbler options for iced coffee lovers.
28. Inspirational Coffee Mugs
Start the morning with the right mindset.
Sometimes a coffee pick-me-up needs to be combined with positive words of affirmation or motivation to get your day going.
29. Funny Coffee Mugs
Other times, a smile and a laugh with your morning cup of coffee is all that is needed.
30. Ember Mug
A smart mug that will keep coffee at the temperature of your choosing. I'd say this is a great luxury item to gift someone you appreciate at the office or anyone that spends their mornings sitting at a desk.
Fun Coffee Gifts Gift Ideas You May Not Have Thought Of
31. The Adult Coloring Book for Coffee Lovers
Give the gift of coloring coffee illustrations, animals, and quotes. It's fun, relaxing, and stress relieving.
32. Coffee Cocktails
Over 80 recipes in The Art & Craft of Coffee Cocktails. They'll go from morning barista to bartender at night.
Gift Idea: Coffee & Cocktails
Pair the Art & Craft of Coffee Cocktails with the coffee lover's favorite alcohol... whiskey, bailey, vodka... to name a few. 
33. Coffee-Scented Candle
Nothing like the smell of coffee first thing in the morning. It's heavenly! With a coffee candle, now they can smell it all day long if they want.
Coffee Scent = Heaven
34. Coffee Puzzle
What makes this 500-piece jigsaw puzzle special is that the pieces are packaged in what looks like a coffee container. Super cute! Puzzles are a great activity for a cold and rainy day.
Once done, it can be framed as a coffee menu sign for the wall. Two gifts in one.
35. Lip Balm
Great stocking stuffer! All-natural coffee-flavored lip balms come in an assortment: Creamy Coffee, Chai Tea, Vanilla Bean, and Creme Brulee.
Finding the right gift for someone can sometimes be challenging, but we hope these coffee-related gift ideas pointed you in the right direction.
If you're still looking for other gift ideas, check out our other gift guides:
35 Amazing Cozy Gifts for 2023
Share the tips & love on Pinterest: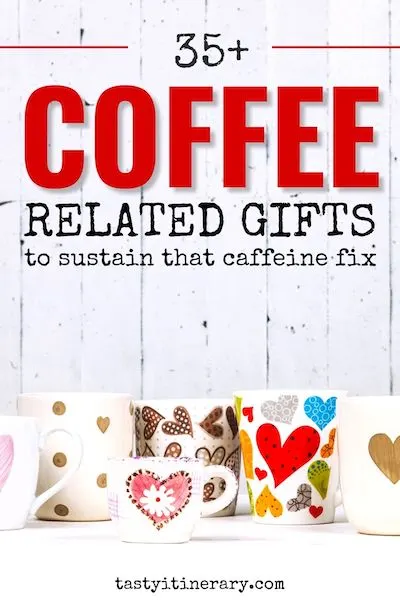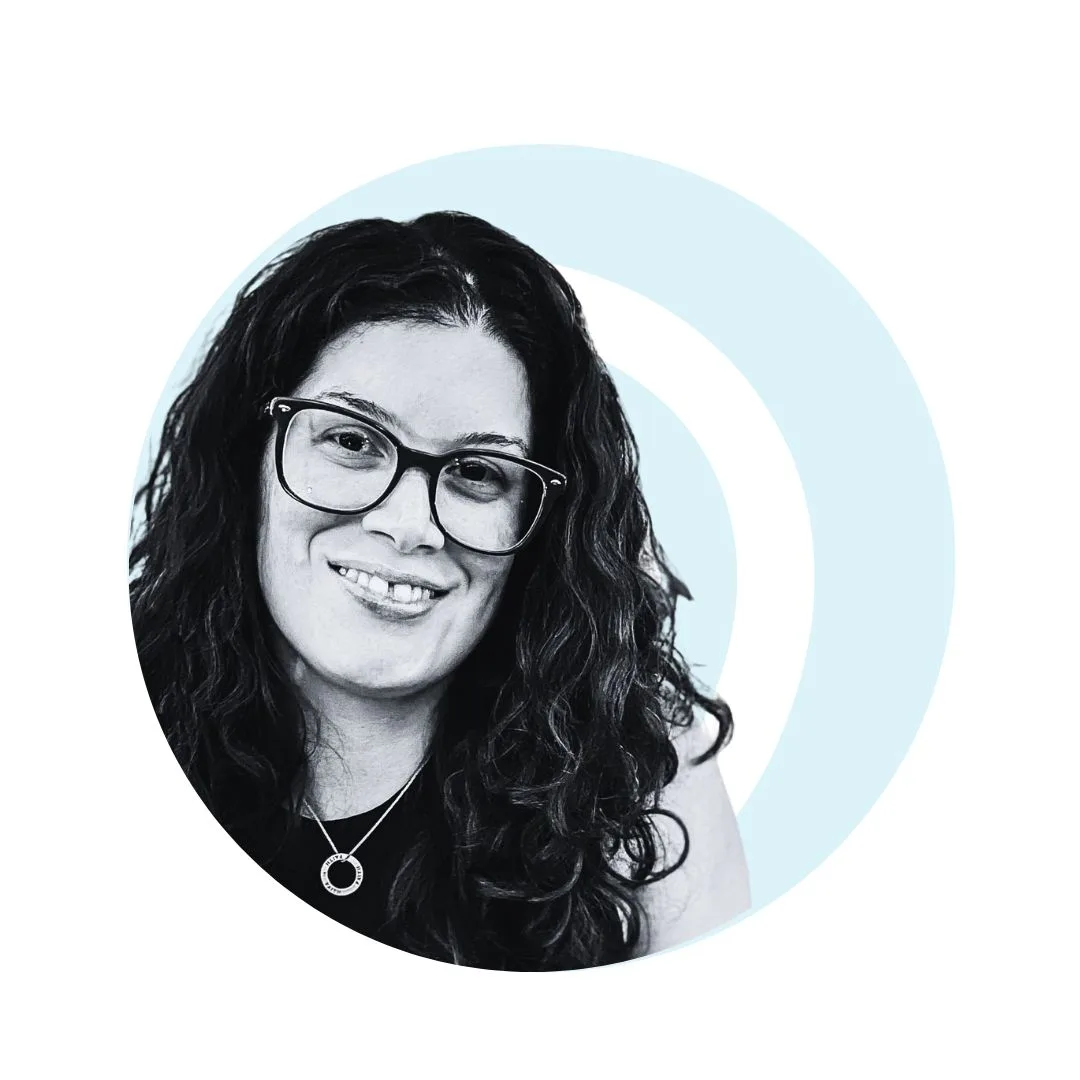 Meet Kathy – a food, travel, and cruise writer based in Los Angeles/Pasadena. With over 20 years of experience planning trips and logistics at her full-time job and for herself, she's become a pro at crafting unforgettable travel itineraries. She's always looking for delicious, fun cruise itineraries and travel destinations and is slightly obsessed with Italy. Her passion and curiosity for travel started in childhood on her yearly and sometimes bi-yearly trips to PR. She firmly believes that life is short and we must make the most of it – so let's explore the world and make some incredible memories.