What happens when the bestie visits for 3 Days in Los Angeles? I take her to some of my favorite Los Angeles spots and beyond.
Life happens. Years fly by. Before you know it, it's been 8 years since you've spent time with your best friend that lives three-thousand miles away. Then you get the call you've been waiting for, "I'm coming to Los Angeles for your birthday!" And your birthday wishes come true before even blowing out a candle. Blessed.
I love it when life gifts me with opportunities like this. Eight years is a long time. Of course, we are in contact daily, but it's not exactly the same. So imagine how excited we were as the days closed in and we counted down to her arrival date.
And then, the day was here. I wish someone were with me at the airport to record our reunion since hubby had to work. The scene was just like in the movies. We made eye contact and with open arms literally ran towards each other.
All eyes turned onto us. Imagine the look on everyone's faces. They had no idea what was going on. Don't worry people, it's just two best friends reuniting after too many years apart.
This post may contain affiliate links, which means we'll receive a commission if you purchase through our links at no extra cost to you. Please read full disclosure for more information. We appreciate your support!
We didn't have specific plans for the weekend, besides eat, beach, and more food, as you will learn from this Tasty Itinerary post. Our favorite thing to do is sit out in the sun with iced coffees and treats, which we did almost every morning during the visit.
I love that we are able to easily hop from one place to another in a short amount of time. While still taking moments to enjoy the spots that meshed with our vibe.
During our 3 days in Los Angeles together, we went with the flow and what interested us. However, if you are ever in Los Angeles or in the nearby vicinity, take notes for your Los Angeles itinerary as you may like you'd like to stop at one of our many jaunts.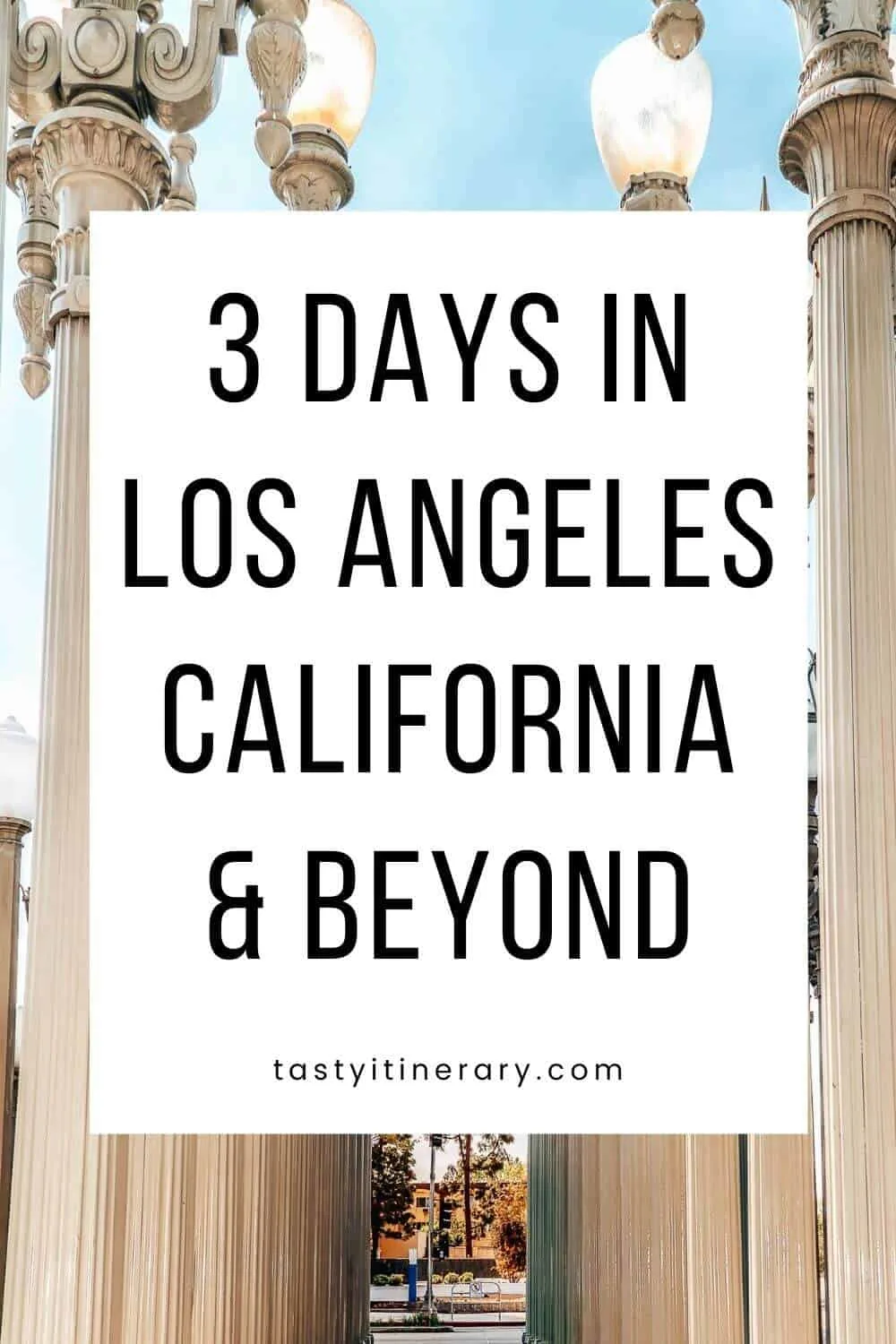 3 Days in Los Angeles & Beyond
Day 1: Los Angeles
There are a number of things you can do soon after landing in LAX. We chose to head to Manhattan Beach, but you can easily hop in a car to Venice Beach as well and see what it is all about.
Manhattan Beach | The Kettle
I love the South Bay of Los Angeles. I love beachside towns and Manhattan Beach is one of them. Knowing it's close to the airport, this would be our first stop. Here you will find many local eateries, cute shops, charming streets, beautiful homes, and most importantly, the beach.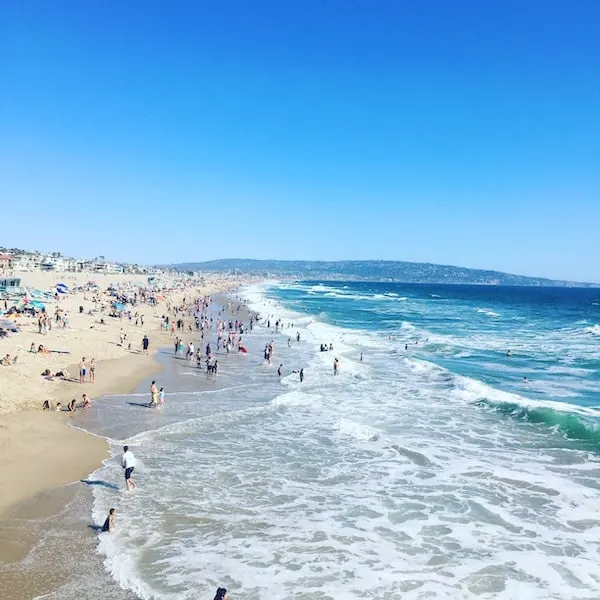 We were also starving. I decided to take her to a local favorite The Kettle. This restaurant is open 24/7 days a week. It's casual and they serve great breakfast/brunch. If you try to eat here during a weekend morning, be prepared to wait. Their homemade muffins are delicious.
Since there was already a long wait for a table, we sat at the counter. The funny thing is we ordered basically the same breakfast and shared pancakes. We took our muffins to-go for later.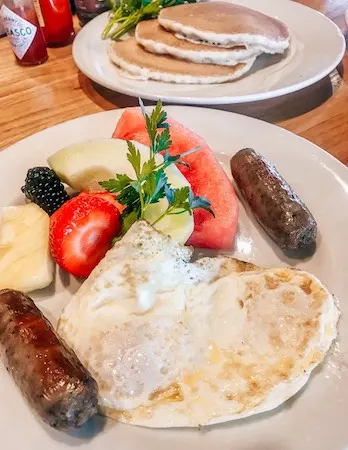 The Kettle | 1138 Highland Ave, Manhattan Beach, CA 90266 (Google Map It) | Website
A quick walk from the restaurant and down the street, you will find the beach. You can walk the boardwalk and admire the beautiful beach homes.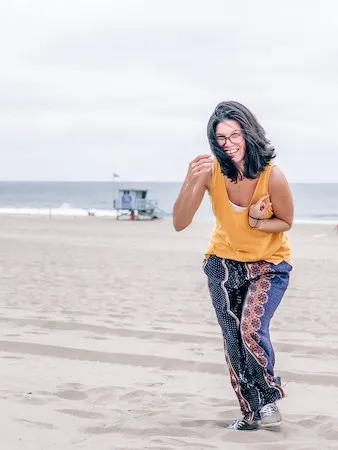 After taking some pictures at the beach, I sat down to remove sand from my feet and my iPhone plopped right onto the ground. The screen shattered. Of course, we had to leave and go to the nearest Apple store. It may have put a slight dent in our first day together.
Urban Lights at LACMA
This large art installation is one of the most Instagrammable places in Los Angeles. Many films have shot scenes here: Lala Land, No Strings Attached, Valentine's Day… to name a few. It's a pretty cool sight to see. My favorite time is at night.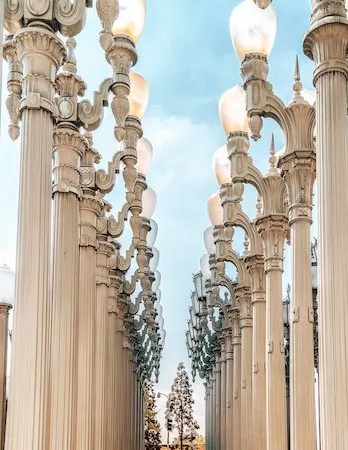 The LACMA museum is next door if you have the time and interest. The Mid-Wilshire area where it is located is a great place to explore on foot.
Urban Lights | 5905 Wilshire Blvd, Los Angeles, CA 90036 (Google Map It) | Website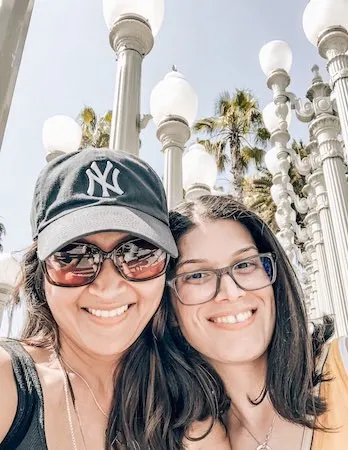 The Original Farmers Market & The Grove
Not far from LACMA, you will find The Farmers Market and The Grove. This is a go-to for many locals and also visitors. There are a ton of food choices and shops. Early morning on the weekends, you may be able to spot a celebrity. We were simply there to explore that day.
I took her to my favorite French market Monsieur Marcel and treated her to their amazing French macaroons. This is a wonderful gourmet grocery shop with a restaurant with outdoor seating. Their food is delectable. The owner of this shop is from Paris.
I had Sprinkles in mind, and I never leave The Grove without a cupcake. However, we found Dominique Ansel Bakery instead. I had totally forgotten that this famous NYC establishment, the creator of the cronut, had opened a bakery at The Grove. And, the line was out the door.
The displays filled with pastries made it difficult for us to decide what to order. We wanted everything from a cronut to a chocolate chip cookie shot. We were still full from brunch, so we settled on a cronut to share later. The cronut-of-the-month was guava passion fruit. Ask about the flavor before ordering.
Tip: If you're ever in town during Christmas time, The Grove turns into Santa's Wonderland. It's a wonderful time to visit and get into the holiday spirit.
The Original Farmers Market | 6333 W 3rd St, Los Angeles, CA 90036 (Google Map It) | Website
Gus's BBQ
Gus's BBQ in South Pasadena is one of my favorite restaurants. They have amazing food and they have some great drinks.
When it is just me and hubby we usually tend to share the fried chicken plate because their fried chicken is one of the best. I absolutely love their BBQ pulled pork nachos and don't get to have them often. We both have our favorites, so we try to switch it up when we go.
With Maila in town, I knew she'd love the nachos just as much as I do. It was also my birthday request.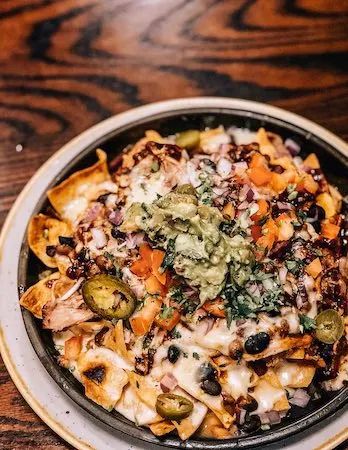 The nachos are the epitome of comfort food. Crunchy nacho chips, 4 kinds of cheese, pulled pork, bbq sauce, beans, and guacamole.
We paired it with sangrias and house salads. The house salad consists of mixed greens, spicy roasted peanuts, blue cheese, and cornbread croutons with a peanut vinaigrette.
If you're ever in the Pasadena area and love BBQ, head over to Gus's. It's a favorite in town. While you're there, check out the old fashion soda shop across the street.
Gus's BBQ | 808 Fair Oaks Ave, South Pasadena, CA 91030 (Google Map It) | Website
Other things to do in Los Angeles to consider:
Santa Monica Pier
Arts District
Day Trips From Los Angeles, California
Thinking of planning a couple of day trips from LA while you're here. Check out our list of some of the best day trips from the city of Los Angeles.
Day 2: Day Trip to Orange Country
We started our day late, but I wanted to give Maila a taste of Orange County. She has never been and always wanted to see the beaches there. After enjoying our cronut for breakfast and letting hubby sleep in a bit, we headed out.
With only 3 days in Los Angeles, a day trip outside the city may not fit your agenda. You can always head to Hollywood and then the Griffith Observatory right before sunset.
Newport Beach, CA
There is a ton to do in Newport Beach. It's a beautiful seaside city that deserves its own blog post. It's a great place to rent some beach bikes and hit the path by the beach. We didn't get to do that, but we strolled the shore and breathed in some of that salty beach air.
If we had gotten there earlier, we would have had a picnic. It was already late in the day. I do highly recommend exploring this beach town.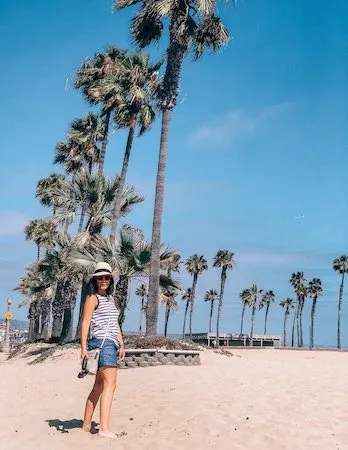 Sprinkles Cupcakes
After leaving the beach, we decided to head to Sprinkles in Newport Beach. There isn't a birthday that goes by that I don't have a Sprinkles cupcake. Their cupcakes and chocolate chip cookies are favorites of mine. I enjoy all of their cupcakes, but I usually stick to my two favorites: Vanilla and Red Velvet. We enjoyed some mini-cupcakes as a snack and ordered bigger ones for home.
Next door to the cupcake bakery, you will find Sprinkles Ice Cream. Their ice cream is decadent and you can order cupcake ice cream sandwiches. Hubby ice cream over cupcakes. He ordered a scoop of rocky road and captain crunch ice cream with whip cream. I had a few spoonfuls and it was sinful.
Sprinkles Cupcakes | Multiple Locations Available, including Beverly Hills | Website
Laguna Beach
Maila has been dying to go to Laguna Beach for years. It's about 20 minutes from Newport Beach, and the drive down the PCH there is absolutely worth it. We hit the main town of Laguna Beach to have dinner and then a walk to Heisler Park. This is another coastal city worth exploring with more.
Unfortunately, we only had time to show Maila a slice of heaven that is Laguna Beach. Hopefully, she will return for more.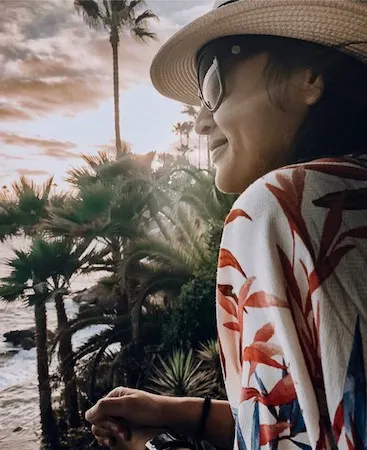 Alessa by Chef Pirozzi
An old friend of mine recommended Alessa's to me a few years ago. We are obsessed with finding great Italian restaurants; this became her favorite place after trying their Lamb Pappardelle dish. I have to agree, it is an amazing dish, and every time I eat here, I'm reminded of my love for Italian food and Italy.
Now it's become a ritual, anytime we are in Laguna Beach, we eat here. I know, not great if we want to venture out to one of the many other wonderful places there is nearby, but we don't visit the area that often and it's a treat for us. Try their meatball appetizer and one of their homemade pasta dishes, if you're not into the lamb. Hubby always orders the gnocchi. Delish.
Alessa | 234 Forest Ave, Laguna Beach, CA 92651 (Google Map It) | Website
Other things to do in Orange County to consider:
Balboa Fun Zone
Huntington Beach
Knotts Berry Park
Crystal Cove State Park
Escape the City to Ojai, California
Want a little escape from the city of Los Angeles? Plan a day trip or weekend trip to Ojai for wine tasting, local shopping, and visiting an olive oil farm. Here are the things to do in Ojai, California.
Day 3: Visit Harry Potter
We slept in again. We didn't bother rushing anywhere. Life is too short to always be in a hurry.
Universal Studios Hollywood
We've had an annual pass for the past year and just renewed for another year. It is cheaper having a pass than buying a ticket every time someone comes from out of state and wants to visit. The Wizarding World of Harry Potter is usually the main reason. This was Maila's first time and one of the things on her list.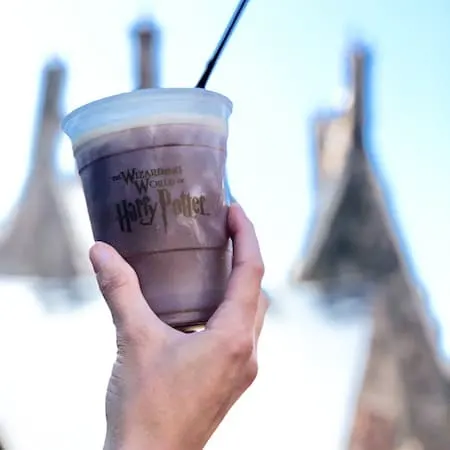 I have written a review of the one at Universal Orlando. The Harry Potter parks are bigger and better there, so I just have to put that out there.
However, what I love about Universal Hollywood is that while it is smaller, it's more intimate, and you can easily ride almost all the rides in a day. Only on crowded days would I recommend a Front-of-the-Line Pass, but otherwise, you'll be fine.
Tip #1: Purchase your tickets online in advance. You'll save a bit of money.
Tip #2: Amazing view as you head down to the lower level where the Transformers ride resides. Perfect time to take a few photographs.
We did the backlot tour, the Harry Potter ride, drank some butterbeer and had some other Universal foodie treats, took pics around the park, and survived the Walking Dead. After about 5 hours at the park, we left and hit Hollywood to pick up some souvenirs.
Universal Studios | 100 Universal City Plaza, Universal City, CA 91608 (Google Map It) | Buy Tickets
– Don't Miss: 9 Fun Amusement Parks and Theme Parks in Los Angeles, CA –
El Compadre
This is one of my favorite Mexican restaurants near Hollywood on Sunset. There are plenty of amazing establishments serving Mexican fare from food trucks, food stands, and casual spots, but El Compadre is popular for its flaming margaritas, great food, and ambiance.
I highly recommend their Mexican shrimp cocktails, enchiladas, tacos, and their fruit margaritas with Tajin for a little spice. Maila couldn't get enough of her mango margarita.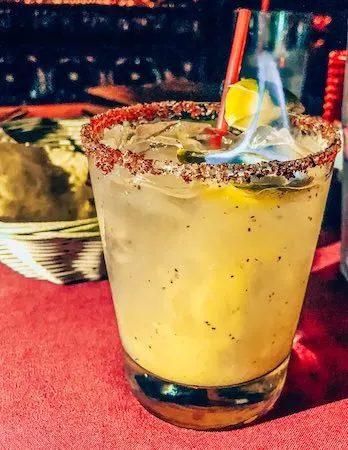 Fun fact: The restaurant is also said to be haunted.
El Compadre | 7408 Sunset Blvd, Los Angeles, CA 90046 (Google Map It) | Website
Other touristy things to do near Hollywood, CA:
-Don't Miss: Top LA Attractions to Add to Your Los Angeles Bucket List–
Day 3 1/2: Don't Leave LA Without Having One of the Best Burgers
Last morning before taking Maila to the airport.
After starting our day with coffee, I spent it chauffeuring her around to pick up a few things she wanted to bring back to the East Coast. Last but not least, she would not leave Los Angeles without her favorite fast-food burger.
In-N-Out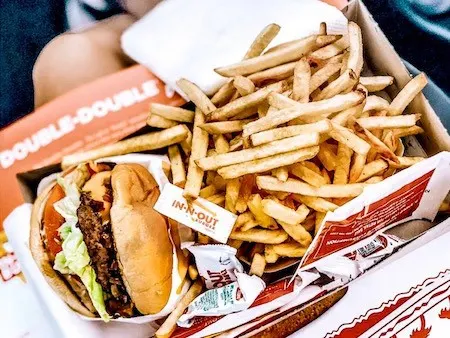 In-N-Out is the famous fast-food burger joint of the West Coast. You can find an In-N-Out pretty much everywhere in California. Not only will you find lines at the register, but the drive-thru always has a long line that goes all the way around the corner. Some of them have two drive-thrus and they are always busy.
Why? Because they serve fresh burgers, cooked upon ordering with quality ingredients. Their fries are peeled and cut, before they enter the fryer. You will get hot and fresh fries with your order and you can order them to your liking. Well done fries anyone?
Their menu is simple and to the point. They are delicious and according to Maila, no fast food burger establishments can compare to the ones on the East Coast. I can agree, but it's been over 10 years since I've lived in NY. So, she HAD TO HAVE IT for lunch before leaving.
Tip 1: There is a secret menu. I suggest ordering the burger animal style. Perhaps, some cheese on your fries if you want to go all in. No gluten? Order the burger "protein style", in other words, lettuce wrapped.
Tip 2: There is an In-n-Out right by LAX. So if you don't have the chance to have one, give yourself enough time and go through the drive-thru to get your burger fix before your flight out of Los Angeles.
In-n-Out | Multiple Locations Throughout the West Coast | Website
Pie 'n Burger
Pie 'n Burger was our last stop before heading to the airport. Preferably this is where I like to have a burger. Food Network has named, this retro old-school Pasadena spot, one of the top 5 cheeseburgers of America, and it always comes up on lists of top burgers. Sometimes alongside In-N-Out.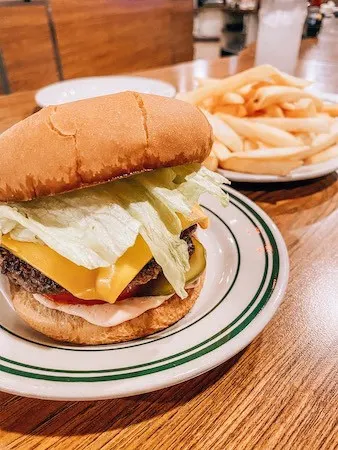 Let me stop talking about their burgers. We didn't even go there for one that day. We went to pick up a slice of my favorite pie: boysenberry! All their pies are delicious and every year for Thanksgiving, we pick up a couple of different pies. But without a doubt, boysenberry is my favorite from Pie 'n burger.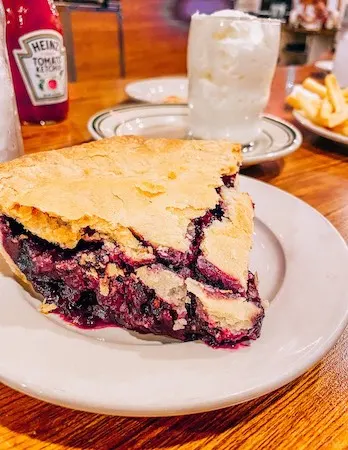 Pie 'n Burger | 913 E California Blvd, Pasadena, CA 91106 (Google Map It)
It was emotional for me to say farewell. We shall focus on the memories, until next time when we can vacay together and make new ones. In the meantime, we always have FaceTime.
Thanks for coming out and celebrating a fabulous 3 days in Los Angeles, Maila! And thank you for taking so many of these great photos. Now back to eating my vegetables. ?
How will you spend your 3 days in Los Angeles?
Share the tips & love on Pinterest: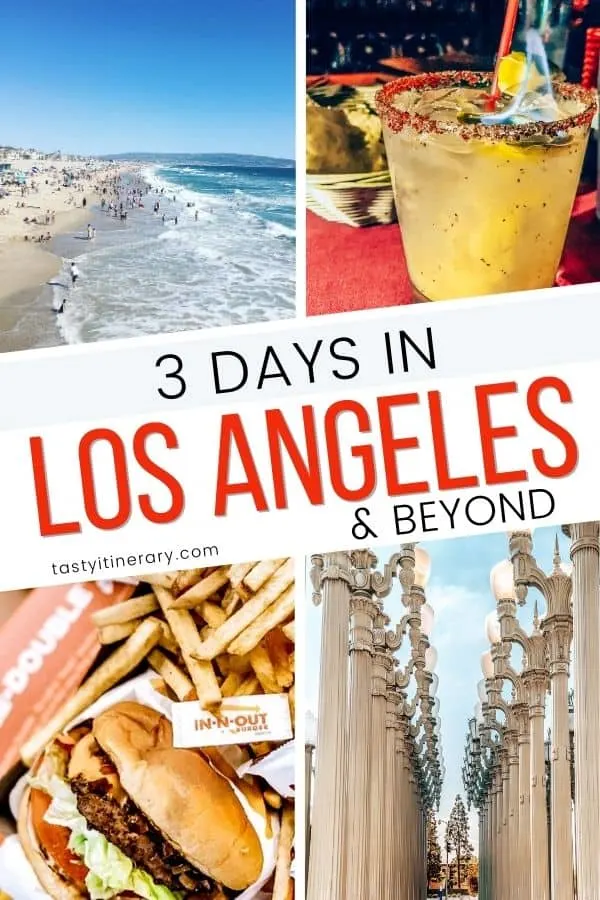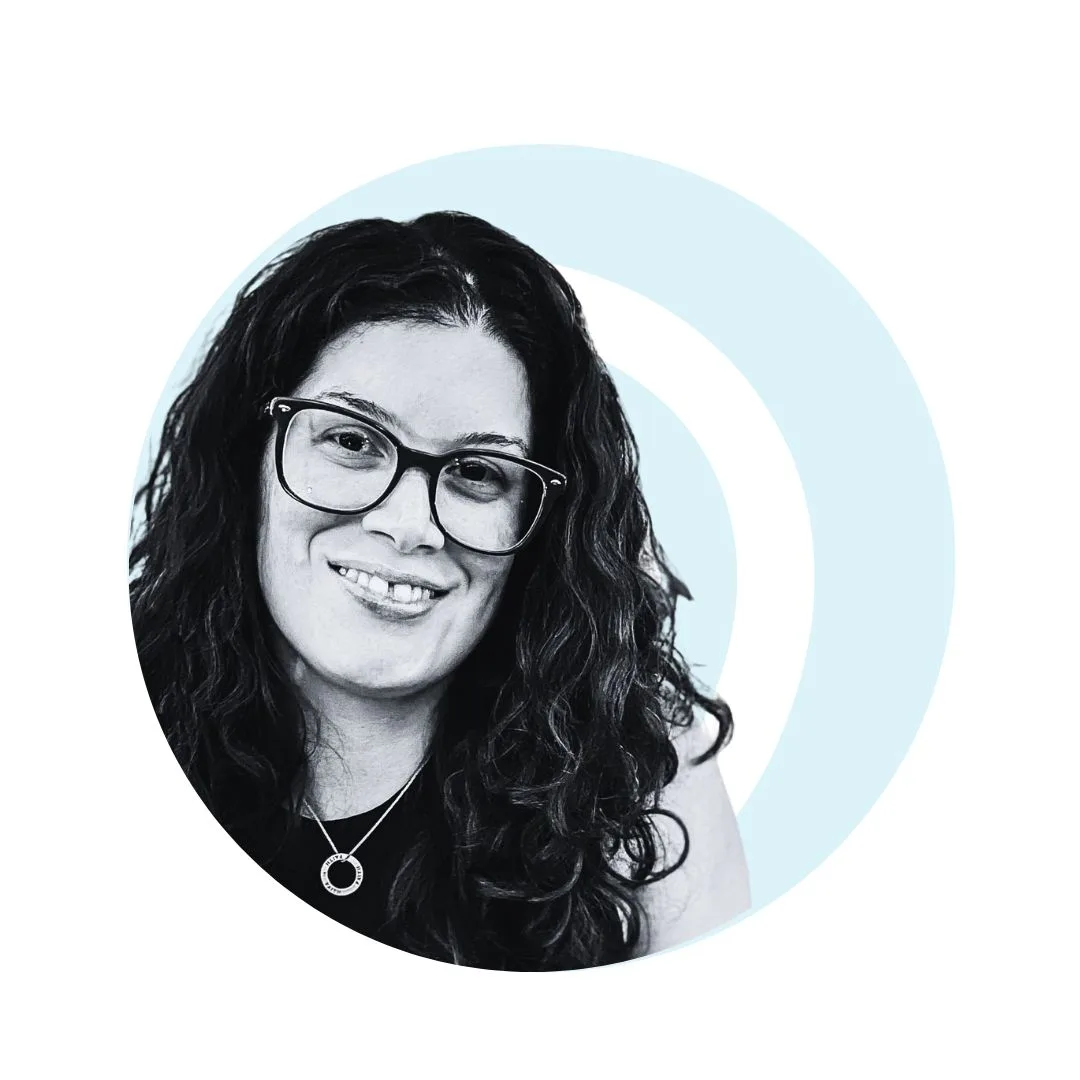 Meet Kathy Ava – a food, travel, and cruise writer based in Los Angeles/Pasadena. With over 20 years of experience planning trips and logistics at her full-time job and for herself, she's become a pro at crafting unforgettable travel itineraries. She's always looking for delicious, fun cruise itineraries and travel destinations and is slightly obsessed with Italy. Her passion and curiosity for travel started in childhood on her yearly and sometimes bi-yearly trips to PR. She firmly believes that life is short and we must make the most of it – so let's explore the world and make some incredible memories.