Choose a vacation rental via Airbnb for your next vacation. I've learned a few Airbnb tips for guests and always seek Airbnb options when planning my vacations.
When I don't book a hotel with booking.com, I'll book an Airbnb.
Ever since I booked and stayed in my 1st Airbnb and saved hundreds by forgoing a regular hotel stay, I became a fan.
If you find yourself scouring the internet for a decent cheap hotel room and can't find anything within budget, booking an Airbnb may be the answer. I've canceled plans because I couldn't justify the crazy hotel cost. Believe me, there is no need to give up on your vacation plans just yet.
When we spent our vacation in Kauai for a week, I was surprised at the quick reaction we'd receive when we told a few acquaintances we stayed in Princeville.
"Oh, that's so nice!" They'd say with a moment of enthusiasm before they sadly comment, "We can't afford to stay there when we go."
Obviously, if we are staying in Princeville, that means we're probably staying at one of the high-end swanky resorts on the North Shore, right? Wrong!
We'd turn the conversation all about Airbnb and the experiences we had. I can chat travel all day long, so I have no problem inspiring others with Airbnb tips they can be someone's guests in the future too.
Disclosure: This post may contain affiliate links. If you decide to make a purchase from one of those links, we may get a commission at no extra cost to you. We appreciate your support.
What is Airbnb?
Technically, Airbnb is a short-term rental platform that allows homeowners to rent out their space to travelers. For some, it's where you can find cheap travel or unique accommodations. For others, Airbnb is a home away from home. Sometimes, Airbnb is a great way to book a room at a boutique hotel.
It's more than just homeowners sharing a room in their home. There are entire homes, vacation rentals, unique places, and experiences. Small boutique hotels have been added to the mix too. Sometimes you can even find Bed & Breakfast.
Not everyone has been lucky with Airbnb. Some people don't think it's worth it. Others don't see the value. Then there are those that will always prefer all the amenities that come with staying at a hotel, and I get that.
I stick to renting out entire spaces that offer us full privacy. I look for clean, modern spaces that have WiFi, laundry, AC/Heat, and maybe free parking if we are renting a car.
For example, we rented a studio in Kauai which essentially turned out to be a large room with a cathedral ceiling, a balcony, and a newly redone bathroom. It was super clean and it was all we needed. It reminded us of a hotel room. We shared a washer dryer and entry space with the studio next door.
To add to the experience, the studio was located in a vacation resort with access to BBQs, pools, and tennis courts with cliffs behind the property with a lookout into the ocean. It was less than half the price of other hotel resorts nearby. You can see a video of the space on my Kauai Instagram Highlights.
Why Book an Airbnb?
1. Because you're traveling on a budget
My first time booking an Airbnb listing was nerve-wracking. I mean, what if the Airbnb host bailed last minute (I've heard stories)? What if I got there and it's nothing like the photographs? Just like booking a hotel, anything can go wrong but we can't always think negatively or we'll get nowhere fast.
We took our chance on a 1 bedroom apartment in Florence, Italy with a sweet location in Santa Croce. Not only did the apartment turn out to be beautiful and comfortable, we felt right at home for the week.
The Airbnb host was fantastic and she even provided a local cellphone to contact her if anything. We paid only $100 a night plus a small cleaning fee for the week in Florence.
Let me also clarify, there is nothing wrong with treating yourself to a luxury resort stay. I love them. It's an option to shop for as well. You may come across a great deal and there is no better feeling than taking a luxury vacation for half price or less. Am I right?
For Kauai, I noticed the hotels are a bit steep, especially if you're looking to stay in a prime location like Princeville. We were on a budget. I also just couldn't justify spending that amount of money on a hotel room that we would hardly spend our time in. We planned to rent a car and explore as much of the island as possible. That's not how we roll.
That's when I started to look at our Airbnb options and realized we can rent an entire condo for less than hotel rates. Sold! I just needed to find the right listing for us.
2. Space for you and your family
Another popular reason is space. Families opt for Airbnb's because they can get a home where they can spread out for a fraction of the price of or at least comparable to a hotel, but with a lot more room. They can invite the grandparents and perhaps another family to join. Maybe even room for your family pet.
3. A Home away from home
In addition to space, that home-away-from-home level of comfort is much needed for some to even leave their day-to-day space. They don't mind traveling but they want to feel like they are well, at home.
Sometimes that means having a full kitchen to prepare some meals. Separate rooms for everyone. Large backyards to BBQ in with a pool, lake, or beach.
4. Location. Location. Location.
When we planned our 3 day trip to Girona, Spain, all the big hotels were right outside the city walls. I wanted to be in the old town of Girona, in the middle of it all.
I found the nicest loft right down the street from Girona, Cathedral. Everything was within walking distance. The host was so accommodating and communicative.
Sometimes we have to look at alternatives outside of hotels to be where we want to be.
It's also nice to live like a local, even if it's just for a few days.
5. Unique Accomodations
Did you know that you can stay and be a guest at some of the most unique accommodations in the world on Airbnb? There are planes, treehouses, tiny houses, a bubble dome… the list goes on.
Travel Resources to Help You Book Your Next Trip
Here are the travel resources we use to research and book our travel. Start planning!
Sign-Up for Airbnb
Don't wait. Sign up now! Get your profile ready, so when you do find the perfect booking, you are not wasting time getting verified. Within that time, you could lose the booking. I tell you this from experience.
Also, if you use my link below you get $40 off your first booking. You never know when Airbnb will take away this referral coupon, sign-up now.
Sign up to Airbnb now and take $40 off your first booking.
Complete your profile
Completing your profile is so important. Especially as a newbie with no prior reviews.
Yes, you will be reviewed as a guest. Don't worry, you will have your chance to review your stay as well.
In the meantime…
Make sure to complete your profile and let the host know a little about yourself.
Connect your Facebook account.
Add your government id. This is Airbnb's way of verifying that you are a real person. I highly suggest doing this ahead of time.
You must be thinking by now, "It's so much easier just to book a hotel room." Yeah, probably, but a little bit of patience pays off in the end. You will only have to complete your profile once unless they ask for any additional info in the future.
15 Airbnb Tips for Guests
1. Compare with hotel rates in the area
Go to Booking.com enter the location and dates for hotel rates in the area. Then look at the Airbnb rentals. You may be surprised.
2. An entire place, private room, hotel room, or shared room?
Choose to filter out your preference.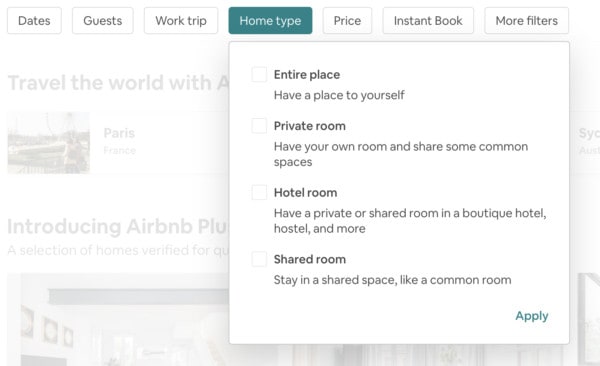 3. Cleaning, admin, and any other additional fees
Check these. Add them to the total. Sometimes I find a great rate per night rate, but once I add the cleaning and admin fees, I realize it's not really that great of a deal. In every city, the service fees vary. You will want to go back and compare it with hotel rates and amenities. What are you getting with an Airbnb vs the hotel?
4. Amenities
Look over the amenities. Does it include free WiFi? How about parking? Air conditioning? A kitchen? What is important to you? Everyone differs. I like a kitchen, but we eat out so much it's not that important.
5. What is the cancellation policy?
Flexible, moderate, or strict. I personally stay away from strict cancellation policies, unless I plan to cover it with travel insurance. Check the fine print.
6. Don't be afraid to contact the owner
Contact them directly with any questions before you decide to book or even after.
7. Negotiate
You can negotiate rates for a long-term rental of a week or more. Never hurts to try.
8. Save listings
As you search, save the listings you may be interested in. Create a folder for the city you plan to visit. This makes it easier to return and book when you're ready. Don't be surprised if it's no longer available for your dates when you return. Some of these bookings move quickly.
9. What are the rules?
Yes, there are different rules for each home. It's usually pretty straightforward. For example, no parties allowed, and no noise after 10 PM. Don't leave dishes unwashed. That sort of thing. If anything on the list seems farfetched, move on to the next listing.
10. Always read the reviews for each Airbnb rental
Before I book anything, I read through ALL the reviews. If the listing does not have a review, then it is not an option. It's nothing I don't already do on Tripadvisor with hotels.
11. Look at Superhost or Airbnb Plus listings
This is probably not fair to newbie hosts, but I try to book rooms that are hosted by Superhost because they are known for providing top experiences for their guests. If the listing you are interested in is an Airbnb Plus, this means it's a high-quality listing and Airbnb- not a must but if it may help you feel better about booking it.
12. If your stay is less than 3 nights, it may not be worth it
After adding admin and cleaning fees, the total cost will probably exceed the cost of a hotel room. I recommend looking at hotels instead. Unless you're looking into renting a cheap room with shared space, then that's a different story.
13. Include a personal message with your booking
When you send in your booking request, it doesn't hurt to say something as to why you think their listing will be great for your vacation. Hosts are looking for guests
14. Wait for a final confirmation email
After you book a listing, unless it's an 'instant booking', it's not automatic confirmation that the booking is yours. The host will first check your profile and decide to confirm the reservation. Then, they will send you a final confirmation email.
15. Be a guest… a well-mannered houseguest
Make yourself at home, but also treat the property with respect. Treat the home like you would expect someone staying in your home.
A Downside of Airbnb
I'm sure others have plenty of reasons why they don't like Airbnb and you can tell me all about it in the comments. The one downside, at least for me, is not having a daily cleaning service.
I know serious first-world problems.
It is a small luxury I miss when staying in an Airbnb.
When you're on vacation, I'm sure that the last thing you want to do is make your bed every day. It's nice when you're on vacation to have someone come in and tidy a bit. I do try to keep things nice and I'm not one to make a mess. It's the price I pay to save some money so I can travel longer or do other things that I wouldn't have been able to afford otherwise.
Airbnb Should Be An Option When Planning a Vacation
I have loved our experiences with Airbnb and has been the right choice for us for some stays. While Airbnb is not ideal for every trip, it is a great option to research when you're planning your next trip.
Depending on the type of traveler you are, Airbnb may not be for you at all. If you are adamant about having amenities that hotels offer on a daily basis like daily cleaning or room service, just stick to your favorite type of accommodation.
Sometimes we think a destination is completely outside of our budget because franchised accommodations are overly expensive. Finding the right Airbnb listing can make those dream vacations a reality. Always give Airbnb a quick look.
---
Have you used Airbnb? Do these Airbnb tips for guests help you? What are your top tips or concerns as an Airbnb guest?
Don't forget to sign up for Airbnb and get $40 off your first booking.
---
Don't forget to share the love on Pinterest: