What are the best food trucks in Pasadena? Several Pasadena food trucks have made our city a favorite location to set up in. A few of them even call Pasadena home base.
Does anyone else spot a food truck and have to pull over to try it? Just me? Come on, fess up.
Remember when the food truck craze started? Over 10 years ago, an explosion of food trucks with specialty foodie items popped all over the place. We'd follow the most delicious and popular ones.
Of course, we have always been able to rely on taco stands and trucks in LA. Some of the best Mexican food is found at these food trucks. I don't know where we'd be without them.
I used to stalk the Kogi Trucks schedule when we lived on the West Side. We were obsessed. Every now and then, they pop into Pasadena, but it's not regularly.
In reality, the history of food trucks goes as far back as the 1600s.
As for me, my earliest memories of food trucks come in the form of an ice cream truck and hot dog vendors in New York City.
What are your earliest memories of eating from a food truck?
What's to love about food trucks in Pasadena? It's an easy and delicious take-out option. These days, food trucks have been a savior. They are serving excellent food for great prices. Pick up food, have a picnic, or go home. It's up to you.
In this article, we'll share food trucks in Pasadena that are almost always around the neighborhood. If you're familiar with them, hopefully, now you can make it out to give them a try. Support these small businesses that are out there on wheels.
Tip: On some weekend days, you can find some food trucks parked by Aldi's on N. Lake Ave. You can also head that way to see if there is anything different that may interest you.
Also, a little reminder, we are just locals sharing what's delicious in Pasadena. Anything we share is genuine because we truly enjoyed it and love when others do the same. We always look for suggestions and places to try out, so please feel free to leave them in the comments.
Food Trucks in Pasadena
1. Smosh Town
Update: Smosh Town is closed until further notice due to staff shortage.
Who loves a delicious smash burger? Smosh Town is serving up some fantastic smashed wagyu burgers and tater tots. They also have loaded fries that are sinful and filling.
We've ordered from Door Dash because I'm either working from home, or they have sold out by the time I can get to them. Let me tell you, so worth it.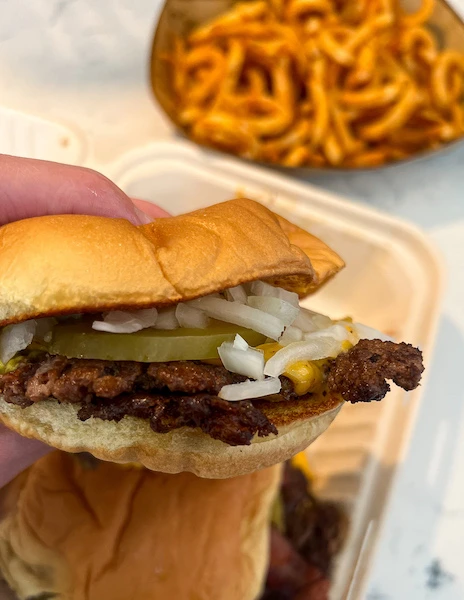 We've had the Smosh Town Classic and the O's Way Burger. What makes these burgers are their wagyu meat patties. The patties are thin, juicy, and yet crispy on the edges. You don't really want to overload the burgers with toppings, or else you'll just cover up the flavor of the amazing meat patty.
The bread was softer than I expected it to be, but the whole combination of the burgers went altogether.
You can add extra meat patties and bacon to your burgers.
The fries are crispy and seasoned well. You won't be able to stop eating them. They also have tater tots if you are a fan of them.
Where to find them? The Smosh Town truck parks in front of an auto body shop in Pasadena, Gabriel's Automotive.
When are they open? From Tuesday to Thursday from 12 pm to 9 pm. From Friday to Saturday, 12 pm to 6 pm.
Note: Sometimes, they announce on social media when they have catering gigs and are sold out earlier than expected.
Smosh Town | 250 N Hill Ave, Pasadena | Google Map It | Instagram
– Don't Miss: Delicious Burgers in Pasadena, CA –
2. El Jarocho Tacos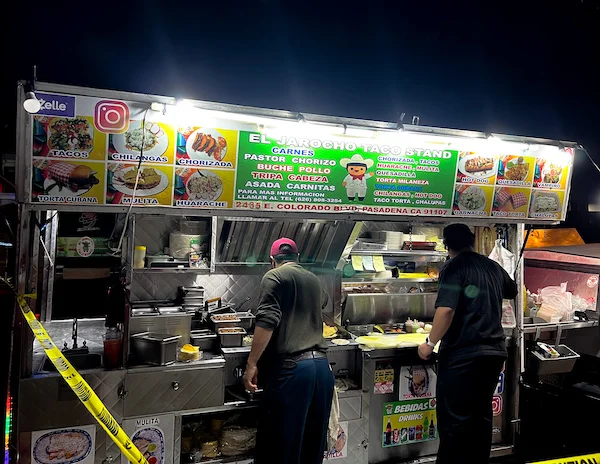 Taco trucks are your friend when you want to eat well and on a budget. El Jarocho is a Pasadena food truck serving street tacos, quesadillas, tortas, and other specialty items that are a must-try. If it looks interesting, order it.
We were recently there, and hubby feeling more adventurous than me for once, started ordering things I didn't even notice from the photos menu. We got home and loved everything. The food is authentic, fresh, and full of flavor.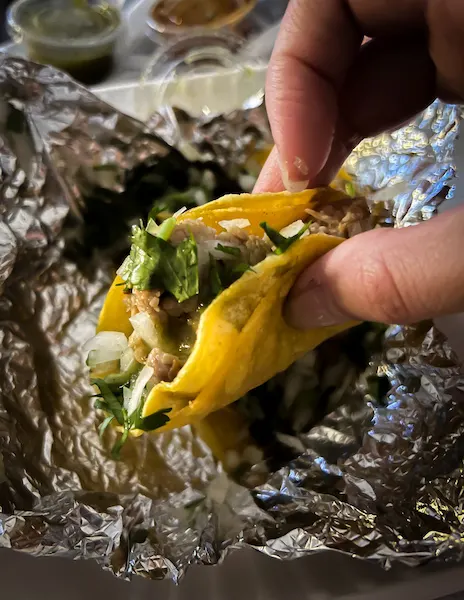 The street tacos are small, so expect that it will take 2-3 bites to eat one. Take that into consideration when placing your orders. We got a variety topped with cilantro and onions, and they did not disappoint.
The standouts were the vamperitos and the chorizadas. Both were crunchy and bursting with flavors.
The family running it is so kind. Usually, it's a father-son team, but when we were there last time, it seemed like the entire family was out to help.
I also appreciated the caution tape they had around their setup. It keeps everyone at a distance from the food and work area.
Cash Only.
Where to find them? El Jarocho Taco Stand sets up Colorado Blvd, Historic Route 66, almost every night of the week. Right across from the Guitar Center in Pasadena.
When are they open? They start setting up around 5 pm until sold out.
El Jarocho | 2435 E Colorado Blvd, Pasadena | Google Map It | Yelp
Where can you go for a delicious and filling breakfast or brunch in Pasadena? Check out these fantastic restaurants that serve pancakes, chicken & waffles (with brunch cocktails!), and savory items such as eggs benedict.
3. Pepe's Red Tacos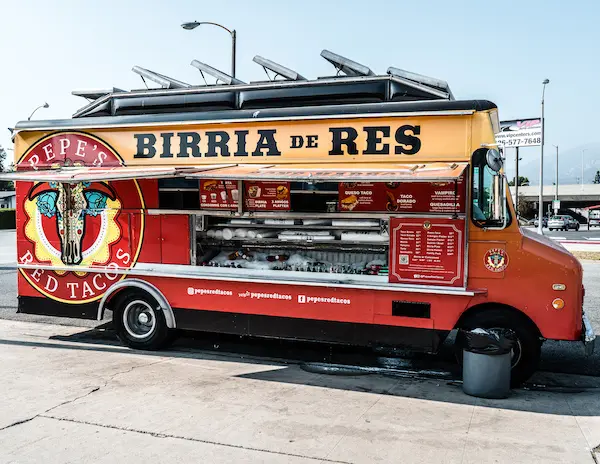 Pepe's Red Tacos is a Pasadena food truck serving some of the best beef birria tacos around. We always pass by their red truck and say, "we need to try that." And we have… many times already.
We love approaching the truck and finding older Mexican ladies running it. Abuelitas always knows what's good. Oh, how I miss my abuela's delicious foods.
At Pepe's, their specialty is the beef brisket that they slow cook for over 5 hours in a rich and tasty consomé. The birria comes out oh so tender and fabulously amazing.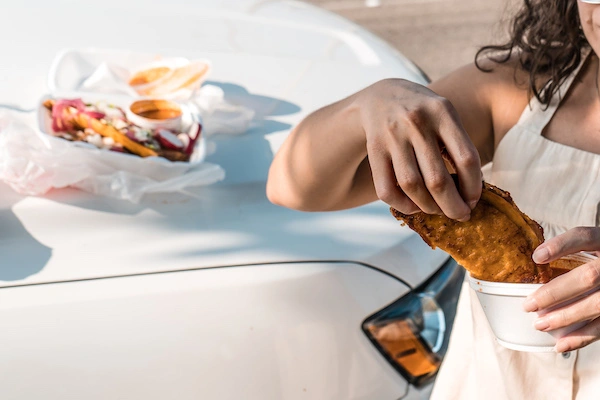 All of their red tacos are served with a rich side of consomé so you can dip your tacos into it before every bite. The consomé just brings the tacos to another level.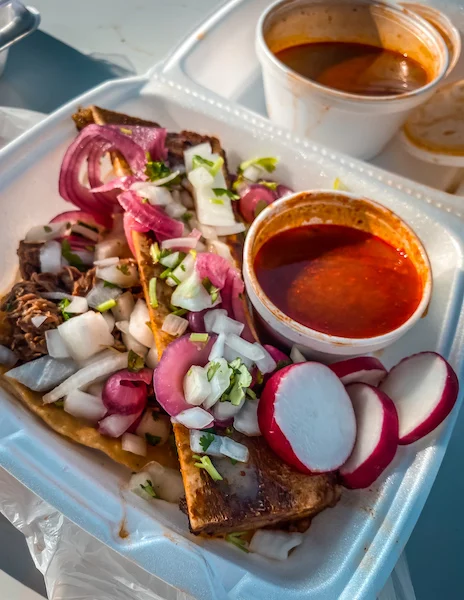 The bone marrow taco is not something you see at other taco trucks. It's an item you'll want to order at least to try once. Scrape the marrow out of the bone and top your taco with it. Then dip it all into the consomé. You'll fall in love right away.
Other favorites are the mulitas and taco dorados. You really can't go wrong with any of them.
You can order online for pickup or delivery via their website: click here.
Where to find them? Pepe's Red Tacos in Pasadena can be found on the corner of N. Altadena Dr and Sierra Madre Blvd. They do have other locations around Los Angeles.
When are they open? Pepe's Red Tacos are there from Monday to Saturday from 10 am to 8 pm and Sundays from 10 am to 5 pm.
Pepe's Red Tacos | 240 N Altadena Dr, Pasadena | Google Map It | Instagram
4. Rodney's Ribs
Rodney's Ribs is one of the food trucks in Pasadena serving some great BBQ that will leave you licking your fingertips.
They are right across from one of my favorite spots, Roma's Italian Market. Not going to lie, it can be hard to make the decision sometimes whether to have BBQ or an Italian sandwich. Sometimes, we just need some good BBQ ribs in our life.
Rodney's Ribs are some of the best around. If not, the best around. They are tender, juicy, and flavorful. You can taste the smokiness. The seasonings are just right and do not overpower the meat. The bbq sauce is delicious, not sweet or too vinegary.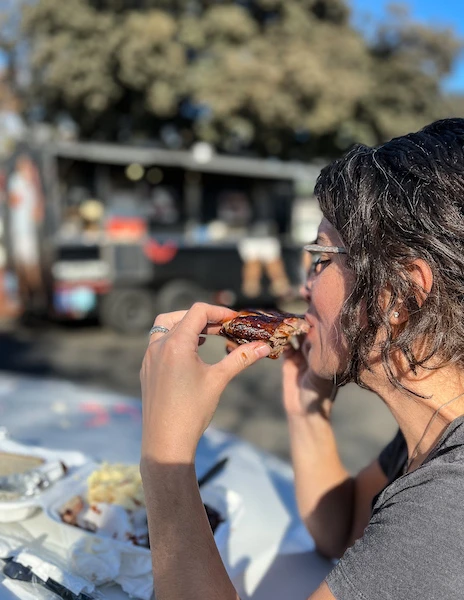 We had their ribs and rib tips with baked beans and potato salad. There was nothing in our take-out boxes that we did not like. I have to try their mac-n-cheese next time (a premium side).
One of my favorite things is the slice of white bread served with your BBQ. Just that small touch reminds me of eating BBQ in the South.
Where to find them? Rodney's Ribs sets up at the CVS parking lot corner of N Lake Ave and E Mountain St.
When are they open? Rodney's Ribs are open Wednesday thru Sunday from 11 am to 8 pm.
Rodney's Ribs | 902 N Lake Ave, Pasadena | Google Map It | Instagram
– Don't Miss: Fantastic Pasadena Restaurants on Lake Ave –
5. Tacos El Pollo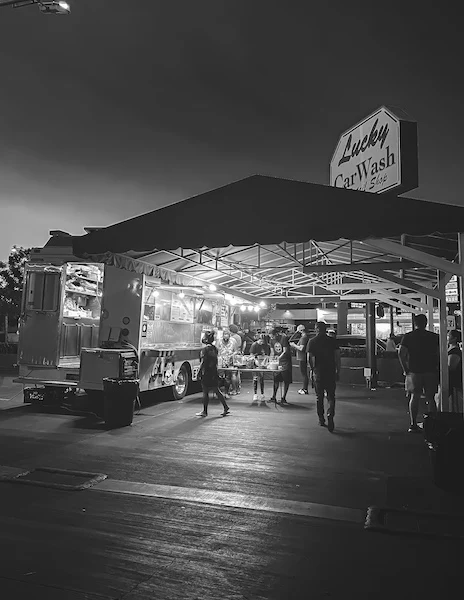 Tacos El Pollo is another food truck in Pasadena that's been serving authentic tacos in the same spot for years. They have a pretty big menu of tacos, burritos, quesadillas, and tortas. You'll find the typical fillings of carne asada, carnitas, and al pastor. They also have lengua and tripa.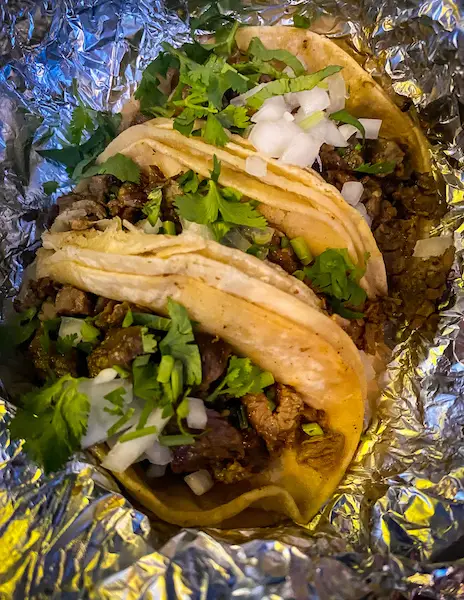 These are traditional tacos that will hit the spot. Pick your favorite fillings, make sure to ask for extra salsa, and don't forget the squeeze of lime. All of their salsas are really good, but their green avocado salsa is addicting.
They have a self-serve station with lime, radishes, onions, and cilantro.
We leave happy and full every time we eat here. It doesn't hurt our pockets, either. Usually, we'll eat in the parking lot and use the trunk of my SUV as a picnic table as they do not have any tables and chairs, even though they have room for it.
You can find Tacos El Pollo on Door Dash for pick up and delivery. Just make sure in the notes to ask for salsas.
Some nights they do get very busy; expect a small wait.
Cash Only.
Where to find them? Tacos El Pollo is on the corner of E. Colorado Blvd and Rosemead Blvd by Lucky Car Wash.
When are they open? Tacos El Pollo opens daily at 6 pm and closes at midnight.
Tacos El Pollo | 3696 E Colorado Blvd, Pasadena | Google Map It
Everyone loves ice cream! It's a delicious and sweet treat that's perfect after a rendevous with a food truck. Head out for some cold and yummy ice cream at these top Pasadena spots!
6. Lobsta Truck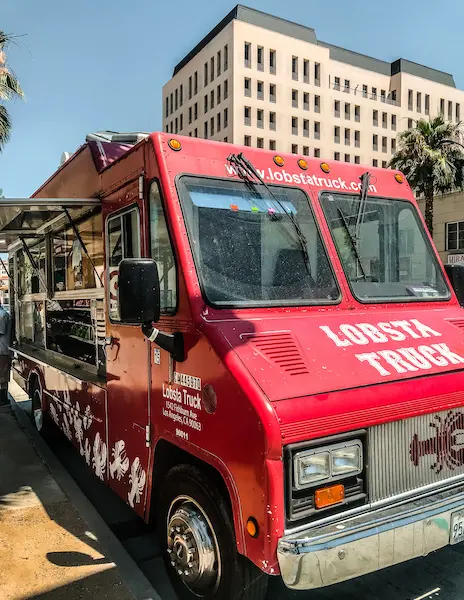 Lobsta Truck is one of the only food trucks in Pasadena serving succulent lobster rolls, lobster bisque, and clam chowders. You can get the lobster buttered or with seasoned mayo.
How do you like your lobster rolls?
I always get the buttered lobster rolls. Butter makes the world go round.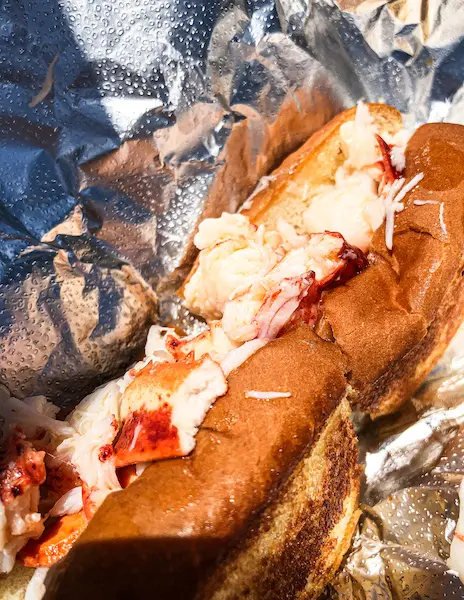 The lobster roll is a whopping $17 (or possibly more by the time you read this with the cost of everything going up), but it's worth it when you're eating a perfectly toasted New England-style roll stuffed with delicious fresh and sweet lobster.
It's a fantastic Sunday lunch or dinner treat. Pair it with some clam chowder.
Lobsta Truck also serves crab rolls.
Where to find them? Lobsta Truck sets up every Sunday in front of Target on Colorado Blvd, between the cross streets of N Oak Knoll Ave and N Hudson Ave.
When are they open? The Lobsta Truck is open every Sunday from 12 pm to 8 pm. Always check their schedule for changes.
Lobsta Truck | 777 E. Colorado Blvd, Pasadena | Google Map It
7. Los California Tacos
Los California Tacos is a Pasadena food truck that's been around forever. It's one spot in Pasadena that we know is open late (up to 2:30 am on a couple of weekend nights) for those late-night munchies and hunger pains. Sometimes this is a late-night snack, and other times its dinner.
The street tacos here will go to your heart as they serve high-quality and authentic food. Order a sampling of different tacos, so you can pick your favorite. The Chicharron is definitely a treat of spicy and delicious pork fat that melts in your mouth.
When you order from this food truck, there is a window to place your order and another to take your payment. Cash Only.
Where to find them? Los California Tacos is on S Fair Oaks Ave, between California Blvd and E Bellevue Dr.
When are they open? Los California Tacos is open every day starting at 5 pm, except Sundays at 5:3 pm. They close Sunday thru Thursday at 11:30 pm. Friday and Saturday night at 2:30 am.
Los California Tacos | 510 S Fair Oaks Ave, Pasadena | Google Map It | Instagram
Hope you get to visit all of these food trucks in Pasadena. Whether it's one at a time or all in one day on a food truck hopping tour of Pasadena… which sounds like fun and a foodie's dream.
What is your favorite food truck in Pasadena? Are any Pasadena food trucks not on this list that we need to try? Let us know in the comments!
Share the tips & love on Pinterest: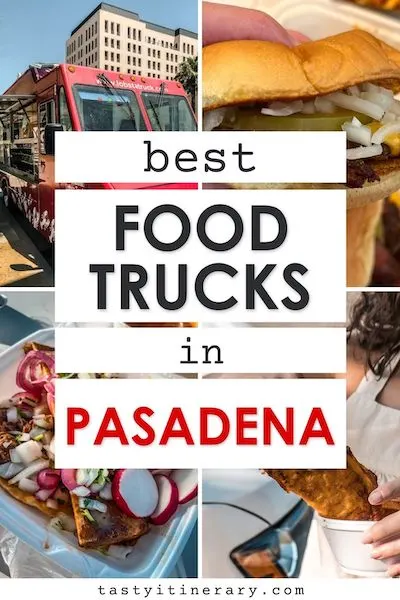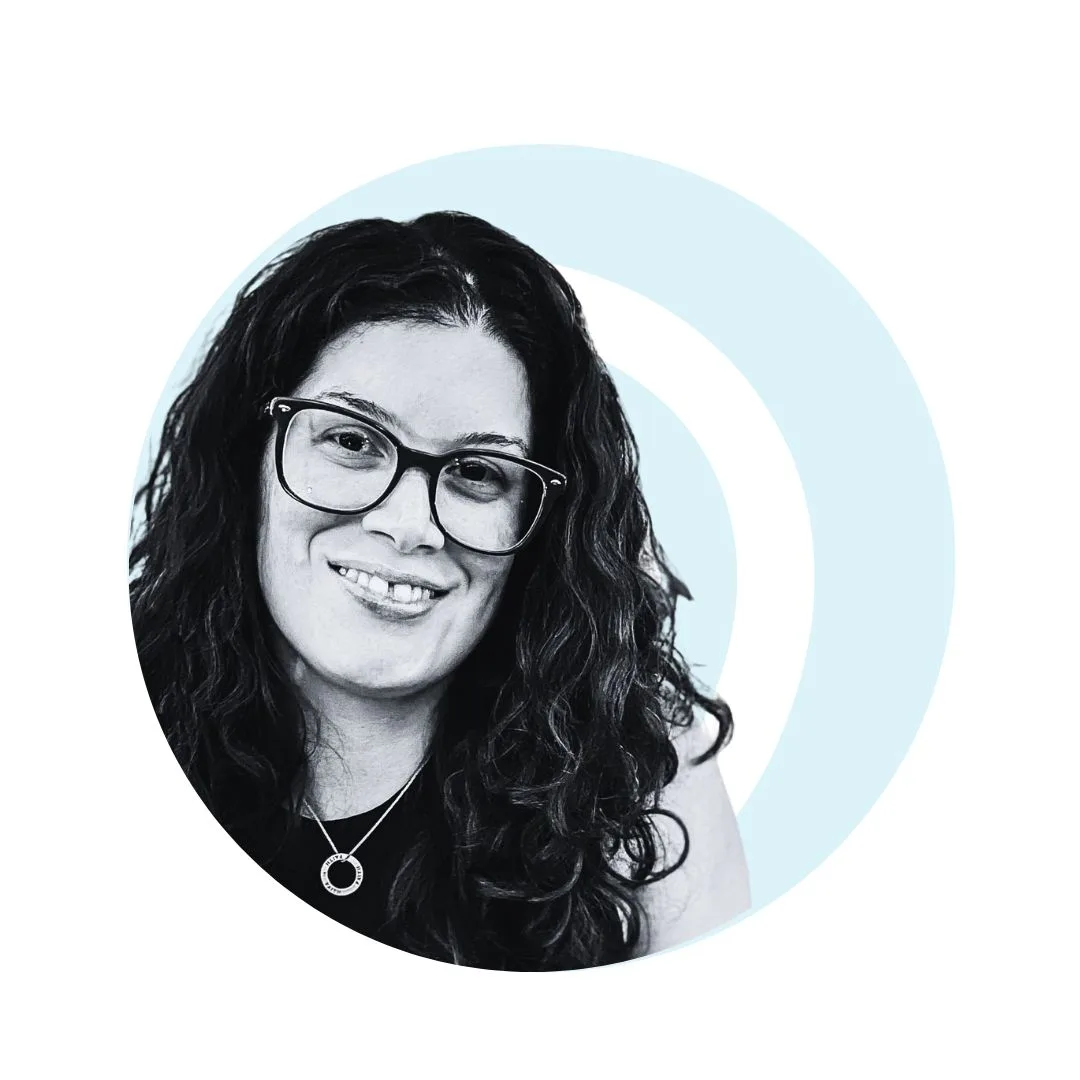 Meet Kathy Ava – a food, travel, and cruise writer based in Los Angeles/Pasadena. With over 20 years of experience planning trips and logistics at her full-time job and for herself, she's become a pro at crafting unforgettable travel itineraries. She's always looking for delicious, fun cruise itineraries and travel destinations and is slightly obsessed with Italy. Her passion and curiosity for travel started in childhood on her yearly and sometimes bi-yearly trips to PR. She firmly believes that life is short and we must make the most of it – so let's explore the world and make some incredible memories.