Looking for some of the best spots serving delicious Asian food in Pasadena, California?
The San Gabriel Valley (also known as the 626) is known for some of the best Asian cuisines in Los Angeles County, and in Pasadena, we have several spots serving some of the most delicious Asian food in Pasadena.
We'll be diving into some amazing eats to satisfy your cravings, from ramen, dumplings, shabu-shabu, sushi, pad Thai, and more.
Since moving to Los Angeles, we've enjoyed the diversity in the Asian cuisine scene here. There's no shortage of restaurants to get your fix from Japanese, Thai, Chinese, Korean, and Indonesian.
Whenever we crave certain dishes, we know there's a great spot nearby to get our fix here in Pasadena.
Ramen Tatsunoya has become one of our favorite places for a bowl of ramen that will warm you from the inside out.
If you follow us on Instagram, you know we love Oseyo Shabu Shabu and are there frequently. The great food and the staff make it a spot we enjoy.
Dan Modern's Chinese soup dumplings rival Ding Tai Fungs, but that may be our opinion. Have you tried it?
In this article, we share our local favorites and highlight some of the restaurants and places to eat in Pasadena, serving some of the most delicious Asian food in Pasadena.
From popular spots to budget-friendly, there's something for everyone on this list. We are always looking to try new places; please feel free to share your favorites in the comments.
Delicious Spots for Asian Food in Pasadena
1. Oseyo Shabu Shabu
Oseyo Shabu Shabu is one of our favorite restaurants and a go-to when we are craving a comforting meal. Their shabu consists of top-quality meats, fish, vegetables, rice, noodles, and flavorful broths. You will leave Oseyo feeling satisfied and content.
What is shabu-shabu? Shabu-shabu is a Japanese dish that consists of thinly sliced meat and vegetables cooked in a hot pot of broth. The meat and vegetables are raw, and you cook it yourself in the pot filled with broth. Seafood options are also available.
The menu offers a variety of meats and fish. The top choice ribeye is our meat of choice with the miso broth. While the menu offers 3 different broths, we always choose the miso, not spicey.
We are hooked on the garlic edamame! But we also love their blue crab wontons and a couple of other appetizers they serve.
Look out for their dinner specials! Sometimes Oseyo does have a great dinner special for two that includes shabu-shabu with a choice of meat for each, a drink (beer or soda), and a dessert.
The staff here is so friendly and attentive. They always welcome us with a smile. Sometimes they get super busy but always do their best to give everyone the best service.
Oseyo Shabu Shabu | 2879 E Colorado Blvd, Pasadena | Google Map It
2. Janejira Thai Bistro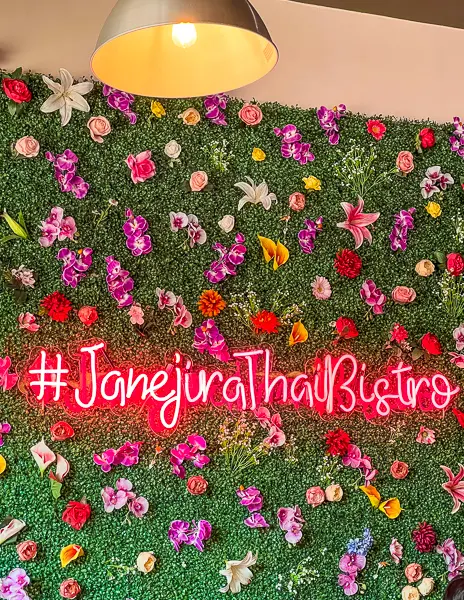 Janejira Thai Bistro has become one of our favorite Thai Restaurants in Pasadena. This charming small restaurant on Colorado Blvd is family-run, serving familiar and amazing Thai dishes with slightly modern twists.
We have eaten here a few times, pleasantly surprised each time with the deliciousness and size of the family-sized dishes at modest prices. If you're looking to eat well without breaking the bank, Janejira Thai Bistro is the place to go.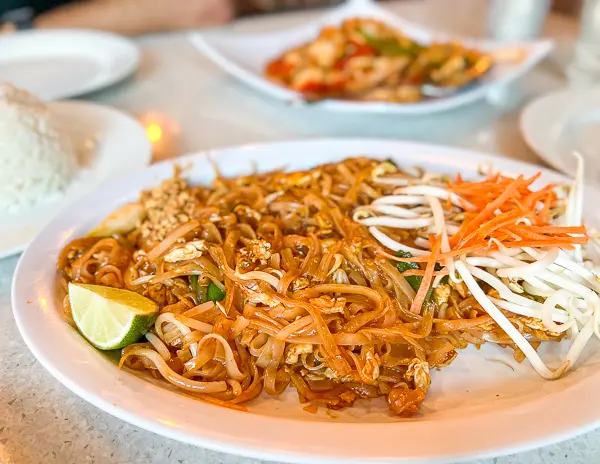 While the Pad Thai and cashew nut chicken is delicious, we have fallen in love with their garlic short ribs. The short ribs were oh-so-crispy and covered with crunchy garlic. What's not to love?!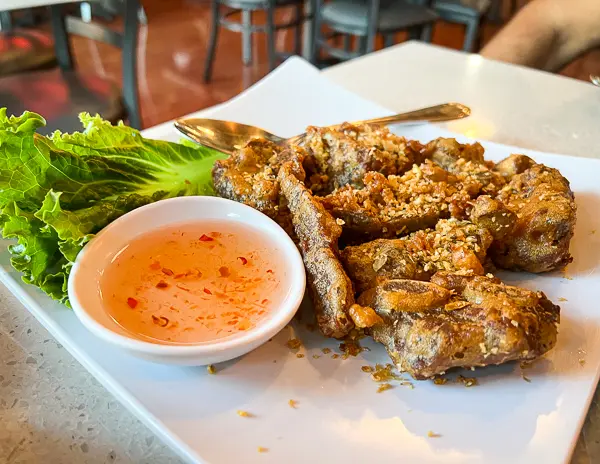 Their mango and sweet sticky rice (not pictured) for dessert is a winner.
Next time, we will try their curry!
The service is friendly and inviting. While the restaurant is small, the atmosphere is lovely and modern, perfect for a casual night with friends or family. We love the accent wall of pretty flowers with their glowing pink neon sign.
You'll also find excellent lunch specials during the week for lunch in Pasadena.
Janejira Thai Bistro | 754 E Colorado Blvd, Pasadena | Google Map It
3. Ramen Tatsunoya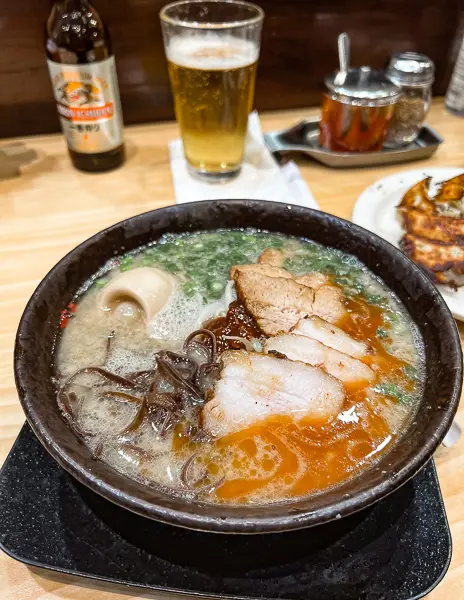 Ramen Tatsunoya is a cozy and highly popular ramen spot in Pasadena that will quickly become one of your favorites. This Old Pasadena restaurant is known and well praised for its authentic tonkotsu ramen, a rich pork bone broth that is simmered for over 15 hours. The result is a rich broth that is full of flavor. It's the best ramen in Pasadena.
The Koku, the rich broth, is our favorite, and their signature bowl comes with thin ramen noodles. The decadent fatty broth immediately hooked us when we took our first sip of this broth.
Their original mild tonkotsu broth, Jun, is their light broth and not as creamy as the Koku but still delicious and full of flavor.
Order it with the Chasu, and add an egg and other toppings for a full meal. The chasu is slow-cooked pork, so tender that it almost melts in your mouth.
Start with the fried Gyoza, some of the best around.
There is almost always a wait at Ramen Tatsunoya. It is first come, first serve. Expect a line out the door to get in. It goes fast, and you will understand why once you have that first taste.
Ramen Tatsunoya | 16 N Fair Oaks Ave, Pasadena | Google Map It
Visit Pasadena City Hall, plan to attend the Rose Bowl Flea Market, explore The Huntington Library, and much more.
4. Dan Modern Chinese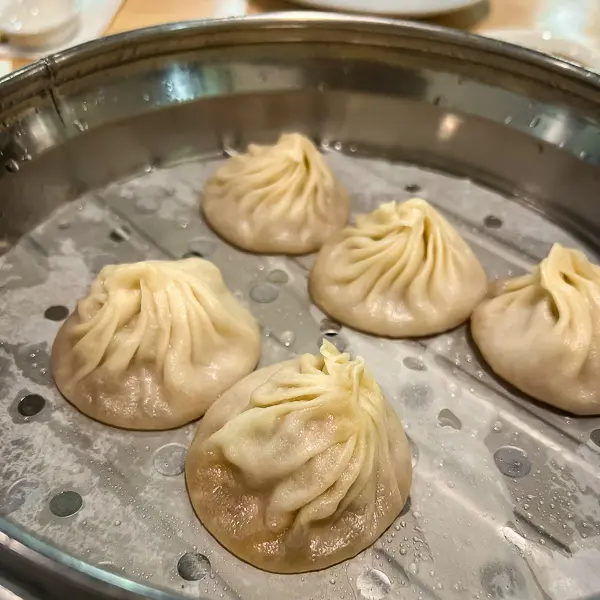 For the love of soup dumplings, go to Dan Modern Chinese. This Pasadena restaurant on Lake Avenue in The Commons serves up some of the best soup dumplings (xiao long bao) and noodles in town. This is one of our favorite spots for traditional Chinese food with a modern twist.
These handmade soup dumplings here are some of the best we've had. The dough is thin and delicate, with a flavorful soup and pork that bursts in your mouth. The dumplings come out fresh and steaming hot.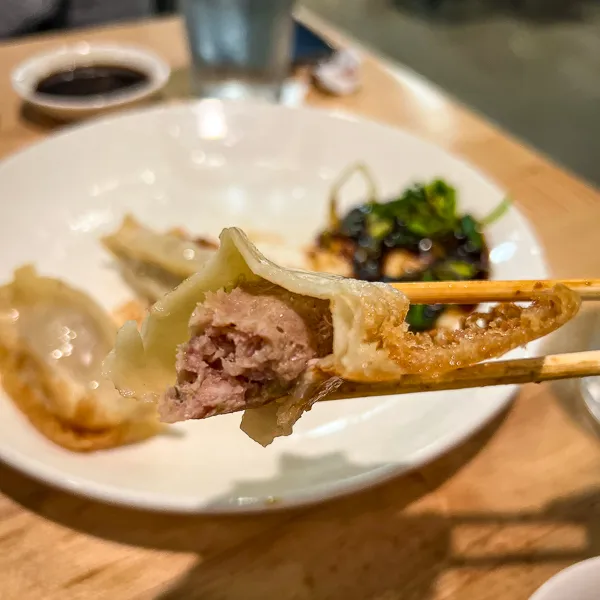 Their crispy dumplings are also a must-try. The outside is nice and crispy, with a flavorful pork filling.
The dumplings here are as good as Ding Thai Fungs, if not better. What makes them even more delicious is that they are local in Pasadena and easier to get into.
We also love their short rib dan mein, handmade noodles that are chewy, delicious, and tossed in a savory sauce with tender short rib.
The restaurant is modern and sleek, not quite cozy, but still nice to have a fantastic meal in. What's best about the servings here is that you can order several things to share with your table to get a taste of everything.
Dan Modern Chinese | 146 S Lake Ave #105, Pasadena | Google Map It
– Don't Miss: Breakfast and Brunch in Pasadena –
5. Chef Tony Dim Sum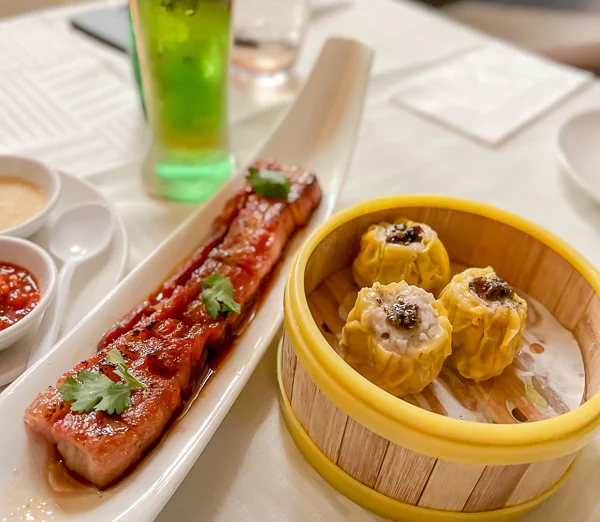 Chef Tony's is one of the places to go if you're looking for delicious dim sum in Pasadena. We know that dim sum is traditionally served for breakfast and brunch, but we also enjoy it at dinner time.
The menu is extensive with all your favorite dim sum dishes, including Chef Tony's featured menu items. One of them is the roasted duck and minced duck lettuce wraps, one meal prepared two ways. So that you know as we didn't even realize it was a two-parter meal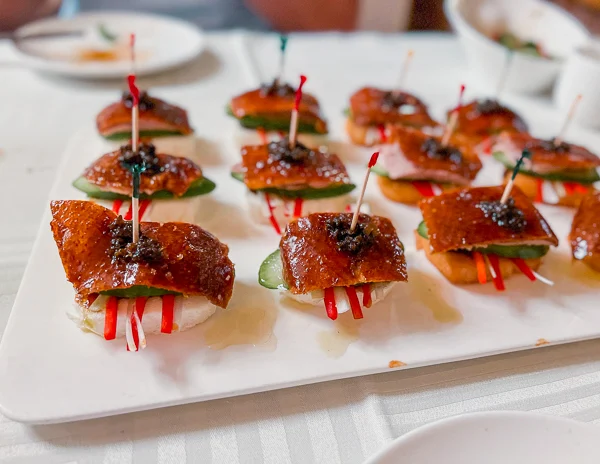 Part 1 of this order is the roast Peking duck. It's slices of roasted duck with crispy skin, over some veggies, hoisin sauce, laid over slices of either steamed bun or crispy bun, and topped with black truffle. Just one bite, and you'll be singing high praises.
The minced duck with lettuce wraps was just as amazing.
Note, if you order the roasted Peking duck and the lettuce wraps, and it's just the two of you, note that it's a lot of food. Incredibly good, though. It's a burst of flavors and textures in your mouth
We also loved the shrimp and pork dumplings topped with black truffles. The BBQ Pork at Chef's Tony was insanely delicious as well.
The restaurant is beautiful, with high ceilings preserved as part of Pasadena's historic architecture.
Chef Tony | 2 E Colorado Blvd, Pasadena | Google Map It
6. Bone Kettle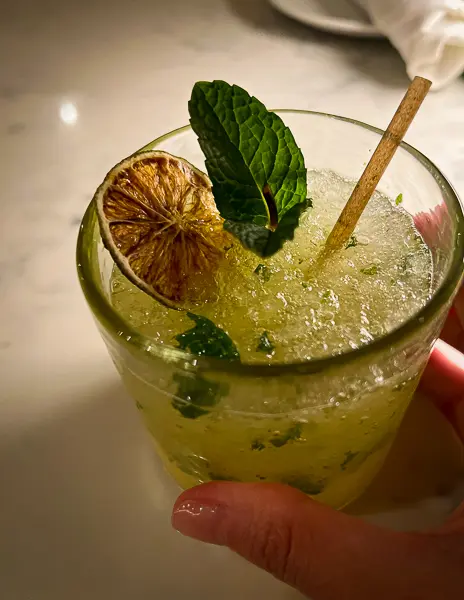 Bone Kettle is a Southeast Asian restaurant in Old Pasadena serving a mix of inspired dishes from Indonesia, the Philippines, Singapore, and Malaysia. Their featured dish is a 36-hour beef bone broth.
We had a date night at Bone Kettle on a Saturday night, and it was busy! We recommend reservations if you have your heart set on eating here. Plus, you'll ensure to be seated on time and won't have a long wait.
The restaurant is modern, with wood accents and dim lighting. The menu has a good variety of options from traditional dishes like sisig, lumpia, nasi goreng, Singaporean chili lobster, Bone Kettle's epic bone broth, and so much more. You'll want to have it all.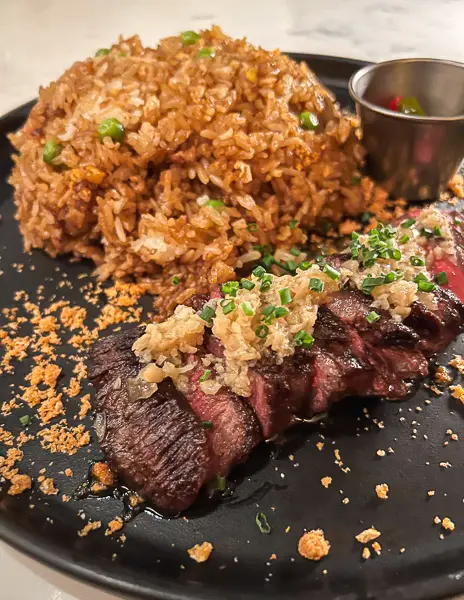 We ordered two of their most popular dishes for our main: bone broth with brisket (although you may want to try the oxtail) and the nasi goreng with wagyu.
The star of dinner was beef bone broth. The broth is poured at the table for you, nice and hot from a kettle. It was flavorful and surprisingly light with bits of vegetables in it. The noodles were perfectly cooked, and the beef we added was tender.
Add the wagyu to the nasi goreng… it is worth it. We preferred it over the rice, which came cold but it was tasty.
The ube crinkle cookies from the Butter-Lab are a must-have as a dessert. The cookies are thick and soft with the perfect amount of ube flavor without being too sweet.
Bone Kettle also has weekend brunch. You can make reservations online for brunch or dinner on their website.
Bone Kettle | 67 N Raymond Ave, Pasadena | Google Map It
7. Kaiba Japanese Ramen, Sushi & Grill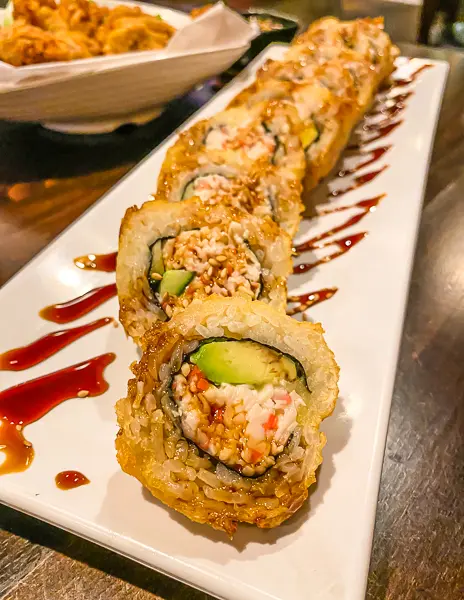 Kaiba Japanese on Colorado Blvd, near PCC, is a great sushi spot where you can get sushi, ramen, or udon for a fantastic value.
One of us doesn't eat fish. But from time to time, I crave sushi. So it's an ideal restaurant to go to when having dinner without someone that isn't much of a sushi lover as they have other delicious dishes like sizzling teriyaki plates, ramen, and beef udon.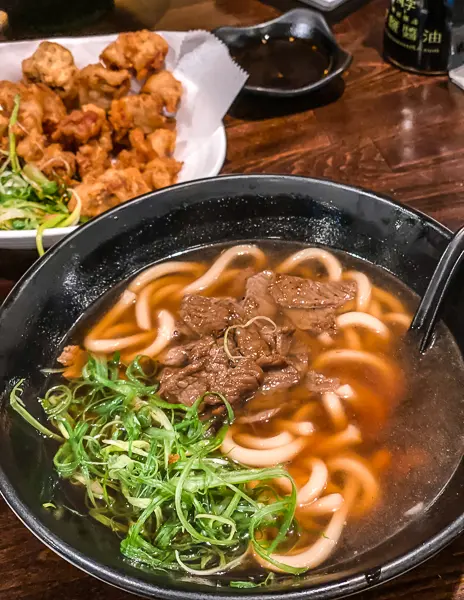 The sushi portions are big, and the quality is excellent. You can get a large bowl of flavorful, rich tonkotsu ramen with an egg and a few slices of chasu for a decent price.
The beef udon here stands out. The noodles are thick and chewy, and the beef is tender. The broth is delicious, with a bold flavor of beef that soothes the soul. Perfect meal for a chilly night.
The service is always friendly, helpful, and fast. Whether you're in the mood for sushi, ramen, or udon, Kaiba Japanese is a great spot for a fantastic meal without breaking the bank.
Kaiba Japanese Ramen | 1713 E Colorado Blvd, Pasadena | Google Map It
Wonderful Cafes and Coffee Shops in Pasadena
With the abundance of cafes and coffee shops in Pasadena, we have quite a few that are wonderful, all serving their amazing roasts, baked goods, and ambiance. Check out these amazing cafes and coffee shops in Pasadena. Get your caffeine buzz on.
8. President Thai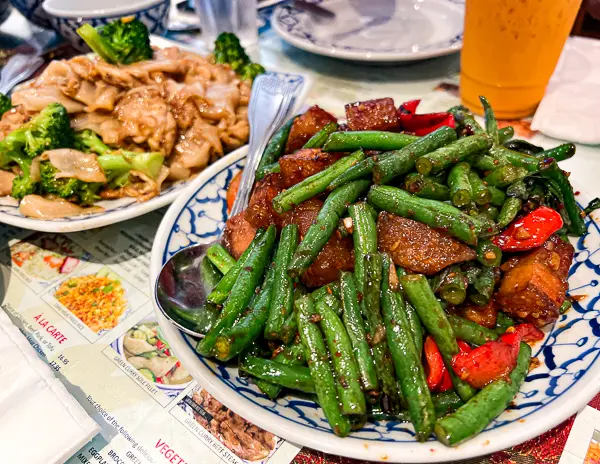 President Thai is a neighborhood restaurant in Pasadena serving authentic Thai food. This is a family-friendly restaurant, and you'll find large groups of locals dining here, sharing multiple dishes. It's our go-to when we have family and friends in town. Everyone always leaves happy.
The menu at President Thai is expansive and has all of your Thai favorites as well as some unique dishes you may not have had before. Their portions are large, so make sure you're ready to share or take home.
Our usual order consists of yellow curry, pad see ew, Thai fried rice, pork jerky are some of our favorites. We recently tried their tom yum soup and crispy pork with string beans. There isn't a dish here that we haven't loved.
We suggest arriving early. It gets super busy for dinner.
President Thai | 498 S Rosemead Blvd, Pasadena | Google Map It
9. TOP Restaurant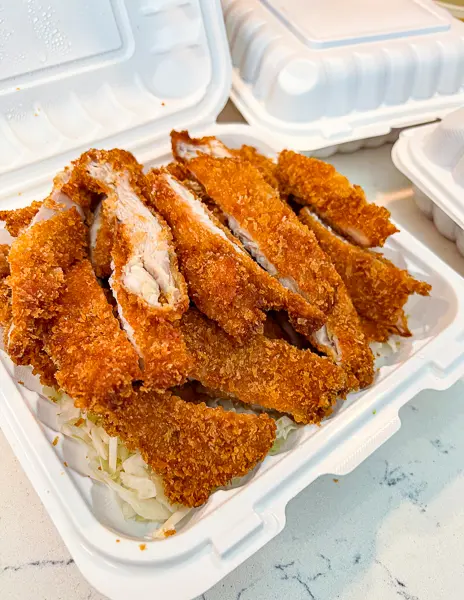 Top Restaurant is an unassuming spot in a shopping center on Colorada Blvd, blessing us with some amazing Hawaiian and Indonesian comfort foods. It's a hidden gem in Pasadena. Get ready to get some of the best take-out.
Spam musubi, chicken katsu, Indonesian Fried Rice, BBQ Short Ribs are all available at Top Restaurant and more. Get a combo meal with white rice and macaroni salad.
The chicken katsu with curry is our favorite as it comes perfectly crispy yet light. Dip into the curry or pour the curry over the katsu, and you have the perfect mix of goodness.
The family meals are worth it for a take-out one night. You get a lot of food for less than $50.
Top Restaurant | 1842 E Colorado Blvd, Pasadena | Google Map It
Other Asian Restaurants to check out:
Superb Pasadena Restaurants You Need to Try
Pasadena, California, is known to have one of the best food scenes in Los Angeles. New cafes, eateries, and restaurants in Pasadena are opening monthly. We've gathered a list of superb Pasadena restaurants you should have on your radar when exploring Los Angeles.
If you're looking for some delicious Asian food in Pasadena, you'll find it at the restaurants we've mentioned. Each spot has something unique to offer, so make sure to check them all out!
Do you have a favorite Asian cuisine? What's your favorite Asian restaurant in Pasadena?
Share the tips & love on Pinterest: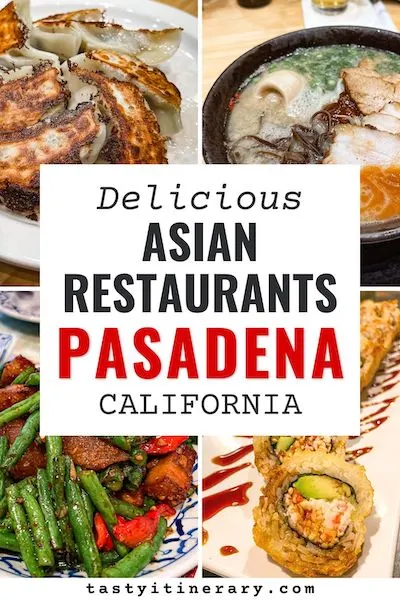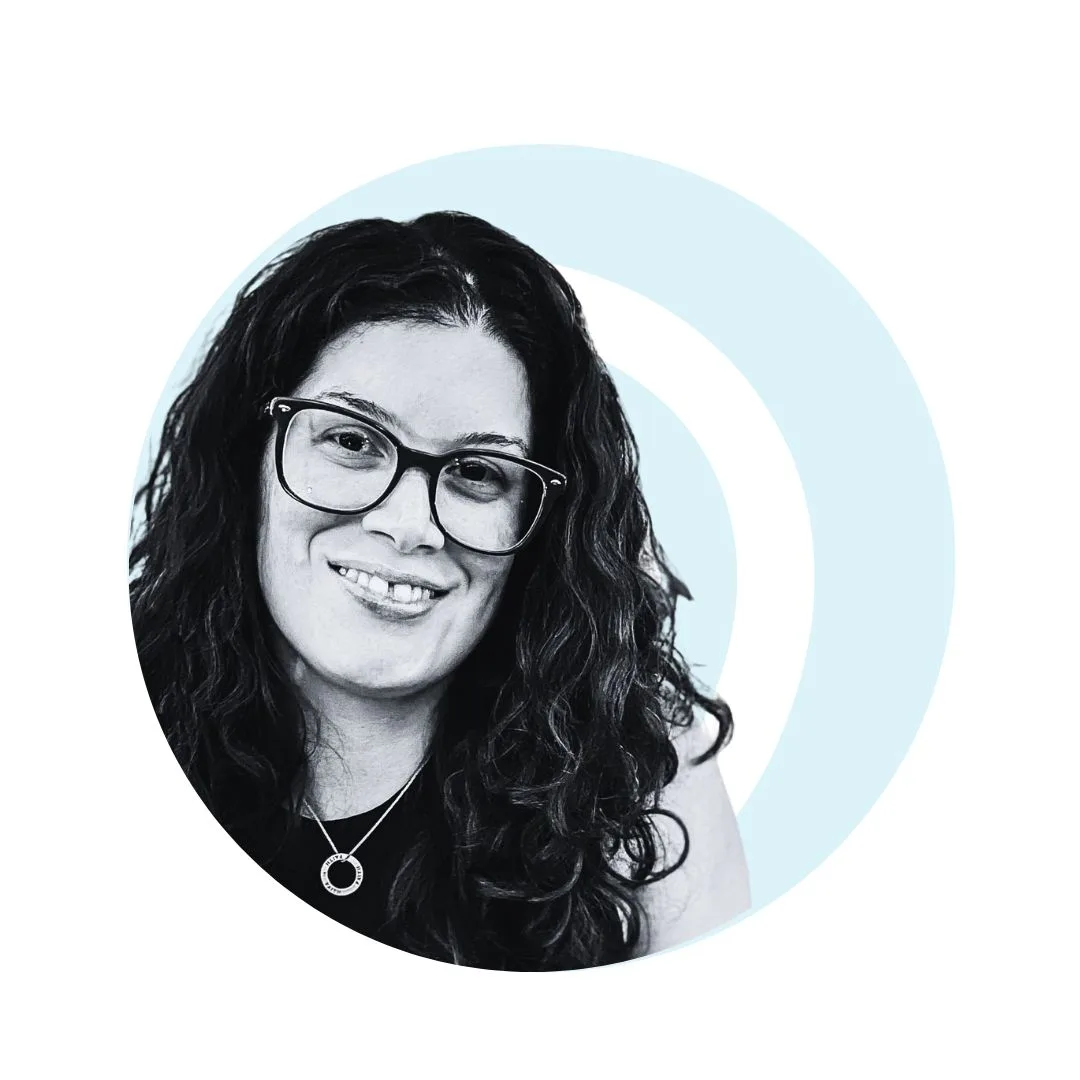 Meet Kathy Ava – a food, travel, and cruise writer based in Los Angeles/Pasadena. With over 20 years of experience planning trips and logistics at her full-time job and for herself, she's become a pro at crafting unforgettable travel itineraries. She's always looking for delicious, fun cruise itineraries and travel destinations and is slightly obsessed with Italy. Her passion and curiosity for travel started in childhood on her yearly and sometimes bi-yearly trips to PR. She firmly believes that life is short and we must make the most of it – so let's explore the world and make some incredible memories.