Thinking of heading to New Orleans for a few days? Looking for things to do in The Big Easy outside of Bourbon Street. See what we did with less than 3 days in New Orleans to explore. This is our taste of NOLA.
This was our first time in New Orleans. The city has always been on our bucket list, we just never had the opportunity. Due to some last-minute change of plans, we booked a 9-day Western Caribbean cruise departing from New Orleans.
Nobody had to convince us to tack on a few extra days to our vacation to spend time in New Orleans. We spent less than 3 days in New Orleans and got a small taste of what this city has to offer. It rained off and on, but we still managed to do a lot.
Things to Do in New Orleans:
The French Quarter
Frenchman Street
Visit the French Market
Go on a Ghost Tour
Tour the oldest cemetery in New Orleans
The National WWII Museum
Ride the St. Charles Street Car
Explore the Garden District
Compare Beignets
Eat Muffalettas
Please note: this trip and post was written pre-Covid.
3 Days in New Orleans
Spend your 3 days in the heart of New Orleans: The French Quarter
Where to stay in the French Quarter
Since this is our first time in New Orleans, I chose to stay in the French Quarter. At least in walking distance to everything in the French Quarter. I refused to stay on Bourbon Street as I read it becomes loud at night and after experiencing it, it definitely is not my scene.
Marriott Courtyard New Orleans French Quarter/Iberville was our home for our time in New Orleans. It's a great location, not far from Bourbon St, and pretty central to everything.
The staff was wonderful and helpful. The room was spacious and the bed comfortable. My only complaint is cleanliness could have been a tad better – 4 out of 5 stars.
Day 1 in New Orleans
The French Quarter
If this is your first time in New Orleans, the French Quarter is a must. It is the heart of the city! While touristy, it's charming, full of history, and filled with amazing architecture that reminded me of Europe. Sometimes it transported me back to the lovely streets of Paris.
There are many boutiques, candy shops, cafes, and restaurants. You can spend the entire day walking the streets and taking all the details in. Don't forget to look up!
After we checked into our hotel, we went on the hunt for a late lunch and early dinner. On our way, we couldn't help but window shop and gawk at all the antique stores we were surprised to find. We ended up eating at dinner The Original Pierre Maspero, more info below.
So, leave your luggage at the hotel and head on out to explore.
Go on a Ghost Tour
For our first night, I booked a Ghost Tour around the French Quarter. It's spooky, informative and so much fun. I highly recommend doing one.
Learn about the paranormal activities, the haunted restaurants, and why Nicolas Cage has a tombstone in New Orlean's oldest cemetery.
Have a Late Night Snack at Café Du Monde
We opted to try Cafe Du Monde's famous beignets and chickory coffee as a late snack. I'm glad we did because there were no lines and we were able to enjoy it without the crowds that surround it during the day. During the day, at least during the time we were there, it was always packed.
See my Cafe Du Monde review below.
Day 2 in New Orleans
Take a Guided Tour of the French Quarter
On our 2nd day, on our very first morning, we booked a two-hour walking tour of the French Quarter with Free Tours by Foot. It was great to have a local to guide us and introduce us to their city. There is a ton of history that one would miss on their own. It's simply not the same reading it from the guidebook or just simply staring at things as you walk around.
See and learn more about Jackson Square, St. Louis Cathedral, Bourbon St, Mardi Gras, visit the French Market, and more.
Always follow the sound of the music…
Whether you come here for Mardi Gras or not, the city is always in a festive spirit. You can find evidence of Mardi Gras beads hanging from trees, people dancing in the middle of Bourbon Street, and during the day street bands entertain us with their jazz favorites.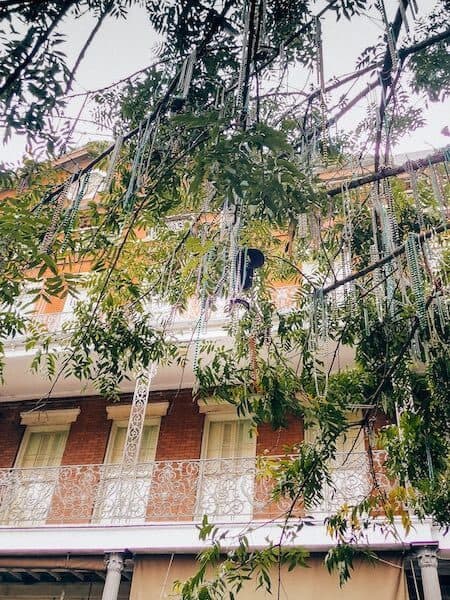 At night, Bourbon Street is livelier, and instead of jazz bands, you'll hear popular music pouring out of the bars.
Visit the French Market
The French Market is also another fun thing to do. It is a great open-air market that spans 6 blocks. You will find an array of local shops and foods. This is also a neat place to pick up some handcrafted souvenirs.
Enjoy a muffuletta at Alberto's Wine and Cheese for lunch.
The French Market is open daily from 10 AM to 6 PM
Ride the St. Charles Street Car to the Garden District
After lunch, we rode the St. Charles Street Car. It's the green line that runs all the way to the Garden District. You can see the city for $1.25 each way. Remember, you MUST have the exact change. We rode it all the way to the end and then rode it back.
Hop on/off in the Garden District and explore this beautiful neighborhood. We wish we had the time to see properly.
We had a tour booked with Free Tours by Foot for day 3 and had to cancel because we were still at the War World II museum. Of course, you do not need a tour and you can do this on your own. The St. Charles Streetcar will also take you to the zoo, another option during your time in New Orleans.
Visit Frenchman Street
In the evening, skip Bourbon and head straight to Frenchman Street. You will find a few clubs with live music and restaurants. We enjoyed our night here walking and listening to live Jazz from right outside these clubs. There were lines for some to get in. So be prepared to wait or get there early.
25 Reasons to Consider a Cruise Vacation
Why not a cruise vacation? We list all the best things about cruises. You will be convinced that a cruise will be part of your next vacation.
Day 3 in New Orleans
Have breakfast at Ruby Slippers or try the Beignets at Cafe Beignet.
Spend the Day at the National World War II Museum
When I planned our time in New Orleans, I seriously thought that half a day at the World War II Museum would be enough. I was so wrong. I had the Garden District Tour with Lafayette Cemetery booked for the 2nd half of the day and I ended up canceling because we were still at the museum.
If you love history, plan a good portion of your day there. This museum is filled with an overload of history and emotional recounts of the war. The exhibits are outstanding. Wear comfortable shoes and be prepared for a lot of walking.
National World War II Museum | 945 Magazine St, New Orleans, LA 70130 (Google Map It) | Website
Dinner on our last night was at Red Fish Grill.
Tasty Itinerary: Places to Eat in New Orleans
The Original Pierre Maspero
I had my first and only hurricane drink here, and wow, one was enough for me. Love the meat pie. Their signature crab cakes were delicious. Hubby tried his first shrimp po'boy and loved it.
The Original Pierre Maspero | 440 Chartres St, New Orleans, LA 70130 (Google Map It)
The Ruby Slipper Cafe
This is a great breakfast spot with a southern style menu. You do not go here for avocado toast (although I think that's mostly a California thing). Order the biscuits with honey butter! That's what you want to order. Trust me.
Obviously, I fell in love! And I wasn't even feeling well. I was trying to eat simple that morning, but the moment I had a taste of the biscuit that came with hubby's plate, I had to get my own.
Trust me… order the biscuit.
The Ruby Slipper Cafe | 200 Magazine St, New Orleans, LA 70130 (Google Map It) | Other locations available.
Red Fish Grill
As we waited for a table at Red Fish Grill, we met a couple that used to live in New Orleans but had moved sometime after Katrina. After some conversation, a table became available and we invited them to sit with us.
They went on and on about the BBQ Oysters here, so of course, I had to try them. I do not like Oysters. I have tried them raw in the past and they are not for me. Never BBQed, and they were amazing! To this day I still think about them.
I also tried their gumbo, which turned out to be my first time having anything with alligator meat in it. Delicious!
Red Fish Grill | 115 Bourbon St, New Orleans, LA 70130 (Google Maple It)
Alberto's Cheese and Wine Bistro
Alberto's is located in the French Flea Market on N Peters St that is open daily. Our local guide was adamant that they served one of the best muffalettas. Alberto's and Napoleon House, but we didn't have a chance to go to Napoleon's.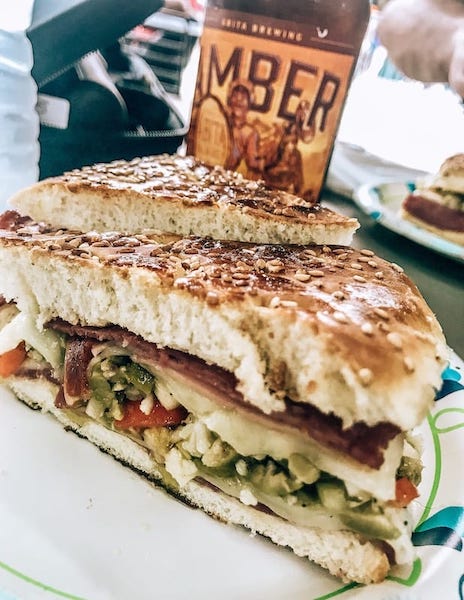 We had Central Grocery on the top of our list, but our guide didn't have the best things to say about their sandwiches. We took on the challenge to make a comparison within hours on the same afternoon. And oh boy, Alberto's without a doubt was a greater sandwich.
Not only does Alberto's make their muffalettas fresh to order, but you also have the option to have it heated. It's served with the cheese all melted and gooey. Place your order accordingly. The melted cheese and warm bread did make a huge difference.
When we ordered at Central Grocery, they had the sandwiches wrapped and stacked behind them to go. Only one way to eat them, cold. I like options. Also, the filling was too salty for my taste.
I recommend Alberto's… order a quarter, a half or a whole muffuletta, heated or not.
Alberto's | 1100 N Peters St, New Orleans, LA 70116 (Google Map It)
Create Stunning Photo Websites with SmugMug – Try It Free!
Café du Monde vs. Café Beignet
What would a trip to New Orleans be like without beignets? A waste of time! You definitely have to fit beignets into your 3 days in New Orleans.
Still stuffed from dinner, we managed to go to the famous Café du Monde on our first night. We ordered café au lait and beignets. I think I fell in love more with the coffee than the beignets. The beignets were good, and obviously, I stuffed my face with the sugary donuts. There wasn't a crumb left after we were done. Truthfully, I was more wowed by the coffee.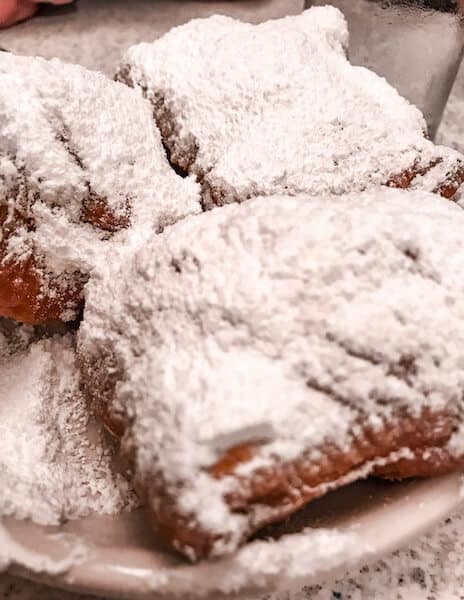 On our last night, we decided to try Café Beignet, a few locals recommended we go there instead of Café du Monde. According to them, they were more authentic. I honestly do not know what an authentic beignet would taste like. Café du Monde seemed pretty legit, but I was ready to give another place a try.
Well, I have to admit, I loved the beignets at Cafe Beignet! They were airy, less dense than Café du Monde. Sadly, the coffee was just okay.
In my ideal world (next time this is what I plan to do) I would pick up a coffee at Café du Monde and then beignets from Café Beignet. Have the best of both worlds. Ah, sounds so good right now.
I know food is subjective, so you may not agree with me, and that's okay. If you have a favorite beignet place in New Orleans, let me know and I will definitely give it a try the next time I'm there.
Looking for other great eats?
Perhaps try one of these popular New Orleans restaurants:
New Orleans Tours to Book
1. Free Tours By Foot
This is the first time I ever booked with Free Tours by Foot and we had a great experience. They have tours in different cities across the US and they are almost all FREE, some may have a small surcharge upon booking. The guides work for tips. Whatever you can afford or feel the tour is worth at the end of it, please tip.
We did two tours with Free Tours by Foot:
Visit their site for other available tours.
Both guides did a great job. With any tour, a tour guide can make or break the experience.
2. Take a 2-hour Jazz Cruise on the Mississippi River
This is a great way to spend a nice afternoon. Cruise on an authentic steamboat on the lower Mississippi River. Take in the views. Visit the engine room. Have an optional creole lunch.
3. History Food Tour
New Orleans is one of the dining capitals of the United States. Take this afternoon food tour, consider it lunch as you will visit 6 locations and sample at least 10 different foods.
4. Hop-On Hop-Off Bus
With limited time in a new city, a Hop-On Hop-Off Bus can be a lifesaver. You don't have to worry about transportation, you will get information about the city and be dropped off at most points of interest. Get a pass for 1 or 2 days.
A Taste of New Orleans in 3 Days
A few days is not enough to experience everything New Orleans has to offer. However, a taste is better than nothing at all. So if 3 days in New Orleans is all you have, you can absolutely experience some of the most influential parts this city has to offer as we did.
It was nice to stay in the French Quarter for our first visit, I hope to venture out to other parts of New Orleans next time.
Wish I Had More Time For…
A cemetery tour
Explore the Garden District
Steamboat cruise
More beignets =D
---
What are you looking forward to the most during your 3 days in New Orleans? Is it the Beignets? The spooky ghost tour? If you have been to New Orleans before, what did you enjoy the most?
---
Don't forget to share the love on Pinterest: