Where to Eat in Kauai: Food Guide
Are you planning a trip to the Garden Island of Hawaii? Wondering where to eat in Kauai?
Once we booked our trip to the garden island and figured out the top things to do in Kauai, finding the most delicious spots to eat in Kauai was our next order of business.

Aloha!
We ate at the following Kauai restaurants and local eateries during our 7 Days in Kauai.
We stayed in an Airbnb in Princeville, so many dining experiences occurred nearby. Every day when we left Princeville, we'd try something new for breakfast or lunch.
Normally, if we don't enjoy an establishment, we won't mention it. Unless it was truly horrifying, and we have to mention it. You may love what we may not have enjoyed as you make your own discoveries.
Eating out in Kauai can be expensive, depending on what you like to eat. So if you rented an Airbnb or another vacation-type rental with a kitchen, you might want to pick up a few things at the nearest supermarket.
When we are on vacation, we indulge and savor every bite. It wasn't hard to accomplish this eating in Kauai. You only live once.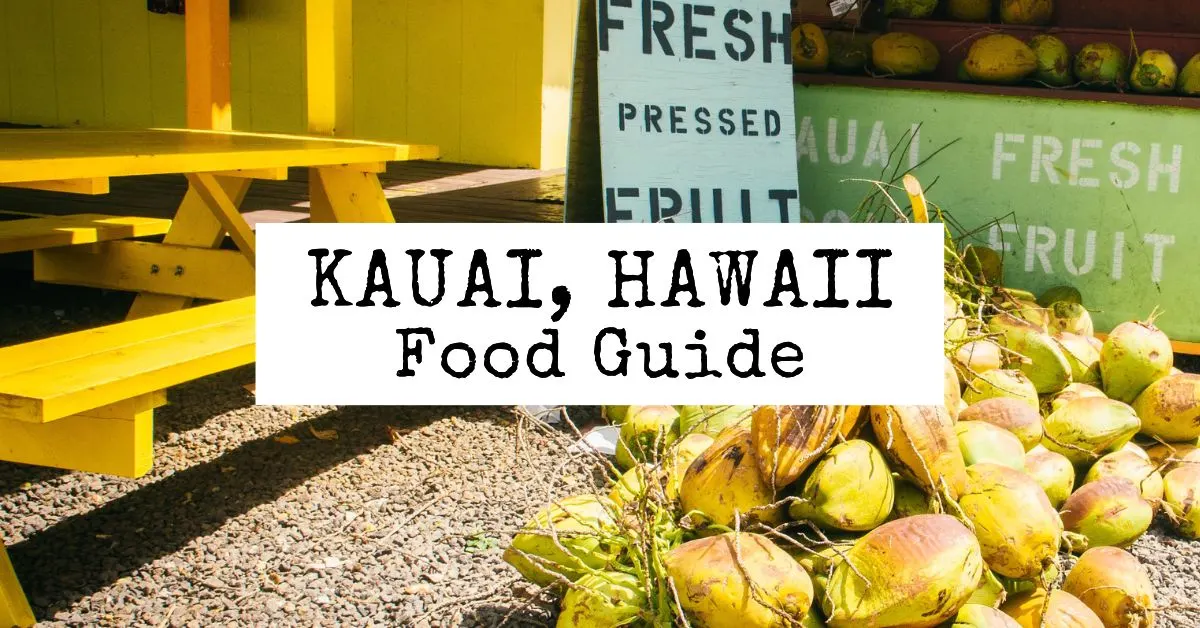 This post may contain affiliate links, which means we'll receive a commission if you purchase through our links at no extra cost to you. Please read full disclosure for more information. We appreciate your support!
In this article, we share with you all the places we loved to eat at during our time in Kauai. So you can start planning where to eat in Kauai during your visit.
Note that menu items may not be available as menus are subject to change at any time.
Where to Eat in Kauai, Hawaii
North Shore Kauai: Places to Eat in Hanalei Bay
Hanalei Bread Company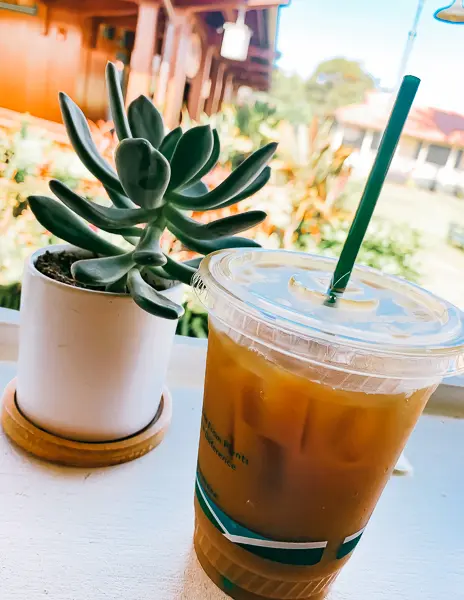 Start your day off with coffee and breakfast at Hanalei Bread Company. The aroma of baked goods will lure you in, and you will have a hard time resisting the urge to order everything.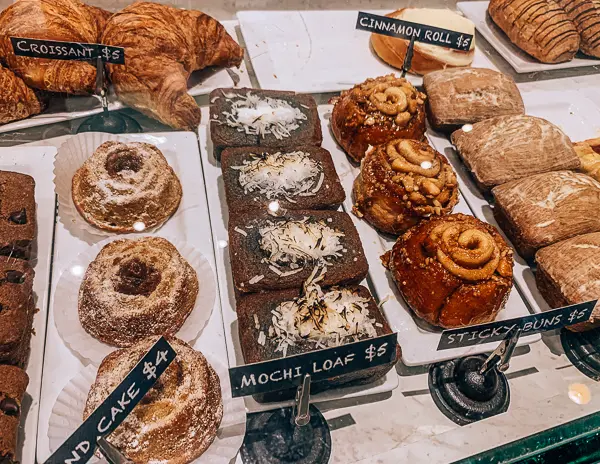 We couldn't resist not having something with their fresh-baked bread. Their avocado toast was divine. Whole wheat bread, topped with buttery avocados and watercress, drizzled with extra virgin olive oil. The plate is big enough to share between two people.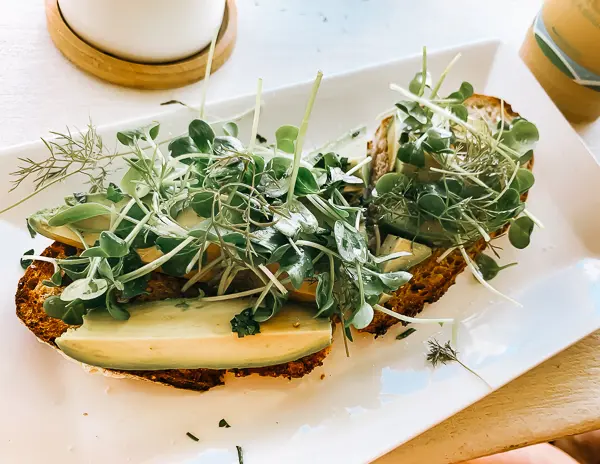 We also loved his brekkie sandwich, an egg, bacon, and cheese on a croissant. The quality of ingredients is what makes a sandwich like this delectable.
We almost ordered homemade granola with fruit. We swore if we returned, we'd try it. That will have to wait for the next visit.
Hanalei Bread Company is also a great spot for lunch. If you're planning to spend the afternoon at the beach, they have a pre-packed picnic you can take with you.
Hanalei Bread Company | 5-5161 Kuhio Hwy #4, Hanalei | Google Map It
Bar Acuda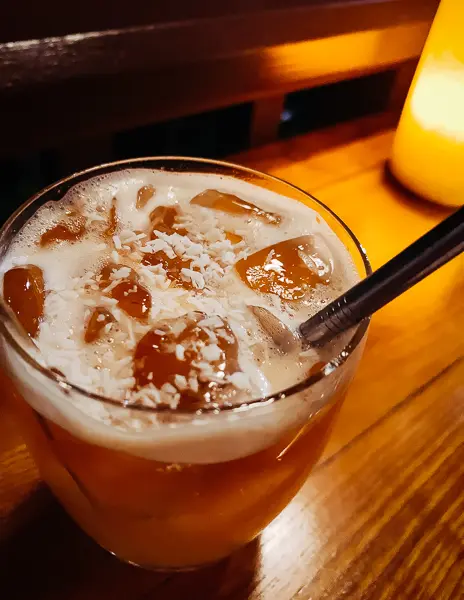 As we started to organize this post, we asked ourselves, "if you had one place to recommend to a friend where to eat Kauai from our last trip, where would it be?" We agreed that the restaurant with the tapas in Hanalei was excellent."
Love that we get to share these experiences.
Our dinner at Restaurant Bar Acuda is our favorite. This is the one place we repeatedly found throughout all my Kauai research that appeared as a must-eat in Kauai.
After eating here, we understand why. A reservation to Bar Acdua was the only reservation we made in advance.
Bar Acuda serves tapa dishes. All plates are sharable and prepared with local ingredients.
Aside from their standard menu, they have specials. We jumped at trying two of them, I had a whole tuna ceviche to myself, and then we shared this amazing cucumber salad with feta and crunchy spiced chickpeas. I still think of this salad.
From the menu, papas ajos (not pictured) and lamb riblets. It goes without saying that after a phenomenal meal, we could not and would not miss dessert. We topped our meal off with mango cheesecake and chocolate pot de creme.
If there is one night that you'd like to splurge a little, we suggest saving it for Bar Acuda.
The menu and specials change, so what we ordered may not be available when you dine there. However, this is the one place to be adventurous and order a few things from the menu.
Reservations are highly recommended!
Bar Acuda | 5-5161 Kuhio Hwy, Hanalei | Google Map It
Tasty Itinerary Tip: Eat dinner on the early side. As everything begins to shut down once it starts getting dark. 
Tahiti Nui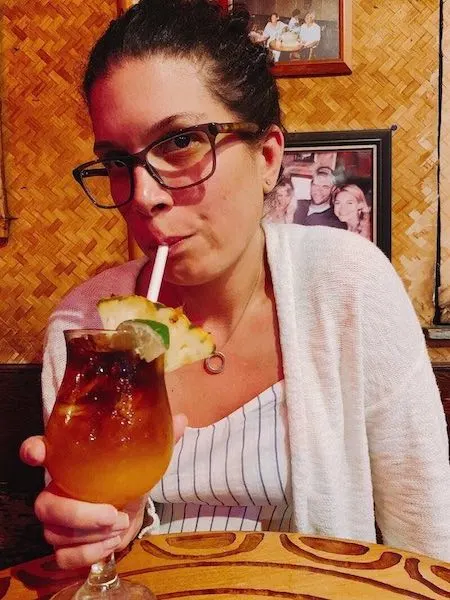 Our 2nd favorite spot, Tahiti Nui. We ate here a couple of times during the week. They are open later than everyone else.
The atmosphere here is casual and friendly, possibly the most nightlife you'll find in Hanalei Bay. If you are searching for the best Mai Tai, Tahiti Nui has you covered!
Our only regret is never being hungry enough to order one of the main entrees. We sat next to a pair of couples one night, and our eyes popped out of our heads when their meals came out—beautifully plated fish dishes with colorful purple sweet potato mash.
We were, well, I was, well invested in the Mai Tai's, and we enjoyed their coconut shrimp twice. Hubby had the Huli Huli chicken pizza and tried the ribeye beef poke, which he fell in love with.
While one of us doesn't like poke because of the fish, their ribeye beef poke bowl is a dream come true for non-fish eaters.
At home in Los Angeles, we always say the poke bars should have a beef option. This bowl is delivered with everything you know you will love about a poke bowl but with meat. Tahiti Nui is ahead of everyone else.
Tahiti Nui also has a weekly Luau. For $125 pp (adults), you get an open buffet and a show. Had we known ahead of time, we would have booked it. On the list for our next visit!
Tahiti Nui | 5-5134 Kuhio Hwy, Hanalei | Google Map It
Best Beach Drinks That Never Fail
No beach vacation or beach trip is complete without beach drinks and beach cocktails. Here is a list of the top alcoholic drinks for fun at the beach and a few easy non-alcoholic drinks to complete your time there.
AMA Restaurant
Ama is next door to its sister restaurant, Bar Acuda. Here you will find ramen noodle bowls, steamy buns, and cocktails.
We ate at Alma on our first night. The menu was interesting, and we got seated right away on their beautiful terrace facing the lush mountains.
We recommend eating early while the sun is still out if you'd like to enjoy the scenery. Once it gets dark, you can't see anything.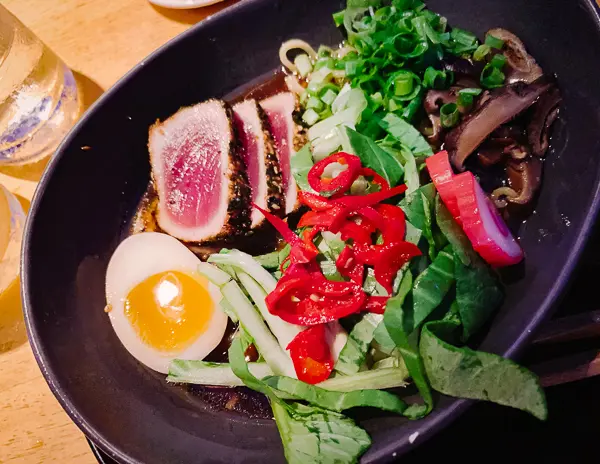 We had ramen bowls for dinner. The ahi tuna that came in one of them was so fresh and tender.
The star of our dinner was the Bao Buns. Steamed buns with fried chicken topped with slaw and some other magical sauces. Just bring us another order of those buns!
Here one of us had our 1st 1st Mai Tai of the vacation. Though tasty, it had a unique twist. We loved the mocktails offered on the cocktail menu for sober people. Hubby enjoyed the tropic non-alcoholic drink.
We remember the food here being delicious, but we did over-order – the ramen bowls were filling. We were too full to try their housemade doughnuts.
Ama Restaurant | 5-5161 Kuhio Hwy, Wailele Bldg, Hanalei | Google Map It
The Hanalei Gourmet
This is a no-frills bar with the motto to eat, drink and relax. We ate at Hanalei Gourmet a couple of times and watched locals sit in the bar's back corner, claiming it as their local watering hole. I loved the laid-back Aloha vibe here.
The food here is nothing fancy but delicious. We ate here a few times.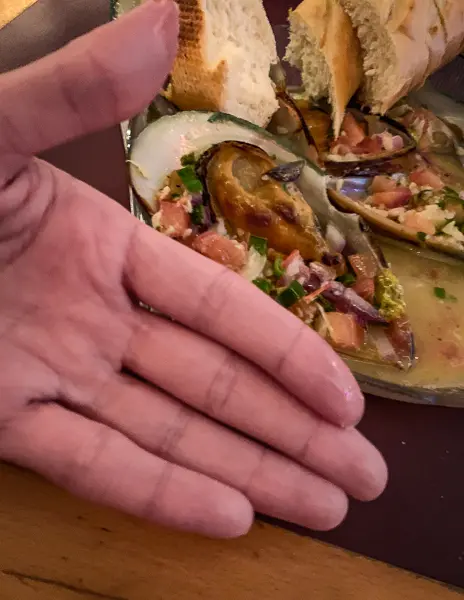 We tried fish and chips one night. And clams in white wine sauce on another night. Each clam was the size of my hand. Every day they have the catch of the day—plenty of fish options on the menu.
If you feel like a burger, this is a great place to have one for dinner.
Ask the waiter about their local beers. They'll help you find the right one to accompany your meal.
Hanalei Gourmet is open for lunch and dinner. And it is one of the few places open after 9 PM. On some nights they have live music.
Hanalei Gourmet | 5-5161 Kuhio Hwy Space 5, Hanalei | Google Map It
Make sure you have everything you need to hit the beach and enjoy your time there. This beach packing list covers all the essential items you will need for you and your family. Add this beach vacation packing list as part of your beach planning.
North Shore Kauai: Kilauea Restaurants
Kilauea Fish Market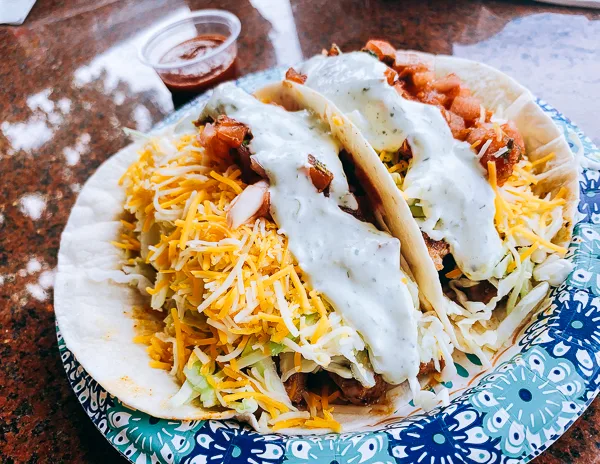 After landing in Kauai, we picked up our rental car and drove straight toward the North Shore. We were in awe of Kauai almost immediately and were too busy taking in the island's beauty during our drive. We forgot about lunch.
We checked what was near our path, and Kilauea Fish Market was a tasty option. This casual lunch place is not far from Kilauea Lighthouse and Anini Beach. They serve delicious food at great prices.
The ahi tuna tacos with the works were filling and oh-so-yummy. The sauce on the side of the peppered pork hubby ordered was delicious. You'll find great quality fish options.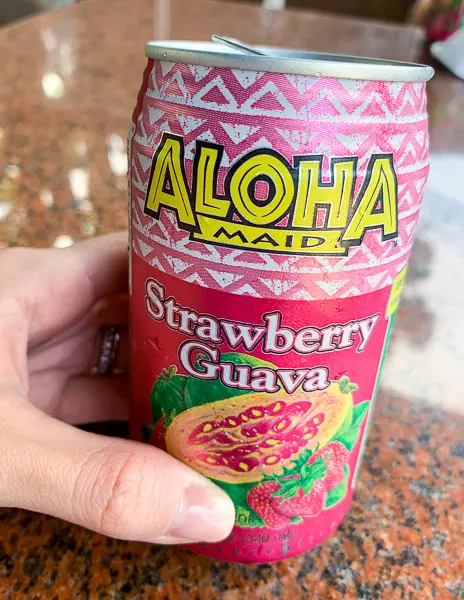 With our lunch, we had a Strawberry Guava Aloha Maid drink. This is a flavor made for Hawaii. Always try drinks and flavors that are local to the destination.
Kilauea Fish Market | 4270 Kilauea Rd, Kilauea | Google Map It
East Side Kauai: Great Places to Eat in Kapaa
Java Kai Coffee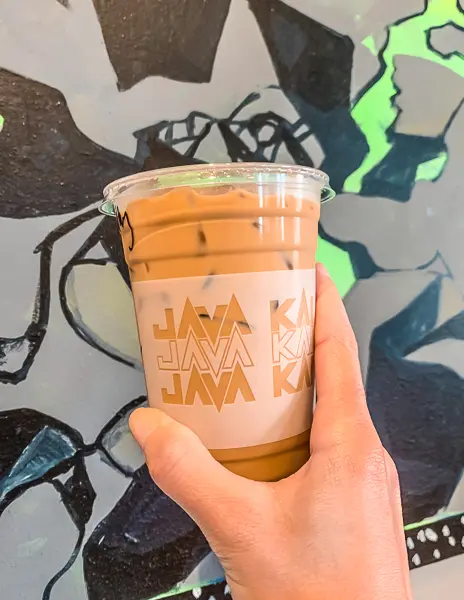 Oh, Java Kai, you have our hearts. We have a hat and a mug to commemorate those great coffee memories and the light breakfast favorites.
We loved the bagel smothered with cream cheese, housemade pesto, and tomatoes.
Throughout our week in Kauai, we had a few things with pesto. Pesto is beloved in Kauai – it was on every menu! We never had this bagel topping combination before, and we hope to replicate it back home.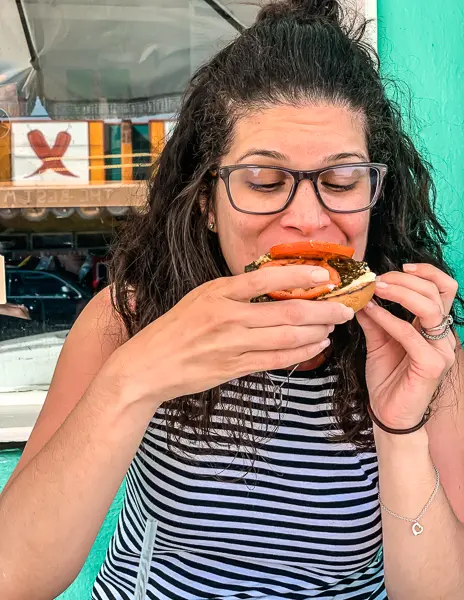 Another day, we had their sunrise brekkie with half a papaya stuffed with fruit, granola, and strawberries. Hubby always loves a good breakfast sandwich.
We stopped here for iced coffees and lattes more than a few times during the week, as we loved their iced macadamia nut latte!
It's a busy place, so expect lines during certain times of the day. The staff here is super friendly, and we begged the manager to open a Java Kai in Los Angeles.
Of course, we are unsure if they've achieved the same greatness. Everything is always better when made with high-quality, local ingredients.
If you are based out of Kapaa, Java Kai will become part of your daily ritual.
Java Kai | 4-1384 Kuhio Hwy, Kapaʻa | Google Map It
Kountry Kitchen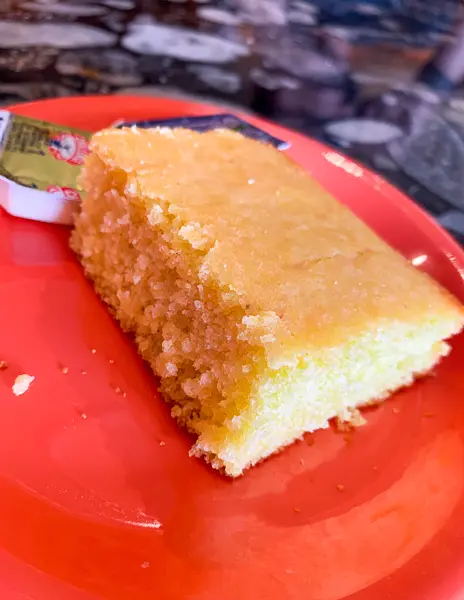 If you're looking for a local breakfast spot, you must try the Kountry Kitchen. This place was filled with tourists and locals. They've been open since 1975, so they are a staple on the East Side of Kauai.
Think of Kountry Kitchen as the local diner serving local favorites like the loco moco and macadamia nut pancakes. They specialize in breakfast and brunch, with a few lunch options.
You are welcomed with a yummy slice of warm cornbread as soon as you're seated. The menu is overwhelming, as in, it ALL LOOKS GOOD.
Brunch is my favorite meal of the day, so it's difficult for me not to try it all. We ate here a couple of times, even once trying their loco moco. Say yes to their macadamia coconut pancakes and homemade coconut syrup.

The Loco Moco is comfort food in Hawaii and something you should try if you enjoy eating like the locals. It usually consists of rice, ground beef, and eggs smothered in gravy. This rich plate is enough for two people to share.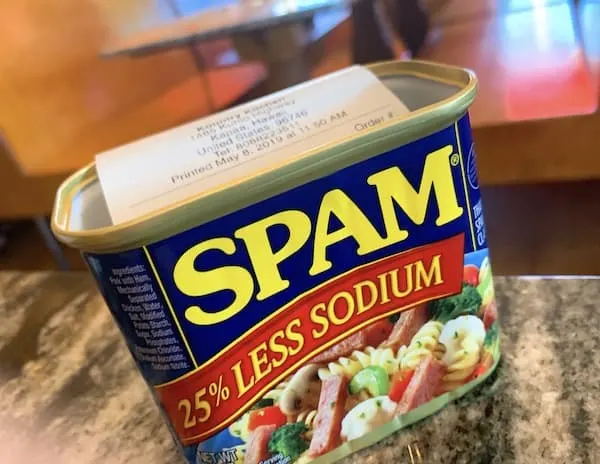 Kountry Kitchen Cafe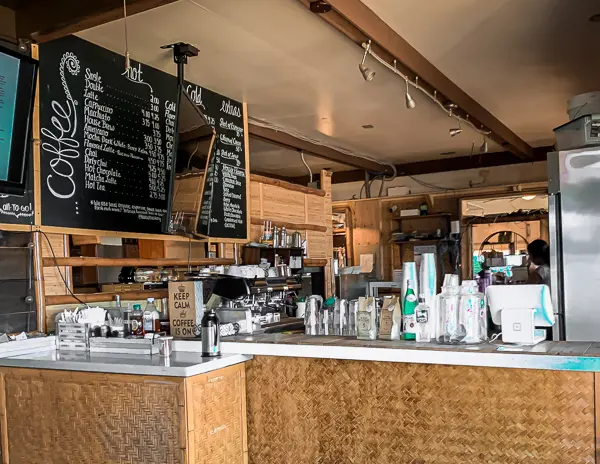 No time to sit down for a meal? Right next to Kountry Kitchen's restaurant is their cafe!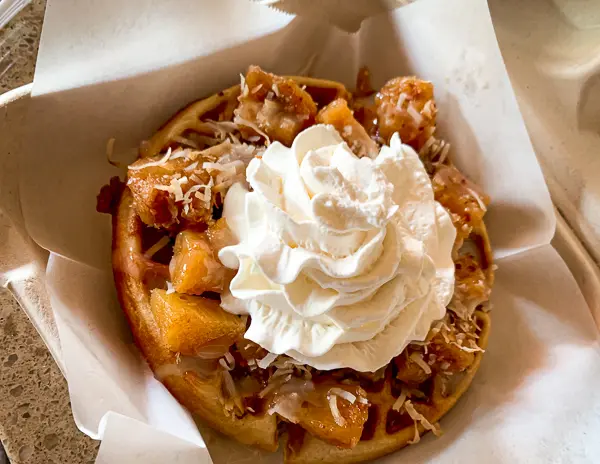 We stopped at their cafe on the way to the airport. I had their homemade waffles topped with roasted pineapples. I still think about their waffles. Their waffles are made to order and are perfectly crisp, airy, and delicious. The toppings are just a plus.
Kountry Kitchen | 4-1485 Kuhio Hwy, Kapaʻa | Google Map It
Bubba Burger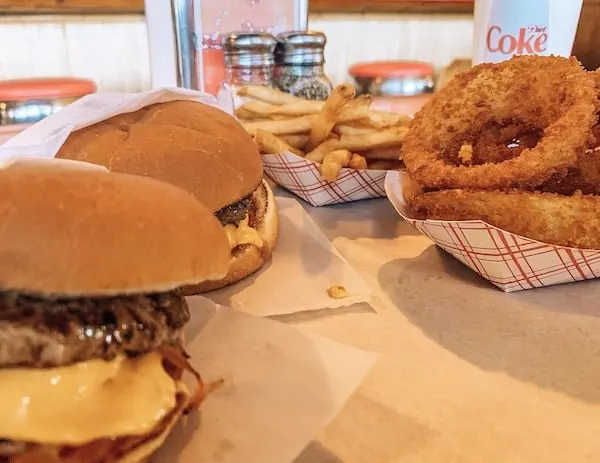 There is a point during every vacation when we start craving burgers. What is it that you crave?
After spending time at a beach, we found Bubba Burgers with a line out the door with locals and tourists. We figured they must be some great burgers. Let me tell you, they are! Move aside In-n-Out.
It's a casual burger joint. Order at the counter, and they'll call you when it is ready. The staff behind the counter was super friendly.
You can find Bubba Burgers at 2 locations on Kauai. (They used to have a 3rd in Hanalei but it is now permanently closed.)
Bubba Burger | Kapaa & Poipu (Google Map It)
Wailua Shave Ice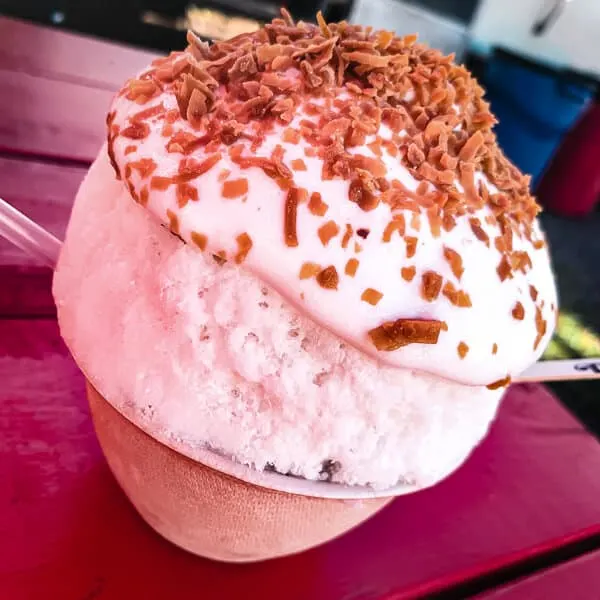 Do not miss treating yourself to a shaved ice treat. You'll find several places driving around, but we decided to try the Wailua Shave Ice food truck.
These frozen treats are the perfect sweet snack on a hot day. They have a variety of tropical, fruity, and sweet flavors to choose from. We truly enjoyed the Triple Coconut and the Almond Joy pictured above.
Update: They currently have a new brick-and-mortar location you can visit! The new address added below.
Wailua Shave Ice | 4-831 Kuhio Hwy, Kapaʻa | Google Map It
South Shore Kauai: Poipu Restaurants
Puka Dog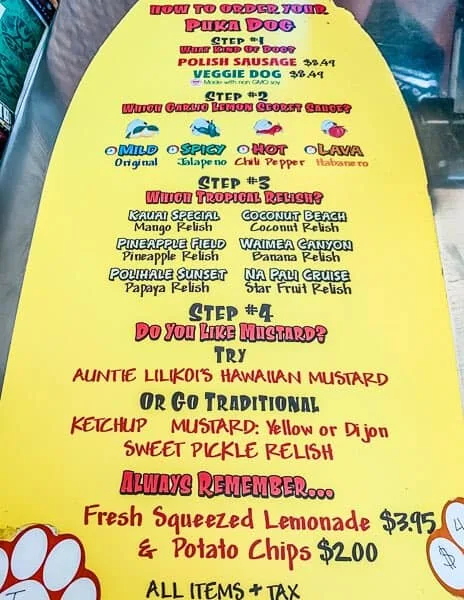 If it wasn't for Anthony Bourdain, we don't know if we would have ever discovered Puka Dog. This is one of Bourdain's favorite eats, and we needed to see what the fuss was about.
What is a Puka Dog? It is a hot dog or a polish sausage wrapped in Hawaiian sweet bread, dressed in Puka Dog's secret sauce, a choice of one of their relishes, and Auntie Lilikoi's Hawaiian Mustard.
Their most popular relish is the Kauai Special, a mango relish. We got one with the mango relish and the works.
The hot dog is good. We enjoyed them. However, we don't know if we'd run back to have them again.
If you're in the area and are curious to eat one of Anthony Bourdain's favorite Hawaiian eats, definitely give Puka Dog a try.
Puka Dog | Poipu Shopping Village, 2360 Kiahuna Plantation Dr, Koloa | Google Map It
Da Crack Mexican Grinds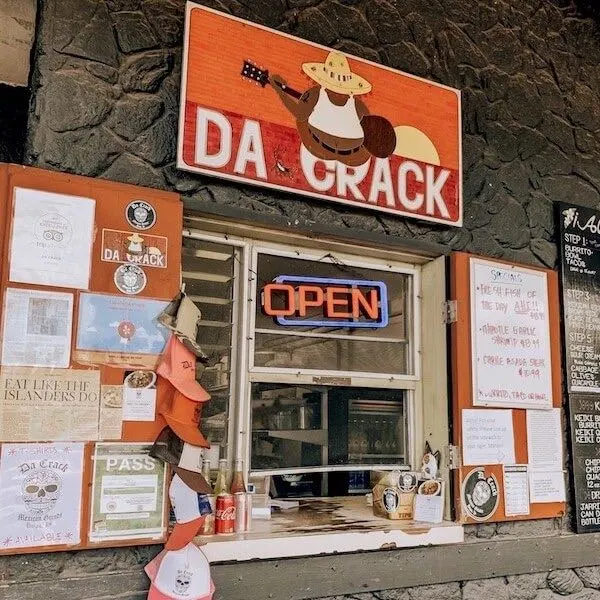 What a name and logo! This hole-in-whole Mexican take-out joint impressed us. You'll find fish tacos, burritos, and the like at Da Crack.
After a quick yelp, we had this for lunch one day. We were starving, so we ordered an ahi tuna burrito. It was HUGE, so amazing, and so filling.
This is another budget-friendly spot worth trying if you're in the mood for Mexican.
Da Crack | 2827 Poipu Rd, Koloa | Google Map It
Monkeypod Jam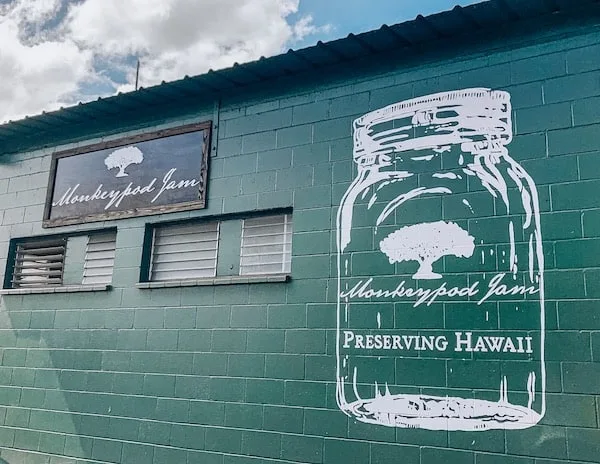 Monkeypod Jam, you had me at your cute wall art and quirky name. Guess what we found inside? JAM. Lots of amazing, homemade Kauai JAMS.
We purchased many to take home and for gifts! They also sell many yummy treats, coffee, and breakfast items.
Update:
This location, as we remember, has closed since we were last there and has moved. They no longer have a cafe that serves breakfast, lunch, or baked goods. You can still purchase their delicious jams at their new location.
But if you are looking for a foodie experience, Monkeypod Jam is now offering Kauai Cooking Classes. This is a great way to immerse yourself in the local food culture.
You can also find their preserves sold exclusively at the Kukuiula Culinary Market each Wednesday, 3:30-6 pm. They are delicious!
Food and Travel Quotes to Inspire Your Wanderlust
Here are 50+ food and travel quotes that will make your heart and stomach flutter and speak to your foodie traveler's soul. Use these travel and food quotes as inspiration as you plan your next foodie trip. | tastyitinerary.com
Other Kauai Eats You Should Look For
Food Tour Options
Food tours are a great way to get an introduction to the local foods and eats. If you plan to book a tour with a knowledgeable guide, try to take one at the beginning of our trip. Guides provide great insight into what to eat while visiting and the best places to find. It's also a great way to cover lunch or dinner for a day.
Best Food Tours on Kaua'i [book here]
Walking Food Tour Exploring Hanalei [book here]
Kauai: Local Tastes Small-Group Food Tour [book here]
Pono Market in Kapaa
Locals told us this is where to eat in Kauai for true Hawaiian eats. Unfortunately, we never got to try it, so we are handing off the info to you. Let me know how it is!
Poke
Do not miss out on the poke. We kept putting it off and never got to try it. The poke in Hawaii is supposed to be out of this world.
Sushi
It's easy not to prioritize this when one of us does not eat fish. That's why you do not see any sushi restaurants on this list. Make sure to ask locals for the best Sushi spot.
Food Trucks
They are all over, and for some reason, we made it to only the shaved ice. Every time we were hungry, there weren't any food trucks around. Next time we are there, we are making it my mission to try more food trucks.
Fruit Smoothies
You'll come across many smoothie stands while driving.
Fruit Stands
If you see someone selling local fruit, stop and see what's in season. We fell in love with the local papayas. It tasted nothing like the ones we find here on the mainland.
Supermarkets
So many local treats, and you can find poke there too. Locals were lined up for the poke, so that says something.
Farmers Markets
We missed the one in Hanalei on Saturday mornings due to rain. Check here for information on farmer's markets throughout the week in Kauai.
Share the tips & love on Pinterest: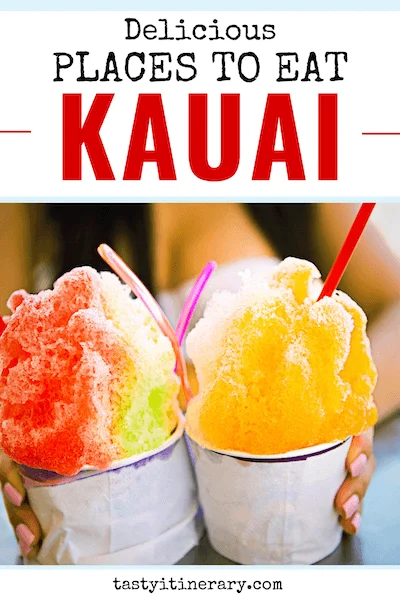 Meet Kathy Ava, a food, travel, and cruise writer based in Los Angeles/Pasadena, and the owner and main writer of Tasty Itinerary. With over 20 years of experience planning trips and logistics at her full-time job and for herself, she's become a pro at crafting unforgettable tasty itineraries. She's always on the hunt for delicious, fun travel destinations and cruise itineraries. She firmly believes that life is short and we must make the most of it, so always say yes to dessert.