Traveling to Italy and wondering what to see in Rome, Italy? Here are the top 6 sites to add to your Rome Itinerary.
What pops into your head when you think of Italy? Besides the pasta? Anytime I think of Italy, the city of Rome sets itself front and center of my mind. It's the capital of Italy, one of the oldest and one of the most visited cities in the world, two of the best reasons to see Rome, Italy on vacation.
The Historic Centre of Rome is a UNESCO World Heritage Site. As one Instagram traveler @sergiodiscovery simply -and smartly- put it to me once, "Rome is an open-air museum".
If you read any of my Italy blog posts, then you have an idea of how much I love Italy. While Florence is one of my favorite cities, I always suggest Rome as one of the first stops.
Rome is one of the cornerstones of civilizations. It's rich in historic cultures and religious histories. With the following, I hope to help you conquer Rome, Italy, and see what this historic city has to offer.
Disclosure: This post may contain affiliate links. If you decide to make a purchase from one of those links, we may get a commission at no extra cost to you. We appreciate your support.
Our First Trip to Rome, Italy
Our first trip to Italy was to Rome, and it's when we first fell in love with Italy. Since then, we've been back a few times, not only to Rome but to other parts of Italy.
From the moment you enter the city of Rome, the history is palpable. The magnitude of the sites, some recognizable from history books and TV, leave you speechless. No matter how many photographs and videos you may have seen, nothing compares to being there in person and seeing it in living color.
The majority of these attractions are full of tourists, so you will experience crowds. The only way to really get away from this is by visiting in the winter. If you choose to go in the fall, there will definitely be less crowded than in the summer. My favorite time of year to visit is the fall season.
When we travel somewhere for the first time, hubby and I like to try to take the route less taken. However, sometimes, in order to understand a city's history, we must refer to the standard tour book. In between it all, we'll set out to discover the less explored.
Take the journey through these sites and let your imagination transport you back in time. These sites are part of Rome's history and what makes it one of the most amazing cities in the world.
Due to the crowds, I will be pressing the importance of SKIP-the-LINE tours by hiring a tour guide to help you fast-track your entry. Think of the extra cost as simply a convenience for a smoother entrance, especially if you are pressed on time. You can absolutely see Rome, Italy sites in 48 hours.
Covid Vaccine Info: To enter many of these sites you will need to show proof of vaccination. They are requiring a Green Pass, which is mostly used by Italians. If you are a United States citizen, your CDC-issued card and-or negative test results should be acceptable.
What to See in Rome, Italy
1. Visit the Colosseum
Entering the city of Rome, the sight of this ancient ruin is powerful. It's an impressive masterpiece that greets you and welcomes you to its city. Just then, the realization that you finally made it to Rome will hit you.
Imagine this is where Romans would gather for their weekly entertainment. Gladiators would fight for their freedom. Did you see the movie, Gladiator? If not, it's a great movie before your trip to the Colosseum.
At this ancient site, book a skip-the-line tour in advance or you will spend hours on a line trying to enter. On a hot summer day, it will be torturous. Wouldn't you rather use your time wisely?
If you would like a tour of the Colosseum's underground (an experience recently made available again a few years ago), book with a guide that offers this unique experience. As it is not something available at the ticket booth.
Is the Colosseum ever FREE? Yes. The Colosseum is free for all on the first Sunday of every month.
Colosseum Tour Options
Skip the Line: Colosseum Guided Tour with Entrance Fee Included [book here]
Skip the Line: Ancient Rome & Colosseum Half-day Walking Tour [book here]
Ancient Rome, Colosseum Underground with Arena Floor Access & Roman Forum [book here]
2. Explore Palatine Hill & The Roman Forum
When you visit the Colosseum, your entrance ticket includes Palatine Hill and the Roman Forum. It is a short walk nearby and a must-see.
Palatine Hill is one of the most famous hills where emperors and aristocrats used to reside. Walking through this archeological site and between the ruins, you get a sense of the grandeur of what Imperial Rome used to be like. The ruins of the House of Augustus still stands and it is one of the ruin you'll see upon entering Palatine. You'll get a sense of how the wealthy used to live.
Anything social or political of Roman's everyday life took place in the Roman Forum. Parades and events were celebrated here. The Roman Forum's rectangular plaza was surrounded by government buildings and it housed marketplaces where goods were sold. All events and celebrations happened here.
It's a leisurely walk through these ruins and I highly recommend taking the time to see them.
One Day in Florence, Italy
Planning a trip north to Florence? Read how to plan a fantastic one to three days in the city of the Renaissance.
3. Spend the Day Exploring Vatican City
Vatican City is unlike anything I've ever experienced. It's a city within the city of Rome. It's the base of operations for the Roman Catholic Church, it's the holiest of Catholic churches and where the Pope resides.
4. the Vatican Museum
Rome wouldn't be complete without visiting their Vatican museum that houses an immense collection of art, including Michelangelo's Sistine Chapel ceiling. As I advise everyone, at least go once to experience the amazing fresco painting.
A skip-the-line tour would be wise for the Vatican Museum & Sistine Chapel. It is worth it.
Tour Option: Skip the Line Tour – Vatican Museums, Sistine Chapel & St. Peter Basilica [book here]
5. St. Peter's Basilica
No matter your religion, the grandeur of St. Peter's Basilica will leave you speechless. It's quite jaw-dropping; marble and gold everywhere.
The church itself is FREE to enter, but you do have to go through security first. If you would like to climb up to The Cupola (Dome), it's an extra small fee.
6. Toss a Coin at Trevi Fountain
This popular fountain is located in the Trevi district of Rome, and it's one of the oldest water sources in Rome. It used to supply water for the Roman baths in ancient times – that's just one small part of its history. The extraordinary work of art tells a story.
If you observe the statues you will see Oceanus, the God of Water, in the center, under the arch with his chariot pulling him. The statue of Abundance to his left and the study of Health to his right.
It's a beautiful sight, and it's FREE to see and enjoy.
No matter what time a day, there will be a crowd. The afternoons are probably the worse. Are you catching on to the fact that that Rome is a busy city? I like to visit this fountain at least twice, once in the daytime and then again at night.
When you're there, you must take part in the tradition of tossing a coin over your left shoulder with your right hand into the fountain. This ritual will see to it that you return to Rome in the future. It's worked for me already a few times.
Naples to Capri, Italy
If you visit Naples, you must plan a day in Capri. Hop on a ferry in the morning and spend the day exploring what this beautiful island has to offer.
Stop by The Pantheon
This Ancient Roman monument is a fascinating wonder. It's the largest dome in the world, and the dome is shockingly unsupported. When you are standing in the middle of it, looking up in wonder, you start to have a lot of questions.
I'm not an architect by any means, my appreciation for architecture is based mostly on the artistic style, but I do greatly admire the science behind the structure and the engineers behind it. The hole in the center of the dome is the only light that streams through like a spotlight.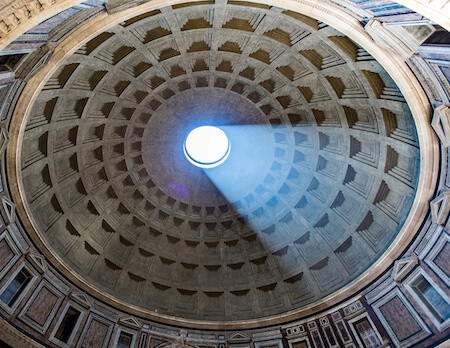 The entrance fee to the Pantheon is FREE. That's right! You can see another amazing part of the history of Rome without having to pay an entrance fee. At least for now.
Rumors are the city will start charging an entry fee sometime in 2018, but up to today, it is still FREE. I would check Pantheon's website before you leave on your trip to verify. You always have a choice to hire a tour guide for a fee to guide you and explain the history in further depth.
Foodie Pick: After you're done inside, I suggest heading west and around the corner for some yummy gelato at Cremeria Monteforte. Take it away, return back to the Fontana del Pantheon, find a spot, and enjoy your gelato.
Tour Option: Pantheon and Santa Maria Guided Tour in Rome [book here]
Admire the famous Spanish Steps at Piazza Di Spagna
Piazza di Spagna is a famous square at the base of the Spanish Steps that lead up to the Trinità dei Monti church. You will find the 17th century Fontana della Barcaccia, which translates into Fountain of the Old Boat. The staircase is the largest set of steps in Europe and is occupied daily by visitors watching the world go by.
Updated August 2019: You are no longer allowed to sit on the Spanish Steps. If you do, you may be fined.
Travel Tips to Help You Conquer Rome
Wear comfortable shoes.
Walk everywhere, if possible.
Don't be afraid of taking the Metro – it's easy and convenient! And cheaper than a cab ride.
Watch out for pick-pockets.
Eat plenty of pizza. ?
Have an espresso every morning. ☕️
Last and not least, take a moment to stop at each site and take it all in.
Is Rome on your bucket list? What are you looking forward to experiencing the most in Rome?
Don't forget to share the love on Pinterest: