Where should you stay in Pasadena, CA? Whether you are visiting for a night or staying for the week, there are plenty of hotels to choose from. But if you're looking for the top places to stay in Pasadena, CA, the following list features some of the most popular accommodations.
Visiting Southern California? Planning to explore Los Angeles? Why not stay in Pasadena, California?
Pasadena is a city that offers visitors the best of both worlds. It's close enough to Los Angeles for some big-city fun and far enough away from it. It's a 20-minute drive away from Downtown Los Angeles, Dodger Stadium, Griffith Park, and most of the top attractions that Los Angeles has to offer.
Pasadena, California is a beautiful historic city with plenty of scenic views, shopping, great eateries, and things to do. From the Rose Parade, the Rose Bowl, amazing museums, and botanical gardens, this city will not disappoint.
Our historic Old Town is full of beautiful architecture, dining options, shopping, and the Pasadena Convention Center.
When staying in Old Town, you're within walking distance of many attractions and restaurants including:
Russell's (best breakfast)
Amara Cafe (South American fare and Madrid style churros)
True Food Kitchen (health-conscious favorites)
Dot's Cupcakes
The Castle Green
Pasadena City Hall
USC Pacific Asia Museum
The Rose Parade
This post may contain affiliate links, which means we'll receive a commission if you purchase through our links at no extra cost to you. Please read full disclosure for more information. We appreciate your support!
There are a few Pasadena hotels right in the heart of Old Town if you're looking to stay close and within walking distance of that area. The Courtyard by Marriott Pasadena, The Residence Inn by Marriott, and Hyatt Place Pasadena.
Longing for a luxurious getaway that is close to the heart of Pasadena, but not too close? You'll want to go with The Langham Huntington Hotel and Spa.
For those that love boutique hotels, Hotel Constance.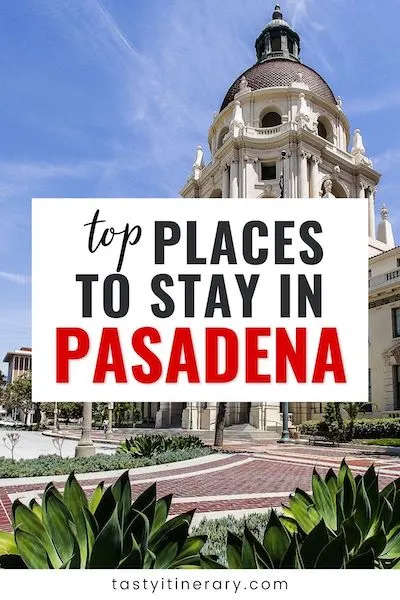 If you're looking to book hotel rooms, these are the top places to say in Pasadena, CA.
Places to Stay in Pasadena, CA
The Langham Huntington Hotel and Spa is a 5-star hotel and one of the most popular places to stay in Pasadena. This luxurious hotel offers guests beautiful accommodations with amazing views of the San Gabrielle Mountains.
It features storied history, and opulent amenities such as an onsite spa, restaurant, and bar options including The Lobby Lounge with its signature afternoon tea.
One of the best parts of the Langham is its beautiful gardens and outdoor areas. It's the perfect location to stay in to spend time exploring the Huntington Library Botanical Gardens.
Pasadena locals – this is the staycation you are looking for! Take a couple of nights, unwind, book a spa treatment, eat at one of their amazing restaurants, meditate by their gardens, or sunbathe by the pool on a warm day.
Langham Huntington Hotel | 1401 S Oak Knoll Ave, Pasadena
Book a Hotel Room at The Langham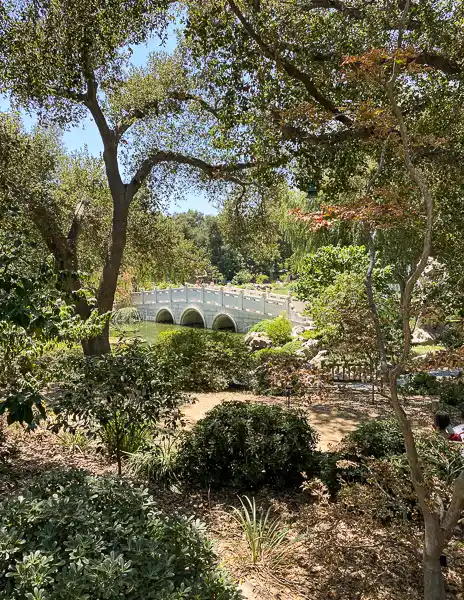 THINGS TO DO IN PASADENA, CA
Visiting the City of Roses and wondering what to do in Pasadena? Check out the top things to do and see. Go shopping in Old Town Pasadena, explore our Botanical gardens, visit a museum, and more.
Hotels in Old Town Pasadena
The Courtyard by Marriott is a great place to stay if you're looking for centrally located accommodation. This hotel is in Old Town Pasadena, close to the Convention Center, and within walking distance of plenty of shopping and dining options.
It features a beautiful outdoor pool and patio area. Expect an additional parking fee.
When we are in the area, we actually pay to park here as locals since it's right near restaurants and stores we normally go to. Next door to the parking entrance, you'll find Armory Center for the Arts.
Right nearby you'll find great international cuisines like Maestro for Mexican, Tibet Nepal House for Napolese Tibetan eats, and Bone Kettle for Southeast Asian.
Don't miss exploring Old Pasadena. At night, stroll down Green Street when the treeline street is twinkling.
The Courtyard by Marriott | 180 N Fair Oaks Ave, Pasadena
Book a Hotel Room at The Courtyard by Marriott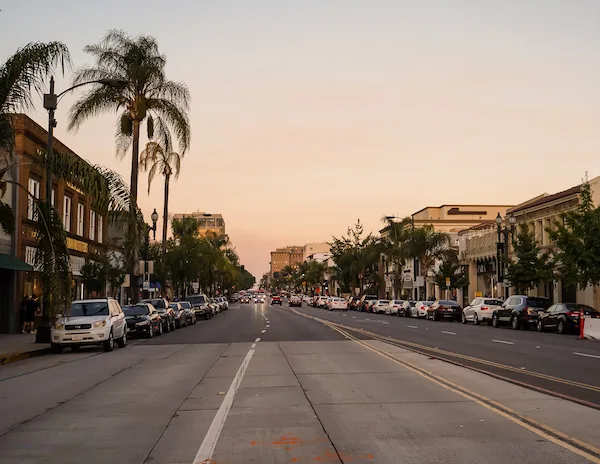 The Residence Inn by Marriott is a beautiful hotel, offering modern guest suites with separate areas for sleeping and lounging. It also offers a complimentary breakfast and free high-speed internet. If you're for a hotel that will welcome your furbaby (for an additional charge), this hotel is pet-friendly.
This hotel is one of the places to stay in Pasadena, perfect for an extended period of time as it offers fully equipped kitchens in every suite.
Expect additional parking fees.
While the hotel is short steps from the heart of Old Town, it is still a fantastic location. One of our favorite Pasadena cafes, Carrara's, is located downstairs and next door for that excellent cup of coffee and delicious Italian pastry. And, if you love Mediterranean cuisine, Cafe Santorini is right down the street.
The Residence Inn by Marriott | 21 W Walnut St, Pasadena
Book a Hotel Room at The Residence Inn by Marriott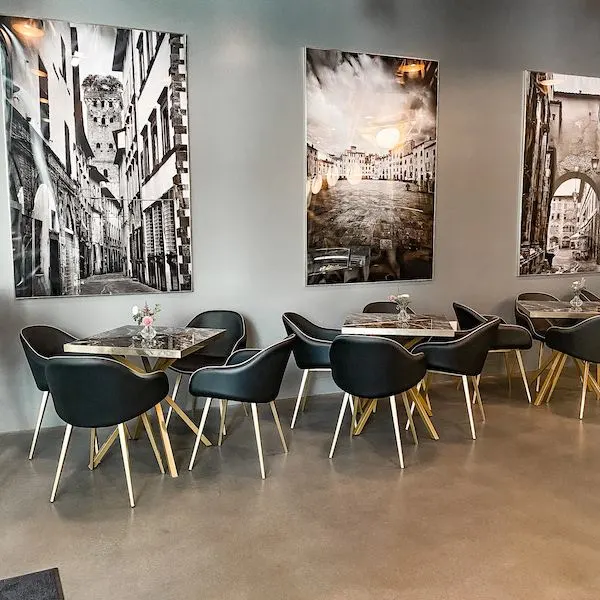 Hyatt Place Pasadena is a newer hotel, located right next to El Paseo and right by Old Town. With its updated and clean rooms, you'll have a comfortable stay.
This hotel offers guests a complimentary breakfast each morning, Wi-fi is included and it features an on-site gym. Expect additional parking fees.
This is an ideal location if you want to be within walking distance from shopping, the convention center, and Pasadena City Hall. The rooms have plenty of space, modern and clean.
Go antique shopping. Grab brunch next door at Great Maple or a beer at the Yard House. Head around the corner to Colorado Blvd and cross the street for some great dim sum at Lunasia.
Hyatt Place | 399 E Green St, Pasadena
Book a Hotel Room at The Hyatt Place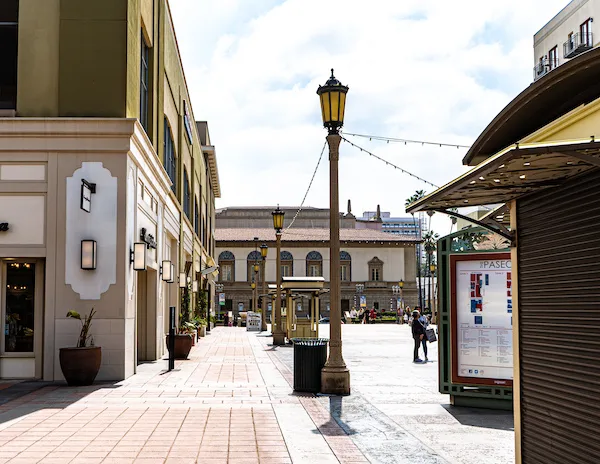 Places to Eat in Pasadena, CA
One of the best parts of Pasadena is all the delicious spots to eat. From restaurants to take-out, check out some of our favorite places to eat.
The Hilton Pasadena is a full-service hotel, perfect for business travelers. It offers guests an onsite restaurant, bar, and room service as well as complimentary internet access. It also has an outdoor pool and fitness center.
This hotel is only a block from the Convention Center and Old Town Pasadena. Also right beside the El Paseo in Pasadena for some outdoor shopping.
A short walk from the delicious Urth Cafe and Ruth Chris Steakhouse.
Hilton Pasadena | 168 S Los Robles Ave, Pasadena
Book a Hotel Room at the Hilton Pasadena
We hope you enjoy your stay in the City of Roses.
Which of these Pasadena hotels will be your next destination?
Where is Eaton Canyon Falls? Is the hike to the Eaton Canyon Waterfall worth it? As individuals who are not avid hikers, Eaton Canyon Falls is one hike we enjoy while living in Pasadena. It's a fun trek with a high reward, especially after a rainy season. For us, it was multiple high rewards. We …

Pasadena, California, is known to have one of the best food scenes in Los Angeles. New cafes, eateries, and restaurants in Pasadena are opening monthly. We've gathered a list of superb Pasadena restaurants you should have on your radar. One of the top reasons we moved to Pasadena was the incredible restaurants and places to …

Where to eat lunch in Pasadena? There are plenty of choices, but we narrow down some best eateries, cafes, and restaurants in Pasadena for lunch, from casual eats to grab-and-go, and where you can have a nice leisurely lunch. In a city like Pasadena, where there are many delicious places to eat, it can be …