Did you know it's illegal not to have a Privacy Policy and Disclaimer on your blog? No? Neither did I when I first started blogging. It's important to protect your blog and yourself as a blogger.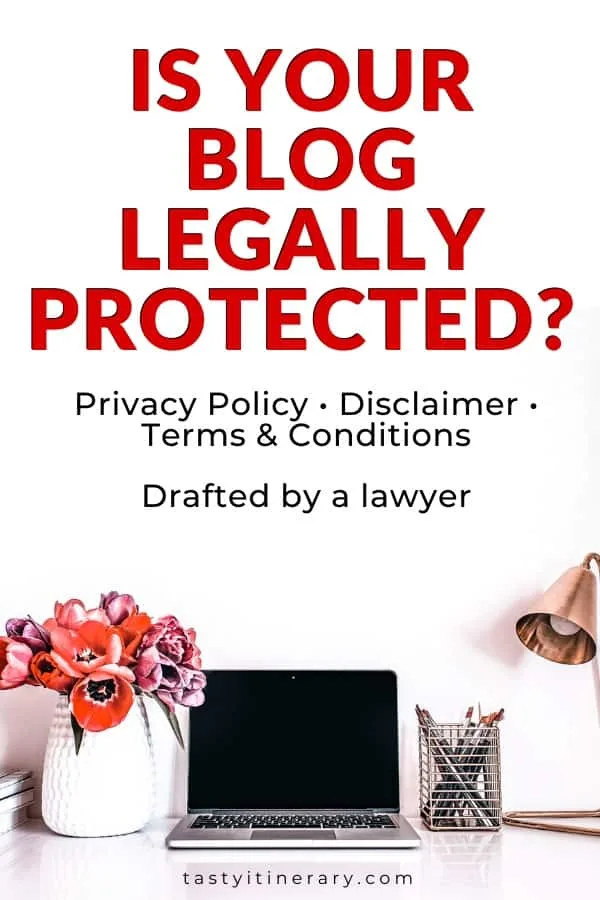 This post may contain affiliate links, which means we'll receive a commission if you purchase through our links at no extra cost to you. Please read full disclosure for more information. We appreciate your support!
Protect Your Blog
Admittedly, when I first started blogging, I had no idea a privacy policy would be required. At the time, it turned into my biggest obstacle.
Forget gaining Instagram followers or writing that next blog post. I was banging my head against my desk. Completely stressed out because I had no idea how I would pull this off.
I am not a lawyer. I have never gone to law school. There is no interest on my part ever to chase that profession.
What did I know about legalese? Nothing. Seriously, it's another language to me. And I could not afford to hire my own lawyer either.
Fortunately, I soon met Amira from A Self Guru, a lawyer who moonlights as a blogger and a business coach. She offers a legal bundle for your blog that includes a Privacy Policy, Disclaimer, and Terms and Conditions template at an affordable price, plus some other bonuses.
Please note: we paid in full for this bundle when we started our blog and continue receiving free updates as the laws continuously change.
Protect your blog with this legal bundle
What does it include?
→ Privacy Policy
→ Disclaimer
→ Terms and Conditions
→ + 10 Bonuses

Read More -> Legal Bundle Starter
After some research, I learned other lawyers were charging almost 2-3 the amount than Amira is.
Oh, do you plan to use a free template or a generator tool? Good luck! The free generator tools you find online have major loopholes that will only hurt you and your blog in the long run.
As a blogger looking to expand my blog into a business, investing in the proper tools is essential to me, and this legal bundle is a great start.
And a must!
Don't wait.
It's one of the best investments you can make.
Once you have the templates, they are yours to keep. You can also use them on multiple blogs that you own.
You will continue to receive updates for FREE. Amira is on top of all the laws being added or changed.
Your Blog Must Be Legally Compliant.
You can purchase the Privacy Policy, Disclaimer, or Terms and Conditions templates separately. However, you don't want to risk and leave any legal holes that aren't protecting you and your blog properly.
This legal bundle is a blessing, a time-saver, and it will save you a headache. Protect your blog now with this legal bundle!
As added bonus….
Amira is a sweetheart. She will answer any questions you may have to protect your website. She genuinely cares to see you succeed.
---
Other Blog Resources: Check Out Our Favorite Tools and Courses