Do you have a rocky relationship with Instagram? Are you having a love and hate affair with Instagram?
Why are you posting on Instagram?
If it's primarily to promote yourself and gain thousands of followers because you thrive from attention, this blog post is not for you.
If you're looking for someone to validate the follow/unfollow game you play or are thinking of playing, this post is not for you.
If buying followers is the goal, this post is also not for you. Move on.
If you can relate to having a love and hate affair with Instagram, perhaps this post is for you.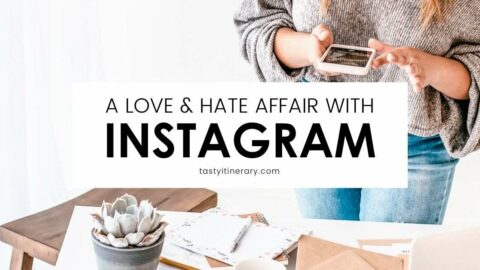 Disclosure: This post may contain affiliate links. If you decide to make a purchase from one of those links, we may get a commission at no extra cost to you. We appreciate your support.
A Love and Hate Affair With Instagram
My Instagram Affair
For a few years, I have gone through my ups and downs with Instagram. It's been a tumultuous affair. We went through our honeymoon period and after a year and a half of posting, we now have a love and hate relationship. One moment I'm in love and then next, I'm ready to throw my phone.
I've tried to do everything Instagram wanted from me.
I've posted some beautiful travel photos that I've edited with my favorite presets.

I've come out of my shell and from behind the camera to capture more photos of myself than I have ever had in years, just to share with my followers.

I have shared personal stories, tips, and more about myself than I ever imagined doing when I first signed up. As an introvert, it's not easy to put myself out there, but I have.

I have tried to figure out the algorithm and play the game of posting at the exact same time every day.
I have liked, shared, and commented on other profiles.
I have uploaded daily stories and reached out to fellow Instagrammers on theirs.
I have commented on the top 10 hashtags that I follow.
I have also participated in many Facebook follow threads.
And yet, after all of this, I'm still hovering around 2500 followers after over 2 years. Gaining about 10 follows (sometimes more) a day to only lose 10 or more the next day.
Am I telling you any of this because I regret my time as a blogger on Instagram? No, because I've evolved. I've learned what I'm capable of and what more I can do with my brand. I'm still learning and I have ways to go!
I've gained more confidence in front of the camera and for once, I have photographs of myself that I can look back on. And now I know for sure that I prefer to be more behind the camera than in front of it. But at the same time, I do enjoy seeing pretty pictures of myself.
This doesn't mean I'm a different person or I'm conforming to expectations. At the end of the day, what I post to Instagram speaks for ME, my personality, my brand, and what I'm comfortable with.
The Number of Followers…
Consistency on Instagram is rewarding whether you win or lose at its mind-numbing game. You may be dumbstruck right about now and asking, HOW do you think you are winning? You're only at 2500 followers and nowhere near 10k!
Well, first I can admit that I no longer am as consistent on Instagram as I was used to. For the time that I was 98.9% always on the gram, it definitely taught me what it meant to really be dedicated.
I just choose to now take my precious time and dedicate it to other aspects of my blogging world. Imagine the number of blog posts and other amazing things I could have accomplished by not focusing so much on my numbers on the gram.
The number of followers you have doesn't matter.
At the end of the day -for me- it's not about that magic number. It's about connecting with the followers I do have that truly enjoy what I have to offer. Hopefully, as I gain followers, they stick around because they want to, not because they just want my follow.
My followers remain at a steady 2400 to 2500 followers, and that's okay. No, really, it is! I have realized what is important to me and what is not. Having an unhealthy relationship with a platform that is one-sided is not for me. I rather keep things between us on my terms.
What do You Hate about Instagram?
If you've read this far, it's because you can relate and you understand that Instagram is frustrating. I mean, pull out your hairs and stomp on your phone, frustrating. It is far from the perfect platform! Not that there is one, but we wish Instagram got their shit together sometimes.
Here is what I hate about IG…
The games
Especially, the follow/unfollow. If you're going to follow me for a follow back to then unfollow me hours later, DON'T FOLLOW ME. That's just RUDE. Stop wasting my time and other people's time.
The bots / fake accounts
Enough said. As it is we have to deal with rude Instagrammers trying to gain our follow without even giving our account a chance to wow them. We have no time or patience to deal with bot accounts or comments.
The mean spirited Instagrammers
People are not only rude but mean. There is a real 'mean people' mentality that you can easily get sucked into. Be kind. Kindness always wins. Don't forget, there is a human being on the other side of these accounts. If you do not like them, their content, and or they do not fit your bill, unfollow them. No need to be a bully.
The creepy old men that slide into my DM
Yes, I block them! The grossest part is when they claim to want to meet me to shower me with diamonds and trips around the world. Yeah, no thanks. I'm married. My husband and I take each other around. And hubby knows I prefer chocolates to diamonds.
The pressure
The pressure we put on ourselves to reach 10k followers because we somehow need that swipe up feature. Instagram, you no longer need to hold it over my head! Personally, I'm over it.
The unnecessary competition
I did not start Instagramming to compete with anyone. We will rise faster together, not against each other.
Unrealistic content without disclosures
Once upon a time, I used to be a great photoshop manipulator. (Those days are behind me. It's been so long that I open photoshop now and fear it.) So when I see content that's obviously photoshopped, I think there should be some sort of disclosure. Why? Because some people can be gullible and ignorant.
Irresponsible influencers
This is a can of worms I have no interest in opening. Everyone has their own opinions on this. Some I agree with and some I don't because I am one to "live and let live".
However, there are influencers that do not realize that their actions can cause a chain reaction and hurt certain places, people, and things. Sometimes I do not even think they care about anything else but the number of followers they are going to gain after they post.
Blog Resources
Here are some of our favorite blog resources we use to run this blog.
What to Love About Instagram?
My love affair with Instagram did not start when I decided to be a blogger. Far from it! I've been a part of the community for years. I have a completely separate and private account that I post personal pictures.
Yes, I am a selfie poster that loves to share what she's eating and how cute my dogs are. Damn right, you better believe I'm showing off when I'm on the beach on vacation.
Of course, this is my private account for my friends and family. I just had no idea there were accounts as influencers and bloggers out there sharing this sort of content for a living until I started researching travel blogging. I found a whole new world!
I am a visual person. The content and photography will always be number one for me. It's why my Facebook presence is minimal and my Twitter engagement is low. No matter how frustrating Instagram is, I am drawn to it.
I truly enjoy photography, positive quotes, and cool illustrations. I genuinely love to see what everyone is cooking, drinking, and reading. As someone that loves to travel, the photos shared from around the world are inspiring and they make my day.
I simply love seeing the world through other people's eyes, whether you're a professional photographer, an influencer, or someone on their yearly vacation. And if it's a photo of you, your smile may actually make my day.
I love to read through inspiring captions, especially, those with uplifting positive messages. I get excited about cool travel tips and great travel stories. Amusing tales that will provide me with a daily laugh. Hey, I love cute animal pictures!
Do I agree with everything posted on Instagram? No way! We all have our own way of doing things and as long as you're not causing harm to yourself or to anyone, I scroll on.
Just don't be riding an elephant or I will judge you. (HUGE HINT: Do not ride the elephant!) Also, respect your surroundings and don't be reckless because that just means you're influencing someone else to do the exact same thing.
Photos do not need to be edited for me to appreciate them. They do not need to fit within a theme. Yet, this is what people are looking for.
I can't deny that there is an aesthetic appeal to the eye when you come across a pretty feed. Just being honest. That doesn't mean you have to follow along. For me, it's fun to connect with my artistic side. Long ago, I used to be obsessed with photoshop and loved graphic design. I can appreciate created content.
As an introvert, engagement is my downfall! Totally admit it. It is one of the most important parts of Instagram and I definitely do not reach whatever level of engagement is expected, but do you think I care? Nope. Not one bit. Do I love that engagement of any kind is expected? YES. I didn't before, but I do now!
I appreciate the fact that it forces me out of my comfort zone and I'm not an Instagram ghost or lurker. I am grateful for the Instagram friends I've made through social media because without communication within the comments or DM, we would never have virtually met.
Engagement is key! It's fun to virtually meet people from different parts of the world that share similar interests. If all I did was hit 'like' and move on, I'd be missing out on some great friendships and collaborations.
I love stories! If I had more time in the day, I'd post more stories. I used to not like posting stories, but thanks to the encouragement of a few lovely bloggers, I realized after some time I do enjoy sharing stories. It's actually more fun than posting. I also love watching everyone else's stories. Don't be afraid to share!
Safe, secure, and unlimited photo storage. Click here to find out more.
8 Instagram Survival Tips
Since this post is not a normal social media post, I decided to stay consistent and write some tips that have nothing to do with hashtags, captions, or how to gain 10 million followers. You can find those blog posts all over Pinterest and some of them can actually help you grow your Instagram.
These are survival tips to help keep you sane during your unstable affair with Instagram. There will be times you will need an Instagram break and when you do, remember these tips.
Stay true to yourself. Your feed is a representation of who you are and what you believe in. Do what fits you.

Be responsible and mindful. The moment you're profile is public and you have a following of even one real person, you have a responsibility. What you share may influence your following.

You are allowed to grow and evolve as you see fit. If you have a vision, go for it.

Don't pay attention to negative comments. Block. Delete. Report if you have to. Not everyone is going to love what you post and that's okay. You will find your audience.

Support others. Engage. Comment on posts. Support endeavors. The number of followers you have does not matter. It's the relationship you create with the followers you already do have. Focus on them.

Be open to other people's advice. Make sure that whatever you do makes you happy.

Don't be a jerk. This one is so important! Seriously people! We are humans (bots not included) sitting behind our profiles. Don't be a jerk.

Have fun! Don't take this too seriously. I know for some of you Instagram is part of your job and it's why you work your ass off. BUT, if you're not having fun doing it and you feel as though you're slaving over it… why bother?
Like with everything else on my blog, this is solely my opinion and my experience.
I'd love to hear yours in the comments! Tell me what's all about your love and hate affair with Instagram.
Don't forget to share the love on Pinterest: