Ever wonder how some travelers seem to always be connected to the internet almost everywhere they travel to.
Some buy Sim cards when they reach their destinations.
Some spend their time seeking Free Wi-Fi at hotels, cafes, and bars.
Some have international calling plans.
Some of us, as I do, carry a 4G LTE wireless hotspot device from Solis.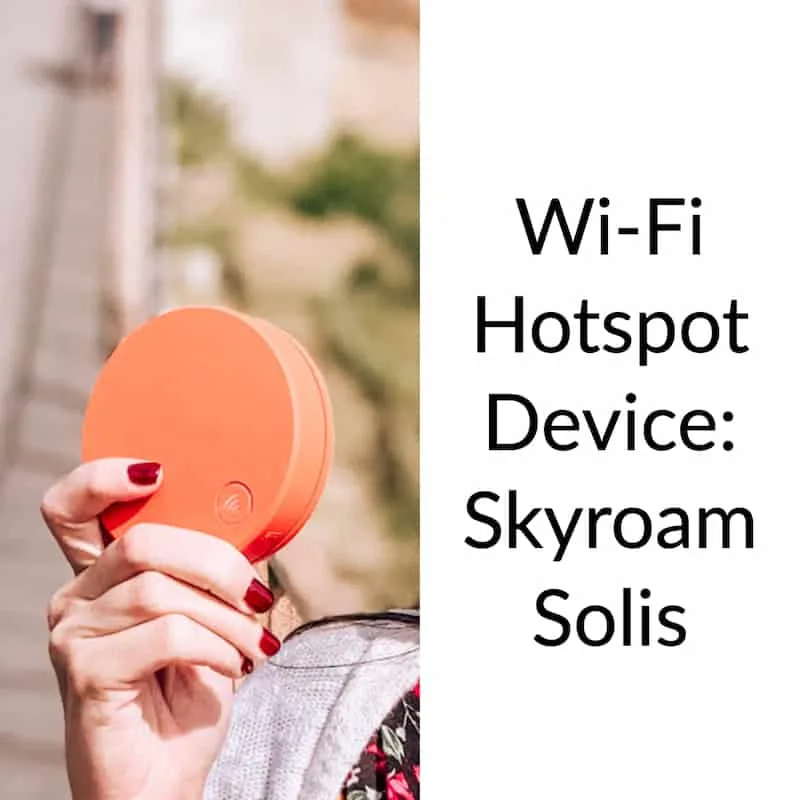 Why Did I Choose the Skyroam Solis as my Wi-Fi Hotspot Device?
Before our last trip to Europe, I was researching our Wi-Fi options. Hubby and I spend a ton of money on international data through our Verizon Wireless service when we travel. The international options start at $25 with a limited amount of data that we use at lightning speed; we find ourselves renewing it every couple of days. The unlimited 24-hour plan Verizon Wireless has available for $10 per day is great, but with two phones, it adds up quickly!
*You should contact your cellphone carrier and find out what international plans are available to you.
Sim cards are not a great option for us. If they are for you, that is awesome. We prefer to keep our phone intact and with our local phone# when we travel.
With my SkyRoam device, it cost $10 for 24 hour Wi-Fi service, and hubby and I can BOTH connect our mobile phones at the same time (you can connect up to 5 devices). Normally to use our cellphones with unlimited data for the day, it's $10 a day per device with our local carrier. It quickly adds up with two of us.
Why Can't We Disconnect While Traveling?
You're probably asking, why can't we go without our phones? Or! Why bother at all using our phones while we are away? We should be disconnecting from technology while on vacation, right? Yeah, well sometimes life isn't so simple for all of us.
I am the crazy dog mom that needs to get daily updates from her dog sitter. So, if you have a family, staying in touch with your kids, mom or siblings may be important to you.
Also, work! Many are on working vacations. If you own a business, you know that sometimes it is non-stop and you always somehow need to be available to check in.
For many, traveling is their job and they are on the go all the time! Having Wi-Fi is a must.
Review on the WiFi HotSpot Device Skyroam Solis 4G
We used it during our recent international trip and it works! We had Wi-Fi 90% of the time and when we didn't, the reasons were obvious, like if we were in an underground tunnel. We used it mostly with our mobile phones and it was a lifesaver when we needed to connect to Google maps.
I did some research on the go. I checked in with my Insta-family. I sent my friends and family photos. I did what I would normally do on a daily basis, but I just could not send out SMS messages or make calls without a separate VOIP app. I did use it in combination with the hotel Wi-FI when available at times if it was super high speed.
Now, the set-up was at first a bit tricky, I highly recommend setting up the SkyRoam app on your mobile and devices prior to traveling. I had not, therefore, I spent way too much time trying to connect through the weak Wi-Fi they give you upon initiation of the device. If I had prepared properly, it would have been a smoother set-up.
I did not like having to carry it, but that's just because I can be lazy. In reality, it fits in the palm of my hand and I just stuck it inside one of our backpack pockets. The best part since I purchased it is that it's mine to activate and use whenever I travel.
Pros
Rental options are available at a low daily price.
You can purchase the device and purchase a Wi-Fi pass as needed per day or in discounted bundles.
Multiple plans to choose from, even an unlimited plan for avid travelers constantly on the go. See more info here.
No need to rely on a hotel or cafe Wi-Fi.
Up to 5 devices can be connected at once.
The device is also a backup battery.
Cons
You can't make calls on your device unless you have a separate app that allows you to make VOIP calls like Whatsapp. The only problem with Whatsapp is that you can only make calls to your contacts within the app. There are others out there.
If there is no cellular signal in the area, chances are the Wi-Fi will not work. It's not guaranteed, just as a cellphone is not guaranteed to always have a signal.
Another device you'll have to carry around.
It does not work on a cruise ship. However, if you're at port, it will most likely work with a nearby Land signal.
Visit Skyroam for more information and check if their service will work in the country you plan to visit.