Looking for ideas and inspiration on places to go on vacation in 2023? Whether you're looking for a tropical getaway, an all-inclusive beach vacation, the great outdoors, or big cities, this list has something for all.
Vacation planning is one of my favorite things to do. We brainstorm our next destination when we are on one vacation.
The New Year hits with new PTO time, and we'll start to figure out when and where we'll travel next. It's always exciting to have something on the calendar, even if it's not locked down completely so that it gives you something to look forward to down the line.
Sometimes the choices are overwhelming, or there is a lack of ideas. We put together this list of places to go on vacation to hopefully spark some inspiration and give you ideas to start planning your next travel destination.
We've already traveled to some of these destinations that we've loved, and we've also included a few places we've had our eye on for some time.
Imagine… swimming in the warm waters of the Caribbean. Kayaking to a hidden waterfall in Kauai. Visiting the historic landmarks in Rome or Florence. Brewery hopping and wine tasting in Asheville. Visiting some of the most beautiful coastal cities in Catalonia. Listening to jazz on the streets of the French Quarter. Spending your days at the spa on a cruise ship.
The possibilities are endless.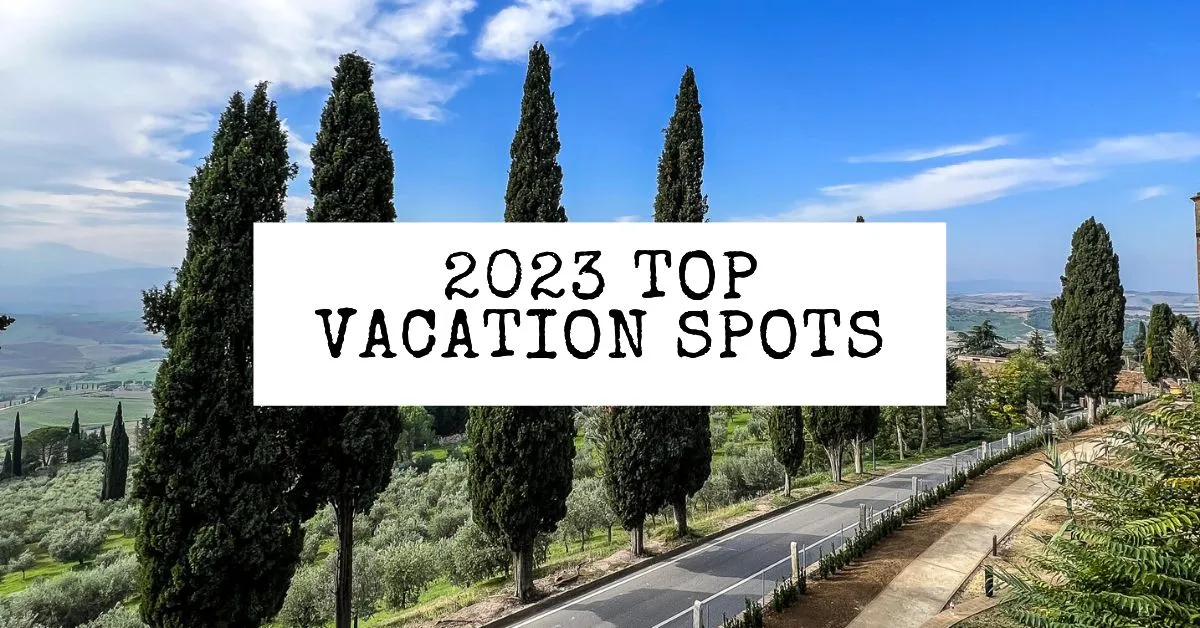 Whether you're looking to add an international destination to your passport or simply check a city or state off your bucket list, here are places to go on vacation in 2023.
Places to Go on Vacation
1. Kauai, Hawaii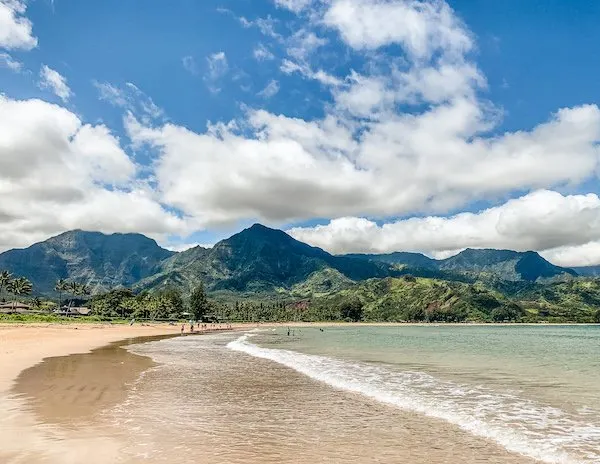 One of the most beautiful places on Earth is Kauai. It's a must-visit destination. With its amazing coastal cliffs and golden sand beaches, it's no wonder it made our list of places to go on vacation in 2023. This island has some pretty epic sights and is one of the least commercialized Hawaiian islands.
Kauai is a garden island in Hawaii with an average rainfall of over 200 days per year and one of the wettest places on earth. Hence why, Kauai is the Garden Island of Hawaii. Due to this abundance, the mountains are lush and green, containing some truly stunning scenery and natural beauty.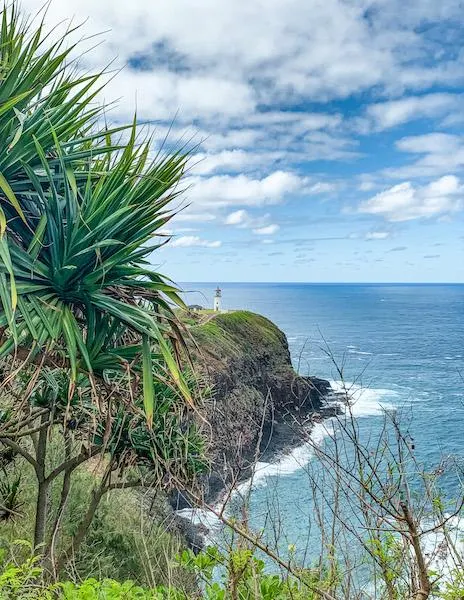 With many things to do in Kauai, it's a dream vacation spot for solo travelers, couples looking forward to their honeymoon or romantic getaway, and a fantastic destination for a family vacation.
You can choose to stay at a hotel or a vacation rental on the island. Plan beach days at Hanalei Bay, take a kayak tour and chase waterfalls, book a helicopter tour of the island or spend the day on a yacht sailing the Napali coast.
The activities are endless and perfect for a week in Kauai. We can't forget the food in Kauai, some of the best you'll have on vacation.
There is also plenty of opportunities to relax and do nothing. You'll get into vacation mode the moment you step off that plane.
2. New Orleans, Louisiana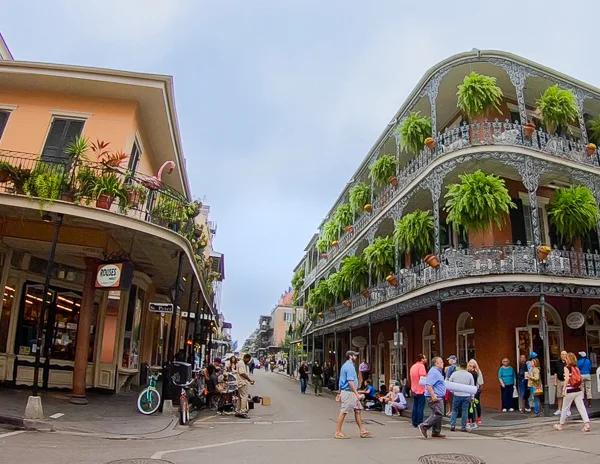 New Orleans is one of our favorite food travel destinations and one of the best places to visit. It has a rich history, beautiful architecture, culture, and fabulous cajun-creole cuisine.
You may think New Orleans is only synonymous with festivities like Mardis Gras. It's true, New Orleans is a lively city that loves to celebrate everything from Halloween to Fried Chicken. That's one of the many reasons to love New Orleans and its locals, they love to find a reason to celebrate.
With that much energy throughout the city, why not spend a few days in New Orleans and experience it for yourself? See what this beautiful city offers, and don't forget to eat your way around New Orleans.
Stay in the French Quarter city center, home to jazz and beignets. Spend time exploring the historic architecture influenced by the French or Spanish – you'll feel like you've been transported to Europe.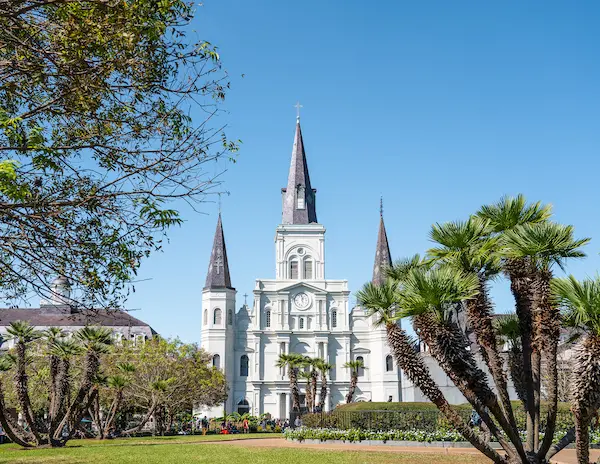 Visit Jackson Square, a historic public green space that has been a favorite of locals and tourists since 1836. Or take the Green Line Streetcar to the Garden District, where the architecture is beautiful and evokes a sense of history.
New Orleans is always up for a good time if you're looking for lively nightlife.
New Orleans is great for a shorter vacation or a long weekend trip.
3. Asheville, North Carolina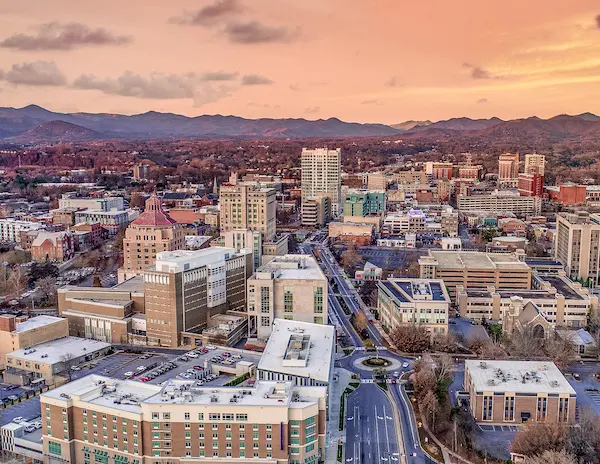 Asheville is a city in Western North Carolina surrounded by the Blue Ridge Mountains. The city is known for its art scenes, craft breweries, and amazing restaurants.
You can plan a short to a longer vacation stay in Asheville all year. With so many things to do in Asheville, from exploring the city, visiting the Biltmore, brewery hopping, and hiking the nearby trails. You can experience the best of everything it offers, from the great outdoors to its downtown area.
If there is one place you can't miss seeing in Asheville, it is The Biltmore Estate. It was built and finished in 1895 and is the largest privately-owned home in the US. The estate has a total of 8000 acres that includes gardens, a winery, a restaurant, and trails. It's one of my top places to visit when I visit Asheville.
Since her move to Asheville, we've been following our friend, Christine, from Uncorked Asheville. She's been exploring and eating her way through Asheville, NC, and because of her wonderful itineraries, Asheville easily landed on this list of places to go on vacation in 2023.
You'll want to visit and plan your time with these local Asheville tips and itineraries.
4. The Florida Keys
Craving the Caribbean without crossing any oceans, at least by plane? The Florida Keys is the closest destination with Caribbean vibes in the continental USA. With its palm trees and beautiful blue waters, it's easy to see why people love the Florida Keys.
The Florida Keys are known for their laid-back lifestyle, warm weather all year round, beautiful beaches, and key lime pie. The drive from Miami to Key West alone is enough to inspire people to visit the Florida Keys.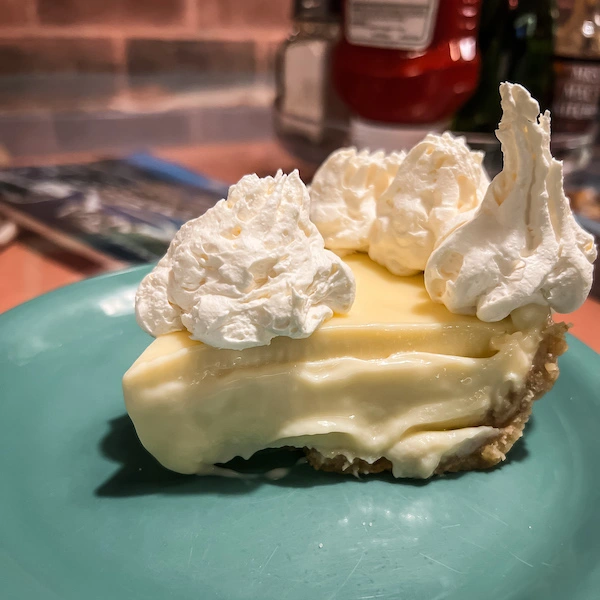 The Florida Keys is a collection of smaller islands: Key Largo, Islamorada, Marathon, Big Pine, and Key West, and other smaller keys. The biggest one is Key Largo. Each offers different things to do, and places to stay and eat.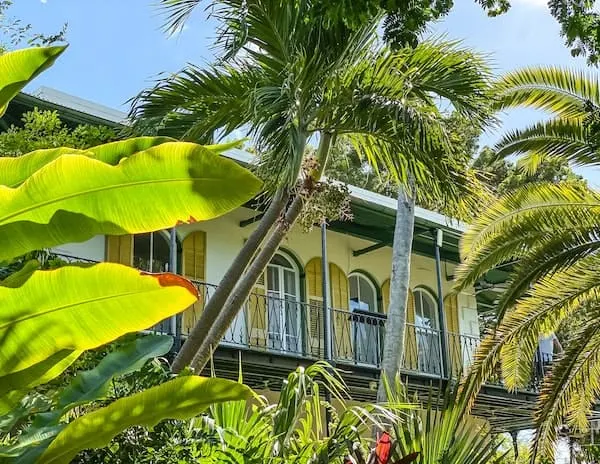 One of the most iconic places of the Florida Keys is Key West. This is home to Hemmingway House, Southernmost Point, Duval Street, and the one-and-only Key West Butterfly & Nature Conservatory. It's also the liveliest of the keys and has a lively nightlife.
When planning your vacation to the Florida Keys, consider what kind of trip you're looking for. If it's quieter, Islamorada may be a great location to call home base, as we did most recently.
You can always drive into Key West to experience the drive over the 7-mile bridge and spend a day in Key West. Don't forget to take a boat ride around the islands.
5. The Dominican Republic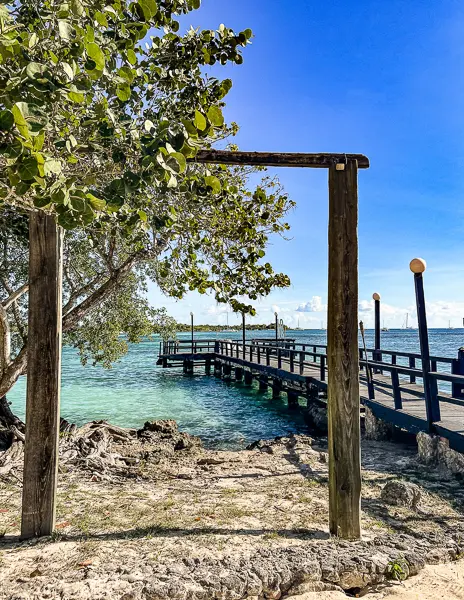 After staying at the Hilton La Romana all-inclusive beach resort for a week, Dominican Republic was an easy choice for places to go on vacation in 2023.
This was our first time visiting the Dominican Republic. We were pleasantly surprised at how beautiful Caribbean Island is, how friendly its locals are, and the vast array of activities available.
The Dominican Republic has the most beautiful sandy beaches and snorkeling at the most brilliant coral reefs ever experienced. The affordable all-inclusive resorts throughout the island make it a great destination spot for couples and families looking to get away to a Caribbean destination.
To help narrow your choices in the DR, look into Punta Cana, known for its luxury all-inclusive resorts and spectacular beaches. Or visit La Romana, where you can stay at the Hilton La Romana, a five-star hotel, family-friendly resort, and adult-only resort with activities for everyone.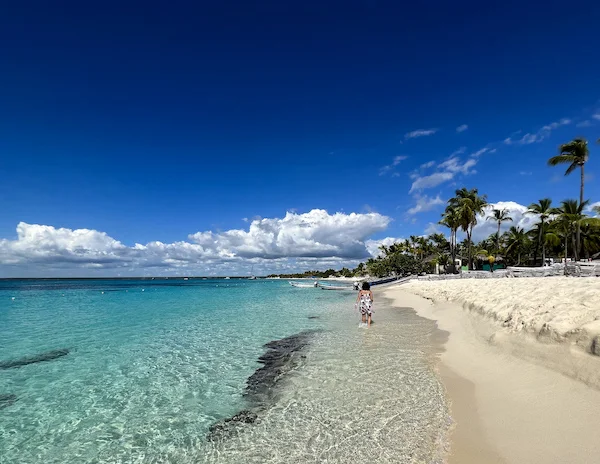 Planning to book a tour? Book the private island of Isla Catalina. You won't regret it.
6. Florence, Italy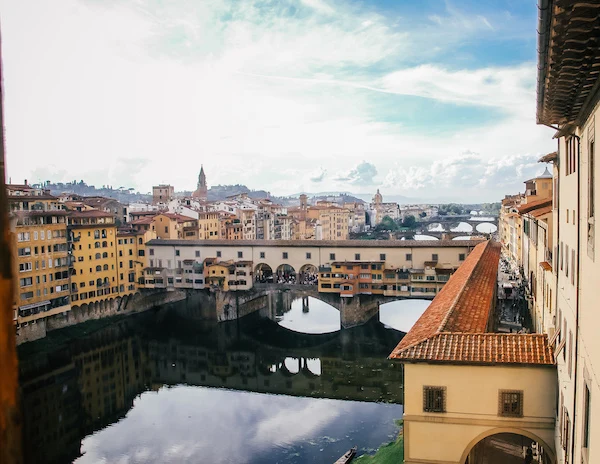 Florence, Italy is the capital city of Tuscany and a UNESCO World Heritage Site. It is one of my all-time favorite European cities and one of the best places to visit in Italy.
During ancient history, Florence was once a Roman capital called Florentia. You can still find some Roman monuments here. Still, it wasn't until 1434 when the Medici took control and began their reign over this region, eventually leading to one of history's most memorable periods: The Rennaisance!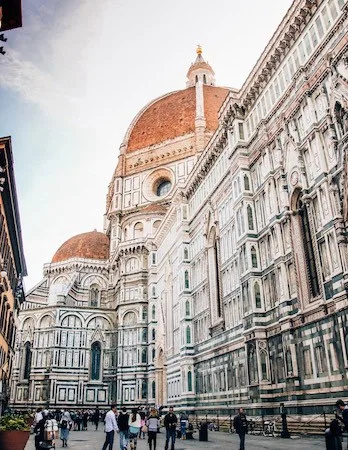 When I return to Florence, Italy, it feels like a piece of my heart is always there. Imagine a place that is endlessly beautiful, full of life and energy. The city is full of architecture and art that will captivate you at every turn.
You can lose yourself for hours in admiration walking down the beautiful romantic streets of Firenze and its historic sites. It's magical and one of the best places to visit.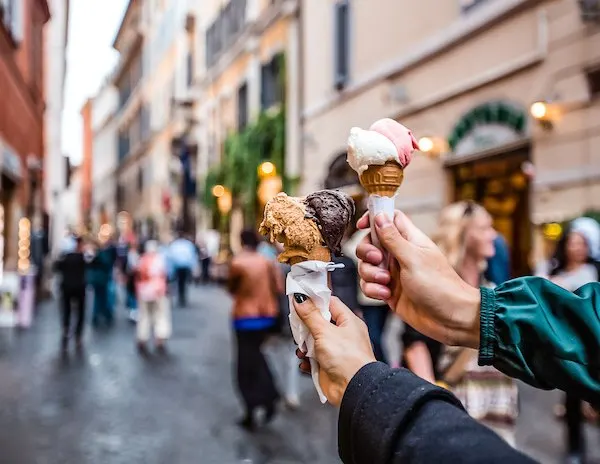 Florence is a must-visit in Italy, especially for history lovers. You'll be immersed in history, art, and amazing Tuscan cuisine.
Be sure to visit famous landmarks like Ponte Vecchio, Duomo S. Maria del Fiore, The Uffizi Gallery, Piazzale Michelangelo… among all the things to do in Florence. Plan to eat gelato daily and make reservations at some amazing places to eat in Florence.
The surrounding Tuscan countryside also has a lot to offer. You can also make Florence a central location to stay in and plan day trips from Florence to nearby destinations. Take the train to cities like Lucca, Pisa, Bologna, Siena, and Venice, or rent a car to explore the countryside of Tuscany.
7. Costa Brava, Spain
About 40 miles from Barcelona is a scenic region of Catalonia, Spain called Costa Brava. We fell in love with this area of Spain during a short trip to Girona, the oldest city in Catalina. We called Girona home base as we explored it and nearby Costa Brava.
The Costa Brava is a section of the coastline in northeast Spain. It stretches for about 125 miles from the French border to Barcelona. Costa Brava is known for its sun-drenched beaches, which line the coastline.
You can find coves, small harbors, hidden creeks, and unforgettable places to swim in the beautiful waters of Costa Brava. You can explore places like Girona, Tossa del Mar, and Pal, to name a few.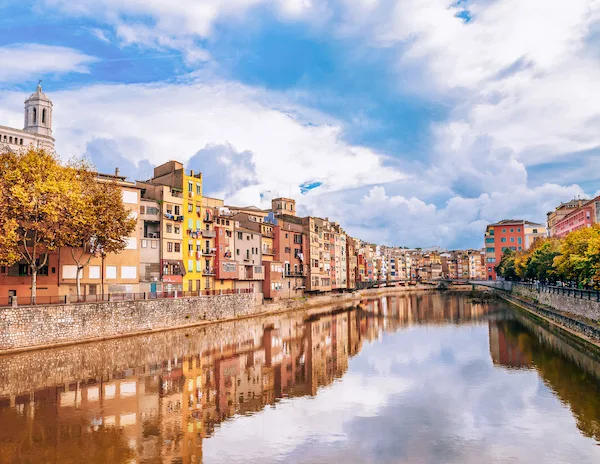 Girona is a medieval city with narrow cobblestone streets, colorful historic buildings, and a tranquil river running through it and home to one of Gustave Eiffel's masterpieces, the Eiffel bridge. It's the perfect gateway and a short drive to Costa Brava's Catalonia coast.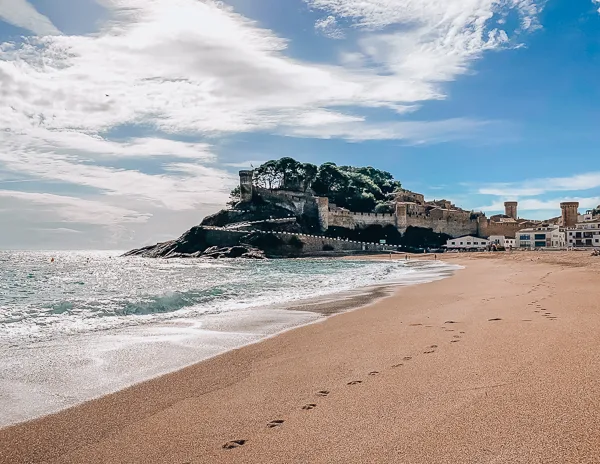 Tossa del Mar is one of Costa Brava's coastal gems and also one of the places to consider staying in. The town has a striking castle along the beautiful beachside. The castle offers breathtaking views of this coastal town.
Costa Brava is where many locals escape for short city breaks or vacation time to escape the hustle and bustle of big cities like Barcelona. Can't blame them. The small coastal towns and villages along the coastline are picturesque and fabulous for a relaxing vacation by the water, mixed with history and delicious fresh seafood.
8. Cozumel, Mexico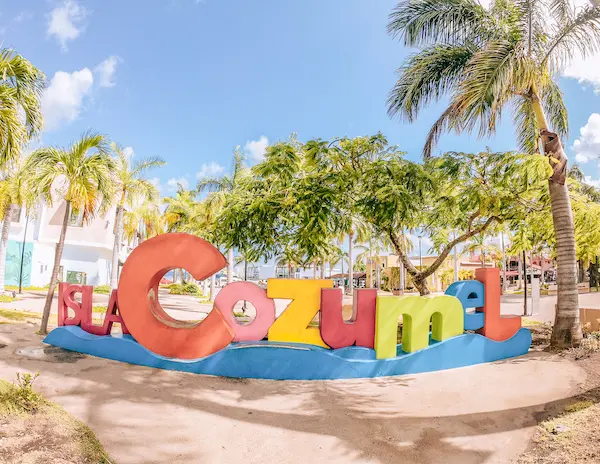 Cozumel is a beautiful island located in the Caribbean Sea, off the coast of Quintana Roo, Mexico. It's connected to the mainland of Mexico via a ferry.
The island is 30 miles long, and you can drive around it within 1-2 hours. Cozumel is a popular destination for cruise itineraries, and all-inclusive hotels and vacation rentals are available. The island is relatively safe and easy to get around by car.
While I've been there a couple of times on a cruise, I'd like to spend time in Cozumel on an extended vacation.
The island is known for its clear blue waters and amazing coral reef, offering some of the best snorkeling and scuba diving in the world. You can find plenty of places to eat and drink on the island and enjoy shopping and nightlife.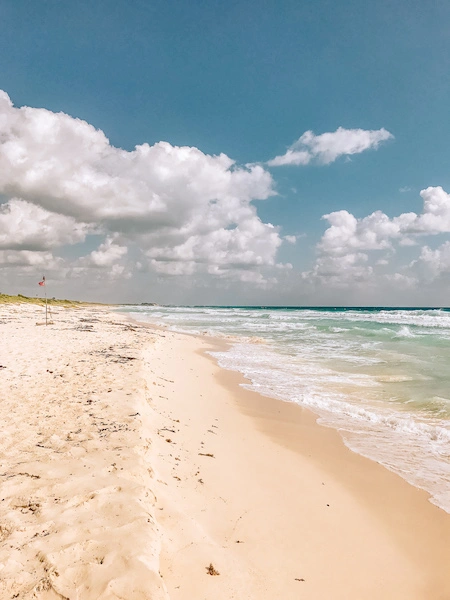 Some beach clubs are set up at their white sandy beaches where you can spend the day, like Paradise Beach, Nachi Cocom, and Mr. Sanchos. Plenty of activities like horseback riding, snorkeling, dune buggies, and more.
It's one of those travel destinations that transport you into a piece of Paradise as soon as you arrive. You'll feel disconnected from the rest of the world.
9. Los Angeles, California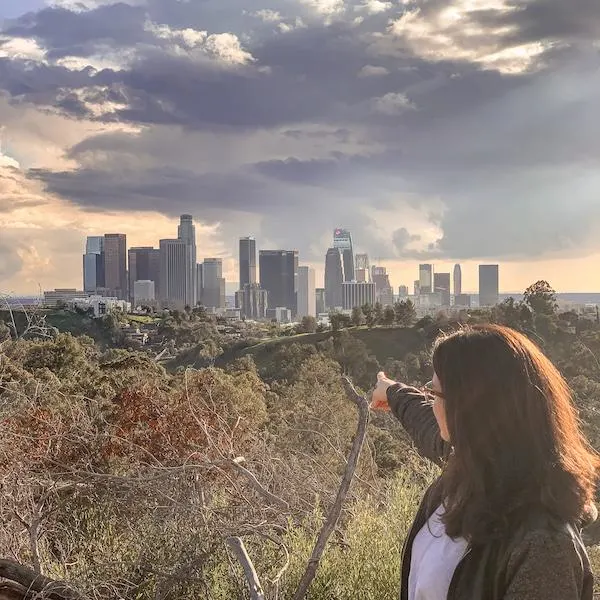 It's not a complete list unless I include our home city of Los Angeles, California. While Los Angeles is rough around the edges, it is still one of the most popular and largest cities in the United States. It's where Hollywood resides.
While Los Angeles is known for its notorious traffic jams and busy city life, there is still so much of this city to explore and experience. A vacation to Los Angeles may either be filled with visiting infamous LA tourists spots or a more laid-back itinerary like staying in the South Bay, Malibu, or Pasadena.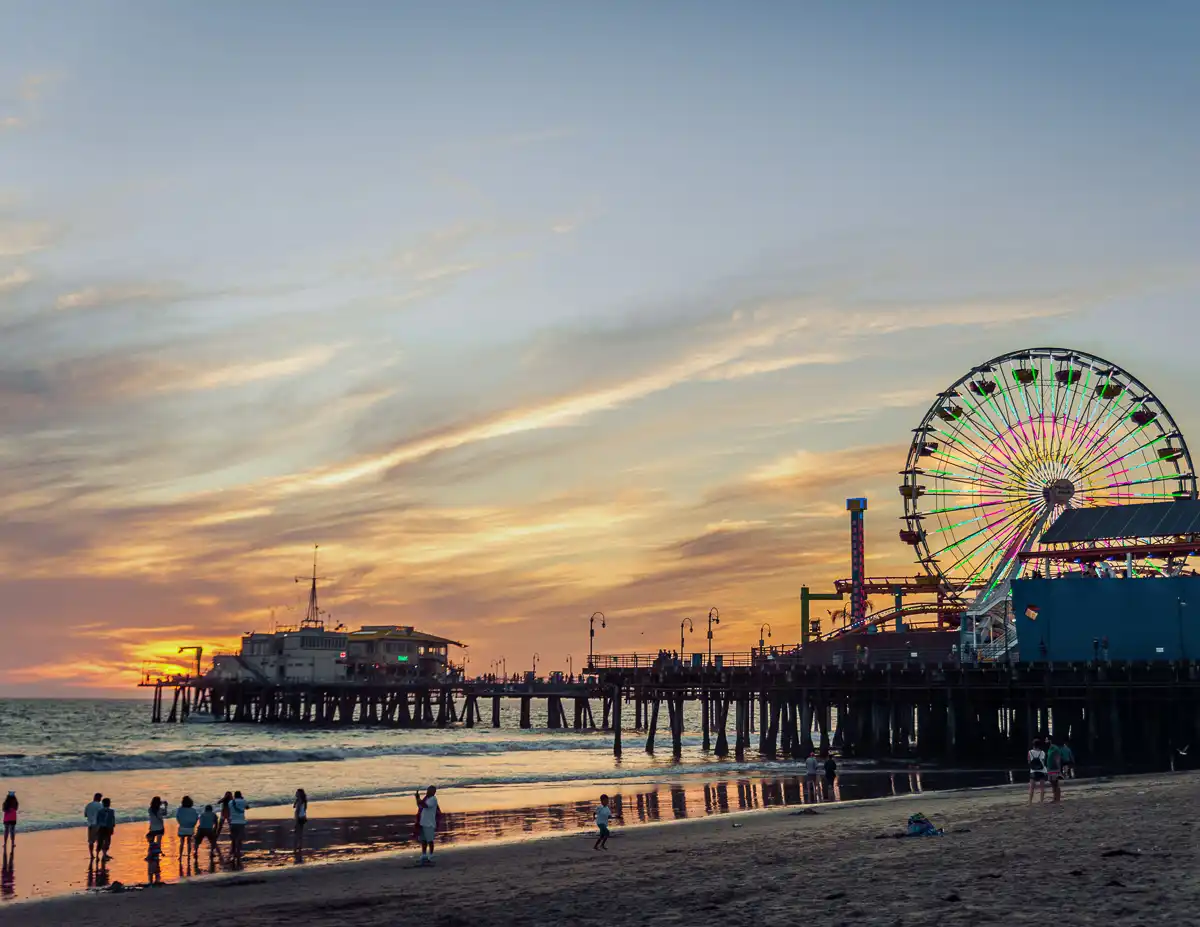 The best part of Los Angeles is that we are centered in the middle of everything. There is so much to explore in LA within driving distance, and you can drive to the beach, the mountains, or Disneyland.
Plan a trip to Los Angeles to visit places visit Hollywood Boulevard for the first time. Take a studio tour at Warner Bros and spot an actor at work. Go wine tasting in Malibu and then see the sunset at Matador Beach. Ride a bike in Venice Beach. Take a drive along the infamous PCH. Go hiking to see Hollywood Sign.
Spend the day at Universal Studios theme park or take a day trip to one of the other theme parks like Knotts and Disneyland.
The things to do in Los Angeles are unlimited.
Did you know we have one of the best food scenes? You won't go hungry from trendy cafes, farm-to-table, vegan specialties, and loads of food trucks.
Check out our list of foods from California.
10. A Cruise Ship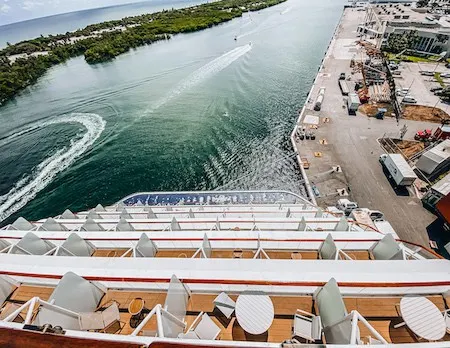 Believe it or not, a cruise ship is not just a vessel taking you on a wonderful vacation itinerary; a cruise ship is a destination. And after the last couple of rough years the cruise industry has had during the pandemic, it's time for cruising to make a big comeback. This is why it's on this list of places to go on vacation in 2023.
There are many reasons why cruises make for fun vacations, I have a whole post on it. But one of the main reasons is that it's mostly all-inclusive.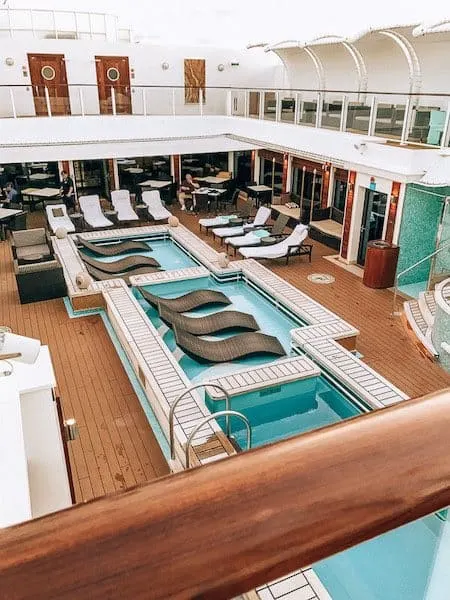 A cruise ship is a floating city. Depending on which cruise ship you book, you could swim in the morning and then go ice skating in the afternoon. Then have multiple meals a day that is included in the price of your fare.
Cruises make for affordable vacations for families, couples, and solo travelers looking to get away. What better place to vacation than a cruise ship in the middle of the ocean?
You can have a vacation of a lifetime on a cruise ship. You can choose to make it a relaxing cruise vacation with trips to the spa and sunbathing by the pool. Or you can participate in the many cruise activities on the ship.
With all the food, entertainment, and activities throughout these beautiful cruise ships, you won't want to leave.
– Don't Miss: Cruise vs All-Inclusive Resorts: What's the Difference?–
These are just a few ideas to inspire your travel planning for future vacations. These places to go on vacation are only a glimpse of what's waiting for us. The world is enormous, and we are only experiencing a tiny part of it.
What's your dream destination?
Share the tips & love on Pinterest: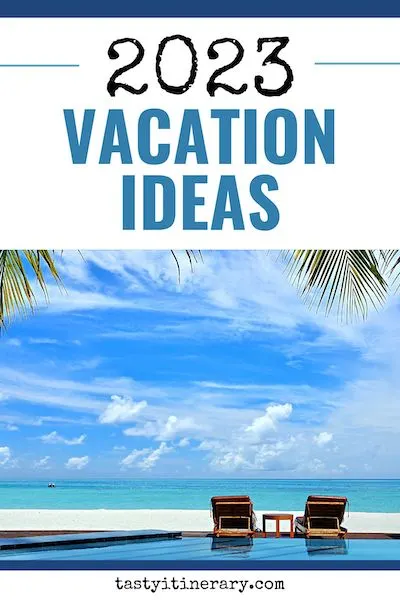 Meet Kathy Ava, a food, travel, and cruise writer based in Los Angeles/Pasadena, and the owner and main writer of Tasty Itinerary. With over 20 years of experience planning trips and logistics at her full-time job and for herself, she's become a pro at crafting unforgettable tasty itineraries. She's always on the hunt for delicious, fun travel destinations and cruise itineraries. She firmly believes that life is short and we must make the most of it, so always say yes to dessert.